Looking for 7 easy vegan and plant-based soup recipes to try out?
I have listed 7 of my family favourites for you to enjoy.
I'm positive that your going to find a new staple.
Soups are soul food as the old cliché goes. It's what we reach for when we feel under-the-weather and require nourishment.
Historically soup is one of the most traditional and successful food dishes.
Seeing as humans have been appreciating soup for almost 20,000 years!
A bowl of steaming soup ladled from a bubbling pot is so satisfying and warming.
Especially when its blowing gales and raining outside. Which in my Scottish Island setting that would be 9 times out of 10! Just now as I write this post my window panes are rattling and every now and then a strong gale makes me question my windows integrity!
I'm pondering a cream of celery and kale soup for lunch. I will add the recipe later this week if its a success!
The quantities for the following vegan soup recipes generally feed 4-6. However, you can easily adjust the ingredients by halving the quantity.
Or freeze a portion or two for an even easier, quicker future lunch.
Enjoy!
Vegan Creamy Spiced Sweet Potato, Chickpea and Red Lentil Lasagne Soup
Craving a creamy lasagne? But too busy to prepare an actual baked one?
Stick it all in one pot and in less than an hour you can have a bowl of deliciously spiced satisfying lasagne soup.
Perfect for busy people and families needing a quick, easy nutritious meal.
Check out this recipe
Vegan Stir-Fry Soup
Stir-fry soup is the perfect meal for whenever you need an easy and nutritious meal in a hurry.
Use ready-prepared stir-fry veggies or even just ordinary frozen mixed vegetables.
This soup is easily tailored to your preferences and whatever you have at home.
Check out this recipe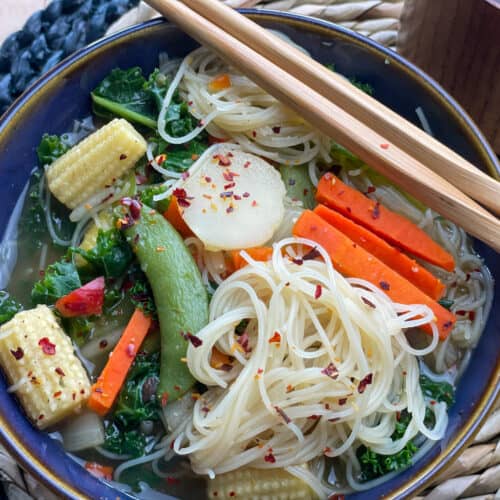 Vegan Taco Bean Soup
Vegan taco bean soup encompasses all the flavour and textures of a taco but can be prepared easily and quickly in one pot.
Adorn your taco soup with all your favourite fresh and crunchy toppings for the ultimate bowl of comfort.
Check out this recipe
Vegan 3 Bean Minestrone Soup
Vegan 3 Bean Minestrone Soup is so tasty and satisfying.
Packed full of plant-based goodness it will leave you feeling nourished and looked after!
Check out this recipe
Vegan Cock-a-Leekie Soup
A traditional Scottish soup loved since the 1600s!
So easy and quick to prepare.
And an excellent tasty budget-friendly meal.
Check out this recipe
Vegan Curried Cauliflower Soup (With Roast Chickpea Croutons)
This curried cauliflower soup is the perfect introduction to vegan or plant-based diets as it is easy, quick and packed with flavour.
This soup is also ideal for those who are looking to spice up their dinners with new tasty meal ideas.
Check out this recipe
Vegan Lentil Soup (Traditional Scottish)
There is nothing better than a bowl of nourishing, comforting and satisfying Scottish lentil soup. Packed full of lentils and plant-based goodness this lentil soup is pure comfort food.
Check out this recipe
Still looking for more vegan, plant-based soup recipes?
Here's a bonus 2 extra!
Just cause I love soup!
A few tasty soup accompaniment ideas:
My Vegan Scottish Oatcakes are ideal accompaniment to one of my soup recipes:
What about a fluffy, light and quick Vegan 3 Ingredient Flat-bread to rip and dip in your soup?
Run out of bread? Whip up these super quick dinner rolls (recipe for these are within my lentil soup post)
Prepared one of our recipes?
We'd love to hear how you got on. All comments and feedback so appreciated!
Snapped a photo for social media?
Tag us @traditionalplantbasedcook #traditonalplantbasedcooking
So we don't miss it!
Take care and happy cooking!
7 Easy Vegan Plant-Based Soup Recipes