7 Easy Vegan Plant-Based Dinner Recipes
Need 7 easy vegan plant-based dinner recipes?
I have listed 7 of my family's favourite easy vegan dinner recipes.
Are you new to vegan and plant-based diets?
It can be so difficult at first finding recipes that your family will enjoy.
Think of this list as an ideal starting place for those new to vegan and plant-based diets. Or for more experienced cooks maybe you'll discover a new favourite.
These easy vegan dinner recipes are also ideal for those looking to add more meat-free meals to their diets.
Add these recipes to your meal plan and prepare for a week of delicious flavour!
All of the 7 easy vegan plant-based dinner recipes are tried, tested and loved by a real family!
Try a new recipe for each day of the week and enjoy leftovers for lunch the next day!
Vegan Spanish Chickpea Rice Stew
This Spanish inspired chickpea rice stew is perfect for the cooler months as well as the warmer months.
Fluffy potatoes, rice and chickpeas stewed in a umami packed thick sweet tomato paprika sauce. With tasty fresh greens and tangy balsamic vinegar enriching each mouthful.
Serve with a large colourful salad, garlic stuffed olives and crusty or flat bread for scooping.
Check out this recipe
Vegan Quick Tempeh Spaghetti Bolognese
Vegan Tempeh Bolognese is perfect for those busy days when you need something nutritious, delicious and fast cooking.
This recipe is super easy and quick yet full of classic, rich, savoury, satisfying flavours.
Check out this recipe
Vegan Hamburger Casserole
This casserole is an adaptation of the Southern American family favourite Hamburger casserole.
Vegan Hamburger Casserole is a fun, deliciously wholesome family meal perfect for autumnal and winter warming dinners.
Serve for veggie Thanksgiving or festive meals with sides of green beans, Brussel sprouts, or peas and a tasty vegan gravy.
Check out this recipe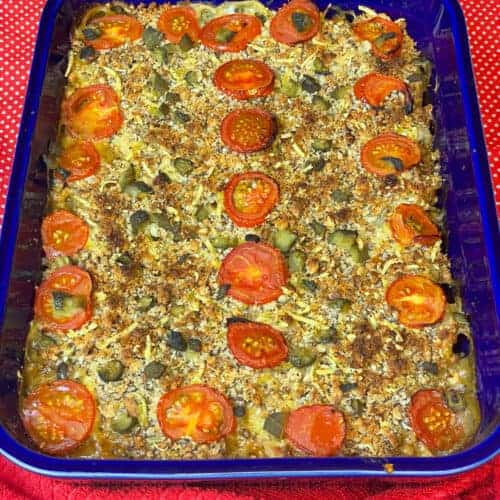 Vegan Lancashire Hotpot
Vegan Lancashire Hotpot is a delicious traditional dish that is perfect for family autumnal and winter meals.
Mushrooms, butterbeans and meat-free pieces cooked in a tasty gravy and topped with crispy golden potato slices with cheesy tasting nutritional yeast flakes.
Check out this recipe
Vegan Cowboy Pie (Cheesy Baked Bean Pie)
A delicious fun family favourite meal that is perfect for prepping in advance and enjoying as autumnal and winter warming meals.
Serve with your favourite veggies or a crisp green salad.
Check out this recipe
Vegan Sausage Pasta with Pinto Beans and Sweet Red Peppers
A classic family-favourite quick and easy mid-week meal.
Delicious meat-free sausages complimented by a rich, savoury, sweet and gently spicy tomato sauce.
Serve with your favourite pasta or stuffed into a crispy baked potato. Don't forget the tasty greens!
Check out this recipe
Vegan Traditional Beef Stew
Beef stew has been a classic family favourite for hundreds of years.
Vegans, vegetarians, and plant-based eaters don't have to miss out with this kinder 'beef' stew!
Vegan 'beef' stew is a umami flavour bomb! So tasty and satisfying.
Check out this recipe
Looking for more easy vegan recipes and meal inspiration?
Looking for some easy vegan dessert and pudding recipe ideas?
What about a big dollop of Traditional Vegan Eve's Pudding? Stewed apples nestled under a delicious cinnamon sponge topping. Drizzle some vegan single cream over for a tasty treat.
Or for something healthier but rich, light, and incredibly tasty try some super-quick no-bake Vegan Chocolate Pudding.
Got kids who would love a plant-based baking project?
Check out this tasty vegan banana bread cake recipe, especially written for kids to bake, over on our sister website earthcadetseducation.
Prepared one of my recipes?
I'd love to know how you got on.
Pop a comment below.
Snapped a photo for social media?
Tag us @traditionalplantbasedcook #traditionalplantbasedcooking
so I can admire it!
Do you have a favourite meal or dish that you would like to see veganized into a plant-based version? Send me an email and it will be my pleasure to do my best to convert your dish to a tasty plant-based meal!
I will add your meal to the blog for others to enjoy!
Drop a message here at :
Or pop a comment below.
Take care!
7 Easy Vegan Plant-Based Dinner Recipes