Tasty Vegan Cranberry, Coconut and Lime Energy Balls are the perfect between-meal snack for whenever you feel peckish or even a craving for something with refined sugar.
Cranberry, coconut and lime energy balls are low in sugar with just one tablespoon of maple syrup (use whatever sweetener is your usual go-to). The cranberries provide the healthy sweetness, the almonds nuttiness, the coconut a crumbly tasty texture and the lime brings it all together providing a delicious zesty, fresh kick. So moreish!
The only problem my kids had with these energy balls was that they did not contain chocolate chips!!! Seriously?!
Plant-based diets can be low in calories and often people new to vegan diets can find it difficult to eat enough to feel satiated. 
Energy balls can help as they are packed with healthy calories and fats. There is even evidence to suggest that consuming nuts despite the high-calories could actually help burn fat and aid weight-loss!
My kids love an energy ball or two for a quick breakfast or morning snack on-the-go. I usually enjoy an energy ball around 3pm in the afternoon when I crave something sweet with my coffee break.
Just don't make the same mistake I did.
I prepared these energy balls in the evening and felt peckish around 10pm so I unwittingly had 2 of my energy balls. I had to test them right?
However I was up till 3am restless and unable to sleep! I was wondering why as I usually sleep just fine but then released that my energy balls likely had way too much energy for the evening!
I won't make that mistake again!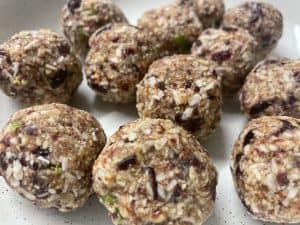 Cranberry, Coconut and Lime Energy Balls
Serves 12 portions.
All you need is a food processor to whizz the ingredients together. My food processer is not high powered but manages to process these energy balls. A little bit of texture is fine!
Store in the fridge within a sealed container for up to 1 week.
Though I doubt they will last that long!
Ingredients
80

grams

dried cranberries

1 cup

80

grams

desiccated coconut

1 cup

95

grams

ground almonds

95 grams

2

tablespoons

almond butter

1

tablespoon

maple syrup

or sweetener/sugar of your choice

1 ½

teaspoon

lime zest

1

tablespoon

lime juice
Instructions
Add the cranberries to a food processer and whizz until chopped quite small.

Tip the rest of the ingredients in and whizz until the mix starts to come together.

Squish and roll the mix into little balls.
Nutrition
The following nutritional data is for guidance only and is not a strict analysis as ingredients vary.

Vegan Cranberry, Coconut and Lime Energy Balls Recipe Notes
These Cranberry, coconut and lime energy balls that I have prepared for the photos are a little darker than normal as I had run out of ground almond and had to grind my own with almonds still in there skins. Using pre ground almonds will result in a lighter energy ball.
Store your energy balls in the fridge in a sealed container for up to 1 week. Although doubt they will last that long! A second batch is more likely to have taken there place!
Energy balls can be frozen. So are ideal for batch prep. Just pop one out of the freezer a few hours before munching!
Enjoy an energy ball as a pre-workout snack, after exercise, snack on-the-go, morning or afternoon snack, or with your breakfast. An energy ball is the perfect snack for kids and teens school breaks as they provide vital nutrients, minerals and of course energy!
Not got cranberries? Replace with raisins, goji berries, or sultanas.
Looking for more healthy snack ideas?
Prepare a batch of my Healthy Vegan Trail Mix. Did you know that trail mix has been popular since at least 1913?!
For a healthy chocolate hit you've got to try this delicious, easy, quick no-bake Vegan Chocolate Pudding!
Prepared one of my recipes?
Took a photo for social media?
Tag us @traditionalplantbasedcooking #traditionalplantbasedcooking
I love admiring your food pics!
Take care! Until the next recipe!