Vegan coronation chicken sandwich is a recreation of the traditional coronation sandwich.
Coronation chicken sandwiches have been a British traditional favourite since 1953.
It is a royal sandwich filling that was especially created for the coronation lunch of Queen Elizabeth the 2nd.
The recipe was devised by the London Le Cordon Bleu culinary school.
The traditional ingredients for coronation chicken include curry powder, dried apricots, chicken pieces, a creamy sauce, and toasted almonds.
Vegan Coronation chicken
This plant-based recipe includes the traditional ingredients but substitutes the meat and dairy with chickpeas and kidney beans, soya yogurt and plant-based mayonnaise.
Although if preferred vegan Quorn pieces or other meat-free pieces can be used instead of chickpeas and kidney beans.
Vegan coronation chicken is fruity, sweet, spicy, creamy, crunchy and nutty.
Packed full of umami plant-based tastiness!
My teenage son loves these wraps for school pack lunch.
Vegan Coronation Chicken Sandwich
Serves 4.
Use gluten-free bread or tortilla wrap for a gf friendly sandwich. 
Perfect for lunch, buffets, picnics, or as part of a larger meal.
Or use as a baked potato filling or as as a component in a buddha type bowl.
Alternatively enjoy chilled as a side dish.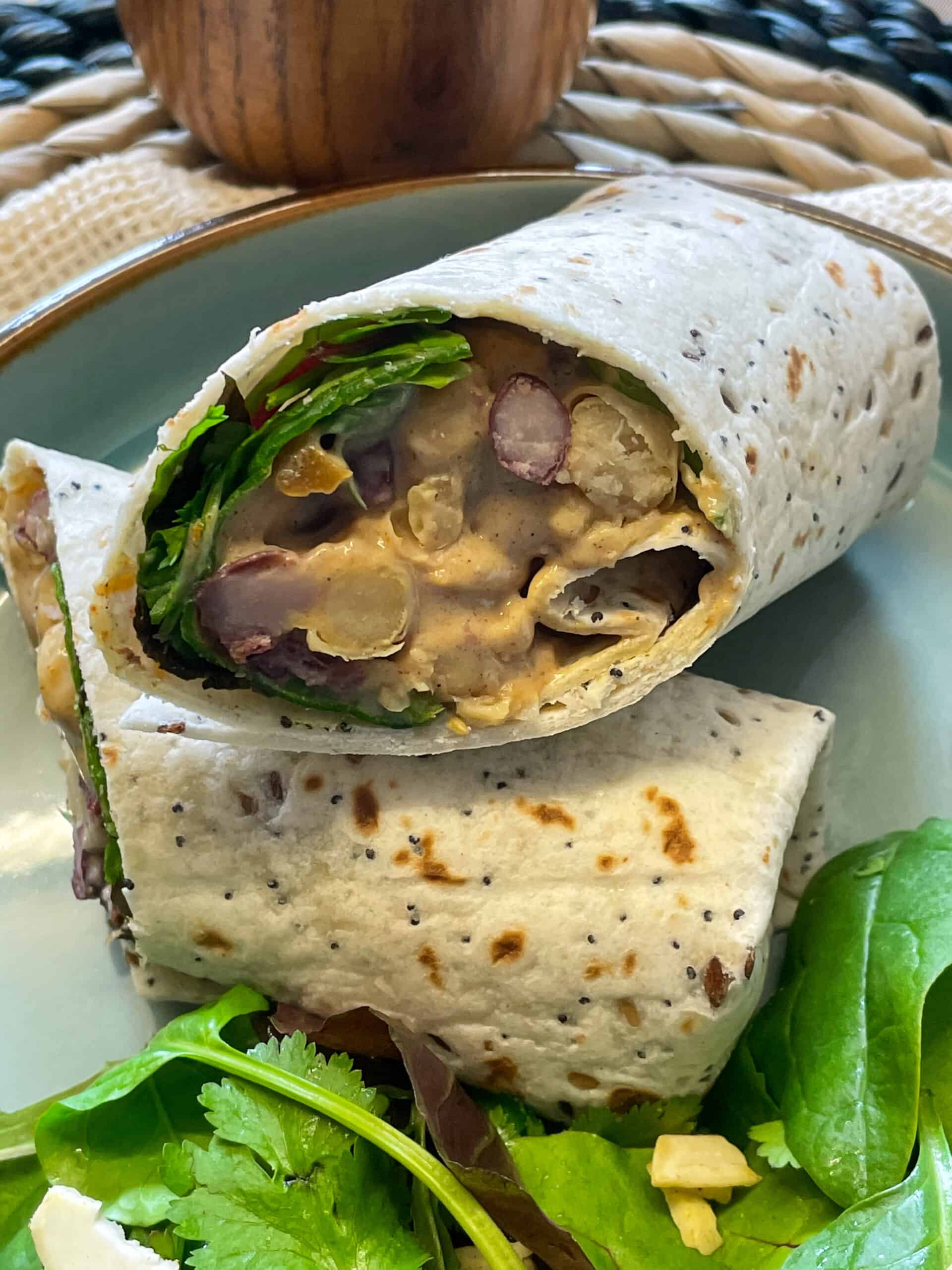 Ingredients
For the vegan coronation chicken:
1

can

chickpeas

400g/14 oz drained and dried. Just pat dry with a paper towel or similar.

1

can

kidney beans

400g/14 oz drained and dried. Also give the chickpeas and kidney beans a wash under running water especially if canned in salt and to remove can juices.

6

whole

dried apricots

chopped. Use a few extra if liked

10

tbsp

soya yogurt

or other vegan plain yogurt

3

tbsp

vegan mayonnaise

shop bought, or homemade see Notes

1

tbsp

mango chutney

extra if desired

1

tsp

tomato puree

2

tsp

curry powder

I use a mild but for more spice use medium or hot!

¼

tsp

cinnamon

¼

tsp

dried ginger
For assembling the sandwich:
40

grams

flaked almonds

25

grams

fresh coriander

1 oz.

100

grams

mixed salad leaves

such as baby spinach, baby chard, baby kale, etc. Serve the extra salad on the side.

4

tortilla wraps

Or bread of your choice. Alternatively use the coronation chickpeas and kidney beans as a filling for baked potatoes or romaine lettuce leaf's
Instructions
Dry toast the curry powder, cinnamon, and ginger in a small fry pan over a medium heat for 5-8 minutes.

Shake and stir frequently so the spices gently toast evenly.

Tip the spices into a mixing bowl and set aside.

Add the almonds to the pan and toast in the same fashion as the spices until the almonds become tinged with golden colours and crisp up.

Set aside.

Add the yogurt, mayonnaise, tomato puree, and mango chutney to the bowl with the spices.

Mix.

Add the chickpeas, kidney beans and chopped apricots.

Stir.

Check the seasoning.

Add a pinch of salt if liked.

Add extra mango chutney if desired.

Place in the fridge to chill for at least 30 minutes.
Assemble:
Remove the filling from the fridge.

To each tortilla or bread sandwich add some salad leaves and scoop some filling over. Sprinkle some almonds and coriander over.

If using tortilla wraps fold and wrap it up.

Check the back of the tortilla packet as often there are easy instructions for how to wrap it up.

Slice each wrap vertically.

If making a sandwich just add another slice and cut into 2 pieces! Triangles are always nice!

Serve with any extra salad.
Notes
Prepared one of my recipes? Snapped a photo for social media?
Tag us!
@traditionalplantbasedcooking #traditionalplantbasedcooking
The following nutritional analysis is for guidance only and is not a strict calculation as ingredients vary. The data does not include bread, only the filling. 
The following calculation includes 4 flour tortilla wraps. With each wrap without filling equalling 180 calories:
Nutrition
Coronation Chickpeas and Kidney Beans Recipe Notes:
Save time by preparing coronation chickpeas and kidney beans a day or 2 before you need it. This will actually improve the flavours.
Coronation chickpeas will keep fresh in the fridge, covered, for up to 4 days.
A homemade vegan mayonnaise can be subbed for shop bought. Or just use more plant-based yogurt or simply omit the mayonnaise if necessary.
Sub the chickpeas and kidney beans for butter beans or cannellini beans. Or just use 2 cans of chickpeas.
Alternatively use a vegan 'chicken' pieces substitute in place of the chickpeas and beans. Prepare the pieces according to the packet before adding to the recipe. If your pieces are ready-to-eat they won't require any more preparation.
Add chopped chives or sliced spring/green onions as a delicious garnish.
Instead of toasted flaked almonds try some toasted cashews, sunflower or pumpkin seeds.
For this recipe unsulfured dried apricots have been used simply because Tesco subbed these for ordinary apricots in my shopping delivery! Unsulfured dried apricots do not have sulphur dioxide added so the colour is darker.
Don't have any dried apricots? Use raisins or sultanas or simply omit the dried fruit.
Wraps or sandwiches are not just for lunch! Enjoy a wrap for dinner and serve with some chunky sweet or white potato wedges. It is so good and filling.
Looking for more easy vegan lunch ideas?