Old-fashioned humble golden vegetable soup is deliciously vegan, easy, quick and budget-friendly.
Fill up your flask for tasty wholesome lunches on-the-go, especially good and nourishing throughout the chilly months.
Golden veggie soup can be easily prepared as gluten-free.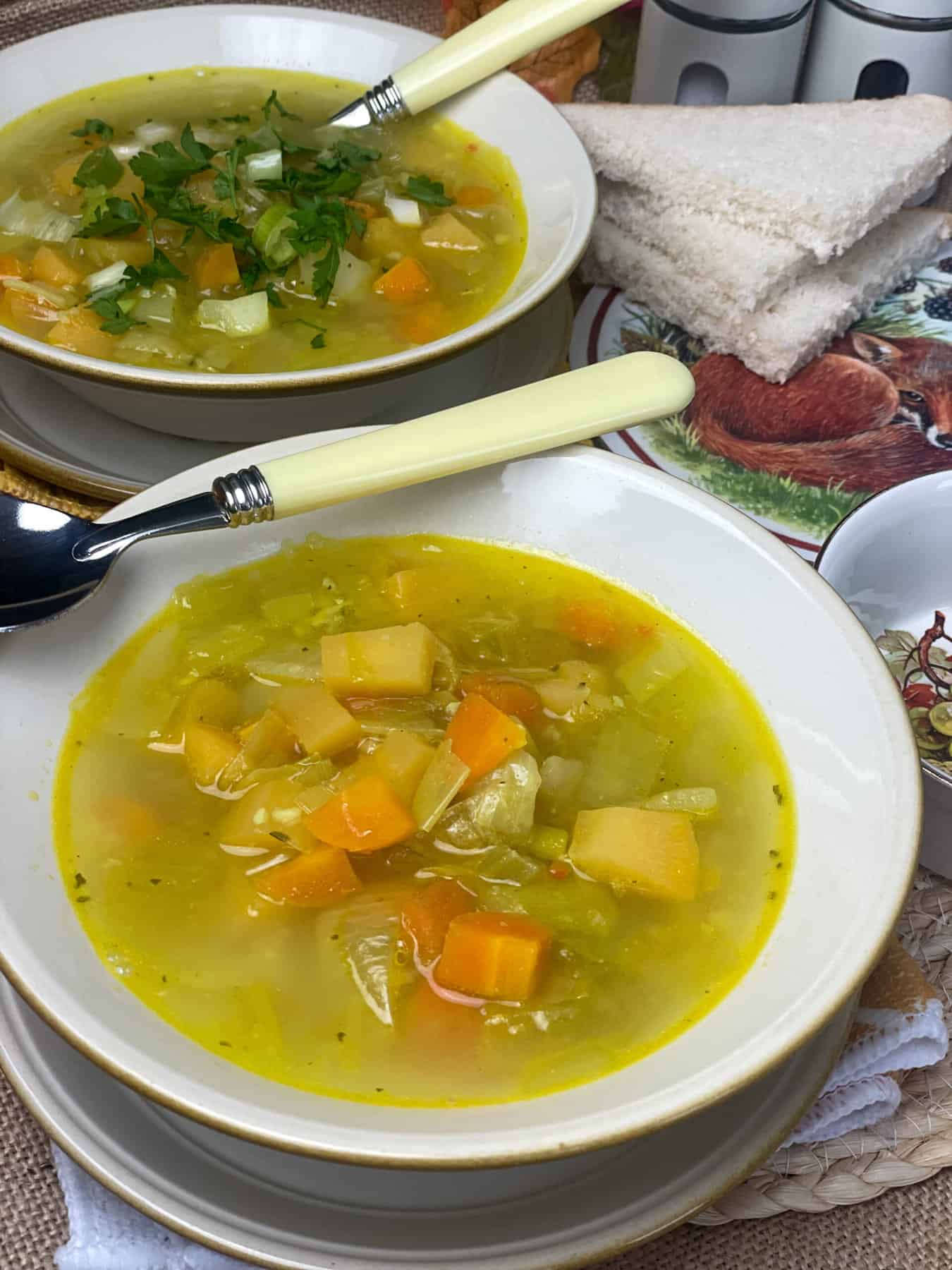 This sunny soup is ideal for warming you up during the chilly, windy, dark days of Fall or Autumn.
Although its just as tasty during the Winter, Spring and Summer months as any seasonal veggies can be added to suit your taste and budget.
What is golden vegetable soup?
Golden vegetable soup is a classic British soup that is simply prepared with any veggies available but commonly swede, carrots, leeks, onions, and peas are included.
The veggies are cooked in veggie stock or broth, as well as being enriched with a little turmeric powder, and the result is a lovely golden, sunny, wholesome soup that can be enjoyed chunky or blended smooth.
Even better with the addition of a swirl of vegan cream it transforms the golden veggie soup into a Cream Off Golden Vegetable Soup.
This soup is perfect for every-day wholesome veggie meals, or jazzed up with tasty garnishes and served as a starter for a special meal.
Golden vegetable cup-a-soup
A cup-a-soup is a powdered dried soup that is usually sold in individual packets and is rehydrated with boiling water to make a quick instant soup.
Golden vegetable is a popular British cup-a-soup flavour. The main British brand that produces golden vegetable cup-a-soup is Batchelors, although many supermarket own brands also offer the same flavour.
However, as packaged cup-a-soups may not be suitable for a vegan diet and many may contain undesirable additives and flavour enhancers, the next best thing is a simple home-made vegan golden vegetable soup that can be easily adapted as suitable for everyone.
Is golden vegetable soup suitable for a gluten-free diet?
Yes! This warming soup is very versatile so can be adapted for most dietary requirements.
For gluten-free diets simply use a gluten-free veggie stock/broth or a home-made stock. Also if using vegan butter or margarine to saute the veggies, ensure that the ingredients are also safe for gluten-free diets.
The benefits of adding turmeric to our daily meals
Turmeric can be a great addition to daily meals and has been researched for it is anti-inflammatory and antioxidant benefits.
The bioactive compound curcumin is found within turmeric and it is the curcumin which elevates turmeric to the status of being a superfood.
Curcumin is more easily absorbed and used within the body if black pepper is also consumed at the same time. The alkaloid piperine is found in black pepper and when consumed along with curcumin it increases the body's absorption of curcumin by 2000%!
So be sure and give your golden veggie soup a good doze of black pepper!
Also, as turmeric is fat soluble meaning it dissolves in fat, consuming some fats within the same meal ensures that the turmeric can work its magic even better.
However, if you'd rather not add any added fats such as vegan butter, margarine or olive oil to the soup then do add a sprinkle of pumpkin seeds, sunflower seeds, or crushed nuts over the soup for healthy added fats that will help the turmeric absorption.
Alternatively a sunflower seed butter, peanut or almond butter sandwich along with the golden veggie soup is the perfect accompaniment. As is a smashed avocado on toast with a good sprinkle of black pepper, which is one of my all-time simple favourite lunches whenever I can pick up some reduced priced avocados!
How to prepare old-fashioned golden vegetable soup
Golden vegetable soup has long been a British favourite as its so easy, uses every-day veggies, and is budget-friendly yet tastes humbly delicious.
Root veggies are especially delicious in a golden vegetable soup.
First, melt the vegan butter ( alternatively heat oil or a small amount of veggie stock).

Sauté diced carrots, leeks, potatoes, swede, onions and fine chopped garlic for 15 minutes. Stir frequently.
Stir through turmeric powder and pour in the hot vegetable stock/broth.
Season with salt and black pepper.

Bring to the boil and simmer for 15 minutes.
Optional but tasty: Serve garnished with chopped fresh parsley, sliced spring onions and a drizzle of vegan cream.
If preferred blend the soup before serving.
Blending the soup results in an even more golden coloured soup, with each bite full of smooth velvety goodness.
For fussy kids or family members blending the soup may be the best option and is a great way to consume lots of tasty veggies, especially those veggies that are disliked just because of texture sensitivities.
Recipe notes
Storage and reheating
Leftover golden vegetable soup will stay fresh for up to 3 days within the refrigerator. Store within a covered container.
Or freeze for 3-4 months.
Defrost within the refrigerator and reheat until piping hot throughout.
To reheat, pour the soup into a pot and bring to a boil. Reduce the heat and simmer for 2-3 minutes until piping hot throughout.
If preferred add extra veggie stock, water or some plant milk to loose up the soup and to extend the leftovers into more portions. A can of drained beans can also help bulk out leftover soups into more portions.
Can any of the veggies be substituted?

Of course. Feel free to swap out any of the veggies for whatever veggies you prefer.

Just keep to the same weight measurements and dice any substitutions.

A few suggestions:

* parsnips

* turnip/rutabaga

* celeriac

* cauliflower

* fennel

* sweet potatoes

* butternut squash

* pumpkin

* cabbage

* kale

* peas fresh or frozen

* asparagus

* sweetcorn, fresh or frozen

* green beans/ field beans/ yard long beans
Could I add anything to the vegetable soup to make it a more substantial meal?

Each portion of golden vegetable soup is around 118 calories so if you would like to bulk out the soup into a more substantial meal then here are a few ideas:

* add a can of white beans such as butter beans, cannellini, haricot beans, or white kidney beans

* add a handful of orzo or small pasta shapes/broken up thick noodles after the stock is poured in

* add a handful of long grain rice after the stock is poured in (use a quick cook rice unless the rice is partially precooked before adding)

* add home-made or shop-bought vegan dumplings

* add some mashed potato to each bowl before adding the soup

* break up some bread [buttered/unbuttered] and add to each bowl before ladling in the soup [perfect for using up stale bread]

[if adding orzo, pasta, or rice then do add an extra cup or so of veggie stock as the additions will soak up liquid during cooking. Alternatively add already cooked pasta, rice, or orzo to the serving bowls before dishing up the cooked soup. This is an ideal way to use up small amounts of leftover pasta etc]
What can I garnish vegetable soup with?

Garnishes look pretty but can also add valuable extra nutrition, texture and tasty flavours. The right garnish can really bring a soup alive and elevate it to a special meal.

* red pepper/chilli flakes

* croutons [easy method over on the cream of swede soup recipe]

* crispy chickpea croutons [easy method over on the curried cauliflower soup recipe]

* toasted or plain sunflower or pumpkin seeds, or any variety of chopped/flaked/slivered nuts

* fresh herbs such as parsley, dill, coriander (cilantro), tarragon, basil, chives, thyme

* sliced spring/green onions

* a dollop of vegan creme fraise, yogurt, sour cream, soft cream cheese, or a drizzle of pouring cream

* grated/shredded vegan cheese

* nutritional yeast flakes

* diced cooked vegan bacon
Do I have to use vegan butter or oil to saute the veggies?

If you are on an added fat free diet then simply omit the butter or oil.

A little veggie stock or water can be used to saute the veggies, start with about ½-3/4 cups of stock/broth/water, and then add extra tablespoons if needed.

As the vegan butter adds to the flavour of the soup, perhaps add 1-2 teaspoons of white miso paste to the soup at the end of cooking for extra flavour. Ensure that the miso paste is stirred through thoroughly as any clumps will have a very intense flavour! [If your in the UK, white miso paste can be found in Asda or at a local wholefood/health food store]

Or stir through a few tablespoons of nutritional yeast flakes at the end of cooking for extra flavour.
Vegan golden vegetable gravy
Got a small amount of golden vegetable soup leftover?
Blend the soup to a creamy, velvety and smooth puree and use as a golden vegetable gravy or sauce!
Pour the veggie gravy over mashed potatoes, rice, baked potatoes, roast veggies, steamed or boiled veggies, veggie pies, veggie sausages, noodles, etc. Or add the sauce to home-made lasagnes, stuffed peppers, pies, and stews, etc.
Using leftover pureed soup as a gravy alternative, is an old-fashioned idea that used to be very popular and does helps avoid food waste.
Another idea is to add some curry powder and cook this through for a few minutes within the pureed soup for a tasty quick and easy veggie curry sauce. So tasty poured over chips/fries.
More tasty warming vegan soups
Old-fashioned Scottish Potato Soup
Old-fashioned Irish Potato Soup
Roast Pumpkin, Sweet Potato and Red Pepper Soup
Need a hot meal on-the-go?

Heat up this golden veggie soup and pour it into a thermos flask or similar and enjoy warming nourishing soup at school, college, work, down at the allotment, at the park, on a hike, etc.
It's a great way to save the pennies!
Recipe
Old-Fashioned Golden Vegetable Soup
Print Recipe
This sunny soup is perfect for chilly autumnal, fall or dark winter days.
Enjoy with a wedge of crusty bread or a tasty sandwich for a filling, wholesome lunch or dinner.
This sunny soup is also perfect for adding to Thermos flasks for warm, budget-friendly lunches on-the-go.
Equipment
Stick blender

optional [only required if soup is to be blended]
Ingredients
2

tablespoon

vegan butter

[or olive oil/rapeseed oil or ½ cup veggie stock]

140

grams

carrot

1 medium

170

grams

swede

⅓ medium swede

240

grams

potatoes

1 medium

75

grams

celery

1 stick

150

grams

leek

1 medium

4

cloves

garlic

[if small cloves use a few extra]

130

grams

onion

1 medium

1.2

litres

vegetable stock

[hot]

⅛

teaspoon

turmeric powder
Garnish, optional
4

tablespoon

parsley

2

whole

spring onions

[green onions/cybies]
Instructions
Dice the carrots, potatoes, celery, swede, leeks, onions into small pieces. It doesn't have to be perfect dice just rough chopped.

Fine chop or mince the garlic.

140 grams carrot,

170 grams swede,

240 grams potatoes,

75 grams celery,

150 grams leek,

130 grams onion,

4 cloves garlic

Melt the vegan butter, or heat the oil or veggie stock ,in the soup pan.

2 tablespoon vegan butter

Add the carrots, potatoes, celery, swede, leeks, onions and garlic. Stir well.

Place the lid askew over the pot, and over a low-medium heat saute the veggies for 15 minutes.

Stir a few times during cooking. If the veggies are starting to stick to the pan just add a few tablespoons of water to loosen them up.

After 15 minutes, stir through the turmeric powder.

⅛ teaspoon turmeric powder

Pour in the hot vegetable stock and season with salt and black pepper.

1.2 litres vegetable stock

Bring to a boil, lower the heat and simmer for 15 minutes or until the veggies are soft.

Check the seasoning and add extra salt and black pepper if required.

If preferred the soup can be blended with an immersion blender/stick blender.

Optional:

Serve garnished with fine chopped parsley, sliced spring onions and a drizzle of vegan cream [such as Alpro soya single cream or Oatley cream].

4 tablespoon parsley,

2 whole spring onions
Notes
Nutritional data is provided for guidance only and is not a strict calculation as ingredients vary.
Leftover soup can be stored for 3 days within a covered container in the refrigerator.
Or freeze for 3-4 months.
Add a drizzle of vegan cream before serving for a cream of golden vegetable soup. Or add a scoop of vegan creme fraise, sour cream, or plain yogurt.
For gluten-free soup choose a gluten-free stock/broth and ensure that the vegan butter/margarine is free from gluten ingredients.
Can't find any swedes?  Swedes may also be known as rutabaga, Swedish turnip, neeps, yellow turnip, or wax turnip.
Alternatively replace with turnips which are within the same brassica family as swedes, but turnips are much smaller in size so a few may be required.
Fun fact: A swede is a cross between a cabbage and turnip!
Nutrition
Calories:
118
kcal
|
Carbohydrates:
21
g
|
Protein:
2
g
|
Fat:
3
g
|
Saturated Fat:
1
g
|
Polyunsaturated Fat:
1
g
|
Monounsaturated Fat:
1
g
|
Trans Fat:
0.02
g
|
Sodium:
864
mg
|
Potassium:
465
mg
|
Fiber:
3
g
|
Sugar:
6
g
|
Vitamin A:
5202
IU
|
Vitamin C:
26
mg
|
Calcium:
57
mg
|
Iron:
1
mg
Prepared this tasty Old-Fashioned Golden Vegetable Soup?
We would love to know how you got on.
Leave us a comment below and/or click the rating stars above within the recipe card.
Sharing a photo of your soup on social media?
Do tag us in using @traditionalplantbasedcooking or #traditionalplantbasedcooking
We love seeing your good cooking!
Thanks so much, Jacq xxx