Vegan medieval potage stew is based on the British meal that was popular throughout the middle ages.
There are many variations of potage stew and my plant-based version contains root vegetables, onions, garlic, butter beans, barley, oatmeal and red lentils. Flavoured with vegetable extract (marmite) fresh herbs, dried herbs, veggie stock and vegan gravy to bring this medieval dish into the 21st century flavour palate!
Some of these ingredients would not have been available during the medieval ages but as with all good recipes that stand-the-test-of-time they do so by being versatile and easily adaptable.
Besides my daughter is a complete medieval enthusiast and helped to develop this recipe from all the knowledge she has gained researching. I might also have used some of her history props for the photos!
What is Medieval Potage Stew?
First off potage can be spelt with either one t or two t's as in pottage. The word potage is actually an newer spelling variation. Potage translates from French to simply mean 'food cooked in a pot'.
The food cooked in the pot would have been akin to a stew, soup or porridge, or something in between. Potage tends to lean over towards the thicker spectrum of stews.
Medieval potage stew has been around since at least the 14th Century, originating in France and being adopted by the British.
Medieval peasants did not have meat as an everyday staple instead relying on vegetables and grains, such as barley.
Peasants would have been unlikely to have afforded to add meat to their potage and would have chucked in any edible greenery and vegetables they could afford, grow, trade or forage around their local environment.
Albeit, when meat was available it would have been included along with the vegetables, grains and herbs.
The potage would have been cooked in a cast-iron cauldron pot over an open fire/fireplace. With a large wooden spoon used to stir the potage.
Thick slabs of bread were often used as plates and the potage ladled directly onto the hard bread. The bread was rarely eaten but was often donated to peasants or beggars.
Popular film culture has embraced the potage meal. Whenever there is a dinner scene during a medieval or historical movie that involves feeding peasants its generally a potage type meal that is generally served up!
There is an episode of AMC's Into the Badlands series (Season 2 episode 1) where the mine prisoners are fed what looked strikingly similar to my potage stew recipe! My daughter got quite excited when she saw the potage slopped onto the dinner plates!
So if you have a family member who is a medieval, knights, King Arthur, Robin Hood, Lord of the Rings, or living history fan and enthusiast, then this recipe is ideal and so much fun!
Especially served in wooden bowls or platters.
A great idea for Halloween parties or gatherings is to serve this potage in a hollowed out pumpkin or little individual pumpkins. Kids will love preparing this potage and mixing the cauldron saucepan!
How to Prepare Vegan Medieval Potage Stew
The beauty of potage is that it can be as simple or as inventive as you desire. No two potages will be the same so each time you prepare it, it will be like an evolving creation which will just get tastier as you practice. My daughter loves the medieval ages so she is the potage creator in the family.
Any size cooking pot/pan can be used depending on what you have and how many you are cooking for. Also, it is up to you how much vegetables, grains and legumes you'd like to add. There is absolutely no wrong way of making potage.
Everything and anything edible can get bunged in. Even local edible weeds such as dandelion or nettle.
To make your potage even more economical use reduced vegetable bargains from your local supermarket. As well as look out for vegetables in season as they tend to be less expensive.
Recipe Notes And FAQS
How do I store leftover potage?

Leftover potage stew can be stored in the fridge in an airtight container for up to 3 days.
Can I freeze leftover potage?

Absolutely!

Freeze within a freezer bag or covered container for up to 4 months. Defrost completely before reheating.
How do I reheat leftover vegan potage stew?

Gently reheat in a non-stick pan until piping hot throughout.

A little extra veggie stock will likely be needed to thin out the gravy as it will become very thick.
What can I add to medieval vegan potage stew?

Any vegetable, herbs, grains, beans and lentils can be added.

For quicker stews I recommend beginning the stew with cooked beans.

Depending on what you add to your potage do keep in mind how this will alter the cooking time.

potatoes
sweet potatoes
cabbage
spring greens
spinach
collards
beet greens
turnip greens
cauliflower greens
Brussel sprouts
carrots
celeriac
celery
courgette
marrow
capsicum peppers
fennel
beetroot
broccoli
cauliflower
mushrooms
radish
parsnips
turnips
pumpkin
butternut squash
swede
onions
leeks
tomatoes, fresh, tinned or puree
garlic
any fresh herbs available especially rosemary sprigs, parsley, thyme, bay leaf, sage
dried mixed herbs
tinned or dried cooked beans
tinned or dry lentils
grains such as barley, wheat berries, rice, quinoa, split peas
dried soup mix
rolled oats, pinhead oatmeal, oat flakes
rye, barley, wheat flakes
textured vegetable protein (chunks/mince)
soya curls

Can I add any extra flavors to this potage recipe?

*Use any vegan vegetable stock/bouillon cubes, powder or paste.

*Vegan gravy powder. Or cornflour/starch to thicken up potage instead of gravy powder.

* a tablespoon of vegan Worcester sauce

* a tablespoon or two of tomato ketchup or brown sauce

* teaspoon of mustard

* white or black pepper

*a splash of white or red wine

*a tablespoon or two of balsamic, red wine vinegar. white wine vinegar or apple cider vinegar

*a tablespoon of liquid amino

* a teaspoon of liquid smoke

* a few tablespoons of nutritional yeast flakes sprinkled on top of the potage

* grated vegan cheese

* vegan sour cream or mayonnaise

*at the end of cooking add a splash of plant-based milk or plant-based cream for a creamy potage if desired. This is especially nice if you have added leeks, potatoes, oats or barley to your potage

What can I serve with vegan potage stew?

The suggestions below are not all strictly medieval fare but tasty nevertheless!

crusty bread

Irish wholemeal soda bread

quick dinner rolls

oatcakes

easy 3 ingredient flatbreads

corn bread

corn muffins

crackers

breadsticks

slices/wedges of vegan cheese

mashed potato

mashed sweet potato

baked potato or sweet potato

peas and sweetcorn

brown rice, black rice, red rice, wild rice or long grain rice

couscous/ giant couscous

noodles, pasta, orzo

mixed salad

pickles, sauerkraut, gherkins

Can I prepare vegan potage stew as gluten-free?

Of course.

Simply ensure all your ingredients are gluten-free especially your veggie stock and other flavourings.

And if using oats then check that the oats are certified gluten-free. Also barley does contain gluten so do double check any ingredients used to ensure that they are safe for gluten-free diets.
Any pro tips for preparing the best potage stew?

* If using frozen vegetables such as cauliflower or broccoli bear in mind that over stewing this kind of vegetable tends to reduce them to mush.

* So chuck soft frozen veggies in near the end of cooking.

* Frozen root vegetables, peas, corn and frozen beans are much stronger and can take longer stewing fine. Although frozen peas can be added about 5 minutes before cooking time ends to retain the nice green colour.
 
* Save time and money by using a fresh veggie stew pack or frozen veggie stew pack. These are commonly available in UK supermarkets. Also use up any veggies lurking around the fridge that are a little past their best but still fine to use. And veggies purchased from the reduced section of the supermarket are perfect.

How To Prepare Medieval Inspired Potage Stew
To save time and effort use a bag of ready prepared frozen or fresh root veg mix. Or prepare your own veggies.
Add the root veggies and barley to a large saucepan.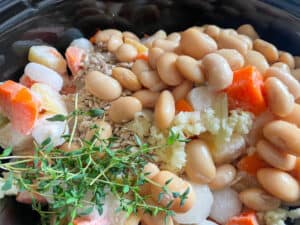 Tip in the butterbeans, minced garlic, and fresh herbs.
Add mixed dried herbs and the bay leaf.
Toss in the lentils and stock cubes.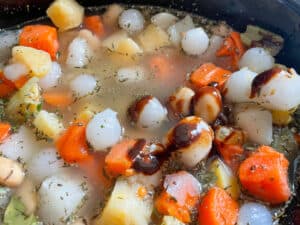 Pour in the water and scoop in the vegetable extract or Marmite.
Bring to the boil and simmer for 30 minutes.
Add oatmeal, vegan gravy powder and chopped kale.
Simmer for 5-10 minutes. Season with salt and pepper to taste.
More Vegan Stew And Hotpot Recipes
Green Lentil and Haricot Bean Mashed Potato Pie (Hotpot)
Vegan Creamy Cashew, Lentil and Roast Cauliflower Moroccan Stew
Slow Cooker Vegan Beef Stew With Fluffy Dumplings
Recipe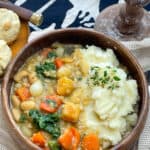 Vegan Medieval Potage Stew
Print Recipe
Medieval potage stew is the ultimate economical budget meal still going strong after many hundreds of years.
Potage stew is so versatile as it can be adapted to whatever you have to hand.
A bowl of potage is incredibly tasty, filling and wholesome.
Equipment
Large saucepan/ stockpot/ soup pan
Ingredients
1

kilogram

casserole vegetables

chopped into chunks or use a ready prepared bag of veggies

100

grams

pearl barley

90

grams

red split lentils

washed and drained

1

can

butter beans

400g/ 14 oz can, drained

3

tablespoons

pinhead oatmeal

or quick-quick/porridge rolled oats

75

gram

kale

3

tablespoons

vegan gravy powder

2

bay leaf

Plus any fresh herbs you have to hand. Such as a few sprigs of fresh thyme, a small bunch of chopped parsley, a few sage leaves, a sprig of rosemary, etc.

1

tablespoon

dried mixed herbs

1

teaspoon

vegetable yeast extract

or marmite/vegemite (for gluten-free diets marmite may contain gluten so do check)

1625

millilitres

vegetable stock

6 ½ cups/ 3.4 pints / 1.7 quarts. Use 2 vegan stock cubes or equivalent of stock powder/paste.
Instructions
Add all the ingredients to your saucepan, except the kale, oatmeal and gravy powder.

Pour in the vegetable stock.

Bring to a simmer and cook for 30 minutes.

Add the gravy powder, oatmeal and kale. (If your gravy powder requires mixing with a little cold water before adding to stews then follow the packet instructions before adding to the potage as this will prevent gravy lumps!)

Simmer for 5-10 minutes.

If the stew starts to stick to your saucepan add an extra half cup of stock to loosen the sauce.

Or place a lid on your pan, remove the pan from the hotplate, and leave the saucepan to sit for 10 minutes to finish cooking in the residual heat.

Potage stew will be much thicker than normal stew but if preferred add extra veggie stock to loosen up the gravy.

Remove the bay leaf and any herb stalks such as fresh thyme.

Check the seasoning and add salt and pepper to taste.
Notes
Nutritional information is provided for guidance only and is not a strict calculation as ingredients vary.
Potage stew can be kept fresh in the fridge, in a covered container, for up to 3 days.
Reheat in a saucepan, simmering until piping hot throughout. Add a little extra stock to loosen up the stew if it is very thick.
Freeze portions of stew for speedy future meals.
Nutrition
Calories:
349
kcal
|
Carbohydrates:
74
g
|
Protein:
13
g
|
Fat:
2
g
|
Saturated Fat:
1
g
|
Polyunsaturated Fat:
1
g
|
Monounsaturated Fat:
1
g
|
Sodium:
1138
mg
|
Potassium:
1120
mg
|
Fiber:
20
g
|
Sugar:
12
g
|
Vitamin A:
1851
IU
|
Vitamin C:
44
mg
|
Calcium:
119
mg
|
Iron:
5
mg