Vegan peppermint creams are so easy to prepare for Halloween using just a few everyday ingredients.
Decorating these vegan sweets with frightful faces is the perfect Halloween party activity.
Or enjoy dipped in dark chocolate for an after dinner treat during Thanksgiving, Christmas, Holidays, Easter, etc.
These vegan traditional sweets are brilliant homemade gifts for friends and loved ones, especially when packed into a home-made decorated jar or gift box.
Vegan Peppermint Creams
Icing sugar, aquafaba (drained liquid from a can of chickpeas) and a few drops of peppermint essence are the basic ingredients for these little traditional British sweets.
If you love Fry's peppermint creams or are missing After Eights then this recipe is perfect. As the crisp, sweet, creamy minty-ness is just so tasty. Even better is dipping the refreshing minty sweets into vegan dark melted chocolate.
Kids will especially love using cake pens to decorate frightful Halloween faces or images. Or if preparing at another time of the year simply decorate as desired.
These vegan peppermint creams are suitable for vegans, plant-based diets, vegetarians, gluten-free, and those requiring egg and dairy-free sweet treats.
Quick Origins Of Peppermint Creams
Peppermint creams were a popular British Victorian sweet. Peppermint creams are usually prepared with egg white and icing/powdered sugar to create a sweet fondant that hardens as it sets. No baking is required.
Before the Victorian era sugar was an expensive commodity only really available to richer classes. But by the 1700-1800s sugar was becoming an increasingly popular ingredient as it became less expensive.
In 1866, the Fry's chocolate cream bar was introduced, which included a peppermint flavour, and the Fry's chocolate cream bar claims the accolade of being the first chocolate bar to be mass produced for the general public.
Nowadays popular minty cream sweets that are similar to traditional peppermint creams still include the Fry's peppermint cream, as well as the Kendal mint cake, and York peppermint patties, and After Eights. Traidcraft produce Divine dark chocolate mint thins which are vegan and similar to After Eights (not an ad).
Vegan Peppermint Creams Prepared Without Egg
These peppermint creams, otherwise known as peppermint S-creams in my home, are truly hideous, frightful and ghastly. They are egg-free, dairy-free and gluten-free but sadly not sugar-free. However, as they are a special occasion sweet I don't mind my family enjoying these delicious little morsels.
These peppermint creams are easily prepared without the traditional egg white.
Aqua Faba replaces egg white.
Aqua Faba is the water that is drained out of an ordinary tin of chickpeas. Its simply magic stuff. Somehow the water that chickpeas are cooked in seems to leak natural, all plant-based components into the cooking water, and this unique combination creates a liquid that amazingly can replace egg whites in a variety of dishes.
If interested for a more technical explanation which is much better than I could ever attempt check out the aquafaba wiki page!
Aquafaba can even be whipped up into meringues and pavlova. I have tried both and its a terrific substitution.
I'm still not sure how aquafaba manages it but its an amazing discovery that opens up lots of opportunities for those needing egg-free recipes especially ones that use egg white.
How To Prepare Vegan Peppermint Creams
Vegan Peppermint Creams Recipe Notes And FAQS
How do I store vegan peppermint creams?

Vegan peppermint creams can be stored in an airtight container for up to 2 weeks. To preserve the sweets longer line the container with baking parchment and kitchen foil and also wrap the coverings around the sweets.

If the creams are intended as gifts ensure the inside of the gift box is lined in a layer of kitchen foil with perhaps tissue or crepe paper around the foil for a nicer presentation. Or add to a nice jar with an airtight lid.

Store in a cool, dry area.
Do vegan peppermint creams make good gifts?

Absolutely. The best gifts are always homemade. See the above advice on storing the peppermint creams, and perhaps add a nice tag, ribbon or bow to the container.
Are vegan peppermint creams suitable for gluten-free diets?

Yes. This recipe is gluten-free but if you intend to decorate the sweets ensure that your cake pens, chocolate, etc are free from gluten ingredients.
Is white sugar suitable for vegans?

During the sugar manufacturing process some sugar is processed using bone char which is not a vegan-friendly ingredient. This is more common in the United States and so its important to source a brand of sugar that does not use bone char.

Organic sugar does not use bone char so that is an option. However, do check out this list of sugar brands that do not use bone char over at vegfaqs.com.

In the UK most sugar brands do not use bone char so this is not really an issue here but do ensure that your icing/powdered sugar does not contain dried egg white.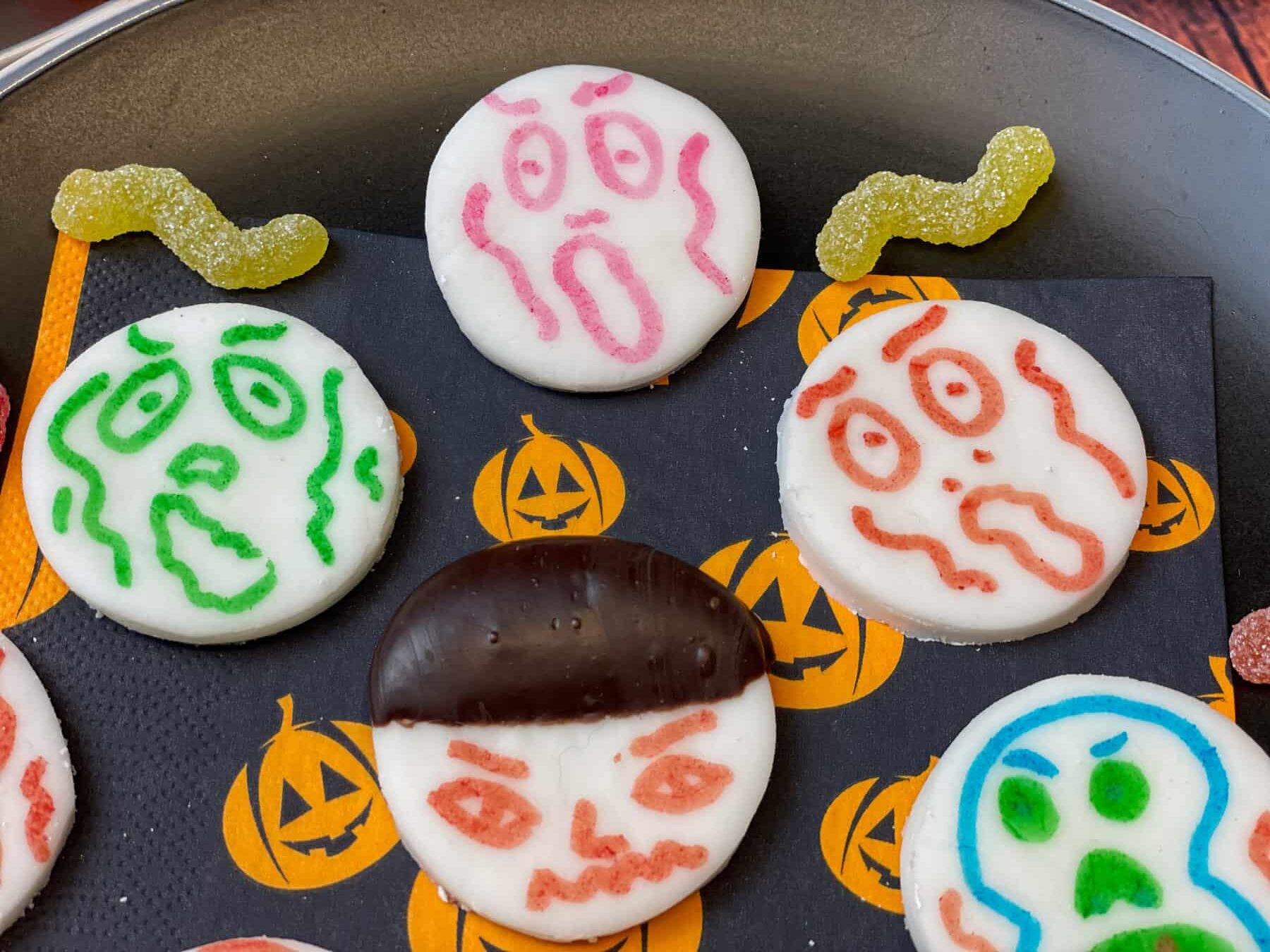 Recipe
Vegan Peppermint Creams (No Bake Traditional Sweets)
Print Recipe
These vegan peppermint S-Creams are so truly deliciously shocking and frightful that you will have to eat them all just to cover up the evidence!
Perfect for a Halloween treat, or an after dinner sweet for Thanksgiving, Christmas or any special holidays.
Even better prepare a batch for a homemade gift.
Equipment
Electric hand whisk, or manual hand whisk, or strong arms!

Baking tray or similar, baking parchment

Cookie cutter, about 2 inch/ 5 cm

Rolling pin
Ingredients
450

grams

icing sugar

powdered sugar, sieved, plus extra for dusting rolling pin and work surface

80

ml

aqua Faber

All the aquafaba may not be required.

¼

teaspoon

peppermint essence

plus a few extra drops, may require more drops until you achieve the minty-ness liked
Instructions
Line a baking tray or similar with parchment paper.

Sieve the icing/powdered sugar into a mixing bowl. Weigh out the aquafaba by placing them in a sieve and moving the chickpeas around to remove all the liquid.

Store the the chickpeas in the fridge for 3 days, or freeze for 3-4 months, and use for a different recipe.

Whisk the aquafaba until it is frothy, bubbly, thick, and white (about 3-4 minutes using an electric hand whisk, or manual whisk, or beat with a wooden spoon which will take much longer!).

It is ready when a spoon can scoop up a thick piece and the aquafaba slowly drips in large blobs.

Pour ¼ teaspoon peppermint essence, plus a few extra drops into the icing sugar.

Slowly add the aquafaba to the icing sugar, mixing with a metal spoon until it all comes together first into crumbs. You will not need all the aquafaba so don't add it all at once.

Taste a little of the mix and if its not minty enough for your liking add a drop or two more of peppermint essence, before kneading the crumby mix into a ball of dough.

Next use your hands to firmly press the icing dough into a ball. Divide the ball into 2 pieces as this will be easier to knead. Knead each piece firmly, while also cupping the ball between your palms and pressing into a smooth ball. This step may take a few minutes.

Add extra dabs of aquafaba if the icing balls are too dry and knead this into the icing mix, or extra icing sugar if too damp.

Using the palm of your hands firmly press each dough into a flat circle. With a rolling pin roll out circle out to about ½ cm thick or thereabouts. Stamp out circles with a 2 inch/ 5 cm cookie cutter.

As you roll the icing ball little cracks may appear. Smooth these out by dipping your finger into the leftover aquafaba and smoothing over the cracks. Sprinkle over extra icing sugar and smooth this into the icing ball until the cracks fade.

Place the peppermint creams onto a baking tray lined with parchment paper. Smooth out any icing sugar bits that happen to land on the creams with a dry finger.

Ensure that the peppermint creams are sitting on the tray flat as they will dry out and set into the shape they are left in.

Allow to dry out overnight or for at least a few hours before decorating. Cover with a food cover or a clean tea towel.
To decorate with chocolate:
Break the chocolate into even chunks and add to a heatproof bowl.

The quickest way to melt the chocolate is to use a microwave.

In 20 second bursts heat the chocolate until about half melted then remove from the microwave and stir until completely melted. The chocolate should continue to melt as its stirred. If not just give it another 20 second ping.

Or place the bowl into a saucepan with gently simmering water until melted. Be careful not to get any of the steam or water into the chocolate as this could result in the chocolate seizing.

Scrape the chocolate to one side of the bowl and dip the peppermint creams into the chocolate or use a little spatula to cover each cream in chocolate. Vegan sprinkles could also be added.
Decorate with vegan cake pens/icing pens:
Notes
Nutritional information is provided for guidance only and is not a strict calculation as ingredients vary.
Vegan peppermint creams can be stored in an airtight container for up to 2 weeks. To preserve the sweets longer line the container with baking parchment and kitchen foil and also wrap the coverings around the sweets.
If the creams are intended as gifts ensure the inside of the gift box is lined in a layer of kitchen foil with perhaps tissue or crepe paper around the foil for a nicer presentation. Or add to a nice jar with an airtight lid.
Store in a cool, dry area.
Store the leftover chickpeas from the can in the fridge for up to 3 days and use in a different recipe. Ideas include adding the chickpeas to a curry, stew, soup, or prepare a chickpea scrabble, hummus, falafels, veggie burgers, etc. Links to recipe ideas including within the recipe FAQS.
If interested the jelly sweets used in the photos are jelly tots and Fruit Tella gelatine free sour snakes, both are labelled vegan and were purchased from my local Co-Op supermarket.
Nutrition
Calories:
71
kcal
|
Carbohydrates:
16
g
|
Protein:
1
g
|
Fat:
1
g
|
Saturated Fat:
1
g
|
Polyunsaturated Fat:
1
g
|
Monounsaturated Fat:
1
g
|
Trans Fat:
1
g
|
Cholesterol:
1
mg
|
Sodium:
1
mg
|
Potassium:
13
mg
|
Fiber:
1
g
|
Sugar:
16
g
|
Vitamin A:
1
IU
|
Calcium:
1
mg
|
Iron:
1
mg