Fairy bread is a traditional well-loved Australian party food that makes an appearance at most kids birthday parties. No exact recipe is required as there are only a few simple ingredients bread, a spread and some cake sprinkles.
That's it! So simple, quick and easily customizable to dietary and budget restrictions such as gluten-free, no-dairy, and no-egg.
Australians don't really need to read about how to make fairy bread as they even have a National Fairy Bread Day on the 24th November!
However, many people are unaware of fairy bread and its such a good vegan party budget food idea that kids will love to prepare, that it deserves more recognition.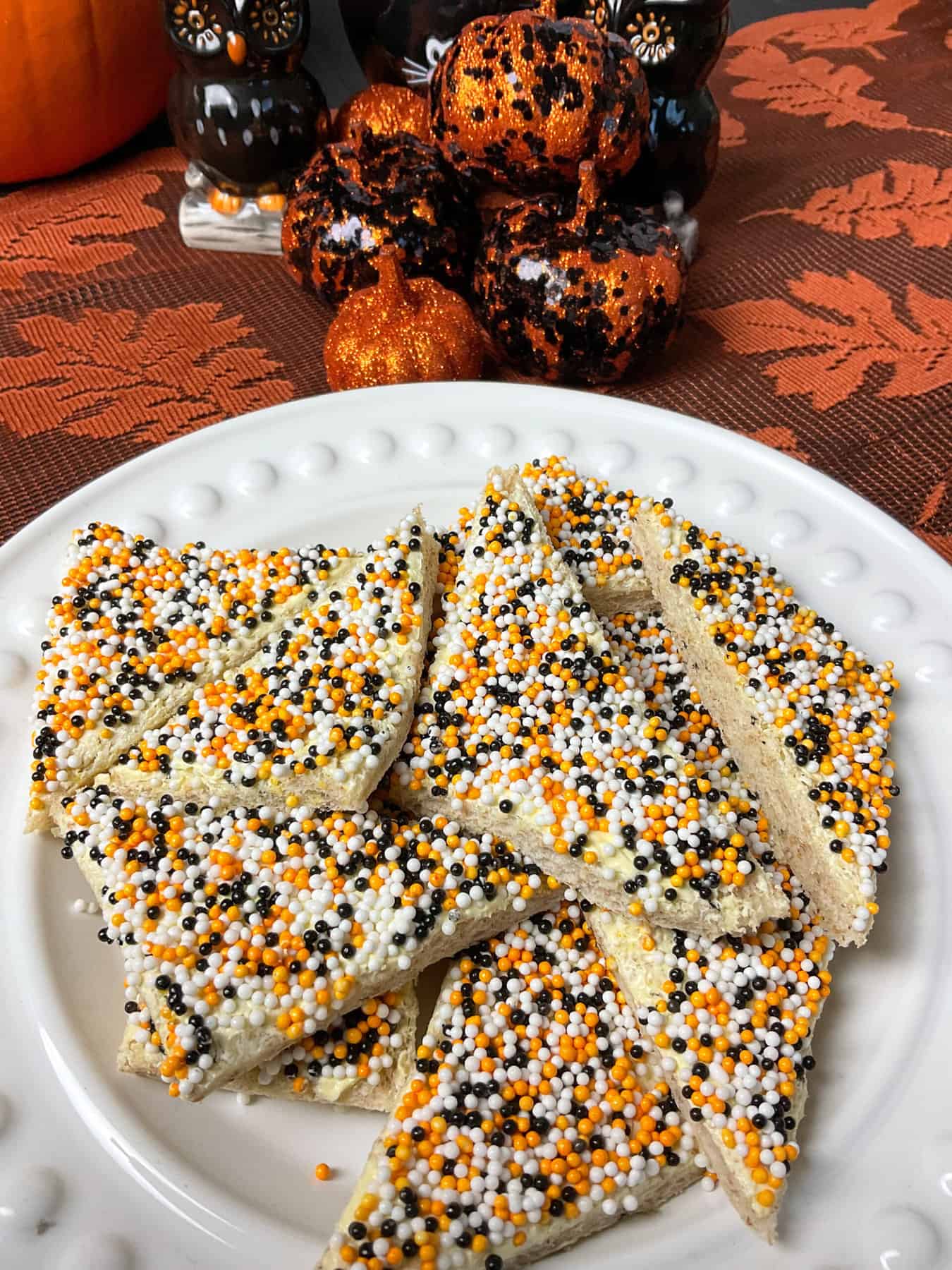 Fairy bread and some nice juice or a glass of chilled plant milk is an easy budget-friendly way to make an occasion extra special for kids.
For Halloween it could be called Scary Fairy bread!
Origin of Australian fairy bread
Fairy Bread originates in Australia and New Zealand and dates back to at least April 1929 when an article appeared in the Australian newspaper Hobart Mercury that reported on a children's party that was being held at the Consumptive Sanatorium [hospital for TB patients].
The children were being treated to a menu that began with Fairy Bread which was bread and butter that had the cake sprinkles hundreds-and-thousands scattered over.
Another Australian newspaper article from the Otago Daily Times [15th December 1936] outlines what to feed young children on Christmas Day. For teatime it was recommended that:
''slices of Fairy Bread (thin bread and butter sprinkled with non-pariels), with plain sponge cakes and the usual drink of milk, should constitute the full meal''
Non-pariels is a French word that refers to the tiny candy balls, [cake sprinkles] that mainly consist of starch and sugar.
Crust or no-crust for Fairy bread?
Many Australians would argue that Fairy Bread should always retain the crusts but of course these can be removed if preferred.
The crusts can always be used as breadcrumbs and stored within the freezer to add to recipes, so nothing needs to be wasted.
Fairy bread day
Fairy Bread Day, 24th November, has been celebrated in Australian ever since 2014 and is a day to appreciate the Australian culture of Fairy bread, as well as to raise money for the Australian youth mental health charity ReachOut. So this November is the perfect time to bring some Fairy bread into your life!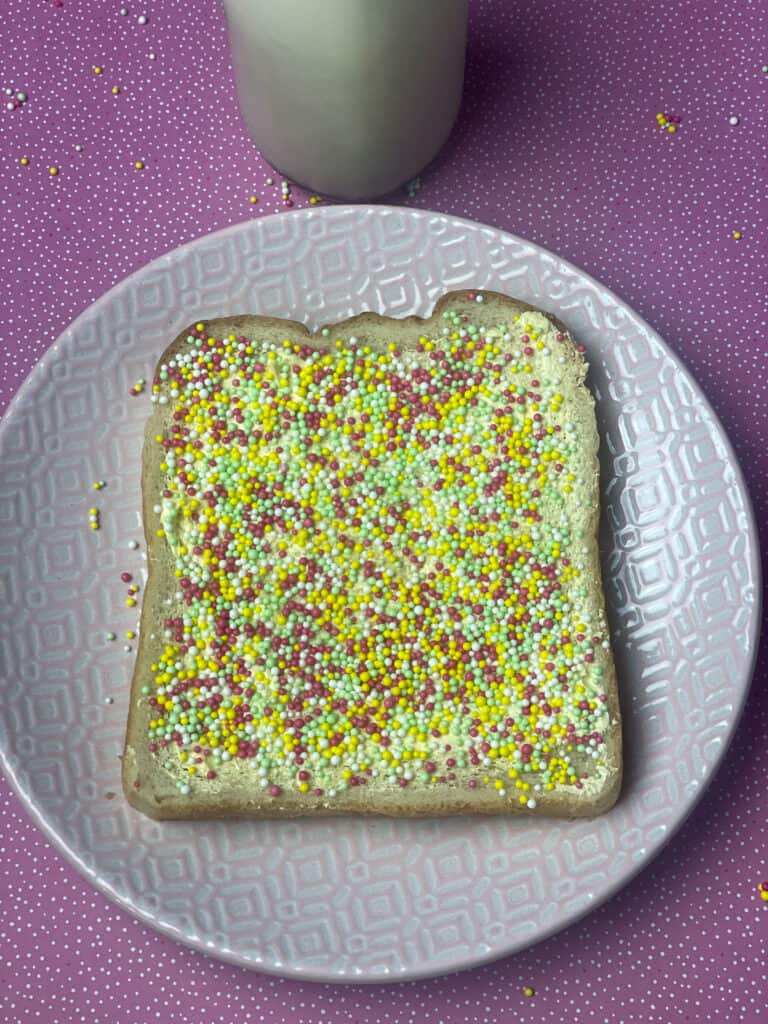 Fairy bread in children's literature
The Scottish poet Robert Louis Stevenson [1850-1894] wrote about fairy bread in one of his children's poems, although whether the fairy bread mentioned within the poem is the same as the Australian fairy bread is still in question.
Poem extracted from Child's Garden of Verses [1885]:
Come up here, Oh dusty feet!
  Here is fairy bread to eat.
Here in my retiring room,
Children you may dine
On the golden smell of broom
  And the shade of pine;
And when you have eaten well,
Fairy stories hear and tell.

By Robert Louis Stevenson
Fairy bread is so easy to customise for special holidays with the classic cake sprinkle hundreds-and-thousands, sparkly festive sprinkles, Halloween sprinkles, green sprinkles for St Patrick's Day, or red, white and blue sprinkles for US Independence day, etc.
Fairy bread can be temporarily renamed 'Elf'bread and enjoyed along with a North Pole breakfast on the first of December or Christmas Eve.
Or perhaps the Elf on the Shelf can prepare some messy Fairy or 'Elf' bread one morning during December!
For addition fun use cookie cutters to create cute shapes and figures.
The Dutch equivalent of fairy bread Hagelslag
Hagelslag is a traditional popular Dutch breakfast. The origins of Hagelslag date back to to the early 1900s when a Dutch sweet/candy company invented aniseed flavoured sprinkles that were intended as a sweet bread topping.
The name Hagelslag translates from Dutch to mean 'hailstorm'.
In 1936, another candy company created sprinkles made with chocolate after a young boy wrote a letter to the company asking for a chocolate bread topping.
Nowadays, Hagelslag is a very popular breakfast food for Dutch kids and adults. The bread is often toasted before spreading with butter and sprinkling with Hagelslag.
The Hagelslag sprinkles come in a variety of flavours including chocolate, chocolate flakes, aniseed, and several different fruit varieties.
The Dutch love Hagelslag so much that they munch through 750,000 thousand slices of Hagelslag per day and 14 million kilos of Hagelslag per year!
So what came first the Australian Fairy bread or the Dutch Hagelslag?
Who actually invented Fairy bread the Australians or the Dutch is an an-going debate! Although both versions appeared around the same time in the 1930s so perhaps it was a coincidence.
It likely doesn't matter as they both are equally as tasty!
And Robert Louis Stevenson, the Scottish poet, throws a spanner-in-the-works with his mention of Fairy bread within his 1885 poem!
How to prepare vegan fairy bread
A recipe is not really needed for Fairy Bread as its so simple to prepare.
White bread is traditionally used but I initially tried my first batch of Fairy bread with half-n-half which is half white and half wholemeal bread, as that's what I had to hand.
Although, I did try the Fairy bread with thick white bread and it was so much better as it actually resembled a doughnuts texture and flavour. Although with much less fat and sugar compared with an ordinary doughnut.
Fairy bread is perfect for when you have a doughnut craving.
First choose your bread, spread, and cake sprinkles.
Cover the bread with sprinkles by either using a small spoon and scattering them over. Press the sprinkles firmly onto the spread.
Alternatively, add the sprinkles to a bowl and press the bread firmly into the sprinkles.
The bread crusts can be removed or kept on.
Slice into triangles or squares.
How to prepare Hagelslag:
To prepare a slice of Dutch Hagelslag the method is the same as the Australian Fairy bread.
Chocolate sprinkles replace the hundreds-and-thousands, and the bread can be toasted or untoasted.
A glass of chilled oat, soya or your usual milk is the perfect accompaniment to Hagelslag, and would make a nice special occassion breakfast such as for a birthday.
White bread gives the best doughnut-like texture and flavour.
We used the Co-op Farmhouse white loaf that retails at £1 [at time of writing], and is labelled vegan.
Recipe notes
Storage
Australian Fairy Bread or Dutch Hagelslag is at its best eaten soon after it is prepared, but it will keep for a few hours at room temperature if required for a buffet or party.
Can Fairy bread be frozen?
I would not recommend freezing bread that has cake sprinkles added as the method is so simple that it can easily be prepared just before eating, and the sprinkles may react to the moisture within the freezer. However, bread with nothing added does freezes very well!
Is Fairy Bread suitable for a gluten-free diet?

Yes! Although a gluten-free bread will need to be used as well as gluten-free cake sprinkles.

What type of bread should I use for Fairy Bread?

The traditional type of bread for fairy bread is a white one. White bread gives the best flavour and texture when spread with butter and sprinkles, as the bread is transformed into a doughnut-like treat.

However, feel free to use whatever bread you prefer either shop-bought or home-baked.
Are cake sprinkles suitable for vegan and gluten-free diets?

There are vegan and gluten-free cake sprinkles available but you may have to look online for special colours and shapes as supermarkets and stores will likely only have a few available, if any.

Although, it is worth checking the ingredients of the cake sprinkles that are available locally, as some may be accidentally vegan even if they are labelled as vegetarian.

Many cake sprinkles are free from gluten but whether or not they are also vegan is a different matter. Check out this post for more useful information about what sprinkles are free from gluten.

When looking for vegan sprinkles do look out for these ingredients which indicate that the cake sprinkles are not vegan:

* beeswax

* confectioners glaze [this may be made with shellac which is derived from the female lac bug secretions]

* carmine [red colour made with ground insects] [Most of the other natural food colourings found in food products are prepared with plants but do research each ingredient just to be sure]

* gelatin

* eggs

*milk or other dairy products such as whey powder and lactose
Do I have to use butter or margarine for Fairy Bread?

Traditional fairy bread is spread with butter or an equivalent such as margarine. Vegan butter is readily available in most supermarkets and stores.

However, if preferred a different spread can be used instead.

A few ideas:

* vegan chocolate spread

* melted chocolate

* biscoff spread

* peanut butter

* a different type of nut butter

* sunflower seed butter

* fruit jam, preserves, conserves

* grape jelly

* marmalade

* vegan soft cream cheese

* mashed banana or avocado
What could I use as a natural home-made cake sprinkle?

If you prefer not to use cake sprinkles but would still like to try out the concept of sprinkled Fairy bread or Hagelslag then try one of these ideas:

* desiccated coconut [especially tasty on bread that has been spread with a nut or seed butter, or vegan chocolate spread]

* raisins, sultanas or currants [if you have the patience slice these up so that they are smaller in size!]

* other dried fruits sliced small such as pineapple, mango, papaya, dates, apricots, strawberries. goji berries, cranberries, blueberries, cherries

* diced glace/candied cherries

* candied diced mixed fruit peel

* lemon, orange or lime zest for a zesty kick!

* crushed up breakfast cereal

* chopped up vegan sweets/candy/chocolates

* vegan chocolate [grated/shaved] over the bread

* chopped mixed nuts/flaked almonds

* crumbled cookies/biscuits

* crumbled leftover cake

* crumbled candy canes

* chopped vegan marshmallows

Mix and match ingredients to create fun, creative Fairy bread combinations!
More vegan party treats
Recipe
Traditional Australian Fairy Bread
Print Recipe
Fairy bread is a traditional well-loved Australian party food that makes an appearance at most kids birthday parties. 
So easy, quick and customizable for any special occasion with different sprinkles.
Or try a slice of toasted bread with chocolate cake sprinkles for a traditional Dutch breakfast.
Fairy bread and Hagelslag are the perfect doughnut replacements and best off all have much less sugar, fat and calories!
Ingredients
4

slices

bread

[your choice]

2

tablespoon

vegan butter

[or your choice of spread and the amount is personal preference]

2

tablespoon

cake sprinkles

[may need less or more]
Instructions
Spread each bread slice with vegan butter or margarine.

4 slices bread,

2 tablespoon vegan butter

There are two ways the cake sprinkles can be added.

Either place the sprinkles into a bowl and then press the buttered bread into the sprinkles.

Or simply use a small spoon or just pick up the sprinkles and scatter over the bread until covered. Press the cake sprinkles into the bread.

[I prefer to use a spoon as a bowl requires many more sprinkles to be added and those not used may have butter on and so may get wasted if not used.]

2 tablespoon cake sprinkles

The bread crusts can be removed if preferred or just left on.

Gently shake the bread to remove any loose sprinkles.

Slice the fairy bread into triangles or squares.

Optional: Stamp out shapes from the bread using cookie cutters before adding the butter and sprinkles.
Preparing Dutch chocolate Hagelslag:
The bread can be toasted or left untoasted, before spreading with vegan butter and covering with chocolate cake sprinkles.

Press the sprinkles into the bread, and if preferred lift the bread up and shake a little to remove the loose sprinkles.

Enjoy with a nice glass of chilled oat milk or your usual milk for a tasty breakfast.
Notes
Nutritional information is for guidance only and is not a strict calculation as ingredients will vary.
Fairy bread or Hagelslag is best enjoyed soon after eating, or on the day of preparing as it will be at its freshest. 
For gluten-free Fairy bread use a gluten-free bread and gluten-free cake sprinkles.
Instead of vegan butter or margarine use a vegan chocolate spread, peanut butter, almond butter, sunflower seed butter, Biscoff spread, fruit jam or fruit preserve, grape jelly, marmalade, mashed banana, etc.
Don't want to use shop-bought cake sprinkles? Try a natural alternative such as desiccated coconut, grated/shaved chocolate, dried fruits such as raisins, sultanas, currants or larger dried fruit sliced into small pieces such as apricots, dates,mango, pineapple, papaya, etc, crushed breakfast cereal, crushed cookies, crumbled cake, chopped vegan sweets/candy or little chocolates, chopped nuts, chopped vegan marshmallows, etc...the list is endless and kids will have great fun creating inventive combos!
Nutrition
Calories:
139
kcal
|
Carbohydrates:
18
g
|
Protein:
3
g
|
Fat:
6
g
|
Saturated Fat:
2
g
|
Polyunsaturated Fat:
2
g
|
Monounsaturated Fat:
2
g
|
Trans Fat:
0.04
g
|
Sodium:
178
mg
|
Potassium:
41
mg
|
Fiber:
1
g
|
Sugar:
6
g
|
Vitamin A:
268
IU
|
Vitamin C:
0.1
mg
|
Calcium:
35
mg
|
Iron:
1
mg
Prepared this traditional Fairy Bread?
What are your thoughts on Fairy bread or Hagelslag?
Do drop us a comment below and let us know how you got on.
Sharing a photo of your Fairy bread on social media?
Tag us in using #traditionalplantbasedcooking or @traditionalplantbasedcooking
So we can admire your creation!
Thanks so much, Jacq x