How to make the best bowl of Scottish porridge or oatmeal is a quick guide that will have you bubbling up a traditional breakfast that is thick, creamy, and packed full of plant-based nutrition.
For something so simple as a bowl of traditional porridge it can be difficult if you don't get the ratio of oats to liquid quite right.
Some like their oats to be thick with almost all the liquid gone whereas a bowl of Scottish porridge is creamy, thick but still easily stirred!
However once you have a good recipe oatmeal is an easy dish and you can play around with it to achieve the best texture and consistency that you prefer.
There are two types of porridge that I make for my family on a regular basis. One type uses pinhead oatmeal or steel-cut oatmeal as its commonly known in the US. The second type of porridge is prepared with rolled oats or old-fashioned/Scottish oats as its popularly termed in Scotland.
 Steel-cut oats
Pinhead/steel-cut oatmeal is different from the usual porridge/quick cook/rolled oats, but both are usually found in the same aisle within supermarkets and grocery stores.
Pinhead oatmeal is the inner kernel of the whole oat or groats.
The outer husk is removed and the groats are sliced with steel to form 2-3 pieces of oatmeal.
A bowl of cooked oatmeal is a more rustic experience as the texture is more grainy and nutty but delicious non-the-less!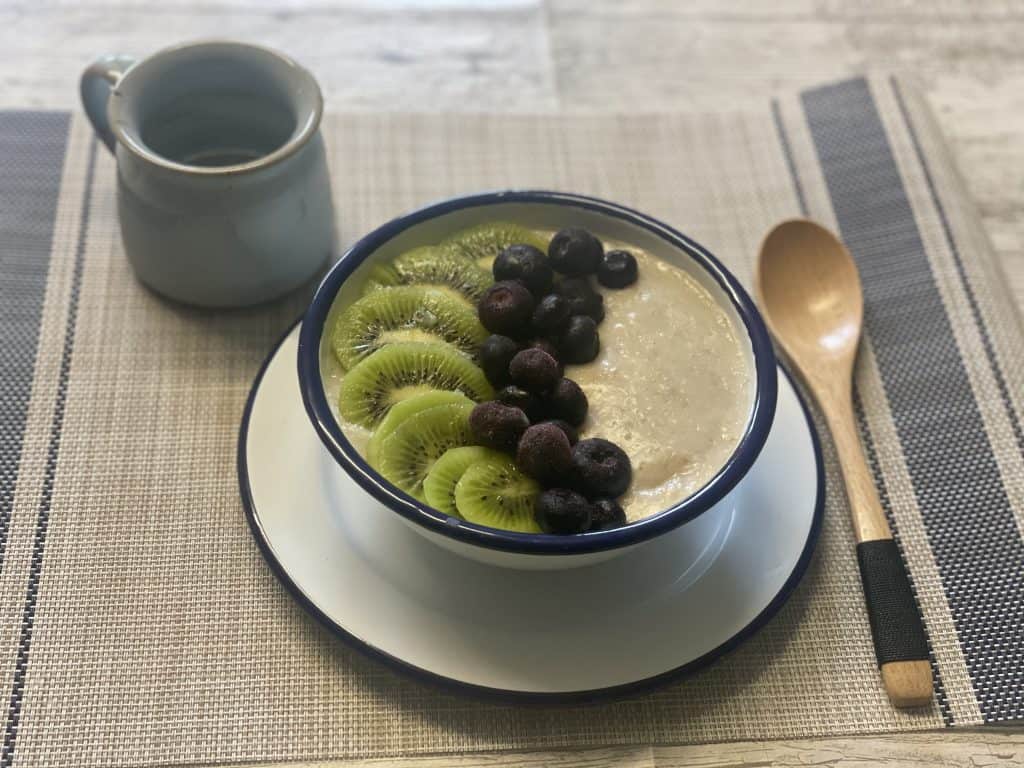 Rolled oats
Quick cook or rolled oats are also de-husked oat groats, but have been steamed and then rolled into flat flakes with a rolling machine.
Old fashioned/Scottish oats are rolled oats that have been rolled and sliced into thicker flakes than ordinary rolled oats.
Versatility of a bowl of oats
I always think that if you have a bag of oats at home then you'll always a have a quick meal available.
Porridge is not just for breakfast!
Try a yummy bowl for lunch, dinner, supper or even for a snack when your extra hungry.
I have included a super-simple recipe for both pinhead oatmeal and rolled oats.
Try both and discover which one is your favourite!
The Best Bowl of Scottish Porridge!
Serves 1 large hungry portion!
Or 2 smaller portions!
I can usually make this recipe stretch to 2 smaller bowls especially if toppings are added!
The Best Bowl of Scottish Porridge!
An incredibly simple and easy recipe for a traditional bowl of Scottish porridge!
Ingredients
45

grams

rolled oats

1/2 cup. Just your usual type of oats. Or can use old-fashioned rolled oats

500

ml

water

2 cups.

60

ml

plant-based milk

1/4 cup. This is optional as porridge can be made with just water but it does provide extra creaminess and flavour. I usually use Oatley organic oat milk.
Instructions
Add the oats to a saucepan.

Pour in the water and mix.

It is traditional in Scotland to add a pinch of salt to the oats. But I don't!

Bring to the boil.

Lower the heat to a gentle bubble.

Bubble for 3 minutes. A few minutes longer if using large oat flakes.

Add the plant-based milk.

Stir

Bubble and stew for another 3 minutes or longer until the consistency is to your liking.

I like the porridge to be creamier and not to have absorb all the water to a stodge!

But the longer oats stew the thicker they will become.

Also taking the saucepan off the heat and letting the oats sit for a while will thicken them up.

Serve as is or add your choice of sweetener, fresh fruit, dried fruit, seeds, and nuts. And maybe some extra plant-based milk to pour over served bowls. A sprinkle of cinnamon and drizzle of maple syrup is delicious!
The following nutritional information is for guidance only and is not a strict calculation as ingredients vary! The data includes the rolled oats and oat milk only.
The following nutritional calculation includes 30g blueberries, 1 tbsp of mixed seeds and 1 kiwi fruit.
Useful recipe notes for the best bowl of Scottish Porridge
Any uneaten porridge will keep fresh in the fridge for up to 3 days. Although the porridge will become very thick so may require extra water or plant-based milk mixed through if you plan on reheating.
Enjoy leftovers chilled or reheated.
Leftovers can be reheated in a saucepan or microwaved.
My dogs love my porridge scraps so maybe yours will to!
Add any toppings/additions you like to your porridge. Any of your favourite dried and fresh fruits, nuts, seeds, dried fruits, cinnamon, mixed spice/pumpkin spice etc.
I like some maple syrup drizzled over my porridge but any sweetener you usually use will do.
Chopped banana and apple make for tasty alternatives to sugar!
Try stewing your apples first and then add to your porridge or stew cubed apple pieces directly in your porridge. Add a sprinkling of mixed spice/pumpkin spice or cinnamon for an apple pie porridge breakfast!
Stewed plums are tasty added to porridge.
Reluctant kids can be encouraged to try porridge by arranging a little buffet-style platter of nuts, seeds, chopped fruit, dried fruit, coconut shards, cacao nibs, cinnamon, fruit jam, etc. Then they can have fun tailoring and building-their-own-porridge-bowl!
If you enjoy savoury foods perhaps you would like some greens such as kale or chard fine sliced and mixed through your porridge while cooking!
The Best Bowl of Scottish Pinhead Oatmeal
Serves 2 bowls.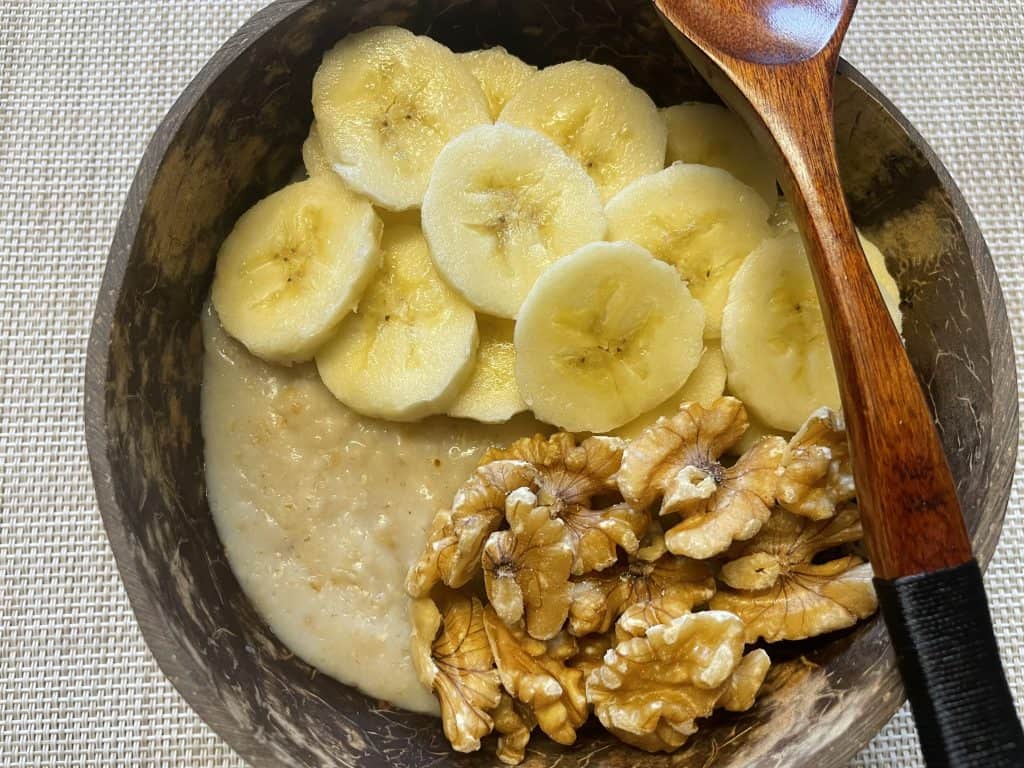 The Best Bowl of Rustic Scottish Oatmeal!
Rustic Scottish oatmeal prepared with steel-cut or pinhead oatmeal which have been the oats of choice in Scotland for many hundreds of years!
Ingredients
80

grams

pinhead oatmeal

1/2 cup.

500

ml

water

2 cups.

125

ml

plant-based milk

1/2 cup. I use Oatley Organic oat milk.
Instructions
Add the oatmeal to a saucepan.

Pour in the water and mix.

Add a pinch of salt if liked. I don't, but many other Scottish people do and swear by it!

Bring to a simmer.

Lower heat.

Bubble for 3 minutes.

Will likely need frequent stirring to ensure it doesn't stick.

Bash out any lumps that might form with your stirring spoon.

Pour in the plant-based milk.

Stir through.

Simmer for 3 minutes.

Remove from the heat and allow it to sit for 1 minute.
Notes
Cooked one of my recipes?
Snapped a photo for social media?
Tag us @traditionalplantbasedcooking #traditionalplantbasedcooking
The following nutritional data is for guidance only and is not a strict analysis as ingredients vary.
The following nutritional info is for 1 bowl of Scottish oatmeal with 1 banana, 1 tbsp of flaxseeds and 20g of walnuts.
Recipe Notes for Best Bowl of Scottish Rustic Oatmeal
All the notes for the best bowl of Scottish porridge is relevant for Oatmeal! So nothing else needs to be said!
More tasty oat recipes:
How to make the best bowl of Scottish Porridge or Oatmeal