How to make the best bowl of Scottish porridge or oatmeal is a quick guide that will have you bubbling up a traditional breakfast that is thick, creamy, and packed full of plant-based nutrition.
These recipes are based on the porridge I enjoyed as a child growing up in Scotland.
Oats are so underrated but are incredibly versatile, inexpensive, nutritious and delicious.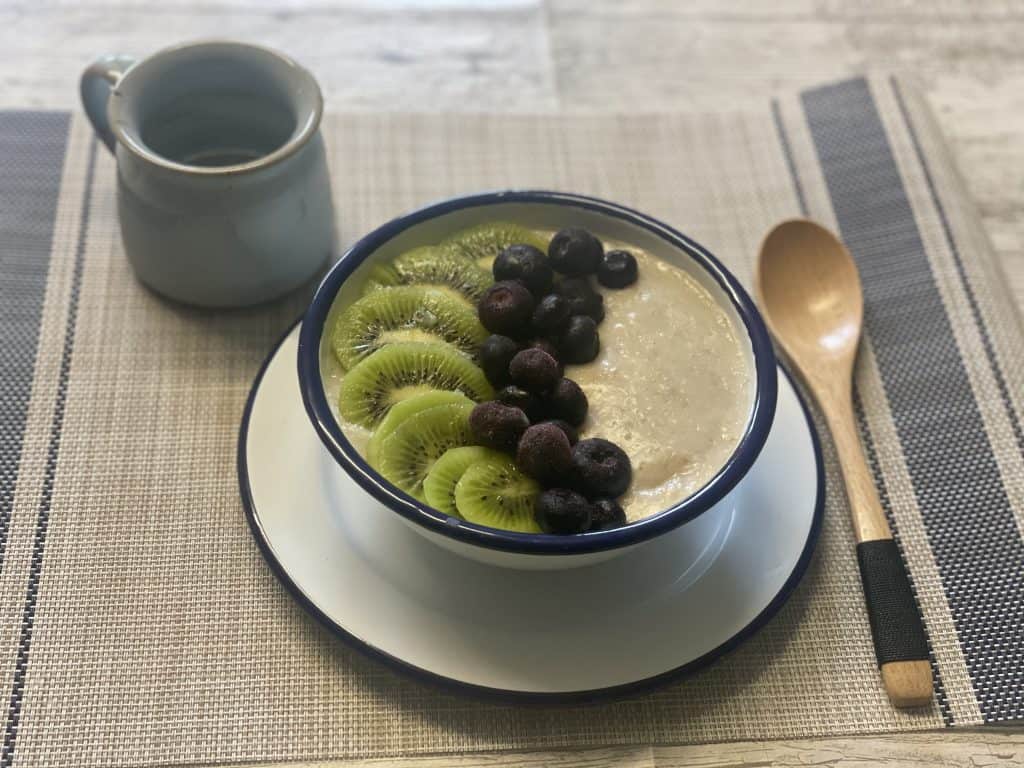 Origins of Scottish porridge
Oats have been prepared into some sort of gruel since the hunter-gather stone age times especially in the European and African area.
A definition of porridge from 1530 describes porridge as a thick meal of vegetables. Meat would have been added to the porridge if affordable. This description actually relates to pottage which was a common sloppy meal especially with poorer people. My daughter is a medieval fan so I happen to have a fun, interesting recipe for pottage that is perfect for a Halloween medieval style meal.
By the 1640s porridge was a meal popular in Scotland which consisted of oats cooked with milk or water with veggies added such as peas.
The soil of Scotland is particularly good for growing oats which is why it eventually became a staple food. Whereas in England by the 1700s oats was mainly regarded as only fit for horse food!
Getting the porridge ingredient ratio correct
For something so simple as a bowl of traditional porridge it can be difficult if you don't get the ratio of oats to liquid quite right.
Some prefer their porridge to be thick, with almost all the liquid gone and the spoon standing up in the middle of the bowl! Whereas a bowl of Scottish porridge is creamy, thick but still easily stirred.
However, once you have a good recipe oatmeal is an easy dish and you can play around with it to achieve the best texture and consistency that you prefer.
Traditional porridge is seasoned with salt
Traditional porridge or oatmeal tends not to be sweetened with sugar or a healthier syrup such as date or maple, but I do prefer to use some sugar. Usually some soft-brown sugar, demerara or date sugar.
Staunch traditionalists would simply add a pinch of salt at the end of cooking, and would never entertain the thought of adding sugar.
Different types of porridge
There are two types of porridge that I make for my family on a regular basis. One type uses pinhead oatmeal/steel-cut oatmeal. The second type of porridge is prepared with rolled oats or old-fashioned/Scottish oats as its popularly termed in Scotland.
Steel-cut oats
Pinhead/steel-cut oatmeal is different from the usual rolled oat flakes, but both are usually found in the same aisle within supermarkets and grocery stores.
Pinhead oatmeal is the inner kernel of the whole oat or groats.
The outer husk is removed and the groats are sliced with steel to form 2-3 pieces of oatmeal.
A bowl of cooked oatmeal is a more rustic experience as the texture is more grainy and nutty but delicious non-the-less.
Rolled oats
Quick cook or rolled oats are also de-husked oat groats, but have been steamed and then rolled into flat flakes with a rolling machine.
Old fashioned/Scottish oats are rolled oats that have been rolled and sliced into thicker flakes than ordinary rolled oats.
I have provided recipes for both types of traditional porridge as my family enjoy both varieties. Try each recipe and see which one is your favourite.
Versatility of a bag of oats
I always think that if you have a bag of oats at home then you'll always a have a quick meal available.
Porridge is not just for breakfast. Try a nourishing bowl for lunch, dinner, supper or even for a snack when your extra hungry.
Other delicious recipes that highlight oats:
Vegan British traditional chocolate flapjacks
Vegan Traditional Scottish Skirlie (side-dish, historically known as 'poor-mans haggis!')
Vegan no-oil Scottish oatcakes
Useful recipe notes for the best bowl of Scottish Porridge or Scottish Oatmeal
What can I add to porridge or oatmeal?
Lots of things. The list is endless!
tbsp of peanut butter or other nut butter
tbsp of sunflower seed butter
vegan yogurt
vegan cream
vegan chocolate spread
apple sauce
fruit jam/jelly (for a homemade sugar-free blueberry chia jam check this recipe out)
grape jelly
dried fruit, either at the end of cooking or at the beginning to stew in the oats
dates, figs
fresh fruit
stewed fruits
tinned fruits
frozen fruit, defrosted or added frozen to the oats at the beginning of cooking
coconut shreds/ desiccated coconut/ coconut pieces
vegan chocolate chips/cacao nibs
date syrup/maple syrup/agave syrup/rice syrup etc
sugar including brown, demerara, coconut, date, etc.
any sweetener that you may need to use as a result of a health-related issue
cinnamon, nutmeg, ginger powder
mixed spice, pumpkin spice mix, allspice
vanilla essence, almond essence
zest of lemon, orange, grapefruit, lime
flax meal
bran
wheatgerm
various types of nuts or seeds
Do you have any flavour combinations that are particularly tasty?
Usually I just wing it and add anything that I fancy and have to hand. But a few tasty combos are:
sliced strawberries and vegan yogurt
sliced bananas and cinnamon
mixed spice and maple syrup
cinnamon and brown sugar
stewed stone fruits such as plum, peach, nectarine with cinnamon and brown sugar
tropical: pineapple, papaya, mango, passion fruit in any combination, sprinkled with desiccated coconut or shreds. A scoop of vegan mango or similar flavour yogurt.
Bakewell flavour: ground almonds, almond essence and cherries, perhaps a tablespoon of almond butter, flaked almonds.
peanut butter and fruit jam/jelly
stewed apple or apple sauce and pumpkin spice/mixed spice
Christmas flavour: add a tablespoon of mincemeat (fruit-based Christmas variety found in a jar!), chopped pecans or walnuts, dried cranberries, and a sprinkle of mixed spiced or cinnamon.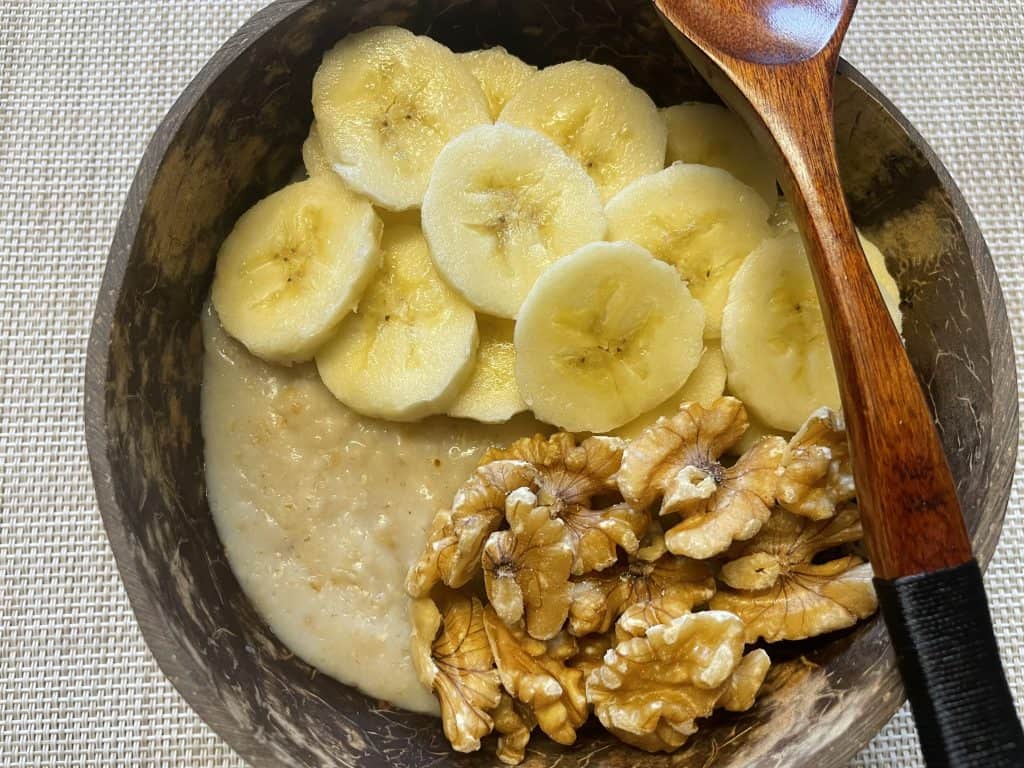 Is porridge just for breakfast?
Absolutely not!
Porridge is perfect for breakfast but also makes for a quick and easy lunch, dinner or supper meal. I often have a bowl of porridge for dinner whenever I am too tired to prepare anything else.
I generally add a tablespoon of flax meal, a tablespoon of bran, blueberries or bananas, and sprinkled with nuts, seeds or coconut. A slice or two of wholemeal toast adds more nutrition and ensures that I am filled up for many hours.
I would think this meal is much more valuable, and doesn't take much time or effort, compared with sticking a frozen pizza in the oven.
Can I make a savoury porridge?
Definitely!
It may sound strange but savoury porridge has been around in Scotland for a long time, since at least the mid 1600s.
Try adding one or several of these ingredients to your porridge at the beginning of cooking:
chopped kale
chopped chard
chopped spring greens
spinach
young nettle leaves
dandelion leaves
radish leaves
peas
sweetcorn
grated courgette/carrot
vegan stock instead of plant-milk or use a mix
spices/dried herbs
Top your savoury porridge with:
sautéed garlic and onions/shallots
cooked mushrooms
cooked leeks
cooked bell peppers
roast veggies
sliced spring onion/green onion
vegan bacon pieces
smoked tofu pieces
avocado slices
guacamole
salsa
creamed corn
vegan grated cheese
a dollop of vegan butter
nutritional yeast flakes
vegan sour cream/ vegan cream cheese/ vegan plain yogurt
chopped/crushed nuts
toasted seeds such as sunflower, pumpkin, sesame, poppy.
fresh herbs
Use your imagination and flavour preferences to create unusual, amazing bowls of savoury goodness. Perfect for those who are not keen on sweet breakfasts.
How do I reheat leftovers?
Leftovers can be cooled and enjoyed chilled or reheated in a saucepan. Add a little extra plant-milk or water as porridge becomes really thick when it cools. Gently simmer for 2-3 minutes.
Or reheat in a microwave.
I often give my dogs plain leftover porridge or oatmeal as they love it and its a nutritious food for dogs.
What is the best plant-milk to prepare porridge? Do I really need to add plant-milk?
If preferred porridge or oatmeal does not actually need any type of milk. Simply replace the milk with additional water. Plant-milk simply makes the porridge more creamy and flavourful but I have often just used water whenever I was short of plant-milk. With perhaps just a small drizzle of plant-milk before serving.
The plant-milk that I tend to use most is oat or soya milk. I find these milks extra creamy although cashew, almond, hemp, rice or another type of plant-milk are all fine.
Kids may especially enjoy oatmeal prepared with chocolate flavoured plant-milk.
Dried plant-milk can also be used (such as dried coconut milk/dried soya milk), just follow the instructions on the packet to make up the required amount of liquid for the recipe.
Surprisingly using plant-milk is not a modern invention but actually a traditional ingredient.
Almond milk was a popular medieval ingredient, that was used in place of animal milk for cooking and drinking. During medieval times cows milk was not heat treated to kill bacteria and germs so would often made people unwell.
Also during medieval times the church dictated when people could consume meat and dairy, and so almond milk was frequently made in ordinary households who could afford the almonds.
So whenever someone makes fun of your plant-milk you can inform them that plant-milk has been around for hundreds of years!
Recipe
The Best Bowl of Traditional Scottish Porridge
Print Recipe
An incredibly simple and easy recipe for a traditional bowl of Scottish porridge straight from my Scots kitchen. I grew up on delicious, satisfying and comforting porridge. Oats are one of the most underrated ingredients but so valuable and versatile for vegan and plant-based diets.
This recipe serves 1 big bowl but is easily doubled for more servings.
Ingredients
45

grams

rolled oats

Old fashioned oats/jumbo oats/oat flakes.

500

millilitres

water

60

millilitres

plant-based milk

This is optional as porridge can be made with just water but it does provide extra creaminess and flavour.

pinch

salt

this is optional but traditionally included.
Instructions
Add the oats to a saucepan.

Pour in the water and mix.

Bring to the boil.

Lower the heat to a gentle simmer.

Cook for 3 minutes.

Simmer for a few minutes longer if using large oat flakes.

Add the plant-based milk and stir well.

Simmer for another 3 minutes.

Cook for a few minutes longer if preferred. The longer oats stew the thicker they will become.

Also taking the saucepan off the heat and letting the oats sit for a while will thicken them up.

Add a pinch of salt if liked.

Or add sugar and other toppings. I like to add an extra drizzle of plant-milk to the porridge.
Notes
Nutritional data is provided for guidance only and is not an exact calculation as ingredients vary. Data is run through nutritional computerized apps.
Leftover porridge can be stored in the fridge for up to 3 days. It will become very thick and will need a little extra liquid to thin down for reheating. Or enjoy chilled.
To reheat place in a saucepan and gently bring to the boil. Lower heat and stir for 2-3 minutes. Or reheat in a microwave.
Historically in Scotland, leftover porridge was poured into a clean drawer and left to set. Wedges would be cut off and eaten!
Nutrition
Calories:
203
kcal
|
Carbohydrates:
36
g
|
Protein:
7
g
|
Fat:
4
g
|
Saturated Fat:
1
g
|
Polyunsaturated Fat:
1
g
|
Monounsaturated Fat:
1
g
|
Sodium:
56
mg
|
Potassium:
193
mg
|
Fiber:
5
g
|
Sugar:
5
g
|
Vitamin A:
125
IU
|
Calcium:
126
mg
|
Iron:
2
mg
Recipe
The Best Bowl of Rustic Scottish Oatmeal
Print Recipe
Rustic Scottish oatmeal prepared with steel-cut or pinhead oatmeal have been the oats of choice in Scotland for many hundreds of years.
This recipe prepares 2 bowls of oatmeal but is easily doubled for more servings.
Ingredients
80

grams

pinhead oatmeal

500

mililitres

water

125

mililitres

plant-based milk

.
Instructions
Add the oatmeal to a saucepan.

Pour in the water and mix.

Bring to a simmer, lower the heat and cook for 3 minutes.

Stir frequently stirring to ensure the oatmeal doesn't stick.

Pour in the plant milk.

Stir and simmer for 3 more minutes.

Remove from the heat and allow to sit for 1 minute.

Add a pinch of salt if liked, or your choice of sweetener and toppings.
Notes
Nutritional data is not exact and is provided for guidance only as ingredients vary. Data is processed through nutritional computerized apps.
Store leftover oatmeal in a covered container in the fridge for up to 3 days.
Reheat by placing in a saucepan, with a little extra liquid either water or plant-milk, and gently reheat, simmer for 2-3 minutes.
Or reheat in a microwave.
Top your oatmeal with your favourite chopped fresh fruit, defrosted frozen fruit, tinned fruit or dried fruits. 
kids particularly love a dollop of fruit jam or marmalade
Nuts, seeds, and coconut shreds are all tasty add-ons.
Add a tablespoon of flax meal and/or bran powder/wheat germ, ground seed mixes, etc. Simply add to your bowl and pour the hot oatmeal over, mix through. 
Nutrition
Calories:
188
kcal
|
Carbohydrates:
33
g
|
Protein:
7
g
|
Fat:
3
g
|
Saturated Fat:
1
g
|
Sodium:
42
mg
|
Potassium:
31
mg
|
Fiber:
5
g
|
Sugar:
5
g
|
Vitamin A:
130
IU
|
Calcium:
119
mg
|
Iron:
2
mg