Oil-free Scottish oatcakes are an excellent choice for those looking to reduce their intake of oil, fat, sugar, and salt, while enjoying a 100% plant-based, vegan-friendly treat.
Although oil-free oatcakes tend to be chewier and slightly rougher compared to traditional oatcakes that contain oil, they still boast a deliciously moreish, crisp texture.
These versatile oatcakes are perfect for breakfast, snacks, light lunches, or as accompaniments to your favourite stews and soups
Quick history of oatcakes
Fourteenth century Scottish Highland soldiers would prepare oatcakes by just mixing oatmeal and water, so it stands to reason that an oil-free oatcake would just be a bit more rustic than the oatcake we have come to expect in modern days.
For more interesting information about the history of oatcakes do check out our main oatcake post: traditional vegan Scottish oatcakes.
Oil-Free Vegan Scottish Oatcakes
Oil-free vegan Scottish oatcakes are more traditional than the traditional Scottish oatcakes that are commonly found in Scottish supermarkets and grocery stores.
Oil-free Scottish oatcakes have less ingredients and are more suited for those wishing to limit their oil and fat intake, as well as their sugar and salt levels.
We also have a delicious oil-free vegan Scottish Cheesy oatcakes recipe and these oatcakes have the addition of nutritional yeast flakes which provides that irresistible cheesy hit.
Preparing Oil-Free Scottish Oatcakes
This oil-free Scottish oatcake recipe calls for just two simple ingredients: pinhead/steel-cut oatmeal and hot water.
You can add a pinch of salt or a sprinkle of dried herbs for extra flavor if you'd like, but this is optional.
Alternatively, you can substitute the hot water with hot vegetable stock. After combining the ingredients, roll out the dough and use a cookie or biscuit cutter to create thin, circular oatcake shapes.
Bake the oatcakes and allow them to cool on the baking tray. Once cooled, the oatcakes will be deliciously crisp and ready to enjoy.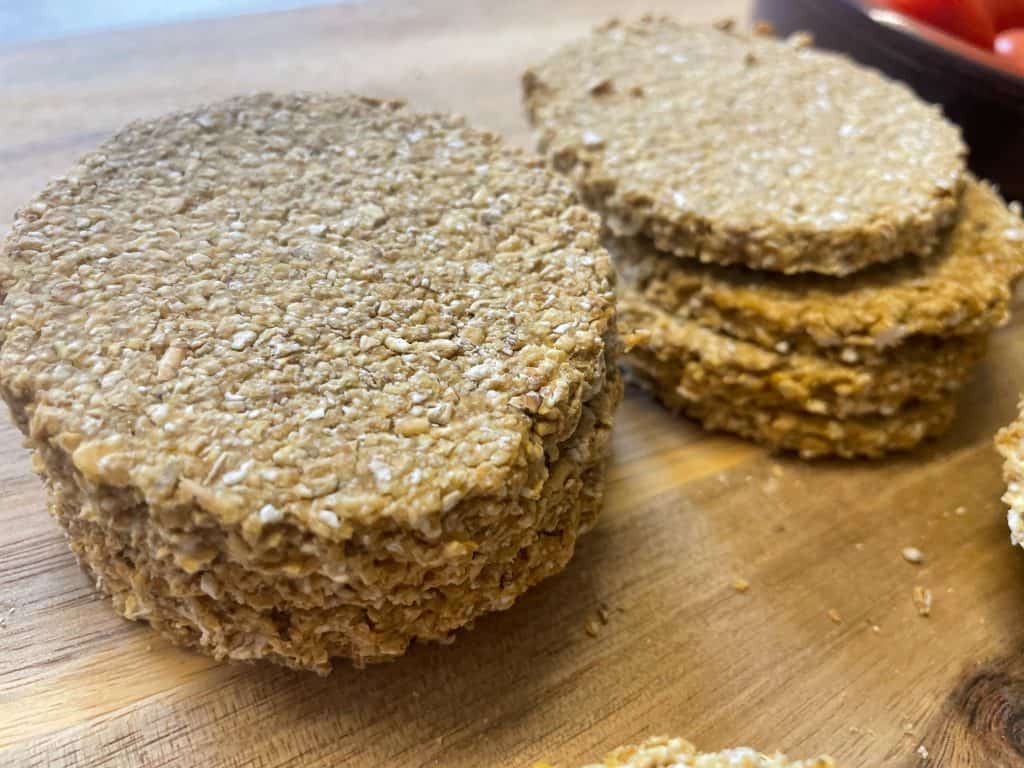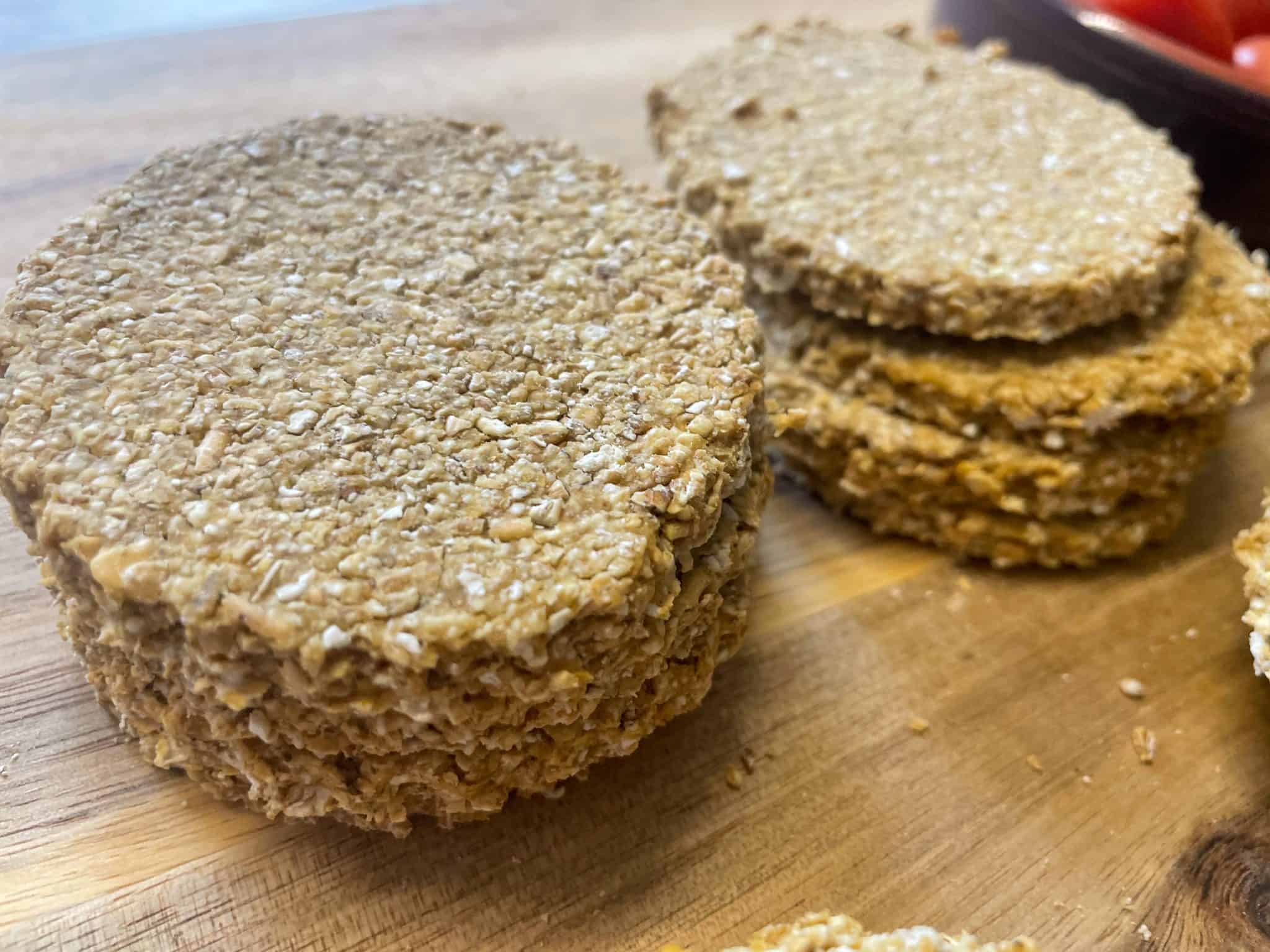 Recipe Notes
How do I store oil-free vegan Scottish oatcakes?

Store oatcakes within an airtight container for up to 7 days. Oatcakes may be last a few days extra if stored properly. A layer of kitchen foil covering the oatcakes can help maintain the freshness and crispness for longer.
Can I freeze oil-free Scottish oatcakes?

Absolutely.

Wrap well with freezer and food safe wrap and store in the freezer for up to 3 months. Remove the wrap and defrost at room temperature.
Can I still eat oatcakes that have lost the crispiness?

Of course. If the oatcakes are still fine otherwise, then pop the oatcakes in a hot oven (cooking temperature) for about 5-10 minutes.

Allow to cool and firm up.
What can I serve with oil-free Oatcakes?

A few ideas:

* salsa, guacamole, hummus, refried beans, mango chutney, apple sauce, cranberry sauce

* vegan thousand island dip or similar

* vegan soft cheese

* slices of vegan cheese

* tomato and cucumber slices

* gherkins/dill pickles

* pickles

* fermented veggies

* crispy salad leaves

* your favourite salad, salad bowl, power/buddha bowls

* broken oatcakes can be used in place of croutons

* sub oatcakes into a recipe instead of tortilla chips
Can I use rolled or porridge oats to prepare these oil-free oatcakes?

Unfortunately rolled oats, quick-cook or porridge oats do not achieve the same texture or flavour as authentic oatcake.

Oatcakes need to be made with pinhead oatmeal/Irish oatmeal or steel-cut oats.
Do you have any top tips for rolling our oatcake dough?

Yes!

I cover lots of useful tips for preparing oatcakes over on the main post traditional Scottish oatcakes. Do pop over and check those out as they are incredibly helpful.
Tasty vegan traditional soups and stews to enjoy with no-oil oatcakes
Recipe
Oil-free Scottish Oatcakes
Print Recipe
Crisp, oaty, savoury. delicious and authentic! The earliest Scottish oatcakes would have been a basic mix of oatmeal and water. Oatcakes are the perfect on-the-go snacks, and pair up deliciously with fresh fruit and veggies, slices of vegan cheese and your favourite pickle or chutney.
Equipment
Baking trays

Rolling pin

Biscuit cutter 6-7cm diameter for small oatcakes and 8-9 cm for large oatcakes

cooling rack
Ingredients
Optional:
½

teaspoon

salt

can replace with dried herbs or a spice blend
Instructions
Preheat oven to 170 Fan/ 190 Celsius/ 375 Fahrenheit/ Gas 5.

Add the oatmeal to a bowl [if andding salt or herbs stir this through the oatmeal], and pour in the boiling water.

Mix, and then use your hands to form a ball of dough.

310 grams pinhead/ steel-cut oatmeal,

150 millilitres boiling water,

½ teaspoon salt

Dough will be quite firm and warm.

Sprinkle oatmeal on your surface and rub it into the rolling pin a little so the oatmeal dust coats it.

If your dough is sticky just sprinkle more oatmeal over and work it in. If its too dry just carefully add a little extra boiling water.

Roll out the dough firmly, squeezing any side bits back together that may crack, until its about ½ a cm thick or thereabouts. Dab some extra water into the dough if necessary and smooth the water over any cracks.

Stamp out rounds with a biscuit cutter.

Place on baking sheets that are either lined with parchment or if non-stick trays then just scatter a little oatmeal over the tray.

Use a spatula if necessary to carefully pick up the oatcakes.

Bake in the oven until beginning to colour on the edges.

And feel firm to the touch and the underside is not too soft.

This should take anytime between 20-25 minutes depending on your oven. My oatcakes take about 22 minutes in a Fan oven.

Oatcakes can be placed on any shelf in the oven just adjust the cooking times for oatcakes near the bottom if you have several trays on the go at once.

Leave oatcakes to cool either on the trays or on a wire rack.

Oatcakes will continue to firm up as they cool.
Notes
Nutritional information provided is for guidance only and is not a strict calculation, as ingredients may vary.
Nutritional info does not include optional salt.
Store oatcakes wrapped in baking/parchment paper or aluminum foil in a sealed container.
Oatcakes will remain fresh for up to 7 days, possibly longer if stored correctly.
Oatcakes can be frozen by placing a piece of parchment between each one and wrapping them well with freezer-safe wrap. The parchment prevents the oatcakes from sticking together.
The hot water can be substituted with hot vegetable stock for additional flavour.
Double up the recipe for extra oatcakes, perfect for batch cooking. Freeze the extras.
Nutrition
Calories:
66
kcal
|
Carbohydrates:
11
g
|
Protein:
3
g
|
Fat:
1
g
|
Saturated Fat:
1
g
|
Fiber:
2
g
|
Calcium:
9
mg
|
Iron:
1
mg
Love these oil-free oatcakes?
We would love to receive your comments or feedback.
It would be wonderful if you could pop a comment below and click the star ratings.
Thanks so much, Jacq x