Oil-free vegan Scottish oatcakes are perfect for those who are looking to reduce their oil-intake.
Ironically Oil-free vegan Scottish oatcakes are more traditional than traditional oatcakes!
14th century Scottish Highland soldiers would prepare oatcakes by just mixing oatmeal and water so it stands to reason that an oil-free oatcake would just be a bit more rustic than the oatcake we have come to expect in modern days.
# please note: this post contains Amazon Affiliate links. If you click on a picture link and make a purchase then I may receive a commission at no additional charge to your order. Thanks! # 
And it is a more rustic experience!
Oil-free oatcakes are certainly more chewier and a little rougher but still pretty darn tasty! And amazingly nutritious!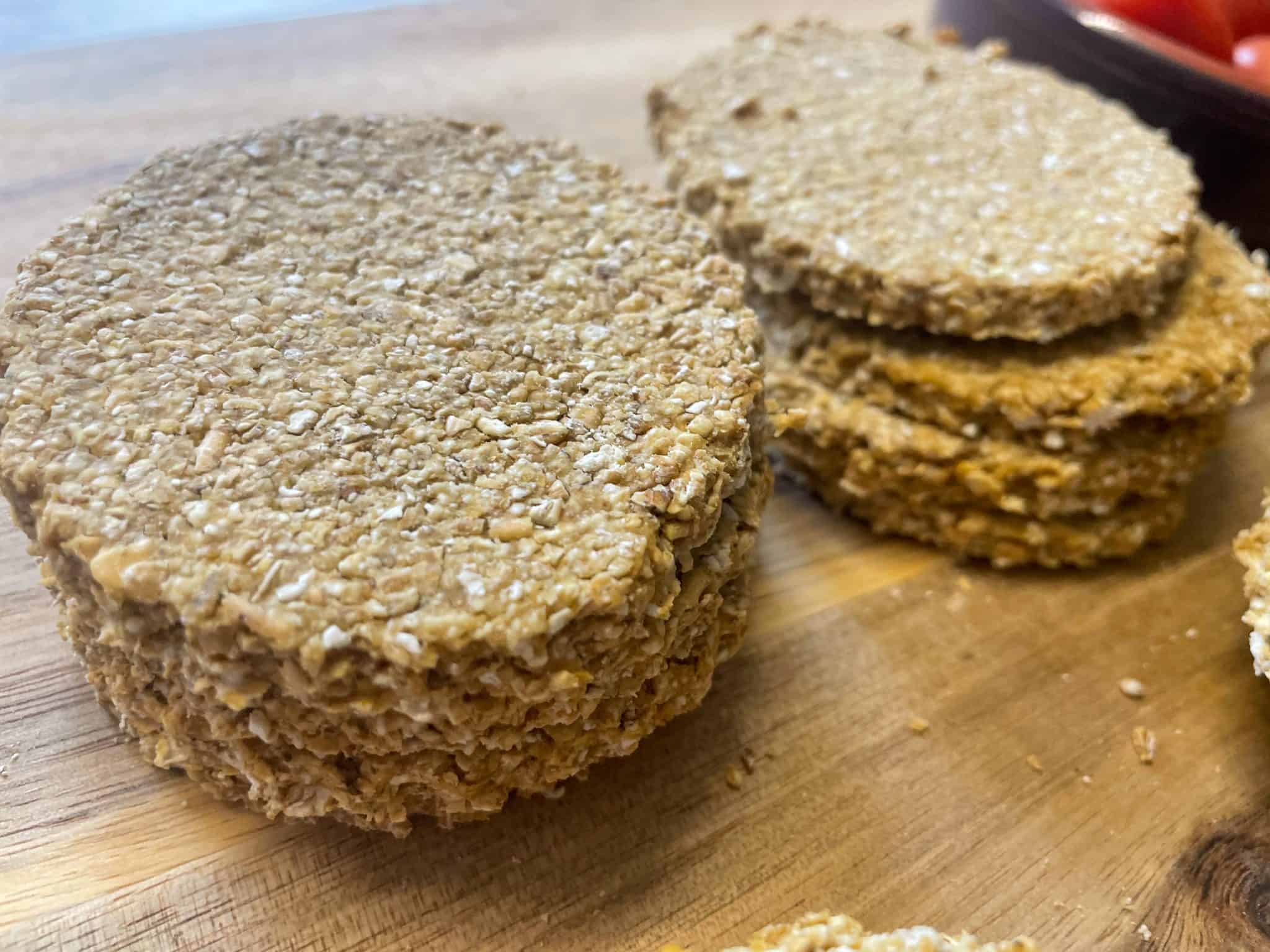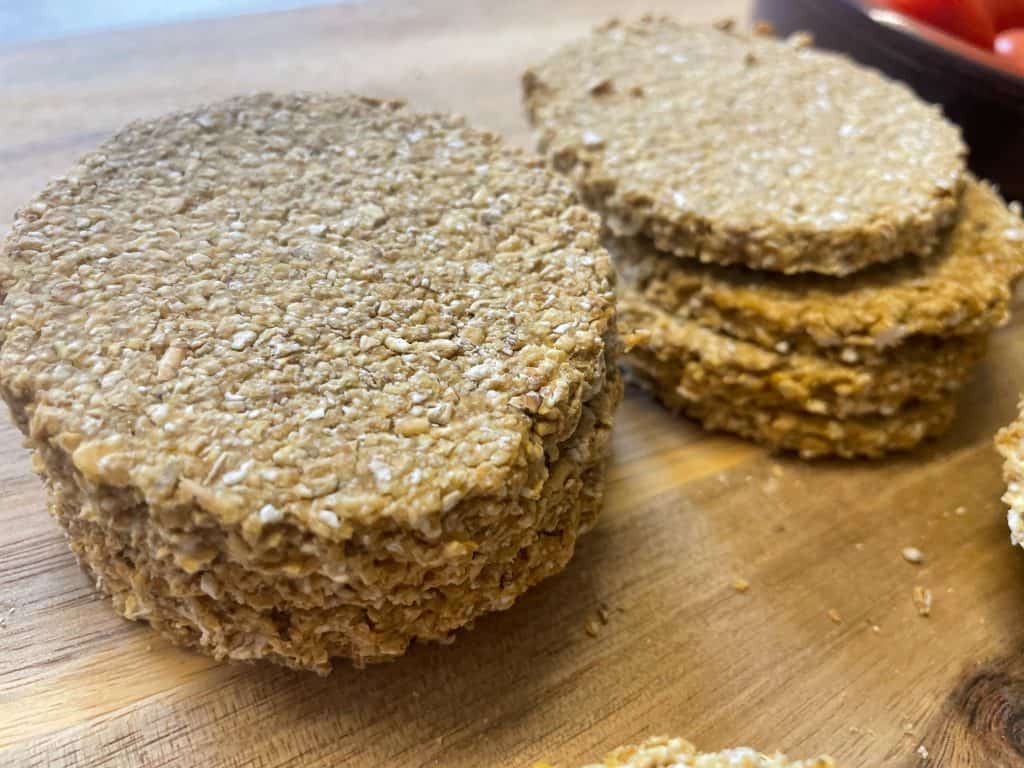 After the first initial bites I am hooked!
Enjoy these oatcakes topped with your favourite adornments such as hummus, guacamole or refried beans or soften them up by dipping into your favourite soups or stews.
Pack a few for an authentic Scottish on-the-go, at work or school snack.
For a plant-based no-oil vegan refried beans recipe check out my easy and quick recipe! Its my kids favourite!
Oil-free Vegan Scottish Oatcakes
Makes about 18 small oatcakes or about 9 large. 
No salt is required but add a pinch if liked.
Oatcakes need to be made with pinhead oatmeal or steel-cut oats. Rolled oats do not achieve the same texture or flavour.
Oil-free Scottish Vegan Oatcakes
Print Recipe
Crisp, oaty and authentic!
Enjoy a Scottish oatcake for a snack adorned with your favourite topping.
Hummus, guacamole or refried beans are particularly tasty spreads or dip.
Or serve with your favourite soups or stews and dip your oatcake in!
Equipment
Baking trays

Rolling pin

Biscuit cutter 6-7cm diameter for small oatcakes and 8-9 cm for large oatcakes
Ingredients
310

grams

pinhead oatmeal

otherwise known as steel-cut oats in the US. About 2 cups/ 10.9 oz.

150

ml

boiling water

just over 5 FL oz.
Instructions
Preheat oven to 170 Fan/ 190 Celsius/ 375 Fahrenheit/ Gas 5.

Add the oatmeal to a bowl and pour in the boiling water.

Mix to a dough.

Dough will be quite firm and warm.

Sprinkle oatmeal on your surface and rub it into the rolling pin a little so the oatmeal dust coats it.

If your dough is sticky just sprinkle more oatmeal over and work it in. If its too dry just carefully add a little extra boiling water.

Roll out the dough firmly, squeezing any side bits back together that may crack, until its about 1/2 a cm thick or thereabouts.

Stamp out rounds with the biscuit cutter.

Place on baking sheets that are either lined with parchment or if non-stick trays then just scatter a little oatmeal over the tray.

Use a spatula if necessary to carefully pick up the oatcakes.

Bake in the oven until beginning to colour on the edges.

And feel firm to the touch and the underside is not too soft.

This should take anytime between 20-25 minutes depending on your oven. My oatcakes take about 22 minutes in a Fan oven.

Oatcakes can be placed on any shelf in the oven just adjust the cooking times for oatcakes near the bottom if you have several trays on the go at once.

Leave oatcakes to cool either on the trays or on a wire rack.

Oatcakes will continue to firm up as they cool.
Notes
* calorie count is based on 18 small oatcakes *
Prepared one of my recipes?
Snapped a photo for social media?
Tag us @traditionalplantbasedcooking #traditionalplantbasedcooking
Pop a comment below let me know how you got on!
Nutrition
The following nutritional analysis is for guidance only and is not a strict calculation as ingredients vary! The data is based on 18 small oatcakes.
Oil-free vegan Scottish Oatcakes recipe notes
Store your oatcakes wrapped in parchment paper or better still kitchen foil in a sealed container. Oatcakes will stay fresh for up to 7 days possibly more.
Oatcakes can be frozen by placing a piece of parchment between each oatcake and wrapping well. The parchment makes removing single oatcakes easier as it prevents them freezing as a block.
Instead of boiling water try some boiling vegetable stock! It adds a little more flavour!
Double up the recipe for even more oatcakes! Perfect for batch prepping!
Cut out different shapes with different cutters. Or roll out to a circle shape and cut into triangles. Each triangle is known as a farl.
These oatcakes are perfect with my Vegan Irish Stew and my traditional Vegan Scottish Stovies recipe that is based on the Stovies I remember from my childhood.
Can't source pinhead oatmeal in your local shop?
Amazon UK has this brand which I particularly enjoy:
Looking for more oat-based recipes?
Learn the best method for preparing traditional Scottish porridge as well as traditional oatmeal:
For an authentic Scottish experience use a wooden spurtle to stir your porridge or oatmeal!