These Old-Fashioned Bran Muffins are egg-free, dairy-free, and vegan, and are deliciously soft, sweet, moist, branny and high in fibre as they are packed with wholesome bran and sweet dates [although the dates can be substituted].
Home-baked vegan muffins are perfect for a quick breakfast, brunch, lunch, supper, or any-time-of-the-day snack. Split a warm just-baked muffin in two, and because these muffins are more sweet bread-like than cake-like, spreading with some diary-free butter, fruit jam, peanut butter, or your favourite condiment, is so delicious.
Prefer chocolate chips to chopped dates? Then prepare our bran muffin variation: Chocolate Chip Bran Muffins!
These old-fashioned bran muffins are light, moist, and soft and are absolutely not reminiscent of sawdust or cardboard like some bran muffin recipes! Our bran muffins will bring back fond memories of the bran muffins Grandma used to bake.
Origin of old-fashioned bran muffins
Muffins evolved from bread and are a type of sweet quick bread. Bread in some shape or form has been in existence for thousands of years.
During the medieval times, bread prepared with a mixture of wholegrains such as rye, barley, oats, wheat, and often with pea or bean flour chucked in, was regarded as a less favourable darker bread that was only fit for poor peasant food. Even though medieval peasant bread contained the bran from the wholegrains and was nutritionally superior, the richer folk much preferred and enjoyed their usual white bread, such as manchet, as it was softer, lighter, and much less chewy!
It wasn't until the Victorian times that the concept of dietary fiber and its health benefits started to be recognized. A notable figure was Dr. Thomas Allinson, a British doctor and avid vegetarian, who, in the late Victorian period, advocated for the consumption of whole grains. He even started producing wholemeal (whole wheat) bread, which included the bran.
However, his views were considered controversial by many of his contemporaries and in 1892 Dr. Allinson was removed from the medical register for the crime of 'radical thinking' simply for promoting wholemeal bread!
Then, in 1914 the British government finally accepted the health benefits of wholegrain bread and although Allinson was asked to return to the medical profession, he refused! Nowadays, Allinson's flour is still going strong.
Over in the United States, bran started to become popular as a health food during the late 19th century thanks in part to the work of Dr. John Harvey Kellogg, a physician and health food pioneer who promoted the consumption of whole grains at his Battle Creek Sanitarium in Michigan. Kellogg's Cornflakes made an appearance in 1894, followed by Bran flakes in 1915, and All Bran in 1916.
Bran muffin recipes from the 1900s
Bran muffins were initially prepared with fresh yeast cakes, and were prepared with bread recipes, but simply baked in smaller individual muffin tins or sometimes cooked on a griddle. In the Fanny Farmers Cookbook [1918] she has a few recipes for raised muffins which are prepared with yeast such as - Hominy Raised Muffins, Oatmeal Raised Muffins and Health Food Muffins.
Fanny's health food muffins contained the ingredient 'warm wheat mush' which was likely prepared with the bran that was usually sifted out of the Graham flour as elsewhere in the book it says for a Graham bread recipe: ''the bran remaining in sieve after sieving Graham flour should be discarded'' , although Fanny goes on to state that the bran could be used for muffins rather than being disposed. Despite recipes for muffins using yeast, Fanny does include plenty of muffin recipes which also used baking powder which was manufactured in 1856.
Vintage bran muffins from the 1950s
Bran muffins started to rise in popularity in the 1950s through to the 1980s as part of the increasing interest towards higher-fiber foods. Breakfast cereals such as Bran Flakes and All Bran were commonly used to prepare bran muffins, although many recipes simply used milled or ground bran - either wheat or oat.
For instance the 'Best Bran Muffins' recipe published in the Betty Crocker's Picture Cook Book [1950] which contained ground bran, and the Better Homes and Gardens New Cook Book [1989] recipe for 'Wheat Bran Muffins' which called for either wheat bran or 100% oat bran.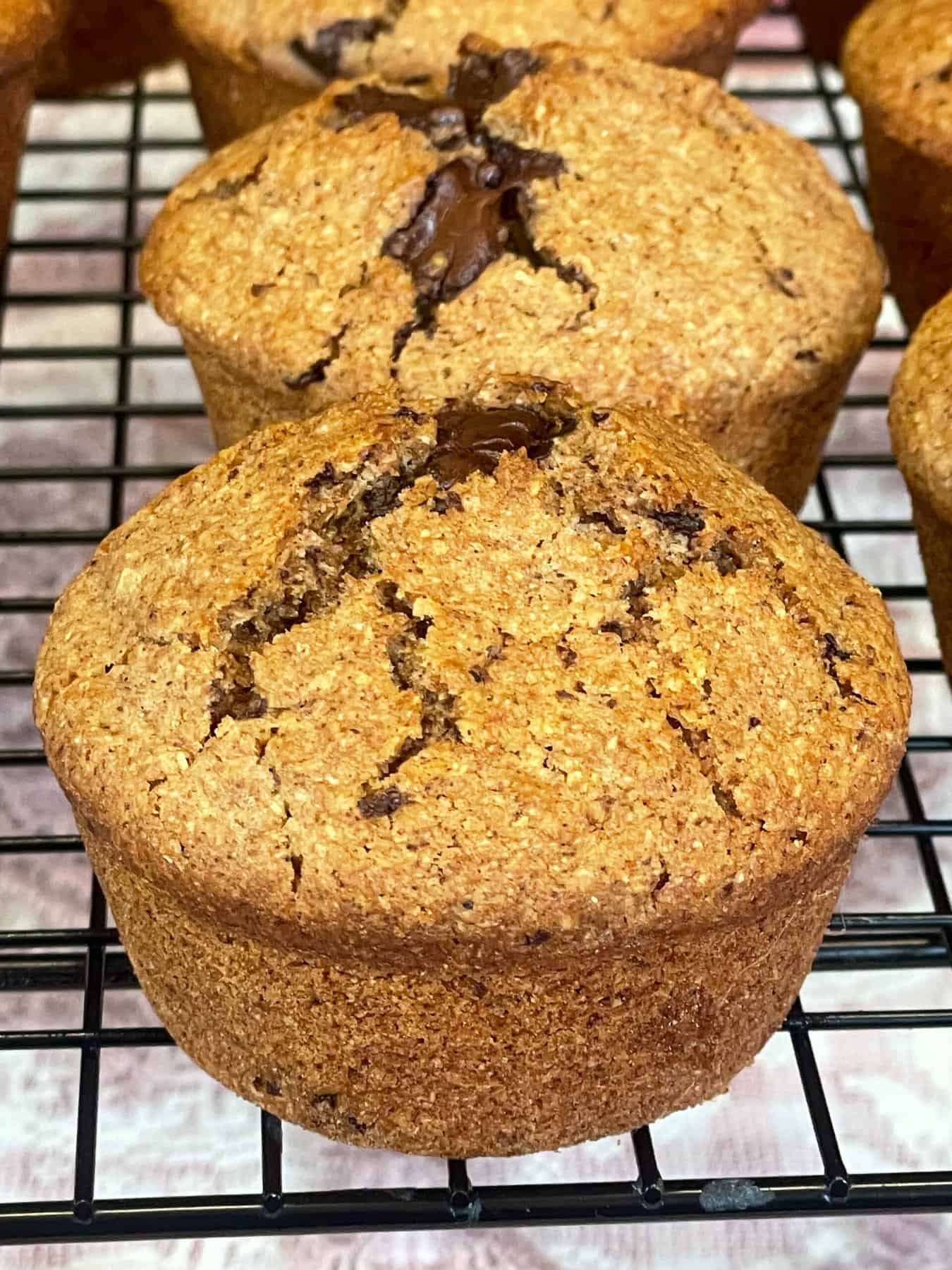 Our main recipe for old-fashioned bran muffins contains dates, but many, including our kids, prefer chocolate, so the dates can be happily replaced with your favourite chocolate. We prefer a rich, dark, vegan-friendly chocolate chip, morsel, or broken up chocolate bar, as it pairs beautifully with the rustic bran flavour and texture.
Australian Women's Weekly bran and date muffins
Our recipe for old-fashioned bran muffins is adapted from an old The Australian Women's Weekly recipe - ''Overnight Bran and Date Muffins'' and the original recipe can be found in the book: 'Best Recipes from The Weekly' [pg. 84, Published 1st January 1990].
The Australian Women's Weekly recipe for bran muffins contains eggs, dairy buttermilk, plain flour, bicarbonate of soda [baking soda] and ordinary sugar.
Our adapted vegan recipe switches the eggs out for jarred shop-bought applesauce, the dairy buttermilk for oat milk and white distilled vinegar to create a dairy-free, vegan buttermilk, the plain flour was switched to self-raising flour and a teaspoon of baking powder was added, while the bicarbonate of soda was omitted, and the ordinary sugar was switched to soft brown sugar.
We also add a pinch of salt for extra flavour and increased the amount of cinnamon. Also, we used less bran and more flour compared to the original recipe.
Additionally, we reduce the baking time from the original time of 20 minutes to 15-18 minutes as our adapted recipe bakes faster!
We have also prepared the recipe with plain flour [all-purpose flour] and added 2 teaspoons of baking powder, ½ teaspoon of bicarbonate of soda, and an extra few pinches of salt. The muffins prepared with plain flour rose beautifully.
For a delicious variation we have also swapped out the dates for a bar of chopped dark chocolate, and added a few teaspoons of vanilla, and the result was quite tasty, so feel free to sub out the dates for anything you think will go nicely. We have included a few date substitution ideas, further down below, in the recipe notes and FAQ section.
What is The Australian Women's Weekly?
The Australian Women's Weekly, often known simply as The Weekly, is a monthly women's magazine published in Sydney, Australia. It was first published on 10 June 1933 by Frank Packer as a weekly publication, but switched to a monthly schedule in 1983, though it kept the word "Weekly" in its title. The first magazines were black and white and cost 2d or twopence!
The Australian Women's Weekly has been an important part of Australian culture for many decades, and the magazine is still in publication. It's known for its recipes, celebrity news, advice columns, and features on a variety of topics from fashion and beauty to health, home, and food.
The Australian Women's Weekly Test Kitchen, which develops and tests recipes for the magazine, is renowned for its rigorous testing processes and it has published many interesting cookbooks over the years. We do have many cherished Women's Weekly books in our second hand book collection as they are a popular find in our local charity shops [thrift stores]!
How to prepare old-fashioned bran muffins
These delicious old-fashioned bran muffins can be enjoyed warm soon after they have baked in the oven and are a tasty breakfast, brunch, snack or supper time treat.
Split a muffin into 2 and spread with some vegan butter or fruit jam, or your favourite condiment.
These muffins are a great alternative to a slice of cake as they are sweet enough to feel like a treat, yet provide a good whack of wholesome fiber at about 7grams per muffin!
First, gather all your ingredients together - self-raising flour [see recipe notes below the recipe for how to replace with plain or all-purpose flour], baking powder, bran, dates, brown sugar, apple sauce, ground cinnamon, salt, milk, distilled white vinegar, and vegetable oil.
Prepare the dairy-free buttermilk:
Add the plant-based milk to a jug or small bowl and stir through the vinegar. Leave the milk to sit for at least 10-15 minutes, or while you prepare the muffins.
Next, chop the dates into small pieces and remove any pits or stones if necessary.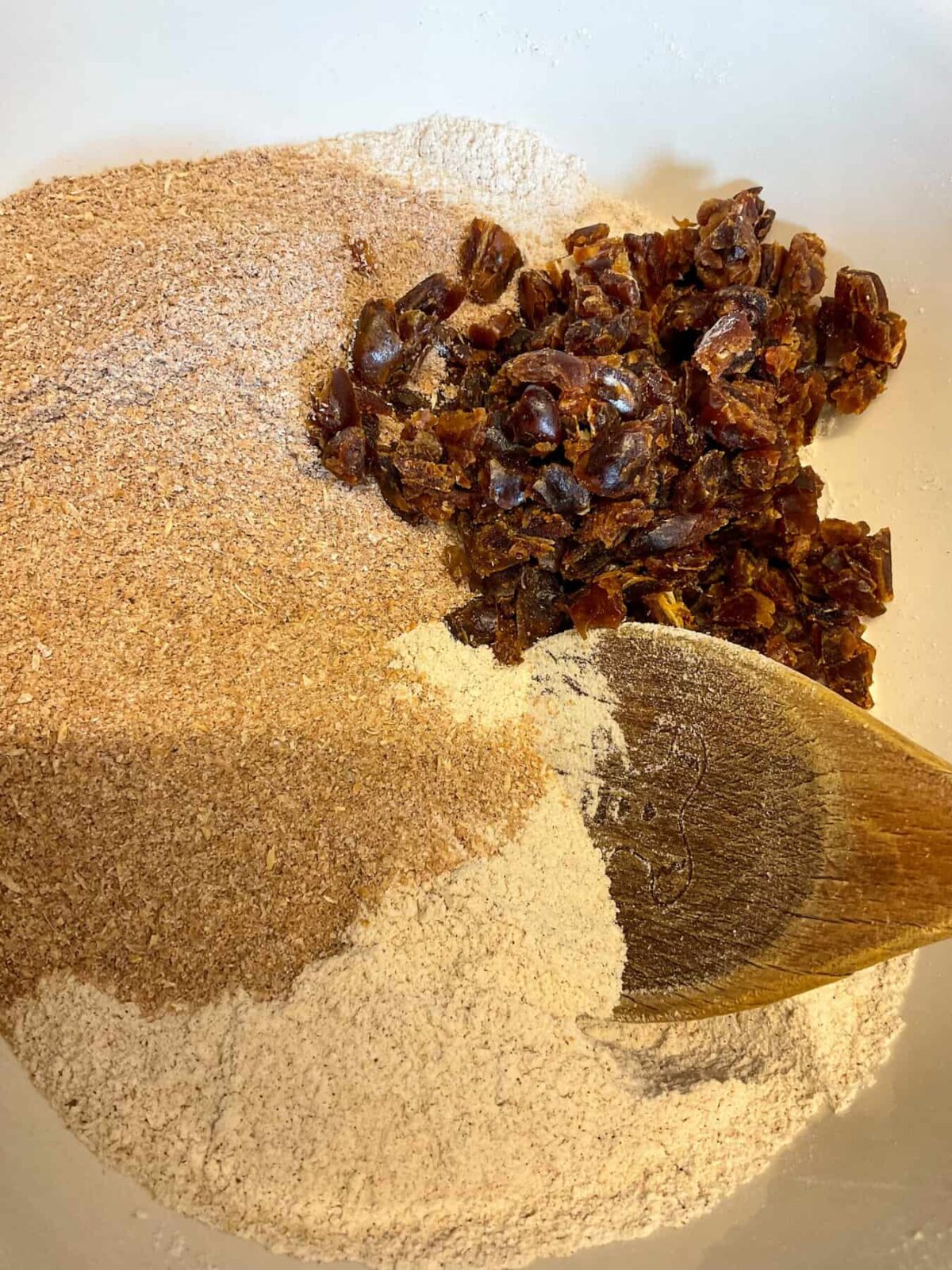 Sift the flour, baking powder, and cinnamon into a mixing bowl. Add the brown sugar and salt, and mix everything together.
Next, add the bran and chopped dates.
Stir everything together and make a small gap or well in the middle of the mixture. Pour the oil into the buttermilk, as well as the apple sauce, and stir.
Pour the wet ingredients into the dry mixture, and stir with a mixing spoon until the ingredients are just combined.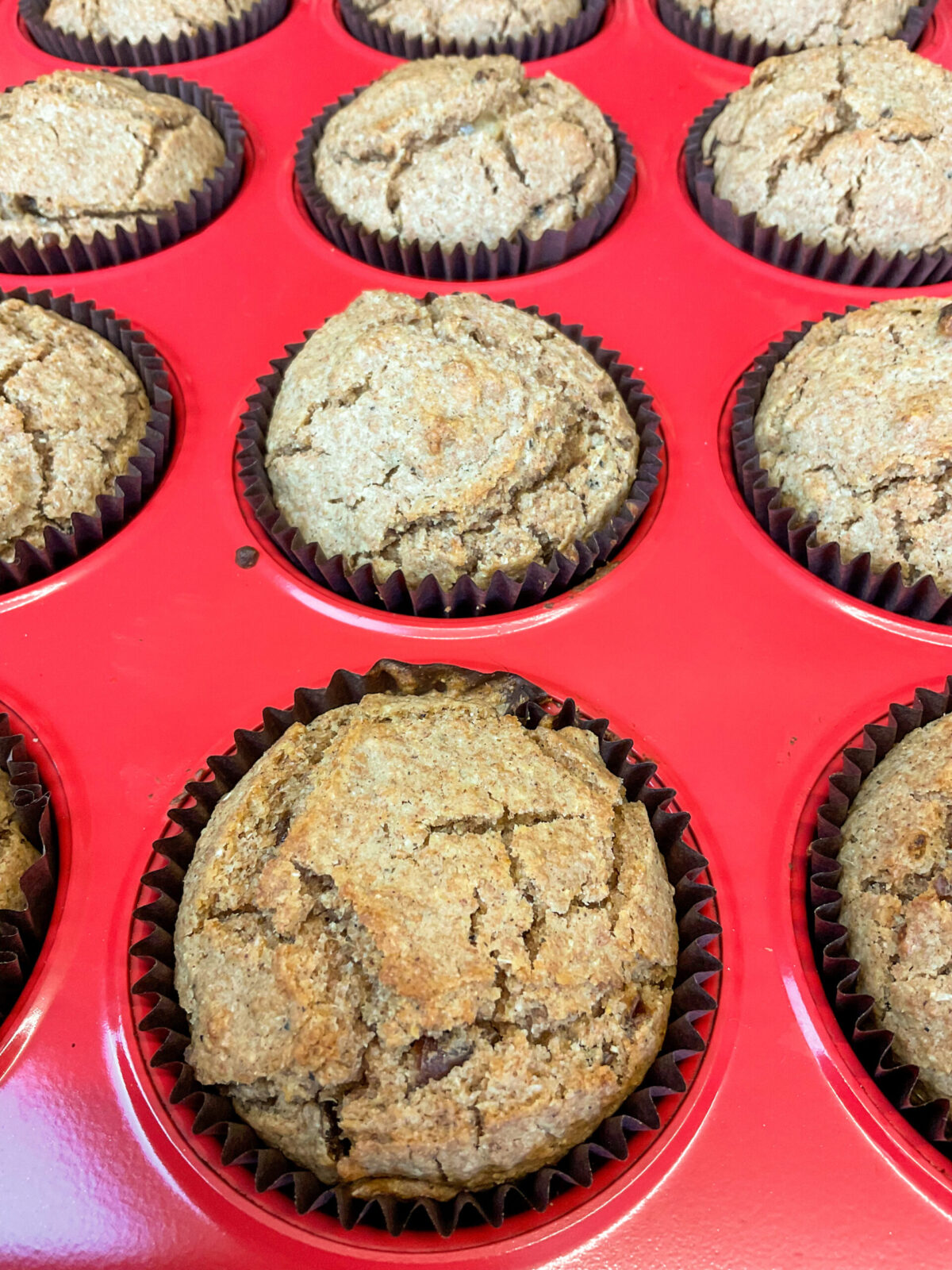 Divide the mixture between 12 muffin cups and bake for 15-18 minutes, or until the muffins are risen, firm, and a skewer popped in the middle of a muffin comes out clean.
After a few minutes cooling in the muffin tray, remove the muffins to cool on a cooling or wire rack.
Half a warm muffin and spread some butter or margarine, fruit jam, or your preferred condiment, and enjoy a deliciously warm homely bran muffin. In the photo above, we used Flora Plant Butter.
The above photo is a 2 day old bran muffin that was toasted using the hot plate on a panini machine. Spread with some vegan butter and strawberry jam, this muffin was a delicious morning break with a nice cup of hot green tea.
For a chocolate chip bran muffin variation see below!
Recipe variation: How to prepare chocolate chip bran muffins
If you'd like to replace the dates with chocolate chips, in our bran muffin recipe, then this is a simple swap. Although, including 1-2 teaspoons of vanilla essence or extract does provide extra flavour.
Simply follow the recipe for old-fashioned bran muffins but instead of adding chopped dates add chocolate drops or a bar of chocolate cut into small pieces.
Mix all the ingredients, adding 1-2 teaspoons of vanilla, and bake for the same amount of time.
[If muffin baking cases are not used then grease the muffin baking tray cups with margarine or a spray oil. We used a coconut oil spray.]
Once baked, leave the muffins for a few minutes in the muffin tray, and then remove the muffins and cool on a wire cooling rack.
Just as with the ordinary bran muffins, these chocolate bran muffins can be enjoyed warm from the oven.
As these muffins are more bread-like and less cake-like, they can be split open and spread with your favourite condiments. Think of the muffins as a sweet bread.
For breakfast, my family like peanut butter and plant-based chocolate spread with their chocolate chip bran muffins. The fiber in the muffins does keep us full for much longer compared to a bowl of cereal!
Recipe notes and FAQ's
Storing bran muffins
Store the muffins at room temperature, within a sealed container, for 2-3 days. Although the muffins are likely to be fine for another few days but may require refreshing for a few minutes in a warm oven. Another way to refresh is to slice a muffin into two pieces and toast or grill [broil] the sliced sides, and then spread with your favourite condiment.
If storing within a refrigerator, make sure the muffins are in a suitable covered container, perhaps also line the container with kitchen foil or parchment paper, to ensure the muffins do not dry out while in the refrigerator.
Freezing bran muffins
The baked and cooled muffins can be frozen for up to 3 months. Wrap each muffin in food and freezer-safe wrap and place the wrapped muffins into a covered container or food bag. When desired, unwrap the muffins and thaw to room temperature, and warm through in an oven or air fryer if preferred.
What is bran?
The hard outer covering of whole cereal grains such as wheat, rice, oats, barley and maize is known as bran. Bran is high in fiber and contains significant quantities of other nutrients, including protein, iron, and fatty acids.

In the grain refining process, bran is typically separated from the germ (the reproductive part of the grain that germinates to grow into a plant) and the endosperm (the bulk of the grain's interior, which contains mostly starch). The bran and germ contain the majority of the grain's nutrients, while the endosperm is mostly carbohydrates.

Bran is often used in baking to increase the nutritional content of foods, as it provides a good source of dietary fiber, which can aid in digestion and help to control blood sugar levels. It can be used to make delicious bran muffins, added to bread dough for a hearty texture, or stirred into hot cereal such as porridge or oatmeal for a nutritional boost.
Which type of wheat bran is good for muffins?
There are several types of wheat bran products that can be purchased and each one is suited to different uses. The most common types are fine bran, raw wheat bran, and milled wheat bran, which are all fine for home-baked muffins.

Raw wheat bran, being less processed, tends to yield a muffin with a more robust bran texture. On the other hand, fine bran and milled wheat bran have been processed to a finer consistency. As such, while the bran will still impart a distinct texture to the muffins, the overall result will be lighter and smoother.

Another option is oat bran, while not a variety of wheat bran, oat bran does serve as an excellent alternative for home-baked muffins.

Whichever bran you purchase do store it within the refrigerator in an airtight container, as its natural oils can go rancid if not kept somewhere cool and dry.

What type of bran does this muffin recipe use?
For our Old-Fashioned Bran Muffin recipe we used Fine Bran which was sourced at our local health food shop [wholefood store] and this type of bran worked very well as its nice and fine yet the tasty rustic bran flavour and texture is still detectable within the muffins.
Why use dates in muffins?
There are several reasons for including dates in a home-baked muffins, the main one being is that dates are naturally sweet and moist so less sugar is required for the muffin recipe. Also, when dates are baked in muffins they develop their delicious natural caramel flavours which compliment the rustic, heartiness of the bran.

Another reason is that dates are a wholesome addition as they contribute significantly to the muffins nutritional value, especially increasing the overall fiber content as well as upping the potassium and magnesium levels.
What type of dates are best for muffins?
Any type of dates that you can find in your local store or supermarket is fine for muffins. The dates found in the baking aisles are perfect, as are the cheaper varieties found in discount stores such as Home Bargains [UK] or Dollar Tree [US].

Most packages of dates that are found within the baking aisles, have been dried so tend to have a long shelf-life yet still feel soft and moist, and these are the types of dates that are generally used for baking.
Can the dates be substituted?
Yes, if dates are not liked or difficult to source then perhaps substitute with raisins, sultanas, dried apricots, dried figs, dried prunes, dried cherries, or dried blueberries.

Although, if replacing the dates, do consider your substitutes level of sweetness as it may be less sweet compared to the dates, so could potentially change some of the flavour as well as the texture of the baked muffin.
Can I replace the dates with chocolate chips?
Absolutely! The dates can be easily replaced with chocolate chips, drops, buttons, morsels, or a bar of dark chocolate cut into small pieces. Adding a teaspoon or two of vanilla is a tasty addition. See the recipe notes below the recipe for further guidance, and check out the 'How to prepare old-fashioned bran muffins' section above for photos.


What vegetable oil is best for muffins?
The main consideration for the type of vegetable oil to use for muffins is to ensure that the flavour is mild, neutral, and not over-powering. So, go for vegetable oils such as canola, rapeseed, sunflower, grapeseed, or safflower. Some bottles may simply say vegetable oil and these are fine for muffins. A mild or light olive oil could also be used.
Could I replace the cinnamon for a different spice?
Absolutely, the cinnamon can be replaced with the following suggestions - apple pie spice mix, pumpkin spice mix, ginger powder, nutmeg powder, dried cloves, mixed spice powder, or similar.

Although, if using spices such as dried nutmeg and dried cloves, use a smaller amount in the recipe as often ⅛-1/4 teaspoon of dried cloves is enough!

Also a mixture of spices, such as a little bit of cloves, ginger, cinnamon, and nutmeg will result in a delicious blend.
What type of apple sauce are best for muffins?
Any type of apple sauce or apple puree is fine for home-baked muffins, either shop-bought or home-made. Although, do try to use a smoothish apple sauce as this will create the best textured muffin, however a few small apple pieces in the apple sauce will be fine!

We used a jar of Bramwell's Brambly Apple Sauce that was sourced from Aldi supermarket [UK]. But we have also used jarred apple puree that was sourced from our local health shop [wholefood store], as well as home-made apple sauce that was well mashed after cooking, and all have been fine for baking.
Why should you not overmix muffin batter?
Overmixing muffin batter can lead to tough, dense muffins, rather than the soft, light, tender crumb that is desired. This is due to the development of gluten, the protein network that gives structure to bakes.

When you mix flour with a liquid, gluten begins to form and although a certain amount of gluten development is necessary for the structure of the muffins as this is what helps them hold their shape and gives them a slightly chewy texture, too much gluten formation occurs when the batter is over mixed which can lead to tough, smaller, and too chewy muffins.

To avoid overmixing, stir your muffin batter just until the dry and wet ingredients are combined, and its best to avoid electric hand whisks or food processors and just mix by hand with a mixing spoon as then you will have better control over the final mix!
Should muffins have a crack at the top?
Yes, it is perfectly normal and even desirable for the tops of muffins to crack. The cracks or "peaks" that form on the top of the muffin as it bakes are often considered one of the best parts. These cracks provide additional texture and can also look visually appealing.
The cracks form due to the expansion of the batter as it bakes. The outside of the muffin cooks faster than the inside, and as the inside continues to cook and rise, it pushes up against the already set exterior, causing it to crack.
Are muffins a type of bread?
Muffins are considered a type of quick bread, which is a broad category of bread products that are leavened with leavening agents such as baking powder and bicarbonate of soda [baking soda] other than yeast or eggs.

The term "quick" refers to the fact that these breads can be prepared and baked right away, without the need for a lengthy fermentation period like yeasted breads.

Quick breads encompass a wide range of baked goods, from sweet to savory, including muffins, banana bread, scones, biscuits, and cornbread, etc., and they are generally characterized by their moist and denser texture compared to cakes.

Also, muffins are typically made by the muffin method where the wet ingredients are mixed together before being combined with the dry ingredients. Then the two are quickly mixed together with minimal stirring to avoid developing too much gluten, which could make the muffins tough.

Despite their name, quick breads like muffins are more similar in method and texture to cakes than to traditional yeast breads. So, while technically they can be classed as a type of bread, they do have a lot in common with cakes as well.
Are bran muffins high in fiber?
Yes, bran muffins are typically high in fiber due to the presence of bran, which is the outer layer of cereal grains like wheat, oats, and rice. This layer is rich in dietary fiber.
Fiber is essential for digestive health and can help to prevent constipation. Fiber is an indispensable part of a healthy diet as the body needs fiber for lots of functions such as healthy bowl movements, thriving microbiome.

It can also make you feel full, which can help to control appetite and potentially aid in weight management. Furthermore, a diet high in fiber has been associated with a lower risk of heart disease, stroke, type 2 diabetes, and bowel cancer.

One bran muffin [our recipe provides around 7grams per muffin] can provide a significant portion of the recommended daily intake of fiber which is 30 grams a day. However, it's important to note that not all bran muffins are created equal. The exact amount of fiber can vary depending on the specific recipe used, the type and amount of bran, and whether other high-fiber ingredients (such as nuts, seeds, or fruits) are included.

As with all foods, it's also important to consume bran muffins as part of a balanced diet. While they are high in fiber, they can also be high in calories and sugar, particularly if they are store-bought or bakery muffins, which can be quite large and often contain added sugars. At least with home-baked bran muffins you can control the amount of sugar added or at least be aware of the sugar quantities!
What pairs well with a bran muffin?
Bran muffins pair well with lots of tasty things! Such as:
1. Fresh Fruit: A side of fresh fruit can complement the earthy flavours that bran muffins can bring, such as - berries, sliced bananas, melon, apple, pear, or mango slices, orange segments, tangy kiwi slices, or juicy grapes.
2. Yogurt: A dairy-free yogurt, such as almond, soy, or coconut yogurt, can add a creamy textures that pairs nicely with the hearty bran muffin.
3. Nut or Seed Butter: Almond, cashew, sunflower seed, or peanut butter can provide some protein and healthy fats. Spread some on a halved muffin or have a spoonful on the side.
4. Jam or Preserves: Any of your favourite fruit jams, preserves, or marmalades pair well with a tasty bran muffin.
5. Vegan Butter or Margarine: A little bit of vegan butter or margarine spread on a warm bran muffin can be incredibly satisfying. There are many great plant-based options on the market.
6. Vegan Cheese: A slice of vegan cheese can pair nicely with the sweet and hearty bran muffin.
7. Plant-Based Cream Cheese: Some vegan cream cheeses have a tangy flavour that can complement the sweetness of the bran muffin.
8. Avocado: Sliced avocado or a scoop of guacamole can provide creaminess and a savoury contrast to the bran muffin.
9. Hummus: This may sound unusual, but a savoury hummus can provide a nice contrast to the sweetness of the muffin.
10. Dried Fruit and Nuts: Dried fruit like raisins, apricots, or cranberries and nuts like almonds or walnuts can add a bit of crunch and extra nutrition along with a wholesome bran muffin.
11. Tofu Scramble or Chickpea Scramble: For a more substantial meal, especially at breakfast, brunch, or lunch, enjoy a bran muffin along with a tasty vegan cooked breakfast such as Chickpea Scramble or Vegan 'corned beef' Tempeh Hash, or Tofu Kedgeree.
12. Smoothies: A fruit or green smoothie is a refreshing contrast and pairs well with a tasty bran muffin, especially for breakfast or brunch, or an after-gym or workout light meal.
13. Coffee or Tea: A hot drink is the ideal accompaniment for a bran muffin especially for morning or afternoon break, put your feet up and enjoy a well-deserved break, just for being awesome!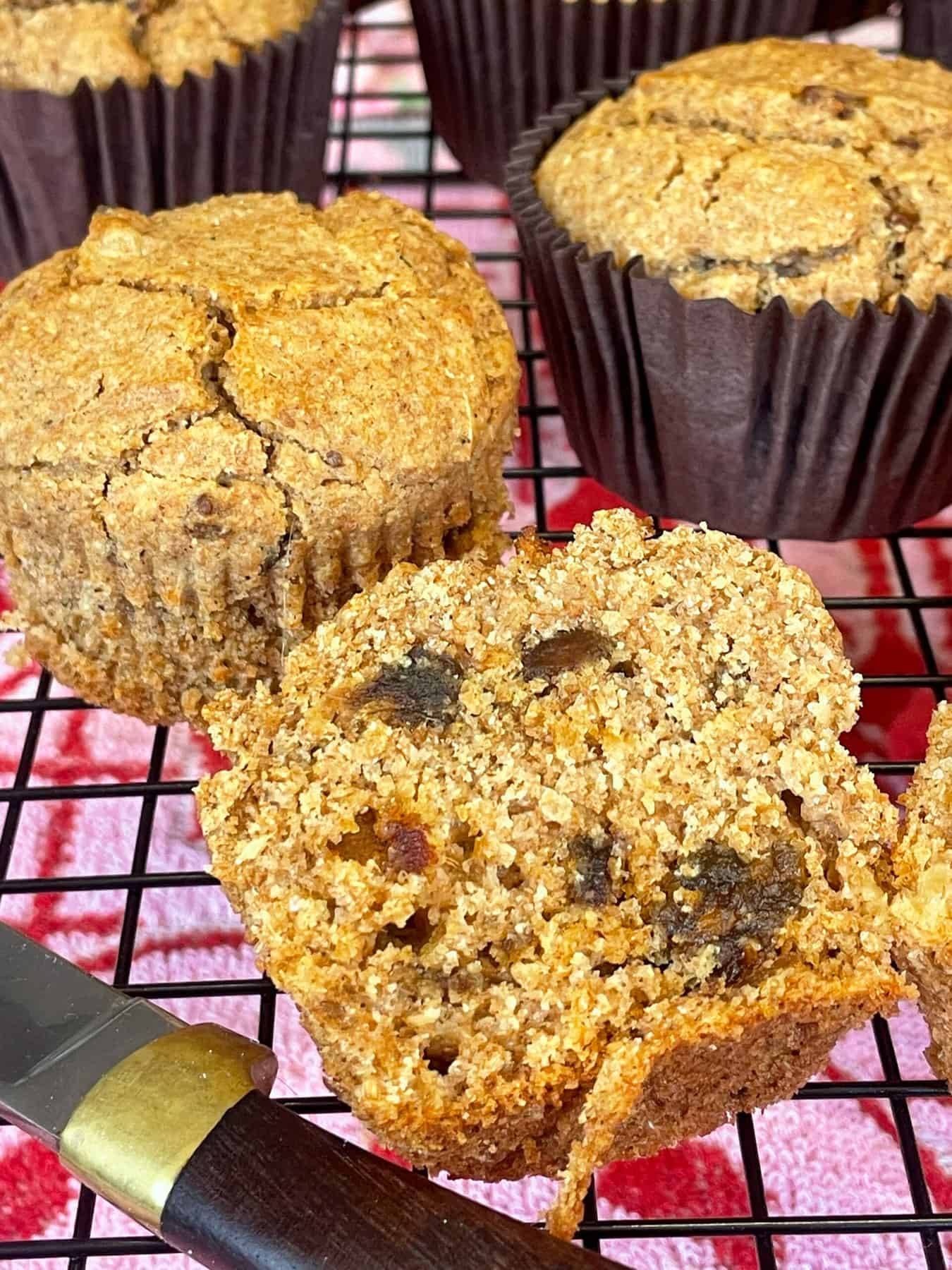 Bran muffins are more bread-like, than cake-like, so are perfect for those who prefer a treat that is not too sweet yet still feels like a sweet treat! Split a bran muffin in half and enjoy spread with vegan butter, peanut butter, seed butter, plant-based chocolate spread, mashed banana, apple sauce, fruit jam, or marmalade.
More tasty wholesome vegan bakes
These vegan home-bakes are perfect for breakfast, brunch, supper, or quick dairy and egg-free vegan snacks.
Our family favourites Old Fashioned Weetabix Loaf Cake and All Bran Cinnamon Loaf Cake make use of high-fiber breakfast cereals, while out Tasty teatime Malt Loaf is a vintage bake that uses malt extract to create a deliciously malted bake that is so good toasted for breakfast. If preferred you could swap out the malt extract for molasses.
Finally our Golden Syrup Loaf dates back to the 1940s and was a favourite budget-friendly recipe during the war food rations and shortages.
None of these baking recipes require yeast as they are quick sweet breads so are perfect for easy baking!
For more family favourite traditional recipes that are egg-free and dairy-free, check out our collection of Vegan Baking Recipes.
***please note: for US measurements click the 'US customary button' within the recipe and the measurements will switch to tablespoons, cups, and ounces.***
Recipe
Old-Fashioned Bran Muffins
Print Recipe
These Old-Fashioned Bran Muffins are egg, dairy, and butter-free, and are deliciously soft, fluffy, sweet, homely, and high in fibre as they are packed with wholesome bran and sweet dates [although the dates can be substituted].
Perfect for a quick breakfast, brunch, supper, or any-time-of-the-day snack. Split a warm just-baked muffin in two and spread with some diary-free butter, fruit jam, peanut butter, or your favourite condiment.
Equipment
12 cup muffin baking tin

12 muffin paper baking cups

optional, as can grease each muffin cup with oil or margarine if preferred

Jug or small bowl

sieve

Mixing bowl

mixing spoon
Ingredients
Vegan buttermilk:
360

mililitres

plant-based milk

[such as oat or soya or your usual milk]

2

teaspoons

white distilled vinegar

[or apple cider vinegar]
Muffins:
195

grams

self-raising flour

[or use plain [all-purpose flour] and increase the baking powder to 2 teaspoons, and add ½ teaspoon of bicarbonate of soda, and an extra few pinches of salt]

1

teaspoon

baking powder

⅛

teaspoon

salt

2

teaspoons

cinnamon powder

[or any spice/spice mix you prefer]

75

grams

soft brown sugar

[light brown sugar]

140

grams

fine bran

[ground] [or oat bran]

105

millilitres

vegetable oil

[any vegetable oil is fine]

60

grams

apple sauce

[can be home-made or shop-bought from a jar, use a smoothish apple sauce]

125

grams

dates

[stones removed [if any] and chopped into small pieces] [dates can be replaced with chocolate chips or morsels see recipe notes].
Instructions
Prepare the buttermilk:
Add your choice of milk to a jug and stir through the vinegar. Leave for at least 10 minutes, or for however long it takes for you to prepare the muffins.

360 mililitres plant-based milk,

2 teaspoons white distilled vinegar
Prepare the muffins:
Preheat the oven to 200 Fan, 220C, 428 Fahrenheit, Gas 7.

If using paper cases, pop one case into each muffin cup in the baking tray. Alternatively use a little margarine or a spray oil to grease each muffin cup and don't use any paper cases.

Chop the dates into small pieces, and remove any pits if necessary.

Sift the flour, cinnamon, and baking powder into a mixing bowl.

195 grams self-raising flour,

1 teaspoon baking powder,

2 teaspoons cinnamon powder

Stir through the sugar, bran, salt, and chopped dates.

⅛ teaspoon salt,

75 grams soft brown sugar,

140 grams fine bran,

125 grams dates

Add the oil and apple sauce to the jug with the buttermilk, and stir well.

105 millilitres vegetable oil,

60 grams apple sauce

Make a little well in the middle of the flour mixture and pour the liquid mixture into the flour mixture.

Stir everything together, with a mixing spoon, until only just combined as its important not to over-mix muffin batter as then the muffins can become tough.

Divide the muffin batter between each of the 12 muffin cases.

Bake on the middle oven shelf for 15-18 minutes or until a skewer popped into a muffin comes out clean, and the muffins have risen, are firm to touch, and are tinged with golden brown bits.

We used an electric oven and the muffins were ready at 18 minutes baked at 220C. If using a fan oven check the muffins a few minutes earlier as fan ovens can bake quicker.

Leave the muffins for a couple of minutes in the muffin pan, before removing and cooling on a wire rack or similar.

Bran muffins can be enjoyed warm soon after they are out of the oven. Split one in half and enjoy with a little margarine or butter spread over so that it melts, so delicious!
Notes
We strongly recommend using a kitchen scale and measuring the ingredients using the grams measurements, as this ensures the best baking outcomes.
However, for the cup measurements - the cup measurer equaled 240ml, and the ingredients are not sifted before measuring nor are they packed into the cups. With the exception of the brown sugar which is gently patted into the half cup measurer.
Nutritional data is provided for guidance only and is not intended to be an exact calculation as ingredients vary.
We used 'fine bran' for this recipe which was sourced from our local health food shop [wholefood store], although any type of ground or milled bran is fine to use, including oat bran if preferred.
Rapeseed oil was used.
The dried dates we used were bought from Home Bargains [UK].
Oat milk was used to prepare the vegan buttermilk.
Self-raising flour is the same as self-rising flour, and it can be replaced with plain or all-purpose flour but add an additional 1 teaspoon of baking powder [so use 2 teaspoons baking powder in total] ½ teaspoon of bicarbonate of soda [baking soda], and an extra pinch of salt, to the recipe.
Some types of paper baking cases can stick a little to the muffins and this can be more noticeable if removing the case soon after baking, so if preferred use a non-stick muffin baking tray and with some margarine or butter lightly grease each muffin cup and then the baking cases can be omitted.
For breakfast, my family likes peanut butter and plant-based chocolate spread with their bran muffins, either the ones prepared with dates or chocolate chips. The fiber in the muffins does keep us full for much longer compared to a bowl of cereal!
Variation: Chocolate chip bran muffins
Instead of chopped up dates use chocolate chips or morsels [about 100g/3 ½ oz, or a little more] or a chocolate bar broken into small pieces. Also add about 2 teaspoons of vanilla essence or extract, and follow the recipe above. For our chocolate bran muffins we used a bar of 60% dark chocolate that was sourced from Lidl [UK].
Replacing the dates with 100g dark chocolate changes the nutritional data to an estimated: 248Calories, 11g sugar, 13g fat, 33g carbs, iron 3mg, 5g protein and the fiber remains the same at 7g, per muffin.
Chocolate chip bran muffins are also delicious, sliced in half, and spread with vegan butter, peanut butter, plant-based chocolate spread etc, especially for breakfast.
Nutrition
Calories:
228
kcal
|
Carbohydrates:
37
g
|
Protein:
5
g
|
Fat:
9
g
|
Saturated Fat:
1
g
|
Polyunsaturated Fat:
5
g
|
Monounsaturated Fat:
2
g
|
Trans Fat:
0.1
g
|
Sodium:
56
mg
|
Potassium:
250
mg
|
Fiber:
7
g
|
Sugar:
16
g
|
Vitamin A:
67
IU
|
Vitamin C:
0.1
mg
|
Calcium:
86
mg
|
Iron:
2
mg
Prepared our tasty Old-Fashioned Bran Muffins or our variation - Chocolate Bran Muffins? Do pop back and let us know how you got on with the recipe as we love hearing from you. Thanks so much! Jacq x