These deliciously quick Traditional Scottish Teatime Flapjacks are the perfect tasty home-baked treat, packed with budget-friendly, everyday pantry ingredients that happen to be vegan and dairy-free too. Flapjacks have been a family favourite treat for many years and its buttery, sweet, syrupy, oaty, crumbly, soft and chewy insides, crispy edges, sticky, flavours and textures never get old!
Home-baking a batch of old-fashioned flapjacks is so much better for filling up your biscuit tin rather than a packet of expensive shop-bought biscuits or cookies. Looking for traditional chocolate flapjacks? Check out our Classic British Chocolate Flapjacks recipe!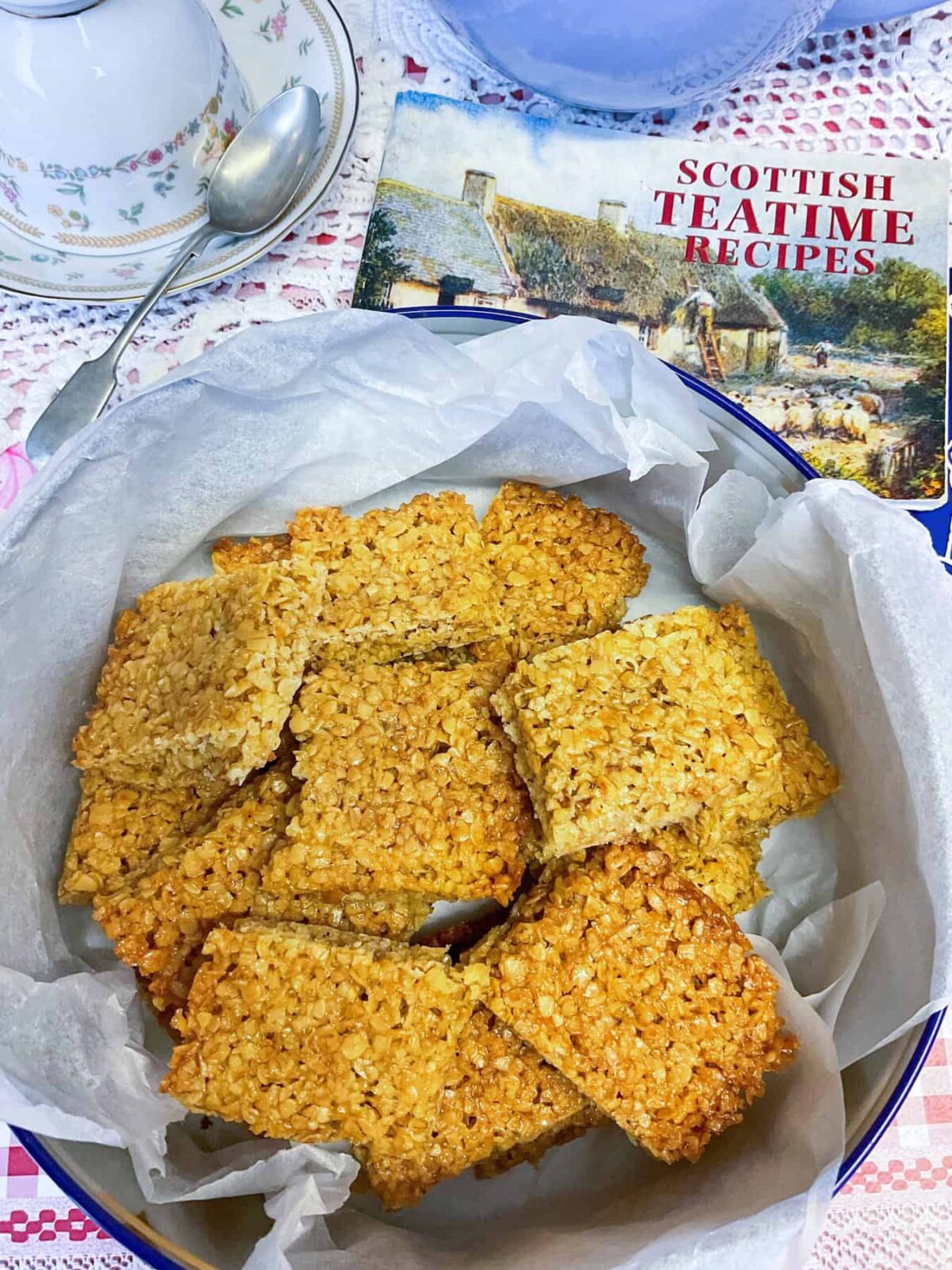 Porridge or rolled oats, margarine or butter, caster sugar or granulated sugar, and golden syrup is all that is required to prepare a quick budget-friendly tasty teatime treat that is perfect for vegans, vegetarians, plant-based diets, and anyone really! Flapjacks are also ideal for picnics, parties, buffets, and pack lunches or a bag lunch.
Origin of Scottish flapjacks
Flapjacks are British in origin and even though they are not exclusively Scottish there are hundreds of Scottish flapjack recipes available as oats have been a mainstay of the Scottish diet for centuries. For more background on the evolution of the flapjack do pop over to our Traditional British Chocolate Flapjack recipe!
Our recipe for flapjacks comes from the wee book ''Scottish Teatime Recipes''. [1998] This book was complied by Johanna Mathie, illustrated by Sutton Palmer R.I., and published by J. SALMON LTD., Sevonoaks, England. We sourced our copy of the book from a wee local tourist shop on the Isle of Skye, nestled amongst numerous Highland Cow teddies, tartan napkins, tweed hand-bags, Scottie Dog fridge magnets, and boxes of Shortbread Rounds!
We didn't want to adapt a recipe for flapjacks as traditional and classic flapjacks are a timeless recipe that needs no faffing with, as the original traditional recipe works perfectly well seeing as its been tried and tested for many, many years! Besides many people have the exact same flapjack recipe but sourced from countless different books or been handed down from generations to generations.
However, many traditional flapjack recipes do contain dairy butter but plant-based margarine, baking margarine, or a baking block such as Stork, or vegan butter works perfectly well.
At some schools during the 70s and 80s, flapjacks were served for a school dinner treat or pudding, and sometimes hot custard was poured over the flapjack! British and Scottish flapjacks are a type of oat bar or oat slice, and can somewhat fit into the biscuit or cookie category of baking, rather than the American flapjack which is a type of pancake!
How to prepare traditional Scottish flapjacks
Preparing traditional flapjacks are very simple and only requires 4 pantry ingredients - rolled or porridge oats, butter or margarine, caster or granulated sugar, and golden syrup.
[If using old-fashioned oats from the US, or jumbo oat flakes, then perhaps pulse the oats for a few seconds in a food processor just to break them up into more of a UK porridge oats or rolled oats size. Although, some people do enjoy the texture of flapjacks prepared with larger oat flakes so this step is not essential.]
First, gather all your ingredients.
Add the margarine, sugar, and golden syrup to a small saucepan, and over a gentle heat melt everything together but don't allow the mix to boil.
Meanwhile add the porridge oats [rolled oats] into a mixing bowl.
Pour the melted mixture into the oats and mix well.
Transfer the oat mixture to a lined baking pan and press it down firmly and evenly. Bake for 15-20 minutes.
[about 17 minutes for softer flapjacks or 20 minutes for crunchier flapjacks which are soft in the middle but crisp and crunchy on the outsides and edges like a British biscuit].
Exact baking times will depend on your oven and personal preferences.
Once baked, score the flapjacks into pieces.
The flapjacks can be scored into 9 or 12 pieces, or 18 for smaller bitesize flapjacks.
Although if wanting smaller pieces its best to score out larger pieces first then leave to cool, before removing the flapjacks from the pan and then slicing into smaller pieces as this will avoid disturbing the oats too much before they have firmed up properly.
Leave the scored flapjacks to cool completely within the baking tin.
Once cool, use the baking paper to lift out the flapjacks, as one block, and then slice the scored pieces completely.
If the flapjack under sides are a little sticky sit them on a wire cooling rack for a wee while to dry out a little before storing. However, flapjacks do tend to be a little sticky!
Recipe notes and FAQ's
Storing flapjacks
Store flapjacks within an air-tight container, for up to 5 days, and place somewhere cool and dry. Lining the container with a piece of scrunched up parchment or baking paper is a good idea as the base of flapjacks can be a little sticky, and if stacking the flapjacks a piece of parchment between each layer can be added.
Freezing flapjacks
Flapjacks can also be frozen for up to 3 months. Wrap each flapjack individually with food safe wrap and then store within a freezer-bag or container, or freeze the flapjacks on a tray and then place them into an air-tight freezer-safe container or bag. Doing so makes it easier to pull out one or two flapjacks whenever required as the flapjacks won't all freeze together.
Any tips on baking the best flapjacks?
Yes, even though flapjacks are one of the easiest home-bakes, there are a few considerations and tips that will help you bake the best flapjacks!
Choice of Oats: Rolled oats, also known as old-fashioned or porridge oats, are generally the best choice for flapjacks as they have a nice chewy texture which is perfect for baking.
Fat and Sweetener Ratio: A good flapjack recipe should have the right balance of fat and sweetener [sugar and syrup] to oats. Too much fat or sweetener can make them overly greasy or sweet, and too little can make them dry or crumbly. Although a little stickiness for home-baked flapjacks is expected and even desired!
Golden Syrup: Traditional British flapjacks are made with golden syrup, which has a unique flavour that's difficult to replicate with other syrups but if you can't find golden syrup, you can substitute with maple syrup, date syrup, brown rice syrup, agave nectar, or corn syrup, but do keep in mind that a substitution will change the overall flavour.
Cooking Time: Be careful not to overbake your flapjacks. They should be golden [but not too dark] and just starting to crisp at the edges when you take them out of the oven. The flapjacks will be set but still soft in the middle and will firm up more as they cool. Although, many people prefer crisper flapjacks so baking for a few extra minutes will achieve crunchier flapjacks. Also, unintentionally overbaked flapjacks can simply be dunked into a hot cup of tea which will soften them up nicely!
Scoring: Score warm flapjacks with a sharp knife [score right down to the bottom of the baking tin] after they have had 1-2 minutes resting out of the oven. The sugar and syrup mixture will be boiling hot just out of the oven so a short rest is a good idea to prevent the flapjack pieces from being messed up as they are scored. Slicing into pieces once the flapjacks are at room temperature is usually more difficult.
Cooling: Once slices have been scored, leave the flapjacks to cool completely in the pan, before removing the flapjacks. Once removed, the flapjack pieces can be completely sliced apart and then stored in an airtight container.
Are flapjacks gluten-free?
Yes, flapjacks can be easily baked as gluten-free if gluten-free certified porridge oats or rolled oats are used. Ordinary oats are naturally gluten-free, however as the oats are processed in factories where wheat, rye, or barley may also be processed, there is a risk of cross contamination of gluten. For this reason, its best to choose oats that are certified gluten-free.

As for the other flapjack ingredients - syrup, sugar, and margarine, they are usually gluten-free but as with all allergies its best to check all the ingredients and packaging for everything you buy.

If your in the US, Bob Red Mills Old Fashioned Rolled Oats, Whole-Grain,Gluten Free, are prepared in a gluten-free facility, and in the UK Quaker 100% Wholegrains Gluten-Free Oats, and in Australia Red Tractor Australian Oats Gluten Free Rolled, are all good choices.
Is porridge oats and rolled oats the same?
Porridge oats and rolled oats are terms often used interchangeably, but they can technically refer to two different forms of oats.

Rolled Oats: This type of oats is also known as old-fashioned oats, especially in Scotland, and they are made by steaming hulled oat grains (or groats), then rolling them into flat flakes under heavy rollers, and finally, lightly toasting them. The result is a flatter, more textured oat flake that holds its shape reasonably well during cooking. Rolled oats provide a chewier texture and more distinct individual flakes in the finished dish.

Porridge Oats: This term is most often used in the UK and refers to oats that have been cut into pieces before being rolled. This results in a smaller, finer oat that will cook faster and create a creamier texture in dishes so ideal for making porridge.

However, in some places and recipes, the term porridge oats might be used more generally to refer to any oats that are suitable for making porridge, including rolled oats.
What type of oats should I use for flapjacks, in the US?
In the US, the equivalent to UK's rolled oats would be "old-fashioned oats". Old-fashioned oats are made by steaming and rolling oat groats, resulting in a flat, flaky oat that retains a lot of texture and has a longer cooking time compared to quick or instant oats. They are ideal for baking recipes where you want a chewy texture, such as flapjacks.

It's also worth noting that while the terms "rolled oats" and "old-fashioned oats" are often used interchangeably, "rolled oats" can also sometimes be a more general term that includes both old-fashioned oats and quicker-cooking types like quick oats or instant oats. So in the US, when shopping for oats for flapjacks, look specifically for "old-fashioned oats" to get the right type.

Another, consideration is that old-fashioned oats in the US tend to be larger flakes compared to the UK's rolled oats, so if your flakes are quite large they can be briefly pulsed for a few seconds in a food processor but this is not essential, and you do not want the texture to be similar to instant powdered oats!
What can I use instead of golden syrup?
Golden syrup has a unique, rich, and buttery flavour that can't be completely replaced, however, there are a few alternatives that can be used that will still bake delicious vegan flapjacks, such as - maple syrup, agave nectar, corn syrup, date syrup, or brown rice syrup.
What margarine or butter is best for flapjacks?
Different vegan butters or margarines can affect the taste and texture of flapjacks and the main consideration is that the butter or margarine can be used in baking and copes well with being heated. For this reason, its best not to use a diet, lite/light, or a low or reduced fat butter or margarine as these types have a higher water content, so are not really suitable for baking.

Here are a few options that are available in the UK, US, and Australia:

UK Options: Flora plant butter, Pure dairy free spread, Naturli' organic vegan spreadable, Stork baking margarine, Vitalite margarine, and any baking blocks and supermarket branded margarines that are also suitable for vegans.

US Options: Earth Balance Vegan Buttery Sticks or Spread, Miyoko's Creamery Organic Vegan Butter, and any other less expensive store brands that are labelled as vegan or plant-based. Although, even if plant-based is stated on the packaging its still essential to check the ingredients as some brands think plant-based can include eggs or dairy.

Australia Options: Nuttlex Original and Phyto Plant Butter.

These are just a few popular brands so do have a look at your local store and supermarket as there are so many different vegan butter, margarine, and baking blocks available, and often supermarket own brands are just as good as the more expensive ones.
Are flapjacks the same as granola bars?
While flapjacks and granola bars do share some similarities, they are not the same thing. British flapjacks are baked bars which are prepared mainly with oats, butter, sugar, and golden syrup. They have a dense, chewy texture and a sweet, buttery flavour. The use of golden syrup (a type of light treacle) gives flapjacks their distinctive caramel-buttery like taste. Flapjacks can also be flavoured with various add-ins like dried fruits, nuts, seeds, spices, or chocolate chips, and they can be topped with a layer of chocolate.

Whereas granola bars are more of an American invention [but are still relatively common in the UK] and are typically made with a mix of oats, nuts, and dried fruit, bound together with honey or another sweetener, and often include other ingredients like puffed rice or various types of seeds. Granola bars can range from chewy to crunchy and are often seen as a healthy snack alternative, though their actual nutritional content can vary widely depending on the specific ingredients used.

So while both flapjacks and granola bars are oat-based snack bars, they do have differences in textures, flavours, and ingredients.
What could I do with leftover flapjacks?
Leftover flapjacks [if this is an actual thing!] are very versatile and can be reused up in a variety of interesting ways! Here are a few ideas:
Flapjack Crumble: Crumble the flapjacks and use them as a topping for vegan yogurt, ice cream, or a Whipped Tofu Chocolate Pudding. Or crumble the flapjacks and add to a baked apple or fruit crumble [crisp] topping for interesting textures.
Flapjack Granola: Break up the flapjacks into small pieces and bake them at a low temperature until they're crispier, to make a rustic granola. This can be used as a topping for smoothie bowls or enjoyed for breakfast with plant-based milk or yogurt.
Chocolate-Dipped Flapjack Bites: Cut the flapjacks into small, bite-sized pieces and dip them into melted chocolate. Allow them to cool and the chocolate to harden for a delicious treat.
Pudding or a Simple Trifle: Cut the flapjacks into small pieces and layer them in a glass with pudding, custard or a Chocolate Custard Pudding, and/or whipped cream and fruit to make a simple trifle.
Gifts: Pack up a few flapjacks in a nice container or bag, tie it up with a ribbon, and you have a lovely homemade gift.
More tasty vegan traditional teatime treats
For more tasty traditional teatime treats that are egg-free, dairy-free, vegan, and prepared with everyday pantry ingredients, check out our collection of family favourites Vegan Baking Recipes.
please note: for US measurements click the 'US customary button' within the recipe and the measurements will switch to tablespoons, cups, and ounces.
Recipe
Traditional Scottish Teatime Flapjacks
Print Recipe
These deliciously quick Traditional Scottish Teatime Flapjacks are the perfect tasty home-baked treat, packed with budget-friendly, everyday pantry ingredients that happen to be dairy-free and vegan too!
Flapjacks have been a family favourite home-baked treat for many years and its buttery, sweet, syrupy, oaty, crumbly, soft and chewy insides, crispy edges, sticky, flavours and textures never get old!
Equipment
Baking tin, brownie pan, or similar

about [31cm x 20 x 4 cm] or [12 inch x 7 inch x 1-2 inch] lined with parchment paper if necessary

Small saucepan

for melting ingredients

mixing spoon

Mixing bowl

sharp knife

for scoring flapjacks into pieces
Ingredients
228

grams

rolled oats

[porridge oats]

115

grams

margarine

use whatever cooking fat, spread, butter, or block you normally use for baking, we used Stork

85

grams

granulated sugar

45

grams

golden syrup

[2 tablespoons]
Instructions
Preheat the oven to 160 Fan, 180C, 350 Fahrenheit, Gas 4.

Grease the baking tin with some margarine, and then line the tin with parchment or baking paper.

[If you use a piece of parchment larger than your baking tin so that it overlaps the sides, it can be used to easily lift out the flapjacks from the tin once they have baked and cooled.]

Add the margarine, golden syrup, and sugar to a small saucepan, and over a low heat gently melt all the ingredients together, stirring frequently, and making sure that it does not boil.

115 grams margarine,

85 grams granulated sugar,

45 grams golden syrup

Add the oats to a mixing bowl, and pour in the melted mixture. Give it all a good stir.

Scoop the mixture into the prepared baking tin and press it down firmly and evenly. Make sure that the edges are pressed firmly down as well.

Bake for 17-18 minutes on the middle shelf until the flapjacks are lightly golden brown and look set. They will still be soft but they will firm up more as they cool, and the edges will look darker than the middle area.

If your flapjacks are a little pale and they have a wobble [just shake the pan back and forth and see if the middle part is too wobbly] then bake for a few more minutes.

If you prefer a crisper flapjack cook for 20 minutes as then the edges will become more crispy and crunchy almost biscuit like. Baking for less time will result in a softer more traditional flapjack.

We used an electric oven and our flapjacks were ready after 17 minutes at 180C. For Fan ovens check the flapjacks at 15 minutes and see how they are going as fan ovens tend to bake faster.

Exact baking times depend on your oven so do keep a close eye on the flapjacks, as they bake, as then you'll discover the exact times for your perfect flapjacks.

Once baked, leave the flapjacks in the pan for a minute or two, just to settle as they will be boiling hot when just out of the oven, before gently scoring with a sharp knife into pieces.*

When scoring [cutting the flapjacks into slices] press the knife right down to the bottom of the tin].

Leave the flapjacks to cool completely in the pan. Once cool remove the flapjacks by using the parchment paper to help lift out all the flapjacks at once.

Once removed the pieces can be pulled apart or use a sharp knife to break the pieces along your score lines.

* We scored 9 large flapjack pieces but you could get 12 smaller or 18 bite-size pieces of flapjack. If you'd like smaller pieces perhaps initially score into 9 and then leave to cool in the pan, before removing the flapjacks and slicing each firmer piece into more slices with a sharp knife. This way your pieces will be cleaner cuts.*
Notes
Nutritional data is for guidance only and is not intended to be an exact analysis as ingredients can vary.
Data is for 9 large flapjacks. For 12 flapjacks: 180Calories, 23g carbs, 3g protein, 9g fat, and 10g sugar. And for 18 small flapjacks: 120 calories, 15g carbs, 2g protein, 6g fat, and 7g sugar.
Store flapjacks within an air-tight container, for up to 5 days, somewhere cool and dry. Lining the container with a piece of scrunched up parchment or baking paper is a good idea as the base of flapjacks can be a little sticky, and if stacking the flapjacks a piece of parchment between each layer can be added.
Or freeze, well wrapped, for up to 3 months.
Stork baking margarine was used for our flapjacks.
Golden syrup provides the classic flapjack flavour but it can be replaced with maple syrup, agave syrup, date syrup, brown rice syrup, or corn syrup.
Porridge oats, rolled oats, or old-fashioned oats are best for flapjacks.
If using US old-fashioned oats and the flakes are quite large, they can be pulsed for a few seconds in a food processor. However, some people prefer the texture of larger oat flakes, which includes jumbo oats, for their flapjacks.
If liked, add a teaspoon of vanilla essence or extract, but its not essential as traditional recipes usually do not contain it.
If you accidently overbake your flapjacks and they are too crunchy, simply dunk the edges into a nice cup of hot tea and they will soften up nicely!
For a chocolate top layer, grate a bar of vegan-friendly chocolate over the top of the flapjacks as soon as they come out of the oven, as the heat will melt the chocolate.
For an easy chocolate chip flapjack check out our recipe for Classic Chocolate Flapjacks.
Nutrition
Calories:
240
kcal
|
Carbohydrates:
31
g
|
Protein:
3
g
|
Fat:
12
g
|
Saturated Fat:
2
g
|
Polyunsaturated Fat:
3
g
|
Monounsaturated Fat:
6
g
|
Sodium:
122
mg
|
Potassium:
97
mg
|
Fiber:
3
g
|
Sugar:
14
g
|
Vitamin A:
457
IU
|
Vitamin C:
0.03
mg
|
Calcium:
17
mg
|
Iron:
1
mg
Prepared our Traditional Scottish Teatime Flapjacks? We would love to know how you got on with the recipe. Do click the star ratings and drop us a comment below as we love hearing from you. Thanks so much, Jacq x