Jump to Recipe
Vegan Scottish shortbread biscuits are deliciously crisp, sweet, and buttery. A pile of these wee crunchy gems can be ready to enjoy in just 45 minutes or less.
For an elegant dessert serve a few of these shortbread biscuits with a chilled chocolate pudding and a garnish of fresh strawberries. Or simply enjoy with a cup of tea, mug of coffee or a tall glass of chilled oat milk.
This recipe is also perfect for kids to bake their own biscuits or cookies with different shape cutters and have fun decorating their own designs.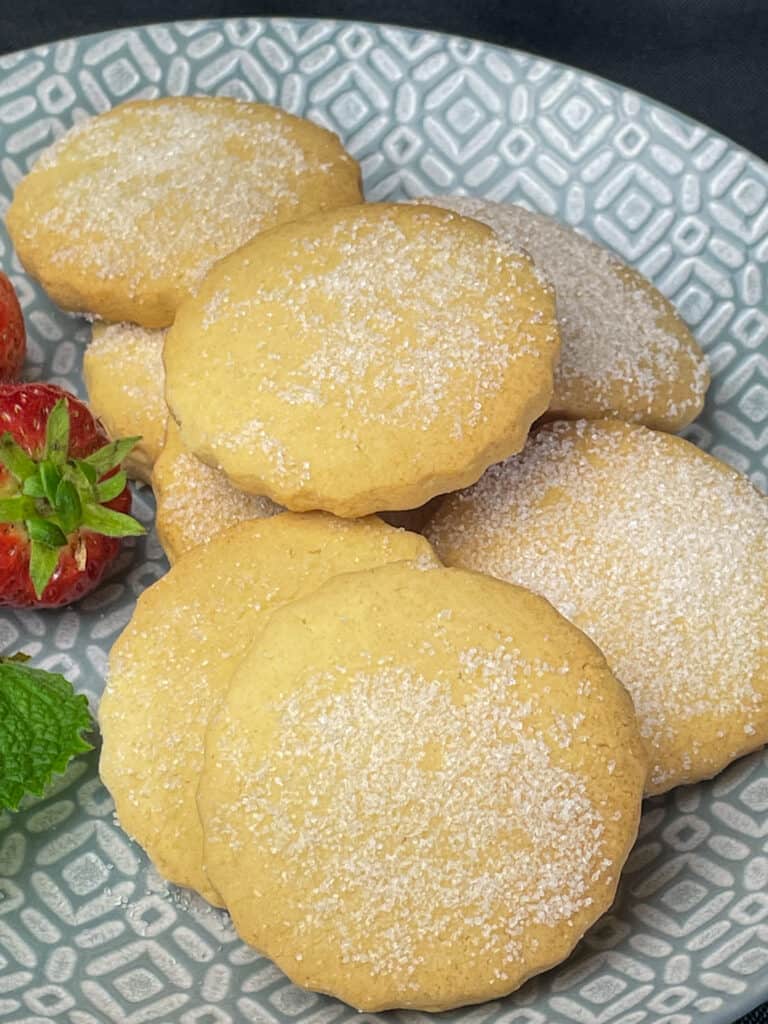 Origin of Scottish Shortbread
Shortbread originates way back in the medieval times where bakers would take leftover dry bread and bake it again until it was very crispy. This was a frugal way to prevent waste.
At some point a medieval baker experimented with substituting the yeast for butter thus inventing the first early shortbread.
Today in Scotland shortbread is popular during the festive periods of Christmas, Hogmanay and New Years Day. As well as Robert Burns day suppers and celebrations. Although most Scottish bakeries and tearooms have shortbread on the menu all year round.
Growing up in Scotland shortbread always made an appearance as part of our family's Hogmanay evening buffet and I enjoyed munching away while waiting impatiently for the bells to ring at midnight. I still keep up this tradition with my own kids but now I prepare vegan shortbread which is every bit as tasty.
Easy Method To Prepare Vegan Scottish Shortbread Biscuits:
Recipe Notes
How do I store shortbread biscuits?
Shortbread biscuits can be stored in a biscuit/cookie tin or a covered container for up to 7 days. If in a plastic container I recommend a layer of kitchen foil to wrap the biscuits in to prevent them getting soft too soon.
Uncooked biscuit dough can be well wrapped and placed in the fridge for up to 4 days before baking or up to 3 months in the freezer. Bring to room temperature before baking.
What can I serve to accompany these biscuits?
A few suggestions:
A tall glass of chilled plant milk.
A cup of steaming hot tea.
Refreshing herbal or fruit tea.
A mug of hot coffee.
Hot chocolate or cocoa.
A delicious revitalising turmeric latte (no coffee in the recipe)
Iced tea or coffee.
Chilled smoothie.
A vegan yogurt pot.
Fruit salad.
Chocolate pudding (whipped silken tofu recipe) is especially tasty accompaniment and the reason I created this recipe! As I wanted a wee crunchy shortbread biscuit to compliment my scrumptious easy chocolate pudding.
Vegan Scottish Shortbread Biscuits
Print Recipe
These shortbread biscuits are wee, sweet, crunchy and buttery treats. Perfect for enjoying with a cup of tea or coffee. Or a glass of refreshing chilled oat milk.
Alternatively jazz up these humble biscuits by serving with a simple but elegant rich chocolate pudding and fresh strawberries, which will wow your dinner guests or family.
Equipment
Baking tray, with parchment paper if necessary.

Rolling pin

Biscuit cutter. About 4 1/2-5 cm diameter.
Ingredients
115

g

vegan butter

or vegan margarine.

60

g

icing sugar

powdered/confectioners sugar. Sieved.

1

tsp

vanilla extract

or essence.

160

g

self-raising flour

50

g

cornflour

corn starch.
To sprinkle over baked biscuits:
Instructions
Preheat the oven to 140 Fan/ 325 Fahrenheit/ 160 Celsius/ Gas 3.

Line the baking tray with parchment paper.

Add the vegan butter and sugar to a bowl and mix until nice and creamy.

Whip through the vanilla until combined.

Tip in the flour and cornflour. Mix well and bring everything together into a smooth biscuit dough ball. If too sticky add small amounts of flour until a ball can be formed.

Sprinkle flour over the work surface. Dust the rolling pin with flour and dip the cutter in some flour.

Roll out the dough until about 1/2 cm thick. Shift the dough around a few times to ensure it doesn't stick to the surface as you roll.

Stamp out 28 biscuits. There is usually enough dough for 29 which is the bakers tester biscuit!

Once biscuits are on the tray place in the oven in the middle shelf.

Biscuits should be ready after 20 minutes or when lightly golden and crisp.

Sprinkle granulated sugar over the biscuits and shake to remove excess sugar.

Leave on the tray until cool.
Notes
Nutritional data is for guidance only and is not an exact calculation as ingredients vary. Data was calculated by computerized nutrition apps.
Store shortbread biscuits in a biscuit/cookie tin or jar. Or within a covered container. If the container is plastic I recommend lining it with kitchen foil and wrapping the biscuits with the foil to prevent them going soft too soon.
Unbaked biscuit dough can be frozen, well wrapped, for up to 3 months. Defrost before baking. 
Scottish shortbread biscuits are perfect to accompany a delicious smooth whipped chocolate vegan pudding.
Instead of a sugar topping try a water icing and decorate with vegan cake sprinkles, etc.
Nutrition
Calories:
63
kcal
|
Carbohydrates:
9
g
|
Protein:
1
g
|
Fat:
3
g
|
Saturated Fat:
1
g
|
Polyunsaturated Fat:
1
g
|
Monounsaturated Fat:
1
g
|
Trans Fat:
1
g
|
Sodium:
27
mg
|
Potassium:
7
mg
|
Fiber:
1
g
|
Sugar:
3
g
|
Vitamin A:
157
IU
|
Calcium:
1
mg
|
Iron:
1
mg
Want more vegan biscuit (cookie) ideas?
Vegan chocolate concrete cake (old school dinners recipe). Otherwise known as chocolate crunch and is more a biscuit than a cake!
Vegan Traditional Empire Biscuits (or Belgian biscuits)
Vegan British Chocolate Flapjacks (not technically a biscuit but stands in beautifully whenever a biscuit is called for!)