Vegan Scottish Shortbread Biscuits or Cookies are deliciously sweet and flavoured with vanilla, and are irresistibly crisp, buttery and melt-in-the-mouth. A nice wee pile of these crunchy, crumbly biscuits are a quick bake and are perfect with a nice cup of tea, coffee or a chilled glass of plant-based milk.
Vegan shortbread is not just for vegan diets it can be enjoyed by anyone who loves a delicious biscuit treat and only everyday pantry ingredients are used, dairy and butter-free shortbread can be a great way to reduce butter consumption especially now with the rising cost of butter.
Origin of Scottish Shortbread
Early forms of Shortbread originated in medieval times sometime around the 12 century, when bakers would repurpose leftover, dry bread by baking it again until it became incredibly crispy. This served as a frugal means to prevent waste.
The earliest form of shortbread may have started as "biscuit bread," a twice-baked, hardened and dried bread that was made from leftover dough. At one point in history, a baker decided to replace yeast with butter, which led to the invention of early shortbread.
Yeast in medieval times
Although medieval Britain used yeast for baking bread the yeast was often sourced from brewing beer, a process that was also common during the middle ages. This type of yeast, known as brewer's yeast or barm, was a byproduct of the fermentation process and could be used to leaven bread.
The process was less precise than it is today, as medieval bakers didn't have the understanding of yeast that we now possess however, they understood the basic principle that adding the frothy barm from beer making to their dough would result in a lighter, risen bread.
Bread, including the leavened bread, was a staple of the medieval diet in Britain and the type of bread one ate was often a sign of their social status with the wealthier folk eating manchet, a high-quality white bread, while the poor would often eat coarser, darker breads made with rye, barley, oats, or less often as it was more expensive -wheat.
16th Century Shortbread
Shortbread became popular during the 16th century and is often associated with Mary, Queen of Scots, who is said to have enjoyed Petticoat Tails, a thin, crisp, buttery shortbread originally flavoured with caraway seeds.
In the past,shortbread was quite expensive and considered a bit of a luxury so was not an everyday food and was only brought out on extra special occasions such as Christmas, New Years Day or Hogmanay as its called in Scotland, and celebrations including weddings.
At one time, a tradition from the Scottish Shetland Isles, considered it lucky to break an entire piece of shortbread over a newly married woman's head just as she crossed the threshold of the couples home! This shortbread would not have been a small biscuit or cookie rather a slab of shortbread!
Shortbread in old cookery books
''Mrs McLintock's Recipes for Cookery and Pastry-Work'', was published in 1736 in Scotland, and is believed to be the first cookery book that included a recipe for shortbread. It used brewers yeast or barm, but later versions replaced the barm with butter.
Mrs McLintock's original recipe:
''Take a Peck of Flour, put three lib. of Butter in among a little Water, and let it melt, pour it in amongft your Flour, put in a Mutchkin of good Barm; when it is wrough divide it in 3 Parts, roll out your Cakes longer than broad, and gathert on the Sides with your Finger, the Middle, and job it on the Top, then fend it to the Oven.''
Online Source: University of Glasgow Library.wordpress.com [Retrieved on 10th June, 2023].
Interestingly, this old recipe from the 1700s does not appear to contain sugar but old recipes were often written with the expectation that cooks would have the experience to know how to do stuff like oven temperatures, expected weights, types of flour, additional ingredients, etc.
And perhaps the inclusion of barm, the fermented yeasty by-product of beer making, was also sweet enough to add sweetness to the shortbread, as the recipe above McLintock's shortbread is for French bread which calls for a ''Mutchken of sweet barm''.
Shortbread in popular culture
Shortbread has made a frequent appearance in TV shows and films especially when Scotland is the setting. One example is the popular TV series "Downton Abbey", where Mrs. Patmore, the head cook, prepares various traditional British dishes, including shortbread also makes a frequent appearance in the Scottish Outlander TV series with Walkers, one of the leading brands of Scottish shortbread, even manufacturing a box of Outlander themed shortbread!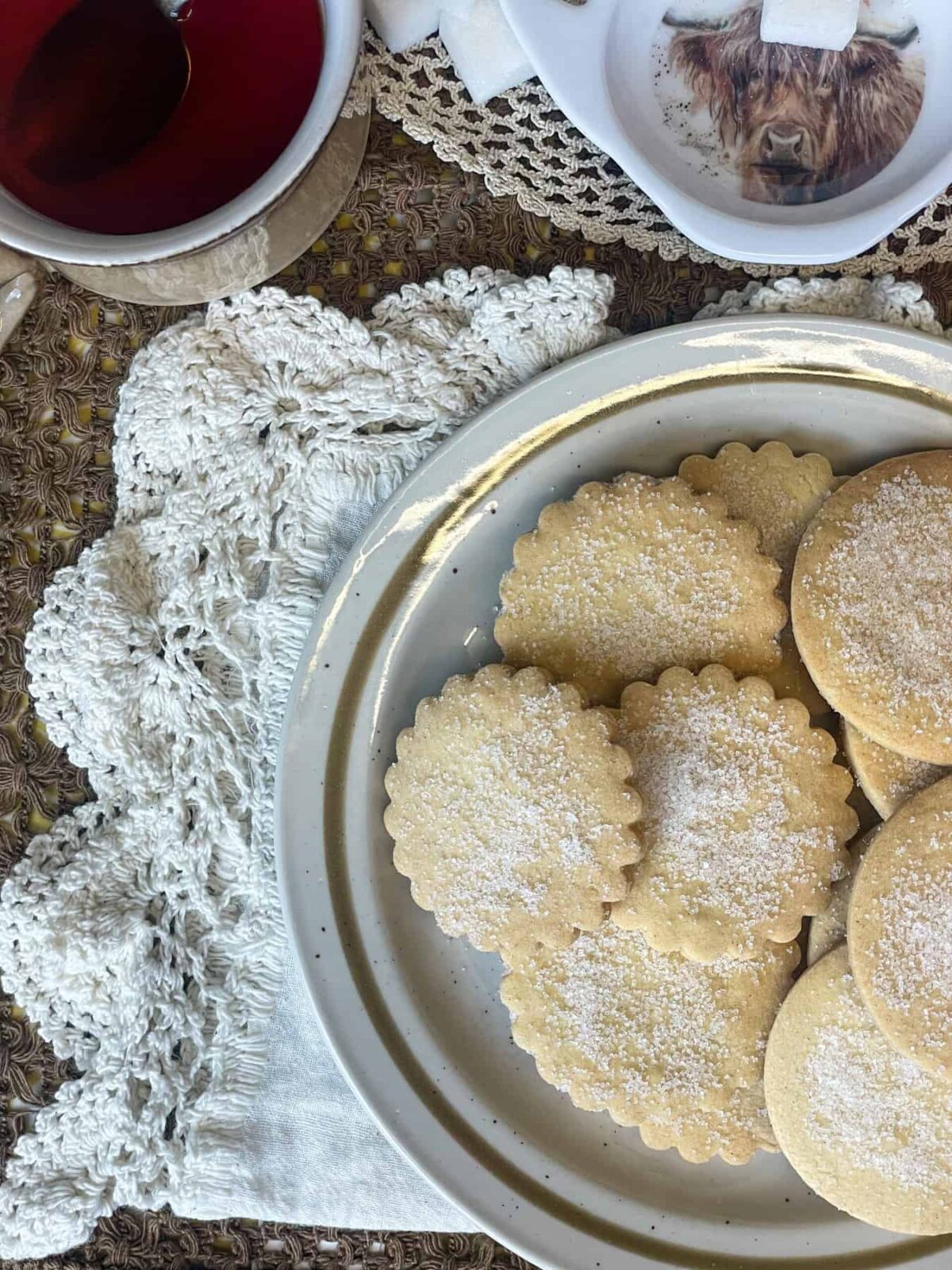 Pour a nice cup of tea, put your feet up, and enjoy a few tasty shortbread biscuits while watching your favourite TV show, reading a good book, or having a nice gossip with friends! Its the little things in life!
Modern shortbread
In recent years, shortbread has been adopted and adapted by many cultures worldwide, and it can be found in almost any bakery or supermarket. From classic versions to those including chocolate, lavender, rosemary, and more, shortbread's simple, buttery goodness has maintained its popularity.
In modern-day Scotland, shortbread continues to enjoy popularity during the festive periods of Christmas, Hogmanay, and New Year's Day, as well as during Robert Burns day suppers and celebrations. However, most Scottish bakeries, cafes and tearooms offer shortbread on their menu throughout the year, and shortbread is still connected to weddings as it is commonly given as a wedding favour or gift for wedding guests.
At Christmas time a nice packet of shortbread is a popular gift, and on the Scottish island where we live shortbread in every form possible from triangular petticoat tails to chunky shortbread fingers to animal shaped shortbread is available in the many gift shops with most tourists leaving with a least one package of shortbread!
Growing up in Scotland, shortbread was a staple at our family's traditional Hogmanay buffet and I would eat my fill whilst waiting until the stroke of midnight so that we could sing Auld Lang Syne as the bells rung, and the neighbours fireworks rattled around the neighbourhood!
I've continued our Scottish tradition with my own children, but I've adapted the recipe to prepare vegan shortbread which is equally delicious.
How to prepare vegan shortbread biscuits
First, add the vegan margarine or vegan butter to the mixing bowl along with the icing [powdered sugar]. Cream the butter and sugar together using either an electric hand mixer or by hand with a mixing spoon.
Next, mix through the vanilla essence and sift in the self-raising flour and cornflour [cornstarch].
Keep mixing the flours into the creamed butter and it will begin to look a bit straggly and crumbly.
Using your hands press the mixture together and bring it into a dough.
Roll the dough out to about ¼ -½ cm thickness.
Stamp out shortbread rounds using a biscuit or cookie cutter. Bake for 20 minutes until lightly golden and firm.
While the biscuits are still warm scatter granulated or caster sugar over the tops and leave to cool on the baking tray and the biscuits will continue to crisp up.
Enjoy the wee shortbread biscuits or cookies with a nice cup of tea, coffee or a glass of chilled plant-based milk.
So delicious and very difficult to stick to just one shortbread!
Recipe Notes and frequently asked questions
How do I store shortbread biscuits?
Storing shortbread biscuits properly is important to maintain their freshness and crispy texture. Follow this simple guide:
After baking, let your shortbread biscuits cool completely. This will prevent condensation from forming in the storage container, which could make your biscuits soggy.
An airtight container is ideal for storing shortbread biscuits. This will keep them from absorbing odors from other food and help maintain their crisp texture. Metal biscuit, cookie or cake tins are perfect for storing shortbread, but glass or plastic airtight containers can also work well. I like to add a layer of kitchen foil around the shortbread biscuits even when storing in a metal biscuit tin.
Arrange your cooled biscuits in the container. If you need to stack them, place a piece of parchment paper, wax paper or kitchen foil between the layers to prevent them from sticking together.
Once your biscuits are in their container, store them in a cool, dry place away from direct sunlight.
When stored properly, homemade shortbread biscuits should stay fresh for up to 7 days, possibly longer if stored well.
If your shortbread biscuits become stale, you can try refreshing them in a warm oven (around 130 Fan, 150°C, 300°F or Gas 2) for a few minutes. Allow them to cool before eating, but saying that warm shortbread biscuits are quite tasty as well!
Can I freeze shortbread biscuits?
Yes, you absolutely can freeze shortbread biscuits. Here's a simple guide on how to do it:
Allow the shortbread biscuits to cool completely after baking.
Arrange the biscuits in a single layer in a freezer-safe container, separated by layers of parchment or wax paper to prevent them from sticking together. You can also individually wrap each biscuit in plastic wrap if you prefer.
Secure the lid on the container, ensuring it's airtight.
Label the container with the date and freeze for up to 3 months.
When you're ready to eat the biscuits, let them thaw at room temperature. There's no need to reheat them unless you want to.
Remember, freezing won't improve the quality of food, it simply preserves it. So always freeze foods, like shortbread biscuits, while they're fresh for the best results.
Can I freeze shortbread biscuit dough?
Yes, you can definitely freeze shortbread biscuit dough. This can be a great time-saver especially when the shortbread is required for a special occasion, allowing you to prepare dough in advance and bake fresh cookies whenever you like.
Prepare your shortbread dough as per the recipe.
Shape the dough into a flat disc.
Wrap the dough tightly in plastic wrap, then place it into a freezer-safe bag or container.
Label the bag or container with the date.
The dough should keep well for up to three months.
When you're ready to bake, remove the dough from the freezer and let it thaw in the fridge overnight before rolling and cutting into shapes.
Remember that the quality of the dough can degrade over time in the freezer, so it's best to use frozen dough within three months for the best results.
What are the different kinds of shortbread?

Shortbread, a traditional Scottish biscuit, can take many forms yet the main ingredients are the same -butter, sugar and flour- they can be rolled or stamped into different shortbread shapes and styles.

Here is a list of the most common types of shortbread:

Traditional Shortbread Biscuits or Scottish Shortbread: These are often cut into thick rectangles or circles and may be pricked with a fork for a decorative finish or baked in molds with intricate designs, leaving a beautifully patterned biscuit.
Plain versions are commonly sold in Scottish bakeries especially wee local bakeries and tearooms.

Petticoat Tails: This is a traditional form of shortbread that is baked in a large circle and segmented into triangular wedges. The name is said to have been derived from the shortbreads resemblance to the bell-hoop petticoats worn by ladies in the 12th century.

Shortbread Rounds: Also known as shortbread biscuits or cookies, these are typically small, thinner, circular shortbreads that are often decorated with sugar on top.

Shortbread Fingers: These are thick rectangular pieces of shortbread, and they are probably what most people think of when they hear the word 'shortbread'. They're often served with tea or coffee.

Millionaire's Shortbread: This is a more elaborate version of shortbread that is topped with caramel and chocolate. Despite the name, it's really just a fancy shortbread biscuit.

Flavored Shortbread: Variations on the traditional shortbread recipe can include flavors like vanilla, almond, lemon, lavender, caraway seeds, or even spices like cardamom. Some recipes may also add ingredients such as chocolate chips or nuts. This type of shortbread is commonly enjoyed at Christmas.

Dipped Shortbread: These shortbreads are partially or completely dipped in chocolate (dark, milk, or white), adding an extra layer of flavour.
Are sugar cookies the same as shortbread?

While American sugar cookies and shortbread biscuits may seem similar at first glance, they are actually quite different.

Shortbread originated in Scotland and is known for its rich, buttery flavor and crumbly texture and the traditional recipe is very simple and consists primarily of three ingredients: butter, sugar, and flour, usually in a ratio of 1:2:3. The high butter content gives shortbread its unique, melt-in-the-mouth texture.

Whereas, American sugar cookies have more ingredients, including eggs and often some form of leavening agent like baking powder or baking soda. Sugar cookies are often decorated with icing or coloured sugar.

So while shortbread and sugar cookies have their similarities they are both different in many ways.
What about strawberry shortcake? Is this similar to shortbread?

Strawberry shortcake is quite different to shortbread despite the similar name. Shortcake is a type of dessert that consists of sweet biscuits (more similar to scones in the UK or Southern-style biscuits in the US), fresh strawberries, and whipped cream.

The biscuits used in strawberry shortcake are less sweet, less rich, and softer in texture than shortbread, as they are typically made with flour, sugar, baking powder, salt, butter, and milk or cream. The biscuits are split and filled with sugared strawberries and a dollop of whipped cream.
What can I do with a batch of shortbread?

Other than simply storing the shortbread in a biscuit tin and enjoying one or two whenever you fancy, there are a few creative ideas that shortbread biscuits could be used for. Here are a few examples:

Dessert Base: Shortbread biscuits can be crushed to make a crust or base for desserts such as cheesecakes, pies, or tarts. Or included in a no-baked dessert recipe that calls for crispy biscuits or cookies such as this Cherry, Cranberry, and Chocolate Refrigerator Bake or these Classic Fifteens Refrigerator Bake.

Ice Cream Sandwiches: You could use two shortbread biscuits to make a delicious ice cream sandwich. Use a dollop of your favorite vegan ice cream between two of the shortbread biscuits. Or stick a shortbread biscuit into an ice cream dessert, they do make delicious home-made ice cream wafers!

Strawberry Shortcake: Even though shortbread is different from shortcake, you could still use two shortbread cookies and sandwich them with vegan whipped cream and diced strawberries.

Dessert Garnish: Crumbled shortbread can be used as a garnish on desserts like chocolate pudding, vegan mousse, or vegan ice cream to add a buttery crunch. Or serve a whole shortbread biscuit along with the dessert for a crunchy crisp element.

Layered Desserts: Shortbread biscuits can be used in layered desserts like trifles and can take the place of the spongy bottom element. The buttery shortbread adds a nice contrast to the creaminess of the other layers.

Dipped in Chocolate: Shortbread biscuits can be partially or fully dipped in chocolate for an extra special sweet treat that would be amazing for an afternoon tea party, especially if you dip some strawberries in chocolate as well!

Gifts: Beautifully packaged shortbread biscuits make a great budget-friendly gift during the holidays, end of term teachers gifts, or for special occasions.

It takes 5 minutes to blend up our 4 ingredient chocolate pudding which is so tasty topped with a wee shortbread biscuit to scoop up the pudding. Little espresso mugs are a cute way to dish up this easy pudding which would be the perfect dessert for a tasty vegan dinner party.
More vegan traditional cookie or biscuit recipes
My family loves traditional biscuits and cookies so rather than buy expensive shop-bought biscuits we love discovering new family favourites and adapting those with all vegan but everyday ingredients.
We only use staple ingredients as we want our recipes to be accessible for everyone and yes also to share with those carnivores in your family. Once they taste that vegan cookies and biscuits taste the same as non-vegan they will be convinced than vegan food is ordinary after all!
For more biscuit and cookie recipes do check out our Vegan Biscuit and Cookie Recipe collection.
***please note: for US measurements click the 'US customary button' within the recipe and the measurements will switch to tablespoons, cups, and ounces.***
Recipe
Vegan Scottish Shortbread Biscuits
Print Recipe
Vegan Scottish Shortbread Biscuits or Cookies are deliciously sweet and flavoured with vanilla, and are irresistibly crisp, buttery and melt-in-the-mouth. A nice wee pile of these crunchy, crumbly biscuits are a quick bake and are perfect with a nice cup of tea, coffee or a chilled glass of plant-based milk.
Equipment
electric hand whisk

or a mixing spoon

sieve

Rolling pin

Biscuit/cookie cutter

About 4 ½-5 cm diameter.

Baking trays

with parchment paper if necessary.
Ingredients
115

grams

vegan butter

room temperature, or replace with vegan margarine

60

grams

icing sugar

also known as powdered or confectioners sugar

1

teaspoon

vanilla extract

160

grams

self-raising flour

or use plain or all-purpose flour with 1 teaspoon of baking powder

50

grams

cornflour

[cornstarch]
To sprinkle over the baked biscuits:
2

tablespoon

granulated sugar

or caster sugar, use more as required
Instructions
Preheat the oven to 140 Fan, 160C, 325 Fahrenheit, Gas 3.

Line the baking trays with parchment paper.

Add the vegan butter to a mixing bowl and sift in the icing sugar.

Either whisk the butter and sugar together by hand with a mixing spoon or use an electric hand whisk until the mixture is thick and creamy.

115 grams vegan butter,

60 grams icing sugar

Next whip through the vanilla until well combined.

1 teaspoon vanilla extract

Sift in the flour and cornflour.

Mix the flours with a mixing spoon into the creamed mixture until it starts to come together. This may take a few minutes and it may look like the mixture will not come together into a dough but keep mixing.

160 grams self-raising flour,

50 grams cornflour

Using your hands press the bits of straggly looking dough into a ball of dough, pressing the dough between your hands so that it melds together.

Sprinkle flour over the work surface.

Knead very gently as the dough will be rather dry and crumbly.

Dust the rolling pin with flour and dip the biscuit or cookie cutter in some flour. Make sure the work surface is well floured before adding the dough on to it.

Gently but firmly pat the dough down into a flat disc and then use a rolling pin to carefully roll out the dough to about ¼-½ cm thick.

If cracks appear on the dough simply smooth these out with your fingers.

The dough needs to be rather dry as this is what will give the biscuits their tasty crispness.

Using the cookie cutter stamp out 25-28 biscuits, the exact amount will depend on how thin they are rolled out.

Using a thin spatula or a cutlery knife carefully lift up each cookie and place onto the baking tray. The cookies will not spread so they only need to be a few cm apart.

Bake on the middle shelf for about 20 minutes, or until lightly golden and firm.

The shortbread biscuits will continue to crisp up as they cool.

Sprinkle granulated or caster sugar over the biscuits as soon as they are out of the oven. A little cinnamon can be mixed through the sugar if a cinnamon sugar topping is liked.

2 tablespoon granulated sugar

Leave the shortbread on the tray to cool completely. Although these biscuits are rather nice warm as well.
Notes
Nutritional data is for guidance only and is not an exact calculation as ingredients vary. 
Store shortbread biscuits in a biscuit/cookie tin or jar. Or within a covered container. If the container is plastic I recommend lining it with kitchen foil and wrapping the biscuits with the foil to prevent them going soft too soon.
Unbaked biscuit dough can be frozen, well wrapped, for up to 3 months. Defrost before baking. 
Scottish shortbread biscuits are the perfect accompaniment to a delicious smooth whipped Tofu Chocolate Pudding or our old-fashioned Chocolate Custard Pudding.
Instead of a sugar topping try a water icing and decorate with vegan cake sprinkles, etc.
Stir a little cinnamon through the sugar topping to create tasty cinnamon shortbread biscuits.
Or dip the shortbread biscuits into melted chocolate so that half the shortbread is chocolate or dip the surface or even the whole shortbread!
Nutrition
Calories:
63
kcal
|
Carbohydrates:
9
g
|
Protein:
1
g
|
Fat:
3
g
|
Saturated Fat:
1
g
|
Polyunsaturated Fat:
1
g
|
Monounsaturated Fat:
1
g
|
Trans Fat:
1
g
|
Sodium:
27
mg
|
Potassium:
7
mg
|
Fiber:
1
g
|
Sugar:
3
g
|
Vitamin A:
157
IU
|
Calcium:
1
mg
|
Iron:
1
mg
Prepared our delicious Vegan Scottish Shortbread Biscuits? Do pop back and leave us a comment and a star rating. Thanks so much, Love Jacq x