There is not a better feeling than a cosy kitchen with a plate of old-fashioned home-made oatmeal cookies sitting humbly on the kitchen table.
With just a few store-cupboard ingredients and a quick bake in the oven you'll be rewarded with lovely cookie aromas and a pile of tasty oatmeal cookies to dunk in a nice cup of tea, coffee or tall chilled glass of oat milk.
These oatmeal cookies have crispy edges but with irresistible soft and chewy insides. Although, if preferred, a few extra minutes in the oven will result in a crunchier cookie or biscuit.
Origin of oatmeal cookies
Sweet oatmeal cookies date back to the 1700s-1800s and are claimed to have their origins within the savoury Scottish oatcakes which have been around for longer, since at least the 1300s.
Fannie Merritt Farmers book the Boston Cooking School Cookbook [1896] contains the first printed recipe for oatmeal cookies.
Quaker oats began manufacturing rolled oats during the late 1800s. By the 1900s packages of Quaker rolled oats were also including recipes for oatmeal cookies.
Nowadays oatmeal raisin cookies are one of the most popular cookies in the US but the inclusion of raisins is relatively new, as Farmers first oatmeal recipe did not include raisins.
The food chain Subway offer oatmeal raisin cookies that are soft and chewy but are unfortunately not vegan.
However, the following recipe for old-fashioned oatmeal cookies are 100% vegan, and have delicious crispy edges but soft and chewy insides. So tasty.
How To Prepare Oatmeal Cookies
These cookies are prepared with ordinary rolled oats the same variety used to prepare the tasty Scottish breakfast of porridge oats.
Place the rolled oats and flour into a mixing bowl.
Add the margarine, brown sugar and golden syrup to a small saucepan.
Gently heat and stir until the mixture is smoothly combined.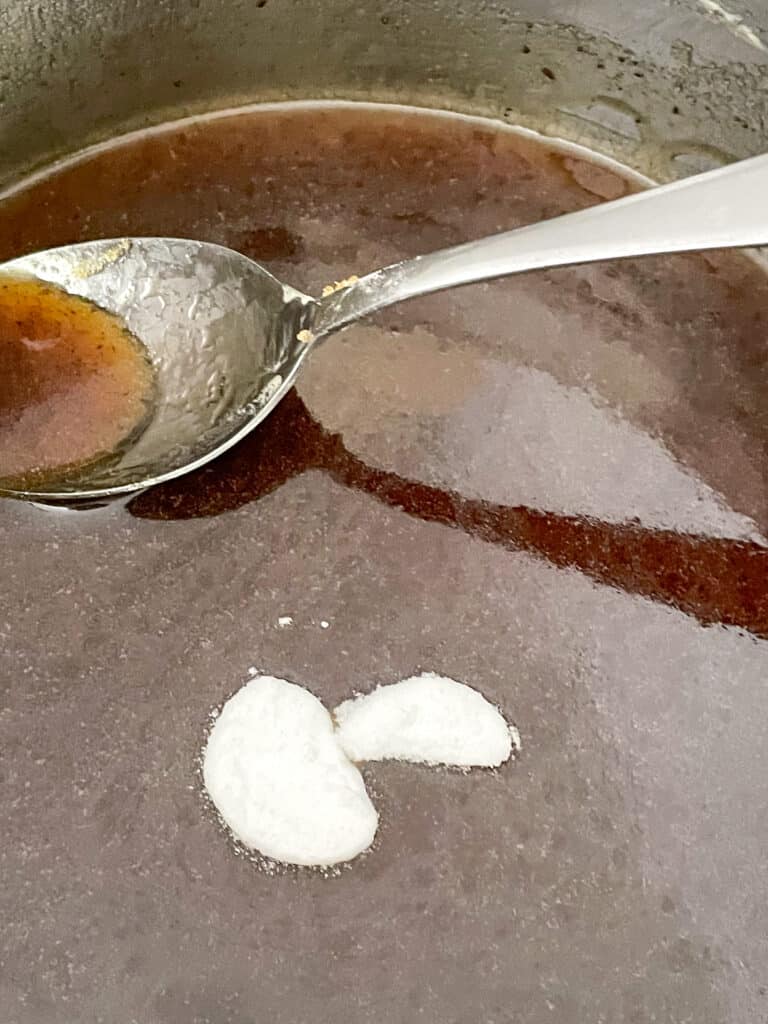 Stir the vanilla through and sprinkle in the bicarbonate of soda.
Whisk with a fork until combined.
Pour the liquid into the oats and flour.
Give everything a good mix.
Using a teaspoon scoop up heaped measures of cookie dough.
Using the palms of your hands quickly roll the cookie mixture into balls and place on a baking sheet with room to spread during baking.
Bake for 10-12 minutes until uniformly golden.
Recipe Notes
What's the best way to store oatmeal cookies?

Store cookies in a cool, dry area within a biscuit/cookie or cake jar or tin, or a covered food container.

If storing within a plastic food container wrap the cookies in a layer of kitchen foil or greaseproof paper, as this will help keep them fresher for longer.

Cookies will be fine for about 5-7 days if stored properly.
Can oatmeal cookies be frozen?

Yes, oatmeal cookies can be frozen, well wrapped, for up to 3 months.

Once wrapped with a food and freezer safe covering, place in a covered container or food bag.

Placing a small piece of greaseproof paper between each cookie will help prevent cookies freezing together, and removing one or two cookies much easier.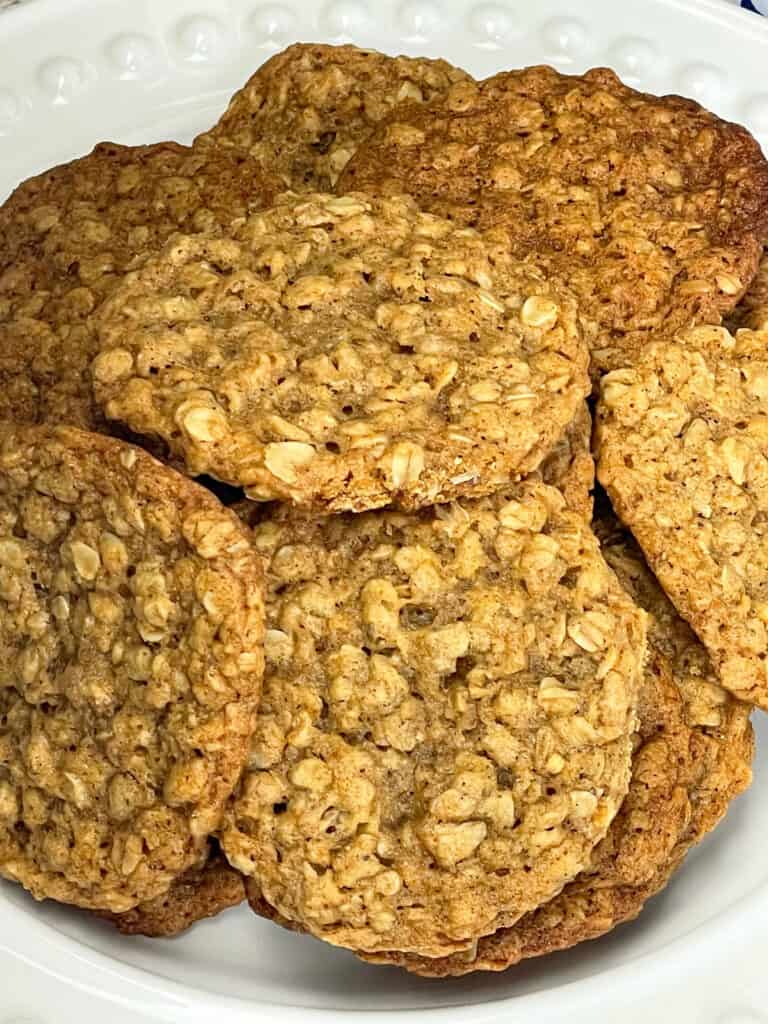 These oatmeal cookies are similar to Subway oatmeal cookies, supermarket fresh bakery oatmeal cookies, and the old-fashioned cookies that you may have fond memories of grandma baking...or grandad of course!
But the best thing about this oatmeal cookie recipe is that it is prepared with vegan and plant-based ingredients. And they are so utterly delicious and difficult to stop at just one...
For more tasty vegan baking recipes have a look at our extra tasty collection!
Especially delicious are these old-school dinners chocolate concrete cake [more like a crunchy biscuit!], and these delicious British teatime treats Empire biscuits. For an easy bake try these popular British rock cakes.
Recipe
Old-Fashioned Home-Made Oatmeal Cookies
Print Recipe
These delicious cookies are based on the old-fashioned cookies that grandma would have baked. With sweet crispy edges and chewy oaty insides these cookies are perfect for morning or afternoon break, or just whenever you fancy a tasty heart-warming treat.
Equipment
Baking trays

lined with parchment paper if necessary

Mixing bowl

Small saucepan

for melting syrup, margarine and sugar

teaspoon

for scooping cookie dough
Ingredients
140

grams

oats

rolled oats [same type used to prepare porridge oats]

115

grams

plain flour

[all-purpose flour] plus extra for dusting hands

2

tablespoon

golden syrup

[about 40 grams syrup]

115

grams

vegan margarine

115

grams

soft brown sugar

[light brown sugar/brown sugar]

1

teaspoon

vanilla extract

¾

teaspoon

bicarbonate of soda

[baking soda]
Instructions
Preheat the oven to 160 Fan/ 180C/ 356 Fahrenheit/ Gas 4.

Line the baking trays with parchment paper if necessary.

Place the flour and oats into a mixing bowl.

140 grams oats,

115 grams plain flour

Add the margarine, golden syrup, and brown sugar to a saucepan. Over a low heat, melt everything and stir together until smooth. [don't allow to boil]

Remove from the heat.

115 grams vegan margarine,

115 grams soft brown sugar,

2 tablespoon golden syrup

Stir through the vanilla.

Add the bicarbonate of soda and whisk well with a fork to combine.

Pour into the mixing bowl and stir well to combine.

1 teaspoon vanilla extract,

¾ teaspoon bicarbonate of soda

Scoop up heaped teaspoons of mixture and with the palms of your hands dusted well with flour, form the dough into a ball shape.

[Alternatively if thicker cookies are preferred an extra 40 grams/1 ½ oz of flour can be stirred through the cookie dough before forming into balls]

Place the cookie balls onto the baking trays.

Leave a space for each cookie to spread. Although it is fine if some of the cookies spread out and touch each other a little.

Bake for 10-12 minutes.

Less baking time will result in a crispy edge cookie with a chewy soft inside, while longer baking time will result in a crispy crunchier cookie.

[If your cookies are on several trays and you can't bake them all at once, the cookies will be fine waiting on the countertop until ready to be baked.]

Cookies are ready when they are mostly uniformly golden [if there is a paler patch in the middle, bake for a few seconds longer but not too long as the cookies are quick to bake].

Cookies will still feel soft to the touch when removed from the oven but will firm up during cooling.

If baking with a Fan oven which tends to bake quicker, check your cookies after 8-9 minutes and see how they are going.

I use an electric oven and cookies are ready after 10-11 minutes. Any longer and the cookies become more crunchy but still tasty, perfect for dunking!

Allow the cookies to sit on the baking trays for at least 10-15 minutes, until they are firm enough to be removed with a spatula to a wire rack or similar to cool completely.
Notes
Nutritional data is for guidance only and is not a strict calculation as ingredients vary.
Store cookies in a cool, dry area within a cookie/biscuit jar or tin, cake tin or food container, etc.
Wrapping the cookies with kitchen foil can help preserve their freshness for longer especially if storing within a plastic tub.
Oatmeal cookies will be fine for at least 5 days, possibly a few days longer if stored properly.
Oatmeal cookies can be frozen, well wrapped, and placed into a freezer bag or container for up to 3 months. Place a small piece of parchment paper between each cookie so that one or two cookies can be easily removed from freezer at a time.
Troubleshooting:
***If your cookie dough is too sticky then simply dust your hands with flour before rolling each cookie into a ball. The cookie dough will be loose but will still mostly hold its shape when placed onto the baking tray. 
If thicker cookies are preferred then add an extra 40grams/1 ½ oz of flour to the mix.
While measuring the golden syrup, dip the tablespoon measurer into boiling water between each scoop as this allows the syrup to drip easily off the spoon. 
Nutrition
Calories:
146
kcal
|
Carbohydrates:
22
g
|
Protein:
2
g
|
Fat:
6
g
|
Saturated Fat:
1
g
|
Polyunsaturated Fat:
2
g
|
Monounsaturated Fat:
2
g
|
Trans Fat:
1
g
|
Sodium:
106
mg
|
Potassium:
55
mg
|
Fiber:
1
g
|
Sugar:
10
g
|
Vitamin A:
289
IU
|
Calcium:
12
mg
|
Iron:
1
mg
Prepared these tasty old-fashioned oatmeal cookies?
Do pop a comment below and let us know how you got on.
Sharing a photo on social media?
Tag us in using #traditionalplantbasedcooking or @traditionalplantbasedcooking
So we can admire your good cooking!
All the best
Jacq x