This slow cooker steamed jam pudding is prepared so easily in one bowl, with all vegan every day pantry ingredients. No eggs, butter, dairy or animal suet is required for an amazingly light, fluffy and tasty steamed pudding.
Steamed puddings are budget-friendly, can provide valuable energy during the chillier months, and are just so comforting when enjoyed with hot custard snuggling up on the sofa watching your favourite soap or a good movie.
A steamed jam pudding can be a tasty Christmas pudding replacement especially for kids, and those who do not enjoy the dried fruit within a traditional fruit pudding.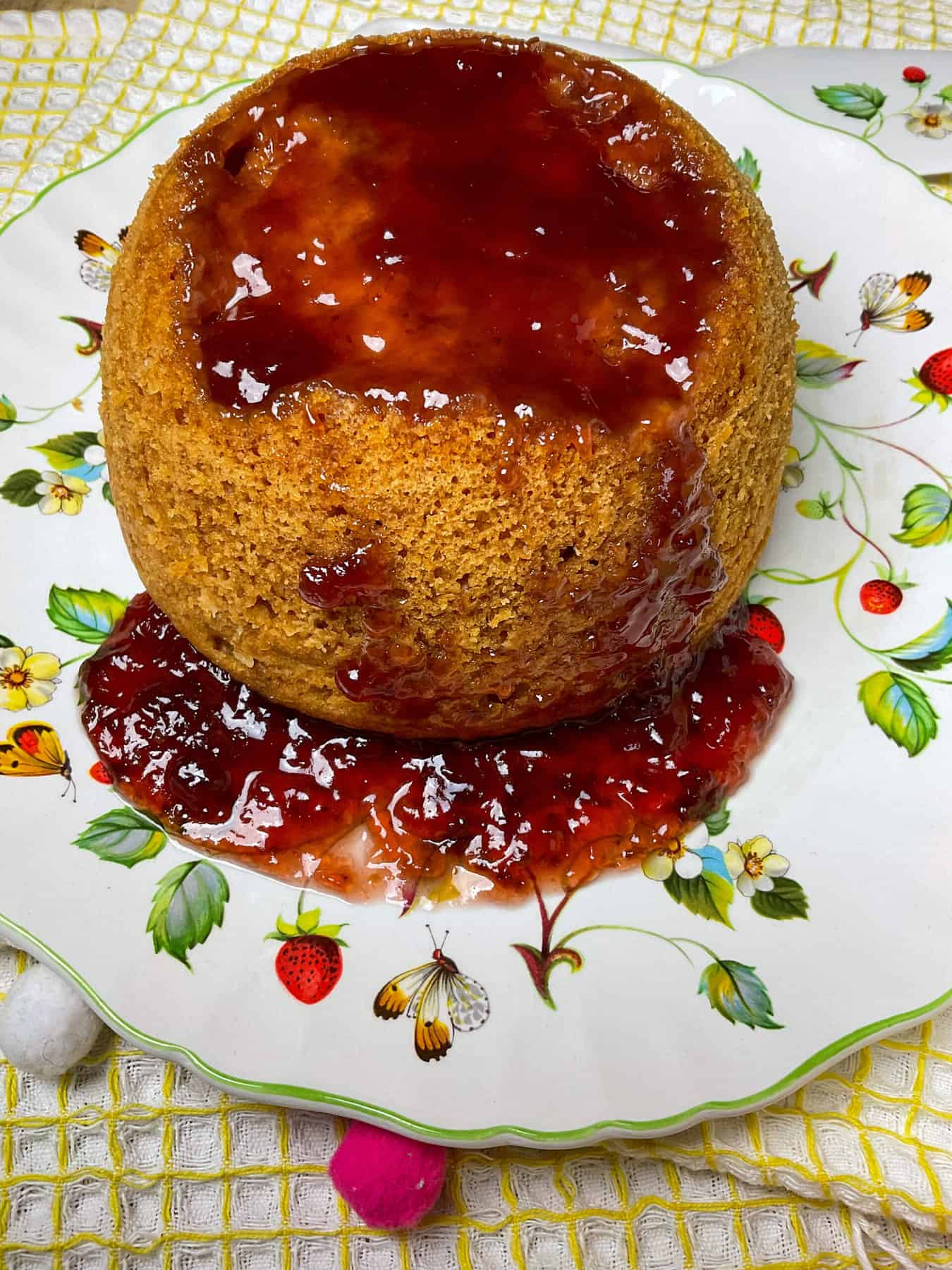 What is a steamed pudding?
Steamed or boiled puddings have been around since at least the British medieval times and can be either sweet or savoury, although many of the earlier puddings were mostly savoury even the ones with dried fruit and spices.
A steamed pudding was traditionally prepared within a cloth bag that was tied around the pudding and steamed over a fire or within a large pot with boiling water.
Nowadays, we use pudding basins or bowls that can be either plastic, ceramic or glass, but the practice of steaming in a bag or cloot [muslin cloth, tea towel, rag or even a clean pillowcase!] is still common in Scotland such as for cooking the traditional festive pudding the clootie dumpling.
Early steamed or boiled puddings were made up of dried fruits which came under the umbrella term 'plum'. Plum just referred to the dried fruits, so a traditional plum pudding did not actually have to contain plums, but rather more likely had raisins or currants, cooked with flour and suet.
The first plum puddings were not really for dessert but were eaten along with the meat course. As time went by the plum pudding evolved into the Christmas pudding that is now a popular British Christmas dinner dessert.
Traditionally steamed puddings are not overly sweet, so many old recipes from around the 40s and 50s do not have lots of sugar added, which may also be partly due to the wartime sugar rations and shortages.
So steamed puddings can be good for those who are on a reduced sugar diet or who just prefer less sweet puddings. Although more sweetness can be added in the form of syrups, fruit jam, custards and sweet sauces.
Steamed jam puddings was a popular old school dinners dessert served up to British school kids during the 1950s, 60s, 70s and 80s. So many people have fond memories of old school puds and so enjoying them now can evoke many happy memories, or indeed unhappy ones if school dinners was something to be dreaded!
Why steam puddings in the slow cooker?
Steamed puddings usually take at least a few hours to cook on the stovetop. Puddings are cooked within a large pot with the pudding basin sitting in the pot and water poured up the sides.
So cooking a steamed pudding can often take hours of supervised cooking as the water in the pot needs frequent top ups to prevent it drying out. Also the energy costs regarding gas and electric is also a factor, as is the extra moisture that is evaporated into the kitchen which can be a problem for some households.
Steaming the pudding in a slow cooker traps the moisture within the cooker so the water does not dry out and the pudding can safely be left while it cooks with no stress. The slow cooker is also cheaper to use compared to the stove-top.
Best of all the slow cooking does not affect the end pudding as it is just as fluffy, airy and rises well.
Can you microwave steamed puddings?
Of course. Microwave steamed puddings are perfect for when you need a quick pudding as they can be prepared, cooked, and ready to enjoy in around 30 minutes. I haven't tried this recipe for slow cooker jam pudding in our microwave but I will do so and update this post with the timings and result.
In the meantime for a microwave steamed Christmas pudding do check out our tasty 1940s World War Two Era Christmas pudding that interestingly has grated potato and carrot! The result is a delicious toffee tasting festive pud.
How to prepare slow cooker vegan steamed jam pudding
It couldn't be simpler to prepare this jammy pudding as all the ingredients are simply dumped into one bowl and mixed.
Except the fruit jam, which is dolloped into the bottom of the pudding basin so that it cascades deliciously down the pudding when removed from the basin. So tasty.
First add the self-raising flour, baking powder, granulated sugar, apple sauce or puree, plant milk, vanilla, and salt.
Give it all a good mix.
Add the fruit jam to the bottom of a greased pudding basin.
Scoop the pudding batter over the jam.
Cover with a circular piece of parchment/baking paper.
Scrunch a piece of kitchen foil over the paper.
Add the pudding to the slow cooker and pour hot water in until it is at least half way up the basin.
Cook on high setting for 4 hours.
Delicious! More than likely there won't be any leftovers!
Recipe notes
Storage and reheating
Steamed jam pudding is at its best when enjoyed soon after its cooked but it can be stored for up to 3 days, covered, within the refrigerator.
Reheat in the microwave for a few minutes, place into a microwave safe dish and cover with Seram wrap/cling film or a loose piece of parchment paper. [although do ensure that any covering is safe for the microwave and stay in the same room during reheating].
Alternatively, reheat in the pudding basin within the slow cooker set to high. Reheat until warmed through. Add hot water around the sides of the basin.
What kind of jam is best for steamed pudding?

Any flavour of fruit jam that you prefer is perfect for steamed puddings, such as strawberry, raspberry, blueberry, bramble/blackberry, apricot, ginger preserve, rhubarb and ginger preserve, gooseberry, cherry, plum, apple, etc.

If black currant jam is used then the pudding can be called a black-cap pudding which was popular during the British mid 1800s.

Also marmalade can be used instead of jam such as orange, lemon, lime, or grapefruit.
Can I use syrup instead of jam for a steamed pudding?

Yes. If preferred omit the jam and replace with golden syrup, black treacle, molasses, corn syrup, date syrup, rice syrup, etc. use about 3-4 tablespoons of syrup at the bottom of the pudding basin and then add the sponge batter on top.

For those that enjoy extra sweetness then extra syrup can be gently heated in a small saucepan and then poured over the finished pudding, [that has been removed from the basin], just before serving.
Steamed jam pudding is amazing served with hot custard, a good dollop of vegan whipped cream or a drizzle of vegan pouring cream or a few scoops of ice cream.
Steamed jammy pudding is the perfect simple Christmas pudding replacement and is a delicious budget-friendly dessert to serve for a special meal.
Old, vintage, traditional tried and true family favourite puddings really are the best.
More tasty comfort food vegan puddings
Traditional British rice pudding
Traditional British semolina pudding
Old-fashioned sweet barley pudding
Old-school dinners jam and coconut sponge [enjoy with hot custard]
Recipe
Slow Cooker Steamed Jam Pudding
Print Recipe
Steamed puddings are budget-friendly, can provide valuable energy during the chillier months, and are just so comforting when enjoyed with hot custard snuggling up on the sofa watching your favourite soap or a good movie.
Equipment
3.5 litre [3.5-4 quart] slow cooker

[or slightly larger]

2 pint [1 litre/1 quart] pudding bowl

[such as a heat-proof Pyrex bowl, ceramic pudding basin or plastic pudding bowl]

parchment paper

kitchen foil
Ingredients
175

gram

self-raising flour

1

teaspoon

baking powder

1

pinch

salt

60

gram

granulated sugar

60

gram

apple sauce

[smooth] or apple puree

75

mililitres

vegetable oil

[such as rapeseed/sunflower]

1½

teaspoon

vanilla essence

5

tablespoon

soya milk

[or your usual milk]

100

gram

fruit jam

[such as strawberry/raspberry]
Instructions
Grease the pudding basin with margarine or oil.

Add the fruit jam to the bottom of the pudding basin.

Cut a circular piece of parchment paper just slightly larger that the top of your pudding basin, and a circular piece of kitchen foil that overlaps 1-2 inches over the basin.

[some pudding bowls such as plastic ones may have a clip top lid so if its suitable for cooking use the lid instead of the parchment and foil]

Pour a few cups of water into the slow cooker and switch to the high setting, pop the lid on and it will preheat while you mix the pudding ingredients.

Sift the self-raising flour and baking powder into a mixing bowl along with the vegetable oil, granulated sugar, salt, vanilla, apple sauce or puree, and milk.

175 gram self-raising flour,

1 teaspoon baking powder,

1 pinch salt,

60 gram granulated sugar,

60 gram apple sauce,

75 mililitres vegetable oil,

1½ teaspoon vanilla essence,

5 tablespoon soya milk

Give it all a good mix so its thoroughly combined.

Place the parchment circle over the top of the pudding basin [not directly on the pudding] and lay the kitchen foil over the paper. Scrunch the edges of the foil tightly under the rim of the pudding basin.

Place into the slow cooker and pour boiling water until its half way [or just higher than half way] up the pudding basin.

Add the lid and cook for 4 hours.

After 4 hours carefully remove the pudding basin and take off the lids. The pudding will have risen, be golden brown, and a skewer popped in will come out clean. The pudding will also be coming away a little from the sides.

Leave the pudding for 5-10 minutes to settle before attempting to remove from the basin.

Slide a cutlery knife or cake palette knife around the edges. Add a chopping board or plate to the pudding basin top, and flip the basin over so that it can easily slide out. The jam will drip down the edges.

Enjoy with hot custard, or a drizzle of vegan cream, or my daughters favourite a few scoops of vegan vanilla ice cream.

Alternatively [or perhaps as well as any of the above] If you have any fruit jam left, gently heat it in a small saucepan with 1-2 tablespoons of water, and stir together. Use the warm runny jam as a tasty jam sauce for those that love extra jam with their pudding!
Notes
Nutritional information is for guidance only and is not intended to be a strict analysis as ingredients vary.
Steamed puddings are at their best enjoyed soon after cooking, but they can be stored for 3 days in a covered food container, within a refrigerator.
To reheat place back into the pudding basin and cover with kitchen foil and add to the slow cooker on the high setting, until warmed through. Do add hot water to the slow cooker while reheating.
Or reheat in a microwave by adding to a microwave safe dish, cover loosely with greaseproof paper [ensure that the cover used is microwave safe]. Heat for a few minutes until hot.
For extra jam topping, gently heat some fruit jam mixed with about 1-2 tablespoons of water [depending on how much jam you use, the water is just to loosen it up]. Pour the warm jam over the pudding, this is especially nice if you are reheating the pudding.
For a traditional 1800s British steamed pudding termed black-cap pudding add blackcurrant jam to the base of the pudding.
Don't have self-raising or self-rising flour to hand? Use plain [all-purpose flour] flour with an extra teaspoon of baking powder.
Instead of fruit jam marmalade can be used, such as orange, lime, lemon or grapefruit.
For a steamed syrup pudding replace the jam with 3-4 tablespoons of golden syrup, black treacle, molasses, corn syrup, date syrup, rice syrup etc.
Nutrition
Calories:
312
kcal
|
Carbohydrates:
44
g
|
Protein:
4
g
|
Fat:
13
g
|
Saturated Fat:
2
g
|
Polyunsaturated Fat:
8
g
|
Monounsaturated Fat:
3
g
|
Trans Fat:
0.1
g
|
Sodium:
88
mg
|
Potassium:
66
mg
|
Fiber:
1
g
|
Sugar:
19
g
|
Vitamin A:
29
IU
|
Vitamin C:
2
mg
|
Calcium:
63
mg
|
Iron:
1
mg
Prepared this tasty vegan slow cooker steamed jam pudding?
Do let us know how you got on with the recipe.
Leave us a comment below and click the star ratings.
Thanks so much, Jacq x