This vegan mango 'chicken' recipe is a delicious adaptation of the traditional mango chicken curry, but with a tasty vegan twist.
Instead of using chicken, we've swapped it out for potatoes, which are an inexpensive and nutritious whole food that work perfectly in this sweet and savory dish. We also added tasty chickpeas, red bell peppers, red onions, and baby corn cobs for a tasty crunch.
The great thing about this recipe is that you can customize it to your liking by substituting the veggies or the potatoes with sweet potatoes, tofu, tempeh, vegan chicken chunks, or even white beans.
This vegan mango potato and veggie curry is packed with tasty flavours and colourful veggies! Garnish with fresh cilantro and sliced spring green onions for additional texture and fresh pops of flavour. This easy veggie curry will quickly become a new family favourite.
Quick origin of mango chicken curry
Mango chicken curry is a popular dish that originated in the Indian subcontinent and has since spread to different parts of the world. The dish combines the sweetness of mangoes with the spiciness of curry to create a unique flavor that has become a favorite among curry lovers.
It is believed that the dish was first created during the Mughal era in India, which spanned from the 16th to the 19th century. Mangoes were a popular fruit during this time, and the Mughals were known for their love of rich, spicy foods.
The dish has evolved over time and has many variations, with some recipes using different types of meat or vegetables. In recent years, there has been a growing trend towards plant-based versions of the dish, including the vegan mango potato curry recipe featured in this post.
Vegan mango potato curry
Instead of using individual curry spices such as coriander, cumin, and chili, this veggie mango curry recipe calls for red Thai curry paste.
Using a ready-made spice paste can be a convenient and budget-friendly option compared to buying individual spices. Additionally, Thai cuisine has been heavily influenced by Indian cuisine, making Thai curry paste a great substitute for Indian curry spices.
Combined with coconut milk and mango puree, the paste creates a flavorful, spicy, sweet, and sour curry sauce that beautifully coats the potatoes, baby corn, chickpeas, thick sliced red onions, and red bell peppers.
The result is a delicious and satisfying vegan curry that is sure to become a new favorite in your recipe collection.
How to prepare mango and potato curry
For this recipe, I used small Jersey Royal pearl potatoes that I found in the reduced section of my local supermarket. However, any type of baby or new potatoes will work just as well. If you prefer, you can also substitute these for any potato variety that will hold its shape during cooking. Simply slice up any large potatoes.
The key is to choose potatoes that won't break apart into mush while cooking in the curry sauce. So feel free to experiment and use whatever type of potatoes you have on hand or prefer.
To begin, prep the veggies and organise the ingredients, that way the curry will be even quicker to prepare.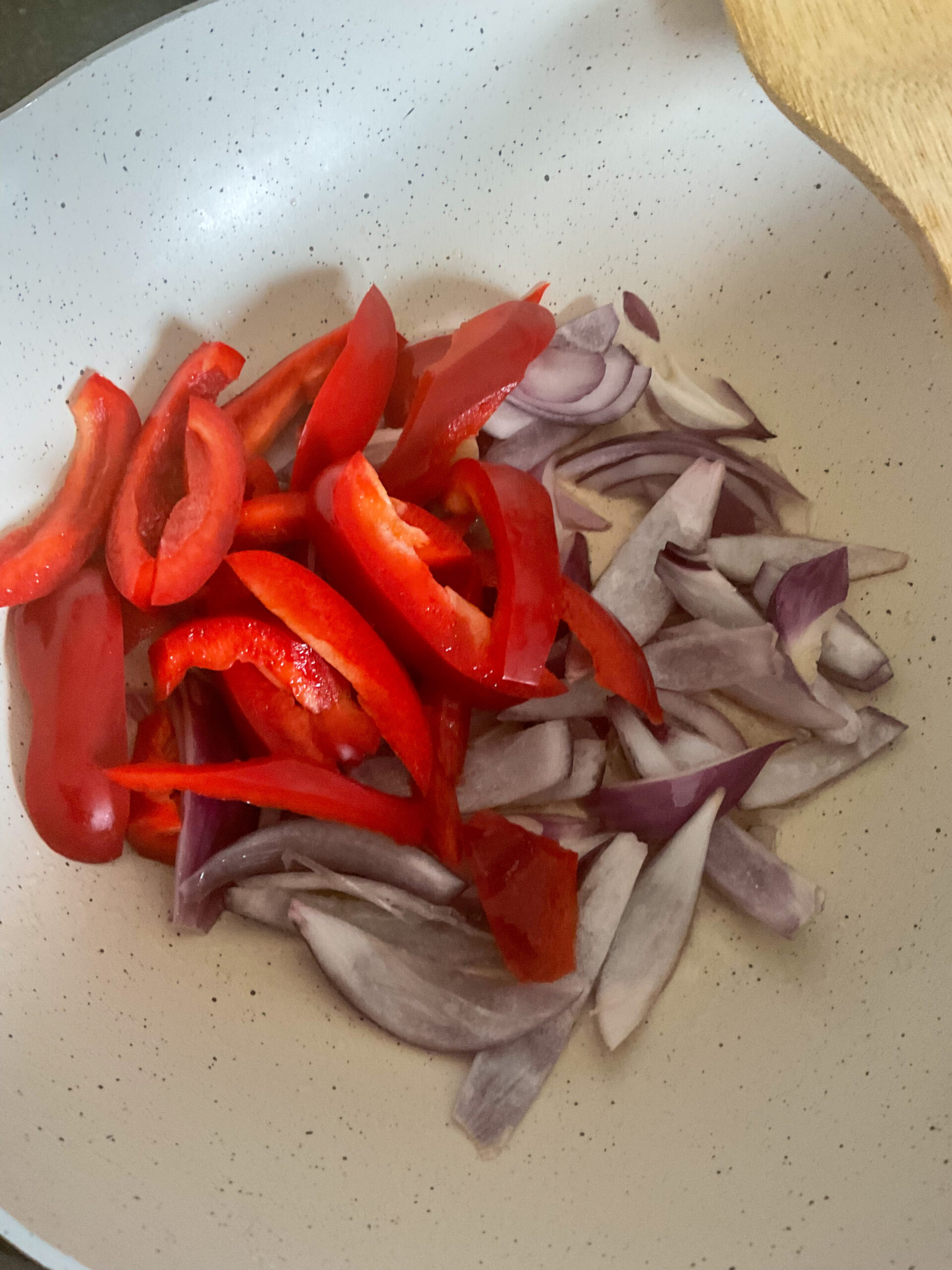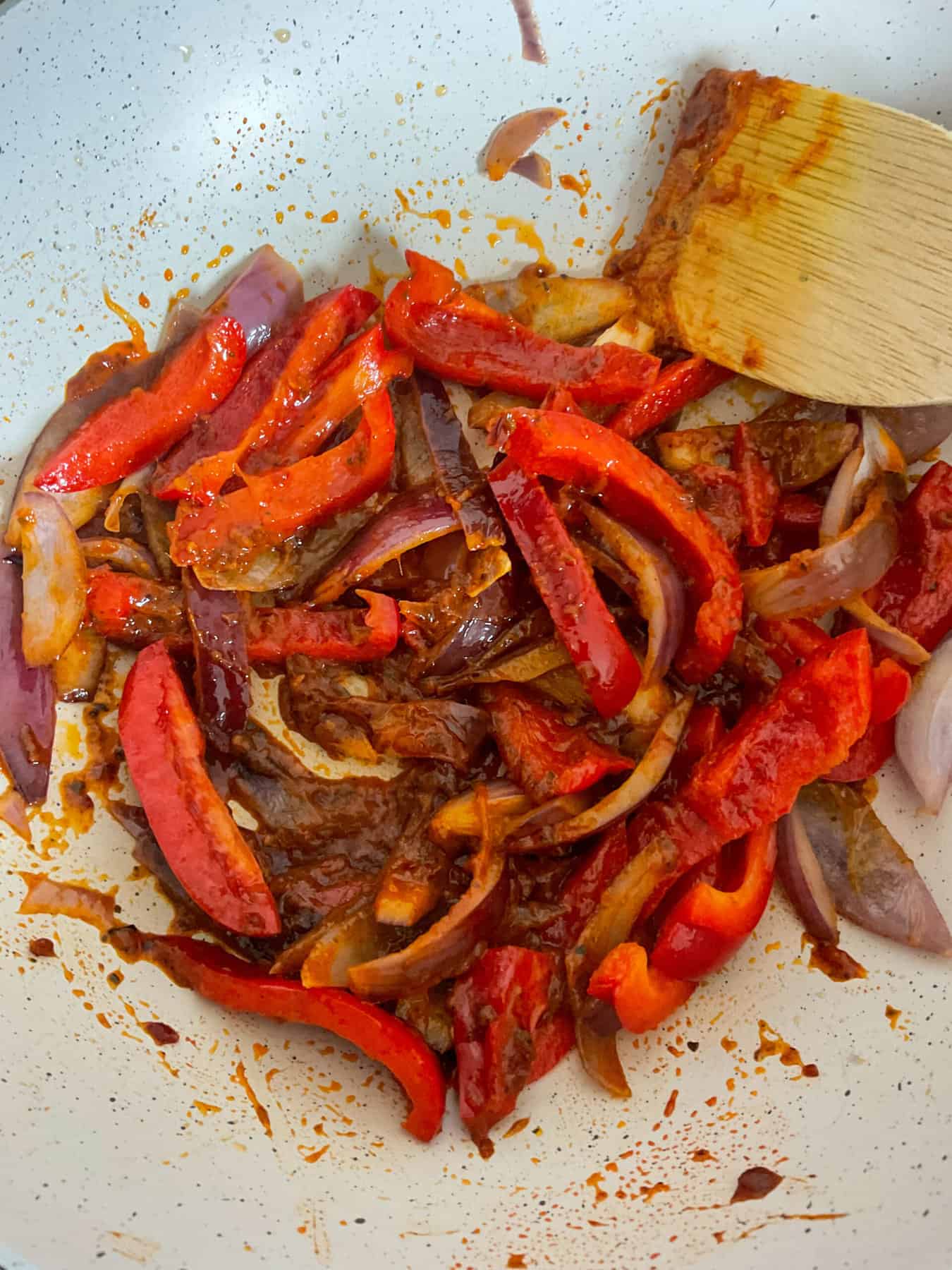 Next, melt the coconut oil or replace with a little vegetable stock/broth if your on an oil-free diet.
Cook the red onion and red pepper slices.
Stir through the red Thai curry paste.
Next, add the soy sauce and lime juice.
Pop in the potatoes, baby corncobs, and cooked chickpeas. [The chickpeas above were ones I had previously cooked and then frozen, hence the frosty appearance on some!]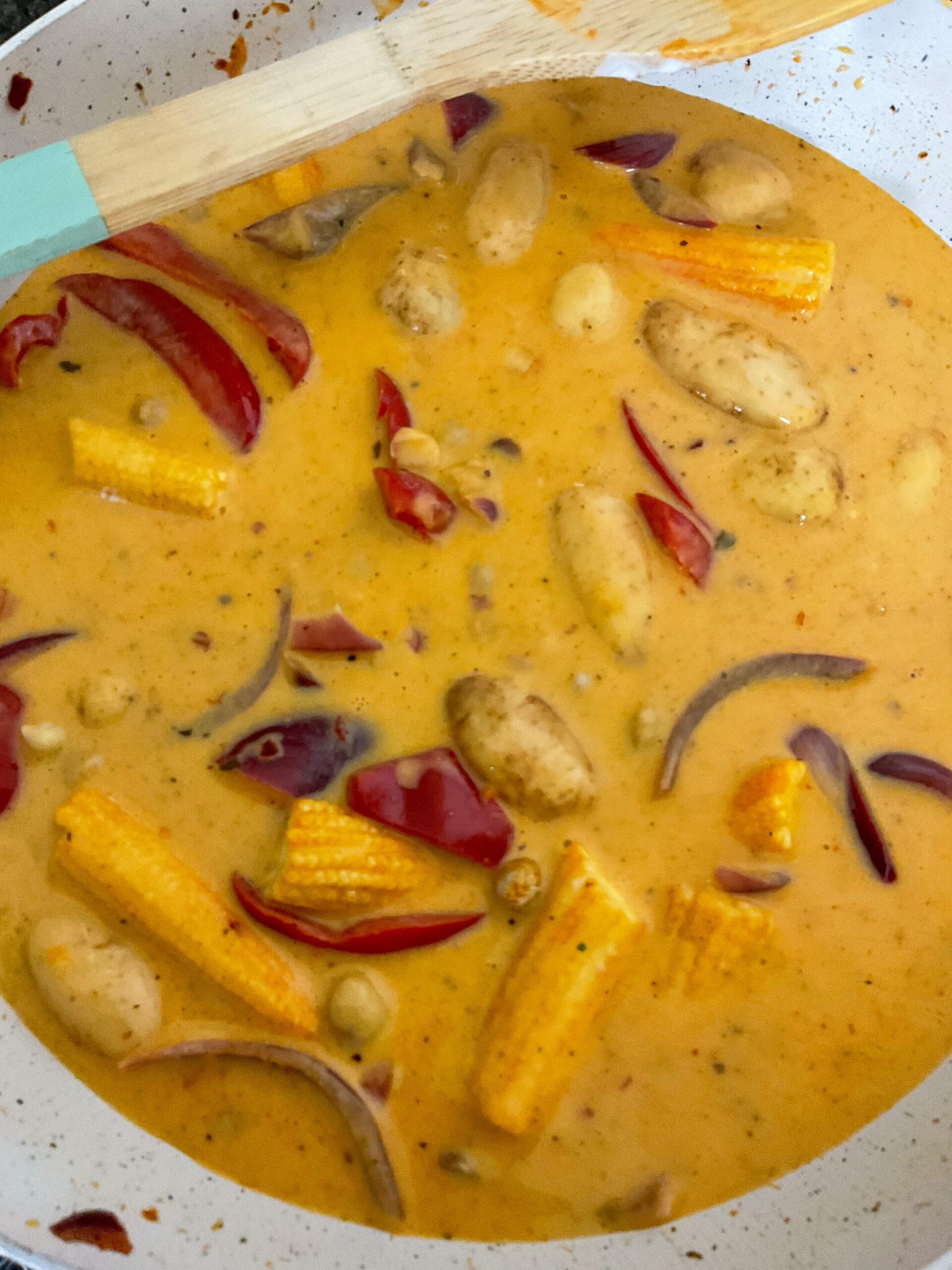 Finally, pour in the mango puree and coconut milk, season with salt and pepper, and cook until the potatoes are soft, and the sauce is thick and creamy.
Garnish with sliced spring [green] onions and chopped fresh coriander [cilantro]. A scatter of sesame seeds are also a nice addition.
Enjoy with sides of rice, crispy poppadum's [the ones in the photo above are mini poppadum's sourced from the Co-op supermarket, UK] or naan breads which are especially good for mopping up the sweet, fruity, spicy, savoury and tangy curry sauce.
Recipe notes and frequently asked questions
Reheating
To reheat the leftover mango curry, place it in a non-stick pan or wok and bring it to a gentle simmer over low heat. Heat the curry for 2-3 minutes, stirring occasionally, until it is piping hot throughout.
If the curry appears too thick or begins to stick, add a little extra liquid to loosen the sauce.
Plant-based milk is a great option for this, as it adds creaminess to the curry without altering the flavor. Once heated through, your leftover mango curry is ready to serve!
Storage
To store leftover mango curry, place it in an airtight container and refrigerate for up to 3 days. If you want to store it for a longer period, you can freeze it for up to 3-4 months.
Make sure the curry has cooled completely before placing it in the freezer. When you're ready to eat the frozen curry, allow it to defrost in the refrigerator overnight.
Reheat the defrosted curry according to the previous instructions, adding extra liquid as needed to loosen the sauce. Enjoy your delicious mango curry!
Can I make this curry recipe ahead of time?

Yes, you can make this curry recipe ahead of time and store it in the fridge or freezer. Simply reheat it when you're ready to eat.
Is vegan mango 'chicken' curry gluten-free?

If you need to prepare this mango curry recipe as gluten-free, it's very simple to do so. The main things to keep in mind are to ensure that your red Thai curry paste and vegetable stock are free from gluten ingredients.

Additionally, if you're using soy sauce, be sure to choose tamari soy sauce, which is typically labeled as gluten-free, instead of ordinary soy sauce, which may contain gluten.

By making these easy substitutions, you can enjoy this delicious vegan curry recipe without any worries about gluten.
Looking for a mango substitute in your curry recipe? What fruits or vegetables can you use instead of mango to achieve a similar taste?

If you are allergic to mangos, or are unable to use mangoes, or simply do not like the taste of them, you can substitute them with other fruits or vegetables that would complement the flavor of the curry.

Here are a few options to consider, but do puree any substitutions before using in the recipe.

Pineapple: This tropical fruit has a sweet and tangy flavor that pairs well with curry.

Butternut squash: This vegetable has a slightly sweet flavor and a similar texture to mangoes when cooked.

Papaya: Another tropical fruit that has a similar texture and sweetness to mangoes. It can be used fresh or canned in this recipe.

Peach: While not as tropical as the other options, peaches can add a sweet and juicy flavor to the curry. They can be sliced and pureed, and added to the curry in the same way as the mango.

Other ideas include pumpkin or sweet potato puree.

Ultimately, the choice of fruit or vegetable will depend on your personal taste preferences and what's available to you. Be creative and experiment with different options to find the perfect substitute for your vegan curry!

Please note: If you do substitute the mango then do consider how this replacement will change the overall flavour and texture of the curry, and keep in mind that we have not individually tested any replacements. Do pop back and leave us a message if you do make changes as we would love to know how you got on!
Can I use a different type of curry paste instead of red Thai curry paste?

Yes, you can use a different type of curry paste, but keep in mind that it will change the flavor of the curry. Green or yellow curry paste are good options to consider.
Can I use frozen mango instead of fresh mango for this recipe?

Yes, you can use frozen mango instead of fresh mango. Just make sure to thaw it before using it in the recipe, and blend or mash the mango to a pulp/puree.
Can I make this curry recipe spicier?

Yes, you can adjust the level of spice in this curry recipe by adding more red Thai curry paste or including some chili powder. Also, try adding a few sliced red chilli peppers to the finished curry for those who love an extra spicy curry!
Can I make this curry recipe without coconut milk?

Yes, you can make this curry recipe without coconut milk, but keep in mind that it will change the flavor and texture of the curry. You can substitute it with almond milk, soy milk, or any other plant-based milk of your choice.

However, some plant-milks may split or curdle as they are boiled, so be careful not to rapid boil the curry, instead gently simmer the curry.

For cooking a good quality soy milk is recommended, as this type of milk tends to cope well with heating. If your curry sauce does split, simply stir it well, the flavour will still be very tasty.

Another consideration is that canned coconut milk tends to thicken sauces so if you use a different plant milk the curry sauce may end up thinner. But this is not a major issue as a cornflour [cornstarch] slurry can be used at the end of cooking to thicken up the sauce.

How do I make a cornflour [cornstarch] slurry to thicken up a curry sauce?

To create a cornflour slurry to thicken up a thin curry sauce, follow these steps:

* In a small bowl, mix 1-2 tablespoons of cornflour (also known as cornstarch) with an equal amount of cold water or vegetable broth. The exact amount will depend on the amount of liquid in your curry and how thick you want it to be.

* Whisk the cornflour mixture together until it's smooth and there are no lumps.

*Gradually pour the cornflour mixture into the curry sauce, stirring continuously.

* Be careful not to pour it in too quickly, as it can clump together and create lumps.

* Continue stirring the curry sauce over low heat until it thickens to your desired consistency. This should take a few minutes.

* If the sauce becomes too thick, you can add a little bit of water or vegetable stock to thin it out.
Got some red Thai curry paste leftover?
Our slow cooker red Thai sweet potato, chickpea and spinach curry is a firm favourite with our visitors to the blog, and our new recipe red Thai vegan 'beef' curry [which can be prepared in a slow cooker or the stove top] is also a delicious family meal that's worth a try or two!
This mango coconut curry sauce is so incredibly moreish that it will be a wonder if leftovers are actually a thing! One of my kids in particular just hoovers up any leftovers of the curry variety! But if your lucky enough to have leftovers, then this mango curry would be so tasty for next day's lunch scooped over a slice of toasted bread or inexpensive noodles.
More tasty veggie curry's with potatoes:
Shopping list for vegan mango 'chicken' curry
Below is a list of the ingredients required for this veggie mango curry recipe but as with all recipes, feel free to make it your own and substitute ingredients for what you have to hand or can easily access.
It's especially important in todays cost of living crisis to have recipes that are versatile and can fit with your own personal needs. If you have a suitable substitution at home, then there's no need to go out and purchase a special ingredient if you'd rather not.
Do let us know how your dish turns out by dropping us a comment below. All feedback is very much appreciated.
Main dish:
Ingredients and substitution suggestions
coconut oil [can replace with your usual oil or veggie broth/stock]
1 medium red onion [or an ordinary onion]
1 whole red bell pepper [or a yellow/orange pepper or perhaps courgettes/zucchini]
red Thai curry paste [or use a yellow or green Thai curry paste if you have one already opened]
potatoes [any variety that holds shape]
can of chickpeas [or your preferred pulse]
baby corncobs [or replace with a vegetable of your choice]
mango puree/pulp [either fresh, canned or frozen, or check out the recipe notes for substitution ideas]
1 can coconut milk [see the recipe notes for substitution advice]
soy sauce
fresh lime [or fresh lemon, use long-life lime/lemon juice if preferred]
vegetable stock
Optional:
fresh coriander [cilantro]
spring onions [green onions] [or replace with fresh thin sliced red onion rings]
sesame seeds [or flaked almonds/broken cashews/crushed peanuts]
***please note: for US measurements click the 'US customary button' within the recipe and the measurements will switch to tablespoons, cups, and ounces.***
📖 Recipe
Vegan Mango 'chicken' Curry
Print Recipe
This delicious vegan mango potato curry is a sweet and savory twist on a classic favorite, packed with flavor and easy to customize - give it a go and be surprised!
Equipment
large non-stick pan, skillet or Wok

lemon squeezer

[for removing fresh lime juice, although can simply use a spoon to dig out the juice or just squeeze the fruit by hand]
Ingredients
saute:
1

tablespoon

coconut oil

[or your usual oil, or replace with ¼ cup of veggie stock if oil-free is required]
curry:
1

medium

red onion

[slice into long pieces]

1

whole

red bell pepper

[slice into long pieces]

3

tablespoon

red Thai curry paste

400

grams

potatoes

[use whole small baby/new potatoes, large baby potatoes may need having, or slice larger potatoes into ½-1 inch bite-size chunks.]

240

grams

chickpeas

[cooked, or replace with a drained 400g/14oz can]

125

grams

baby corncobs

[each mini cob sliced into two pieces]

250

grams

mango puree

Or replace with ripe mango peeled, sliced, and mashed/pureed]

1

can

coconut milk

[400g/14oz can]

1

tablespoon

soy sauce

[use Tamari if gluten-free is required]

1

tablespoon

lime juice

50

millilitres

vegetable stock
to serve:
10

grams

coriander

[cilantro, use more or less as preferred]

3

whole

spring onions

[green onions/cybies sliced, use more or less as preferred]
optional:
1

tablespoon

sesame seeds

[plain or dry toasted in a pan until toasted, use more or less as preferred]
Instructions
Melt the coconut oil in a non-stick pan or a Wok.

[I find using a non-stick Wok great for making curry dishes].

Add the onion slices and cook over a medium heat for 3 minutes. Give the onions a few stirs as they cook.

Next, add the red pepper slices, and cook for another 3 minutes, stirring every now and again.

Stir through the red Thai curry paste and cook for a minute.

3 tablespoon red Thai curry paste

Pour in the lime juice and soy sauce, and stir.

1 tablespoon soy sauce,

1 tablespoon lime juice

Tip in the potatoes, chickpeas, and baby corncobs, and stir to coat the veggies in the paste.

400 grams potatoes,

240 grams chickpeas,

125 grams baby corncobs

Next, pour in the mango puree, coconut milk and vegetable stock.

Stir it all together.

250 grams mango puree,

1 can coconut milk,

50 millilitres vegetable stock

Season with a few pinches of salt and pepper.

Bring the curry to the boil, and cook over a medium heat for 15-20 minutes until the potatoes are soft, and the sauce thick and creamy.

The sauce may look thin but it will thicken up once it stops cooking and comes off the heat.

Taste the seasoning and add extra salt and perhaps pepper to taste.

Scatter over the chopped coriander and sliced spring onions.

Finish with a sprinkle of sesame seeds, although these are optional.

10 grams coriander,

3 whole spring onions,

1 tablespoon sesame seeds
Notes
Nutritional data provided is for guidance only and is not a strict calculation as ingredients and quantities may vary.
The nutritional information includes coriander, spring onions, and optional sesame seeds.
The mango puree/pulp used in this recipe was Laila Kesar Mango pulp [850g can] sourced from Tesco (UK), but any mango puree or pulp can be used.
To prepare homemade mango pulp, peel and slice a fresh mango and use an immersion blender, food processor, fork, or potato masher to mush up the mango.
If using canned mango slices, use the same method as above outlined for fresh mangos.
Leftover mango pulp/puree can be stored in the refrigerator for a few days or frozen for a few months, and used for other recipes. If easier, portion out the mango into one cup measures, or freeze first in ice-cube trays, then pop out and store in a freezer food bag.
Adding leftover mango to a home-made smoothie or milkshake is especially delicious.
The optional sesame seeds can be replaced with flaked almonds, crushed peanuts, broken cashew nuts, or omitted altogether.
Chickpeas can be replaced with your preferred pulse.
Any type of potato can be used, including sweet potatoes, as long as the potato variety does not turn to mush while cooking.
Canned potatoes can also be used, although perhaps omit the 50ml of veggie stock as the potatoes will not release much starch, which thickens the sauce as they cook.
Do feel free to substitute any of the veggies for whatever you have to hand or need using up, or any veggies that are on special offer, are in season, etc. 
For example, baby corn cobs can be replaced with mangetout, green beans, yard-long beans, French beans, bean sprouts (mung bean), an extra bell pepper, or any vegetable of your choice.
Nutrition
Calories:
349
kcal
|
Carbohydrates:
48
g
|
Protein:
8
g
|
Fat:
15
g
|
Saturated Fat:
10
g
|
Polyunsaturated Fat:
2
g
|
Monounsaturated Fat:
2
g
|
Sodium:
557
mg
|
Potassium:
723
mg
|
Fiber:
8
g
|
Sugar:
13
g
|
Vitamin A:
2839
IU
|
Vitamin C:
47
mg
|
Calcium:
105
mg
|
Iron:
3
mg
Thanks for visiting our family recipe blog!
I do hope you enjoyed this vegan mango 'chicken' curry recipe as much as we do.
If you try it out, please let us know in the comments below how it turned out for you or if you made any modifications. Also, If you discover a mistake or error within this post or recipe it would be amazing if you could let us know!
Don't forget to tag us on social media (@traditionalplantbasedcooking) and use the hashtag #traditionalplantbasedcooking so we can see your creations!
If you found this recipe helpful, please share it with your friends and family so they can enjoy it too.
Thanks so much, Jacq x