Vegan Mexican noodle soup otherwise known as Sopa De Fideo is an incredibly simple soup with humble ingredients but big flavours. A bowl is perfect served as part of a Mexican themed dinner, party, as a special starter, or side dish.
Although this delicious soup if filling and satisfying enough for a main meal especially with a wedge of your favourite crusty bread and toppings such as diced avocado, a dollop of salsa, and a few tortilla chips.
Veggie Mexican noodle soup can be easily prepared as gluten-free.
Quick Origins Of Mexican Noodle Soup
Mexican noodle soup (Sopa De Fideo) is also known as Spanish noodle soup as many claim that it has Spanish origins. The Spanish invaders of Mexico during the 16th Century likely introduced their traditional noodle soup.
During the 1600s the Spanish also brought noodle soup over to the Philippines where it remains a popular dish.
Sopa De Fideo translates simply to noodle soup with Fideo meaning noodles and Sopa soup.
This soup features thin noodles such as short vermicelli pasta toasted in oil, before the stock and rest of the ingredients are added.
Authentic Sopa De Fideo usually begins with fresh tomatoes, onions and garlic pureed in a blender. The puree is mixed through the toasted pasta before chicken stock is poured in. A few spices or herbs may be added and the soup simmered until the noodles are cooked.
Mexican noodle soup is still a popular starter or side dish for Mexican dinners and meals.
Vegan Mexican Noodle Soup With Black Beans And Corn
I love this Mexican noodle soup as with just a few store-cupboard ingredients a wholesome meal can be whipped up quickly.
This recipe is inspired by the traditional Sopa De Fideo but is not an exact replication. It is simply my adaptation and one that my family happens to love.
For this recipe I chose to use tomato passata which is simply sieved tomatoes, and comes in a package or jarred form easily found in all UK supermarkets. Alternatives include blending chopped tomatoes, or using jarred or canned tomato sauce (those intended for pasta not ketchup!), or blending fresh tomatoes.
I use passata mainly for convenience as it reduced the time required when tomatoes are blended. Also I didn't have a blender to wash at the end of cooking which is always a bonus! I do enjoy the smooth texture of passata and the lack of metallic tang, that often chopped tomatoes can bring. However, next time I prepare this soup I will do so when I am less busy and can opt for fresh tomatoes.
Canned black beans and frozen corn are added to this recipe as I wanted to add more nutrition and texture seeing as the soup was intended for my family's main meal. These two ingredients are super tasty paired with the noodles and broth, and so worth adding. The corn brings little pops of sweetness and the black beans creaminess.
Although the black beans and corn can be omitted if preferred or for a lighter dish.
Any pasta shape can be used but a short, thin pasta noodle does create the best texture.
Easy method to prepare vegan Mexican noodle soup
To prepare this recipe for Mexican noodle soup the pasta is toasted in one tablespoon of olive oil until lightly golden brown. Taking the time to do this step adds so much flavour and helps the noodles keep an al dente texture as they simmer in the broth.
However, if desired especially if your on an oil-free diet then simply omit this stage although the end flavour and texture will be different, the soup will still be guaranteed tasty. I haven't cut out oil completely from my family's diet but I do try to restrict the amount used in my cooking and this soup only needs one tablespoon which I am fine with.
After the pasta is toasted, the canned black beans, frozen corn, passata, diced garlic, oregano, onion powder, and vegan broth is mixed through. This tasty mix is brought up to a gentle simmer and cooked for 15 minutes.
If available use dried Mexican oregano (more information included within recipe notes) and a vegan chicken flavoured stock.
Lastly all that is required is a little seasoning to taste, a sprinkle of chopped coriander/cilantro, and if liked a squeeze of lime juice. Perfect.
This recipe yields four hearty bowls of noodle soup, but could stretch to six portions especially if crusty bread or other sides are also offered.
I would love to know how you get on with this noodle soup so be sure and pop a comment below. Thanks!
How To Prepare Vegan Sopa De Fideo
Vegan Mexican Noodle Soup Recipe Notes And FAQS
How do I store leftover Mexican noodle soup?

Leftovers can be stored within a covered container in the fridge for up to 3 days. Or frozen for 4-6 months.
How do I reheat leftover noodle soup?

Leftover noodle soup can be reheated in a saucepan, with a little extra liquid (passata/chopped tomatoes/vegan stock/water) to loosen up the thick soup, for 3-5 minutes until piping hot. Stir frequently and add extra liquid as required to prevent sticking.

If reheating frozen soup, defrost first and allow the soup to come to room temperature for faster reheating.
Is vegan Mexican noodle soup suitable for gluten-free diets?

Mexican noodle soup can be prepared as gluten-free if a gluten-free pasta noodle is used.

Any shape of pasta can be chosen if gluten-free noodles can not be sourced. Longer spaghetti pasta can be broken up into smaller pieces.

Japanese soba noodles made with 100% buckwheat flour are gluten-free so even though these are not traditional for Mexican noodle soup these noodles will still create a tasty soup. If you can't source soba noodles in the supermarket try your local wholefood or health shop as they are usually available for sale.

Another consideration is to choose a gluten-free vegan stock.
Can I substitute or omit any of the ingredients?

* there are not many ingredients for this Mexican noodle soup but if preferred the corn and black beans can be omitted.

* tomato passata can be replaced with chopped tomatoes (if possible blend for better texture), plain tomato sauce that comes in a jar/can intended for pasta sauce or ragu, or fresh tomatoes that have been blended

* instead of onion powder use fine diced fresh onion

* replace fresh diced garlic with garlic powder
What can I serve with Mexican noodle soup?

* your favourite crusty bread, I made an ordinary loaf (using vegan-friendly ingredients) in my bread machine, but added a few teaspoons of chilli flakes for a chilli bread. It was delicious and complimented the flavours of the noodle soup

* lime or lemon wedge for squeezing into the finished soup, so tasty

* chopped coriander, parsley, chives or spring/green onions

* add a tablespoon or two of salsa to the soup or serve on the side

* guacamole

* diced or slices of avocado

* vegan sour cream

* tortilla/corn chips

* vegan Mexican rice casserole with a cheesy nacho topping

* loaded black bean potato wedges

* sweet potato fries/wedges

* burritos/enchiladas/quesadilla

* toasted vegan cheese sandwich/grilled sandwich

* chilli or paprika flakes for sprinkling over soup

* hot sauce

* sliced fresh chilli's, scatter over the finished soup or add to the soup to cook

* canned jalapenos, add some to the soup as it cooks
What is tomato passata?

Tomato passata is uncooked pureed, sieved tomatoes, so the skin and seeds of the tomato are removed.

Passata is a common product in the UK found in most supermarkets either in cardboard packaging or glass bottles. The bottles of passata tend to be taller than pasta sauce jars.

Passata can be sourced in the US but some varieties may be termed as tomato puree or strained tomatoes. Which is confusing as concentrated tomato paste (usually sold in long thin metal tubes) in the UK is also known as tomato puree!

However, if you can't find tomato passata simply blend fresh tomatoes and either use as is or sieve to remove seeds and skins. Or blend chopped tomatoes from a can.

Or use canned/jarred plain tomato sauce the kind that is intended for creating pasta sauces.
What is the difference between Mexican oregano and Italian oregano?

Mexican oregano is a different type of herb from regular or Italian oregano. These two herbs are not even related.

Mexican oregano is indigenous to Central America, Mexico, and Texas, and is part of the Verbena family of herbs. Whereas regular oregano is native to the Mediterranean regions and is actually part of the mint species.

Therefore each oregano has much different flavour profiles, with Mexican oregano bringing fresh lemon hints and regular oregano adding subtle minty flavours.

For Mexican noodle soup any oregano can be used but for a more authentic flavour experience try and source some Mexican oregano.

I have included an Amazon link to the Mexican oregano that I source, below in the recipe ingredient list.

More Delicious Plant-Based Mexican Meals To Discover:
Mexican rice casserole with a cheesy nacho topping
Black bean loaded potato wedges
Easy and quick refried beans (no oil recipe)
Slow cooker black bean chilli with fluffy quinoa
📖 Recipe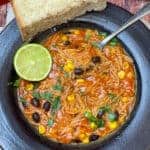 Vegan Mexican Noodle Soup (With Black Beans And Corn)
Print Recipe
An incredibly simple soup with humble ingredients but big flavours. Great as part of a Mexican themed dinner as a starter or side dish.
Although filling and satisfying enough for a main meal especially with a wedge of your favourite crusty bread and toppings such as diced avocado, dollop of salsa, and a few tortilla chips.
So tasty.
Equipment
Non-stick skillet/fry pan, to toast pasta

Soup pan or similar, or use a suitable non-stick pan that's fine for toasting as well as simmering soup to reduce washing up
Ingredients
1

tablespoon

olive oil

250

grams

pasta noodles

short pasta/ pasta vermicelli

500

grams

passata

or chopped tomatoes/ canned/jarred tomato sauce, or blend fresh tomatoes. If using chopped tomatoes blend if possible.

2

teaspoons

onion powder

or granules

4

cloves

garlic

diced

140

grams

sweetcorn

frozen, fresh or canned

1

can

black beans

400g/15 oz can, drained or 240g/1 ½ cups cooked.

2

teaspoons

oregano

use Mexican oregano if available *more info within the recipe notes*

1.5

litres

vegan stock

boiling or hot, use a vegan chicken flavour if available
Garnish
8

grams

coriander

chopped, use more if liked

1

whole

lime

quartered, or lemon
Instructions
Heat the olive oil in a non-stick pan over a medium-high heat. Once hot lower to medium and add the dry pasta.

Stir and toast for 5-6 minutes until pasta is lightly golden brown. Immediately remove the pasta from the pan into a soup pan as the pasta will continue to brown within the residual heat.

Mix through the black beans, sweet corn, diced garlic, dried oregano, and onion powder with the toasted noodles.

(If using the same pan as the noodles were toasted in, remove the pan from the heat while the rest of the ingredients are added).

Pour in the tomato passata and boiling vegan stock. Sprinkle in some salt and pepper. Give everything a good mix.

Bring to a simmer, lower the heat, and cook for 15 minutes.

Stir occasionally to check that its not sticking to the pan.

If you'd prefer a thinner soup add more vegan stock, I prefer the soup to be quite thick.

Check seasoning and add salt and pepper to taste.

Serve garnished with chopped coriander and a lime wedge.
Notes
Nutritional information is provided for guidance only and is not a strict calculation as ingredients vary. 
Leftovers will remain fresh in the fridge, covered, for up to 3 days. Or frozen for up to 4-6 months.
Leftovers will become very thick so will likely need loosening up with some more stock or passata before reheating. Reheat in a saucepan by bringing to a simmer and heating through for 3-5 minutes until piping hot.
Leftovers will be very thick and similar to canned spaghetti in tomato sauce. I like to reheat with just a small amount of water added, so that the noodles are still quite thick, and serving over a slice of toasted bread. For a homemade spaghetti and toast lunch.
Or serve thick leftovers as a side in-place of a can of spaghetti in tomato sauce.
Nutrition
Calories:
415
kcal
|
Carbohydrates:
79
g
|
Protein:
16
g
|
Fat:
6
g
|
Saturated Fat:
1
g
|
Polyunsaturated Fat:
1
g
|
Monounsaturated Fat:
3
g
|
Sodium:
274
mg
|
Potassium:
1011
mg
|
Fiber:
11
g
|
Sugar:
10
g
|
Vitamin A:
893
IU
|
Vitamin C:
23
mg
|
Calcium:
90
mg
|
Iron:
5
mg
💬 Comments
Prepared our Slow Cooker Spotted Dick Pudding recipe? We would love to know how you got on with the recipe so do pop back and drop us a comment and click the star ratings. Thanks so much! Love Jacq x