Vegan Edinburgh fruit scones are an old-fashioned Scottish bake that originates in the beautiful capital city of Edinburgh.
Scones have a long history as they can be dated back to 1500s Scotland where they were prepared with oats and cooked on a griddle.
I lived in Edinburgh for many years with my family and love the wee bakeries and cafes that house all sorts of wonderful bakery delights.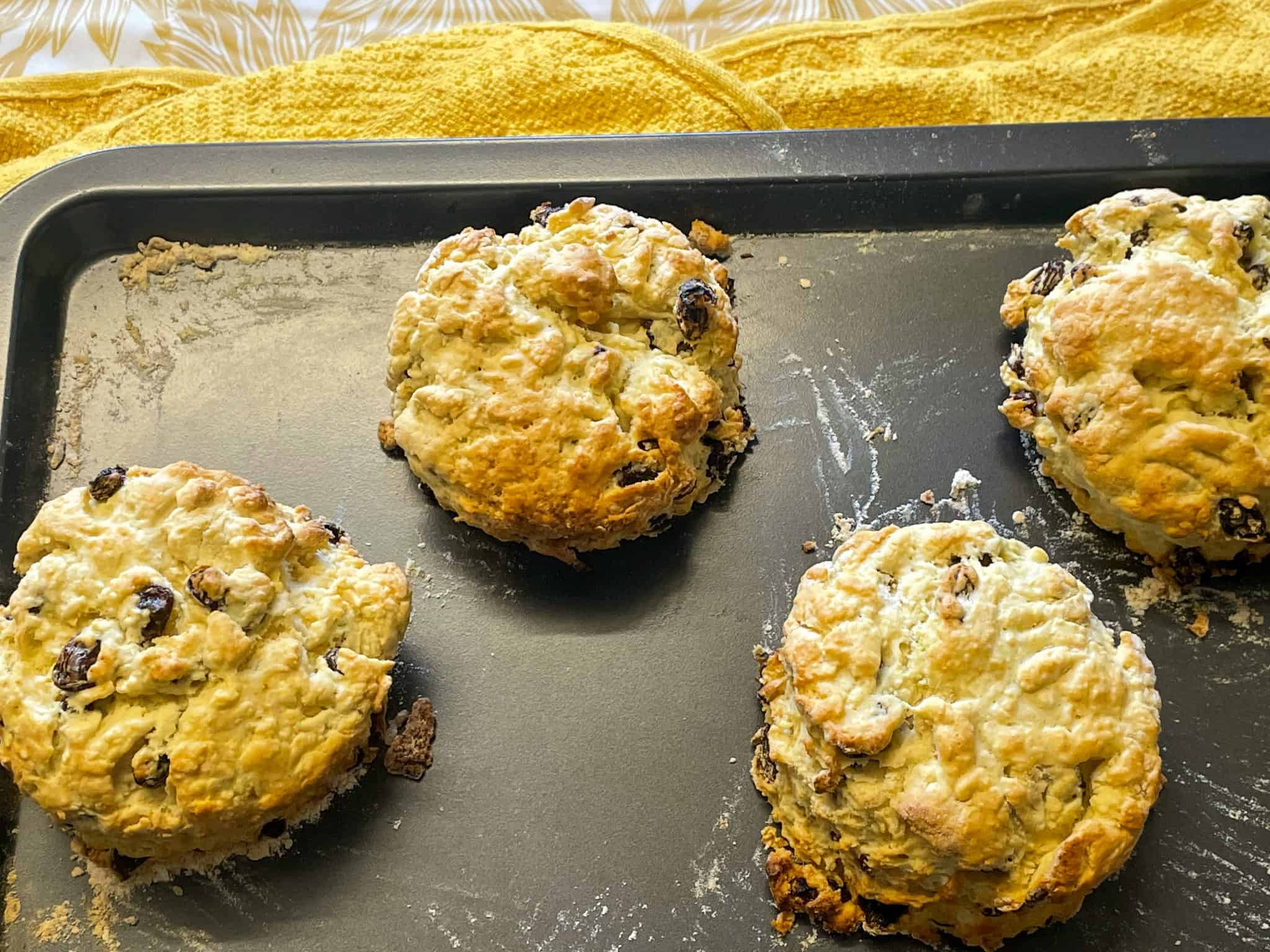 However, way back when my family was in Edinburgh plant-based and vegan options where few and far between.
But now thankfully there are so many vegan options in Edinburgh to enjoy.
Although, a good traditional vegan scone can be difficult to source so I have developed a tasty old-fashioned Edinburgh scone.
My recipe results in a satisfying rustic looking scone that is soft, light, crumbly, not too sweet and perfect with some vegan spread and a slather of jam.
If your feeling fancy add some vegan thick cream and enjoy with a cup of tea for a Scottish afternoon tea experience!
But don't forget the cucumber sandwiches and to stick your pinkies out when your drinking your tea!
Vegan Edinburgh Fruit Scones
Makes 4 large scones or 6-8 smaller scones.
Check out the recipe notes below for lots of useful tips for baking the best vegan Edinburgh fruit scones.
Servings:
4
large scones/ 6-8 medium- smaller scones
Equipment
Baking tray/ parchment paper if necessary

Biscuit cutter about 7cm diameter
Ingredients
Basic scone recipe
285

grams

self-raising flour

10 oz/ 2 cups plus 3 tbsp. Sieved.

2

tsp

baking powder

Sieved

2

tbsp

caster sugar

or use date/coconut sugar if preferred.

57

grams

plant-based margarine

2 oz/ 4 tbsp. I use dairy-free Vitalite.

1

pinch

salt

optional
For the filling
110

grams

dried fruit

about 3.8 oz or 3/4 cup
For the plant-based buttermilk
250

ml

plant-based milk

1 cup. Plus extra plant milk if needed

1

tsp

apple cider vinegar

or lemon juice
Instructions
Preheat oven to 200 Fan/ 220 Celsius/ 428 Fahrenheit / gas 7.
To prepare the plant buttermilk
Add the apple cider vinegar or lemon juice to the plant milk and mix well.

Set aside until needed.
Prepare the scones
Add the flour, baking powder, and sugar to a bowl.

Tip in the plant-based margarine and using just your fingertips rub the margarine into the flour mix.

Its done when the margarine is incorporated and the mix looks like breadcrumbs

Mix through the dried fruit.

Add a tbsp of plant buttermilk at a time and mix.

You may need between 8-10 tbsp to achieve a dough.

Once a dough has nearly formed tip the dough onto a floured surface and gently work it together to a ball.

It may be slightly sticky but that's ok.

If its too dry and crumbly wet your hands with a little plant milk and try form the dough ball.

Or sprinkle some plant milk over and work to a ball.

Gently pat the dough into a circular shape. For large scones just pat down until the dough is about 2 1/2 cm high or just under an inch.

For smaller scones pat down to about 1/2 inch thick/1 1/2 cm.

Measurements are just rough estimates so don't get to bogged down trying to achieve perfection!

If you want taller scones then they have to be quite tall going into the oven.

Place scones on a floured baking tray or use parchment paper if necessary to prevent sticking.

Lightly glaze the top of your scones with the leftover plant buttermilk.

If you don't have much buttermilk left just use the drips or remnants left on the sides of your jug.

A pastry brush is helpful here! But clean finger tips can also do the job!

If you don't have enough plant buttermilk just use some extra plant milk.

Bake on the middle shelf or one shelf under your highest shelf, for about 10 minutes.

Scones will be ready when they smell lovely, are golden brown and brown on the underside as well!

Either enjoy hot from the oven or cold.
Notes
*the above calorie calculation is based on 6 medium scones *
* the cup measurement I have used equals 250ml liquid*
Prepared one of my recipes?
Popping a photo on social media?
Tag us in so we don't miss it! 
@traditionalplantbasedcooking #traditionalplantbasedcooking
Nutrition
The following nutritional calculations is not a strict analysis and is for guidance only as ingredients vary. The first calculation is based on 4 large scones:
The following calculation is based on 6 medium scones:
The following calculation is based on 8 small scones:
 Fruit Scones Recipe Notes
Its generally advised that fruit scones are best eaten the day they are baked.  However I have discovered that the flavour and texture of the scone can be better the next day! Scones will be good for up to three days.
For staler scones just toast and enjoy! Or re-heat in a hot oven for a few minutes. So good!
Scones cope well with being frozen for up to three months but possibly longer if well wrapped.
Add any variety of dried fruit to your scones. Such as just sultanas, or currants or raisins. Or a mix of all. Traditional Edinburgh scones would have commonly used currants.
Don't like dried fruit? Just leave them out and maybe add some grated lemon or orange peel for a citrusy scone.
Love cherry scones? Add some chopped glace cherries in place of the dried fruit.
I sometimes enjoy a scone for breakfast.
Plain scones can be served with some vegan cheese on the side.
Try a plain scone with a bowl of soup. Its nicer than you might expect!

The best tips for making the best scones:

 Make sure your vegan margarine is cold before rubbing it into the flour.
 Work the scone dough as lightly as possible! Take care to not over mix or knead the dough too much. It should only be kneaded for a few seconds.
When adding the milk add a tbsp at a time and use an ordinary cutlery metal knife to mix or similar.
Never use a rolling pin to roll out your scone dough. Just gently pat down with your hands.
When stamping out rounds of scones with a biscuit cutter don't twist the cutter as you lift the scone up. Just gently shoogle the cutter up and down and pull away the scone mix from outside the cutter.
Dip the biscuit cutter in flour between each scone to help the scone shift out the cutter easily.
Try not to get the sides of your scone wet with too much milk when you glaze the top. And just glaze the top.
Scones are best baked in a hot oven for a short time.
This might seem like a lot of tips to remember but once you've prepared scones a few times they are a lot easier to bake! And they are so worth the extra thought!
Looking for more traditional bakes?
And a slice of old-fashioned vegan fruit loaf cake. So easy to prepare!