This vegan meat and potato pie recipe is the perfect vegan comfort food meal and is also ideal for festive, Christmas, New Years Eve, New Years Day and Easter time extra special dinners.
Time, energy, and money is saved by using a ready-prepared puff pastry to prepare the pie topping, while the simple but richly flavoured vegan meat and potato stew filling bubbles away on the stove to tasty perfection.
For gluten-free vegan meat and potato pie use a gluten-free pastry either puff or shortcrust, or instead opt for a root veggie mash or hotpot style top.
This vegan meat and potato pie recipe uses soya chunks as the meat alternative.
The soya chunks are cooked in a delicious rich home-made gravy which results in a delicious flavour packed succulent texture.
The pie filling is also packed with creamy potatoes, sweet onions and carrots, and an irresistibly crunchy and buttery pastry. This veggie meat and potato pie is just simply tasty and a sure-fire family favourite.
What is a meat and potato pie?
A meat and potato pie is a traditional English pie dating back to at least the 1800s. The pie is prepared with chunks of beef meat or minced meat, and commercially produced meat and potato pies may actually contain more potatoes than meat.
The pies can be prepared with a short crust pastry, puff pastry, or a suet crust pastry, and are more likely to be found as individual small pies which are more convenient for take-aways, snack bars/vans and eating on-the-go.
In Britain, meat and potato pies are a common product found in most supermarkets, bakeries, fish and chip shops, cafes, snack vans and pub grub menus.
Vegan meat and potato pie served with steamed frozen peas and steamed fresh kale, and lots of tasty onion gravy. So tasty.
Vegan meat and potato pie
This vegan meat and potato pie features dried soya chunks otherwise known as TVP [textured vegetable protein] as the meat alternative. Soya chunks are similar to dried soy curls that can be found in the US, so soy curls can be an ideal soya chunk replacement. Alternatively for a soy free dried chunk try the pea and fava protein chunks which can be found in many wholefood stores in the UK.
Soya chunks are perfect to replace the meat chunks in a pie, as the soya chunks act like flavour sponges soaking up all the juicy tasty flavours that are added to the home-made stew whilst the stewing softens up the soya chunks beautifully.
The first time you try cooking with soya chunks you may be unsure of the texture but do persist as it does get better, honestly! I was just the same with soya milk, the first few tastes I had were squeamish and I did not enjoy the flavour at all, but with perseverance I now love all kinds of plant milk and they all taste normal. It can be the same with vegan cheese, the texture can be a little off putting at first, but in time it can become more appealing. If your new to plant-based and vegan diets then don't give up at the first try, as taste buds and preferences do actually change.
Potatoes, carrots, onions, and garlic, along with the soya chunks are the main everyday ingredients for this easy vegan meat and potato pie.
Soy sauce, marmite [or yeast extract as its sometimes labelled in UK supermarket own brands], dried herbs, red wine vinegar and tomato puree, along with plain flour to thicken up the home-made gravy, all work together to infuse the veggies and soya chunks with delicious savoury flavours.
A ready-prepared puff pastry block was used for the veggie pie topping as its so convenient, easy, and can be inexpensive if you choose a vegan-friendly supermarket own brand. Besides, results are almost guaranteed as opposed to trying to prepare your own puff pastry which can be an all-day job using lots of expensive ingredients. Already prepared puff pastry is good enough for celebrity chefs so I can't see an issue unless of course you'd really like to prepare your own pastry.
How to prepare vegan meat and potato pie
This vegan meat and potato pie would be perfect for vegan Christmas and festive dinners, as well as New Years Eve/Day dinners.
Thanksgiving, harvest and Easter celebrations are also ideal times for vegan pie, but then again in our family any day is perfect for a tasty home-cooked veggie pie.
This recipe uses dried soya chunks or TVP [textured vegetable protein] which is usually only one ingredient: defatted soya flour. Soy curls are a good alternative as are dried pea protein chunks.
Alternatively fresh or frozen meat alternative chunks/pieces can be used [about 300-350 grams should be plenty] or use chopped up cooked veggie sausages or burgers [add these at the end of cooking].
Although if you really don't want to use any of the above vegan meat replacements simply opt for a nice packet of juicy mushrooms [just add these whole or chopped along with the veggies].
First soak the soya chunks in a few cups of hot veggie stock and an optional teaspoon of marmite [yeast extract] for about 30 minutes.
[If using soy curls or pea protein chunks then rehydrate according to package instructions.]
Add the potato, carrots, onions, and garlic to a large pot and cook in one tablespoon of oil [or ½ cup of veggie stock] for 8 minutes.
Stir through the plain flour [or all-purpose or gluten-free], and then add the tomato paste and dried mixed herbs.
Drain the soaking liquid from the soya chunks, and add extra boiling water to make up to 700mililtres [about 3 cups].
Chuck the soya chunks into the pot.
Pour in the veggie stock, soya sauce, and red wine vinegar.
Bring to a simmer and cook for 25-30 minutes until the veggies are soft and the gravy is rich and thick.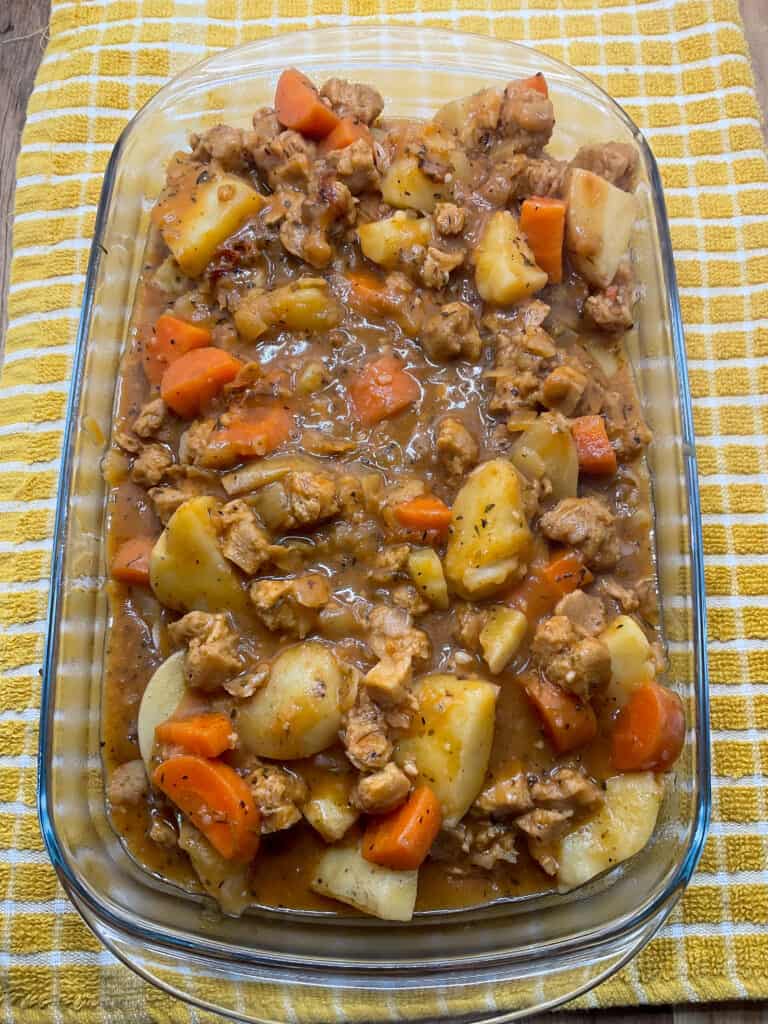 Pour the veggie stew into the pie dish or baking dish.
Grease the rim of the dish with some vegan margarine.
While the stew cools, prepare the pastry top.
Cut a small piece off the pastry block and roll out thin, long, snake like shapes, enough to go around the pie dish rim.
This will form the pie crust rim in which the pastry top will be pressed into.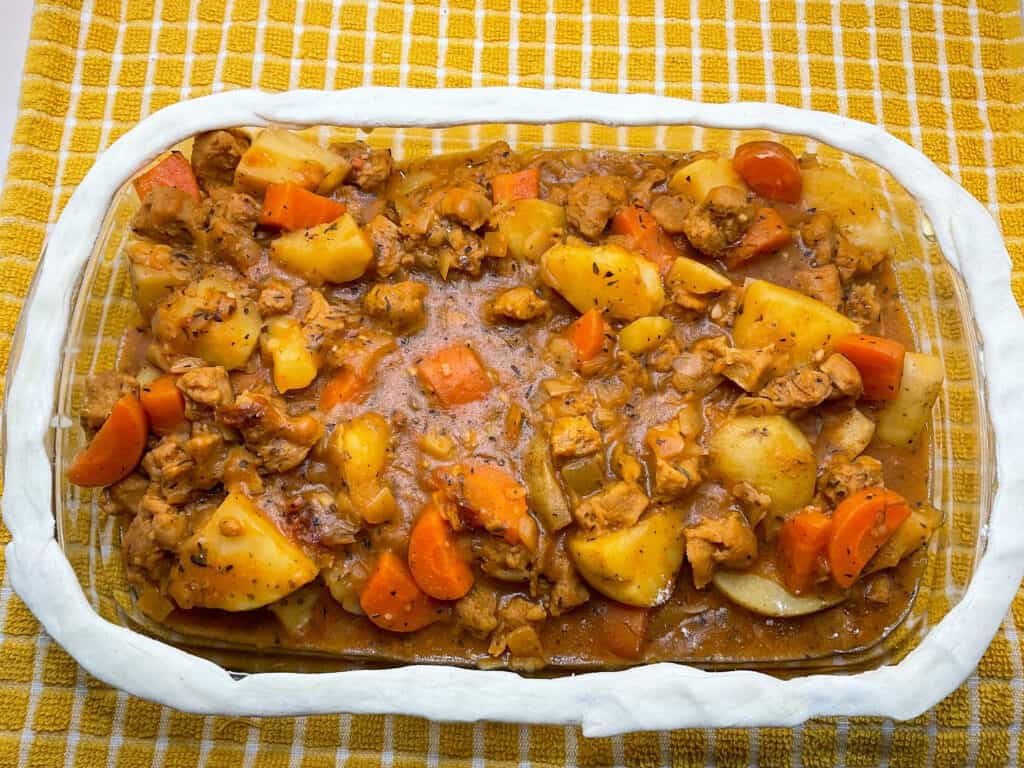 Press the pastry rim around the baking dish, it will stick and mould onto the greased rim.
Brush the pastry rim with some plant milk.
Roll out the rest of the pastry block into a shape that will fit the top of your dish.
Cover the dish with the pastry and with a fork press the pastry into the pastry rim.
Brush the top with plant milk and with a knife create two pie slits to allow steam to escape whilst baking.
Bake for 35 minutes or until the pastry is golden and has risen.
Recipe notes
Storage
Leftover pie can be stored within the refrigerator for 3 days. Keep the pie in the original baking/pie dish or transfer when completely cool to another container. Cover with food wrap or similar.
Reheating
If the pie was stored within the pie or oven dish then bring the pie up to room temperature before reheating within the oven. Switch the oven to the cooking temperature, and cover the pie with some kitchen foil as this will prevent the pie from over browning or burning in the oven. Reheat until the pie is piping hot throughout.
Slices of leftover pie can be reheated within an air-fryer, but do consult your air-fryer manufacturing booklet for advice on times and cooking temperatures for your particular air-fryer model.
What can I use to replace soya chunks?

A few ideas:

* soy curls

* dried pea protein chunks [often prepared with fava bean as well]

* any fresh or frozen vegan meat chunks or pieces

* cooked vegan burgers or sausages, chopped into chunky pieces [stir these after the stew filling has cooked]

* 1-2 cans [400g/14-15oz drained] of drained beans, such as butterbeans, cannellini or haricot beans [the drained weight will be smaller than the weight stated on the cans so if using home-cooked beans use about 300-400 grams of cooked beans]

* packet of fresh mushrooms, such as button, chestnut or regular mushrooms [keep small mushrooms whole and add these along with the veggies for the stew filling]
What are the nutritional profile of soya chunks?

Soya chunks can be a great source of vegan nutrition as for each 100 grams of dried chunks there are about 323 calories, 51 grams of protein, and 17 grams of fibre.

Best of all as soya chunks are a byproduct of soybean oil production, the end result means that the chunks are mostly fat free, hence the ingredients on a packet of soya chunks is often just one ingredient: defatted soya flour. Although some packets of dried soya chunks already come with additional savoury flavours.

Soya chunks offer lots of useful nutrition for a low cost when compared to meat, as one 500 gram bag can easily be enough for 4-5 different recipes, that would feed 4-6 servings for each meal.
Where can I buy dried soya chunks?

Most wholefood stores or health shops in the UK have soya chunks for sale. Although they may be labelled TVP [textured vegetable protein]. In the US soy curls [textured whole soy beans] can be found instead which are a different curly thinner shape compared to the ball-like shapes of soya chunks.

Also, many UK supermarkets now stock soya chunks such as Asda which offers 'Tree of Life' soya chunks 375 grams for £1.50. Tesco offer 'East End' soya chunks 250 grams, and Morrisons has 'Fudco' soya chunks 150 grams for £1.20. [prices correct at time of writing and were sourced online].

If you can't find soya chunks in your local stores, then Amazon UK usually have some for sale, as do buywholefoodsonline.com.
Do I need to use the pastry for this pie recipe?

Of course not. If preferred this recipe can be simply served as a vegan meat and potato stew without the pastry topping.

Alternatively, add a root vegetable scalloped hot-pot style topping. Such as thin sliced turnips/rutabagas/swedes,carrots, parsnips, and/or celeriac. Blanch the thin sliced veggies in boiling water for about 5 minutes or until the veggies are almost fork tender [depending on how thick they are sliced]. Then drain and use the sliced veggies as a topping, overlapping the veggies in a fish scale type of pattern. The topping can be seasoned with salt and pepper, with perhaps little dots of vegan margarine or butter added, or brush the top with melted margarine. A sprinkling of nutritional yeast flakes or vegan cheese is a nice touch. Bake in a hot oven until the veggies are soft and tinged with golden pieces.

Another idea is to prepare a vegetable mash topping with a combination or one or two of the following: [prepare the mash as you would ordinary mashed potato]

* turnip/rutabaga/swede

* parsnip

* carrot

* celeriac

* butternut squash

* sweet potato

* cauliflower

* broccoli

* peas and sweetcorn [just mix these through any mash you prepare, shredded cabbage, chopped kale, or sliced Brussel sprouts can also be stirred through mashed veggies]
Is this vegan pie safe for a gluten-free diet?

For a gluten-free vegan meat and potato pie choose a ready-prepared gluten-free pastry, either puff pastry or short crust pastry. Or prepare a home-made gluten-free pastry. Alternatively go with a veggie topping, as detailed above.

Also, use a gluten-free plain flour for the pie filling, as well as a gluten-free vegetable stock, and a gluten-free soy sauce such as Tamari.

Dried soya chunks are naturally gluten-free as they usually have one ingredient: soya flour. But do double check just to be sure as different brands may vary.
What are the best potatoes to use for a pie filling?

Potatoes which cope well with cooking and do not tend to fall apart are perfect for pie filling, as the bite of the potato adds to the pie filling texture.

For this pie recipe we used a new potato otherwise known as baby potatoes, and as these are not intended for mashing and are waxy potatoes they kept there shape.

Other types of potatoes good for pies are:

* salad style potatoes

* white potatoes [in the UK some ordinary potatoes are simply labelled 'white' potatoes]

* Yukon gold

* red potatoes

* fingerling potatoes

* Charlotte potatoes

* Anya potatoes

More tasty vegan pies, hotpots and gratins
[an English classic remade into a tasty veggie adaptation]
[fun simple pie that the whole family will love]
[perfect for using up all the leftover Christmas and festive veggies]
[another classic side dish or main that makes good use of inexpensive seasonal veggies and leftovers]
[for this open pie or flan the pumpkin can be replaced with butternut squash or sweet potato]
Recipe
Vegan Meat and Potato Pie
Print Recipe
Vegan meat and potato pie recipe is just vegan comfort food at its best.
As well as great for everyday meals, it is also ideal for extra special meals such as for Thanksgiving, festive, Christmas and Easter time.
In Scotland, it is traditional to have a New Years Eve steak pie or a pie for New Years Day dinner so this tasty veggie adaptation is the perfect way to welcome in the new year.
Equipment
bowl/jug

[for soaking soya chunks]

Pie dish

[or Pyrex/oven dish] [I used a rectangular Pyrex dish 12 inch length x 7-8 inch width x 2 inch deep] [or use a circular dish with similar sizing, enough for 6 portions]

non-stick large saucepan/stew pot

Rolling pin

Pastry brush

[or similar can just use fingertips!]
Ingredients
Pastry top
500

gram

puff pastry block

[shop bought vegan friendly] [and a little vegan margarine or butter just to grease the pie dish rim]

1

tablespoon

soya milk

[or your usual milk]
Pie filling
125

gram

dried soy chunks

1

teaspoon

marmite [optional]

[yeast extract]

1

tablespoon

olive oil

[or rapeseed oil or your usual oil/or ½ cup veggie stock/broth]

530

gram

potatoes

chopped into one inch [2-3cm] chunks

160

gram

carrots

chopped into chunky bitesize [1-2cm] chunks

150

gram

onions

diced [1 large]

4

cloves

garlic

fine diced/minced or 1 tablespoon garlic puree/paste

2

tablespoon

plain flour

[all-purpose flour or gluten-free plain flour] plus extra for dusting during rolling pastry

1

tablespoon

tomato puree

[paste]

2

tablespoon

soy sauce

1

tablespoon

red wine vinegar

1

tablespoon

dried mixed herbs

[can make this up with individual dried herbs such as rosemary, thyme, parsley, oregano, sage, etc, I used 2 teaspoon mixed herbs and 1 teaspoon thyme]

700

millilitres

vegetable stock

[use beef flavour vegan stock if available]
At end of cooking filling
1

tablespoon

red wine vinegar
Instructions
Rehydrate the soya chunks:
Add the soya chunks to a bowl and cover with about 2½ [650ml] cups of boiling hot vegetable stock. Stir through 1 teaspoon of marmite/yeast extract if available. Leave to soak for at least 30 minutes.

125 gram dried soy chunks,

1 teaspoon marmite [optional]

Once the soya chunks have soaked, drain the vegetable stock off but keep this to make up the required amount of stock for the recipe.
Prepare pie filling:
Heat the oil or ½ cup of veggie stock in a large non-stick pot/pan that is suitable for a stew.

Add the onions, garlic, potatoes and carrots.

530 gram potatoes,

160 gram carrots,

150 gram onions,

4 cloves garlic

Saute for 8 minutes over a medium heat, stirring every now and then.

Stir the flour through the veggies until it looks like it has disappeared.

Next add the tomato puree, dried herbs and the rehydrated and drained soya chunks.

2 tablespoon plain flour,

1 tablespoon tomato puree,

1 tablespoon dried mixed herbs

Pour in the hot veggie stock, along with the soy sauce and red wine vinegar. Give it all a good stir and turn the heat to high.

1 tablespoon red wine vinegar,

700 millilitres vegetable stock,

2 tablespoon soy sauce

Bring to the boil, lower the heat to medium, and simmer for 25-30 minutes until the veggies are soft and the sauce has reduced and become thick and rich.

Give the stew a stir every now and then.

Stir through the extra tablespoon of red wine vinegar.

1 tablespoon red wine vinegar

Taste the seasoning and add salt and black pepper to taste, although salt is not usually required.

Pour the pie filling into the pie dish.

[this stage can be prepped the day before and the filling stored in the refrigerator]
Prepare the pastry top:
Preheat the oven to 180 Fan / 200 C / 400 Fahrenheit / Gas 6.

Grease the pie dish rim with some vegan margarine or butter.

Slice a piece off the pastry block and roll out thin, long pieces of pastry [use the palms of your hands to roll and form the pastry rim]. Prepare enough of the long thin pieces of pastry so that it can go right around the pie/baking dish rim.

[* see the 'how to prepare vegan meat and potato pie' section above for step-by-step photos*]

500 gram puff pastry block

Press the long pastry snake like pieces on to the greased pie rim. Brush the pastry rim with some of the soya milk.

Roll out the rest of the puff pastry into a size that will completely cover your pie dish.

Lift the pastry up and press the sides on to the pastry rim. Using a cutlery fork press the edge and rim together.

Brush the pie all over with soya milk.

With a knife create two small slits in the middle of the pastry to allow steam to escape during baking.

Bake on the middle shelf of the oven for 35-40 minutes or until the pastry has risen, is nicely golden, and the filling is steaming and bubbling.

*[do check your shop-bought pastry for guidance on oven temps and cooking times as these may vary from what is written here]*
Notes
Nutritional information is provided for guidance only and is not a strict calculation as ingredients vary.
Serve the pie with a variety of veggies and a good amount of hot vegan gravy for a delicious extra special meal.
Soy curls can replace the soya chunks.
Or dried pea and fava protein chunks or similar can also be used.
Alternatively use about 300-350 grams of fresh or frozen veggie meat alternative chunks/pieces.
Or the same amount of cooked and chopped vegan sausages or burgers, stir the cooked pieces through the stew filling after its finished cooking.
The soya chunks can also be replaced with whole button mushrooms, or sliced mushrooms. Add these along with the veggies.
A can or two of drained white beans such as butterbeans or cannellini can replace the soya chunks.
Marmite is optional but tasty addition as it flavours the soya chunks nicely. In the UK other brands of marmite style paste may be called 'yeast extract'.
The puff pastry used was Morrisons [UK supermarket] own brand puff pastry block which is labelled vegetarian but does not contain animal ingredients. It does have calcium carbonate in the ingredient list but this is usually sourced from rocks when used as a food ingredient, as its the cheapest source.
The puff pastry can be replaced with a cooked veggie mash, such as mashed carrot, parsnips, swede [rutabaga], celeriac, etc.
Or replace the pastry with thin sliced root veggies, blanched or lightly cooked until just fork tender and used to cover the pie filling in a hot-pot style. Season the veggies with salt and pepper, and brush all over with melted margarine, and a sprinkle of nutritional yeast flakes or grated vegan cheese. Bake in a hot oven until veggies are soft and a nicely golden and crisp.
For gluten-free meat and potato pie use a gluten-free pastry either puff or short-crust, or go with a veggie topping, a gluten-free plain flour for the filling, a gluten-free vegan stock and gluten-free soya sauce such as Tamari.
Nutrition
Calories:
655
kcal
|
Carbohydrates:
68
g
|
Protein:
14
g
|
Fat:
37
g
|
Saturated Fat:
9
g
|
Polyunsaturated Fat:
6
g
|
Monounsaturated Fat:
20
g
|
Sodium:
1069
mg
|
Potassium:
951
mg
|
Fiber:
6
g
|
Sugar:
6
g
|
Vitamin A:
4754
IU
|
Vitamin C:
22
mg
|
Calcium:
84
mg
|
Iron:
5
mg
Prepared this tasty vegan meat and potato pie?
We would love to know how you got on with the recipe.
Do leave us a comment below and click the recipe star ratings above.
Thanks so much! Jacq x