Jump to Recipe
Traditional vegan pineapple custard tart is a remake of a favourite traditional pudding enjoyed by many British school children and their parents since the 1970s! Possibly originating further back.
This delectable tart features plant-based custard cooked and flavoured with pineapple pieces and juice, before being poured into a crisp, sweet pastry shell. For added decadence top with vegan whipped double cream and sprinkle with the zest of a lemon.
Served chilled pineapple tart is the ultimate fresh tasting summer dessert.
Origins Of Traditional Pineapple Custard Tart
Variations of pineapple tarts are enjoyed in many cultures.
Custard tarts, as well as fruit tarts, have been around since the middle ages although eggs would have been used to make the traditional custard.
Custard powder was invented in 1937 by Alfred Bird as a treat for his wife who had an egg allergy. I love the taste, convenience and versatility of custard powder. Its a brilliant staple ingredient for egg-free cooking.
Little individual pineapple tarts are common in some Asian countries such as Indonesia, Malaysia, Singapore and Taiwan. In China pineapple tarts are a popular New Year celebration treat.
In Australia there is a Neenish tart which features pastry, cream and pineapple jam.
The UK also has mini pineapple tarts that are a classic treat found in most Scottish bakeries. These little tarts feature a pasty base, pineapple jam, cream inside and yellow-dyed iced topping.
The pineapple custard tart that my recipe is based on had its hey-day during the 70s, 80s and 90s British school dinners era. So this recipe will likely bring back lots of fond or even not-so-fond memories!
Pineapple custard tart is just so tasty and perfect, for enjoying as a fresh summertime dessert or even to bring the taste and feeling of sunshine back to those long winter evenings, that it deserves to be highlighted and baked.
How To Easily Prepare Pineapple Custard Tart: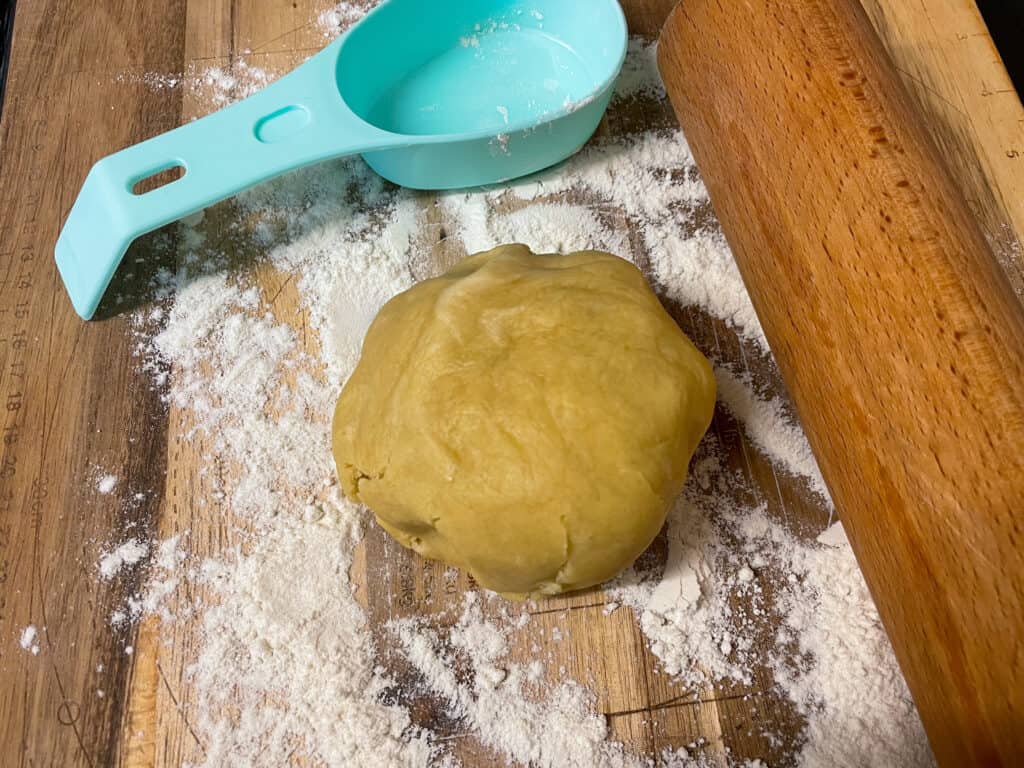 Recipe FAQs and Notes
How do I store pineapple tart?
Pineapple tart can be stored in the fridge for up to 4-5 days. Place on a plate with food safe wrap to cover or within a covered container. I have not tried freezing pineapple tart (we have never had leftovers!) but as this is a no-egg custard the tart could potentially be frozen. Wrap up well and don't freeze for longer than 3 months otherwise the texture could deteriorate.
What can I serve with this dessert?
Vegan whipped cream is especially delicious accompaniment. Serve either as a scoop on the side or swirl it over the tart. Grate some lemon or lime zest over. The Elmlea plant double cream is available in UK supermarkets and is what I used for this recipe.
Serve with a scoop of vegan ice-cream.
Sliced fresh strawberries,, raspberries, blackberries, etc.
I have a little leftover pastry what can I use it for?
Leftover pastry can be frozen until required. If you freeze all your little bits of leftover pastry you'll soon have enough for a new pie/flan/tart.
Use the leftover pastry to bake a few jam tarts. Simply use a biscuit cutter to stamp out pastry cases big enough to fit your muffin/fairy cake pan. Fill each case with your chosen jam and bake in a medium-hot oven until golden, usually about 10-15 minutes.
Create little pastry biscuits or people which is what I loved to do as a kid! My kids love to prepare a pastry biscuit in the shape of their initial. Spread a little plant milk over and sprinkle a little sugar. Bake until golden and crisp.
It's probably not recommended but our dogs love it when I make little baked biscuits with leftover pastry as a special treat for them.
I'm short of time what can I do to speed up the preparation of pineapple tart?
Prepare the pastry a day or two in advance or even bake the shell in advance. Baked pastry shells can be covered in food wrap and frozen for 4-6 months. Although I would leave the shell in the flan/tart baking dish to avoid the possibility of breakage in the freezer unless you have lots of room in the freezer.
Buy a ready-made (vegan-friendly) pastry shell case. This will instantly transform this fruit tart into an ultra fast dessert.
Ready-made pastry (vegan-friendly) can be used for this fruit tart and will save lots of time. You can even purchase ready-rolled pastry.
Not a fan of pastry? Omit the pastry altogether and enjoy a tasty dessert of chilled pineapple custard. Simply prepare the custard and pineapples according to the recipe and divide between little serving dishes or ramekins, chill to set and enjoy. Perhaps serve with some vegan whipped cream and slices of strawberry for a great summer pudding.
Use ready-made vegan custard. Alpro have a delicious ready-prepared custard that would be great for this tart. Simply mix through the pineapple pieces and use enough to fill your pastry. Chill for a few hours or even better overnight. The filling may be more loose and require longer chilling to firm up, than my custard recipe but it will still be tasty.
I use tinned pineapple for this fruit tart and this saves time with peeling and chopping fresh pineapple. But of course use fresh pineapple if you prefer. A reduced 'yellow sticker' pineapple that is really ripe is perfect for this tart.
Vegan Traditional Pineapple Custard Tart
Print Recipe
This pineapple custard tart will bring instant sunshine and summer! It features a crisp, sweet pastry shell with a creamy, thick, plant-based custard gently stewed with pineapple pieces and juice.
For extra indulgence and to wow your family or guests whip up some plant-based cream and cover the pineapple tart with cream whirls.
Finish of with a freshly grated lemon zest. So tasty!
Equipment
Pie/tart/flan dish, about 8-9 inch diameter. Plus greaseproof/parchment paper and some dried pulse, rice, or baking beans to blind bake the pastry.

Rolling pin

Small saucepan, to prepare custard filling.

A hand whisk, optional for whipping plant-based cream.
Ingredients
For the pastry:
225

g

plain flour

or all purpose flour

100

g

dairy free margarine

such as Vitalite or Flora pure dairy free.

25

g

icing sugar

or confectioners/powdered sugar

2

tbsp

water
For the filling:
30

g

custard powder

I use Birds custard powder.

30

g

granulated sugar

Or caster sugar.

300

ml

soya milk

Alternatively use any variety of plant milk.

340

g

pineapple

fresh or tinned, drained and juice/syrup reserved.

100

ml

pineapple juice

If using tinned pineapple use 100ml of the drained juice or syrup. Otherwise use fresh pineapple juice or simply sub for 100ml plant milk.
For spreading on the cooked pastry base:
9

tbsp

pineapple jam

Alternatively use apricot jam or any other jam you have to hand.
To serve:
1

carton

vegan double cream

I use Elmlea plant-based fresh double cream, available from most UK supermarkets.

1

lemon rind

zested/grated.
Instructions
Prepare the pasty:
Place the flour and margarine into a mixing bowl.

Rub both together with your fingertips until mix resembles breadcrumbs.

Stir the water through the crumbs with a cutlery knife. Using your hands press the crumbs firmly together into a ball.

Knead a little just until the pastry is a smooth ball.

If the dough is too sticky just sprinkle a little more flour and roll the ball through it. If the pastry is too crumbly incorporate small amounts of water until the dough ball is formed.

Pastry should be soft, pliable and not sticky.

Place the pastry dough on a small plate and wrap it in greaseproof paper or a clean tea towel. Place in the refrigerator for at least 20-30 minutes.

Meanwhile preheat your oven to 170 Fan/ 190 Celsius/ 374 Fahrenheit/ Gas 5.

Grease your pie dish.

Sprinkle some flour onto your worktop,

Roll out the chilled pastry until roughly about 3 mm thickness. If you prefer a thicker pastry it will require longer baking to cook through.

Lift the pastry by draping it around your rolling pin and carefully place it on top of your pie dish. Press the pastry down into the pan and sides.

Don't worry if some pastry breaks as it can easily be pressed back together.

Using a knife, trim the overlapping pastry.

Prick the base of the pastry all over with a fork.

Take a piece of greaseproof paper slightly larger than your pie dish diameter and scrunch it up.

Press the paper into the pie dish covering the pastry.

Pour in your baking beans or dried beans, etc.

Bake for 25 minutes on the middle shelf.

Remove the pastry case from the oven.

Pull the ends of the greaseproof paper together and funnel the beans back into their storage jar. Or leave to cool on the paper if your storage is plastic.

Turn the oven down to 160 F and place the pastry back in the oven for 10-15 minutes to bake until golden and the bottom feels crisp.

Remove from the oven and set aside to cool.

Once cool spread the jam to cover the base. Whipping the jam a little with a teaspoon will make it easier to spread.
Prepare the filling:
Mix the custard powder and sugar together in a small saucepan.

Pour a few splashes of plant milk into the custard-sugar powder and stir to make a smooth paste.

Gradually add the rest of the milk and the pineapple juice, stirring to avoid any lumps.

Add the pineapple chunks. Bring to the boil over a medium heat, stirring frequently to avoid sticking to the pan or lumps forming.

When boiling, turn the heat down to low and gently simmer for 2- 3 minutes.

Stir constantly.

Pour and scoop the pineapple mix into the pie crust. Smooth the top.

Leave for an hour to cool before placing into the refrigerator to set and chill completely.

This tart is best served after its been chilling for several hours or over night.

Optional: Whip up some vegan double cream to serve and sprinkle with grated lemon zest.
Notes
Nutritional calculations are estimates and not exact as ingredients vary and data is calculated using computerised apps. Data is provided for guidance only.
This pineapple tart is best served chilled and will be at its best the day after preparing.
Store pineapple tart in the refrigerator in a covered container or on a plate covered in food-safe wrap.
Pineapple tart will keep fresh for up to 4-5 days. 
Whipped vegan cream is a tasty accompaniment. Other ideas include a scoop of vegan ice-cream or vanilla yogurt. 
Nutrition
Calories:
305
kcal
|
Carbohydrates:
52
g
|
Protein:
4
g
|
Fat:
9
g
|
Saturated Fat:
2
g
|
Polyunsaturated Fat:
3
g
|
Monounsaturated Fat:
3
g
|
Trans Fat:
1
g
|
Sodium:
103
mg
|
Potassium:
160
mg
|
Fiber:
2
g
|
Sugar:
23
g
|
Vitamin A:
581
IU
|
Vitamin C:
25
mg
|
Calcium:
64
mg
|
Iron:
2
mg
Looking for more recipes using custard powder?
Try this really easy, family-favourite chocolate custard pudding recipe. Perfect served with fresh fruit especially berries. Delicious packed into little reusable pots for a tasty, budget-friendly pack-lunch replacement for yogurt.
Here's another delicious traditional British tart to discover:
Scottish Border Tart is perfect for everyday enjoyment with a nice cup of tea. Scottish Border tart is a great mince-pie alternative and is a valuable recipe to save for the festive season. This yummy tart is a traditional favourite popular at wee Scottish tearooms and bakeries.