This Old-Fashioned Pineapple Custard Tart is a British old-school dinner dessert that had its hey day during the 70s and 80s. Pineapple Custard Tart is also a much loved traditional Australian dessert.
Pineapple custard tart is a no-egg tart as it uses custard powder mixed with sugar and milk to make a deliciously thick, sweet custard. Also any type of milk can be used with the custard powder to create the quick and easy custard, so just go with your usual milk. Canned pineapple is mixed through the home-made custard and poured over a pastry crust that has been given a layer of fruit jam, such a deliciously easy and fuss-free dairy and egg-free pudding.
Also, if you're not a fan of pineapple simply switch it out for banana, to create The Best Banana Custard Tart! And go one step further by sprinkling toasted coconut over the banana tart to create a tasty Old-School Dinners Traditional Manchester Tart.
This Traditional British Pineapple Custard Tart features a quick custard mixed with canned pineapple pieces and poured into a crisp, sweet, buttery pastry crust. For extra special occasions top the pineapple tart with whipped double cream and sprinkle with tangy lemon zest. Perfect for a refreshing plant-based and vegan summer dessert.
Medieval custard tarts
Custard tarts, as well as fruit tarts, have been around since the middle ages. Medieval custard tarts were often more elaborate than modern custard tarts. The custard would sometimes be combined with bone marrow, meat, almonds, fresh fruit, dried fruit, and flavored with spices such as saffron, ginger, or cloves. The tarts could be coloured with natural dyes, such as sandalwood for red, or saffron for yellow.
The custard for these tarts was typically made from eggs, milk or cream. However, the texture was often thicker and heavier, because the custard would need to be sturdy enough to hold up in a free-standing pastry crust. The crusts were sometimes more like a pot or a dish rather than a thin pastry shell.
One of the most famous medieval custard tart recipes is the "Douce Ame," or ''Doucetes'' which translates to "sweet soul." It was flavored with spices and sweet wine, and a variation was said to be a favorite of the English King Richard II. This recipe, along with others, can be found in the "Forme of Cury," a cookbook commissioned by the king in the 14th century.
The Forme of Cury recipe for ''Daryols'' calls for either almond or cows milk mixed with eggs, sugar, saffron and salt and baked within a two inch pastry case [see recipe number 183 in Glyn Hughes book which is a translation of the Forme of Cury, Rendered into Modern English, published in 2016]. It may be surprising to learn that almond milk has been around since the medieval times!
Custard tarts were served at Henry IV's coronation in 1399. The tart was laced with saffron and honey, which were very prized ingredients. It may have also been sweetened with sugar, which was very expensive at the time as it had to be imported. The tart was served alongside other dishes, such as fritters and candied quince with the banquet table also featuring a variety of meats, such as curlews, partridges, quails, rabbits, and small birds!
The coronation of Henry IV was a lavish affair and the custard tart was a symbol of the new king's wealth and power. It was also a reminder of the importance of food in medieval society.
Food was not only a source of sustenance, but it was also a way to show off one's wealth and status with the custard tart being a perfect example.
Custard tarts was an expensive dish that was only served to the most wealthy in society.
Victorian custard tarts
Queen Victoria [1837-1901] was known to be quite fond of custard tarts as well as the classic Victoria Sponge Cake, for afternoon tea.
During the Victorian period, pastries and desserts became an important part of upper class entertaining and dining, and more intricate, delicate, and creative pastries were developed which were influenced by French patisserie.
Custard tarts, made from a pastry crust filled with a mixture of eggs, cream, sugar, and sometimes flavorings like nutmeg or vanilla, was a common Victorian dessert and they were enjoyed as part of an afternoon tea, a tradition that arose during the Victorian era.
For the working classes, the Victorian cookbook writer Mrs Beeton [1836-1865] included a recipe for Manchester pudding in her famous book Mrs Beeton's Book of Household Management [pg 654]. Manchester pudding made use of leftover bread crumbs, along with eggs, milk, butter, sugar, lemon zest, and an optional splash of brandy, and provided a budget-friendly dessert for the poorer Victorian classes.
From the Manchester pudding, a dessert called Manchester Tart evolved which featured a pastry tart with fruit jam spread over the base, before being filled with a thick egg custard and baked. During the 70s and 80s, Manchester Tart was a popular British school dinners dessert which often had a layer of fresh bananas over the fruit jam, and toasted desiccated coconut sprinkled over the custard.
Invention of custard powder
Alfred Bird, a chemist, developed the egg-free custard powder using cornflour (cornstarch) to thicken the milky mixture instead of eggs. He mixed the cornflour with sugar, and added vanilla flavouring and a colouring, to create a powder that, when mixed with hot milk, would make a yellow custard sauce. This new custard was not only perfect for his wife, but also a brilliant invention for the many people who were allergic to eggs, or couldn't afford to buy or easily access eggs.
The custard powder was initially made only for his wife, but it soon became popular with the public once they tried it. Bird started selling his custard powder in 1843 and formed the company Bird's Custard.
Bird's Custard became an iconic British brand and the product gained more popularity during the first and second World Wars because it was easy to prepare, store, and it was a great substitute for traditional custard during times when fresh eggs and milk were scarce. Custard powder was part of the soldiers rations during World War 1.
During the recent cost-of-living crisis egg and dairy prices have surged so preparing traditional custard with plant-based milk and a relatively inexpensive tub of custard powder, with no eggs required just makes sense.
Naturally, custard powder has become increasingly popular with vegans and plant-based diets as it is the perfect replacement for eggs in custard tarts.
Pineapple Custard Tart is just so tasty and perfect for enjoying as a fresh summertime dessert and during the long winter evenings a bite of this pineapple tart will bring the flavour of sunny bygone days!
Pineapple tarts around the world
Little individual pineapple tarts are common in some Asian countries such as Indonesia, Malaysia, Singapore and Taiwan.
These tarts are typically small, bite-sized pastries filled with pineapple jam. The tradition of making pineapple tarts is especially common for celebrations and festivals, particularly Chinese New Year, as pineapples are seen as a symbol of wealth, luck, and prosperity.
The Chinese custard tart is also known as a Hong Kong Egg Tart.
The UK, or more specifically Scotland, also has mini pineapple tarts that are a classic treat found in most Scottish bakeries. These little tarts feature a crisp pasty base, pineapple jam, and a synthetic cream filling topped with a yellow-dyed icing.
How to prepare pineapple custard tart
This dairy and egg-free pineapple custard tart is so easy and quick but can be prepared even quicker. For instance, use a shop-bought pastry crust and/or a ready-made custard, and simply assemble the tart and chill.
Also, if preferred switch the pineapple out for banana for a delicious banana custard tart which if sprinkled with some toasted or plain desiccated coconut transforms the dessert into a traditional Manchester tart.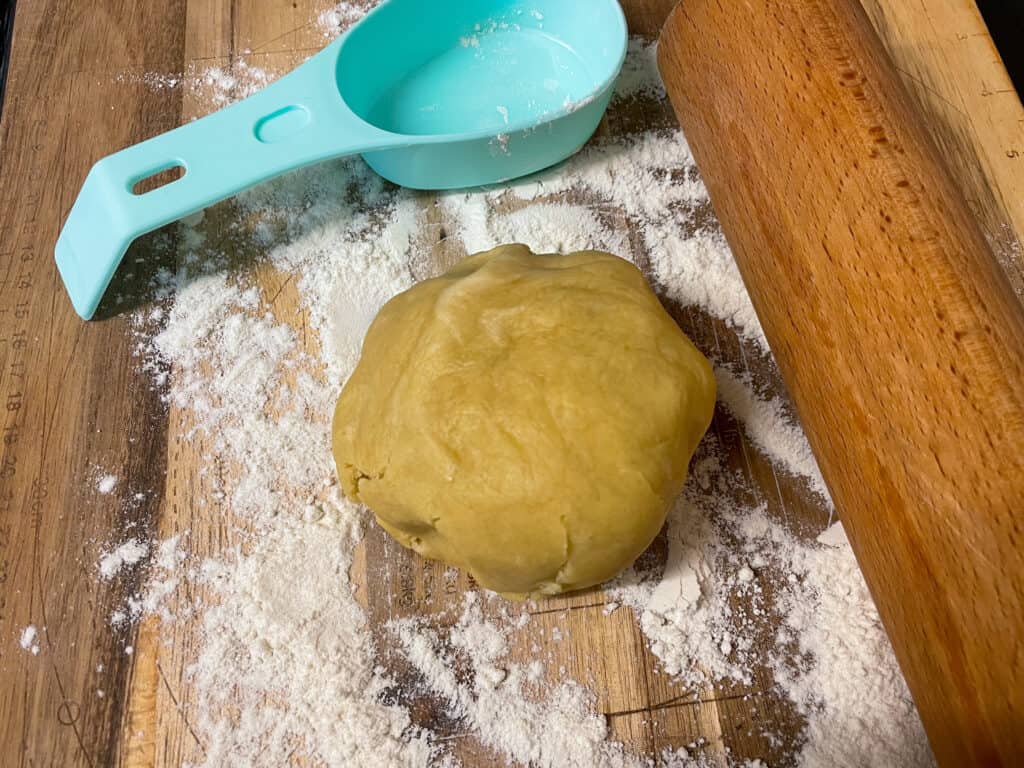 Prepare the pastry.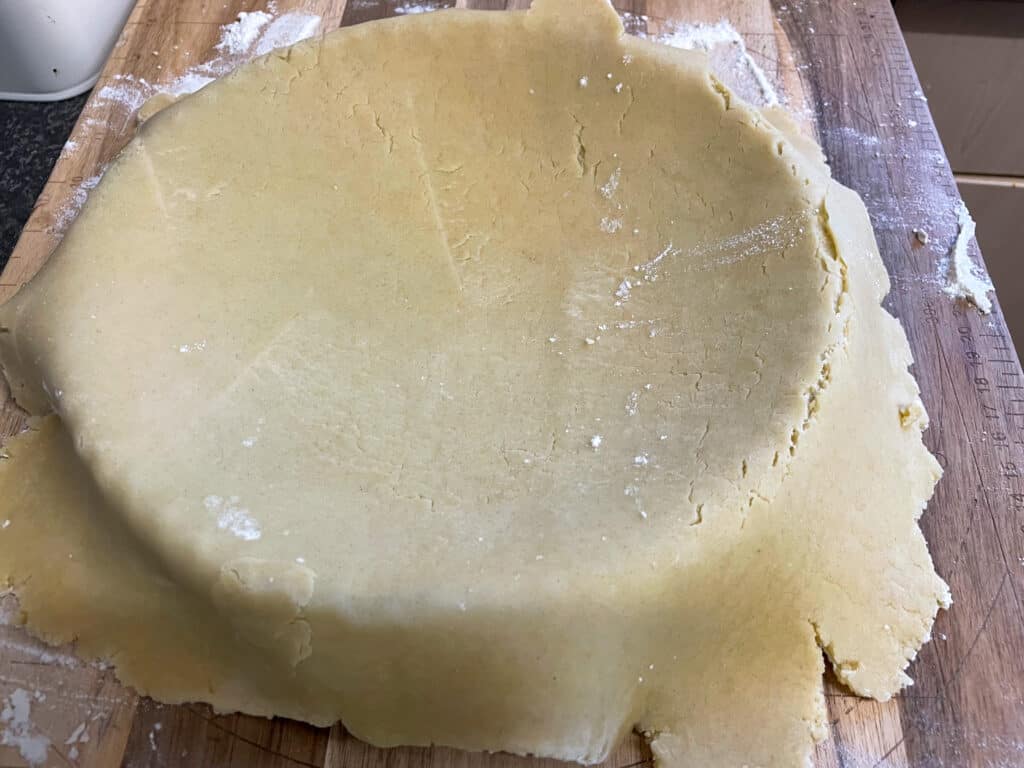 Line the flan dish and precook the pastry.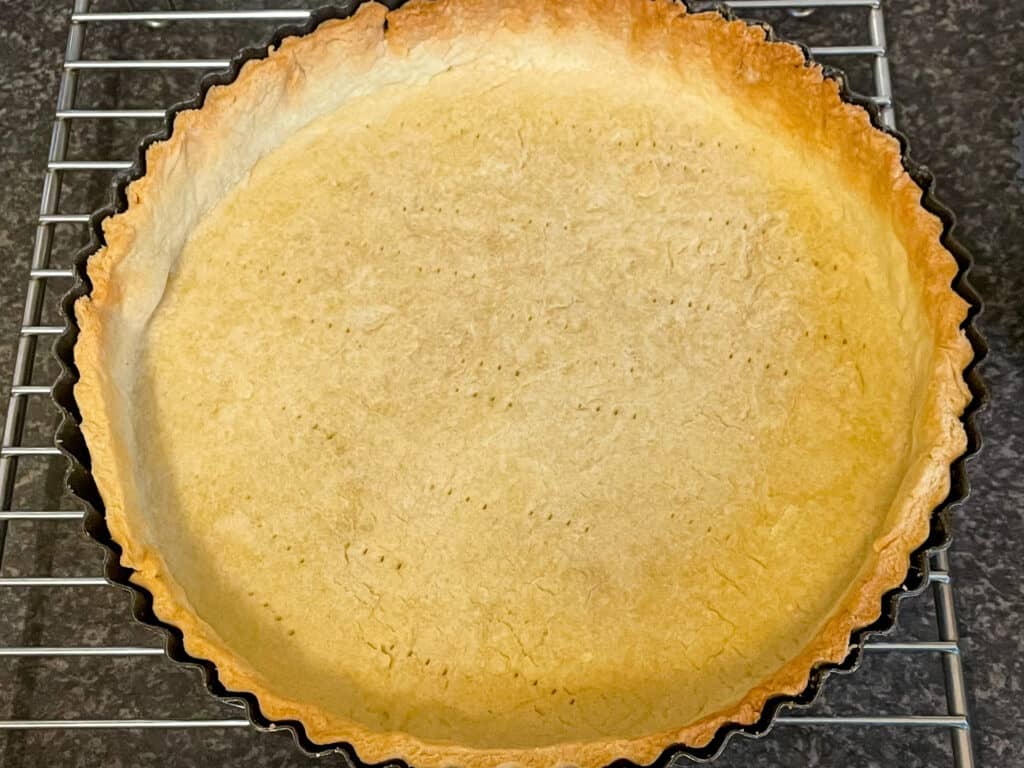 Once ready cool the pastry crust before adding the filling.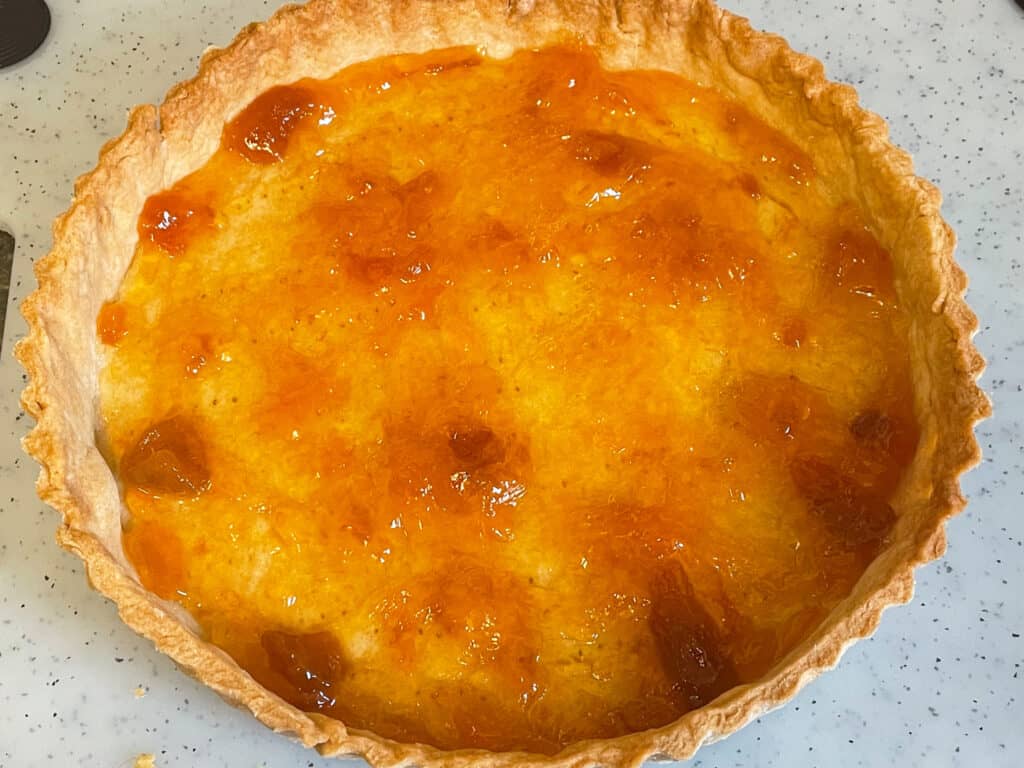 Spread fruit jam over the bottom of the pastry crust.
Prepare the custard by first mixing the custard powder with the sugar. Pour a small amount of milk into the pan to create a smooth paste.
Gradually pour the rest of the milk, including the canned pineapple juice, into the pot, stirring well each time, until all the milk has been incorporated.
Bring the custard to a gentle boil and cook for 2-3 minutes until the custard is nice and thick.
Stir the canned pineapple pieces into the custard.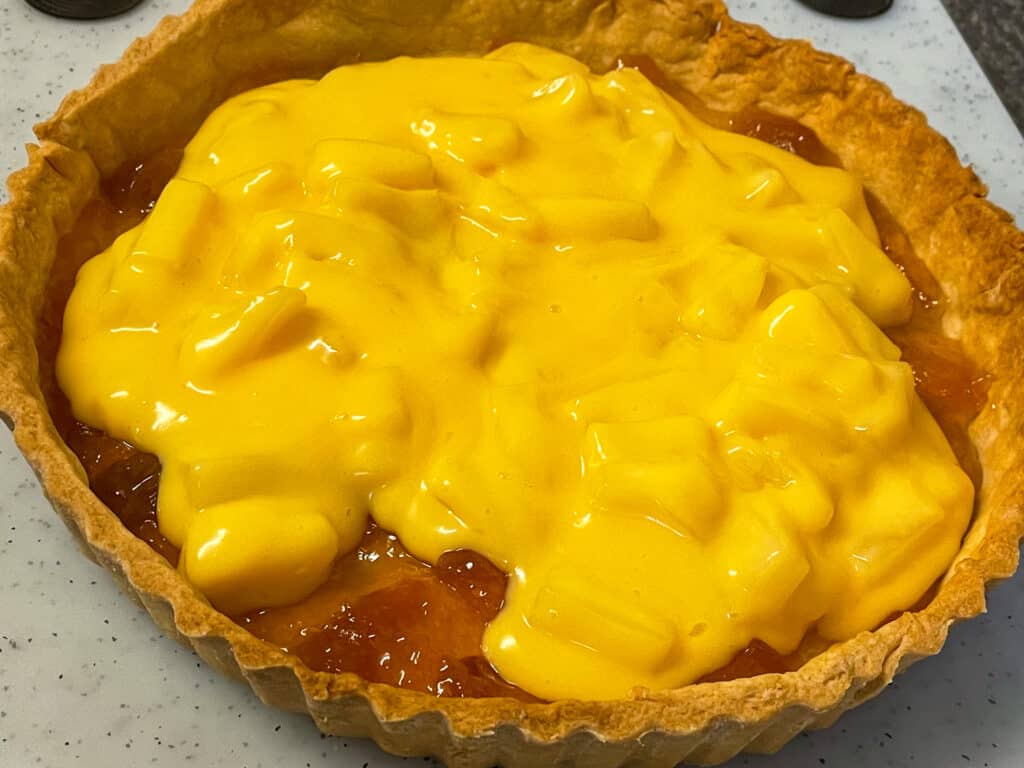 Pour and scoop the pineapple custard into the cooked pastry crust.
Place the pineapple tart into the refrigerator so that it can set.
Optional: Whip up some vegan double cream or use a ready-prepared can of plant-based spray cream.

Spread the cream over the pineapple tart.

Finish with a sprinkle of fresh lemon zest.
Recipe notes and frequently asked questions
Storage
Custard tart can be stored within an covered container and kept in the refrigerator for up 3-4 days. If storing the tart on a serving plate wrap the plate well with food wrap of kitchen foil. The custard tart will be at its best 1-2 days after preparing, but will be perfectly edible for a few more days.
We have not tried freezing this vegan custard tart so can not recommended it as the texture of the custard, which is prepared with custard powder rather than eggs, may not survive the freezing process as the custard may split and become runny once thawed.
What goes well with custard tart?

Vegan whipped cream is a great accompaniment to a custard tart, as is a scoop of vegan ice cream or vegan vanilla yogurt. A few fresh berries such as strawberries, raspberries,or blackberries are a tasty fresh accompaniment. Finally for extra special occasions a sprig of mint can add pop of colour and nice herby flavour.
What could I use leftover sweet pastry for?

Sometimes when preparing pies, flans or tarts there is a small amount of pastry leftover. This pastry can be repurposed into a new tasty baking treat.

A few ideas:

* Leftover pastry can be frozen for a few months. If you freeze all your little bits of leftover pastry you will soon have enough for a new pie, tart, or flan, or even for pie crust decorations.

* Use leftover pastry to fashion little pie crust decorations, for example little leaves and berries for an apple pie crust.

* Use leftover pastry to bake a few delicious jam tarts, check out our easy Traditional British Jam Tarts recipe for the method and for a quick home-made fruit jam try our Quick Blueberry Chia Jam recipe.

* Prepare empty tart shells by following the method for our British Jam Tarts [link to recipe above], but leave the tart shells empty and bake until golden and crisp. The cooled tart shells can be filled with Vegan Chocolate Custard Pudding or Whipped Tofu Chocolate Pudding for delicious little chocolate custard tarts, or filled with canned fruit or fresh fruit and topped with vegan whipped cream for individual vegan fruit cream pies.

* Kids especially love a piece of pastry to play with and create little figures, animals and shapes with cookie and biscuit cutters. Brush a little plant-based milk over each pastry biscuit and sprinkle a little sugar and perhaps some cinnamon. A few raisins can be chopped up and used as eyes, noses, etc if little pastry gingerbread men are fashioned. Bake until golden and crisp. Oh and if your looking for a vegan gingerbread man recipe do check our our Vegan Gingerbread Men recipe.

* Prepare a few pastry twists, rather like the shape of thin bread stick twists, by twisting strips of rolled pastry into spiral shapes, brush with melted vegan margarine or butter, and sprinkle over sugar and perhaps a dash of cinnamon, apple pie or pumpkin spice or mixed spice. Bake until golden and crisp.

* Fruit turnovers or home-made pop tarts can be made by rolling out a square of pastry and placing a small amount of stewed fruit, fine diced apples, fruit jam, etc in the middle. Brush some plant-based milk around the edges and pull the sides together so that a small triangle pie is formed. Alternatively roll out 2 rectangle shapes, add a small amount of filling, brush the edges, and place the other rectangle over to seal. Brush plant-based milk over the top and sprinkle with sugar. Bake until golden and crisp. Instead of a sugar topping, leave plain, and then once baked and cooled cover the top with some thick water icing and then decorate with vegan cake sprinkles.
How can I prepare vegan custard tart more quickly?

The following are a few time-saving tips for preparing the best vegan custard tart in as little time and fuss as possible!

* Prepare the pastry a day or two in advance or even bake the pastry crust in advance. Baked pastry crusts can be covered in food wrap and frozen for up to 3 months. Although, do leave the cooked pastry crust in the flan dish to avoid the possibility of breakage in the freezer

* Use a ready-made (vegan-friendly) pastry crust and simply add the pineapple custard to the crust.

* Use a ready-prepared shop-bought pastry dough which can even come ready-rolled.

* If your not too keen on pastry this can be omitted and chilled pineapple custard can be enjoyed instead. Divide the custard between individual serving dishes, chill and then perhaps enjoy with a scoop of vegan whipped cream or ice cream and a few slices of fresh fruit for a garnish. Alternatively, the pineapple can be replaced with fresh banana for a retro banana custard pudding.

* Even though fresh pineapple can be used to prepare this custard tart, canned pineapple is a great time saver as there is no need to peel and chop fresh pineapple which can also be quite expensive especially when they are out of season. But of course use fresh pineapple if you prefer. A reduced 'yellow sticker' pineapple that is really ripe is perfect for this tart.
Where can I find custard powder outwith the UK?

Custard powder is a common ingredient in the UK, but it might be found in different places depending on where you live.

Here are some suggestions:

Supermarkets/Grocery stores: In some countries, custard powder can be found in the baking section of larger supermarkets. Look near the pudding mixes or baking supplies.

Online: Websites like Amazon and other online grocery or specialty food stores often carry custard powder.

International or British Specialty Stores: If you live near an international or British specialty store, they're likely to carry custard powder.

Indian or Asian Markets: As custard powder is also used in some Indian and Southeast Asian recipes, you might find it in your local ethnic market.
Can the custard powder be replaced?

Yes there are a few custard powder substitute that could be used if you can't find custard powder, but if you can access custard powder then do so as its a really handy ingredient to have and can be added to other bakes such as biscuits and cookies.

A few ideas:

Vegan Custard Powder: Some health food stores or online retailers sell vegan custard powders that use non-dairy milk powder, although do add less plant-based milk or water to the powder when making it up as you want the custard to be quite thick.

Cornstarch and Vanilla: You can often replace custard powder with cornstarch for thickening, and add vanilla for that custard powder flavour. Use the same amount of cornstarch as the custard powder in the recipe and add a pinch of salt. The finished custard won't have the same colour as custard powder but will still be tasty, but if preferred a few drops of a vegan yellow food colouring could be added to the custard.

Vegan Vanilla Pudding Mix: Some brands of vanilla pudding mix are vegan (like Simply Delish), but you will need to check the ingredients carefully to ensure they don't contain any animal-derived products as recipes do change.
Can I buy vegan vanilla pudding mix in the US?

Yes, there are several brands that offer vegan pudding mixes in the United States. A popular brand is Jell-O, which makes an Instant Vanilla Pudding Mix that is typically vegan (although always check the label to confirm, as recipes can change). Jell-O is also available to purchase on Amazon UK.

Another brand is Simply Delish, which offers a Vanilla Pudding and Pie Filling that is marketed as vegan.

It's important to note that while the mix is vegan, the instructions on the package often call for dairy milk so you will need to use a plant-based milk to keep the final pudding vegan. Also you may need to add a little less plant-based milk to the pudding mix as it may not set as well.
More vegan afternoon tea time recipes
My family loves sweet tart or pie recipes so this collection is always growing as we discover new traditional favourites to adapt into vegan deliciousness. Although vegan desserts are not just for vegans, they can be enjoyed by everyone and anyone as they use everyday ingredients, nothing fancy or fussy!
For more baking recipes do check out our family collection of Vegan Baking Recipes.
***please note: for US measurements click the 'US customary button' within the recipe and the measurements will switch to tablespoons, cups, and ounces.***
📖 Recipe
Traditional Pineapple Custard Tart
Print Recipe
This Old-Fashioned Pineapple Custard Tart is a British old-school dinner dessert that had its hey day during the 70s and 80s, but has likely been around for much longer. Pineapple Custard Tart is also a much loved traditional Australian dessert. If you're not a fan of pineapple simply switch it out for banana, to create The Best Banana Custard Tart or go one step further by sprinkling toasted coconut over the banana tart to create a tasty Old-School Dinners Traditional Manchester Tart.
Equipment
Rolling pin

pie [flan] baking dish,

about 8-9 inch diameter

greaseproof or parchment paper,

some dried pulse, rice, or baking beans to blind bake (pre-cook) the pastry

dried pulse, rice, or baking beans,

to blind bake (pre-cook) the pastry

Small saucepan

to prepare custard
Ingredients
shortcrust pastry:
225

grams

plain flour

[or all purpose flour]

100

grams

plant-based margarine

[such as Vitalite, Flora pure dairy free, or Stork, or your usual baking margarine or butter]

25

grams

icing sugar

[confectioners or powdered sugar]

2

tablespoons

water

[possibly a little more may be required]
pineapple custard filling:
30

grams

custard powder

[such as Birds custard powder]

30

grams

granulated sugar

[or caster sugar]

300

millilitres

plant-based milk

[or your usual type of milk]

340

grams

canned pineapple

[drained, but reserve the juice or syrup] can use fresh pineapple

100

millilitres

pineapple juice

[If using canned pineapple use 100ml of the drained juice or syrup. Otherwise use fresh pineapple juice or simply omit the juice and use an extra 100ml milk.]
For spreading on the cooked pastry base:
9

tablespoons

pineapple jam

[Alternatively use apricot jam or any other fruit jam you have to hand.]
To serve, optional:
1

carton

vegan double cream

[We use Elmlea plant-based fresh double cream, available from most UK supermarkets, and this can be whisked so that it thickens up, alternatively use any cream you prefer]

1

lemon

[zested or fine grated]
Instructions
Prepare the pasty:
Place the flour and margarine [chopped into small pieces], into a mixing bowl.

Rub the margarine into the flour with your fingertips until the mixture resembles breadcrumbs.

225 grams plain flour,

100 grams plant-based margarine

Stir the water through the crumbs with a cutlery knife until the pastry begins to clump together, you may need a little more than two tablespoons.

Using your hands press the dough firmly together into a ball.

Knead a little just until the pastry is a smoothish ball.

If the dough is too sticky just sprinkle a little more flour and work it in the dough.

If the pastry is too crumbly incorporate small amounts of water until the pastry dough ball is formed.

The pastry should be soft, pliable and not sticky.
Chill the pastry:
Place the pastry dough on a small plate and wrap it in greaseproof paper, food wrap or a clean tea towel.

Place the dough into the refrigerator to chill for at least 20-30 minutes.
Blind bake the pastry crust:
Meanwhile preheat your oven to 170 Fan / 190 Celsius / 374 Fahrenheit / Gas 5.

Grease your pie or flan dish with margarine.

Sprinkle some flour onto your worktop,

Roll out the chilled pastry until roughly about 3 mm thickness. If you prefer a thicker pastry it will require longer baking to cook through.

Lift the pastry by draping it around your rolling pin and carefully place it on top of your pie dish.

Press the pastry down into the pan and the pan sides.

Don't worry if some pastry breaks as it can easily be pressed back together.

Using a knife trim the overlapping pastry.

Prick the base of the pastry all over with a fork.

Take a piece of greaseproof paper slightly larger than your pie dish diameter and scrunch it up.

Press the paper into the pie dish covering the pastry and the sides.

Pour in your baking beans or dried beans/rice.

Bake the pastry crust for 25 minutes on the middle shelf.

Remove the pastry case from the oven.

Pull the ends of the greaseproof paper together and funnel the beans back into their storage jar.

Or leave the beans to cool on the baking paper if your storage container is plastic.

Turn the oven down to 160 F / 180C / 356 Fahrenheit / Gas 4 and place the pastry back in the oven for 10-15 minutes to bake until golden and crisp, check the crust after 10 minutes so that it does not over-cook.

Remove the pastry crust from the oven and set aside to cool.

Once cool spread the fruit jam all over the the pastry base.

Whipping the jam a little with a teaspoon will make it easier to spread.

9 tablespoons pineapple jam
Prepare the filling:
Mix the custard powder and sugar together in a small saucepan.

Pour a few splashes of milk into the custard-sugar mixture and stir to make a smooth paste.

Gradually add the rest of the milk and the pineapple juice, stirring to avoid any lumps.

30 grams custard powder,

30 grams granulated sugar,

300 millilitres plant-based milk,

100 millilitres pineapple juice

Add the pineapple chunks.

Bring to the boil over a medium heat stirring frequently to avoid sticking to the pan or lumps forming.

340 grams canned pineapple

When boiling, turn the heat down to low and gently simmer for 2-3 minutes, stirring constantly.

Pour and scoop the pineapple custard into the pie crust and smooth out the top.

Leave the pineapple tart for an hour to cool before placing into the refrigerator to set and chill completely.

This tart is best served after its been chilling for several hours or even better over night.

Optional: Whip up some vegan double cream to serve alongside the tart or spread over the tart surface.

Sprinkle with grated lemon zest to finish.

1 carton vegan double cream,

1 lemon
Notes
Nutritional information is for guidance only and is not a strict calculation as ingredients vary.
Pineapple custard tart is best served chilled and will be at its best the day after preparing.
Store pineapple tart in the refrigerator in a covered container or on a plate covered in food-safe wrap.
Pineapple tart will keep well for up to 3-4 days. 
Whipped cream is a tasty topping or accompaniment. The cream we used was Elmlea Fresh Plant-Based Double cream but we have also used the spray cream Food Heaven Whipped Spray Cream Vegan, sourced from Tesco UK.
Save time by using a shop-bought ready-baked pastry crust or unbaked but ready-prepared shortcrust pastry.
Nutrition
Calories:
305
kcal
|
Carbohydrates:
52
g
|
Protein:
4
g
|
Fat:
9
g
|
Saturated Fat:
2
g
|
Polyunsaturated Fat:
3
g
|
Monounsaturated Fat:
3
g
|
Trans Fat:
1
g
|
Sodium:
103
mg
|
Potassium:
160
mg
|
Fiber:
2
g
|
Sugar:
23
g
|
Vitamin A:
581
IU
|
Vitamin C:
25
mg
|
Calcium:
64
mg
|
Iron:
2
mg
If you've prepared our tasty Old-Fashioned Pineapple Tart then do let us know how you got on and click the star ratings. Thanks so much, Love Jacq x