Spanish chickpea stew is a humble, wholesome, and budget-friendly meal that's perfect for quick meat-free weeknight dinners. Serve it up with a wedge of crusty bread to mop up all that savory sauce, and for an extra burst of flavor, add some optional garlic stuffed olives and a drizzle of vegan sour cream. So satisfying and tasty!
The combination of humble ingredients in Spanish chickpea stew work together to create a simple, yet incredibly flavorful meal that is perfect for any season, whether you're looking for a comforting dish on a cold winter night or a light and refreshing meal during the summer months.
Origins Of Spanish Chickpea Stew
Chickpeas have a long history in Spanish cuisine and have been cultivated in the region for thousands of years. They are believed to have originated in the Middle East and were brought to Spain during the Arab occupation of the Iberian Peninsula in the 8th century. Chickpeas quickly became a staple food in Spain due to their versatility, nutritional value, and ability to thrive in the country's arid climate.
Spanish Chickpea Stew has a rich history, dating back to the Middle Ages when Spanish people began incorporating chickpeas into their rustic stews. This hearty peasant dish was a staple in Spanish households and often included meat such as pork, beef, or chicken.
Vegetables like potatoes, cabbage, carrots, chard, and green beans were also commonly added to the evolving stew. Over time, variations of the recipe emerged, with each region in Spain adding its own twist to the classic dish.
In recent years, vegan adaptations of Spanish Chickpea Stew have become increasingly popular, providing a healthy and delicious alternative that can be enjoyed by everyone.
Made with chickpeas, potatoes, bell pepper, onions, garlic, and a blend of herbs and spices, including the mandatory paprika, this vegan version is just as satisfying as the traditional recipe.
What do chickpeas taste like?
If you've never tried chickpeas, you're in for a treat! While they do have a delicious nutty flavor, the real beauty of chickpeas is their versatility as an ingredient. They can be used in so many different ways, from salads and stews to dips and spreads, making them a great addition to any kitchen.
Chickpeas have a mild, nutty flavor and a slightly grainy texture. They are often described as having a slightly earthy taste with a hint of sweetness. When cooked, chickpeas become tender and creamy. Chickpeas also have a subtle aroma that is pleasant and nutty.
Are chickpeas a good source of nutrition?
Absolutely! It is so worth including chickpeas in your diet as they are low in fat and calories yet packed with fiber, protein, and complex carbohydrates. Chickpeas are also rich in vitamins and minerals, including iron, magnesium, phosphorus, potassium, and vitamin B6. Consuming chickpeas may help lower cholesterol levels, reduce the risk of heart disease, and promote healthy digestion.
More chickpea recipes
Chickpeas are a staple in my family's diet and we love to incorporate them into many of our meals. Some of our favorite vegan chickpea recipes include this old-fashioned Creamy Chickpeas on Toast, and this veggie take on scrambled eggs: Scrambled Chickpeas.
I also can't forget to mention my favorite snack and vegetable stuffing, this amazing Sweet, Tangy, and Spicy Chana Chaat. It's so addictive, I could eat it by the spoonful!
If you're looking for an easy roasted chickpea recipe, be sure to check out our Cauliflower Soup, which includes an easy method for chickpea croutons. These crispy chickpeas also make for a delicious snack and a great alternative to chips.
When it comes to soups, a few of our go-to recipes are this Tamarind Chickpea Soup and this Lentil, Sweet Potato, and Chickpea Lasagna Soup.
Finally, I have to mention this Vegan Meatloaf Recipe which also features tasty green lentils and oatmeal. It's perfect for special family meals, such as Easter, Christmas, Thanksgiving, birthdays, and other extra special get-togethers.
How to prepare Spanish chickpea stew
This veggie stew is not only simple and quick to prepare, but also incredibly tasty and nutritious, making it a perfect addition to your family menu. It has become a regular on our own menu, especially on those days when I just can't think what to make, and we're sure it will become a favorite in your household too.
Begin by heating up some olive oil or veggie stock in a pot, and sauté the onions until they become translucent.
Then, add in the paprika, both fresh and dried garlic, dried herbs, and a pinch of sugar to enhance the flavors of the stew.
Next, pour in the tomato passata (or canned chopped tomatoes), followed by the veggie stock and tomato paste.
Then, add in the diced potatoes, chickpeas, and red bell pepper.
Bring the mixture to a boil, then reduce the heat to a simmer and let it cook for 20 minutes to allow the flavors to meld together.
Once the stew has simmered for 20 minutes, add in the red wine vinegar and season with salt and pepper to taste.
Then, mix in some chopped kale and let the stew simmer for an additional 10-15 minutes, or until the kale has wilted and the flavors have fully developed.
To finish, we like chucking in a few garlic stuffed olives and drizzling some vegan sour cream, yogurt or a dollop of vegan mayonnaise, whatever we have to hand in the refrigerator, for extra tastiness.
Recipe notes and frequently asked questions
Storage
Leftover Spanish chickpea stew can be stored in a covered container in the refrigerator for up to three days.
Alternatively, you can freeze the stew in a freezer-safe bag or container for up to four months. When you're ready to enjoy it again, simply defrost the stew completely before reheating.
Reheating
To reheat leftover Spanish chickpea stew, simply place it in a non-stick pot or pan with a splash of extra veggie stock to loosen up the sauce. Reheat the stew over medium heat, stirring frequently, until it is piping hot.
Can I use other vegetables in the stew?

Yes, feel free to add any other vegetables you like to the stew, such as carrots, zucchini, or spinach. Just be sure to adjust the cooking time as needed, depending on the type of vegetables you use.
Can I use sweet potatoes instead of white?

Certainly! If you prefer, you can substitute the white potatoes in this recipe with sweet potatoes for an equally delicious variation.
Can I use dried chickpeas instead of canned?

Yes, you can use dried chickpeas in this recipe. However, you will need to soak them overnight and cook them separately [according to package instructions] before adding them to the stew.

Cooking a whole package of chickpeas at once and freezing the excess can be a cost-effective and energy-efficient way to always have chickpeas on hand for recipes like this one.
Is Spanish chickpea stew spicy?

The recipe includes paprika, which gives the stew a subtle spiced sweet flavor, but it's not particularly spicy. If you prefer a spicier stew, you can add some chili powder or cayenne pepper to taste.
What can I serve with vegan Spanish chickpea stew?

* Crusty bread, garlic bread, or Irish soda bread to soak up the flavorful sauce

* A side salad of mixed greens or veggies, such as cucumber, cherry tomatoes, and bell peppers

* Rice, quinoa, or other grains to add some texture and bulk to the meal

* Tortilla chips or pita bread for dipping and scooping up the stew

* Roasted or grilled vegetables, such as zucchini, eggplant, or bell peppers, for a colorful and nutritious side dish

* A dollop of vegan sour cream, or vegan soft cream cheese, or a sprinkle of vegan cheese for some extra creaminess and flavor

* Pickled vegetables, such as onions, radishes, cabbage, or carrots, for a tangy and refreshing contrast to the stew

* Olives or other Mediterranean-style condiments for a flavorful garnish or accompaniment

* For a heartier meal, serve the stew with a side of roasted or mashed sweet potatoes, or alongside some vegan sausage for some added protein
What can I do with leftover Spanish chickpea stew?

There are many ways to repurpose leftover Spanish chickpea stew! Here are some ideas:

* Enjoy the stew on its own, reheated or at room temperature, for a quick and easy lunch or dinner.

* Use the stew as a filling for a wrap or burrito, along with some rice, avocado, and salsa for a flavorful and satisfying meal.

* Top a baked sweet potato with the stew for a hearty and nutritious meal.

* Use the stew as a topping for nachos or baked potatoes, along with some vegan cheese and guacamole for a fun and delicious twist.

* Transform the stew into a soup by adding some vegetable broth or coconut milk, blending it until smooth, and seasoning to taste with salt and pepper.

* Use the stew as a base for a hearty shepherd's pie or pot pie, topping it with some mashed potatoes or puff pastry for a comforting and filling meal.

* Make some stuffed bell peppers or zucchini boats by filling them with the leftover stew and baking until tender and golden.

* Add some cooked pasta or rice to the leftover stew and serve it as a one-pot meal for an easy and delicious dinner.

* Freeze the leftover stew in portions for a quick and convenient meal later on.

Is Spanish chickpea stew safe for gluten-free diets?

Yes! Spanish chickpea stew is generally considered safe for gluten-free diets. The recipe itself is naturally gluten-free, as it does not contain any wheat, barley, rye, or other gluten-containing grains.

However, it's important to check the ingredients of any canned or packaged products you use in the recipe, such as the vegetable stock, to ensure they are certified gluten-free.

Additionally, make sure to serve the stew with gluten-free bread or grains, such as rice or quinoa, to keep the meal entirely gluten-free.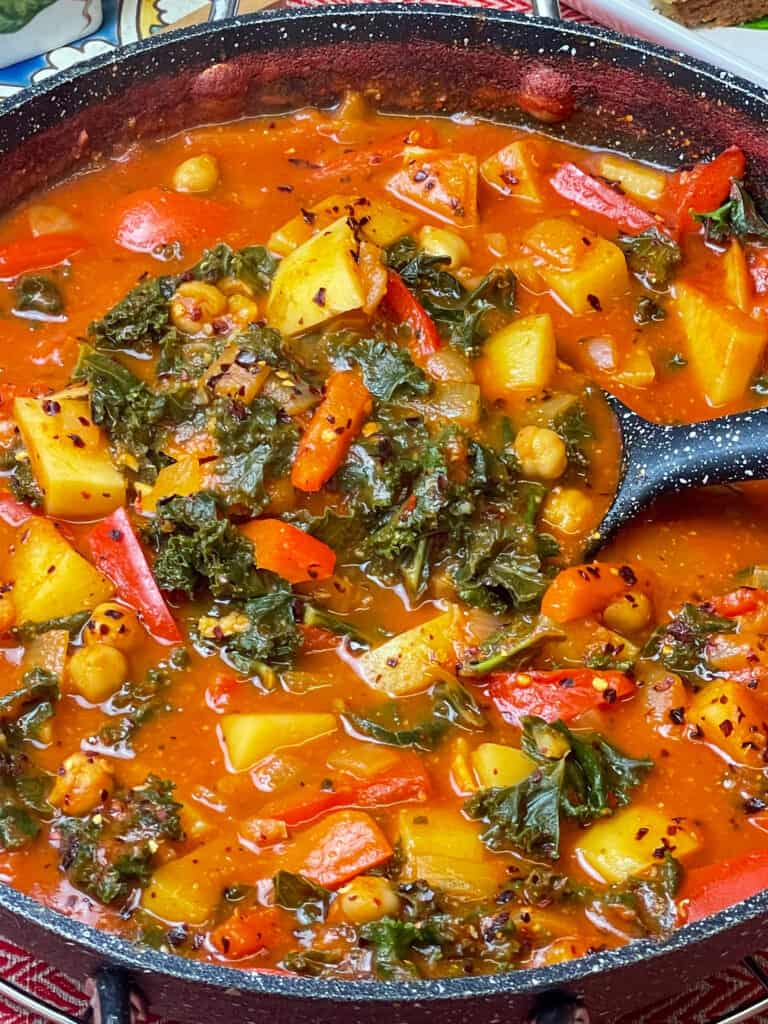 More tasty vegan traditional stews
***please note: For US measurements: 'cups, tablespoons, and ounces' click the button within the recipe that states US customary and the measurements will change***
Recipe
Vegan Spanish Chickpea Stew
Print Recipe
Looking for a quick and easy midweek meal that's bursting with flavor? This Spanish-inspired chickpea stew features creamy potatoes, sweet bell peppers, and hearty chickpeas, all stewed together in a rich tomato-paprika sauce, this dish is the perfect way to add some Mediterranean flair to your dinner routine.
Equipment
Non-stick sauté pan/deep frying pan/ skillet

with a lid or use a heat-proof plate
Ingredients
To sauté veggies:
125

millilitres

vegetable stock

[or 2 tablespoons of olive oil]
Stew:
550

grams

potatoes

Chopped into ½ inch or bitesize pieces.

1

can

chickpeas

400 grams/ 14 oz drained. About 1 ½ cups/240 grams cooked chickpeas

1

large

red bell pepper

sliced, can replace with mixed frozen peppers

150

grams

kale

remove large stalks and slice large leaves into small pieces

1

medium

onion

rough chopped

4

cloves

garlic

diced, use more garlic if liked

2

teaspoons

garlic powder

[optional but adds an extra flavour dimension]

2

teaspoon

dried mixed herbs

1

tablespoon

paprika powder

use sweet paprika if available

500

grams

tomato passata

or 2 400g/14oz cans of chopped tomatoes

1

tablespoon

tomato puree

[paste]

2

tablespoon

red wine vinegar

1

teaspoon

sugar

or maple syrup or your usual sweetener/sugar

1.2

litres

vegetable stock/broth

use extra if required
Instructions
Heat the olive oil or 125ml/½ cup of vegetable stock in the pan.

Add the onion and sauté over a low-medium heat for 5 minutes. Stir frequently.

125 millilitres vegetable stock,

1 medium onion

Add the garlic, paprika, mixed herbs, sugar, and garlic powder if using.

Mix well.

Dry fry for about 2-3 minutes. Stirring to avoid sticking.

4 cloves garlic,

2 teaspoons garlic powder,

2 teaspoon dried mixed herbs,

1 tablespoon paprika powder,

1 teaspoon sugar

Add the tomato paste and passata.

Pour in the vegetable stock.

Mix.

500 grams tomato passata,

1 tablespoon tomato puree,

1.2 litres vegetable stock/broth

Tip in the potatoes, chickpeas, and and bell pepper.

Stir.

550 grams potatoes,

1 can chickpeas,

1 large red bell pepper

Add a lid to the pan and bring to the boil.

Remove the lid and simmer for 20 minutes.

Add the red wine vinegar vinegar, kale, and some salt and pepper.

Simmer for 15 minutes.

2 tablespoon red wine vinegar,

150 grams kale

Check to see if the potatoes are fork tender. If not pop on the pan lid and allow to sit off the heat for 10 minutes.

Taste the seasoning and adjust if necessary.

Add an extra 125-250ml (½-1 cup) of vegetable stock if you prefer a looser sauce. I don't usually as my family prefers a thicker sauce.

Optional: To finish a squeeze of lemon juice over the stew is tasty as is garlic stuffed olives mixed through.

Plus a sprinkle of chopped basil or parsley.

A drizzle of vegan sour cream or plain yogurt is also a nice addition.
Notes
Nutritional information is provided for guidance only and may vary depending on the specific ingredients used. 
Leftovers can be stored in the refrigerator in a covered container for up to three days. To reheat, simply add a little extra veggie stock to the pan and cook over medium heat until the stew is piping hot throughout.
For longer-term storage, portions of the stew can be frozen for up to 3-4 months. Be sure to defrost the stew completely before reheating to maintain its texture and flavor.
Leftover Spanish chickpea stew can be used in a variety of creative ways, such as a filling for baked sweet potatoes or cabbage rolls, or as a tasty addition to toasted sandwiches, wraps, or flatbreads. Try adding some grated vegan cheese or your favorite condiments for extra flavor and texture.
For the ultimate meal experience, serve the stew with a nice chunk of crusty bread, a few garlic-stuffed olives mixed in, and a drizzle of vegan sour cream or ordinary plant-based cream. This will help to balance out the flavors and add some creaminess to the dish.
Nutrition
Calories:
330
kcal
|
Carbohydrates:
67
g
|
Protein:
13
g
|
Fat:
3
g
|
Saturated Fat:
1
g
|
Polyunsaturated Fat:
1
g
|
Monounsaturated Fat:
1
g
|
Sodium:
1701
mg
|
Potassium:
1652
mg
|
Fiber:
13
g
|
Sugar:
14
g
|
Vitamin A:
6290
IU
|
Vitamin C:
129
mg
|
Calcium:
153
mg
|
Iron:
6
mg
Thank you for trying out our vegan Spanish chickpea stew recipe!
We hope you enjoyed making and eating it as much as we do. If you tried this recipe, please let us know in the comments below how it turned out for you, or if you made any modifications.
If you share your creations on social media, don't forget to tag us (@traditionalplantbasedcooking) and use the hashtag #traditionalplantbasedcooking, so we can see your delicious dishes!
Lastly, if you found this recipe helpful, please share it with your friends and family, so they can enjoy it too.
Thank you, and happy cooking!
Love, Jacq x