This Vegan Coq Au Vin is a vegan take on the retro traditional French Coq Au Vin and is a delicious, flavour-packed meat-free meal that doesn't require traditional ingredients like chicken or red wine. Instead, we use home-cooked roast cauliflower steaks, vegan bacon, shallots, and mushrooms to create a fun delicious meat-free dinner. We include lots of substitution options so you can tailor our recipe to what you have in your pantry.
As this is a vegan no-wine coq au vin, to add the sweet, tangy and acidic notes that come from the red wine in traditional recipes, we use red wine vinegar, apple juice, tomato passata, vegetable broth, and soy sauce to create a deliciously deep, rich, thick, savoury sauce that is so good served along with fluffy mashed potatoes, crisp green beans, and crusty dinner rolls. Of course, you can always add a dash or two of red wine if you prefer!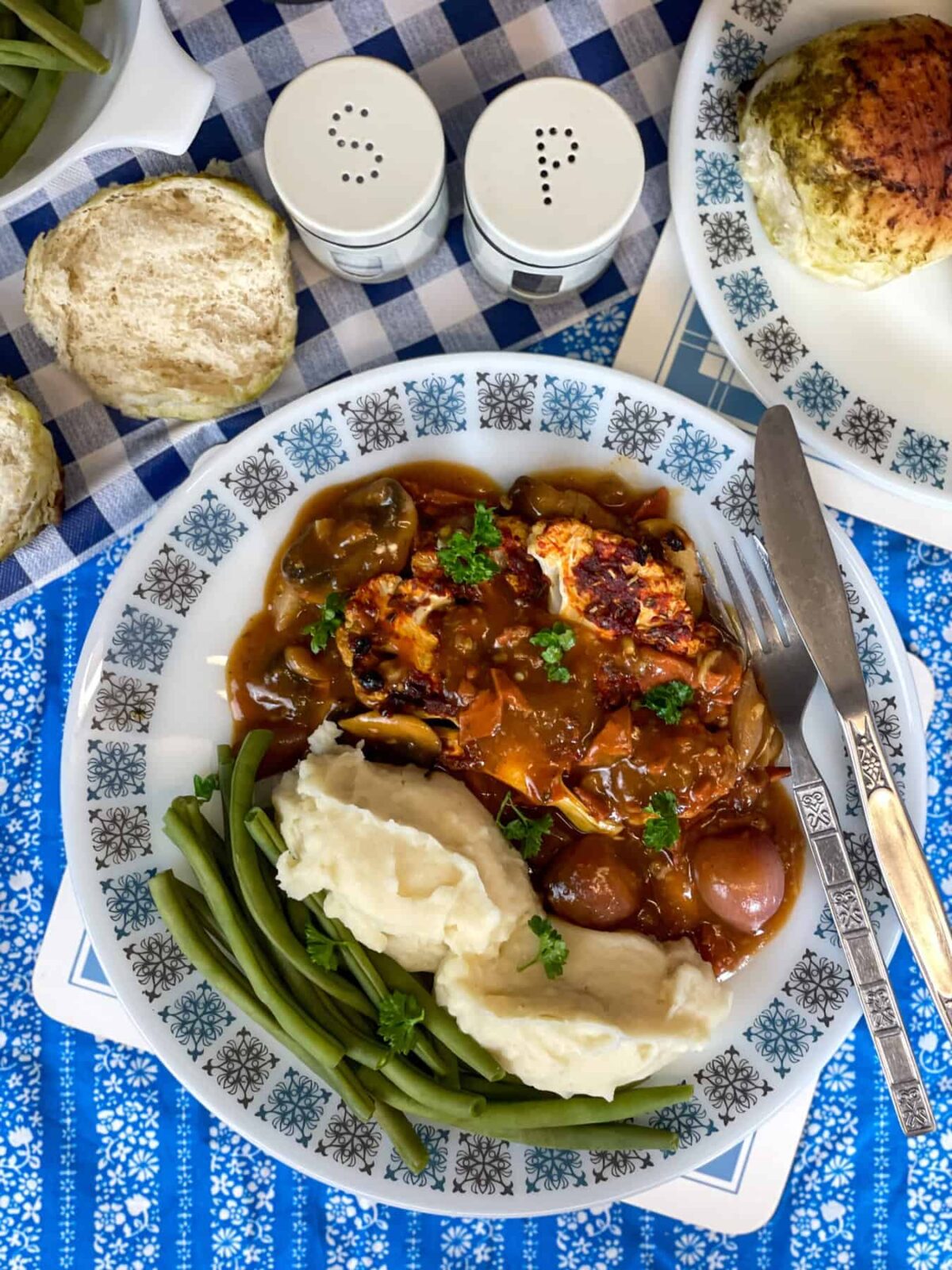 This vegan take on the classic French coq au vin features juicy mushrooms, sweet melt-in-the-mouth shallots, roasted herby-tomato cauliflower steaks, and a deep, rich, savoury, glossy sauce that will have you preparing this dish many, many more times! Not a fan of cauliflower? Scroll down for cauliflower alternatives or simply prepare the sauce and enjoy along with a big bowl of mashed potatoes and a big spoon! Yum!
What is coq au vin?
Coq au vin is a classic French Provencal or traditional French country cooking dish, hailing from Burgundy, that consists of chicken or rooster cooked in red wine such as Burgundy wine, along with lardons or bacon, mushrooms, and little pearl or baby onions.
The name "coq au vin" translates to "rooster with wine," which reflects the dish's origins in medieval peasant food as it was made with tough old roosters that were slow-cooked in wine to tenderize the meat. Meals such as coq au vin were created out of economic necessity as the poorer folk could not afford to waste any food available otherwise starvation was the stark reality, also meat if available was only likely eaten special occasions.
In modern times, coq au vin is typically made with chicken instead of rooster, and it is a beloved French comfort food that is often served at special occasions and a popular choice in fancy restaurants. The chicken is slowly braised in wine along with bacon, mushrooms, onions, and sometimes carrots or other vegetables. Additionally, some recipes replace the baby or pearl onions with shallots or ordinary onions.
Coq au vin is often served with green vegetables, roast or mashed potatoes, and crusty bread to soak up the richly flavoured sauce.
What herbs are used for coq au vin?
The herbs typically used in coq au vin are thyme and bay leaves, which are added to the dish during the cooking process to infuse the chicken and wine with their fragrant flavours. These herbs are classic French seasonings that go well with the sauces rich savoury flavours.
Other herbs, such as parsley or tarragon, may also be added for additional depth of flavour or as a garnish. However, the specific herbs used in coq au vin can vary depending on the recipe or personal preference, with some recipes also including garlic although technically garlic is a vegetable!
What is the origins of coq au vin?
One story claims that coq au vin dates back to the Ancient times of Julius Caesar, during the Gauls' conflict with the Romans. The story goes that the Gauls sent an old rooster, which represented the French soldiers courage and fury, to Caesar as a war trophy, and it was so tough that the only way to make it palatable was to slow-cook it in wine.
However, this may be more of a myth, as the earliest written references to a dish resembling Coq au Vin appear only in the 19th century, in cookbooks like "Cookery for English Households" by a French Lady [yes, that's what is stated as the author!] in 1864, where the dish is called "Poulet au Vin Blanc" which is chicken in white wine [pg93], and is followed a few pages later by ''Pigeons au Vin'' which is prepared with red Burgundy wine, thyme, bay leaf, parsley, and small onions [pg101].
Julia Child's coq au vin recipe
It wasn't until the 20th century that coq au vin was brought to popularity by The French Chef Julia Child, who featured Coq au Vin or Chicken in Red Wine with Onions, Mushrooms, and Bacon,[p277-278] in her cookbook "Mastering the Art of French Cooking" [1961] and on her US television show - ''The French Chef''[1963-1973].
As a result, coq au vin quickly became a popular dish for American and British housewives who developed a new interest in French cooking. Many dinner parties during the 1960s and 1970s featured the new coq au vin recipe.
Although, coq au vin was still going strong into the 1980s as Delia Smith, the popular English cook, included a recipe for coq au vin within her 1983 edition of Delia Smith Complete Cookery Course [pg 214] and she described the dish as ''a splendid dinner party dish'' [pg215].
In modern times, traditional coq au vin is considered a retro meal but it is making a come back!
Retro recipes may be making a come-back, but there's nothing better than a plant-based, vegan, and vegetarian make-over of a family-favourite retro meal! As tasty veggies can be the star-of-the-show or dinner table!
Preparing traditional coq au vin can be time consuming!
Preparing a classic coq au vin such as Julia Child's recipe can be quite time consuming as it involves lots of steps. First, the bacon is cooked first, then removed from the pan and then the chicken is browned before the bacon is returned to the pan. Next, cognac is poured over the chicken and set alight or flambéed!
Afterwards, the chicken is cooked in wine, while the mushrooms are braised and the onions sauteed, in separate pans. Next, a flour roux is prepared and a sauce made up. Finally, everything comes together in a casserole dish to be heated through. All these steps make for quite a hefty recipe that would result in many pots, pans, and dishes to clean up!
For our vegan adaptation of a coq au vin the main consideration was keeping it simple and relatively quick, whilst still retaining the tasty fresh flavours, and of course less washing up!
Easy and relatively quick Vegan coq au vin!
A vegan adaptation of the traditional French coq au vin is simply an evolution of the classic dish. All recipes evolve over time and go through changes to suit different dietary needs and preferences. Our vegan coq au vin utilises home-made cauliflower steaks that are seasoned with a simple tomato and herb paste as the coq or rooster replacement.
Also, as we don't tend to purchase alcohol [except some Brandy to add to Christmas cakes!] we developed a wine-free vegan coq au vin recipe. Instead of the wine the recipe uses a combination of vegetable broth, fresh apple juice, carton of tomato passata [sieved or blended tomatoes], red wine vinegar, and soy sauce.
We also use mushrooms, shallots, garlic, a few slices of vegan bacon, a sprig of thyme and a bay leaf. The result is a delicious rich, glossy, and thick sauce that coats the cauliflower steaks beautifully. Served with optional fluffy, creamy, mashed potatoes and crisp green beans, our vegan coq au vin meal is an easy tasty vegan dinner.
For another French Provençal dish try our easy Vegan Ratatouille which is the best summer vegan and vegetarian stew as its packed with delicious fresh vegetables. Over on our ratatouille post we explain more interesting information about the origins of French Provencal cooking.
And for another vegan steak recipe try our tasty retro inspired Vegan Mushroom Steak Diane. Also, our Steak Diane post we suggest a cauliflower steak as a Portobello or flat mushroom alternative and there is a useful guide on cutting cauliflower steaks so do pop over there and have a look.
No roosters or chickens were harmed in the making of this delicious vegan French stew yet all the flavours of the classic coq au vin is recreated with 100% veggie ingredients. Vegetables are so amazing that they deserve to be the star of the dinner plate!
How to prepare vegan coq au vin
Preparing this vegan coq au vin is quite easy. While the cauliflower steaks are roasting in the oven the sauce can be prepared so that dinner is ready once the cauliflower is cooked. To save time, prepare the cauliflower a day in advance and store within the refrigerator until ready to roast. Also, the onions, mushrooms, and garlic can be prepped a few hours before needing.
First, gather all your ingredients and prepare the fresh ingredients - mushrooms, cauliflower steaks, shallots or pearl onions, garlic, and thyme leaves.
Prepare the sauce ingredients:
Add the vegetable broth, tomato passata or an alternative [see the recipe notes below for some suggestions - we had run out of passata so blended up a can of plum tomatoes], red wine vinegar, soy sauce, and apple juice to a jug, stir well and set aside until required.
Next, prepare the cauliflower steak rub:
Add the tomato paste, French dried herbs, sugar, and olive oil [or replace the oil with canned chickpea water -aquafaba] to a bowl and mix well.
Prepare the cauliflower steaks:
Remove the cauliflower leaves and trim the stalk but don't remove too much of the base stalk as its the stalk that keeps the steaks together.
A small cauliflower head [about 450-500grams / 15-17oz] should yield 2 thick steaks and a large cauliflower may give 3-4. We used 2 small cauliflowers and each steak weighed between 98g-115grams / 3-4 oz].
Slice the cauliflower down the middle right through the thick stalk. Slice another steak from each section, being careful to retain the stalk in each steak.
The sides of the cauliflower will crumble into florets and these can be kept for another recipe.
Alternatively, instead of steaks large cauliflower florets can be used.
Brush the cauliflower steaks with the tomato mixture - on its top, sides, and underneath. Roast in the oven for 25-35 minutes until the steaks are soft and cooked through. There's no need to flip them over during cooking.
While the cauliflower steaks are cooking, prepare the sauce:
Melt the vegan butter [or heat a ¼ cup of veggie broth] in a non-stick pan. Add the shallots and cook for 5 minutes, stirring frequently.
Next, add the fine diced garlic and chopped vegan bacon pieces, cook for 3 minutes giving it a stir now and then.
Add the mushrooms and pluck the leaves off the sprig of thyme and add those. Cook for 5 minutes.
*[Note the pan change in the photos as we soon discovered our initial choice of pan was too small!]*
Tip in the plain [all-purpose] flour and give it a good stir. Add the bay leaf and a pinch of salt and black pepper.
Pour in the liquid sauce ingredients that was prepared earlier and stir well.
Bring to a gentle boil and cook for 8 minutes until the sauce is thick, glossy, and delicious.
Nestle the cooked cauliflower steaks into the pan or dish up the hot cauliflower steaks on to each dinner plate and spoon over the tasty sauce.
Garnish with fresh parsley if liked, and serve with sides such as mashed potato and green beans. Crusty bread or dinner rolls is a nice addition.
Recipe notes and FAQ's
Storing
Store leftover vegan coq au vin in the refrigerator for up to 3 days. The cauliflower steaks can be stored within the sauce. Or freeze for 2-3 months.
Reheating
Reheat the leftover vegan coq au vin by placing it into a non-stick pan and gently bringing the sauce to a boil, reduce the heat, and simmer until piping hot. Add a few tablespoons of water if necessary. The cauliflower steaks can be carefully flipped over during cooking to ensure they are evenly reheated.
Alternatively, place the leftovers into a small casserole dish and reheat at about 150 Fan, 170C, Gas 3, 338 Fahrenheit] for about 20 minutes or until piping hot. Place a lid on the casserole dish or cover the surface with kitchen foil to prevent the coq au vin from drying out or overcooking. A few tablespoons of water can be added if necessary, before reheating.
Can I prepare vegan coq au vin as gluten-free?
Yes of course, with a few considerations its easy to prepare this meal as safe for gluten-free diets. Use a gluten-free vegetable stock and a gluten-free soy sauce such as Tamari, or an alternative such as gluten-free coconut aminos, and check that the red wine vinegar is also free of gluten ingredients. Also, use a gluten-free plain flour blend and if using vegan bacon and vegan butter choose ones that are also gluten-free. Lastly, its best to check all pre-packaged food to make sure that it is safe for gluten-free diets.
Can you prepare a coq au vin with no wine?
Yes, although the wine or vin is a traditional addition to a classic coq au vin it can certainly be replaced with similar flavours to recreate some of the wine flavours - its sweet tangy fruity acidity. We use fresh apple juice, red wine vinegar, soy sauce, and vegetable broth and coupled with the tomato paste and sugar that is used for the cauliflower steak rub it all marries together beautifully providing enough balanced acidity and deep savoury rich flavours.

In traditional coq au vin the alcohol content in the wine is mostly cooked off, but we wanted to create an alcohol-free recipe, as one, we don't tend to buy alcohol anyway, and two, we wanted to keep the cost of the recipe down and have a recipe that it is more accessible for more people.
Can I add some red wine to this recipe?
Of course, if preferred you can add some red wine such as a Burgundy red wine or Pinot Noir, and this addition is especially good if you have some red wine leftover that needs using up.

Julia Child used 1 ¼ pts of red wine in her recipe back in the 1960s, but any amount can be used including a full bottle! If you do add some red wine then omit the red wine vinegar and reduce the vegetable broth by whatever amount of wine you add.

Julia Child also included ⅛th of a pint of Cognac, which is a type of Brandy, but for our vegan coq au vin we went with fresh apple juice as a non-alcoholic alternative.
What is tomato passata and what could I use as a good alternative?
Tomato passata is an uncooked tomato puree that has been strained of seeds and skins and it originates from Italy so it is a popular ingredient in Italian cuisine. The term 'passata' is an Italian word which simply means passed or strained.

Passata is packaged in a carton or glass jar and is usually unseasoned and it has a smoother consistency compared with crushed tomatoes, and is a bit thinner in consistency than tomato sauce or tomato paste. It is typically used as a base for tomato-based sauces, soups, and stews.

Passata is a common ingredient in UK supermarkets, and its a relatively inexpensive option, but if its difficult to source try one of the following substitutions which will all work well:

1. Canned tomato sauce is very similar to tomato passata, as it is cooked and strained tomatoes, although it often comes with additional seasoning.
2. Canned crushed tomatoes: This is another good substitute and although it is a bit chunkier than passata or tomato sauce it should still work well.
3. Canned diced, chopped, or plum tomatoes can be blended in a food processor, smoothie blender, or stick immersion blender and this is a great passata alternative. We used this substitution for our coq au vin recipe as we unexpectedly was out of passata!
4. Fresh tomatoes can be blended until smooth and its optional whether you wish to skin and deseed the tomatoes before blending. We find this step way too time consuming!
5.Tomato paste or puree can be used in a pinch if your all out of other options. Dilute 2-3 teaspoons or puree with water and although this will have a more concentrated flavour it should still work well.

Apart from the tomato paste, the above options can be used as a 1:1 substitute for tomato passata.
What would be a good mushroom alternative?
The mushrooms provide a hearty chewy bite and savoury flavour for the vegan coq au vin but of course as with all home-cooked meals ingredients can be substituted for another that will do just as good a job. A few ideas:

1. Eggplant or aubergine can give a similar texture to mushrooms when cooked, and it also has a mild flavour that will absorb the flavours of the sauce well, so this would be our number one choice for replacing the mushrooms.
2. Courgette or zucchini will soak up the flavours of the coq au vin and it will match beautifully with the red wine vinegar and tomato flavours of the rich sauce.
3. Bell peppers will give a different flavour but they will retain a good bite and will taste good within the deep umami tomato sauce.
4. Tofu, tempeh, or seitan are other good choices especially if you're looking for a protein boost. They don't have the same flavour as mushrooms, but they have a meaty texture and will soak up the tastiness.
5. Cooked chickpeas, green lentils, or brown lentils could also be a nice mushroom alternative and while they are a completely different texture they will add interesting textures and tasty flavours to the sauce, as well as extra nutrition.
6. Other ideas include - canned jackfruit, canned artichoke hearts, sundried tomatoes, roasted chestnuts, cooked carrots, turnip or parsnips chunks, green or black olives - though do consider that the olives will add extra saltiness and how this will affect any additional salt you may add.

We have not tried any of the above alternatives but considering the flavours of the coq au vin, one of the above subs should fit in nicely. Besides, not everyone is a fan of mushrooms. For one of my kids I have to remove the mushrooms from the cooked coq au vin and just dish her up the rest, as the rest of the family enjoy mushrooms! But next time we will try a substitute. Do let us know how you get on if you do use a mushroom alternative.
What could I use instead of cauliflower steaks?
The cauliflower steaks could simply be replaced with medium-large cauliflower florets and cooked the same way as per the recipe. However, if you would like a different alternative try one of the following:

1.Portobello mushrooms or flat mushrooms can provide a meaty, juicy texture and delicious umami flavours. If you do choose this option your coq au vin will be double mushroom but if you love mushrooms this is a win-win! Cook the mushrooms the same as the cauliflower steaks, adjusting the cooking times.
2. Tofu or Tempeh can be sliced into thick steaks and cooked the same method as the cauliflower in the recipe.
3. Seitan steaks can be bought ready-made or prepared at home. Add the coq au vin tomato paste rub and pan fry to reheat before adding to the sauce.
4. Thick slices of aubergine or courgette can be used instead of cauliflower steaks and cooked the same way, although adjust the cooking times.
5. Butternut squash or pumpkin slices can be prepared the same as the cauliflower steaks, adjusting the cooking times to suit.
6. Acorn squash can be halved or sliced, de-seeded, and rubbed with the tomato-herb paste, and then roasted until soft. Serve the coq au vin sauce within or over the roasted squash.
7. Large broccoli florets can be cooked the same as the cauliflower steaks. Brussel sprouts could also work well as they are amazing when roasted, although they are much smaller than the other alternatives.
7. Any vegan chicken chunks, pieces, fillets, or meat-alternative steaks, can be used, just cook according to the package instructions after marinading in the tomato-herb paste.
What can I use as a vegan bacon replacement?
There are several options that can be used instead of shop-bought vegan bacon. A few ideas include tempeh or tofu bacon, coconut bacon, carrot bacon, eggplant or carrot bacon, sliced up pieces of vegan deli ham or meat-free slices such as Quorn vegan ham slices, or small pieces of cooked seitan.

Cooked vegan sausages, hotdogs, burgers, chunks, or pieces can also be chopped up into small pieces and used as a bacon replacement.

Small red beans can also be a nice vegan bacon bits replacement - go with beans such as pinto or azuki and consider adding about ½ teaspoon of paprika or liquid smoke.

Alternatively, prepare our Vegan Carrot Dog or Hot-Dog recipe which results in delicious smoky, tangy, savoury, and sweet veggie hot-dogs. Add an extra carrot dog to the batch so that it can be used for the coq au vin recipe - slice the carrot dog up into small butter soft pieces and it will make a great vegan bacon bits alternative.
What can I use instead of vegan butter?
If you would prefer to replace the vegan butter in this recipe, there are a few options. The main role of the vegan butter is to provide a fat for sautéing, which helps with flavour and browning of the onions, mushrooms, and vegan bacon. A few alternatives are olive oil, coconut oil, vegetable oil such as sunflower, canola, rapeseed, or forgo the oil or fat completely and go with a small amount of vegetable broth. Although, do keep in mind that different oils and fats, as well as the veggie broth, have different flavours so the end dish will be affected by any ingredient changes.
I don't have red wine vinegar, what can I use as a substitute?
The red wine vinegar adds some of the acidic and tangy red wine flavours that are missing from a wine-free coq au vin, but the red wine vinegar could be replaced with balsamic vinegar for a slightly different flavour. Some versions of coq au vin use white wine instead of red, so, the red wine vinegar could also be replaced with a white wine vinegar or at a pinch use an apple cider vinegar.
What type of onions are best for a coq au vin?
In traditional coq au vin recipes, pearl onions (also known as baby onions) are often used due to their size and sweet flavour. They hold up well during the slow-cooking as they keep their shape whilst also absorbing the flavours.

However, for our vegan version of coq au vin we used shallots as those were the only option available at our local supermarket, and they worked very well as they are small, and nice and sweet with a good texture. Shallots also hold their shape well during cooking.

Other options include small sweet Cipollini onions, as well as ordinary yellow or brown, or white onions, or red onions, which can be sliced into thick slices so that they do not break down too much during cooking.
What can I do with the remaining cauliflower after cutting out the steaks?
Any leftover uncooked cauliflower from slicing cauliflower steaks can be stored within the refrigerator for a few days and used for a different recipe.

Some ideas for using leftover uncooked cauliflower:

1. Cauliflower Rice: Pulse the remaining cauliflower in a food processor until it resembles grains of rice. Or use a cheese grater and shred the cauliflower into tiny pieces. The cauliflower rice can then be sautéed in a bit of olive oil, or roasted in the oven, and used as a low-carb substitute for traditional rice.
2. Cauliflower Soup: Cauliflower is so delicious in a soup especially if it is a curry flavoured soup. Try our Curried Cauliflower Soup recipe which also features tasty chickpea croutons.
3. Roasted Cauliflower: Toss the cauliflower florets with some olive oil, a little salt and pepper, and your favorite seasonings [such as curry powder, paprika, garam masala powder, vegan-friendly poultry seasoning], then roast in the oven until golden with crispy bits. These cauliflower gems make a great side dish or even a snack, I could just eat a whole tray full they are just too good!
4. Cauliflower Mash: Boil or steam the cauliflower until it's very tender, then drain and mash it with a little bit of plant-based milk, garlic granules or some nutritional yeast flakes, and vegan butter until smooth. This is a great low-carb substitute for mashed potatoes.
5. Add to any of your favourite Stir-fry's or Curries: Cauliflower florets can be added to a variety of dishes like stir-fries or curries such as this super quick Stir-Fry Soup recipe, or this Sweet and Sour Stir-Fry Tofu and Veggies, and this Easy Everyday Vegetable Curry recipe.
6. Add small raw cauliflower florets to any salads for extra crunch, or dunk the florets in a tasty hummus for a delicious snack.
7. Use the cauliflower to prepare a cauliflower cheese or add it to this creamy and crispy Vegetables Au Gratin or this Vegetable Hotpot.

Finally, a few of our favourite recipes that include cauliflower are our Slow Cooker Cauliflower Tikka Masala and this amazing Lentil and Roast Cauliflower Moroccan Stew [or tagine!]. Depending on how much cauliflower you have leftover and the individual recipe, you may need to add extra cauliflower.

What can I do with the cauliflower leaves?
Most often the cauliflower leaves that are removed from the cauliflower are discarded into the rubbish bin, but the leaves are very nutritious and are worth using if they are unblemished. The leaves can be washed well and any very tough stalks and stems removed, and then sliced up to use in any soups, stews, curries, blended sauces, home-made vegetable broth, and stir-fry's.

If preparing a cauliflower soup the leaves can be used along with the florets and the finished soup blended smooth. Very small cauliflower leaves can be roasted in the oven, much like kale chips, or roast the small leaves along with roasted cauliflower florets or cauliflower steaks as there are usually only a few small leaves per cauliflower. The small leaves can also be added to a salad or a salad sandwich.

Alternatively, use the leaves instead of basil to prepare a tasty home-made budget-friendly pesto.

If not using the leaves straight away, store within the refrigerator or freeze for up to a few months in an airtight food and freezer safe bag. Shred the leaves before freezing and then they can be easily added to soups and stews straight from the freezer.
What pairs well with a vegan coq au vin?
Mashed potatoes and a green vegetable such as green beans, peas, cabbage, kale, Brussel sprouts, or sugar snap peas, are perfect sides for a coq au vin. A few other ideas include this Wartime Champ [a mash of potatoes, swede, and cabbage], mashed swede [rutabaga], mashed sweet potato, baked white or sweet potato, roast potatoes, potato wedges, thick noodles, rice, wild rice, black rice, quinoa, couscous, crusty bread, French baguette, dinner rolls, fresh salad, or a scoop of these Home-made Baked Beans in a Tomato Sauce.
More retro vegan recipes
We love retro inspired meals so we are always on the lookout for interesting retro and vintage dishes that can be recreated into tasty vegan versions. Modern recipes may be nice but there's something comforting, satisfying, familiar, and homely, about old family favourites that are brought back to life with a vegan twist!
More traditional easy vegan dinner ideas
For even more meal ideas check out our growing collection of Vegan Lunch Recipes and Vegan Dinner Recipes. If you have a favourite traditional meal that you would like to see a vegan and plant-based adaptation of, then do get in touch using this email - [email protected] or contact us on Facebook. Thanks!
***please note: for US measurements click the 'US customary button' within the recipe and the measurements will switch to tablespoons, cups, and ounces.***
Recipe
Vegan Coq Au Vin
Print Recipe
This vegan adaptation of the classic French Coq Au Vin is a delicious, flavour-packed meal that doesn't require traditional ingredients like chicken or red wine. Instead, we use home-cooked roasted cauliflower steaks, vegan bacon, shallots or pearl onions, and mushrooms to create a fun delicious meat-free dinner.
Not a fan of cauliflower? Simply leave this out and serve the tasty mushroom and onion sauce over a big pile of mashed potatoes or over a vegan steak of your choice.
Equipment
Non-stick deep fry pan/skillet

Baking tray, lined with parchment paper if necessary

for roasting cauliflower steaks

small mixing bowl

for mixing tomato-herb cauliflower paste

Measuring jug

for combining liquid ingredients for sauce
Ingredients
Roasted cauliflower:
500

grams

cauliflower

[sliced into four 100-115gram [3-4oz] steak shapes, use one large cauliflower or two medium-small, you'll likely have leftover cauliflower for a different recipe]

2

tablespoons

tomato puree

[tomato paste]

1

tablespoon

dried French herb mix

[or dried mixed herbs, or a vegan-friendly poultry/chicken seasoning mix]

1

teaspoon

sugar

[use your choice of sweetener, we used granulated sugar]

1

tablespoon

olive oil

[or your preferred oil, can replace with 1 tablespoon of aquafaba [canned chickpea water]
Liquid ingredients for sauce/stew: [mix all together]
400

millilitres

vegetable stock

[use a gluten-free stock if required]

1

tablespoon

soy sauce

[use tamari or coconut aminos if gluten-free required]

120

mililitres

tomato passata

[or canned tomato sauce / canned or jarred sieved or strained tomatoes, or blend a can of chopped, diced, or plum tomatoes]

3

tablespoon

red wine vinegar

65

millilitres

apple juice

[fresh or from a long-life carton, or red grape juice]
sauce/stew:
25

grams

vegan butter

[or replace with ¼ cup of veggie stock/broth and add more as required]

200

grams

shallots

[halved if large and kept whole if small[or use pearl/baby onions, or sliced ordinary onion into even sized thick chunks]

4

vegan bacon rashers

[chopped into small pieces, or replace with smoked tofu or little red beans such as pinto or azuki beans, with perhaps a ½ teaspoon of smoked paprika for a smoky flavour]

6

medium

garlic cloves

[fine diced or minced]

200

grams

mushrooms

[thick sliced]

2

tablespoons

plain flour

[all-purpose flour or replace with gluten-free flour]

1

sprig

thyme

[pick the leaves off or simply add the sprigs, use more sprigs if liked, [or 1-2 teaspoon of dried thyme]

1

bay leaf
Instructions
Prepare the roasted cauliflower steaks:
Preheat the oven to 160Fan, 180C, Gas 4, 356 Fahrenheit.

Add the tomato puree, dried herbs, sugar, and oil to a small bowl and mix well.

2 tablespoons tomato puree,

1 tablespoon dried French herb mix,

1 teaspoon sugar,

1 tablespoon olive oil

Prepare the cauliflower steaks, remove the leaves and trim the stalk but keep the core intact as it will hold the steaks together. Slice the cauliflower in half directly down the middle and through the core.

Now slice each half into steaks about an inch [2-3cm] wide being careful to keep part of the core and bottom stalk on each steak. Depending on the size of your cauliflower you may need 2 to achieve 4 good steaks. Don't worry if one of the steaks breaks apart as it can still be used for the recipe.

Our 4 steaks weighed about 98-115grams [around 3-4 oz] each.

[There is a link below in the recipe notes to a YouTube video demonstrating how to slice a cauliflower steak].

The sides of the cauliflower will crumble into florets as its cut as there will be no core or stalk to hold these together. The crumbled florets can be used for another recipe.

Lay each steak onto a baking sheet lined with parchment paper if necessary. Rub the tomato paste mixture all over each steak being carefully not to break up the cauliflower.

Roast for 25-35 minutes or until the steaks are completely cooked through. There's no need to flip the steaks half way through cooking.
Prepare the sauce/stew liquid ingredients:
Add the vegetable broth or stock, tomato passata, red wine vinegar, and soy sauce to a jug and stir well.

400 millilitres vegetable stock,

1 tablespoon soy sauce,

120 mililitres tomato passata,

3 tablespoon red wine vinegar,

65 millilitres apple juice
While the steaks are cooking cook the sauce/stew:
Melt the butter in a non-stick pan and add the shallots or baby/pearl onions. Cook for 5 minutes over a medium heat, stirring frequently.

[use ¼ cup of veggie broth instead of oil if preferred]

25 grams vegan butter,

200 grams shallots

Next, add the fine diced garlic and chopped vegan bacon and cook for 3 minutes, stirring frequently.

4 vegan bacon rashers,

6 medium garlic cloves

Now add the mushrooms, bay leaf, and thyme leaves and cook for 5 minutes. It may be necessary to add a little extra oil [or small amount of veggie broth if using this as an oil alternative] to help the mushrooms to cook.

200 grams mushrooms,

1 sprig thyme,

1 bay leaf

Sprinkle in the flour and stir so that it looks like it has disappeared.

2 tablespoons plain flour

Next, pour in the sauce/stew liquid that you mixed together earlier. Season with a few pinches of salt and pepper, although don't add too much salt just now as it will likely not need much seasoning and the flavours will concentrate as the sauce/stew cooks.

Stir well and bring to the boil, lower the heat and gently simmer for 8 minutes until the sauce is thick and glossy, and the onions have cooked through. Remove the bay leaf and check the seasoning adding salt and pepper if necessary.
Assemble the coq au vin:
The cauliflower steaks can be nestled into the sauce/stew in the cooking pan once both are ready, or place a cauliflower steak onto a dinner plate and ladle over the sauce. Garnish with a sprinkling of fresh parsley if liked.

Optional: Sides of mashed potato, green beans, and crusty bread or dinner rolls are a nice addition.
Notes
Nutritional information: This is provided for guidance only and is not intended to be an exact analysis as ingredients can vary.
Cauliflower Steaks: The core of the cauliflower helps to hold the steak together, so it's important not to cut it off. If you're new to making cauliflower steaks, don't worry if the first one or two don't turn out perfect - it takes a bit of practice to get the slices just right. Any pieces that break off can be saved for another recipe or simply roasted and used the same way the steaks are, the flavour will still be the same! For a useful video that demonstrates how to easily cut a cauliflower steak have a look at this quick one on YouTube.
Herbs: The recipe calls for a dried French herb mix, but you can use ordinary dried herb mix. A vegan-friendly poultry or chicken seasoning mix is a nice alternative.
Vegan Bacon Substitute: If you prefer, you can replace the vegan bacon with smoked tofu or tempeh bacon, or beans, such as pinto or azuki. If you use beans, consider adding some smoked paprika to give the dish a smoky flavor. We used All Day Bcn Vdeli Rashers, which are plant-based and gluten-free, which we sourced for half price at our local wholefood shop!
Flour: Plain flour is used which is the same as all-purpose flour. If you're gluten-free, be sure to use a gluten-free plain flour.
Serving: This dish can be served as-is, but it's also great with some sides such as mashed potatoes, green beans, and crusty bread or dinner rolls which are all tasty choices. Check out the recipe notes and FAQ section above for more suggestions.
Storage and Reheating: Leftovers can be stored in the refrigerator for up to 3 days. Or frozen for 2-3 months.
Reheat: Leftovers can be gently reheated in a non-stick pan until piping hot, add a few tablespoons of water or broth if necessary. Gently flip the cauliflower steaks over so that they are reheated throughout.
Cooking Time: The total cooking time for this recipe is approximately 1 hour and 10 minutes, but it might take a bit longer if you're not familiar with the recipe. Next time will be quicker!
Gluten-Free: Use a gluten-free vegetable broth, gluten-free soy sauce such as Tamari or an alternative such as coconut aminos, gluten-free vegan bacon, gluten-free plain flour, and check all your packaged ingredients to be 100% sure that all are gluten-free.
For more useful information including - cauliflower steak alternatives, mushroom alternatives, vegan bacon alternatives, tomato passata substitutions, how to use up the leftover cauliflower florets and leaves, and more, check out the recipe notes and FAQ section above.
Nutrition
Calories:
329
kcal
|
Carbohydrates:
39
g
|
Protein:
18
g
|
Fat:
13
g
|
Saturated Fat:
3
g
|
Polyunsaturated Fat:
3
g
|
Monounsaturated Fat:
6
g
|
Trans Fat:
0.03
g
|
Cholesterol:
4
mg
|
Sodium:
1147
mg
|
Potassium:
1172
mg
|
Fiber:
10
g
|
Sugar:
14
g
|
Vitamin A:
693
IU
|
Vitamin C:
75
mg
|
Calcium:
182
mg
|
Iron:
5
mg
Prepared our tasty Vegan Coq au Vin recipe? Do let us know how you got on with the recipe by clicking the star ratings and popping a comment below. We love hearing from you so if you have any questions or queries do get in touch. Thanks so much, love Jacq x