Slow Cooker rice and peas is a Jamaican inspired meal of rice and beans and can be easily prepared in the slow cooker.
If you are watching the pennies and having to be frugal with budgeting your food shopping, which is what I am currently doing, then this rice and pea recipe is ideal.
Rice and peas can be enjoyed as a side-dish served along with your favourite curry, stew, roasted or steamed veggies, or veggie sausages. Or serve as a main along with a crispy green salad, crusty bread or flatbreads.
Origin of Jamaican Rice And Peas
Rice and peas is a Jamaican meal that originates within the Caribbean Islands, and can be linked further back in history to the Ivory Coast of West Africa. The peas used for the meal are not actually peas but most commonly kidney beans, but can also be black-eyed peas or pigeon [gungo] peas.
Although there are many variations of rice and peas, the main Caribbean flavours that may be added to the meal include thyme, chilli [such as Scotch bonnet], allspice, ginger, spring onion, coconut milk, with perhaps onions and garlic.
Rice and peas are traditionally prepared on a Sunday and a popular accompaniment is barbequed or Jerk chicken.
For more interesting information about rice and peas do have a look at this post by Jamaicans.com.
Vegan Rice And Peas
This vegan and plant-based rice and peas recipe is inspired by the Jamaican dish and is not an authentic recipe. This recipe has also been adapted from a Rose Elliot recipe, that I discovered within Elliot's The Bean Book cookbook. Rose Elliot is a British author of many vegan and vegetarian books.
Elliot's recipe is an authentic one that was given to her by her friend who resides in the Caribbean. I have adapted the recipe from stove-top to a slow cooker method so ingredient quantities have changed, cooking oil omitted, and extra flavourings included.
Vegetable stock is used instead of water for extra depth of flavour. Garlic and onion powder are included as I find these two flavours in dried form season the coconut milk beautifully. A few pinches of chilli powder have also been included.
Elliot's recipe uses brown rice whereas I opted for long-grain rice so that it would cook quicker and easier within the slow cooker. Kidney beans was replaced with a can of Tropical Sun Caribbean peas and beans, which is a mix of kidney beans, black-eyed peas and gungo peas [Pidgeon peas].
It is certainly not authentic or traditional, but I chuck in a few chopped cherry tomatoes to the slow cooked rice and peas once the dish is cooked. The tomatoes warm up as they nestle within the rice and peas and offer a fresh burst of flavour and goodness that compliments the yummy coconut, creamy savoury rice and peas.
How To Prepare Rice And Peas
For this recipe I used a can of Tropical Sun Caribbean peas and beans [kidney beans, black-eyed peas, gungo peas.] However, this can be replaced with a can of kidney beans or black-eyed peas. Or a mix of both.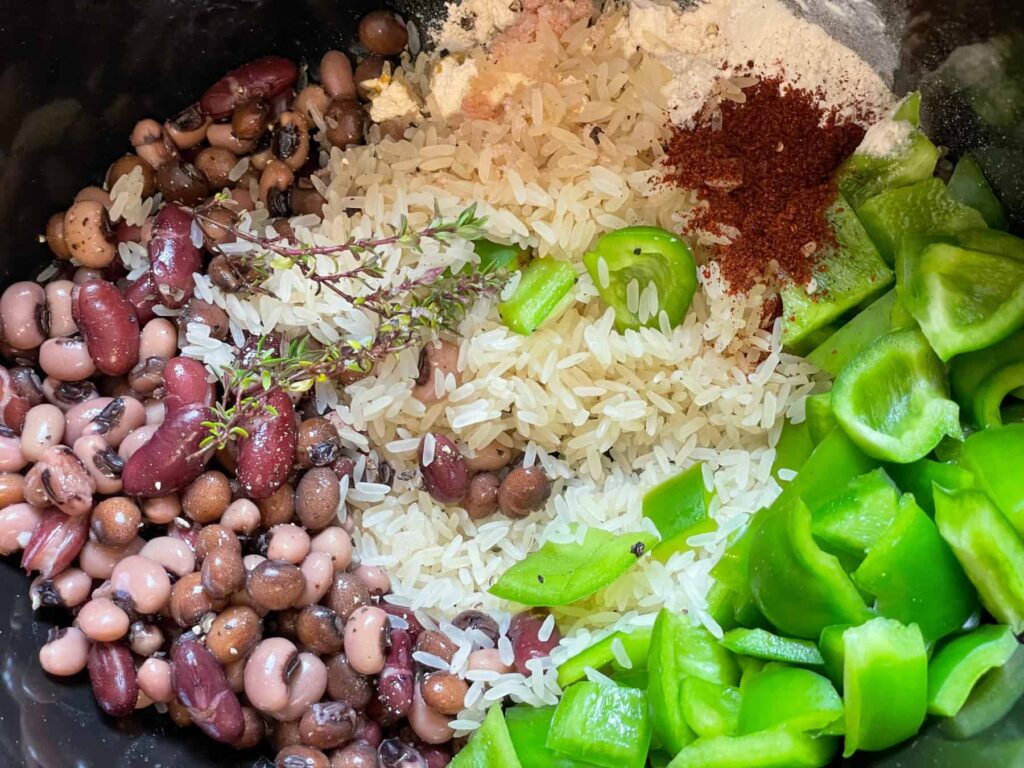 Turn the slow cooker setting to low and preheat while you prepare and add each ingredient.
Add the diced bell pepper, beans, rice, thyme, chilli powder, onion and garlic powder. Give it all a good stir.
Pour the coconut milk and veggie stock/broth into the slow cooker. Stir well and season with salt and pepper.
Pop the lid over the slow cooker and leave to cook for 1 hour 50 minutes. Check to see if the rice is cooked and if not leave for another 10-15 minutes.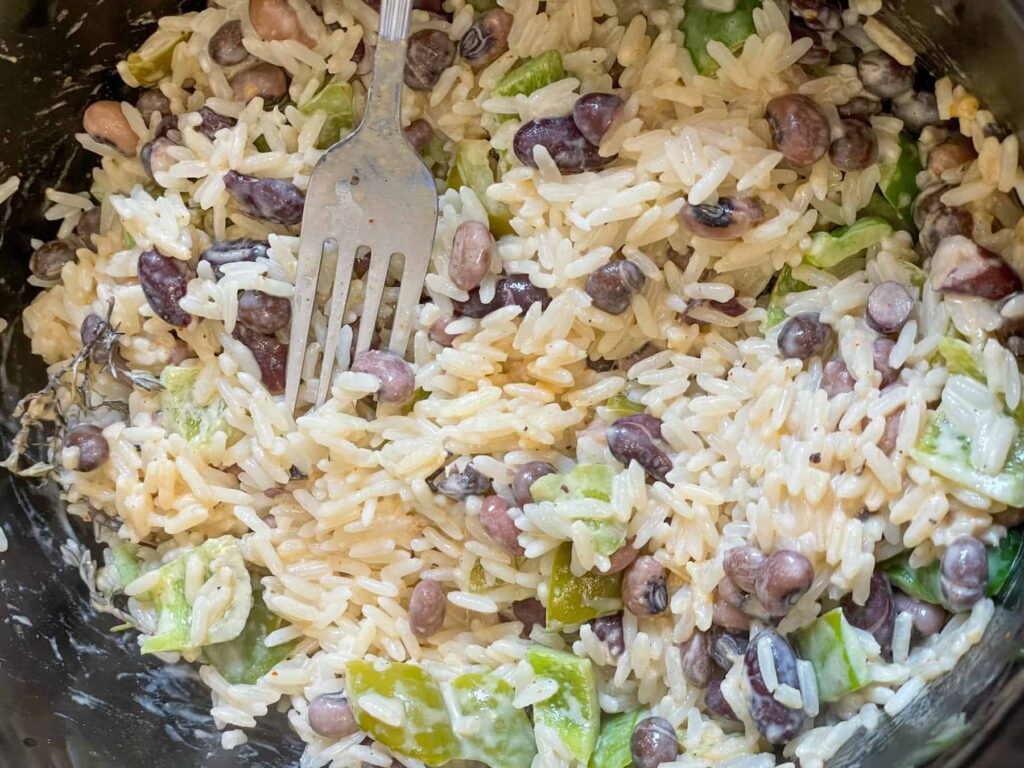 Fluff up the rice with a fork and if adding the optional chopped cherry tomatoes pop these in.
Stir the tomatoes through the rice, place the lid back on, and leave for 10 minutes so that the tomatoes soften up a little and warm through.
Garnish with fresh parsley, remove the thyme sprig, and if liked sprinkle over some red pepper/chilli flakes.
Recipe Notes
What's the best way to store leftover rice and peas?
Cool the rice and peas quickly, and place within a covered container and keep in the refrigerator for up to 3 days.
Can rice and peas be frozen?
Yes. Once cool store in the freezer for up to 3-4 months.
How do I reheat leftover rice and peas?
Place the rice and peas into a non-stick skillet, Wok or large pan and stir frequently over a medium heat until piping hot. Add a splash of liquid such as water or broth if required to prevent the rice sticking whilst reheating.
Or microwave until piping hot and steaming throughout.
It's recommended that leftover rice be heated to an internal temperature of 74C [165F] to reduce any harmful bacteria that may be present. A food thermometer can be an inexpensive but valuable investment.
What can I serve with rice and peas?
Rice and peas is substantial enough for a main meal but for extra hungry days or if using the dish as a side, here is a few ideas:
a tray of veggies and/or cubed tofu roasted in jerk seasoning
steamed veggies
crispy green salad
serve as a side along with a curry, stew, veggie burger or veggie sausages
crusty bread
tortilla wraps, use the rice and peas as a filling along with salad veggies and condiments such as vegan mayonnaise, sour cream, ranch dressing, hot sauce, etc.
Rice and peas [beans] are an ideal natural match, especially good for vegan and plant-based diets as served together they offer a complete protein source.
For more rice and bean recipes check out this delicious Cajun Dirty Rice, and this American Classic Rice-A-Roni, and our family favourite Mexican Bean and Rice Casserole [has a tasty cheesy nacho topping]. And lastly, one of our new family favourites this British Broad bean and Pea Pilaf.
📖 Recipe
Slow Cooker Rice And Peas
Print Recipe
Rice and peas cooked in the slow cooker is a delicious budget-friendly flavour packed family meal that everyone will love. Perfect for an easy no-fuss side-dish or delicious as a main meal.
Enjoy with a wedge of crusty bread, crispy green salad, curry, stew or a tray of delicious jerk seasoned roasted tofu and veggies.
Equipment
slow cooker or crockpot

at least 3-3.5 litres in size [3-4 quarts]
Ingredients
Main slow cooker ingredients
225

grams

long grain rice

rinsed and drained

1

can

peas and beans

if not available use a 400g/15oz can of kidney beans or black-eyed peas, drained. Or a mix of beans. Or 240grams cooked beans [1 ½ - 2 cups]

1

green bell pepper

diced small, or any colour, can use about 1 cup of mixed frozen peppers

1

can

coconut milk

400gram/15 oz can [or use coconut milk powder/creamed coconut block to prepare own coconut milk]

2

teaspoon

onion powder

or 1 medium onion, fined diced

2

teaspoon

garlic powder

or 4-6 cloves, fine diced/minced

½

teaspoon

mild chilli powder

use more if stronger spiciness preferred

1

sprig

fresh thyme

or 2 teaspoons dried thyme

100

millilitres

vegetable stock

broth, use a vegan 'chicken' stock if available otherwise vegetable is fine
Optional, for near the end of cooking
8

cherry tomatoes

halved or quartered, can replace with larger tomatoes
Optional, for garnish
10

grams

fresh parsley

or cilantro/coriander or your choice of fresh herb
Instructions
Set the slow cooker to the low setting so that it can heat up as you prepare and add each ingredient.

Add all the main ingredients to the slow cooker.

If your coconut milk comes out of the can as a white mass it will be fine as it will melt within the heat of the slow cooker as you stir the ingredients.

Add about ½-¾ teaspoon of salt and a good grinding of black pepper.

Stir well.

Pop the lid on the cooker and leave for 1 hour and 50 minutes.

Give the rice a stir and test to see if the rice has cooked. If not pop the lid back on and leave for another 15 minutes, or just until the rice is cooked.

Once ready, fluff the rice up with a fork and stir the chopped cherry tomatoes through the rice and leave for 10 minutes to warm through.

Check the seasoning and add extra salt and pepper to taste if necessary.

Serve with chopped parsley and a scatter of chilli or red pepper/paprika flakes if liked.

For those who prefer more spiciness a few chilli slices from a can or jar of jalapenos, or fresh chilli slices, or a few drops of hot sauce can be stirred through.
Notes
Nutritional data is for guidance only and not a strict calculation as ingredients vary.
Nutritional info includes the fresh parsley and cherry tomatoes.
Store leftover rice and peas, by cooling quickly and placing in the refrigerator for up to 3 days. Never leave the rice to sit for a long time on the counter-top, stick in the fridge once cool.
Freeze and store for up to 3 months. Defrost in the refrigerator before reheating.
Reheat in the microwave until piping hot.
Or reheat within a non-stick pan and stir-fry until piping hot. A little water or broth can be added to help prevent sticking to pan.
Or place in an oven dish and cover, and reheat in a hot oven until rice is piping hot.
The recommended temperature to reheat rice to is 165F/ 74C, a food thermometer is a good investment.
Nutrition
Calories:
357
kcal
|
Carbohydrates:
62
g
|
Protein:
8
g
|
Fat:
7
g
|
Saturated Fat:
7
g
|
Polyunsaturated Fat:
1
g
|
Monounsaturated Fat:
1
g
|
Sodium:
348
mg
|
Potassium:
395
mg
|
Fiber:
5
g
|
Sugar:
3
g
|
Vitamin A:
626
IU
|
Vitamin C:
36
mg
|
Calcium:
50
mg
|
Iron:
2
mg
Did you give this rice and pea recipe a go?
We would love to know how you got.
It would be amazing if you could leave a comment below.
Sharing a photo on social media?
Tag us in using @traditionalplantbasedcooking #traditionalplantbasedcooking
So we can admire your great cooking! All the best Jacq x