Jump to Recipe
This Vegan Rice-a-Roni recipe features kidney beans and peppers. It is a fun, delicious, quick and easy meal that the entire family will enjoy.
It has something for everyone with this meal being stuffed with pasta, rice, orzo, kidney beans, bell peppers, peas and corn making up the plant-based tasty combination.
Serve this Rice-a-Roni as a stand alone one-pot meal or as a side-dish. Or even as a rice-a-roni salad to enjoy with a BBQ, pot-luck spread or buffet.
My kids love when they ask what's for dinner and I reply Rice-a-Roni! They love the zany name and savoury flavours.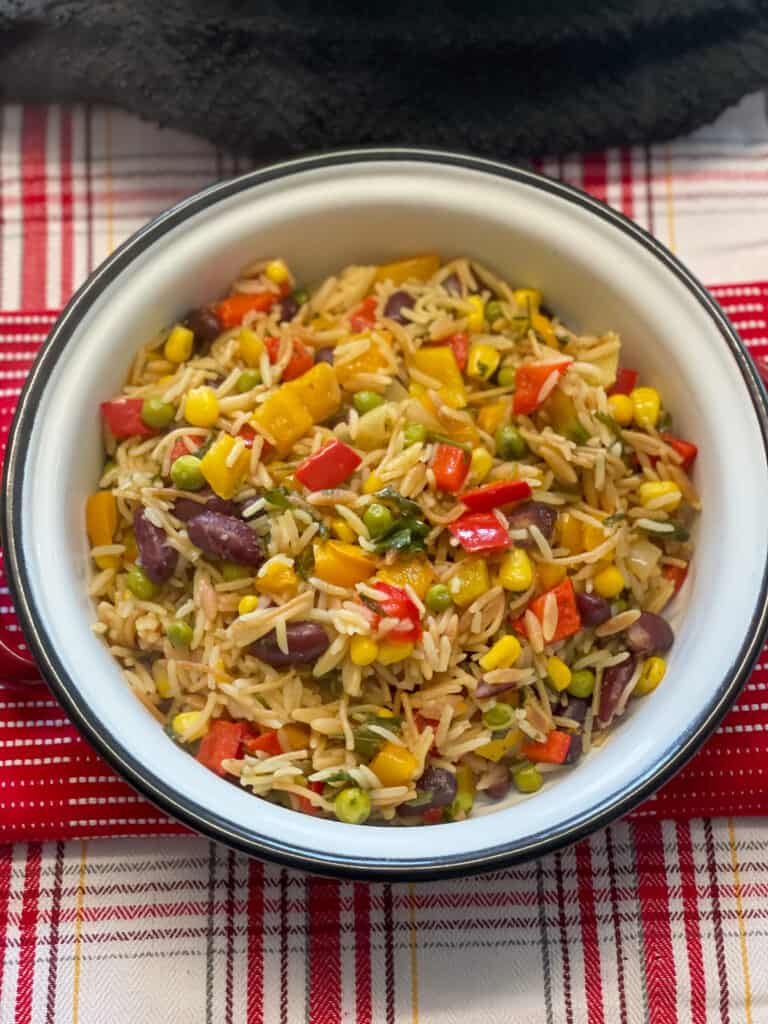 Rice-a-Roni is essentially rice and macaroni initially cooked in butter or oil before water, stock and seasoning is added. The rice is then cooked until the liquid evaporates.
Lot's of different flavours of Rice-a-Roni are available in the US and sold as a box mix.
Similar to those boxes of Kraft macaroni or cheesy pasta available in UK supermarkets.
Rice-a-Roni is also known as the San Francisco Treat as the meal was invented in North West US in 1958 by Vince Domenico.
Vince was the son of an Italian immigrant that lived in San Francisco and had built up a business that evolved to become The Golden Grain Macaroni Company.
Although it wasn't until 1995 that the dish was termed Rice-a-Roni as before it was known as Noodle Roni.
Recipe FAQs And Notes
How do I store and reheat leftover rice-a-roni?
Vegan Rice-a-Roni will keep fresh, covered, in the fridge for up to 3 days. Cool the rice quickly and place in the fridge as soon as possible.
Or freeze in a freezer-proof container for up to 4 months. Defrost in the fridge before reheating.
If reheating ensure the rice-a-roni is piping hot. Heat in the same pan as the dish was cooked sort of like its being stir-fried. Add a few tablespoons of water, veggie stock or a little oil if the rice dish begins to stick to the pan.
What can I serve with rice-a-roni?
Vegan rice-a-roni is substantial enough to serve on its own. But a few ideas for when your family is especially hungry:
mixed salad
baked potato
potato wedges/chips/fries
vegan sausages
falafels
veggie burger
roast veggies
steamed greens
fresh spinach
slices of avocado
salsa
hummus
tortilla wraps for creating a tasty hot burrito filling. Line a tortilla wrap with fresh spinach, pile on the rice-a-roni and top with some salsa, hummus, pesto, vegan mayo, etc.
or enjoy a chilled rice-a-roni burrito for next days lunch
Slices of bread such as my vegan Irish soda bread is a delicious accompaniment.
Or these tasty quick dinner rolls.
Can I substitute any of the ingredients?
I use orzo, vermicelli and rice but switch these up and use whatever you have to hand. Such as use 1 cup of macaroni pasta shapes and 1 cup of long grain rice.
Sub out the vegetables I have included within the recipe for your family's favourite. Such as mushrooms, courgettes, tomatoes, grated carrot, fennel, celery, sweet potato, broccoli, etc. Although its best to dice or chop small each vegetable so that it cooks through. I would grate the carrot to reduce the risk of hard bits of carrot.
Switch out the kidney beans for borlotti, cannellini, haricot beans, chickpeas, etc.
Add your own favourite herbs if your not keen on parsley. Or use dried herbs if no fresh are available.
On an oil-free diet? Leave out the oil and use 1/2 cup of veggie stock instead. The flavours won't be the same but the dish will still be pretty tasty. Perhaps mix through a healthy fat such as a few tablespoons of tahini through the finished dish for extra flavour and nutrition.
How to prepare vegan rice-a-roni with kidney beans and peppers
Vegan Rice-A-Roni with Kidney Beans and Peppers
Print Recipe
This meal is the ideal mid-week quick, nutritious, and delicious family meal. It will quickly become a favourite as it is so versatile as it can be easily adapted to everyone's preferences.
Equipment
skillet/ stove-top casserole pan/ large saucepan
Ingredients
160

grams

long grain rice

90

grams

orzo

45

grams

vermicelli pasta

400

grams

bell peppers

Diced.

135

grams

sweetcorn

Either fresh or frozen.

135

grams

peas

Fresh or frozen.

1

small

onion

Diced.

1

can

kidney beans

400g/14oz can, drained.

2

tsp

garlic powder

or 4 minced garlic cloves

2

tsp

onion powder

optional, but tasty

18

grams

fresh parsley

Fine chopped. Plus a little extra for serving if desired.

750

ml

vegetable stock

2

tbsp

olive oil
Optional
1

sprig of fresh thyme

or your favourite fresh herbs.
Instructions
Pour the olive oil into your pan and heat over medium heat for a few minutes.

Tip in the rice, vermicelli, and orzo.

Mix well.

Add the garlic and onion powder.

Mix.

Stir frequently and cook for about 7 minutes until the rice, vermicelli and orzo begin to brown. Don't let the mix sit still for long as it could catch on the heat and brown too much.

Add the peppers and onion.

Mix.

Cook for 2 minutes stirring frequently.

Add the peas and corn.

Mix well and cook for about 3 minutes.

Tip in the kidney beans and mix.

Add the parsley.

Stir to combine.

Pour in the vegetable stock and mix through.

If using a sprig of fresh thyme or similar add now, just push below the stock.

Pop a lid on the pan and cook for another 5 minutes.

Turn off the heat and leave to sit for another 10 minutes so that the liquid is soaked up and the rice finishes cooking.

Check the rice is soft and if so then dish is ready to serve.

Remove the fresh thyme sprig.

Serve with extra chopped parsley scattered over.
Notes
Nutritional information is provided for guidance only and is not a strict calculation as ingredients vary. Data is analysed using computerized nutrition apps.
Leftover rice-a-roni can be stored in the fridge for up to 3 days, in a covered container.
Reheat leftovers similar to cooking fried rice or stir-fry. Add a little veggie stock or oil to your pan and stir the rice until piping hot throughout.
Or enjoy chilled rice-a-roni as a rice salad. It is so tasty cold.
Leftovers can be frozen. Once cool place in a covered container and freeze for up to 3-4 months. Reheat as per the method above.
Nutrition
Calories:
360
kcal
|
Carbohydrates:
65
g
|
Protein:
10
g
|
Fat:
7
g
|
Saturated Fat:
1
g
|
Polyunsaturated Fat:
1
g
|
Monounsaturated Fat:
4
g
|
Sodium:
15
mg
|
Potassium:
455
mg
|
Fiber:
6
g
|
Sugar:
9
g
|
Vitamin A:
3422
IU
|
Vitamin C:
121
mg
|
Calcium:
40
mg
|
Iron:
2
mg
More tasty vegan rice dishes to discover:
Vegan Spanish Chickpea Rice Stew