Looking for a quick and tasty vegan flatbread recipe? With just three ingredients—vegan yogurt, flour, and salt—you'll have delicious, soft, and chewy flatbreads in no time. Customize them with herbs, spices, or seeds to create your perfect flavor. Enjoy these versatile flatbreads with any meal.
Origin of flatbreads
Flatbreads have been a staple food for thousands of years, and their origin is difficult to trace precisely as they have been consumed in various forms across many cultures throughout history.
Some of the earliest flatbreads were likely made by grinding grains and mixing the flour with water to create a dough. The dough was then flattened and cooked on a hot surface such as a rock or fire.
Flatbreads are known to have been consumed in ancient Egypt, Greece, and Rome. In the Middle East, they are still a popular food, and are known by many names such as pita, naan, and lavash. In India, roti and chapati are popular types of flatbreads.
Flatbreads have also been a staple in many indigenous cultures around the world, including the Native American Navajo tribe, who are known for their frybread, and the Inuit people of Alaska, who traditionally made bannock.
The Scots also have a type of traditional flatbread known as a bannock. Bannock is a type of bread made from a simple mixture of flour, salt, and water, and was traditionally cooked on a griddle or in a frying pan. It is similar in shape to some varieties of flatbread, and was a staple food for many Scottish people, especially in rural areas.
Overall, flatbreads have a long and rich history, and are still enjoyed in many forms and cultures around the world today.
Modern flatbread recipes
Flatbreads are a popular choice for many people because they don't require yeast, kneading, or rising, which saves time, energy, and money. They are often budget-friendly since they only require a few simple ingredients.
This quick and easy 3-ingredient flatbread recipe has become a firm favorite, especially on social media, thanks to its simplicity and versatility. With just plain yogurt, flour, salt, and water, you can whip up delicious flatbreads in no time!
How To Prepare Vegan 3 Ingredient Flatbreads
Adapting the 3-ingredient flatbread recipe for vegan diets is incredibly easy. Simply use vegan plain yogurt in place of regular yogurt. This simple swap makes the recipe completely vegan-friendly while still producing delicious, soft, and chewy flatbreads.
To prepare the dough for the 3-ingredient flatbreads, simply mix the flour, vegan yogurt, and a pinch of salt until the dough comes together.
Once the dough is ready, divide it into 5-10 equal pieces.
Next, roll out each piece very thinly. The thinner the dough, the better the flatbreads will turn out.
To cook the 3-ingredient flatbreads, heat a non-stick frying pan or skillet over medium-high heat.
Place a rolled-out flatbread in the pan and cook for a few minutes until brown patches appear on the underside and bubbles appear on the top side.
Flip the flatbread over and cook for an additional minute or two until the other side is lightly browned as well. Repeat with the remaining flatbreads.
Serve immediately or store for later use.
Once cooked, you'll have a pile of delicious 3-ingredient flatbreads ready to enjoy. They pair perfectly with flavorful stews, curries, and soups, or make a tasty snack on their own.
We especially love these flatbreads with our Creamy Lentil and Roast Cauliflower Moroccan Stew or our easy Traditional Spanish Chickpea Stew and definitely love a flatbread to mop up the juices with this Vegan Mango 'chicken' Curry.
So, whether you're looking to enjoy them as part of a meal or simply as a quick and delicious snack, these versatile flatbreads are sure to hit the spot!
Recipe notes and frequently asked questions
How do I store flatbreads to maintain the freshness?

Flatbreads taste best when enjoyed soon after cooking.

To store flatbreads for up to 3 days, wrap them in kitchen foil, paper, a zip-lock bag, or a clean tea towel, and place them in an airtight container.

Store them in a cool, dry area of your kitchen or in the refrigerator.

Can I freeze vegan flatbreads?

Flatbreads freeze beautifully. To make it easy to grab just one or two at a time, place a sheet of parchment paper between each flatbread before freezing.

They can be stored in the freezer for up to 3 months.
Can I reheat flatbreads?

You can enjoy these flatbreads at room temperature, or reheat them in a medium-hot oven for a few minutes.

Alternatively, reheat them on the same non-stick pan or hotplate used for cooking.

For best results, sprinkle a few drops of water over each flatbread before reheating.
What is the best pan to cook flatbreads?

A non-stick frying pan or skillet is perfect for cooking flatbreads, as it minimizes the need for oil. If you must use oil, heat up a tablespoon and then wipe away any excess with a paper towel before cooking.

Pans or skillets designed for pancakes or crepes work well for flatbreads too.

Personally, I use a non-stick electric pancake maker to prepare these flatbreads without any oil, resulting in delightful, non-greasy treats.
Are flatbreads good for batch prepping?

Yes. If you love batch prepping, a few rounds of this recipe will yield 20-30 flatbreads that you can easily store in the freezer for later use.
So why settle for store-bought flatbreads when you can whip up your own fresh, flavorful, and budget-friendly version with just a handful of ingredients?
Can I use these flatbreads as a pizza base?

These flatbreads make fantastic pizza bases. Just be sure to cook the flatbread first before adding toppings, as the dough may not rise properly and could turn out too dense if you skip this step. Trust me, I've learned from experience!
What can I use flatbreads for?

Pizza - use the flatbread as a base for your favorite pizza toppings, these flatbreads make fantastic pizza bases. Just be sure to cook the flatbread first before adding toppings, as the dough may not rise properly and could turn out too dense if you skip this step. Trust me, I've learned from experience!

Wrap - fill the flatbread with your choice of veggies, hummus, tofu, or tempeh for a delicious wrap

Quesadilla - layer vegan cheese, beans, veggies, and salsa between two flatbreads, and cook until crispy

Chips/crisps - cut the flatbread into triangles and bake in the oven or an air-fryer for homemade pita chips

Flatbread sandwich - fill the flatbread with your favorite sandwich ingredients, such as avocado, veggies, and vegan mayo

Salad - tear the flatbread into bite-sized pieces and toss into a salad for added texture

Dipping bread - cut the flatbread into sticks or triangles and serve with hummus, baba ghanoush, or another favorite dip

Breakfast wrap - fill the flatbread with scrambled tofu or vegan breakfast sausage, veggies, and hot sauce for a hearty breakfast wrap

Flatbread bruschetta - top the flatbread with chopped tomatoes, basil, garlic, and olive oil for a tasty appetizer

Vegan shawarma - stuff the flatbread with falafel, hummus, tahini sauce, and veggies for a Middle Eastern-inspired meal
Recipe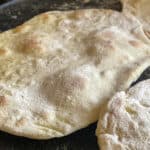 Vegan 3 Ingredient Flatbread
Print Recipe
With just 3 simple ingredients, you can prepare a batch of deliciously soft, light, and fluffy flatbreads that are sure to elevate any meal.The beauty of this recipe is its versatility - you can easily customize the flatbreads by adding your favorite spices and herbs.
Equipment
Non-stick frying pan/ non-stick skillet

[or use an electric pancake/crepe maker]

Rolling pin

Mixing bowl
Ingredients
250

grams

self-rising flour

Sieved. Plus extra for rolling out. Alternatively use plain/all purpose flour or wholemeal flour with 1 ½ teaspoons of baking powder.

250

grams

vegan yogurt

pinch of salt

to taste
Instructions
Add flour, yogurt, and salt to a bowl and mix well.

250 grams self-rising flour,

250 grams vegan yogurt,

pinch of salt

Bring the mixture together into a smooth ball.

Work extra flour into the ball until the dough is no longer sticky, if necessary

Let the dough rest for 5 minutes.

Divide the dough into 5 equal pieces for large flatbreads, or 8-10 pieces for smaller flatbreads.

Sprinkle a good amount of flour onto your worktop.

Use a rolling pin to roll each flatbread dough out thin but still easy to pick up.

If necessary, sprinkle more flour on the dough to prevent it from sticking to the rolling pin.

Move the flatbread around while rolling to ensure it's not sticking to the worktop.

Meanwhile, heat a non-stick pan to medium-hot (if necessary, use a little oil to prevent sticking)

Place a flatbread in the pan and wait for the bubbles to appear.

Flip the flatbread once the underside has light brown patches

Cook for another few minutes, then repeat with the remaining flatbreads

Cook for another few minutes, then repeat with the remaining flatbreads.

If necessary, turn down the heat to medium

To keep the flatbreads warm, layer them on a plate or board with a clean tea towel covering or a piece of kitchen foil.

Alternatively, place the flatbreads on a baking tray with kitchen foil covering and place in a low heat oven until required.

If desired, add a little pat of vegan/plant-based butter or margarine over each flatbread and let it melt in the heat.
Notes
Nutritional information is provided as a guide only and may vary depending on the specific ingredients used.
To store flatbreads, place them in an airtight container for up to 3 days. To prevent them from sticking together, place kitchen paper or a few pieces of kitchen roll over the flatbreads. Alternatively, you can store them in the fridge for a longer shelf life.
Flatbreads can also be frozen for up to 3 months. To prevent sticking, place a piece of parchment paper between each flatbread and wrap them well to prevent freezer burn.
You can easily customize the flatbread dough by adding your favorite spices and herbs, such as cumin seeds, coriander seeds, nigella seeds, sesame seeds, poppy seeds, garlic powder, onion powder, mixed herbs, fresh coriander, or your favourite spice blends.
This recipe is perfect for using up plant-based yogurt that may be near or just after its best before date. This way, you can avoid throwing away perfectly good yogurt. And if you find pots of plant-based yogurt reduced in the supermarket, use them to make a batch of these flatbreads and save even more money!
Batch prepping a load of flatbreads is a great time saver, allowing you to enjoy them over the coming months. Simply store them in the freezer and take out what you need as required.
Nutrition
Calories:
107
kcal
|
Carbohydrates:
21
g
|
Protein:
4
g
|
Fat:
1
g
|
Saturated Fat:
1
g
|
Polyunsaturated Fat:
1
g
|
Monounsaturated Fat:
1
g
|
Sodium:
4
mg
|
Potassium:
25
mg
|
Fiber:
1
g
|
Sugar:
1
g
|
Vitamin A:
1
IU
|
Vitamin C:
3
mg
|
Calcium:
37
mg
|
Iron:
1
mg
Thank you for trying out our vegan three ingredient flatbread recipe! We hope you enjoyed making and eating it as much as we do.
If you tried this recipe, please let us know in the comments below how it turned out for you, or if you made any modifications.
If you share your creations on social media, don't forget to tag us (@traditionalplantbasedcooking) and use the hashtag #traditionalplantbasedcooking, so we can see your delicious dishes!
Lastly, if you found this recipe helpful, please share it with your friends and family, so they can enjoy it too.
Thank you, and happy cooking!
Love, Jacq x