This recipe for vegan 3 ingredient flatbread is so quick and easy to prepare.
Deliciously soft and chewy with the added bonus of being simple to tailor the flavours to your own preferences.
Vegan yogurt, flour and a sprinkle of salt is all that you need for a batch of tasty flatbreads.
Throw in some mixed herbs, spice blends, garlic or onion powder, coriander seeds or fresh coriander, cumin seeds, sesame seeds, or my ultimate favourite nigella seeds.
Concoct your own tasty variations to go with any meal.
Love to batch prep? This flatbread recipe is ideal for batch prepping a load of flatbreads for the freezer.
Batch prepping is such a great timesaver and makes lunches hassle free. Even better if you can find some yellow-sticker reduced pots of plant yogurt in the supermarket as that will make lunch even more of a bargain.
Got half a pot of plant yogurt in the fridge and don't know what to do with it? Or have a pot of plant yogurt near or just after its best before date?
No problem. Just prepare a batch of these flatbreads.
Did you know that plant yogurt can be frozen?
So if need be freeze any surplus yogurt for later use and with just some flour and a tiny bit of salt you can have delicious, warm, soft flatbreads to enjoy.
Ideas for using vegan 3 ingredient flatbreads
Simply use your flatbreads to dunk into a delicious stew such as this creamy cashew and butternut squash Moroccan stew or this easy one-pan dish Spanish chickpea stew.
Or enjoy a flatbread for lunch stuffed with a yummy filling such as falafels, hummus and salad. Try my vegan Coronation 'chicken' chickpeas and kidney beans for a creamy curried filling that would be perfect with these vegan flatbreads.
One of our family's favourite way to use these flatbreads is as a pizza base. Simply take a cooked flatbread, spread the base with a little pesto, tomato puree or pizza sauce.
Sprinkle over some grated plant cheese, if liked, and top with your favourite pizza topping. Bake until the cheese has melted and topping cooked.
These little flatbread pizzas are a great timesaver and are an excellent lunch or dinner idea for kids. As they usually love helping our with preparing the pizzas.
Although my kids loves flatbread pizza, often they simply enjoy these flatbreads as they are with no additions other than perhaps a spread of plant-based margarine. Flatbreads are a great afterschool or college snack.
This recipe is suitable for everyone from vegans, plant-based diets, vegetarians, dairy allergies, flexitarians, etc. These flatbreads are literally too good not to be enjoyed by everyone.
Recipe Notes
What is the best pan to cook flatbreads?

Any non-stick frying or skillet pan is ideal for cooking flatbreads as the need for oil is reduced. If necessary heat up a tablespoon of oil then use a piece of kitchen paper to wipe away any excess before cooking your flatbreads.

Any pan or skillet that are suitable for cooking pancakes or crepes are also fine for flatbreads.

I use a non-stick pancake maker which is an electric hotplate to prepare these flatbreads and no oil is necessary and the result is lovely non-greasy flatbreads.
How do I store flatbreads to maintain the freshness?

Flatbreads are at their best when enjoyed soon after cooking.

However, flatbreads can be stored wrapped in kitchen foil, kitchen paper, zip lock bag, or with a clean tea towel and placed in an airtight container for up to 3 days. Keep the flatbreads in a cool, dry area of your kitchen. Flatbreads can also be stored in the refrigerator.

Can I freeze vegan flatbreads?

Yes.

Flatbreads are perfect for freezing. Place a piece of parchment paper between each flatbread as it will make it easier to retrieve one or two breads at a time.

Freeze for up to 3 months.
Can I reheat flatbreads?

Yes.

These flatbreads can be enjoyed at room temperature. Or reheat in a medium hot oven for a few minutes or reheat using the same non-stick pan or hotplate used to cook the flatbread.

Sprinkle a few drops of water over each flatbread before reheating.
Can I use these flatbreads as a pizza base?

Absolutely!

These flatbreads are totally delicious as a pizza bases. However do cook the flatbread first before using as a pizza base as the dough will struggle to rise under the pizza toppings and will come out too dense. I know as I have tried!
How To Prepare Vegan 3 Ingredient Flatbreads
More Tasty Bread And Cracker Recipes
Vegan Irish Traditional Soda Bread (100% wholemeal, no-added fat, no-knead and no-yeast recipe)
Quick 3 Ingredient Dinner Rolls (can tailor the flavour to go with any meal)
Traditional Scottish Oatcakes (crackers)
Traditional Scottish No-Oil Oatcakes
Scottish Traditional No-Oil Cheesy Oatcakes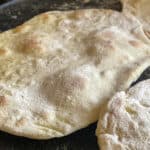 Vegan 3 Ingredient Flatbread
Print Recipe
Only 3 ingredients needed to prepare a batch of deliciously soft, light and flourily flatbreads.
These flatbreads will jazz up any meal and can be easily embellished with your favourite spices and herbs.
Love to batch prep? A few rounds of this recipe and you can have 20-30 flatbreads for the freezer!
Equipment
Non-stick frying pan/ non-stick skillet or use a pancake maker/hotplate

Rolling pin

Mixing bowl
Ingredients
250

grams

self-rising flour

Sieved. Plus extra for rolling out. Alternatively use plain/all purpose flour or wholemeal flour with 1 ½ teaspoons of baking powder.

250

grams

vegan yogurt

pinch of salt

to taste
Instructions
Add the flour, yogurt and salt to a bowl. Mix well.

Bring together into a smooth ball. Work extra flour into the ball until the dough looses its stickiness if necessary.

Let the dough rest for 5 minutes.

Divide the dough into 5 equal pieces for large flatbreads.

Or 8-10 pieces for smaller flatbreads.

Sprinkle a good amount of flour onto your worktop.

Use a rolling pin to roll each flatbread dough out thin but still easy to pick up.

More flour may be necessary to sprinkle on the dough to prevent it sticking to the rolling pin.

Move your flatbread around while rolling as then you can easily see if its going to stick to your worktop.

Meanwhile heat your non-stick pan to medium-hot.

(If necessary use a little oil to prevent sticking)

Place a flatbread in the pan and wait for the moon crater bubbles appear.

The underside should have light brown patches before you flip the bread.

Flip your flatbread and cook for another few minutes.

Repeat with the remaining flatbreads.

If necessary turn your heat down to medium.

I use a pancake maker hotplate and tend to cook at the hotplates highest heat but on a stove top the highest heat could burn the flatbreads.

To keep the flatbreads warm layer them on a plate or board with a clean tea towel covering or piece of kitchen foil. Or place the flatbreads on a baking tray with kitchen foil covering and place in a low heat oven until required.

If liked add a little pat of vegan/plant-based butter or margarine over each flatbread and it will melt in the heat.
Notes
Nutritional info is provided for guidance only and is not a strict calculation as ingredients vary.
Store your flatbreads in an air tight container for up to 3 days. Place kitchen paper or a few pieces of kitchen roll over the flatbreads. Storing covered in the fridge can extend the flatbreads storage time.
Flatbreads can be frozen for up to 3 months or a little longer. Place a piece of parchment paper between each flatbread so that they don't stick together. Wrap the flatbreads well to prevent freezer burn.
Add any of your favourite spices and herbs to the flatbread dough. Such as cumin seeds, coriander seeds, nigella seeds, sesame seeds, poppy seeds, garlic powder, onion powder, mixed herbs, spice blends, fresh coriander, etc.
This recipe is perfect for using up plant-based yogurt that may be near or just after its best before date. Saves binning the yogurt! And if you find pots of plant yogurt reduced in the supermarket use it to cook a batch of these flatbreads.
This recipe is perfect for batch prepping a load of flatbreads to enjoy over the coming months. A great time saver.
Nutrition
Calories:
107
kcal
|
Carbohydrates:
21
g
|
Protein:
4
g
|
Fat:
1
g
|
Saturated Fat:
1
g
|
Polyunsaturated Fat:
1
g
|
Monounsaturated Fat:
1
g
|
Sodium:
4
mg
|
Potassium:
25
mg
|
Fiber:
1
g
|
Sugar:
1
g
|
Vitamin A:
1
IU
|
Vitamin C:
3
mg
|
Calcium:
37
mg
|
Iron:
1
mg