Slow cooker vegan beef stew and dumplings is the epitome of plant-based comfort food.
Deep savoury stew with sweet potatoes and the fluffiest, softest, delicious wee dumplings.
Seriously you have got to try making these vegan dumplings. They are not heavy or filling but resemble little fluffy pillows of yumminess.
Origins of beef stew and dumplings
A stew is simply a selection of vegetables, pulse, meat, fish, herbs, spices, etc cooked in a flavoured liquid gravy-sauce.
Humans have been preparing stews for thousands of years. Most countries have their own favourite traditional stews.
Dumplings are also a traditional food prepared differently depending on the cuisine.
British dumplings are generally a mix of flour and suet. This type of dumpling has been popular for many hundreds of years. They were commonly used in stews and soups to bulk the meal out as meat was expensive.
Vegan beef stew and dumplings
For my recipe I have prepared the dumplings with self-raising flour, vegan mayonnaise, plant-milk and dried thyme. This combination works a treat!
You might want to double up the recipe as 2 dumplings per serving may not be enough! This recipe uses a 3.5 litre (3-4 quart) slow cooker and not sure I could fit in more dumplings but I think I will give it a good try next time!
Textured vegetable protein chunks (TVP) replace the beef element. I love how versatile TVP can be as well as how it soaks up all the delicious gravy flavours. TVP is also really economical and lasts well in the pantry. In the US soy curls can be used instead.
I have chosen to use sweet potatoes as they lend a sweet, creamy taste and texture, and the usual suspects of carrots, onions and garlic!
If you can source the new meat-free beef flavour Oxo cubes then I recommend these for this stew but if not any vegan beef flavour or veggie stock will be fine.
How to prepare vegan 'beef' stew and fluffy dumplings: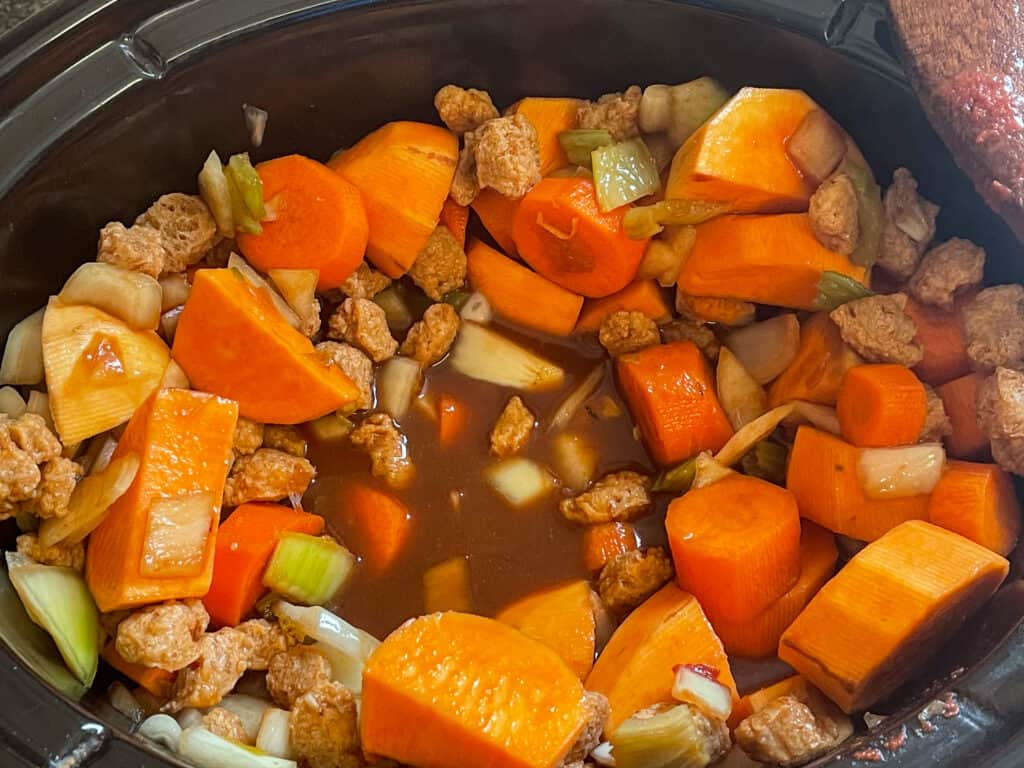 Slow Cooker Vegan Beef Stew And Dumplings Recipe Notes
Vegan stew will keep fresh in the fridge for up to 3 days.
Reheat leftovers until piping hot. A little more liquid may need to be added to reheat if the gravy is all soaked up!
Perfect for batch prep! Portions can be frozen until required. Defrost and reheat until piping hot.
Don't have a slow cooker? Just use a large saucepan to prepare your stew. Gently simmer the stew for at least 45 minutes, and then add the dumplings. Cook the dumplings for 10 minutes then flip and cook for another 10 minutes. Add a lid while cooking the dumplings.
If cooking on the stove top you may need to add more veggie stock.
Instead of veggie or vegan beef flavour stock use some vegan gravy granules.
For thicker stews thicken up with a little cornflour/starch.
Switch out the sweet potatoes for white potatoes.
Bulk out the stew by adding more sweet potato and carrot.
Bulk up the calories by serving the stew over your favourite grain such as a portion of cooked barley.
Add some chopped kale to the stew before you add the dumplings.
Garnish with some twigs of fresh parsley.
For a cheezie hit and boost of nutrients add a teaspoon or 2 of nutritional yeast powder to each serving. Just mix through the stew and it will dissolve.
A chunk of wholemeal bread would be amazing with this vegan stew. Try my easy vegan Irish soda bread recipe.
More traditional vegan stew ideas
Creamed Vegan 'beef' And Barley Stew
Vegan 'chicken' Stew And Dumplings
Scottish Stovies (with mashed neeps (turnips/rutabaga)
Recipe
Slow Cooker Vegan Beef Stew and Dumplings
Print Recipe
Vegan beef stew and dumplings is the perfect comfort food meal.
Guaranteed to cheer you up on a wet, dull day!
Vegan stews are super nutritious, budget-friendly and naturally low in fat and calories. So do serve with a chunk of crusty bread for those that are extra hungry!
Equipment
Slow cooker/crock pot

at least 3.5 litres (3 quart plus) size
Ingredients
1

medium

onion

chopped

4

whole

garlic cloves

diced or minced

220

grams

carrots

2 medium. Chopped into chunks.

460

grams

sweet potatoes

Chopped into chunks.

100

grams

celery

2-3 stalks. Chopped into chunks.

100

grams

soy chunks (TVP)

or soy curls.

2

vegan stock cubes

I used meat-free beef flavour OXO cubes. If using vegan beef Oxo cubes you may need 3 as they are smaller than other stock cubes. Alternatively use a different beef flavour vegan stock or vegetable stock. Using a vegan beef flavour stock does provide a rich, brown gravy colour.

1

teaspoon

vegetable extract

or marmite

1

tablespoon

red wine vinegar

1

tablespoon

tomato puree

or paste

1

teaspoon

garlic powder

1

teaspoon

onion powder

1

litre

water
For 8 fluffy doughballs
165

grams

self-raising flour

125

millilitre

plant milk

2

tablespoon

vegan mayonnaise

I used Asda (UK) own brand of vegan mayonnaise.

1

teaspoon

dried thyme
Instructions
Add all the ingredients to the slow cooker.

Mix.

Push the TVP down below the stock as much as possible.

(Half way through cooking if possible give the stew a little stir and push the TVP down if necessary. But don't worry if you can't do this step!)

Set the slow cooker to medium for 5 hours.

Alternatively cook on low for 6-7 hours.

Or high for 3-4 hours. If cooking on high check your vegetables after 3 hours as they may be cooked through, and then the doughballs can be added.

[Exact times may vary depending on your slow cooker or crockpot, and how chunky your veggies have been cut]

After 5 hours prepare the dough balls. Turn the slow cooker to high while making the dough balls.

Mix the flour with the plant milk, vegan mayonnaise, thyme, a pinch of salt and pepper, to a thick sticky wet dough.

Using a tablespoon or small ice cream scoop make 8 doughballs, plonking each one gently in the stew. Try not to let each doughball stick to another. But don't worry if they do.

Place the lid on the slow cooker and leave for 20 minutes.

Gently flip each doughball be careful to not break them up.

Cook for another 20-25 minutes with the lid on.

Check the seasoning. Add salt and pepper as desired.

Serve right away or use the keep warm setting.
Notes
Nutritional information is provided for guidance only and is not a strict calculation as ingredients vary.
Leftover vegan beef stew and dumplings will keep fresh in the refrigerator, within a covered container, for up to 3 days.
Or freeze for up to 4 months.
Reheat by placing in a saucepan and gently reheating until piping hot. Extra water of stock may be required if the gravy has become very thick. Although as the gravy heats it will become thinner.
Nutrition
Calories:
445
kcal
|
Carbohydrates:
76
g
|
Protein:
21
g
|
Fat:
2.7
g
|
Saturated Fat:
0.4
g
|
Polyunsaturated Fat:
1
g
|
Monounsaturated Fat:
1
g
|
Sodium:
209
mg
|
Potassium:
771
mg
|
Fiber:
11
g
|
Sugar:
15
g
|
Vitamin A:
23725
IU
|
Vitamin C:
9
mg
|
Calcium:
208
mg
|
Iron:
5
mg