This Traditional Vegetable Stew and Dumplings recipe is a must-have recipe everyone should have up-their-sleeve - vegans, vegetarians, plant-based dieters, flexitarians, and omnivores! Packed with loads of tasty every-day vegetables, potatoes, and barley, and delicious rustic, fluffy, dumplings a bowl of this veggie stew is just so satisfying and really easy to customise to your preferences. This is just good-old homely home-cooking at its best.
My family loves a bowl of this traditional vegetable stew and fluffy dumplings at any season of the year, including summer! Although, steaming hot vegetable stew is particularly satisfying during the long, dark, chillier months of autumn or fall, and winter, and is the perfect simple comfort food meal.
Origin of traditional vegetable stew and dumplings
The concept of stew has been around since ancient times, going back to when humans first discovered how to cook food over fire. The simple process of slow-cooking meat and vegetables in a liquid makes it a universal type of dish, found in nearly every culture. A few examples are - "ratatouille" in France, "chickpea stew" in Spain, "tagines" in Morocco, ''Irish stew'' in Ireland, ''mince and tatties' in Scotland, beef stew in England, and chuck wagon stew in United States.
The incorporation of vegetables in stews was a practical method to bulk out meals, especially when meat was scarce, and vegetables like cabbage, turnip and leeks was inexpensive. Consequently, stews were commonly filled with locally-sourced vegetables, edible leaves, and herbs that could be gathered, bartered, or cultivated. For instance, the traditional Scottish hotchpotch soup, which due to its thickness could also be classified as a stew, traditionally included lettuce — an ingredient that might seem unusual to us today. As trade routes expanded and agricultural practices advanced, a broader variety of vegetables, beans, lentils, whole grains, and herbs became more accessible and affordable. This increased availability and diversity have contributed to the evolution and variety of stews we see today.
Many medieval stews, also known as pottages, particularly those prepared by peasants, mainly featured vegetables, peas, beans, and similar ingredients. Meat, being a luxury rarely available to the medieval peasants, was reserved for special occasions and consumed at most a few times a year. So vegetable stews evolved more out of economic necessity than personal preference.
In modern times, however, these old-fashioned vegetable stews are increasingly becoming more popular, driven not by necessity, but by the choice of increasingly mainstream vegan, vegetarian, flexitarian, and plant-based diets. Additionally, movements such as Meat-Free Mondays, Veganuary, No-Meat May, and others further contribute to the growing appeal of wholesome bowls of vegetable stews.
However, due to the cost-of-living crisis vegetable stews enriched with wholesome whole-grains such as barley, rice, or lentils, are becoming more of a necessity as they can provide less expensive essential nutrition, whilst keeping hungry tummies filled!
Enter the Dumpling!
Like stews, dumplings in various shapes and forms are found in a multitude of cuisines around the world. The basic idea of a dumpling - a simple wheat dough, sometimes filled, that's boiled, steamed, or fried - is simple and versatile enough to have been independently invented many times over.
Dumplings, prepared simply with flour, water or milk, were likely used as a way to make small pieces of meat, or a meat-free stew, or a vegetable stew into a more substantial meal. The earliest recipes for dumplings comes from the ancient Roman cookery book Apicius, but it's likely that dumplings of some kind were made even earlier in Asia, most probably in China.
In the context of adding flour dumplings to a stew, dumplings are often associated with British cuisine, where they are traditionally made with suet and flour and cooked on top of a stew or soup until they were light and fluffy.
The addition of budget-friendly, easy to prepare, dumplings to a stew turns a simple stew or soup into a hearty, filling meal. Flour dumplings cooked within a stew were also part of traditional American pioneer cooking.
Traditional American dumplings
In The Little House on the Prairie series of books and films, set in the American Midwest during the late 19th Century, Laura Ingalls vividly describes instances of her mother preparing stew and dumplings. Notably, this dish made an appearance at their Thanksgiving dinner. Similarly, it provided sustenance on the rugged roadside while the family journeyed by wagon, carrying all their possessions, in search of an ideal location to build their home. This hearty meal also graced the dinner table when they hosted a family friend, Mr. Edwards, in their newly constructed cottage on the prairie.
Ma Ingalls dumplings were prepared with white flour, baking soda, salt, and buttermilk, and cooked directly on top of the stew. Also, when Mr Edwards visited for dinner, the dumplings were cooked within a Jack rabbit stew, and served alongside cornbread and molasses. Laura Ingles describes her mothers dumplings as being similar to sour milk biscuits, although the dumplings did not need to be rolled out but simply dropped into the stew as they were of a much wetter consistency.
For more information, see The Little House Cookbook, Frontier Foods from Laura Ingalls Wilder's Classic Stories [Third Edition], by Barbara M. Walker [1979].
Traditional British dumplings
Suet dumplings has long been a staple in traditional British cooking for many centuries, but when the pioneers settled in America suet was not an easy ingredient to obtain so early American recipes for dumplings do not contain suet. Suet, is a type of animal fat and throughout the centuries it was cheap and readily available compared to other ingredients so was useful in making a sparse meal into more of a mouthful! Flour dumplings made with suet are light and fluffy, and they soak up the flavours of whatever stew they happen to be cooking in.
The practice of adding dumplings to stews was popular during the 18th and 19th centuries, during the Industrial Revolution. This was an era when cheap, filling, and nutritious meals were needed to feed large, working-class families. Stews, soups, and broths could be easily bulked up with the addition of dumplings, providing a more filling meal.
One of the most popular British stews that feature suet dumplings is Beef Stew and Dumplings. Although this traditional meal is a frequent dish during the colder months in modern times, it was a staple all year round for those with modest means in the past.
In the popular 19th century cook book Mrs Beeton's Book of Household Management [1861] Isabella Beeton describes a plain family dinner as being -
''mutton, carrots, mashed turnips, suet dumplings, and caper sauce: the broth should be served first, and a little rice or pearl barley should be boiled with it along with the meat''
Incidentally, the pudding to follow this meal was a rolled jam pudding which was likely prepared with suet as well!
Old-fashioned puddings prepared with suet
Old-fashioned British dumplings are close cousins of the traditional British savoury and sweet puddings such as - Scottish haggis, sweet clootie dumpling, spotted dick [steamed pudding], steamed jam pudding, and Christmas pudding otherwise known historically as plum pudding and although a sweet dessert now, it was originally served along with the savoury dinner.
In the old cookery book The Art of Cookery Made Plain and Easy [1805], Hanna Glasse has a recipe for Suet Dumplings which is listed under the ''Of Puddings'' chapter. However, it is not clear whether Glasses' dumplings are intended to be served along with the savoury course or the dessert course, as a Steak Pudding is before the Suet Dumplings recipe, whereas the recipe after the Suet Dumplings is for a Potato Pudding which is finished off by having sugar thrown over it!
Glasses' Suet Dumplings are prepared with flour, milk, eggs, suet, currants, salt and ginger, with the mixture formed into the size of a large turkey's egg, before being flattened and cooked in boiling water.
Vegetable suet
Atora, the most common brand of suet, was the first manufactured animal suet in 1893, and vegetable suet appeared sometime after.
Atora vegetable suet is made with a blend of vegetable oils and wheat flour and comes in the form of little, light coloured, firm, but easily squashed pellets!
It doesn't require any preparation before being used in a recipe as it can be simply added to the recipe as it comes, and during cooking it melts into the dumpling or pudding, and if cooked properly it creates a deliciously light and fluffy texture.
Gluten-Free vegetable suet
Atora vegetable suet is not gluten-free as it contains wheat flour but Suma, the wholefood brand, has a vegetable suet that is prepared with rice flour as well as sustainable vegetable oils, and is available in most health food shops in the UK, and online retailers. [We even managed to find Suma suet on the wee Scottish island where we live!].
More vegan recipes that use vegetable suet
These vegan traditional suet recipes can be prepared with any brand of vegetable suet, alternatively if vegetable suet is difficult to source use a cheese grater to shred up some chilled vegan butter into little pieces and use that instead of the suet.
Traditional British Spotted Dick recipes use suet but for our Steamed Spotted Dick Pudding we replaced the suet with vegan margarine and it was perfect! However, you can off course use vegetable suet.
How to prepare traditional vegetable stew and dumplings
Preparing this traditional vegetable stew with dumplings is fairly straightforward and requires approximately an hour of cooking. As with all stews, the flavours tend to become even more delicious a day or two after it's prepared, as the ingredients have time to blend together beautifully. This means you can save time by making the stew a day or two in advance.
However, the dumplings are at their best right after they're cooked so, if you decide to prepare the vegetable stew ahead of time, when you require dinner - you can simply bring it to a boil, add fresh dumplings, simmer for 20 minutes, and have dinner ready in about thirty minutes.
Prepare the vegetable stew:
First, gather and prepare all the ingredients.
Add the barley to the stew pot, along with the vegetable stock or broth, marmite [yeast extract], bay leaf and any fresh herbs you like [we used sage, rosemary, and thyme]. Or replace the fresh herbs with dried herbs.
Bring to the boil, and simmer for 25 minutes.
Next, remove the dried herbs and add the chopped potatoes, carrots, celery, onions, swede, cabbage, and garlic, to the stew pot.
Cook for 10 minutes, before adding the sliced mushrooms [we used chestnut mushrooms], green beans and sweetcorn. Cook for another 3 minutes.
Prepare the dumplings:
The dumplings can be prepared with either vegetable suet or vegan butter that comes in a block form. See the main recipe for guidance on using vegan butter as an alternative.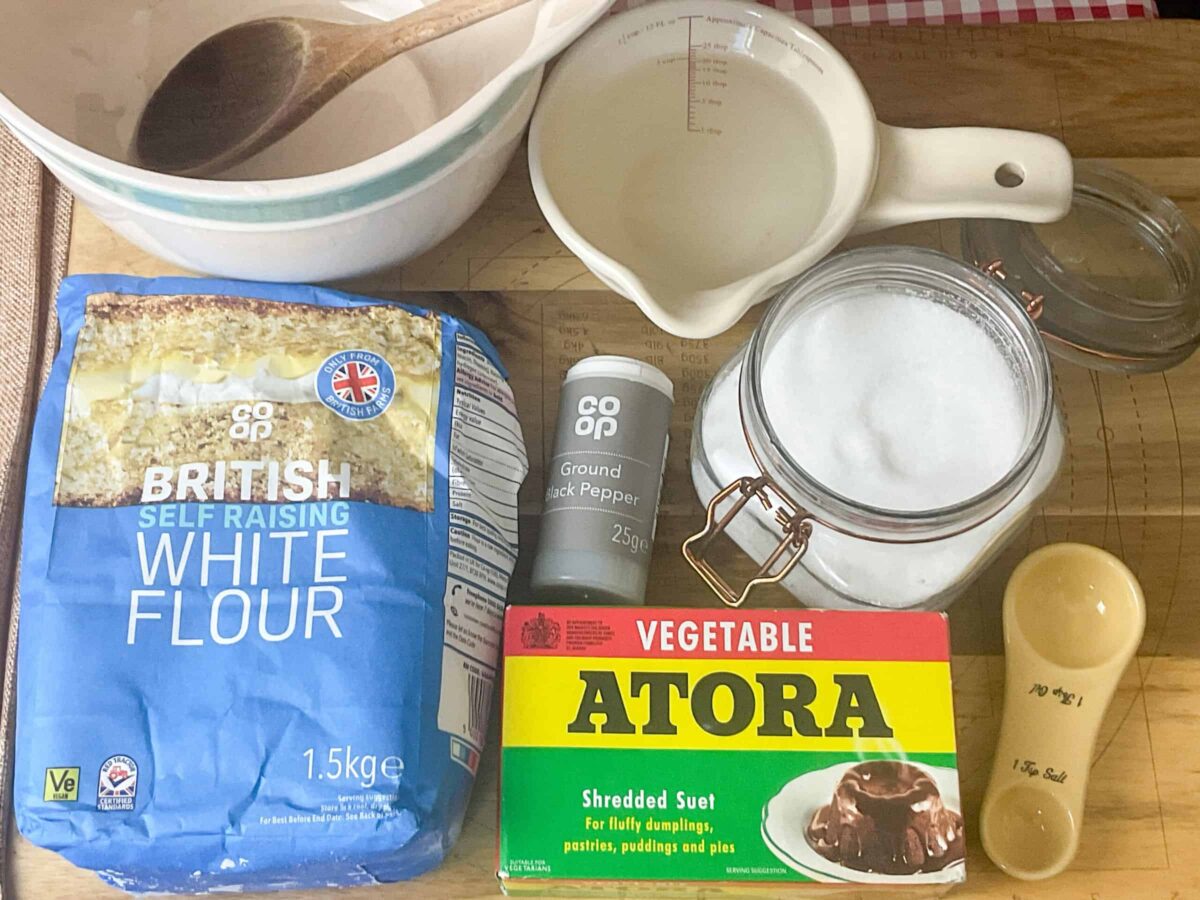 Gather all your dumpling ingredients.
While the vegetables in the stew are cooking the doughballs can be prepared.
Add the self-raising flour, vegetable suet, salt and black pepper to a mixing bowl.
Add 4-5 tablespoons of water to the dry ingredients and stir well until it begins to clump together. Using your hands press the dough into a ball shape, adding a few more drops of water if necessary.
Shape the dumpling dough into 8-9 small dumpling balls, dusting your hands with flour helps form the balls. Don't overwork or knead the balls too much.
Place the doughballs into the bubbling stew and pop a lid over the stew pan. Cook the doughballs for 20 minutes.
After 20 minutes the doughballs will be deliciously plump and fluffy. Enjoy the vegetable stew with fresh chopped parsley if liked, and perhaps a few slices of bread to mop up the tasty veggie stew juices.
Recipe notes and FAQ's
Storing vegetable stew
Vegetable stew can be stored within the refrigerator for 3 days, along with any leftover dumplings. Or frozen for 2-3 months.
Reheating vegetable stew
Vegetable stew prepared with a grain such as barley will continue to thicken as it is stored so do add extra vegetable stock or broth when reheating. To reheat, add the stew to a non-stick saucepan and over a medium heat bring the stew to a boil, stirring frequently to avoid sticking, and reheat for 2-3 minutes or until the stew is piping hot.
If all the dumplings have been eaten, a new batch can be prepared and added to the stew once it has been brought to the boil. Pop the new batch of dumplings on top of the stew and simmer for 20 minutes with the lid on the pot.
Is vegetable stew and dumplings fine for gluten-free diets?
Yes! Vegetable stew can be prepared as safe for gluten-free diets, but do ensure that all the packaged ingredients such as vegetable stock or broth is certified as gluten-free, and replace the barley with a gluten-free grain such as rice or buckwheat.

Also, replace the marmite [which is not gluten-free] with a gluten-free yeast extract such as gluten-free certified Vegemite or similar.

As for the dumplings, use a gluten-free dumpling recipe such as this Gluten-Free Herb Dumplings which is over on the celiac.org.uk website.
Is vegetable suet vegan?
Atora vegetable suet is the main brand of suet widely available in UK supermarkets and as it contains no animal ingredients, and is labelled vegetarian, it can be regarded as vegan-friendly. Suma vegetable suet is labelled vegan as well as gluten-free and can be found in many UK health food shops as well as online.

If your in the US or Australia, have a look in international food stores, wholefood stores, or British food stores for vegetable suet, or perhaps source it online at stores such as Walmart or Amazon.
What can I use instead of suet?
The vegetable suet can be replaced with vegan butter that comes in a solid block. To prepare the butter, first make sure that it is very cold and chilled, so use it straight from the refrigerator or perhaps pop it into the freezer for an hour or so, and then use a cheese grater to shred it up.

If the pieces of grated butter are quite long, use a knife and slice them into smaller pieces being careful not to squash them too much.

Once shredded, and chopped if necessary, the butter is ready to use in the recipe as a suet replacement. As butter is more moist compared to suet, you will likely find that you need less water to bring the dumpling mixture together into doughballs.

Alternatively, you can use vegan mayonnaise, along with self-raising flour, and plant-based milk, to prepare fluffy dumplings. The recipe is over on our Vegan 'beef' Stew and Dumplings recipe post.
Can I make extra dumplings for the stew?
Yes of course. The dumpling recipe makes 8-9 dumplings, but if your stew pot or pan is large enough for extra dumplings you could make an extra batch [or half the ingredients and add to the first batch - to prepare one and a half batches] and cook these at the same time. Dumplings are usually very popular and everyone will likely want extra so preparing more may be best!
What can I replace pearl barley with?
Barley can be replaced with a variety of different grains, although do keep in mind that other grains will have different cooking times as well as textures and flavours.

A few suggestions:

1. Farro: This is an ancient grain similar to barley in terms of texture and taste and it can hold its shape well and provide a chewy texture to the stew.
2. Brown Rice: This grain provides a slightly nutty flavour and holds up well in a stew as it can cope with longer cooking.
3. Quinoa: This is a wholesome grain and can cook faster than barley or rice but it won't provide as much thickness to the stew or much texture compared to barley.
4. Buckwheat Groats: While these have a distinct flavour that's different from barley, they hold up well in soups and stews.
5. Lentils: These don't have the exact texture of barley, but green and brown whole lentils do hold their shape well and can add a lovely thickness to the stew. Red split lentils can also be used, although these lentils will loose their shape, and instead will likely result in a tasty, but much thicker stew.
6. Couscous or Bulgur: In a pinch, these grains can be used but they cook much quicker than barley, so do adjust the cooking time to avoid them getting too mushy. Some types of couscous take minutes to cook or about 10 minutes soaking in boiling liquid, so it may be an idea to add the couscous at the same time as the dumplings.
What vegetables go well in a stew?
Absolutely any vegetable can be added to a stew, so simply go with what you have and enjoy.

We use potatoes, swede [rutabaga], carrots, celery, onions, mushrooms, green beans, cabbage, and sweetcorn, but here are a few more ideas: sweet potatoes, celeriac, peas, field beans, yard-long beans, mange-tout, sugar snap peas, kale, collard greens, spinach, spring greens, turnip, parsnip, beetroot [although this will colour the stew with pink-red tones!], courgettes [zucchini], marrow, butternut squash, acorn squash, pumpkin, etc.

Also consider the length of time it takes to cook any vegetable you add as some softer vegetables such as spinach and marrow do not need lengthily stewing times, whereas other veggies such as butternut squash can cope with a longer cooking time.
Any tips on preparing the best suet dumplings?
Absolutely! Here are some tips to help you prepare the best vegetable suet dumplings:

1. Measuring the ingredients accurately is essential for the lightest, fluffiest dumplings, so do use a weighing scale if possible. The main ratio of flour to suet/butter is 2:1 so use half the amount of suet to your quantity of flour. Too much suet or flour can make your dumplings heavy and dense.
2. If replacing the vegetable suet with a vegan butter make sure that the butter comes in a solid block form and that it is very cold, chilled, or semi-frozen as this will ensure that the butter can be shredded with a cheese grater much more easily. See the main recipe for guidance on using vegan butter.
3. Be careful not to overmix the dough or knead it like bread dough as this can lead to tough dumplings! Simply form the dumplings using your hands into ball shapes without squashing them too much.
4. Allow the formed dumplings to rest for a few minutes before adding to the hot stew.
5. Ensure that your dumplings are not too large as they will increase in size as they cook and if you make them too large they may not cook properly in the time given by the recipe. Use the recipe as a guide to how many dumplings the mixture should be shaped into for best results.
6. Simmer or gently boil the stew liquid, and be careful not to fast or rapid boil while the dumplings are cooking as this can affect the dumplings shape and texture.
7. Leave some space between each dumpling so that they have some room to expand as they cook.
8. Always keep the lid on the pot whilst the dumplings are cooking as they are steam cooking, so try and resist the urge to lift the lid before the stated cooking time has finished.
9. Always follow the recipe cooking time for the dumplings and don't undercook the dumplings as the dough will be half raw! On average dumplings take around 20 minutes to cook through. They are done when they are plump, well risen, and when gently sliced in half the insides will be fluffy with air holes.
10. The number one tip is to not give up! If your first batch didn't go to plan keep trying as you will soon get the hang of making dumplings, and you won't need a recipe as the ratio 2:1 [flour: suet, so 100g/4oz of flour - 50g/2oz suet/butter] can be easily noted down and quickly recalled and added to any soup or stew you like. However, don't forget to add some salt and pepper, and maybe some dried herbs, and enough water to bind into dumplings!


What pairs well with a vegetable stew?
A bowl of vegetable stew with dumplings and some crusty bread is a meal in itself. A slice or two of this home-baked Irish Soda Bread [100% wholemeal] or this Boston Brown Bread, is always amazing dunked into veggie stew juices, as is one of these Cornbread Muffins, Vegan Cheese Scones, and Vegan Buttermilk Scones [these last two are tasty American biscuit alternatives]. For a fresh side, a nice green crispy salad is always a great addition to any meal.
10 Reasons why you should cook more veggie stews!
Stews are packed with flavour as the slow cooking process of a stew allows the flavours of the ingredients to meld together, creating a thick broth that is very satisfying.
Stews are amazingly versatile as you can make a stew out of just about anything. This means you can cater to any dietary requirements, use up leftovers, or make the most of what's in season, reduced, or on special offer. Stew recipes are easily adapted to your own needs and preferences.
A bowl of piping hot stew is the best comfort food especially on a cold day or whenever your feeling under-the-weather, and it has a way of making any house feel cozy and homely.
Stews can be packed with wholesome and healthy ingredients so they are the perfect way to enjoy a variety of vegetables, whole grains, beans and lentils, all in one meal.
Stews are the best budget-friendly meals as the stewing process will make inexpensive ingredients tender and full of flavour. Adding dumplings, or serving with your favourite crusty bread, stretches out the stew creating more portions and the stew more filling.
Stews are perfect for batch-cooking as they can be made in advance and reheated when needed. In fact, most stews taste even better the next day after the flavours have had more time to meld together.
Stews are a one-pot meal so they are easy to prepare and serve, and even better -less washing up!
Most stews are freezer-friendly so if possible make a double batch and freeze one batch for a super quick future meal.
A large pot of stew can feed a crowd, making it a great inexpensive meal for gatherings, pot-lucks, or large family meals.
If your child, or perhaps yourself, enjoy the Disney Dreamlight Valley computer game where sims cook the simulated vegetarian vegetable stew, then preparing a real-life vegetable stew is a great idea to encourage kids to become interested in cooking and eating wholesome veggie stews.
More tasty traditional vegan stew recipes
Stews are the perfect vegan comfort food and are just so easy to prepare, can be tailored to whatever ingredients you have to hand, and are incredibly budget-friendly as even the saddest looking veggie in your refrigerator can be transformed into a delicious pot of wholesome goodness. We have even added bendy celery sticks and carrots to a veggie stew and they have been revived as they cook! Nothing gets wasted in our home if it can be helped!
Homemade dumplings are a delicious addition to a veggie stew but sometimes a quick home-made bread hits the spot better! Especially if you have any Australian Damper Bread or Irish Soda Bread to use up as they are perfect for dunking into vegetable packed stews.
Alternatively, there are always extra hungry members of the family to feed or you may just be having an extra peckish day, so both dumplings as well as home-made bread is in order for extra hearty meals!
A few more vegan bread sides...
***please note: for US measurements click the 'US customary button' within the recipe and the measurements will switch to tablespoons, cups, and ounces.***
Recipe
Traditional Vegetable Stew and Dumplings
Print Recipe
There's nothing better than a traditional, comforting, satisfying, tasty bowl of home-cooked vegetable stew that is packed with wholesome potatoes, veggies, and barley, and deliciously fluffy melt-in-the-mouth dumplings. Perfect for those long dark chillier months but also pretty good for the warmer months, especially up here in the Scottish Islands where summer can frequently mean torrential rain, gale winds, thunder and lightening - and frequent power cuts!
Equipment
Large non-stick soup or stew pot / Dutch oven pot

with a lid

Mixing bowl

cutlery knife or spoon
Ingredients
Vegetable broth:
1

teaspoon

marmite

[or vege-mite, yeast extract]

1.5

litres

vegetable stock

[prepared with 2-3 vegetable stock cubes]

1

small

bunch of fresh herbs

[such as parsley, thyme, sage, rosemary, lovage, a mix is nice,] or replace with a few teaspoons of dried herbs

2

bay leaf
Stew:
100

grams

pearl barley

washed and drained

2

medium

carrots

[about 240grams prepared carrots sliced into 1 inch chunks]

2

sticks

celery

[about 140grams prepared celery sliced into 1 inch chunks]

2

medium

potatoes

[about 410grams prepared potatoes sliced into 1-1½ inch chunks] keep the skins on if unblemished

1

small

swede

[about 350grams prepared swede sliced into 1-1½ inch chunks]

1

medium

onions

[about 240grams onion sliced into thick pieces]

80

grams

green beans

[sliced into 1-2 inch pieces]

90

grams

mushrooms

[sliced into thick pieces, cut the stalks in half]

150

grams

white cabbage

[shredded and rough sliced] any type of cabbage can be used

70

grams

sweetcorn

[either fresh, frozen or canned] we removed the kernels from 1 corncob
Dumplings:
100

grams

self-raising flour

50

grams

vegetable suet

[or use a cheese grater and shred very cold vegan butter into small pieces]

¼

teaspoon

salt

plus a few pinches of black pepper

5

tablespoons

water

[to bind the doughballs] may require a little less or more water
Instructions
Prepare the stock and pre-cook the barley:
Add the pearl barley to the stew pot along with the vegetable stock, marmite, and bay leaf. If using fresh herbs add these too, or a few teaspoons of dried herbs can be used instead.

1 teaspoon marmite,

1.5 litres vegetable stock,

1 small bunch of fresh herbs,

2 bay leaf,

100 grams pearl barley

Over a medium heat, bring to a gentle boil, pop the lid over the pan covering about ¾ of the pot, and cook for 20 minutes.

Remove the fresh herbs, and you can either remove the bay leaf or keep them in the broth.
Prepare the stew:
Add the carrots, potatoes, onions, swede, and cabbage to the vegetable broth, and bring back to the boil and cook for 10 minutes. Place the lid over the pot so that it just covers about half of the pot.

2 medium carrots,

2 sticks celery,

2 medium potatoes,

1 small swede,

1 medium onions,

150 grams white cabbage

Give the stew a good stir, and add the mushrooms, green beans, and sweetcorn, and cook for another 3 minutes.

80 grams green beans,

90 grams mushrooms,

70 grams sweetcorn
Prepare the doughballs:
While the vegetables are cooking prepare the doughballs.

Add the flour, suet, salt, and pepper to a mixing bowl and stir together.

**[If using chilled or semi-frozen vegan butter instead of suet, use a cheese grater and shred the butter into small pieces directly into the flour mixture, if the butter pieces are large just use a cutlery knife or clean scissors to slice them up smaller being careful not to squash the pieces too much or rub them into the dry ingredients]**

100 grams self-raising flour,

50 grams vegetable suet,

¼ teaspoon salt

Pour in 5 tablespoons of water and using a cutlery knife or spoon stir the water through the flour mixture until it begins to look scraggly and is clumping together.

**[ If you used vegan butter instead of suet you will likely need less water as the butter is more moist compared to suet, so just add 4 tablespoons and if too moist simply add a little extra flour]

Dust your hands with flour, and form 8-9 doughballs [we usually prepare 9] using a few extra drops of water if necessary or a little extra flour if the dumpling mix is too wet.

Its important to not overwork the dumpling dough so don't knead it on your work surface, rather just use your hands to form the dumplings - the dumplings do not have to be perfectly smooth balls, a few cracks are fine]
Finish the stew:
After the mushrooms, sweetcorn, and green beans have had 3 minutes of cooking, give the stew a good stir and taste the stew, adding salt and pepper to taste. Also remove any bay leafs that may still be in the stew.

Next, pop the dumplings into the stew and place a lid completely over the pot, and over a medium heat simmer [gently boil] for 20 minutes.

Serve sprinkled with fresh chopped parsley if liked, and slices of bread to soak up the veggie stew juices for those with extra hungry appetites!
Notes
Nutritional information is provided for guidance only and is not intended to be an exact calculation as ingredients vary.
Nutritional data is for 4 servings, but the stew may feed 6 if smaller appetites or smaller bowls are dished up.
Prepare extra dumplings if liked [everyone always wants more!], and if necessary use a larger stew pot so that the extra dumplings fit!
If half the stew was eaten on the first day along with all the dumplings, simply bring the rest of the stew to a gentle boil, adding extra vegetable broth to thin down the thick stew, and prepare a new batch of dumplings, and cook these in the pot on top of the leftovers. A cheap and easy meal, but totally delicious!
The stew will become thick as it is stored as the barley will continue to absorb the liquid, so add extra broth or stock, and gently boil until piping hot.
Store leftovers within the refrigerator for 3 days.
Or freeze for 2-3 months.
The dumplings will be at their best soon after cooking but can be reheated or frozen along with the stew.
We sourced our dumpling recipe from the back of the Atora Vegetable suet packaging, but we added black pepper and stated an exact amount of salt.
The suet can be replaced with chilled or semi-frozen block of vegan butter, see the recipe above for directions.
For useful suet dumpling tips to help you prepare the best dumplings, check out the recipe notes and FAQ section above the recipe.
The vegetables do not have to be perfectly cut so just go with rough chopped into chunks.
Add more veggies if liked, the quantities are for guidance only, often when I make a stew I just chuck anything and everything in without weighing! That's the beauty of stews!
Gluten-Free Vegetable Stew and Dumplings:
For a gluten-free dumpling recipe see the celiac.org.uk recipe. For gluten-free vegetable stew use a gluten-free vegetable stock, broth, powder, or cubes. We used Marigold Swiss vegetable bouillon powder which is labelled vegan and gluten-free, also replace the barley with rice or buckwheat. And use a gluten-free certified yeast extract such as gluten-free labelled Vegemite or replace it with 1-2 tablespoons of tamari soy sauce or coconut liquid aminos.
Nutrition
Calories:
436
kcal
|
Carbohydrates:
80
g
|
Protein:
11
g
|
Fat:
10
g
|
Saturated Fat:
2
g
|
Polyunsaturated Fat:
3
g
|
Monounsaturated Fat:
3
g
|
Trans Fat:
0.1
g
|
Sodium:
1830
mg
|
Potassium:
1132
mg
|
Fiber:
12
g
|
Sugar:
12
g
|
Vitamin A:
6710
IU
|
Vitamin C:
55
mg
|
Calcium:
95
mg
|
Iron:
3
mg
Prepared our tasty Traditional Vegetable Stew and Dumplings? Do pop back and let us know how you got on with the recipe as we love hearing from you. Thanks so much! Jacq x