This Orcadian oatmeal soup is a humble creamy carrot, turnip and leek soup that hails from the Scottish Island Orkney. The flavours of this veggie soup are fresh, nutty, savoury, and sweet with the veggies and oatmeal providing delicious textures and bite.
This wholesome oatmeal soup is incredibly budget-friendly using everyday ingredients, but its just what you need to warm the cockles [as the old saying goes!] during those chilly long winter months.
A bowl of Orcadian oatmeal soup with a fresh parsley and a home-made vegan Scottish haggis garnish. Enjoy with a couple of traditional Scottish oatcakes. So delicious.
What is Orcadian oatmeal soup?
Orcadian oatmeal soup is a traditional soup that originates within the Scottish island of Orkney. The soup has been prepared in Orkney for at least a few hundred years and is a firm favourite with the locals. Orkney receives its firm share of cloudy, rainy and windy weather so hot tasty soups just hit the spot, all year round!
The soup is simply prepared with humble ingredients; carrots, swede, leeks, oatmeal, stock, and milk, with some recipes including onions. The oatmeal thickens up the soup nicely whilst providing extra valuable nutrition, nutty flavours and a nice texture.
The carrots and swede [or turnip as we call it in Scotland] are grated/shredded with a cheese grater which provides an interesting texture to the soup as the veggies are cooked but still retain a pleasant fresh flavourful bite. The leeks and onions provide delicious sweetness, while the oatmeal gives the soup more texture and nutty oaty flavours.
There is just something so comforting and reassuring about Orcadian oatmeal soup and it sure does provide warmth and coziness. As the ingredients are every-day pantry ones this soup is a good budget-friendly one, and can be prepared relatively quickly.
Oatcakes are the perfect accompaniment to a nice big bowl of hot thick Orcadian oatmeal soup, as Orkney does produce some of the best commercially produced oatcakes available.
A 2000/2001 study into the genetics of Orcadian men found that 60% of Orcadians were descended from Viking invaders. The Vikings, from Scandinavian countries, invaded Orkney during the 8th-9th centuries.
Vikings had access to oats, white [not orange!] carrots, turnips, onions and leeks, and enjoyed bowls of soup, so Orcadian oatmeal soup may even be traced back to the viking times and potentially renamed Viking Orcadian oatmeal soup!
How to prepare Orcadian oatmeal soup
Orcadian oatmeal soup is prepared with just a few fresh ingredients and is simply thickened with Scottish oatmeal.
First grate the carrot and swede [turnip/rutabaga].
Dice the onion and slice the leek into small pieces.
Melt the vegan butter or margarine in a soup pan, and cook the carrot, swede, leeks and onion for 10 minutes.
Place a lid askew over the soup pan.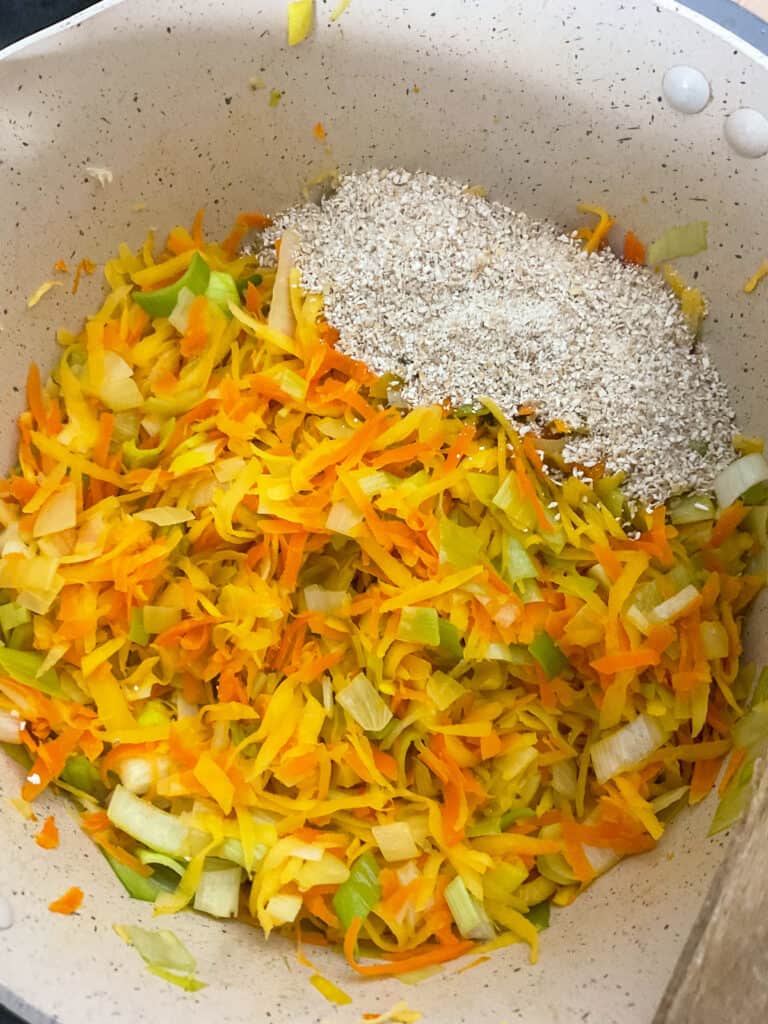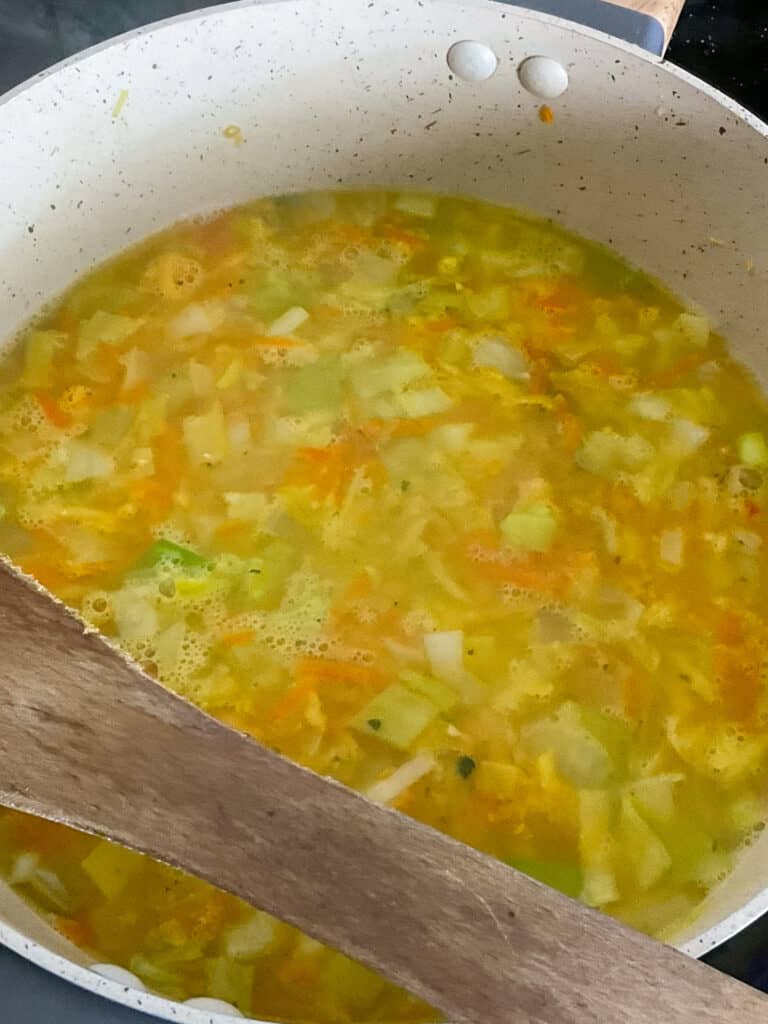 Add the oatmeal and cook for an extra minute.
Pour in the hot veggie stock and cook for 10 minutes.
Pour in the oat milk, season, and bring to the boil.
Soup is now ready to serve with optional fresh parsley [or fine chopped chives or spring/green onions].
A few traditional Scottish oatcakes are a tasty accompaniment.
Above we used leftover crumbled vegan haggis as a delicious garnish, however the soup is just as tasty served on its own.
Recipe notes
Storage and reheating
Store leftover oatmeal soup within the refrigerator for up to 3 days. Or freeze for up to 3-4 months.
To reheat oatmeal soup, add to a small saucepan and bring to the boil, stirring frequently. Once piping hot the soup is good to go. Before reheating, add a little extra oat milk to the soup [just a tablespoon or two] if it has become very thick.
What type of oatmeal is best for soup?

The type of oatmeal that is best for oatmeal soup is medium, pinhead, steel-cut, or Irish oatmeal. This type of oatmeal is made up of small rough pieces of oats and this provides the soup with a tasty texture whilst nicely thickening the soup.

If there is no oatmeal available then rolled, porridge or jumbo oats can be used but although the consistency of the soup will not be the same, it will still be wholesome and delicious.
Why should I add oatmeal to soup?

Oatmeal is an inexpensive ingredient that can be used as an alternative to flour for thickening and giving body to soups. The oatmeal texture provides a nice nutty-oaty flavour bite whilst also providing useful nutrition.

Oatmeal adds antioxidants, fibre, slow-releasing carbohydrates, protein, vitamins and minerals, reduces LDL bad cholesterol so benefiting heart health, whilst also helping keep us feeling full for longer, lowering blood sugar levels, and helps keep our gut microbiome full of healthy bacteria. And many more amazing benefits!
Is oatmeal gluten-free?

Unfortunately, even though oats do not naturally contain gluten they are commonly produced in an environment with other gluten containing products, so can not safely be labelled gluten-free unless the environment is actually a gluten-free one.

However, many people with celiac disease can tolerate the minute particles of gluten that may be present in oat products so its entirely up to the individual whether they fall into this category or not.

Some oatmeal products are actually certified as gluten-free so if necessary do opt for these certified oats.
Is Orcadian oatmeal soup gluten-free?

Yes, as long as gluten-free certified oatmeal is used, as well as a gluten-free vegetable stock.
More tasty Scottish soup recipes:
A different soup for each day of the week!
Scotland's national soup: Cock-a-leekie
Scottish Hotchpotch soup [Hairst Bree]
Old-fashioned Scottish potato soup
📖 Recipe
Orcadian Oatmeal Soup [carrot, turnip, and leeks]
Print Recipe
This tasty traditional Scottish Orcadian soup is creamy, thick, savoury, sweet, and oaty. Its just the ticket for those dark, long, chilly months as a bowl of this cozy soup will soon have you toasty on the inside!
Enjoy with a few traditional Scottish oatcakes and perhaps a wedge of vegan cheese for a delicious satisfying meal.
Equipment
Large non-stick soup pan

[with lid]

Cheese grater
Ingredients
40

grams

vegan butter

[such as Flora butter, or vegan margarine]

180

gram

onion

[1 medium-large, diced]

250

gram

leek

[1 medium-large, chopped small]

180

grams

carrot

[2-3 small-medium grated/shredded]

200

grams

swede

[turnip/rutabaga, grated]

55

grams

oatmeal

[such as medium/pinhead/steel-cut oatmeal]

1

litre

vegetable stock

[hot]

500

millilitre

oat milk

[or your usual milk]

2

tablespoon

parsley

[or sliced chives or spring/green onions]
Instructions
Add the butter to a non-stick soup pan. Melt over a medium heat and add the onion, leek, swede and carrot.

Place a lid askew over the pan [don't completely cover the pan].

Saute for 10 minutes, stirring frequently.

40 grams vegan butter,

180 gram onion,

250 gram leek,

180 grams carrot,

200 grams swede

Tip in the oatmeal and stir well, cook for a minute.

Pour in the hot vegetable stock, and season with salt and pepper.

Bring to the boil, turn the heat to medium-high and cook for 10 minutes. Pop a lid on the pan but don't completely cover, and stir a few times.

Turn the heat to low and pour in the oat milk.

Bring back to the boil, stirring, and then immediately remove from the heat.

Check the seasoning and add enough salt and pepper to bring the flavours together.

Serve with the fresh chopped parsley sprinkled over if liked. Or replace with chives or fine sliced spring onions/green onions.
Notes
Nutritional information is provided for guidance only and is not intended to be an exact calculation as ingredients can vary.
The cup measurements for the vegetables were gained using a 250ml cup measure and the veggies were loosely added to the cup and not packed down.
The tablespoon measurements were gained using a 15ml measuring spoon.
Leftover soup will keep in the refrigerator for up to 3 days.
Or freeze for 3-4 months.
If the soup becomes very thick as it sits, add a little extra oat milk [a tablespoon or so per portion], and reheat until it comes to the boil and is piping hot. Stir frequently as the soup reheats.
Nutrition
Calories:
161
kcal
|
Carbohydrates:
26
g
|
Protein:
3
g
|
Fat:
6
g
|
Saturated Fat:
1
g
|
Polyunsaturated Fat:
1
g
|
Monounsaturated Fat:
2
g
|
Trans Fat:
0.03
g
|
Sodium:
781
mg
|
Potassium:
374
mg
|
Fiber:
4
g
|
Sugar:
14
g
|
Vitamin A:
6601
IU
|
Vitamin C:
19
mg
|
Calcium:
180
mg
|
Iron:
2
mg
Prepared this tasty Orcadian oatmeal soup?
We would love to know how you got on with the recipe.
Do drop us a comment below and click the star ratings.
All feedback very much appreciated.
Thanks so much! Jacq x