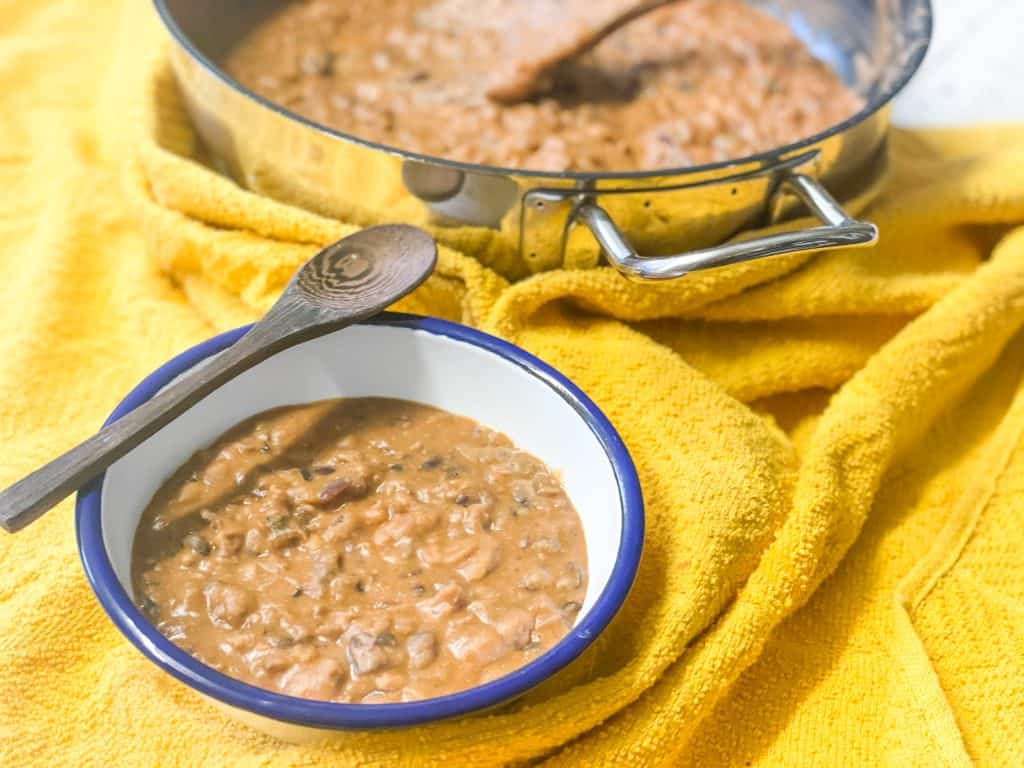 Plant-based vegan refried beans are one of the best side-dishes around!
Contrary to traditional refried beans my plant-based vegan refried beans are low in cholesterol and saturated fats, and have no added salt, oil or fats.
Vegan refried beans are a savoury umami delicious bowl of plant-based goodness.
My son literally eats them by the bowlful!
What are refried beans?
Refried beans originate in Mexico and have been around for about 100 years. They are also a traditional dish in many Latin American countries. As well as being a popular Tex-Mex dish.
Tex-Mex is a blend of Texan, from the Tejanos people of Texas who are descended from Hispanic settlers, and Mexico cuisine.
The ingredients for refried beans are slightly different depending on the region. But the basic preparation remains similar.
Contrary to the name refried beans are not actually fried twice!
Instead beans, commonly pinto, black or kidney beans, are cooked until soft then mashed, seasoned and fried in lard or oil.
Vegan refried bean serving ideas
Refried beans are the perfect way to get more beans into your diet.
You can add a scoop to almost any dish or meal for an instant nutrition boost. Beans are super high in protein with one serving on my refried beans providing around 9.9 grams!
Use refried beans as a base or spread for enchiladas, burritos, wraps, pitta breads, sandwiches, romaine lettuce wraps, etc.
Spread some refried beans on to whole-wheat crackers or oatcakes.
Salads and buddha bowls are delicious with a dollop of refried beans.
Top a veggie burger with some refried beans.
Create a Tex-Mex inspired pizza! Sub out the tomato sauce base and use vegan refried beans instead! Don't forget to add sweetcorn to the topping!
Prepare some refried bean quesadillas which is just a tortilla toastie! Add veggies and some plant-based cheese and cook on a non-stick pan until toasted. Delicious!
Use refried beans as a dip for veggie sticks, bread sticks, homemade crispy tortilla chips, etc.
Refried beans can be the starter for a special meal. Use refried beans to replace pate. Serve the refried beans in little pots or tiny jars.
Add a scoop of refried beans to your favourite veggie chilli recipe for a flavour and nutrition boost!
Plant-Based Vegan Refried Beans
Serves 4
Maybe more depending on whether the refried beans are used as a side-dish, dip or spread. 
For gluten-free vegan refried beans make sure the stock cube is gluten free. I use vegan Marigold organic bouillon cubes which are gluten-free.
Plant-Based Vegan Refried Beans
The easiest, tastiest side-dish, dip, snack or spread! Plant-based vegan refried beans are sure to become a new favourite.
Equipment
Sauté pan/skillet pan/frying pan.

Potato masher or fork
Ingredients
2 1/2

cans

mixed beans

about 3-4 cups 590 grams cooked beans. I used dried beans that I cooked in a pressure cooker.

375

ml

bean water

1 1/2 cups. Use the canned bean water or cooking liquid from pre-cooked beans. Although if the canned water has added salt you might prefer to use plain water.

2

tsp

onion powder

or granules

2

tsp

garlic powder

2

tsp

smoky paprika

1

tbsp

liquid aminos

try 2 tsp at first and add an extra if desired.

1/2

vegan stock cube

25

grams

nutritional yeast flakes

about 1/4-1/2 cup depending on taste. Start with 1/4 cup and taste refried beans after cooking to see if they require more.
Instructions
Add everything to a pan.

Mix well.

Bring to a simmer.

Lower the heat and cook for 10-15 minutes.

Mash the refried beans. I like to keep some beans semi-mashed for texture!

Cook while stirring frequently for a few more minutes.

Add a tiny bit more liquid if required.

Taste the seasoning.

Add more nutritional yeast or aminos to taste.

Add cracked black pepper if liked.

The refried beans generally don't need added salt.

Serve!

Or cool and keep in the fridge for later.
Notes
Prepared one of my recipes?
Took a photo for social media?
Tag us!
#traditionalplantbasedcooking @traditionalplantbasedcooking
So I can see your lovely creation!
The following nutritional analysis is for guidance only and is not an exact calculation as ingredients vary. It is based on 30g nutritional yeast and 1 tbsp of liquid aminos added to the vegan refried beans.
Plant-based vegan refried beans recipe notes
vegan refried beans will keep fresh, covered, in the fridge for 3-4 days.
refried beans can be enjoyed hot or cold. Reheat by adding a small splash of water to the beans and bringing to a simmer in a saucepan.
use any type of bean you happen to have in place of mixed beans. I have used a combination of many types of beans or just a single type of bean.
instead of paprika try chilli powder for a spicy refried bean.
For more tasty side-dishes try:
 World War 2 Vegan Champ! A tasty economical mash of potatoes, carrots and cabbage!
Vegan Traditional Scottish Skirlie A skillet/fry-pan dish prepared with pinhead oatmeal, onions, nutritional yeast, herbs and stock. No fat necessary!