Plant-based vegan refried beans are one of the best delicious side-dishes so quick, easy, and packed with flavour, whilst being incredibly wholesome, gluten-free, and a no-oil recipe.
Although, refried beans can also be the star of the dinner table and what could be a more delicious way to celebrate a special occasion, Mexican festival, a summer party, or even for a movie night or games day meal, than a tasty fun refried bean bar?
This is truly the best and easiest vegan refried beans recipe as one of my kids will testify, as they could literally eat it by the bucket-full!
The origin of refried beans
The origins of refried beans can be traced back to ancient times in Central and South America, where beans were a staple food for many indigenous cultures. The Aztecs and other Mesoamerican cultures cooked and mashed beans into a paste-like consistency, which they then fried in oil or fat to make them more flavorful and easier to digest.
The Spanish conquistadors who arrived in the region in the 16th century also adopted the practice of frying mashed beans, and brought the dish back to Europe with them. The dish eventually spread to other parts of the world, including the southwestern United States, where it became a staple of Tex-Mex cuisine.
Tex-Mex is a blend of Texan, from the Tejanos people of Texas, [whom are descended from Hispanic settlers], and Mexico cuisine. The ingredients for refried beans are slightly different depending on the region. But the basic preparation remains similar.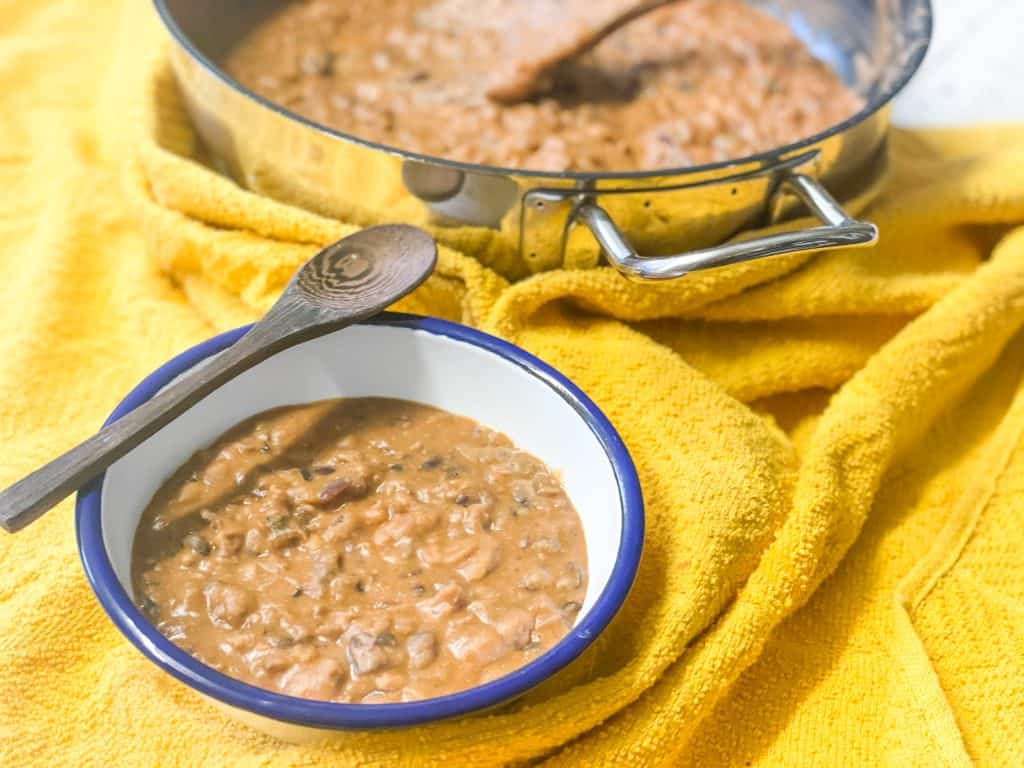 In Mexican cuisine, refried beans are known as "frijoles refritos," which translates to "well-fried beans." The beans are typically cooked with onion, garlic, and spices, then mashed and fried in oil or lard until they are crispy and golden brown. The fried beans are often served as a side dish or used as a filling for tacos, burritos, and other Mexican dishes.
Today, refried beans are a popular and versatile ingredient in many cuisines around the world. While they are traditionally made with pinto or black beans, they can be made with any type of bean and can be seasoned to taste with a variety of spices and herbs.
Vegan refried beans
For our vegan refried bean recipe, any cooked beans can be used such as kidney, pinto, black beans, chickpeas, haricot beans [navy beans], cannellini beans, or borlotti beans. A single type of bean can be used or a mixture of two or three or more different types, such as a 7 bean mix.
We particularly enjoy using dried pinto beans, which we cook in a pressure cook before using for the recipe, for refried beans as pinto beans are just so creamy and have a nice flavour. Although canned beans work perfectly well too and we have used canned mixed beans as well as canned bean salad which had bits of diced bell pepper and corn, and the refried beans were still just as tasty.
No-oil or vegan margarine is required for our easy refried bean recipe as the flavour of the seasonings - garlic powder, onion powder, smoked paprika, nutritional yeast flakes, liquid aminos or soy sauce, half a vegan stock cube - are more than enough to provide the best plant-based refried beans!
This recipe is seriously tasty and extremely quick and easy to prepare and you may find yourself eating the refried beans by the spoonful directly from the refrigerator. One of my kids can't seem to get enough and is forever asking for more refried beans so we usually have a batch in the fridge every few weeks but they rarely last past the first day.
For useful information about home cooking dried beans using a pressure cooker, stove-top, and slow cooker, then do check out the recipe note and FAQ section for our Red Beans and Rice recipe.
How to prepare vegan refried beans
It's so easy preparing these refried beans, as its just a case of adding the ingredients to a pan, gently boiling for 10-15 minutes, and the bean mixture will thicken up beautifully.
First add the cooked beans, nutritional yeast flakes, smoked paprika, garlic powder or granules, onion powder, liquid aminos or soy sauce, and bean cooking water or canned bean water to a pan.
Give it all a good stir and then bring to the boil and cook for 15 minutes, stirring frequently as it will become thick.
Add salt and pepper to taste if necessary.
Serving suggestion: Enjoy with salad, tortilla wraps, vegan sour cream or similar, rice, and anything else you like to add to a tortilla wrap for easy home-made burritos or tacos.
We like some quick pickled red onion rings with our refried bean burritos and we have an easy quick recipe for pickled red onion over on our Panzanella Bread Salad recipe.
Recipe notes and frequently asked questions
Storage
Store the refried beans in a covered container in the fridge for up to 3-4 days.

Refried beans can be frozen in a freezer-proof container for 3-4 months. Thaw within the refrigerator and give the beans a good mix before using.
Reheating
Serve chilled or gently reheat in a pan, you may need to add a little splash of water to avoid the beans sticking to your pan as they will be very thick.
Alternatively reheat the refried beans using a microwave, stirring after a minute of heating, it will likely take 2-3 minutes to reheat depending on your microwave.
What can I do with refried beans?

There are so many creative ways to repurpose refried beans other than simply eat them which is also highly recommended as refried beans are so delicious eaten by the spoonful directly from the refrigerator!

A few ideas:

Quesadillas: Spread a layer of refried beans on a tortilla wrap, top with vegan cheese, cooked veggies, and salsa, and grill until the cheese is melted and bubbly.

Nachos: Layer tortilla chips with refried beans, vegan cheese, diced tomatoes, jalapenos if liked, and coriander [cilantro] for a delicious snack or appetizer or starter dish. The nachos could be briefly air-fried or baked just until the cheese melts.

Alternatively use the refried beans for our Loaded Potato Wedges recipe which is essentially nachos but with potato pieces instead of tortilla chips, and the ordinary potatoes could be replaced with sweet potato wedges if preferred. The refried beans can replace the black bean filling for the loaded potato wedge recipe. This recipe also has an easy home-made guacamole recipe.

Breakfast burritos: Spread refried beans on a tortilla, add scrambled tofu or scrambled chickpeas, and top with salsa, avocado or fresh tomato and cucumber, and perhaps coriander for a delicious refried beans breakfast burrito.

Stuffed bell peppers: Cut the tops off bell peppers, remove the seeds and stuff with refried beans, rice, and vegan cheese. Bake in the oven until the peppers are nice and soft. You could do the same with courgette [zucchini] to create stuffed zucchini boats.

Tostadas: Top a crispy tortilla with refried beans, shredded lettuce, avocado, salsa, hot sauce, and any of your favourite burrito fillings. Tostadas are like a crispy open sandwich.

To bake a corn tortilla wrap or ordinary tortilla wraps so that it is crispy add the wraps to a baking tray in a single layer. You can either brush a little oil over each wrap or omit the oil. The oil will help crisp the wraps. Bake for 8-10 minutes at 180 Fan, 200C, 400 Fahrenheit, or Gas 6. Flip the wraps over and bake for another 5-7 minutes but the exact times will depend on your oven so do keep a close watch on the wraps as they may go too brown rather quickly. Once the crisp wraps are cool enough to handle load them up with your favourite Mexican toppings and fillings for tasty home-made tostadas.

Vegan chili: Add refried beans to your favorite cooked vegan chilli recipe to add extra flavour and texture. We have an amazing slow cooker Vegan Black Bean Chilli recipe that would be delicious with a side of refried beans or a scoop of refried beans stirred through. Our plant-based chilli recipe also includes an easy guide on making the best fluffy quinoa.

Bean dip: Mix refried beans with vegan cream cheese and salsa, to make a creamy and flavourful bean dip, or simply have the refried beans as they are for a tasty dip along with some crisp tortilla chips.

Veggie burgers: Mix the refried beans with cooked chopped veggies, shape into patties and bake, pan fry or grill for a tasty and protein-packed veggie burger. You may need to add a little bit of flour so that the burgers hold their shape firmer.

Alternatively have a refried burger similar to our vegan Sloppy Joe Burger, by simply adding hot or chilled refried beans to a bread roll or burger bun and fill with your favourite burger condiments.

Stuffed mushrooms: Remove the stems from Portobello mushrooms and fill with refried beans and vegan cheese. Bake in the oven until the mushrooms are tender and the cheese has melted.

Grilled cheese toastie: Fill two slices of bread with refried beans, shredded vegan cheese, ketchup, salsa or thin slices of fresh tomato, and toast until the toast is crisp and the cheese bubbly and melted. Alternatively, use the refried beans as a delicious sandwich filling.

Tacos: Spread a layer of refried beans on a tortilla, add your favorite fillings and toppings such as rice, quinoa, cucumber, tomatoes, lettuce, spinach, spring onions [scallions], grated vegan cheese, avocado, salsa, vegan sour cream, and perhaps some hot sauce for a quick and easy taco night.

Soup topper: Add a scoop of refried beans to our tasty easy Loaded Taco Bean Soup.

Buddha bowls or salad bowls: A dollop of refried beans is the perfect accompaniment to a delicious bowl of fresh veggies, grains, Crispy Tofu Bites, and sauces, etc.

Tex-Mex pizza: Drop spoonfuls of refried beans over your favourite pizza before cooking, add a dash of extra smoked paprika over the pizza, so delicious.

Carrot-hotdog topping: Refried beans are a tasty topping for amazing home-made carrot hot-dogs.

Vegan pate: A little dish of refried beans with a few crisp Scottish oatcakes is a tasty starter dish, side dish, or quick snack.

What pairs well with refried beans?

Any of your favourite Mexican dishes will pair well with refried beans such as tortillas, enchiladas, quesadillas, tostadas, Mexican or Spanish rice, burritos, tacos, as well as baked potatoes especially sweet potatoes, potato fries, chips or wedges, crispy salad, roast veggies, steamed veggies, corn cobs, vegan coleslaw, crusty bread, or flatbreads.
Are refried beans gluten-free?

Yes, refried beans are perfect for gluten-free diets with a few considerations such as using a gluten-free stock cube or bouillon cube and if replacing the amino liquids with soy sauce, choose gluten-free Tamari soy sauce or go for coconut aminos.
What are liquid aminos?

Liquid aminos is a popular ingredient in vegan, plant-based, and vegetarian cooking and is a type of seasoning made from soybeans.

Liquid aminos are made by fermenting soybeans with a culture of friendly bacteria and enzymes, which breaks down the proteins in the soybeans into amino acids.

The resulting liquid is then strained and bottled as a condiment that is quite strong flavoured so a little goes a long way and can transform meals with its deep umami flavours.
Is liquid aminos gluten-free?

Liquid aminos are typically gluten-free, but it's important to check the label and ingredients list to confirm.

While soy sauce is traditionally made with wheat, which contains gluten, liquid aminos are often made with soy beans and without wheat and so are usually labelled as gluten-free.

However, some brands of liquid aminos may contain small amounts of gluten due to cross-contamination during processing so if you're sensitive to gluten or have celiac disease, it's always best to check the label and look for products that are certified gluten-free.
Can I add anything extra to the refried beans?

Although the refried beans are perfectly seasoned and do not require any other flavourings added, a few additions can provide extra tasty textures and elevate the refried beans even more.

A few suggestions:

* cooked sweetcorn
* diced, cooked bell peppers
* cooked onions or garlic
* top with sautéed or fried onions
* cooked mushrooms
* chopped spring onions [green onions or scallions]
* pieces of cooked vegan bacon or vegan sausages
* roasted cherry tomatoes
* few drops of hot sauce
* sprinkle of shredded vegan cheese
* top with shredded vegan cheese and place under a grill [broiler] to melt
* a swirl of vegan sour cream
* toss over some crushed tortilla chips
* garnish with chopped coriander [cilantro]
* slices of fresh chilli
* canned jalapenos
Are refried beans nutritious?

Yes, refried beans are quite nutritious as the main ingredient is lots of beans! However, some shop-bought cans of refried beans may contain high levels of salt, fat, and undesirable additives so home-made refried beans where you can control the salt and fat content are always going to be more beneficial.

Protein: Beans are an excellent source of plant-based protein, making them a great choice for vegetarians, plant-based diets, vegans, and carnivores!

Fiber: They are also high in dietary fiber, which supports digestive health and can help regulate blood sugar levels.

Vitamins and Minerals: Beans are rich in many important vitamins and minerals, including B vitamins, iron, magnesium, potassium, and zinc.

Low Fat: Despite the name "refried," these beans are usually low in fat, unless they are prepared with large amounts of lard or other fats. Even in this case, the fat can be reduced by using healthier oils or by reducing the amount used. Or omitting the fat altogether and adding in more natural plant-based flavourings.
Do refried beans need to be cooked in oil or lard?

While traditional refried beans are typically made with lard, it's not essential to use oil or lard to make them.

The name "refried beans" can be a bit misleading, as the "refried" term in the name comes from a mistranslation of the Spanish term "frijoles refritos," which more accurately means "well-fried beans" rather than "refried."

The basic process for making refried beans involves cooking beans until they're soft (this often involves simmering them in water with some spices and onion), and then mashing them until they reach the desired consistency. To get the creamy, smooth texture that's characteristic of refried beans, some type of fat is often added during the mashing process.

However, with some type of bean especially pinto beans its easy to achieve the creaminess and easy mashing as pinto beans are naturally creamy and soft, and using some of the bean cooking water or canned bean water to the refried beans helps with achieving the creamiest refried beans.

Including a small amount of vegetable stock powder or bouillon cube can also compensate for the flavour that the oil or fat would bring to the finished refried beans.
What are the best beans to use for refried beans?

The most commonly used beans for refried beans are pinto beans as they have a great flavour and texture. Pinto beans are creamy, mild, and have a texture that mashes well, which makes them perfect for refried beans.

Black beans can also be used for a more robust flavour and darker colour and they tend to have a slightly earthier taste compared with pinto beans.

However, you can actually use any kind of beans for refried beans depending on your preference, including kidney beans, haricot beans or navy beans, cannellini beans, or even chickpeas. Also a mixture of different types of beans produces a delicious refried beans especially if pinto beans are also included.

In many traditional recipes, the beans are first cooked with onion and other spices until they're very soft. Then they're drained (save the liquid!), and mashed or blended until smooth. The smooth bean paste is then fried with a bit of oil or lard, and some of the cooking liquid is added back in to get the desired consistency.

However, for our plant-based and vegan adapted refried beans recipe oil, or lard which is animal derived, is not necessary as the refried beans are packed with flavour.

For a useful guide on cooking dried beans at home on the stove-top, slow cooker, and pressure cooker [my favourite option!] do have a look at the recipe notes and FAQ section on our Vegan Red Beans and Rice post.
Whats nutritional yeast flakes?

Nutritional yeast, often referred to as nooch is a type of deactivated yeast that comes in the form of flakes or as a yellow powder and has a strong cheesy, nutty flavour which makes it popular as a cheese substitute.

It's often used by vegans and for plant-based diets as a flavour booster for everyday meals and recipes such as mashed potatoes, scrambled tofu, cheese sauce, refried beans, and pasta dishes such as macaroni and cheese.

Nutritional yeast is gluten-free, as well as a source of protein and vitamins, especially B-complex vitamins and is also contains a good amount of dietary fiber. Some types of nutritional yeast, but not all, are fortified with vitamin B12, an essential nutrient that is mostly found in animal-derived foods and can therefore be challenging for vegans to get from their diet.

Although, do note that if vitamin B12 fortification is important to you, you should confirm it is included by checking the product label as not all nutritional yeast products are fortified with B12.
How could I plan a refried bean bar?

A refried bean bar is the perfect summer time meal, Mexican themed or birthday party dinner, that can be as small or as big as you like. My family loves a small refried bean bar for our movie nights.

Here is a quick guide to get you started:

1. Make the Refried Beans: First and foremost, you'll need the star of the show - the refried beans. You could prepare several batches of refried beans and perhaps have a spicy refried beans, an extra cheesy refried beans, and a veggie packed refried beans which has cooked diced bell peppers, sweet corn, etc mixed through. Or just prepare several batches of the basic refried bean recipe.

Accompaniments: Offer a variety of base options like tortillas or taco boats (soft or crunchy), tortilla chips, Mexican rice, quinoa, cornbread, baked potatoes, carrot hot-dogs, and salad greens for those who prefer a burrito bowl or taco salad.

Offer a Variety of Toppings: The fun part of a refried bean bar is the variety of toppings. Here are some suggestions:

* Grilled or roast vegetables such as bell peppers, onions, courgettes [zucchini], aubergine [eggplant], mushrooms, Brussel sprouts, cabbage, broccoli, etc.
* Fresh vegetables like lettuce, tomatoes, cucumbers, and avocados
* Salsas of various heat levels, from mild to hot
* Vegan coleslaw
* Potato salad, with a bit of mild chilli powder stirred through
* Guacamole or diced avocado
* Vegan cheese, nutritional yeast flakes
* Fresh coriander [cilantro], spring onions [green onions], chives, or other herbs
* Lime or lemon wedges for squeezing on top
* Jalapeño slices for those who like a little heat
* Corn kernels, grilled corn, mini corn cobs, baby corn cobs
* Chopped olives
* Sauces/Dressings: Provide a few sauce options such as salsa Verde, salsa, hot sauce, or a vegan sour cream (which can be made from soaked and blended cashews with a bit of lemon juice).

Drinks: Consider serving a variety of beverages, like infused water, fruit juice, plant-based milk, aguas frescas [Mexican soft drink], iced tea, or even a selection of Mexican beers or margaritas for an adult party.

Setup: Arrange everything in an easy-to-follow order: bases such as tortilla warps, taco shells, etc, then refried beans, accompaniments, toppings, and sauces. Ensure you have the necessary serving utensils for each item and use labels to identify what each dish or topping is, and to highlight any potential allergens.

Refried beans can absolutely be the star of the show or dinner table! Serve a big bowl of delicious vegan refried beans with all your favourite salad pieces, pickles, vegan cheese, vegan sour cream or mayonnaise, salsa, guacamole, rice, quinoa, tortilla wraps, crisp taco shells, etc, and create the best plant-based refried bean burritos or tacos ever!
More deliciously amazing vegan adapted Mexican recipes
We love the fresh ingredients and all the smoky, spicy, savoury, herby, citrusy and sweet flavours that Mexican food offers so my family is always enjoying vegan adaptations as I discover amazing traditional dishes. A few of our favourites are this Vegan Mexican Meatball Soup and this easy Mexican Noodle Soup with black beans and corn, and my kids love this Mexican Rice and Bean Casserole which has the most delicious Nacho Cheesy Topping, and finally this Loaded Taco Bean Soup is perfect for an easy Taco Bar at home party as guests can simply load up their favourite taco toppings directly onto the thick beany goodness.
More easy vegan bean recipes
We love beans so are always adding more delicious vegan and plant-based recipes that hero the versatile and budget-friendly bean! For more tasty vegan dinner ideas do check out our growing collection of Vegan Dinner Ideas and Vegan Lunch Recipes.
***please note: for US measurements click the 'US customary button' within the recipe and the measurements will switch to tablespoons, cups, and ounces.***
Recipe
The Best Vegan Refried Beans [No-oil recipe]
Print Recipe
Plant-based vegan refried beans are one of the best delicious side-dishes so quick, easy, and packed with flavour, whilst being incredibly wholesome, gluten-free, and a no-oil recipe.
Although, refried beans can also be the star of the dinner table and what could be a more delicious way to celebrate a special occasion, Mexican festival, a summer party, or even for a movie night or games day meal, than a tasty fun refried bean bar?
This is truly the best and easiest vegan refried beans recipe as one of my kids will testify, as they can and do literally eat it by the bucket-full!
Equipment
non-stick sauté pan, skillet pan or deep frying pan

Potato masher or fork

optional
Ingredients
720

grams

mixed beans, cooked

Use 3 x 400 gram (14oz) cans, drained which will provide around 600-720g (4 ½ cups) cooked beans. If cooking dried beans cook about 2 cups dried beans. Instead of mixed beans one type of bean can be used instead such as Pinto beans.

375

millilitre

bean water

Use the canned bean water or cooking liquid from pre-cooked beans. Although if the canned water has added salt you may prefer to use plain water. Use more water if required.

2

teaspoon

onion powder

[or granules]

2

teaspoon

garlic powder

[or granules]

2

teaspoon

smoked paprika

[or sweet or ordinary paprika but the smoky flavour will be lacking]

1

tablespoon

liquid aminos

[or 2 tablespoons of soy sauce]

½

vegan stock cube

[or ½-1 teaspoon of vegan stock powder or paste]

25

grams

nutritional yeast flakes
Optional addition (add at end of cooking)
2

teaspoon

liquid smoke

[if smoked paprika is used this ingredient can be omitted]
Instructions
Add the cooked beans, onion and garlic powders, smoked paprika, nutritional yeast flakes, stock cube, and bean water to a non-stick pan.

If replacing the liquid aminos with soy sauce then add two tablespoons of soy sauce as its not as strong as liquid aminos.

Mix well.

Bring the bean mixture to a gentle boil or simmer.

720 grams mixed beans, cooked,

375 millilitre bean water,

2 teaspoon onion powder,

2 teaspoon garlic powder,

2 teaspoon smoked paprika,

1 tablespoon liquid aminos,

½ vegan stock cube,

25 grams nutritional yeast flakes

Lower the heat and simmer for 10-15 minutes, until the refried beans are nice and thick.

Stir frequently, and add a few extra tablespoons of water if required.

Mash the refried beans, or just mash half the beans and keep some whole for texture.

If you home-cooked your beans in a pressure cooker they may have been very soft before adding to this recipe so mashing may not be required and some people, like my family, enjoy more texture so sometimes we don't mash the beans at all.

Check the seasoning and add salt and pepper to taste, although the beans may not need any.

Add more nutritional yeast flakes if desired.

Also 1-2 teaspoons of liquid smoke mixed through after cooking is especially tasty and very much liked by my kids but if you used smoked paprika this ingredient is not really needed.
Notes
Nutritional information is provided for guidance only and is not an exact calculation as ingredients vary. 
Refried beans can be prepared gluten-free by using Tamari soy sauce or coconut aminos and choosing a gluten-free vegetable broth, stock cubes or bouillon cubes. 
Store refried beans in a covered container in the fridge for up to 3-4 days. Serve chilled or warmed through. Place in a pan, add a tiny splash of liquid if needed, and gently heat through.
Check out the recipe notes and FAQ sections above the recipe for useful information about what to pair refried beans with, how to use refried beans, additional ingredients to add to refried beans, how to plan a refried bean bar, and more!
Pinto beans make the best creamiest refried beans, but a mix of other beans are also delicious.
Nutrition
Calories:
253
kcal
|
Carbohydrates:
45
g
|
Protein:
18
g
|
Fat:
2
g
|
Saturated Fat:
1
g
|
Polyunsaturated Fat:
1
g
|
Monounsaturated Fat:
1
g
|
Sodium:
329
mg
|
Potassium:
830
mg
|
Fiber:
16
g
|
Sugar:
1
g
|
Vitamin A:
493
IU
|
Vitamin C:
1
mg
|
Calcium:
76
mg
|
Iron:
4
mg
If you tried our Vegan Refried Beans please let us know in the comments below how you got on with the recipe.
If you share your creations on social media, don't forget to tag us (@traditionalplantbasedcooking) and use the hashtag #traditionalplantbasedcooking, so we can see your delicious dishes!
Thank you, and happy cooking!
Love, Jacq x