Vegan Mongolian 'beef' and broccoli is a delicious meal of stir-fried broccoli, green peppers, and either vegan meat alternative pieces, tofu, or mushrooms, cooked in a sticky, rich savoury and sweet sauce.
Perfect for enjoying during the Chinese New Year celebrations, family fake away's, or for a quick mid-week meat-free treat for all the family.
This recipe can be ready in 45 minutes and only needs one pan. The only problem is that there never seems to be any leftovers and everyone is left wanting more!
This vegan beef and broccoli is incredibly tasty with its rich, thick, sweet, and savoury sauce coating the juicy meat-free pieces and fresh crunchy broccoli. So satisfying served with noodles or rice. Give your family and yourself a treat with this quick, easy, vegan fake-away dinner.
Origins of Mongolian beef and broccoli
Mongolian Beef and Broccoli has become a popular dish worldwide, particularly in American Chinese cuisine, due to its tasty combination of flavors and textures. Despite its name, the origins of this dish can be traced back to Taiwan rather than Mongolia. It was likely inspired by the culinary traditions of China's various regions and adapted for a more western palate or more specifically the tourist trade!
The origins of Mongolian Beef and Broccoli can be found in Taiwan during the early 20th century. At that time, Taiwan was experiencing an influx of immigrants from various provinces of mainland China, each bringing their own distinct culinary styles. One such style was the stir-frying technique, which rapidly gained popularity in Taiwan due to its quick and efficient cooking process. Stir-frying allowed for the creation of diverse dishes by combining different ingredients, flavors, and textures.
As restaurants in Taiwan began to experiment with different stir-fry combinations, the Mongolian Beef and Broccoli dish emerged as a fusion of these varied culinary influences. The dish typically consists of thinly sliced beef, quickly seared in a hot wok with garlic and ginger, then combined with broccoli and a savory sauce made from soy sauce, brown sugar, and other seasonings. The result is a harmonious blend of flavors and textures that has become synonymous with Chinese-American cuisine.
While the traditional version of Mongolian Beef and Broccoli is not vegan, creative cooks have adapted the dish for plant-based diets.
By using ingredients such as mushrooms, soy protein, seitan, tempeh or meat-free pieces as a substitute for the beef, and incorporating vegan friendly ingredients, it's possible to recreate the rich flavors and textures of the original dish.
This adaptation not only pays homage to the dish's rich cultural history but also makes it accessible to a wider audience, allowing everyone to enjoy the delicious taste of Mongolian Beef and Broccoli.
This plant-based beef and broccoli is a no-oil recipe as the tasty combinations of flavours sing on their own with no need for additional oil. Although coconut oil can be used if preferred and we have tried it both ways and the dish is always delicious. That's the beauty of home-cooked fake-aways, the fat and sodium content can be controlled and with some clever simple ingredients no-one will be able to tell!
Vegan Mongolian Beef and Broccoli
The most delicious vegan 'beef' and broccoli can be quickly prepared at home. I am so confident that this meal will become one of your family's regular fake-away's especially if you love vegan Chinese inspired cuisine. Even if you are not keen on broccoli give it a try in this recipe as the broccoli retains a satisfying crunch while being smothered in the irresistible sauce. No soggy boiled broccoli in sight!
My kids absolutely love this meat-free meal as its not spicy yet embraces the delicious Asian flavours of sweet, sour, and savoury. Although you can spice up the sauce by chucking in a chilli or two, or with a few dashes of hot sauce just before serving.
For this recipe I have used vegan Naked Glory Tender strips (usually found in the frozen section of UK supermarket).
However I have prepared this recipe with firm tofu and its just as good. Sliced thick mushrooms, such as flat, Portobello, button, or chestnut mushrooms would make a good substitution or even simply a mix of your favourite stir-fry veggies. Even better if you can find a discounted packet of ready-prepared stir-fry veggies in your local supermarket or store.
The vegan pieces are marinated with a mix of soy sauce, white wine vinegar and maple syrup. Alternatively simply use your regular syrup such as agave syrup, date syrup, rice syrup or a sugar such as date, coconut or regular brown sugar.
Garlic, ginger, soy sauce, white wine vinegar, and maple syrup thickened with cornflour [corn-starch] make up the brown sauce which completes the delicious dish.
The sauce is perfect for those who dislike spicy meals as no hot spices need to be used. However, a green chilli can be thrown in if liked, or add a finishing touch of chilli flakes for a more spicy dish if preferred.
You'll want second helpings of this vegan Asian inspired tastiness! So perhaps use a larger pan and prepare two batches! This easy vegan dinner recipe always makes my kids happy and wanting more!
How to prepare vegan beef and broccoli
This is a quick recipe as are most stir-fry recipes so once the veggies are prepped, the meat-free beef and broccoli can be ready in just thirty minutes. Prepare any sides while the dish is cooking, rice or noodles are perfect and are usually are easy fuss free sides.
Marinade the meat-free pieces with white wine vinegar, soy sauce and maple syrup [or your chosen syrup].
Cook the garlic and ginger either using vegetable broth, water or melted coconut oil.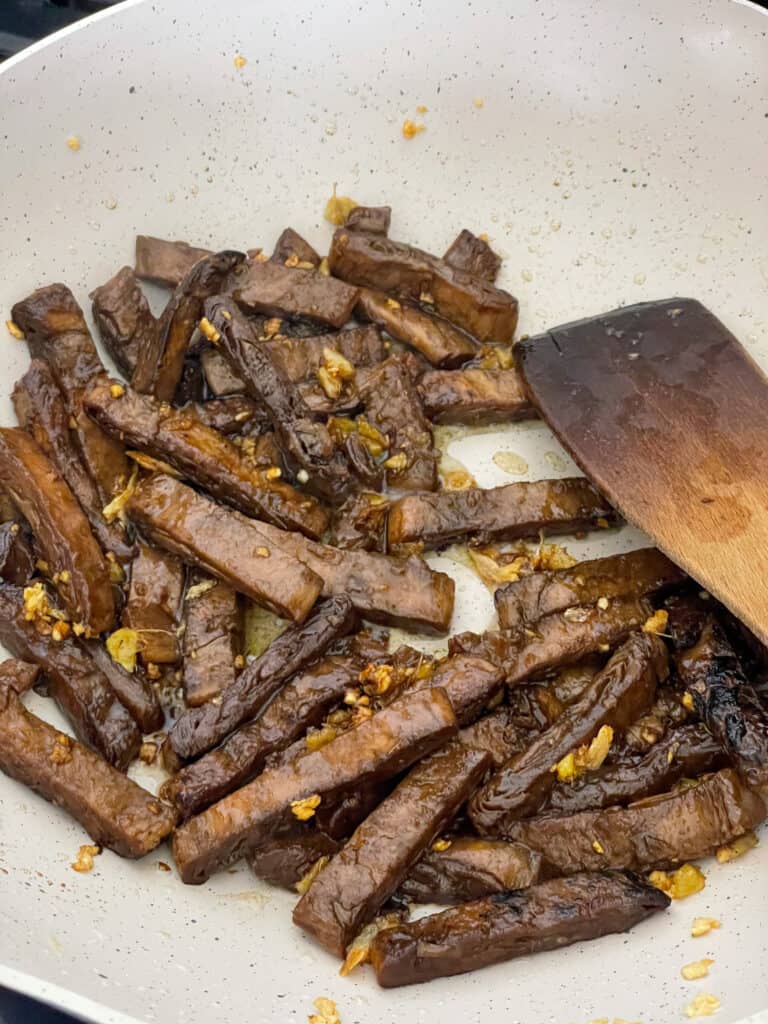 Mix the marinaded meat-free pieces through the onions and garlic.

Tip in the broccoli and green peppers and stir-fry until the broccoli has softened but still a little crunchy.
Stir through the cornflour [cornstarch].
Prepare the brown sauce by mixing white wine vinegar, soy sauce, maple syrup [or your chosen sugar or syrup], black pepper and water. Pour into the pan.
Continue stir-frying until the veggies have softened but not completely, and the sauce is sticky, thick and glossy. The broccoli tastes nicer if there is still a bite to it.
Garnish with sliced spring onions [otherwise known as green onions or scallions]. Enjoy with your favourite noodles or rice, or other tasty side-dishes.
Recipe notes and frequently asked questions
Storing leftovers
Store leftovers in the refrigerator for up to 3 days. Or freeze for 2-3 months, minus the spring onions which should be added fresh to the dish before serving.
Reheating
Stove-top:
The stovetop method is the best way to reheat your Vegan Mongolian Beef and Broccoli, as it helps retain the dish's texture and flavors.
Place a non-stick pan or wok on medium heat.
Add a small amount of oil (preferably a neutral oil like vegetable or canola oil) to prevent sticking.
Transfer the Vegan Mongolian Beef and Broccoli to the pan, stirring occasionally to ensure even heating.
If the dish appears too dry, you can add a small amount of water, vegetable broth, or additional sauce to rehydrate it.
Heat the dish until it's warmed through, usually around 5-7 minutes.
Microwave: The microwave is a quick and convenient method, but it may not provide the best texture, especially for the broccoli.
Place the Vegan Mongolian Beef and Broccoli in a microwave-safe dish, ideally with a lid or cover to prevent splattering.
To help retain moisture, add a small amount of water or sauce, if needed.
Reheat the dish at 50-70% power for 1-2 minutes, then stir and check the temperature.
Continue reheating in 30-second intervals, stirring between each, until the dish is heated through.
Oven: The oven method takes longer, but it can provide more even heating, especially if you're reheating a large quantity of food.
Preheat the oven to 350°F (180°C).
Transfer the Vegan Mongolian Beef and Broccoli to an oven-safe dish and cover it with aluminum foil.
Reheat the dish for about 15-20 minutes, or until heated through. You can stir the dish halfway through to ensure even heating.
If the dish appears too dry, add a small amount of water, vegetable broth, or additional sauce to rehydrate it.
What can I serve with Mongolian 'beef' and broccoli?

Steamed or Boiled Rice: Jasmine, basmati, long-grain, easy-cook, or brown rice are great choices to serve alongside your Vegan Mongolian Beef and Broccoli. The rice will soak up the flavorful sauce and provide a nice contrast to the textures of the dish.

Noodles: Chow mein or rice noodles can be served as a side or mixed directly into the dish for a more substantial meal.

Vegetable Spring Rolls: Crispy and light, vegetable spring rolls make a delicious appetizer or side dish to accompany your main course.

Asian-Style Salad: A simple Asian-style salad with mixed greens, shredded cabbage, carrots, and a light soy-based dressing can add a refreshing contrast to the rich flavors of Vegan Mongolian Beef and Broccoli.

Steamed or Stir-Fried Vegetables: Additional steamed or stir-fried vegetables, such as bok choy, beansprouts, snow peas, mangetout, or baby corncobs, can add extra color and nutrition to your meal.

Dumplings: Vegan dumplings, either steamed or pan-fried, can be a delicious side dish that complements the main course.

Edamame: Steamed edamame with a sprinkle of sea salt is a protein-rich and tasty side dish that pairs well with the flavors of the Vegan Mongolian Beef and Broccoli.

Cauliflower or Broccoli Fried Rice: For a low-carb alternative to steamed rice, try cauliflower or broccoli rice stir-fried with mixed vegetables and flavored with soy sauce and sesame oil.

Vegan Wonton Soup: A warm bowl of vegan wonton soup, featuring vegetable or tofu-filled dumplings.
Can I substitute any of the ingredients for Mongolian 'beef' and broccoli?

Of course!

* Vegan pieces can be replaced with soy curls, soya chunks, seitan, tofu, tempeh, black beans, mushrooms, extra veggies. Fresh or frozen vegan pieces can be used but make sure to rehydrate any dried vegan pieces before using.

* Fresh garlic and ginger can be subbed for the dried varieties: for example 2 teaspoons of dried ginger and 2-3 teaspoons of dried garlic

* Not keen on bell pepper? sub the pepper out for the same amount of celery and courgette sliced into thin sticks.

* Broccoli is a traditional part of this dish but if preferred replace with kale, collards, spring greens, white cabbage, bok choy etc. Just consider the differences in cooking times compared to broccoli and adjust.

* This recipe uses maple syrup but any syrup can be used such as date, agave, rice or a sugar such as coconut, date or brown.

* Not keen on spring onions? Perhaps use chives, sliced fresh red onion rings, coriander [cilantro], sliced fresh green chilli's, etc.

* This recipe can be prepared using either 1-2 tablespoons of your usual oil, coconut oil is a good choice, or vegetable broth. If your watching your calories and fat intake, or on a no-oil diet then its a good idea to use the veggie broth.
What can I use to garnish vegan beef and broccoli?

Spring Onions: Thinly sliced spring onions or scallions can be sprinkled on top of the dish, adding a fresh, mildly pungent flavor and a burst of green color.

Sesame Seeds: Lightly toasted white or black sesame seeds can be sprinkled over the dish for added texture and a subtle nutty flavor.

Fresh Coriander: Chopped fresh coriander or cilantro leaves provide a vibrant, herbaceous note that pairs well with the flavors of the dish.

Red Pepper Flakes: For those who enjoy a little heat, a light sprinkle of red pepper flakes can be added to the finished dish as a garnish.

Lime Wedges: Serving lime wedges on the side allows your guests to squeeze fresh lime juice over the dish for a tangy, zesty accent.

Toasted Almonds or Cashews: For an extra crunch, you can sprinkle some toasted almonds or cashews over the dish.

Thinly Sliced Fresh Chili: If you prefer a spicier dish, garnish with thinly sliced fresh red or green chili peppers.

Edible Flowers: For an elegant touch, consider using edible flowers such as nasturtiums or chive blossoms as a garnish. We have nasturtiums growing wild in our garden and neighbourhood so its worth a look!
Is this recipe for meat free Mongolian 'beef' and broccoli gluten-free?

Yes with a few considerations this recipe is perfect for gluten-free diets:

Vegan Meat Pieces: Some vegan meat substitutes may contain gluten or be processed in facilities where cross-contamination could occur. Be sure to check the label for gluten-free certification or choose a vegan meat substitute made from gluten-free ingredients, such as soy-based products like tofu or tempeh.

Soy Sauce: Traditional soy sauce contains wheat and is not gluten-free. To make your dish gluten-free, use a gluten-free alternative like tamari or coconut aminos. Tamari is a Japanese soy sauce made without wheat, while coconut aminos is a soy-free sauce made from the sap of coconut palms.

Vegetable Broth: Some commercial vegetable broths may contain gluten or be processed in facilities where cross-contamination could occur. Check the label for gluten-free certification.

Cornstarch: Cornstarch is naturally gluten-free, but it's essential to ensure that the brand you are using is certified gluten-free to avoid cross-contamination. In the UK cornstarch is also known as cornflour.

Spices: Although spices are generally gluten-free, some spice blends or pre-packaged spices may contain gluten or be processed in facilities with cross-contamination. Check the label for gluten-free certification, and if possible, use individual, single-ingredient spices to create your own spice blend.
Any tips on preparing vegan beef and broccoli on a budget?

Preparing Vegan Mongolian Beef and Broccoli on a budget can be done by making a few adjustments to your ingredients and shopping strategy. Here are some tips to help you create a delicious and affordable meal:

Choose budget-friendly vegan meat alternatives: Instead of using store-bought vegan meat pieces, which can be expensive, opt for more affordable protein sources like tofu or textured vegetable protein [TVP]. These soy-based options are not only cost-effective but also highly versatile and nutritious. Alternatively, mushrooms are an idea meat-free alternative or simply use extra veggies.

Buy in bulk: Purchasing ingredients like soy sauce, white wine vinegar, maple syrup, and spices in larger quantities can help you save money in the long run. You can also store bulk dry goods like rice and noodles in airtight containers to keep them fresh.

Use frozen vegetables: If fresh broccoli is expensive or not in season, consider using frozen broccoli florets. They are often more affordable, and the quality is usually comparable to fresh vegetables.

Make your own vegetable broth: Instead of buying store-bought vegetable broth, which can be pricey, make your own at home using vegetable scraps, herbs, and water. Homemade vegetable broth not only saves money but also reduces food waste. Alternatively, water can be used to saute the onions, etc.

Opt for store brands: Many grocery stores and supermarkets offer their own brand of products at a lower cost than name-brand items. Check the labels of store-brand soy sauce, white wine vinegar, and other ingredients to ensure they meet your dietary requirements.

Shop sales and discounts: Keep an eye out for sales and discounts on ingredients you need for your recipe. You can also plan your meal around what's on sale or in season to maximize savings.

Always look in the reduced section of the store or supermarket and when you find a reduced broccoli snap it up and prepare this recipe! In the UK, the supermarkets tend to have discounted vegetables during special times of the year such as Easter and Christmas, so if possible buy in bulk and freeze the excess for future meals.

Also Lidl [UK] often have their £1.50 boxes of fresh vegetables and fruit available which are amazing cost savers.

Use Food Saving Apps: such as Olio, Too Good To Go, Karma etc for inexpensive or free food.

Substitute expensive ingredients: If maple syrup is too costly, consider using a more affordable sweetener like brown sugar, agave nectar, or even regular granulated sugar. Adjust the amount used based on the sweetness level desired.

Prepare larger portions: Cooking larger batches of Vegan Mongolian Beef and Broccoli can be more cost-effective and also provide leftovers for future meals. Divide the dish into meal-sized portions and freeze them for easy reheating on busy days.
I'm having a special Chinese themed dinner any tips?

Hosting a Chinese New Year or vegan Chinese-themed meal event at home can be a fun and engaging way to appreciate and experience Chinese culture and cuisine with your friends and family. Kids especially will have fun helping with the festivities.

Here are some tips to help your meal be a special memorable event:

Plan your menu: Select a variety of vegan Chinese dishes. Include appetizers, soups, main courses, and desserts. Consider featuring Chinese inspired dishes such as vegan dumplings, spring rolls, hot and sour soup, vegan Chinese 'chicken' And Sweetcorn Soup, Stir-Fry Soup, Kung Pao tofu, Tofu in a Sweet Peanut Sauce, vegan fried rice, and a sweet treat like almond cookies or sesame balls.

Prepare ingredients in advance: To save time and minimize stress on the day of the event, prepare and chop ingredients ahead of time, such as vegetables, sauces, and vegan protein sources. Store them in the refrigerator or freezer until needed.

Cook in batches: Many Chinese dishes, especially stir-fries, cook quickly at high heat. To maintain the quality and texture of each dish, consider cooking them in smaller batches and keeping them warm in the oven until ready to serve.

Set the table: Use red tablecloths, napkins, and decorations, as red is considered an auspicious color in Chinese culture. Decorate with Chinese lanterns, paper cuttings, and symbols of the current zodiac animal. Provide chopsticks for an authentic dining experience and have forks available for guests who are not comfortable using chopsticks.

Create a festive atmosphere: Play traditional Chinese music or contemporary Chinese pop songs in the background to set the mood. You can also have some Chinese New Year or cultural trivia and games prepared for your guests to enjoy between courses.

Serve tea: Chinese meals are often accompanied by tea. Offer a variety of Chinese teas such as jasmine, oolong, or pu-erh for your guests to choose from. Provide small teacups and a teapot for an authentic experience.

Use serving platters: Present the dishes family-style, using large serving platters or bowls to encourage sharing and conversation. This also allows guests to taste a variety of dishes and flavors.

Encourage guests to participate: Invite your guests to participate in the cooking process, such as assembling dumplings or spring rolls, which can be a fun and engaging activity.

Include traditional elements: Incorporate traditional customs or rituals into your event, such as giving out red envelopes (hongbao) with small gifts or money, or explaining the symbolism behind certain dishes and decorations.

Provide take-home containers: As a gesture of hospitality and abundance, provide take-home containers for your guests to bring leftovers home, which is considered auspicious in Chinese culture.
More easy vegan take-out at home recipes
***please note: for US measurements click the 'US customary button' within the recipe and the measurements will switch to tablespoons, cups, and ounces.***
Recipe
Vegan Mongolian 'Beef' and Broccoli
Print Recipe
This recipe features amazingly tasty marinated vegan pieces, stir fry crunchy broccoli and crisp green peppers cooked within a deliciously thick, sweet, sticky and savoury sauce. Perfect for easy and quick family fake-aways or take-out at home meals.
Equipment
Non-stick sauté pan or large deep fry pan or wok
Ingredients
To sauté ginger and garlic:
250

millilitres

vegetable stock

or 1-2 tablespoons of coconut oil
For the vegan pieces or tofu marinade
1

tablespoon

maple syrup

or your usual syrup or brown sugar

1

tablespoon

white wine vinegar

1

tablespoon

dark soy sauce
For the vegan Mongolian 'beef'
300

grams

frozen or fresh vegan 'beef' pieces

350

grams

broccoli

Sliced into small-medium florets. Chop the stems into thin julienne sticks and use these also. Its best to peel the thick part of the stem to remove the tough outer edge.

1

large

green bell pepper

Sliced into long thin strips.

1

inch

fresh ginger

Shredded [grated] or fine diced. I freeze my ginger and grate from frozen. Alternatively use 2 teaspoon of dried ginger.

4

cloves

garlic

fine diced, use more garlic if liked. Or replace with 1 tablespoon of dried garlic
For the Mongolian brown sauce:
4

tablespoons

dark soy sauce

or regular light soy or tamari if dark not available

2

tablespoons

light soy sauce

4

teaspoons

white wine vinegar

3

tablespoons

maple syrup

or your regular syrup or brown sugar

190

millilitres

water

1

pinch

black pepper

3

tablespoons

cornflour

[corn starch]
To garnish:
6

spring onions

[scallions]
Optional accompaniment:
rice or noodles

cooked according to packet instructions
Instructions
Prepare the meat-free pieces marinade:
Mix the vegan pieces with maple syrup, white wine vinegar, and dark soy sauce. (if using frozen vegan pieces they don't need to be thawed)

Set aside for about 30 minutes or while you prepare the vegetables.

1 tablespoon maple syrup,

1 tablespoon white wine vinegar,

1 tablespoon dark soy sauce
Prepare the brown sauce:
In a bowl add the water, light soy sauce, dark soy sauce, white wine vinegar, and a pinch or two of black pepper.

Mix well.

Dip a spoon into the sauce and taste to see if a pinch of salt is also necessary.

4 tablespoons dark soy sauce,

2 tablespoons light soy sauce,

4 teaspoons white wine vinegar,

3 tablespoons maple syrup,

190 millilitres water,

1 pinch black pepper

(If having rice or noodles as an accompaniment begin preparing these as cook the stir-fry.)
Cook the stir-fry:
Add the vegetable broth to a pan and bring to a simmer. Lower the heat and add the garlic and ginger.

Cook for 3 minutes.

Alternatively, heat the coconut oil and add the garlic and ginger and cook over a medium heat, stirring frequently, for 2-3 minutes.

250 millilitres vegetable stock,

1 inch fresh ginger,

4 cloves garlic

Add the meat free pieces or an alternative and mix well.

Cook, and stir frequently, for 3 minutes.

300 grams frozen or fresh vegan 'beef' pieces

Add the green pepper and broccoli.

Mix well and cook for 5-10 minutes or until the broccoli is soft but still crisp [exact times depends on the broccoli thickness].

Stir frequently and add extra splash of water or veggie broth if necessary to avoid sticking.

(To cook the broccoli quicker, add a little broth or water to the pan and place a lid over so the broccoli can steam)

350 grams broccoli,

1 large green bell pepper

Stir through the cornflour and mix until it looks like its disappeared.

Pour in the brown sauce and mix.

Stir well and cook for about 5-10 minutes until the sauce thickens and coats the vegan beef and broccoli.

Stir frequently.

Serve garnished with spring onions, and with a side of rice or noodles.
Notes
Nutritional info is provided for guidance only and is not a strict analysis as ingredients vary. 
Leftovers can be kept in the refrigerator for up to 3 days. 
Reheat in the same cooking pan, stir-frying until piping hot, add a little veggie broth or water to loosen the sauce up and prevent sticking to you pan.
Not keen on meat-free pieces? Replace with tofu. rehydrated TVP or soy curls, or sliced thick mushrooms instead. Or even a can of drained black beans, or your favourite stir-fry veggies.
For a gluten-free meal replace the dark and light soy sauce with gluten-free tamari soy sauce, and ensure that your meat-free pieces are free from gluten, also ensure that the cornflour [cornstarch] is gluten-free. Also use a gluten-free broth.
Dark and light soy sauce is used for different reasons. The dark soy sauce brings richer flavour and a darker colour to the brown sauce while the light soy sauce adds a lighter flavour. But of course feel free to just use either dark or light. 
For useful budget-saving tips do check out our recipe notes and FAQ section above the recipe.
Nutrition
Calories:
431
kcal
|
Carbohydrates:
81
g
|
Protein:
18
g
|
Fat:
4
g
|
Saturated Fat:
1
g
|
Polyunsaturated Fat:
2
g
|
Monounsaturated Fat:
1
g
|
Sodium:
2055
mg
|
Potassium:
596
mg
|
Fiber:
5
g
|
Sugar:
16
g
|
Vitamin A:
997
IU
|
Vitamin C:
113
mg
|
Calcium:
204
mg
|
Iron:
3
mg
Thank you for trying out our vegan adaptation of Mongolian beef and broccoli! We hope you enjoyed making and eating it as much as we do.
If you tried this recipe, please let us know in the comments below how it turned out for you, or if you made any modifications.
If you share your creations on social media, don't forget to tag us (@traditionalplantbasedcooking) and use the hashtag #traditionalplantbasedcooking, so we can see your scrumptious dishes!
Lastly, if you found this recipe helpful, please share it with your friends and family, so they can enjoy it too.
Thank you, and happy cooking!