Vegan Stir-Fry Soup is a really easy, super quick nutritious one-pot meal. A bowl of tasty Chinese Vegetable and Noodle Soup is incredibly budget-friendly and will be loved by all the family. Chuck all the ingredients into your soup pan and simmer for a few minutes and the result is an amazing dish that can be tailored with countless flavours and jazzed up with a variety of garnishes.
This simple and quick version of an Asian broth, noodles and veggies is so versatile and easily adapted to your budget, contents of your refrigerator, and individual preferences! A delicious satisfying meat-free meal in minutes.
Origins of Chinese Vegetable Soup and Noodles
Since they can be incorporated into so many various meals, noodles have been a mainstay of Asian civilizations for thousands of years. In Asia, putting noodles in a hot, savoury broth with veggies is a common method to eat them. But from where did this meal originate?
Chinese cuisine, where noodles have been a mainstay of the diet for more than 4,000 years, is where Asian noodles with vegetables in a broth first appeared. A dish of millet noodles, discovered in northwest China and dating to roughly 2000 BCE, is the earliest example of noodle consumption in China. Noodles are thought to have been created by the Chinese for the first time, and because to their portability, convenience with storage, and capacity for nutrition, they swiftly gained popularity.
As noodles gained popularity throughout Asia, many ethnic groups started to add their own distinctive flavours and ingredients to the dish. For instance, the meal developed in Japan into what is currently known as ramen.
However, the traditional dish of noodles with vegetables in a broth is still a favourite comfort food in China. In a savoury broth made from chicken, beef, or vegetable stock, the meal is often prepared with wheat or rice noodles and a variety of vegetables, including bok choy, carrots, and mushrooms. It can be served as a simple soup or broth and is often spiced up with extras like sliced meats or eggs.
With various variants and adaptations based on regional preferences and ingredient availability, this meal is now a family staple in many Asian households and restaurants all over the world. There is no doubting the cosy and nutritious tastiness of this well-loved dish, whether you favour the Japanese-style ramen or the Chinese variant of noodles with vegetables in a broth.
The legend of Zhang Zhongjing?
The origins of noodles are a source of much dispute and curiosity, with numerous theories and legends surrounding their beginnings. While there is no conclusive solution, one of the most common anecdotes is that of Zhang Zhongjing, a Chinese chef.
According to legend, during the Han Dynasty (206 BCE - 220 CE), Zhang Zhongjing was a physician and chef who invented the first noodle dish as a treatment for his sick patients. A epidemic raced over the region during a particularly hard winter, leaving many people weak and unable to ingest solid foods. Zhang Zhongjing, a well-known healer, intended to develop a cuisine that would be easy to stomach and healthy for his patients.
He fashioned long, thin noodles out of flour and water, which he then simmered in a delicious broth made from chicken bones and spices. This simple yet nutritious dish was a favourite with his patients and quickly spread throughout the region. Although there is no historical evidence to back up this legend it could possibly be true!
Quick history of stir-fry
Stir-frying is a cooking technique that has been practised in China for millennia, dating back to the Han Dynasty (206 BCE - 220 CE). Stir-frying is the process of rapidly cooking small, bite-sized pieces of food in a hot skillet with a small quantity of oil over high heat, while constantly turning or tossing the ingredients to guarantee even cooking.
Originally, the technique was designed to swiftly prepare food over a high heat source, such as a wood-fired stove or charcoal brazier. The wok's tiny size allowed for quick heating and cooling, making it perfect for stir-frying.
Stir-frying quickly became a popular cooking technique in China since it allowed for the quick preparation of fragrant and nutritious meals. It also allowed cooks to make the most of limited ingredients by combining tiny amounts of meat and vegetables with rice or noodles to make a filling dinner.
Vegan Stir-Fry Soup
Stir-fry soup evolved from the idea of stir-frying.
This stir-fry noodle and veggie soup recipe is perfect for feeding hungry family's or a crowd in a hurry. It's a wonderful complete meal that's especially useful for after work when you can't think of what to cook or are just too tired to bother with a longer recipe.
Additionally, an even quicker noodle broth use a fresh or frozen package of pre-prepared stir-fry vegetables. Doing so saves lots of time as no chopping is required and less washing up is generated.It's a good idea to watch out for bags of reduced 'yellow-sticker' stir-fry or veggie mixes as these are ideal for this soup. Fresh stir-fry vegetable mixes can be frozen until required.
If you prefer less broth or soup, simply serve the noodles and veggies with just a little of the broth poured over. The broth can be strained and frozen for later use so nothing needs to be wasted.
Chinese New Year Or The Lunar New Year
This recipe for vegan stir-fry soup is perfect for a quick Chinese New Year lunch or as part of a larger celebration spread. Incidentally, if your planning a special vegan Chinese inspired meal or event do check out the recipe notes and FAQ section for our Vegan Mongolian 'beef' and Broccoli recipe as it outlines a helpful guide.
The Chinese believe that eating noodles during the New Year will bring good luck and prosperity. With longer shaped noodles boosting the chances of a longer life!
If any of your family members are kids do encourage them to help with the stir-fry soup preparation. It's so easy and they will learn valuable skills and learn about an amazing culture from preparing a batch of stir-fry soup as part of a Chinese New Year project or just for fun.
The day that the Chinese New Year begins depends on when the new moon occurs, which is at some point during the period 21st January and 20th February. Therefore the actual start dates vary each year.
Next year, Chinese New Year lands on Saturday 10th February, 2024. For a useful list of Chinese special days check out this list over on Chinahighlights.com. It includes Labor Day, Dragon Boat Festival, and Mooncake festival.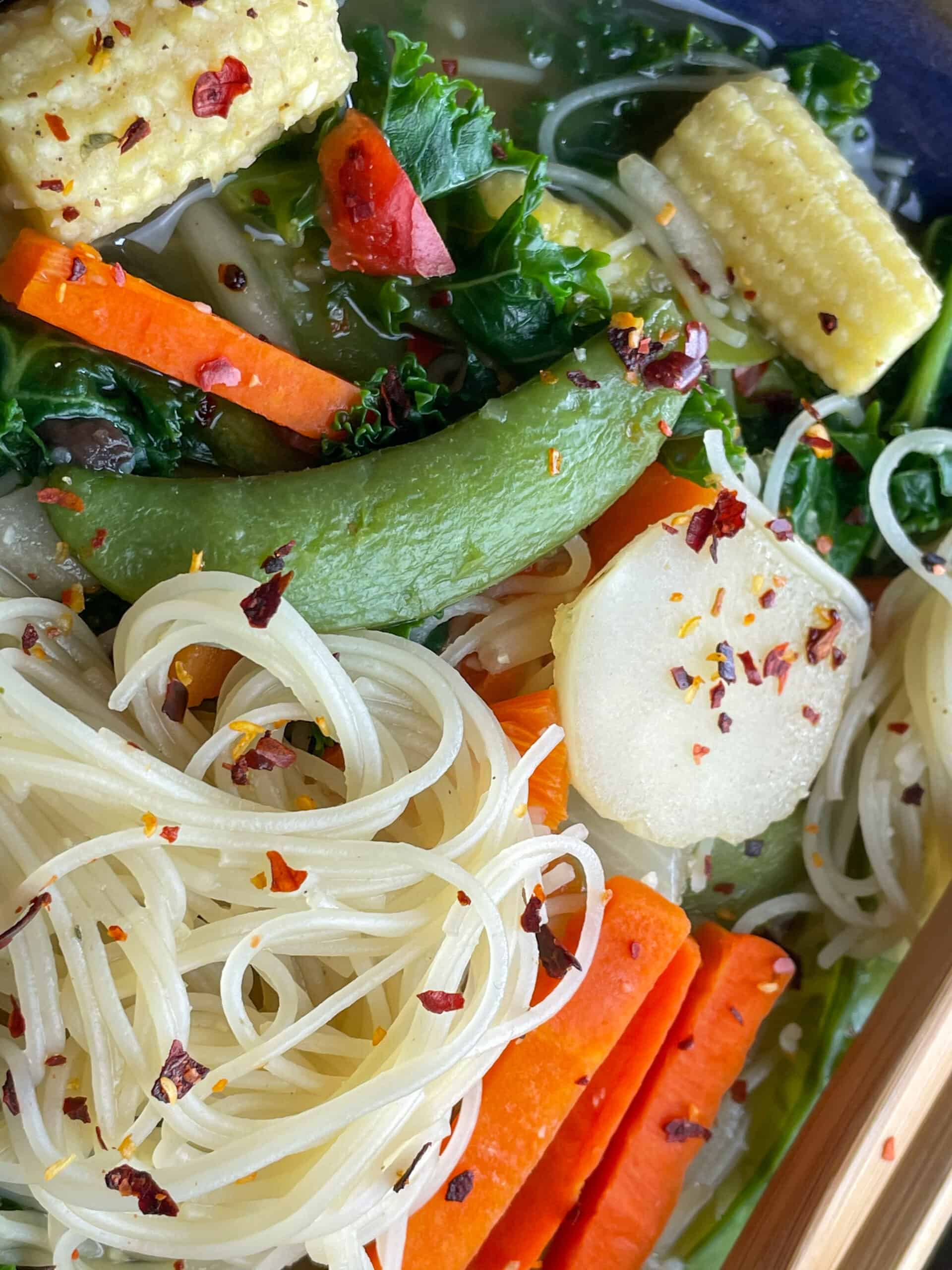 Pack your Stir-Fry Soup or Chinese Vegetable Soup with as many fresh vegetables as you can! The more colour the better! And choose your favourite noodles, inexpensive ramen noodles does the job perfectly well.
How to prepare stir-fry soup
This recipe is so easy it is not really a recipe in a technical sense as really anything you like can be chucked into the soup pan for a deliciously effortless meal that will satisfy everyone's appetite. Of course for extra hungry people serve one of the accompaniments suggested above!
To begin, you can either use a ready-prepared package of stir-fry vegetable mixture which can be fresh or frozen, or chop your own veggies.
Next, select your choice of noodles, again any noodles are perfect including inexpensive ramen noodles.
Pop your vegetables and noodles into a soup pan.
Pour in the hot vegetable broth, along with onion, ginger, garlic, soy sauce, and Chinese 5 spice. Bring to the boil and simmer for 5 minutes.
Next add chopped kale or your chosen green vegetable, this can be either frozen or fresh. I like to buy reduced bags of fresh kale and then once washed and dried, I freeze for recipes such as this stir-fry soup.
Bring the soup back to a simmer [gentle boil] and cook for an extra 3-5 minutes.
Check your seasoning, and add salt and pepper to taste. And extra soy sauce if liked. For an extra flavour boost a small sachet of ready-prepared stir-fry sauce can be stirred through before serving.
Recipe notes and frequently asked questions
Storage

Leftover soup can be stored within a covered container and placed in the refrigerator for up to 3 days.
Leftover stir-fry soup can also be frozen for up to a month, but the texture may change, and as the soup is so quick and easy to throw together at the last minute its best enjoyed freshly made.

Any interesting ideas for using up leftover Chinese vegetable soup?

Noodle stir-fry: To turn your leftover Chinese vegetable soup into a vegan noodle stir-fry, simply strain out the vegetables and noodles, and stir-fry them with your choice of plant-based protein and additional vegetables. You can add soy sauce, sesame oil, and other vegan seasonings to taste. This is a great way to use up leftover soup while creating a new and flavorful vegan meal.

Fried rice: To make a vegan fried rice dish, strain out the vegetables and noodles from your leftover Stir-fry Soup and set them aside. In a pan, scramble some tofu or plant-based protein and add cooked rice, the strained vegetables, and any additional vegetables you like. Stir-fry everything together with vegan soy sauce and sesame oil, and serve hot.

Vegan egg drop soup: To make a vegan version of egg drop soup, heat up your leftover stir-fry soup on the stove, and whisk in a mixture of cornstarch [cornflour] and water to thicken the soup. You can add some more vegetable broth if the soup is too thick. Once the soup is thickened, add some tofu or other vegan protein and a splash of sesame oil for added flavor.

Spring rolls: To make vegan spring rolls using your leftover Chinese vegetable and noodle soup, strain out the vegetables and noodles and wrap them in spring roll wrappers with some additional vegetables, such as shredded carrots and cabbage. You can add some tofu or other vegan protein for extra flavor. Pan fry, air-fry or oven bake the spring rolls until crispy, and serve with a vegan-friendly dipping sauce.
Can I substitute any of the ingredients?

Absolutely! The beauty of this recipe is its adaptability and versatility in regards to what you already have. Especially reduced sticker veggies and any veggies needing used up in the fridge.

A few ideas:

* Replace the Chinese 5 spice with curry powder, Thai spice blend or similar

* Replace the spice blend with a tablespoon or 2 of a curry paste such as Thai green curry, Thai red curry, Thai yellow curry, or similar.

* Sub the kale with spinach, collards, spring greens, cabbage, cauliflower greens, shredded Brussel sprouts, Pak choy, bok choy, etc

* Use any veggies you have in the fridge or freezer that need using. Slice the veggies into thin stick batons for a more authentic look

* Use any kind of noodles you have available. Such as buckwheat, Udon, ramen, wheat, etc

* Use whatever soy sauce you have to hand. I use Tamari but light or dark soy sauce is fine also. Also liquid aminos or coconut aminos can also be used as a replacement, but add less of this to begin with as the flavour is quite strong.

*Instead of fresh onion, garlic and ginger substitute these for their dried powdered or granulated counterparts. Or the equivalent that comes in a jar or tube.

* Use whatever vegan stock cubes, paste, powder or ready-made broth, you have available and any flavour. Such as mushroom, herb, vegan chicken or vegan beef stock, etc

*Replace the flavourings for a a ready-to-use packet or jar of vegan stir-fry sauce

*Instead of noodles serve the soup over ready cooked rice

Can I add anything extra to this veggie stir fry soup?

Tailor your soup to reflect your family's favourite flavours.
 
A few suggestions: [Exact quantities depend on personal preference.]

Although perhaps not recommended to add everything at once on this list unless you have a huge pot!
 
* a tablespoon of vegan 'fish' sauce
* a teaspoon of tamarind paste
* a tablespoon of mango chutney, added at the end of cooking. This is especially tasty when the Chinese 5 spice has been subbed for curry powder. My family calls the result home-made pot noodles.
* a teaspoon of rice vinegar at the end of cooking
* a few teaspoon of sesame oil added at the end of cooking
* frozen or fresh edamame [fresh soya beans]
* frozen broad beans
* frozen peas/sweetcorn
*Pak choy, bok choy
*bean sprouts
*water chestnuts (usually found in a can in the UK)
*bamboo shoots (usually found in a can in the UK)
*various mushrooms fresh or dried
*dried seaweed
* a can of drained black beans, or similar. My son loves black beans with noodles and veggies.
* a can of drained mixed bean salad
* chopped fresh chilli's
* teaspoon or two of chilli paste
* a few curry leaves, or lime leaves
* lemongrass
* ½ a teaspoon of miso paste mixed through each serving
* cubed tofu or tempeh.
* Quorn vegan pieces or other vegan meat alternative chunks or pieces

What can I use as a garnish for stir fry soup?

Anything you like! But here is a few ideas:

Fresh herbs: Adding a handful of fresh herbs, such as cilantro [coriander], chopped chives, or green onions [spring onions], can add a burst of flavor and freshness to the soup. Simply chop the herbs finely and sprinkle them on top of the soup before serving.

Fried garlic or shallots: Adding some fried garlic or shallots on top of the soup can provide a nice crunch and savory flavor. Simply slice the garlic or shallots thinly and fry them in oil until golden brown and crispy. Drain them on a paper towel and sprinkle them on top of the soup.

Fresh onions: Fresh red onion rings are a tasty topping.

Crispy tofu or tempeh: Crispy tofu or tempeh can add a nice texture and protein boost to the soup. Simply dice the tofu or tempeh into small cubes, season with salt and pepper, and fry them until crispy. Drain them on a paper towel and sprinkle them on top of the soup.

Crushed peanuts: Adding some crushed peanuts on top of the soup can provide a nice crunch and nutty flavor. Simply crush some roasted peanuts in a plastic bag using a rolling pin or a heavy pan, and sprinkle them on top of the soup. Cashews or flaked almonds are also nice choices.

Chili oil or hot sauce: If you like your soup spicy, adding some chili oil or hot sauce can provide a nice kick of heat. Simply drizzle some chili oil or hot sauce on top of the soup before serving

Seaweed: A seaweed topping adds extra delicious dimensions and is an absolute favourite with my kids. They especially love the Itsu seaweed thins that you can purchase in small individual packet servings.

What can I serve with stir fry soup?

This veggie and noodle soup is perfect on its own but a few accompaniments can make this meal even better! Stir fry soup is an amazing starter for a larger Asian or Chinese themed meal.

Steamed dumplings: Steamed dumplings filled with vegetables or tofu can provide a delicious contrast to the soup. The dumplings can be served on the side or dropped directly into the soup for added texture and flavor. I usually wait until the supermarket has an offer on the frozen vegetable dumplings and then buy a few packs to keep for special treats and to jazz up our stir-fry soup.

Stir-fried vegetables: A side of stir-fried vegetables, such as bok choy, broccoli, or bell peppers, can provide a nice crunch and nutrition boost to the meal. Add some garlic and ginger for added flavor.

Vegan spring rolls: Vegan spring rolls filled with vegetables and tofu can provide a nice contrast to the soup's warm and comforting flavors. They can be served on the side or dipped directly into the soup for added texture and flavor.

Fried rice: A side of fried rice can provide a filling and satisfying complement to the soup. Use brown rice or quinoa for added nutrition, and add some vegetables, tofu, or nuts for added flavor and texture.

Sesame tofu: Sesame tofu is a crispy and flavorful side dish that pairs well with the soup's savory flavors. Simply cube some tofu, dredge it in cornstarch and sesame seeds, and fry it until crispy. Serve it on the side or drop it directly into the soup. Or use our Crispy Tofu Bites recipe to prepare the best crispy tofu nuggets!
Can I prepare vegan stir fry soup as gluten-free?

Yes. Ensure all your ingredients, especially the noodles, veggie broth and any flavourings used are gluten-free.

I often use Marigold bouillon stock powder or cubes which are gluten-free. And tamari soy sauce which is usually gluten-free.
 
Gluten-free noodle options include (but do check package ingredients carefully!)
 
* Japanese soba noodles/ buckwheat noodles
* noodles made from pulses such as soya, chickpea, etc.
* noodles made from grains such as quinoa, multigrain (wheat free)
* rice noodles, these come in various degrees of thickness
* shirataki noodles, or similar (these noodles that are gf, fat, calorie and nutrient-free)

Alternatively home-made noodles prepared with butternut squash, carrot or courgette [zucchini] by using a noodle spiralizer are also a tasty gluten-free option.

What's the best way to chop vegetables as Chinese style?

Chopping vegetables in the Chinese style involves cutting them into uniform pieces that cook evenly and look aesthetically pleasing in the final dish. Here are some tips on how to chop vegetables in the Chinese style:

Use a sharp knife: A sharp knife will make it easier to cut through the vegetables cleanly and efficiently, without crushing or tearing them. This will also help to create uniform pieces that look visually appealing in the final dish.

Cut vegetables into even pieces: When chopping vegetables, it's important to cut them into even-sized pieces so that they cook evenly. For example, when chopping carrots, cut them into slices of equal thickness so that they all cook at the same rate.

Cut vegetables at an angle: When chopping vegetables in the Chinese style, it's common to cut them at an angle, which creates longer, more elegant pieces. This is especially true for vegetables like green onions, which are often cut on a diagonal to create longer, thinner pieces.

Use a chopping board: A sturdy chopping board will provide a stable surface for cutting vegetables, making it easier to achieve consistent results. Avoid chopping vegetables directly on a countertop or other surface, as this can damage your knives and create an uneven chopping surface.

Practice your knife skills: Chopping vegetables in the Chinese style can take some practice, so don't be discouraged if your first attempts are not perfect. With time and practice, you'll develop the skills and confidence needed to chop vegetables like a pro.

Alternatively, buy a bag of inexpensive ready-prepared stir-fry mix, it does save time, money and effort. Although knowing how to chop vegetables Chinese style can be a fun and useful technique to know!
More vegan Chinese inspired recipes
***please note: for US measurements click the 'US customary button' within the recipe and the measurements will switch to tablespoons, cups, and ounces.***
Recipe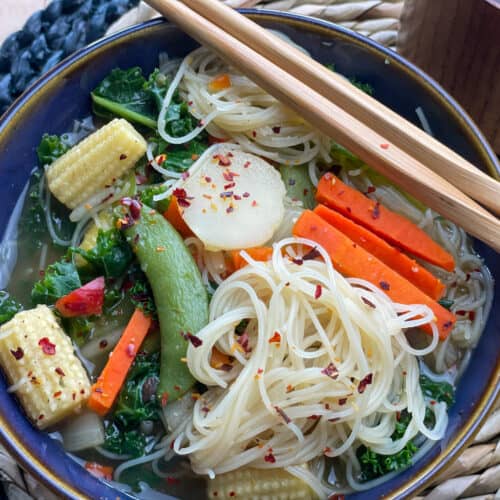 Vegan Stir-Fry Soup
Print Recipe
Stir-fry soup is the perfect meal for whenever you need an easy, quick and wholesome meal in a hurry.
Use ready-prepared stir-fry veggies or even just ordinary frozen mixed vegetables.
This soup is easily tailored to your preferences and whatever you have at home.
Ingredients
500

grams

mixed vegetables

Ideally use a prepared bag of stir-fry vegetables either fresh or frozen. Or ordinary frozen vegetable mix.

1

medium

onion

fine diced [can use frozen diced onion]

1

inch

fresh ginger

grated or minced, or 1 teaspoon of dried ginger

4

cloves

garlic

fine chopped or minced, or 1-2 teaspoon of garlic powder or paste.

2

tablespoons

soy sauce

200

grams

rice noodles

dried, or use 400g of fresh noodles, or shelf-stable ready-to-use Udon noodles.

1

tablespoon

Chinese 5 spice powder

Or curry powder, or similar spice blend

1.5

litres

vegetable broth

[hot]

80

grams

kale

either fresh or frozen, or a different green vegetables. although this is an optional addition.
Instructions
Add the vegetables and noodles to a soup pan, along with the garlic, onion, ginger, soy sauce, and Chinese 5 spice.

500 grams mixed vegetables,

1 medium onion,

1 inch fresh ginger,

4 cloves garlic,

200 grams rice noodles,

1 tablespoon Chinese 5 spice powder,

2 tablespoons soy sauce

Pour in the hot vegetable broth.

1.5 litres vegetable broth

Bring to the boil, lower the heat and simmer for about 5 minutes.

Next add the kale or a different green veggie.

Simmer for 3-5 minutes.

Taste the seasoning.

It will likely not require salt and pepper but add it if preferred, also add more soy sauce to taste.
Notes
Nutritional information is provided for guidance only and is not a strict calculation as ingredients vary.
Give your stir fry soup an extra flavour boost by adding a packet of vegan-friendly stir fry sauce at the end of cooking. This is a good way to use up a packet that may have been lying around for a while!
A few tablespoons of mango chutney stirred through the finished soup or add a few teaspoons to each portion transforms the soup into what my kids call Pot Noodle Soup! The mango chutney is especially nice if the 5 spice powder is replaced with curry powder.
Reduced packets of veggies or veggies needing used up in the fridge, or ready prepared stir-fry veggie mixes are ideal for this recipe.
Leftover stir-fry soup will keep fresh in the fridge for up to 3 days, in a covered container.
A little extra veggie stock will be required when reheating the soup as the noodles will have likely soaked up most of the broth. Reheat gently until piping hot throughout.
Leftovers can be used as a spring roll filling, for more ideas on repurposing leftover stir fry soup do have a look at the helpful recipe notes above the recipe.
Nutrition
Calories:
300
kcal
|
Carbohydrates:
65
g
|
Protein:
9
g
|
Fat:
1
g
|
Saturated Fat:
2
g
|
Polyunsaturated Fat:
1
g
|
Monounsaturated Fat:
1
g
|
Sodium:
640
mg
|
Potassium:
482
mg
|
Fiber:
7
g
|
Sugar:
1
g
|
Vitamin A:
8353
IU
|
Vitamin C:
40
mg
|
Calcium:
95
mg
|
Iron:
3
mg
Thank you for trying out our Vegan Stir-Fry Soup! We hope you enjoyed making and savoring it as much as we do.
If you tried this recipe, please let us know in the comments below how it turned out for you, or if you made any modifications.
If you share your creations on social media, don't forget to tag us (@traditionalplantbasedcooking) and use the hashtag #traditionalplantbasedcooking, so we can see your scrumptious dishes!
Lastly, if you found this recipe helpful, please share it with your friends and family, so they can enjoy it too.
Thank you, and happy cooking!
Love, Jacq x