Vegan stir-fry soup is a really easy, super quick nutritious one-pot meal.
A bowl of tasty noodles and veggies in an Asian inspired broth is incredibly budget-friendly.
Chuck all the ingredients into your saucepan and simmer for a few minutes and the result is an amazing dish that can be tailored with countless flavours and jazzed up with a variety of garnishes.
Vegan Stir-Fry Soup (Veggies and Noodles in a Delicious Asian Inspired Broth)
This stir-fry soup recipe is perfect for feeding hungry family's or a crowd in a hurry.
For an even quicker soup use a fresh or frozen stir-fry bag of pre-prepared vegetables. Doing so saves lots of time as no chopping is required and less washing up is generated.
Each time your in the supermarket have a look out for bags of reduced 'yellow-sticker' stir-fry or veggie mix as these are ideal for this soup. Fresh stir-fry veg mixes can be frozen until required.
I first thought about the idea of stir-fry soup when I felt like a stir-fry but I didn't have a wok. So I thought why not just chuck it all in the pan and see what happens. The result was very tasty and my kids approved.
For less of a soup vibe, just serve the noodles and veggies with some of the broth poured over.
Chinese New Year Or The Lunar New Year
This recipe for vegan stir-fry soup is perfect for a quick Chinese New Year lunch or as part of a larger celebration spread.
The Chinese believe that eating noodles during the New Year will bring good luck and prosperity. With longer shaped noodles boosting the chances of a longer life!
If any of your family members are kids do encourage them to help with the stir-fry soup preparation. It's so easy and they will learn valuable skills from preparing a batch of stir-fry soup as part of a Chinese New Year project or just for fun.
The day that the Chinese New Year begins depends on when the new moon occurs, which is at some point during the period 21st January and 20th February. Therefore the actual start dates vary each year.
This year the Chinese New Year begins on the 1st of February 2022 and ends 15th February 2022. Oh and 2022 is the Year Of The Tiger!
Recipe FAQs And Notes
How do I store leftover stir fry soup?

Leftovers can be stored in a covered container in the fridge for up to 3 days.
 
Or frozen for up to 3-4 months.

How do I reheat leftover stir fry soup?

Leftovers will likely have soaked up most of the stock. Add a little extra veggie stock to a pan and gently bring to a simmer and heat until piping hot throughout.
 
If frozen, defrost before reheating.
Any interesting ideas for using up leftover veggie stir fry soup?

* Leftovers can be used for spring roll fillings.

* Most of the stock will soak up as it sits in the fridge but if not just drain and use the noodles and vegetables to create yummy spring rolls.

* My daughter used some leftovers as a filling to stuff into a tortilla wrap and crisped it up in a panini machine for a makeshift spring roll toastie. She said it was very tasty!

* Leftovers can also be enjoyed as a noodle and veggie dish without added stock. Reheat in a wok or similar as you would cook a stir-fry. Serve with a sprinkle of soy sauce, perhaps a dash of sesame oil and a sprinkle of sliced green onions/spring onions. So delicious.

* Or simply enjoy the leftover noodles and veggies chilled directly from the fridge as a quick, nutritious snack.
Can I substitute any of the ingredients?

Absolutely!

The beauty of this recipe is its adaptability and versatility in regards to what you already have. Especially reduced sticker veggies and any veggies needing used up in the fridge.

A few ideas:

* replace the Chinese 5 spice with curry powder, Thai spice blend or similar

* replace the spice blend with a tablespoon or 2 of a curry paste such as Thai green curry, Thai red curry, Thai yellow curry, or similar

* sub the kale with spinach, collards, spring greens, cabbage, cauliflower greens, shredded Brussel sprouts, Pak choy, bok choy, etc

* use any veggies you have in the fridge or freezer that need using. Slice the veggies into thin stick batons for a more authentic look

* use any kind of noodles you have available. Such as buckwheat, Udon, ramen, wheat, etc

* use whatever soya sauce you have to hand. I use tamari but light or dark soy sauce is fine also. And liquid aminos can also be used as a replacement. Start with 1 tablespoon and taste the flavour before adding extra

*Instead of fresh onion, garlic and ginger sub these for their dried powdered or granulated counterparts. Or the equivalent that comes in a jar or tube.

* use whatever vegan stock cubes, paste, powder or ready-made, you have available and any flavour. Such as mushroom, herb, vegan chicken or vegan beef stock, etc

*replace the flavourings for a a ready-to-use packet or jar of vegan stir-fry sauce

*instead of noodles serve the soup over ready cooked rice

Can I add anything extra to this veggie stir fry soup?

Tailor your soup to reflect your family's favourite flavours.
 
A few suggestions:

(although maybe not recommended to add everything at once on this list!)

Exact quantities depend on personal preference.
 
* a tablespoon of vegan 'fish' sauce
* a teaspoon of tamarind paste
* a tablespoon of mango chutney, added at the end of cooking. This is especially tasty when the Chinese 5 spice has been subbed for curry powder. My family calls the result home-made pot noodles.
* a teaspoon of rice vinegar at the end of cooking
* a few teaspoon of sesame oil added at the end of cooking
* frozen or fresh edamame/soya beans (dried soya beans would need to be pre-cooked before adding)
* frozen broad beans
* frozen peas/sweetcorn
*Pak choy, bok choy
*bean sprouts
*water chestnuts (usually found in a can in the UK)
*bamboo shoots (usually found in a can in the UK)
*various mushrooms fresh or dried
*dried seaweed
* a can of drained black beans, or similar. My son loves black beans with noodles and veggies.
* a can of drained mixed bean salad/mix
* chopped fresh chilli's
* teaspoon or two of chilli paste
* a few curry leaves, or lime leaves
* lemongrass
* ½ a teaspoon of miso paste mixed through each serving
* about 100g of cubed tofu or tempeh.
* Quorn vegan pieces or other vegan meat alternative chunks or pieces

What can I use as a garnish for stir fry soup?

Anything you like!
 
* sliced spring onions/ green onions
* chopped chives
* chopped coriander
* chopped chilli's
* fresh red onion rings or slices
*chopped cashews, peanuts or flaked almonds
* sesame seeds, poppy seeds
*chilli flakes
*paprika flakes
*red pepper flakes
*sweet chilli sauce

What can I serve with stir fry soup?

This veggie and noodle soup is perfect on its own but a few accompaniments can make this meal even better! Stir fry soup is an amazing starter for a larger Asian or Chinese themed meal.

* crispy tofu bites.
* vegan Asian style crackers/crisps
* lentil crisps/chips
* seaweed crisps
* spring rolls
* bread, rolls, pitta breads, flatbreads, naan breads, chapatis, etc.
* quick dinner rolls

Can I prepare vegan stir fry soup as gluten-free?

Yes!

Ensure all your ingredients, especially the noodles, veggie stock and any flavourings used are gluten-free.

I often use Marigold bouillon stock powder or cubes which are gluten-free. And tamari soya sauce which also tends to be gluten-free.
 
Gluten-free noodle options include (but do check package ingredients carefully!)
 
* Japanese soba noodles/ buckwheat noodles
* noodles made from pulses such as soya, chickpea, etc.
* noodles made from grains such as quinoa, multigrain (wheat free)
* rice noodles, these come in various degrees of thickness
* shirataki noodles, or similar (noodles that are gf, fat, calorie and nutrient-free)

Alternatively noodles prepared with butternut squash or courgette/zucchini by using a noodle spiralizer are also a tasty gluten-free option.

How To Prepare Vegan Stir-Fry Soup
More Wholesome Vegan Soup Ideas
Vegan Lentil Soup (Traditional Scottish Recipe)
Vegan Cream Of Kale And Celery Soup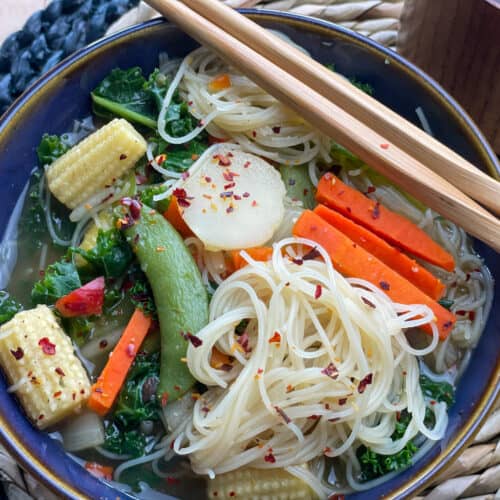 Vegan Stir-Fry Soup
Print Recipe
Stir-fry soup is the perfect meal for whenever you need an easy, quick and wholesome meal in a hurry.
Use ready-prepared stir-fry veggies or even just ordinary frozen mixed vegetables.
This soup is easily tailored to your preferences and whatever you have at home.
Equipment
Saucepan/soup or stock pan/or large Wok
Ingredients
500

grams

mixed vegetables

Ideally use a prepared bag of stir-fry vegetables either fresh or frozen. Or ordinary frozen vegetable mix.

1

medium

onion

fine diced.

1

inch

fresh ginger

grated or minced. Or a teaspoon of dried ginger.

4

cloves

garlic

fine chopped or minced. Or 1 teaspoon of garlic powder/paste.

2

tablespoons

soya sauce

I use Tamari soya sauce as its lower in sodium. Use more soya sauce to taste.

200

grams

rice noodles

dried. Or use 400g of fresh noodles, or shelf-stable ready-to-use Udon noodles.

1

tablespoon

Chinese 5 spice powder

Or curry powder/ similar spice blend.

1.5

litres

vegetable stock

80

grams

kale

either fresh or frozen. Or a different green vegetables. Although this is an optional addition.
Instructions
Add all the ingredients, except the green vegetable, to a saucepan.

Bring to the boil.

Lower heat and simmer for about 5 minutes.

Add the green vegetable.

Simmer for 3-5 minutes.

Taste the seasoning. It will likely not require salt and pepper but add it if preferred.

Ready to serve.
Notes
Nutritional information is provided for guidance only and is not a strict calculation as ingredients vary.
Give your stir fry soup a flavour boost by adding a packet of vegan-friendly stir fry sauce.
Reduced packets of veggies or veggies needing used up in the fridge, or ready prepared stir-fry veggie mixes are ideal for this recipe.
Leftover stir-fry soup will keep fresh in the fridge for up to 3 days, in a covered container.
A little extra veggie stock will be required when reheating the soup as the noodles will have likely soaked up most of the stock. Reheat gently until piping hot throughout.
Leftovers can be used as a spring roll filling.
Or enjoy chilled as a noodle and vegetable snack. It actually is quite tasty this way!
Nutrition
Calories:
300
kcal
|
Carbohydrates:
65
g
|
Protein:
9
g
|
Fat:
1
g
|
Saturated Fat:
2
g
|
Polyunsaturated Fat:
1
g
|
Monounsaturated Fat:
1
g
|
Sodium:
640
mg
|
Potassium:
482
mg
|
Fiber:
7
g
|
Sugar:
1
g
|
Vitamin A:
8353
IU
|
Vitamin C:
40
mg
|
Calcium:
95
mg
|
Iron:
3
mg