This Vegan Minestrone Soup is so easy, quick to prepare and incredibly budget-friendly as it is literally a one-pot meal. A bowl of this naturally vegetarian soup is packed with 100% delicious vegan ingredients: veggies, beans and pasta. This minestrone soup is a sure-fire family and crowd pleaser. Ideal for a cozy home-cooked meat-free meal.
Minestrone soup is a bowl of interesting history and tastiness! Dating back to ancient and medieval times, this soup is as old as the hills! So you can be sure its been tried, tested and loved for over a thousand years!
Origins of Minestrone Soup
Minestrone soup is a traditional Italian meal with ancient medieval origins. Its origins can be traced back to Roman times where vegetarianism was considered a mainstay diet. Meat was not easily available and so the Ancient Romans appreciated the life-sustaining health benefits of thick soups crammed with beans and vegetables.
Although it is claimed that Minestrone soup dates even farther back to the Etruscan civilisation, which existed between the 8th and 3rd century BCE in what is now Tuscany and parts of Umbria. The Etruscans were known to enjoy a robust vegetable-based soup throughout this time period.
A similar vegetable soup was popular throughout the Roman Empire and was known as "pulte." It was a traditional dish made with spelt flour, veggies, and legumes. As the Roman Empire developed, new ingredients from various territories were introduced, increasing the range of items that might be utilised in the soup.
Minestrone, as we know it today, most likely originated in the Middle Ages, about the 2nd century AD. The name "minestrone" is derived from the Italian "minestra," which means "soup," or more correctly, "that which is served," and is derived from the Latin verb "ministrare," which means "to serve."
Minestrone, unlike many other types of soup, does not have an exact recipe. It's a versatile recipe that may be cooked using whatever vegetables are in season or available, in addition to pasta or rice. Beans, onions, celery, carrots, stock, and tomatoes are common components.
Minestrone is a richer soup that sometimes includes grains or pasta in northern Italy, but it is a lighter, more brothy soup in the south. Minestrone alla Genovese, for example, is a popular dish. So, while minestrone soup has a roots in Italian history, it has evolved and been inspired by the ingredients and flavours of different regions and ages. It demonstrates the adaptability of Italian food.
Nowadays, cozy nourishing bowls of thick Minestrone soup are popular mainstays around the world, and are perfect for those looking for budget-friendly flavourful meals. Some recipes just never get old.
Is pasta a medieval Italian food?
Yes! Pasta is almost as old as the hills! Pasta-like meals were mentioned in ancient times. The Greeks and Romans, for example, had dishes prepared with barley-flour pasta and water. These ancient kinds of pasta, however, were most likely quite different from the pasta we know today, and they were not as vital in the diet as pasta is in modern Italy.
Modern day pasta which is usually produced from durum wheat, began to gain popularity in Italy around the Middle Ages. Pasta is mentioned in Italian sources as early as the 13th and 14th century. Macaroni is mentioned in the great medieval work "The Decameron," authored by Giovanni Boccaccio in the 14th century.
Dry pasta, which could be kept and transported, was very popular in the south, particularly in Sicily and Naples. The first pasta manufactures started to appear in these areas throughout the Middle Ages.
However, it is important to point out that pasta was not traditionally eaten with tomato sauce because tomatoes were not introduced to Italy until around the late 15th century, after the discovery of the New World. Early pasta recipes were likely relatively simple, seasoned with humble ingredients such as oil, cheese, and whatever herbs or spices were available.
Did medieval Italian pasta contain eggs?
Whether medieval pasta contained eggs, is a source of debate among food historians, however it is generally agreed that pasta dating back to ancient times was produced with water and flour. This is largely due to the fact that pasta began as a simple, low-cost food that could be readily stored and transported.
Pasta was most likely still made primarily from flour and water in mediaeval Italy, particularly in the southern regions. Durum wheat flour, which is strong in gluten and perfect for producing pasta, was combined with water to make a dough that could be rolled out and cut into different shapes.
The use of eggs in pasta seems to have become increasingly popular in northern Italy, where wealthy families had access to a wider variety of high-quality goods, including eggs. These regions gave origin to egg pasta, often known as "pasta all'uovo," which is commonly used in recipes such as tagliatelle and tortellini.
So, while some pasta in mediaeval Italy may have been produced with eggs, the majority of pasta was most likely created with simply wheat and water. The widespread use of eggs in pasta is a more recent occurrence, typically linked with specific regions and types of pasta.
Who invented the first pasta?
Isn't the history of food fascinating? Once you start delving into a particular foods origins it can be hard to stop!
The origins of pasta are challenging and frequently debated among historians. While modern day pasta is quintessentially Italian by the time the Italians began to incorporate pasta into their everyday meals, pasta had already been enjoyed by many different cultures.
For example, the Ancient Greeks had a dish known as "laganon" which was prepared with flour and water, whereas the Romans had a similar dish called "lagana." These, however, were very different to the type of pasta we're used to.
Did Marco Polo introduce pasta to Italy?
According to one common hypothesis, Marco Polo brought pasta from China to Italy in the 13th century. This narrative is based on Polo's descriptions of a meal similar to "lagana" in Italy on a voyage to China. Many food historians, however, argue that pasta was already well established in Italy by the time of Polo's travels.
Did the Arabs bring pasta to Italy?
More reliable evidence refers to the 7th century Arab invasions as a likely cause of pasta's entry to Italy. The Arabs brought a product called "itriyya" to Sicily, which is a type of dried noodle, and it is believed that this helped with the development of dry pasta in Italy. The benefit of dried pasta was that it could be easily stored and transported, making it an ideal food for long journeys.
The first Italian pasta factories!
The first recorded mention of Pasta in Italy was as early as the 13th century. A basket of dried pasta was included in the will of a Genoese soldier from 1279, and pasta also appears in other legal documents from the same time period. This evidences the high value of a basket of dried pasta!
Southern Italy proved to be the idea climate for growing durum wheat the grain variety that produces the best flour for pasta. During the 16th century, the first pasta factories opened in Naples, and pasta quickly became a firm favourite of the Italian diet.
When did pasta arrive in the UK, US and Australia?
Pasta, particularly macaroni, originally appeared in English recipes in the 14 century, although the term macaroni was used as a catch-all for any shape of pasta that was available, so often cookbooks from those times simply listed any pasta as macaroni. It wasn't until the nineteenth century, coinciding with the arrival of Italian immigrants into the United Kingdom, that pasta began to gain popularity.
Pasta was also brought to the United States by Italian immigrants, who began arriving in large numbers in the late nineteenth century. Pasta was becoming increasingly popular in the United States by the early twentieth century, both in the homes of Italian immigrants and in restaurants. Around this period, pasta manufacturers began to arise in the United States, further popularising pasta among the general public.
Pasta also arrived in Australia with Italian immigrants. Italian immigration to Australia began in the late 1800s but expanded dramatically after WWII. This postwar immigration had a significant impact on the Australian food, introducing and popularising pasta.
Pasta was initially linked with Italian cuisine and communities in all three nations, but it eventually became a staple food loved by the general public. Pasta is now an essential component of the culinary landscape in the United Kingdom, the United States, and Australia.
Nowadays, pasta is loved worldwide and my kids could literally eat it by the bucket load! And I'm pretty sure most kids and adults, who love pasta, could!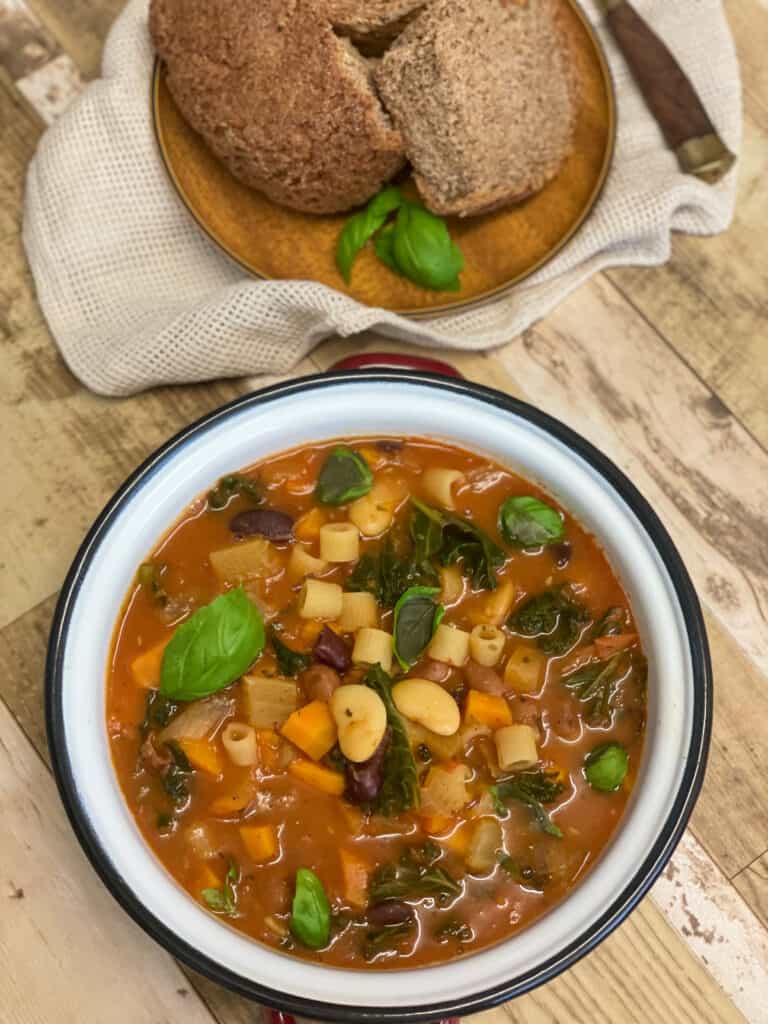 Minestrone soup is perfect served with your favourite crusty bread to mop up all those delicious soup juices. The main take-aways for this Minestrone soup recipe is that it has an amazing rich history, is budget-friendly, family-friendly, packed with flavour, perfect for using up older ingredients or reduced price veggies, is versatile and simple to prepare! My kind of recipe!
Vegan Minestrone Soup
This recipe for plant-based Minestrone soup is so simple and quick to prepare. Basically its just a case of chucking most of the ingredients in the soup pot, with the exception of the kale, pasta, and red wine vinegar, and simmering away for 20 minutes.
Canned diced tomatoes, tomato paste, Italian mixed herbs, oregano, vegetable broth, and bay leaves all work together to create a pleasant lightly sweet, savoury tasting broth.
A little drizzle of maple syrup or a sprinkle of sugar helps balance the acidic tomato flavours. While a splash of red wine vinegar near the end of cooking provides a fresh kick to the soup broth.
For the last 10-15 minutes of cooking the kale, pasta and red wine vinegar are added to the soup pot. Although exact cooking times will depend on the type of pasta you select and the size of your sliced veggies.
We like to use soup pasta or small tube pasta shapes which does speed up cooking compared with larger pasta shapes. Also, feel free to replace the pasta with rice or orzo, both are equally delicious. A good idea is to use any leftover rice that you may have, an even better idea is to freeze any small amounts of leftover rice especially for adding to soups. The frozen rice can be added directly to the bubbling soup and reheated through until piping hot.
We like to dice or slice the veggies into small rough cube shapes for Minestrone soup as that way time can be saved as the vegetables cook quicker. One of my kids is not too keen on peppers or courgette [zucchini] but they are not aware these vegetables exist within this Minestrone as they are so fine diced!
The vegetables used for this Minestrone soup are bell pepper, sweet potato, courgette, onion, carrot, celery, and kale. However, do feel free to switch up the vegetables and use whatever you have to hand.
Similarly, even though the recipe calls for cans of borlotti beans, butter beans and kidney beans, any bean either a single or combination can be used. Though borlotti beans are a traditional Minestrone ingredient.
Love traditional Italian soups? Then do check out our other deliciously Italian inspired soup recipe Cabbage and Bean Soup otherwise known as Zuppa Di Cavolo. And we also have one of our family favourites this Sweet Potato, Chickpea and Red Lentil Lasagne Soup recipe, all the flavours of a tasty home-cooked lasagne but in a fun soup form! Perfect for a fuss-free quick lasagne!
How to prepare vegan Minestrone soup
Although this easy Minestrone recipe is an oil-free recipe but of course, you can always saute the vegetables in oil if preferred. This Minestrone recipe is so versatile so any vegetables, beans, or pasta varieties can substitute the recipes ingredients. Throughout history is has been a normal occurrence for each family to have their own special Minestrone recipe, so have fun devising your own traditional family soup.
Add the borlotti beans, butter beans, kidney beans, onions, garlic, celery, bell pepper, courgette, sweet potato and maple syrup [or your preferred sugar or syrup] to a soup pan.

Mix through the mixed herbs, oregano, bay leafs, and tomato paste.
Pop in the can of chopped diced tomatoes and vegetable broth.

Bring the soup to the boil and cook for 20 minutes.
Tip in the pasta shapes, and stir through the kale.

Stir through 2 tablespoons of red wine vinegar.

Simmer for 10-15 minutes.
To finish, simply season with salt and pepper to taste.
Add an optional handful of your favourite fresh herbs, a crust or two of crusty bread on the side, and for those who love a cheesy flavour add a sprinkle of nutritional yeast flakes.
Nutritional yeast flakes are the perfect vegan as well as vegetarian Parmesan replacement [seeing as ordinary Parmesan is not actually vegetarian].
Recipe notes and frequently asked questions
Storage
Leftover Minestrone soup will stay fresh stored with a covered container within the refrigerator, for up to 3 days. Or freeze for 2-3 months within a freezer-proof container.
Reheating
Reheat Minestrone soup by bringing the soup to a gentle boil, and heat for 3-4 minutes until piping hot throughout. A little extra veggie broth or water may be required to loosen up the soup as the pasta will continue to soak up the liquid.
Is Minestrone soup good for batch cooking?

Absolutely, Minestrone soup is perfect for meal prep or batch cooking.

Prepare a double batch and freeze individual or several potions for future quick meals. If preferred the pasta can be omitted from the prepped batch, and then added and cooked whilst reheating the soup. This will help retain the pasta texture.
Is Minestrone soup gluten-free?

Yes, Minestrone soup is perfect and easy to prepare for gluten-free diets. The main considerations is to select a gluten-free vegetable broth, and to use a gluten-free pasta or replace the pasta with rice.
Can I make any substitutions with this Minestrone recipe?

Yes, of course. That's the essence of Minestrone soup, tailoring the soup to whatever ingredients are in season, that you have to hand, are currently inexpensive or you find your self with a glut or lots of a certain vegetable.

A few suggestions:

* Use pearl barley, orzo or rice instead of pasta

* Use any bean or combination of bean

* Replace one of the bean varieties for fresh or frozen broad beans

* Not keen on courgette [zucchini]? Simply omit or use an extra bell pepper or a different vegetable such as frozen peas or sweetcorn

* White potato, butternut or summer squash, or pumpkin can replace the sweet potato

* Instead of canned diced tomatoes use tomato passata or a jar of plain tomato pasta sauce

* Replace the kale with a different type of green vegetable such as collards, turnip greens, chard, or spinach. Although if using spinach simply mix this through at the end of cooking as it will wilt in the heat.
What can I serve with 3 bean vegan Minestrone?

Vegan Bread: A crusty loaf of vegan bread, quick dinner roll, or a slice of wholesome Irish soda bread, possibly served with a spread such as vegan butter, olive oil, or a homemade vegan pesto, would make a great addition to the meal. For a twist, you could also make vegan garlic bread.

Salad: A fresh salad would be a nice, light complement to the hearty soup. This could be a simple green salad, a tomato and cucumber salad, or a more complex salad with ingredients like roasted vegetables, quinoa, or a tangy vinaigrette.

Grilled Vegetables: Grilled or roasted vegetables can add a nice contrast in texture and flavor. You could use vegetables like zucchini, bell peppers, eggplant, or asparagus.

Vegan Cheese and Crackers or Oatcakes: A selection of vegan cheeses with some crackers or oatcakes could be a great appetizer or side dish.

Vegan Bruschetta: This could be a simple tomato and basil bruschetta, or you could use other toppings like roasted bell peppers or a vegan ricotta spread.

What can I use as to garnish Minestrone?

This soup is perfect on its own but for added texture and flavour here are a few suggestions:

Fresh Herbs: Freshly chopped basil, parsley, or thyme can add a burst of flavor and color. Basil, in particular, pairs well with the tomato base often found in minestrone.

Vegan Pesto: A spoonful of vegan pesto made with basil, garlic, pine nuts, olive oil, and nutritional yeast (to give a cheesy flavor) can be swirled into the soup just before serving.

Olive Oil Drizzle: A small drizzle of good quality extra virgin olive oil just before serving can add a lovely richness and sheen to the soup.

Nutritional Yeast or Vegan Parmesan: Sprinkle a bit on top of each serving to give a cheesy flavor.

Freshly Ground Pepper: Freshly ground black pepper can add a bit of heat and a nice visual touch.

Red Pepper Flakes: For those who like a little extra heat, a sprinkling of red pepper flakes can be a good addition.

Lemon Zest or a Lemon Wedge: The zest can be sprinkled on top, or a small wedge can be served on the side. The acidity of the lemon can brighten up the flavors of the soup.

Sliced Olives or Capers: These can add a salty tang to the soup, offering a nice contrast to the other flavors.

Croutons: Homemade croutons, possibly flavored with garlic and herbs, can add a satisfying crunch.

How could I repurpose leftover minestrone soup?

Pasta Sauce: Reduce the soup on the stove until it thickens, [although this step may not be required if the leftover soup is thick enough] then use it as a sauce for pasta. Adding some sautéed vegetables, herbs, or vegan cheese could enhance the flavor. Puree the soup if a smooth sauce is preferred.
Rice or Grain Dish: Stir the thick soup through cooked quinoa, rice, millet or your preferred grain or rice.
Stuffed Vegetables: You can mix the thickened soup with cooked rice or another grain and use the mixture to stuff bell peppers or zucchinis [courgettes]. Bake until the vegetables are tender.
Baked Casserole: Combine the soup with some extra veggies and cooked pasta, if you like, sprinkle with vegan cheese, and bake for a comforting casserole.
Chili: Add some extra beans and a bit of chili powder, cumin and perhaps some paprika, to transform the soup into a chili. You might also want to add some textured vegetable protein mince [crumbles] for extra protein and heartiness.
Shepherd's Pie: Use the soup as a base layer for a vegan shepherd's pie. Top with a layer of mashed potatoes or sweet potatoes and bake until golden.
Bread Soup (Ribollita): This is a traditional Italian dish made by reheating (reboiling, hence the name) minestrone soup and adding bread. You could toast some slices of bread, place them at the bottom of a dish, ladle the soup over, and bake it all together until it's nice, hot and tasty.
Is Minestrone soup budget-friendly?

Absolutely! Minestrone soup is the best budget-friendly meal out there. It's amazingly versatile as the vegetables,beans,and pasta, can be easily modified to what you have to hand or what's currently on offer at the local stores or shops.

Here's a few benefits of Minestrone soup and why it should be a regular on your family's menu:

Use of Vegetables: Minestrone soup is a great way to use up leftover vegetables in your fridge, reducing waste. You can also use frozen vegetables, which are often less expensive than fresh ones.

Beans and Pasta/Rice: Beans, pasta, and rice are inexpensive, filling, and have a long shelf life, making them good pantry staples for budget-friendly cooking.

Flexibility: There's no one "right" recipe for minestrone, so you can adjust the recipe based on what you have on hand or what's inexpensive at the moment.

Bulk Cooking and Freezing: Minestrone is a great dish for batch cooking, and it freezes well, so you can make a large pot and have meals ready for several days or weeks.

Nutrition: Despite being budget-friendly, minestrone is packed with nutrients from the variety of vegetables and beans, making it a cost-effective way to get a balanced meal.

To make your minestrone even more budget-friendly, look for sales and discounts on vegetables and canned goods, consider buying in bulk, and don't be afraid to substitute ingredients based on what's most affordable.
Can I prepare Minestrone soup in the slow cooker?

Of course. To cook the minestrone soup in the slow cooker add all the ingredients listed in the recipe [except the pasta and kale].

Cook on the high setting for 3-4 hours or the low setting for 6-8 hours.

However, exact timings will depend on your slow cooker and the way the vegetables have been sliced. If chopped into small dice or cubes they will cook quicker.

About 30-60 minutes before its ready the pasta and kale can be stirred through.

Although again, adjust the timings for your pasta shape as smaller pasta shapes will cook through much quicker than larger shapes. And do check the pasta a few times before the end of cooking to see if its cooked or not. With a little practice you will soon learn how fast your slow cooker cooks the pasta.

Alternatively, it may be a good idea to cook the pasta on the stove and then stir it through the finished Minestrone in the slow cooker, as this way you can more easily control the pasta's texture.

If you do pre-cook the pasta, do bear in mind that slow cookers tend to retain any liquid as less is evaporated, so for a thicker soup reduce the amount of broth that is initially added to the soup as there will be no pasta to soak up excess broth. Also, as vegetables cook in a slow cooker they release a lot of moisture so this is another reason to use less liquid compared to cooking on the stove-top.
Can I prepare Minestrone soup using a pressure cooker?

Absolutely, you can prepare minestrone in a pressure cooker, such as an Instant Pot. Here's a brief guide to the timing:

Sauté Mode: First, use the sauté function on your pressure cooker to soften your aromatics (like onions, celery, and carrots) and any other vegetables that need it. This usually takes about 5-7 minutes. Although this stage can be skipped if preferred.
Pressure Cooking: Once all of your ingredients except for the pasta and kale are in the pot, seal your pressure cooker and set it to manual high pressure for about 5-7 minutes.
Natural Pressure Release: Once the cooking time is up, allow for a natural pressure release for about 10 minutes. This means you just leave the pot alone and let the pressure come down naturally.
Quick Release & Pasta: After the natural release, you can do a quick release for any remaining pressure. At this point, you can add your pasta and greens. Seal the pot again and set it to manual high pressure for another 2-4 minutes (check your pasta package instructions for a guide, but remember that it will continue to cook a bit even after you open the pot).
Quick Release & Serve: Once the pasta is cooked, do a quick pressure release, open the pot, stir everything together, and serve!

Remember, pressure cookers can vary, so use this as a guide and adjust as necessary for your particular model and the ingredients you're using.
More easy vegan bean recipes
We love beans in our family as they are just so inexpensive and can easily be the star of the dish, our particular family favourites are this deliciously satisfying Red Beans And Rice, and this easy Slow Cooker Rice and Peas, and an old-fashioned favourite but so tasty, these Creamed Chickpeas served on Toast, and lastly a fun favourite this Black Bean, Sweet Potato and Green Lentil Sloppy Joes.
***please note: for US measurements click the 'US customary button' within the recipe and the measurements will switch to tablespoons, cups, and ounces.***
Recipe
Vegan Minestrone Soup
Print Recipe
Vegan Minestrone soup is packed with delicious wholesome veggies, beans and pasta. This minestrone soup is a sure-fire family and crowd pleaser, ideal for cosy family meals.
Equipment
Large soup pot or similar
Ingredients
1

can

kidney beans

400 gram / 14 oz can, drained

1

can

borlotti beans

400 gram / 14 oz can, drained

1

can

butterbeans

400 gram / 14 oz can, drained

2

cans

chopped tomatoes

2 x 400 grams/ 14 oz cans

260

gram

sweet potatoes

2 small-medium, rough diced

170

grams

carrots

2 small-medium, rough diced

150

grams

celery

3 medium ribs, rough diced

1

whole

bell pepper

rough diced, any colour

120

grams

courgette [zucchini]

rough diced

190

grams

onion

1 medium, rough diced

4

cloves

garlic

thin sliced or minced

4

tablespoons

tomato paste

puree

2

whole

bay leaves

1

tablespoon

dried mixed herbs

an Italian mix is ideal

1

teaspoon

dried oregano

1

tablespoon

maple syrup

or your usual syrup or sugar

1.5

litres

vegetable broth

hot, use a tomato and herb flavour broth if available
Add after 20 minutes of simmering soup:
120

grams

pasta

or orzo, use more pasta if liked

100

grams

kale

chopped, weight is after tough stalks removed

2

tablespoons

red wine vinegar

or balsamic vinegar
Optional:
8

teaspoons

nutritional yeast flakes

mix through 1-2 teaspoons for each serving. A few torn basil leaves are also delicious.
Instructions
Add all the ingredients, except the kale, pasta and red wine vinegar, to a large soup pan. Season with a little salt and black pepper.

1 can kidney beans,

1 can borlotti beans,

1 can butterbeans,

2 cans chopped tomatoes,

260 gram sweet potatoes,

170 grams carrots,

150 grams celery,

1 whole bell pepper,

120 grams courgette [zucchini],

190 grams onion,

4 cloves garlic,

4 tablespoons tomato paste,

2 whole bay leaves,

1 tablespoon dried mixed herbs,

1 teaspoon dried oregano,

1 tablespoon maple syrup,

1.5 litres vegetable broth

Bring to the boil, lower the heat to medium, and simmer for 20 minutes.

Add the pasta, kale and red wine vinegar.

Simmer for 10-15 minutes until the veggies are soft and pasta cooked.

120 grams pasta,

100 grams kale,

2 tablespoons red wine vinegar

Check seasoning and add salt and pepper to taste. A little extra maple syrup or sugar may be needed depending on how the canned diced tomatoes have flavoured the soup.

A few torn basil leaves are a tasty garnish and a few teaspoons of nutritional yeast flakes sprinkled over each serving is a delicious plant-based parmesan alternative.

8 teaspoons nutritional yeast flakes
Notes
Nutritional information is provided for guidance only and is not a strict analysis as ingredients vary. 
Leftover minestrone soup will stay fresh, in a covered container, stored in the refrigerator for 3 days.
Leftovers can be frozen for 2-3 months.
Reheat leftovers by bringing to a simmer and heat for 3-4 minutes or until piping hot. A little extra veggie broth may be needed if the pasta has soaked up most of the liquid.
Serve this tasty soup with your favourite crusty bread, crackers, saltines or oatcakes.
A few torn basil leaves scattered over each serving is a delicious addition. As is a sprinkle of nutritional yeast flakes for a plant-based parmesan alternative.
Any type of bean can be used for this recipe, just go with what you have.
Using dried home cooked beans? Use about 650-800 grams of cooked beans. As a 400 gram can drained yields around 240g beans.
Its not necessary to be very strict with weighing veggies for this soup. Just think of the recipe as a rough guide.
For a slow cooker and pressure cooker guide to cooking this Minestrone do have a look at the recipe notes and FAQ section above this recipe.
Nutrition
Calories:
384
kcal
|
Carbohydrates:
78
g
|
Protein:
19
g
|
Fat:
2
g
|
Saturated Fat:
1
g
|
Polyunsaturated Fat:
1
g
|
Monounsaturated Fat:
1
g
|
Sodium:
1035
mg
|
Potassium:
1511
mg
|
Fiber:
19
g
|
Sugar:
15
g
|
Vitamin A:
13666
IU
|
Vitamin C:
72
mg
|
Calcium:
208
mg
|
Iron:
7
mg
Prepared our Vegan Minestrone Soup recipe? We would love to know how you got on so do pop back and drop a comment below and click the star ratings. Its very much appreciated, Thanks so much! Love, Jacq x