This slow cooker vegan cauliflower tikka masala with spinach and chickpeas is so simple to prepare.
Imagine having an amazing curry bubbling away and creating magic and wonderful waves of aromas in the slow cooker ready to welcome you as you step over your threshold.
Serve with homemade or shop-bought warmed Naan and your favourite rice for a curry feast the whole family will devour.
Vegan Slow Cooker Tikka Masala
This recipe is so easy. No sautéing or precooking necessary. Just add all the ingredients and leave to cook while you get on with other stuff or go to work. This curry can be cooked quicker on the high setting or for longer on the low setting.
Alternatively, if you prefer to cook on the stove-top I have included a simple and quick method for stove cooking down below in the recipe notes.
Tikka Masala is usually prepared with chicken. This recipe stars cauliflower as this veggie is just perfect with curry spices. Frozen or fresh cauliflower can be used, and both types will retain a pleasant bite and won't be mushy. I much prefer cooking frozen cauliflower in the slow cooker or baked in the oven in a sauce as the texture is preserved.
Chickpeas and spinach are the next plant ingredients that enrich this curry. Cauliflower, chickpeas and spinach is a classic combination adding incredible nutrition. However, I have included a few substitution suggestions within the recipe notes.
This recipe uses chopped tomatoes, coconut oil and milk, Tikka Masala powder, fresh onion, garlic and ginger to create an amazing flavourful Tikka Masala. A little maple syrup is drizzled in simply to balance the flavours and provide a hint of sweetness.
Serve with your favourite rice, vegan Naan bread to mop up the amazing curry juices, and a scattering of toasted cashews.
My kids literally devour this meal as it is on par with a take-out. Perfect for a weekend family fake-away. To save even more time use shop-bought vegan-friendly Naan breads and a ready cooked package of wholegrain rice that takes minutes to cook in the microwave.
Check out the recipe notes for lots of substitution ideas. This recipe is incredibly versatile and can be simply modified to your family's needs and preferences.
I have included lots of ideas for accompaniments so if your planning a vegan Indian themed feast this post has you covered.
Quick Origins Of Tikka Masala
Tikka Masala is claimed to have evolved from the traditional Indian dish Chicken Tikka which is similar to butter chicken. The Masala refers to the creamy-tomato sauce that is added.
The origins of Tikka Masala is said to have come from a Bangladeshi chef working in Glasgow, Scotland in the 1970s.
It is claimed that a customer complained that his curry was too dry so the chef added some tomato-creamy sauce to the curry and voila a new Indian-British fusion curry was born.
I love reading about the origins of traditional foods almost as much as eating the food. It just seems to transform the meal into something more special when we can appreciate where it comes from.
Recipe Notes And FAQS
Is this Tikka Masala recipe gluten-free?

Yes.

It is easy to prepare this recipe as gluten-free. Simply ensure that your tikka masala curry powder/blend/paste is free from gluten ingredients. Some curry blends contain wheat flour.
How do I store leftover slow cooker Tikka Masala?

Leftovers are so tasty the next day as all the flavours get a chance to settle and deepen. If you have a very large slow cooker or crock pot consider prepping a double batch so you can enjoy leftovers.

Leftovers can be stored in the fridge for 3 days in a covered container. Or freeze for 4-6 months. Defrost before reheating.
How do I reheat leftover Tikka Masala?

Leftovers can be reheated in a skillet or pan by bringing to a simmer and heat for 3-4 minutes or until piping hot.

If you have a large amount of leftovers they can be placed back in the slow cooker, set the heat to high, and leave until piping hot.

Or reheat in a hot oven. Place a lid or a piece of kitchen foil over your oven dish to prevent overcooking and your curry going crispy brown.

Alternatively microwave for a few minutes.
Can I cook this curry on the stove top?

Of course.

This curry is very quick to cook on the stove-top.

Add all the ingredients, except spinach, to a large non-stick pan or skillet and gently simmer until cauliflower is just soft. At the beginning of cooking add a cup (250ml) of vegetable stock and top up the stock when necessary so the curry doesn't get too dry.

Pop a lid on your pan, or half on, to retain all that lovely flavour.

Stir through the spinach just before serving so that it wilts but remains vibrant.

***If preferred sauté the onions in the coconut oil (or a small amount of veggie stock) first for 5 minutes, then add the ginger and garlic and cook for 3 minutes. Mix through the Tikka Masala powder and cook, stirring constantly, for 1 minute. Then proceed with the method above.***
The recipe states to cook on the high slow cooker setting. Can I cook on medium or low for a longer time while I am at work or away from home?

Definitely.

Cook on medium for 5-6 hours.

Cook on low for 7-8 hours.

If preferred add the canned chickpeas five minutes before serving if your concerned about leaving them to cook for longer periods. However, canned chickpeas do stand well to be cooked for longer in the slow cooker.

If possible, do consult your slow cooker or crock pot handbook and use your own knowledge and experience of how long things tend to take within your own model of slow cooker. Although if you do have your slow cooker handbook I would be impressed as I always misplace these things!
Can I substitute any of the ingredients?

A few suggestions:

* not keen on cauliflower? simply sub out the cauliflower for the same amount of your favourite fresh or frozen veggies either a single vegetable or a mix. Adjust the cooking time depending on the veggie and how thick/large they are chopped into.

* sub out some of the veggies for meat-alternative pieces either fresh or frozen

* sub out the chickpeas for your favourite pulse/bean. Or use about 130 grams (1 very full cup) of frozen peas.

* use one tablespoon of desiccated coconut to replace the coconut oil, just sprinkle in the coconut and mix through. For a smoother sauce blend the coconut to a fine powder before adding, perhaps using the nut/coffee grinder blender/food processer attachment if you have one. Or just omit the coconut oil.

* any curry powder can be used, either a mild, medium or hot variety. As this recipe is for Tikka Masala I like to use a Tikka Masala powder. Curry paste can also be used.

* can't have nuts? simply omit or use sunflower or pumpkin seeds. These can be toasted for added flavour, follow the method below for toasting nuts.

* use onion and/or garlic powder to replace the fresh. One tablespoon of each powder, or use less if preferred.

* use passata instead of chopped tomatoes

* canned coconut milk can be replaced with the same quantity of cashew cream.

To make cashew cream soak about 125 grams (half a cup) of cashews in 125ml (half a cup) boiling water for at least a few hours or overnight. Blend the nuts and water together until as smooth as you can achieve. Some blenders may work better with larger amounts so use 1 cup of cashews and 1 cup of water, and save the cashew cream that is left for another recipe or freeze for up to three months. A good tip is to label the exact amount of cream onto your freezer container or bag, to make it easier for your next recipe.
What can I serve with cauliflower Tikka Masala?

Anything you would normally have with curry.

A few ideas:

* vegan Naan breads, I make my Naan breads using my bread machine on the dough setting, and then either bake in the oven or cook each side on the hottest setting of my pancake/crepe maker. Any Naan recipe can be used simply sub the dairy yogurt for soya or coconut plain yogurt, and the butter or ghee for vegan margarine/butter. Although if using a bread machine it may be best to use a specially designed Naan bread machine recipe.

* vegan poppadums' or those crunchy lentil/hummus crisps/chips that are sold alongside the crisp/chip section

* vegan 3 ingredient quick flatbreads (add a teaspoon of nigella seeds, teaspoon of garlic powder and a teaspoon of coriander powder for tasty flatbreads that go amazing with this Tikka Masala)

* any variety of rice

* baked potato especially good with a baked sweet potato

* vegan samosas or pakoras, either shop bought to save time or homemade

* mango chutney

* Indian pickles, especially lime or mint

* easy pickled red onion rings, slice the onion into thin rings, mix about 2-3 tablespoons of vinegar such as white wine vinegar/red wine vinegar/balsamic/apple cider vinegar or just plain vinegar, and 1-3 teaspoons of sugar or maple syrup, a tiny pinch of salt and some black pepper. Adjust the ingredients to your own taste. Add this mix to the onions and leave for at least 30 minutes to marinade. Store in the fridge for 3 days in a covered container.

* homemade raita: plain vegan yogurt with diced cucumber mixed through, perhaps add a pinch of ground cumin or coriander, diced fresh chilli, chopped fresh coriander/cilantro or fresh mint to taste

* vegan plain soya or coconut yogurt

* vegan pouring cream

* vegan mayonnaise or sour cream

* lime or lemon wedges for a fresh kick

* sliced green onions/spring greens

* fresh sliced chilli's

* red pepper or chilli flakes

* chopped fresh coriander/cilantro or mint

* mixed salad

* toasted or plain chopped cashews or flaked almonds.

To easily toast your cashews or almonds, add them to a small pan and over a medium-high heat toast until lightly tinged with golden bits. Shake the pan often and when the pan is very hot remove from the heat and shake back and forth as the nuts will continue to toast.

Add an optional sprinkle of sea salt or some chilli or red pepper flakes and toast these along with the nuts. So good for snacking. Store in a covered container somewhere cool and dry for a few days.

Mini fry pan with four tablespoons of chopped cashews:


What can I do with leftover cauliflower Tikka Masala?

* reheat and enjoy on a slice of toasted bread for next days lunch, which is what I often do.

* have a Tikka Masala grilled toastie. Add vegan shredded/grated cheese if liked and grill or toast until crispy and golden. Spread the bread with some mango chutney. So good for lunch.

* use chilled Tikka Masala as a tortilla/burrito wrap filling, any leftover rice can be added also. Serve with a colourful salad for an extremely tasty lunch or light dinner.

* stuff a baked potato with leftover Tikka Masala and serve with your favourite salad veggies.

* use leftovers and ready-made vegan puff pastry to create little curry pasties. Bake in a hot oven until golden and crispy (cooking temperatures are often included on the pastry packaging)
How To Prepare Cauliflower Tikka Masala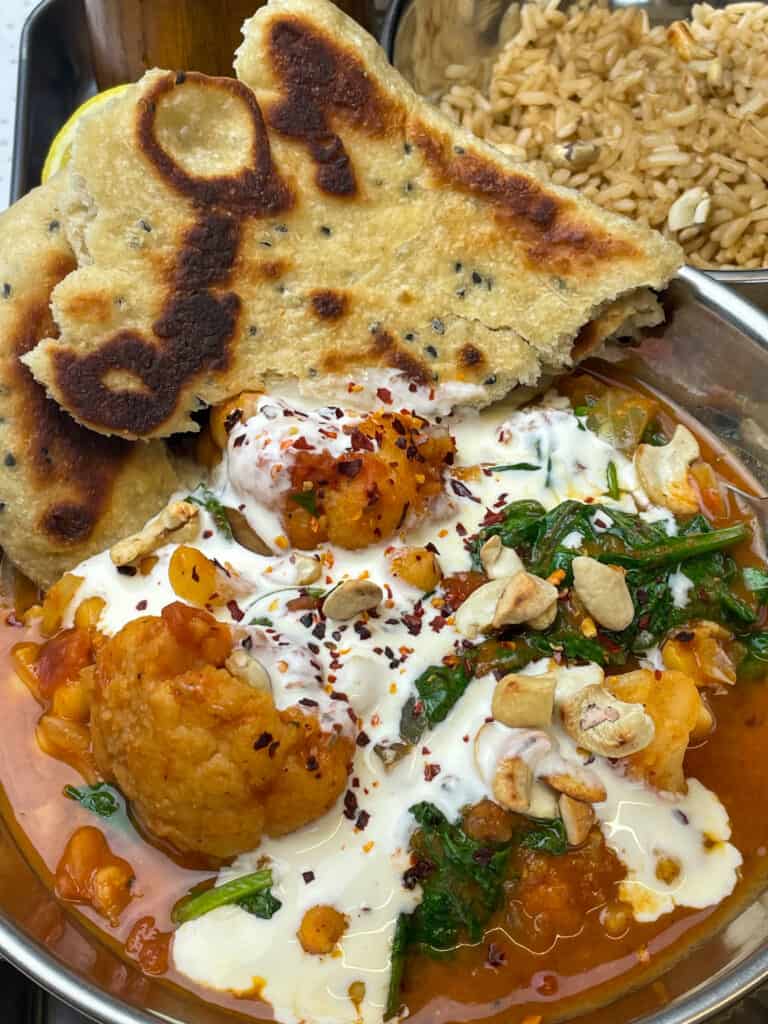 More Tasty Vegan Curry Meal Ideas
Quick and Easy Vegetable Curry (my family's favourite go-to curry)
Red Thai Sweet Potato, Broccoli And Chickpea curry
Coronation Chickpeas And Kidney Beans Tortilla Wrap (no-cook curry served chilled, adapted from the British traditional Coronation chicken)
Smoked Tofu Kedgeree (Traditional Scottish breakfast prepared with rice, smoked tofu and flavoured with curry powder)
Recipe
Slow Cooker Vegan Cauliflower Tikka Masala with Spinach and Chickpeas
Print Recipe
Slow cooker cauliflower Tikka Masala is so easy and quick to prepare but popping with delicious flavours and bursting with plant based nutrition.
Serve with your choice of rice, and naan breads to sop up the flavourful curry sauce.
Perfect for those busy days when you can look forward to coming home to an amazing curry bubbling away and brewing up amazing welcoming aromas.
Equipment
Slow cooker/crock pot

at least 3.5 litre/ 3-4 quart size.
Ingredients
600

gram

cauliflower

or 1 medium-large cauliflower. Chopped into medium sized florets either fresh or frozen. I often use frozen and its perfect.

1

can

chickpeas

400gram/15oz can, drained.

200

gram

onion

chopped. 1 medium.

4

cloves

garlic

minced or fine diced

1

tablespoon

ginger

fresh, grated. Or 1 teaspoon of dried.

3

tablespoon

tikka masala curry powder

or regular curry powder, or use a curry paste

2

cans

chopped tomatoes

2 x 400gram/15oz cans

120

millilitre

coconut milk

from a can. mix the coconut milk well if it has separated in the can.

1

tablespoon

maple syrup

or other syrup such as agave/date or just regular sugar.

1

tablespoon

coconut oil

or replace this with 1 tablespoon of desiccated coconut or 1 tablespoon of creamed coconut from a block.
Add at the end of cooking:
Garnish:
4

tablespoon

cashews

rough chopped, or flaked almonds
To serve, optional:
250

gram

basmati rice

cooked according to packet instructions. Use more or less according to your family appetites
Instructions
Switch the slow cooker heat to high while you prepare the ingredients.

Add the cauliflower (fresh or frozen), onions, chickpeas, garlic, ginger, chopped tomatoes, curry powder, maple syrup, and coconut oil and milk to the slow cooker.

Season with a little salt and black pepper.

600 gram cauliflower,

1 can chickpeas,

200 gram onion,

4 cloves garlic,

1 tablespoon ginger,

3 tablespoon tikka masala curry powder,

2 cans chopped tomatoes,

120 millilitre coconut milk,

1 tablespoon maple syrup,

1 tablespoon coconut oil

Give everything a good mix.

Cook for 3 and ½ hours on high.

Cook for 5-6 hours on medium.

Cook for 7-8 hours on low.

Prepare and cook rice according to packet instructions, when you cook this will depend on when you plan to serve your curry.

Give the curry a good mix. Check if your cauliflower is fork tender, the cauliflower will retain a pleasant bite and not be mushy.

Mix through the spinach at the last minute and it will wilt in the heat.

Check the seasoning and add salt and pepper to taste. Depending on your chopped tomatoes and curry powder you may need to add an extra teaspoon of maple syrup or choice of sweetener to balance the flavours.

Scatter chopped cashews over each bowl, and serve with rice and vegan-friendly naan breads.

A squeeze of fresh lemon juice adds a fresh kick.
Notes
.Nutritional data is provided for guidance only and is not a strict analysis as ingredients vary. Data is calculated using computerized nutrition apps.
Nutritional data does not include the basmati rice, or naan breads as seen within the photo images.
To cook on the stove-top: Add all the ingredients, except spinach, to a large saucepan or skillet and gently simmer until cauliflower is just soft. At the beginning of cooking add a cup (250ml) of vegetable stock and top up the stock when necessary so the curry doesn't get too dry. Stir through the spinach just before serving so that it wilts but remains vibrant. If preferred sauté the onions in the coconut oil first for 5 minutes, then add the ginger and garlic and cook for 3 minutes. Then proceed with the method above.
Leftovers can be kept for 3 days in a covered container in the fridge.
Or frozen for 4-6 months. Defrost fully before reheating.
Reheat leftovers by adding to a skillet or pan and bring to a simmer for 2-3 minutes until piping hot throughout. Add a little extra water or veggie stock to loosen the sauce if necessary.
Or enjoy leftovers chilled as a sandwich, baguette or tortilla wrap filling.
Leftovers are also tasty reheated and served as a baked potato filling.
Toast your cashews or flaked almonds by adding to a small pan or skillet and dry frying over a medium-high heat. Once the pan is very hot remove from the heat and shake the nuts around to brown in the heat. A sprinkle of sea salt or red pepper flakes added to the pan to dry fry along with the nuts is extra tasty. Toasting the nuts adds an extra delicious dimension of flavour.
Chopped coriander/cilantro, or mint is a tasty optional garnish, as is some sliced fresh chilli, or sliced green onions/spring onions.
Not a fan of chickpeas? Sub out for your favourite bean or omit. A cup and a half (about 130grams) or frozen peas is a tasty alternative.
Nutrition
Calories:
386
kcal
|
Carbohydrates:
49
g
|
Protein:
15
g
|
Fat:
19
g
|
Saturated Fat:
11
g
|
Polyunsaturated Fat:
2
g
|
Monounsaturated Fat:
4
g
|
Sodium:
685
mg
|
Potassium:
1455
mg
|
Fiber:
14
g
|
Sugar:
15
g
|
Vitamin A:
2647
IU
|
Vitamin C:
105
mg
|
Calcium:
214
mg
|
Iron:
7
mg