These Old-Fashioned Cherry Scones are prepared with every-day pantry ingredients and do not require any dairy or eggs for a beautiful rise. Cherry scones are sweet, light, crumbly, and just delicious filled with fruit jam and whipped cream. Perfect for a vegan or plant-based Cream Tea, Devonshire Tea, High Tea, Supper-Time, Tea-Time, or Afternoon Tea or just for a quick tasty snack.
These scones use vanilla as a flavouring but almond extract or essence could be used instead for a delicious Cherry Bakewell Scone.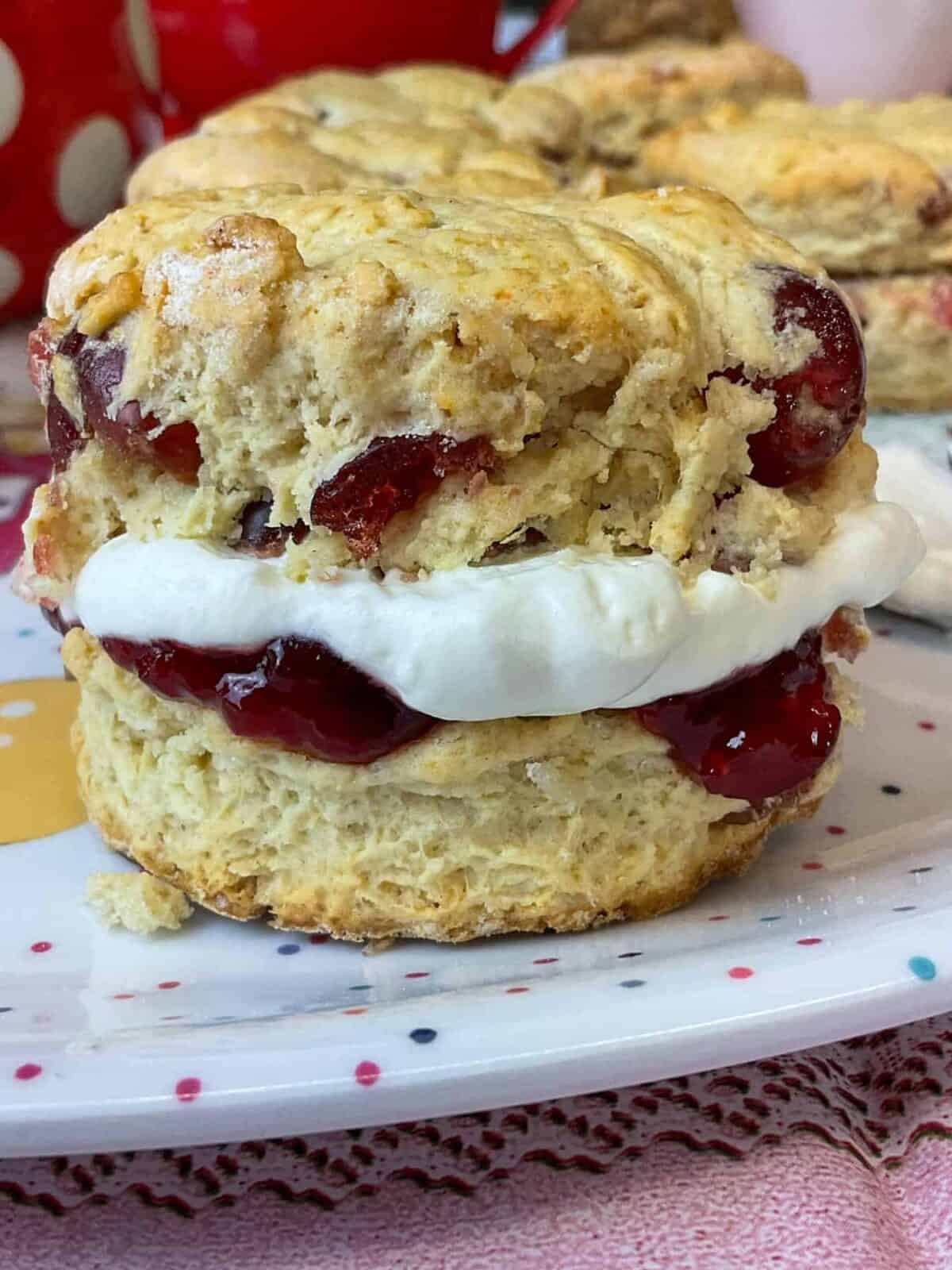 These Old Fashioned Cherry Scones are prepared with vegan friendly ingredients, filled with fruit jam and whipped cream prepared with Elmlea Double Plant Cream which whips in just seconds into the most amazing light but thick dairy-free cream.
Origin of cherry scones
Cherry scones, like other scones, have roots in Scottish history. The word "scone" itself is believed to have come from the Gaelic word 'sgonn' meaning a shapeless mass or large mouthful. Another theory suggests the name might come from the Dutch word 'schoonbrood', meaning fine bread, or from the German word 'sconbrot', meaning fine bread.
Scones dates back to at least the 16th century and evolved from the Scottish bannock which was a type of large, thick flatbread that was originally made with oatmeal, barley, or beremeal. Beremeal is an Ancient type of barley that was brought over by the Vikings and is more popular in the Shetland Islands.
These meals or flours were good hardy ones as the grains flourished in the Scottish climate making them more popular than wheat which required a warmer climate and better soil, and it wasn't until the 18th-19th century that wheat became more popular due to agricultural advances.
Before the farming advances, the bannock was the main type of bread in Scotland. The barley grains were usually ground just before baking, by housewives using a rudimentary millstone called a quern which consisted of two stones. In some Scottish rural areas such as the Highlands and Islands, the quern was still being used into the 19th Century. Next, the bannocks were cooked on a flat griddle at the fireside before being wrapped in a cloth.
The modern scone likely evolved from the traditional bannock sometime during the 19th century, coinciding with the invention of baking powder. This innovation made it possible to easily produce a scone that could rise effortlessly in the oven. The result was a lighter, quicker bread that could be filled with a variety of interesting fillings, including dried fruits, fruit peels, cheese, and more.
During this period, wheat flour became more readily available in Scotland and began to replace the older, traditional flours. This shift resulted in a scone that bore similarities to the older bannocks, yet stood apart as a unique baking product in its own right.
For more vegan traditional scone recipes try our Buttermilk Scones, Cheese Scones, Edinburgh Fruit Scones, and Treacle Scones. As we're a Scottish family we absolutely love scones so will be adding many more recipes!
Origin of candied or glacé cherries
Candied cherries, also known as glacé cherries, were first developed during the 14th century. The sweet and sticky cherries, are made by soaking fresh cherries in a sugar syrup solution until they absorb the sugar, becoming sweet and preserving their shape and texture for a long time.
The use of candied fruit became more widespread in Europe during the 16th century, especially in Italy and France. However, it is difficult to pinpoint exactly when glacé or candied cherries were first made in Britain. It is likely that this practice was brought to the country during or after the medieval period and became more common in the subsequent centuries, as sugar became more readily available.
The use of candied cherries in baked goods like scones, cakes, and buns became particularly popular in Britain during the 19th Century Victorian era when the custom of taking Afternoon Tea also began for the upper classes.
More vegan glacé cherry recipes
For more vegan glacé cherry recipes try our delicious Sweet Cherry Loaf Bread, this Irish Classic Fifteens [refrigerator bake], and this amazingly rich Cherry, Cranberry, and Chocolate No-Bake Fridge Cake and this Scottish Border Tart.
All perfect for a tasty vegan afternoon tea.
Love the flavour of Cherry Bakewell? It's easy to prepare these cherry scones into The Best Cherry Bakewell Scones by simply switching out the vanilla for almond extract or essence, and topping the scones with a few flaked almonds and half a glacé cherry. So delicious especially warm from the oven!
How to prepare old-fashioned cherry scones
These old-fashioned cherry scones are pretty easy to prepare and quick to bake in just 13-14 minutes. A scone can be a great alternative to a slice of cake as a scone has less fat and sugar yet sweet enough to be a tasty teatime treat.
First, collect all your ingredients together.
Sift the self-raising flour and baking powder into a mixing bowl. Stir through the granulated sugar.
Drop the margarine or butter into the mixture and using your finger tips rub it into the dry mixture until it resembles fine breadcrumbs.
Stir through the chopped glacé cherries.
Add the vanilla, and stir through enough milk to bring the mixture together into a dough.
[Alternatively, instead of vanilla use almond extract for a cherry Bakewell scone.]
Knead the scone dough very lightly just to bring it all together, and place it onto a floured board.
Using your hands pat the dough down gently to about ¾ inch thick.
Dip the biscuit cutter into some flour and stamp out 6 scone rounds. You won't manage all 6 scones at the one go as the dough will need to be pushed back together and then patted down again.
You may end up with a small amount of dough leftover, and if so this can be formed into a smaller scone and baked along with the other scones as a bakers tester scone!
Place the scones onto a baking tray and brush the tops with the milk that is left over. Bake for 13-14 minutes until firm, risen, and golden on top.
*See the recipe notes and FAQ section below for more tips on how to check if your scones are baked properly. The tips are the very last question.*
Place the scones on a wire rack to cool. Scones can be enjoyed simply split open and spread with vegan butter or margarine, or your preferred spread. Or add some fruit jam or preserve, marmalade, vegan lemon curd, mashed banana, peanut butter, sunflower seed butter, vegan chocolate spread, vegan whipped cream, anything you like really!
Recipe notes and FAQ's
Storing scones
The best way to store scones are to place them into a sealed container, once they are fully cooled down, and store them at room temperature for a few days. Scones are at their best 1-2 days after baking, but are perfectly fine to eat on the third and fourth day provided there is no sign of mould of course! Scones can also be stored within a food bag or bread bag.
Older scones can be refreshed by reheating in an oven or air-fryer. See below for a simple guide.
Can scones be stored within the refrigerator?
It's generally advisable not to store scones within the refrigerator as this can dry out the scones, but a short while in the fridge well-wrapped with food wrap or kitchen foil, if necessary, will not harm the scones especially if the scones will be toasted before eating.
Freezing
If you want to store your scones for longer than a few days, freezing is the best option. To freeze scones:
Allow them to cool completely after baking.
Wrap each scone individually in plastic wrap or aluminum foil. This will protect each scone from freezer burn as well as make it easier to pull out one or two scones at a time.
Place the wrapped scones in a resealable freezer bag or airtight container.
Freeze for up to two-three months.
When you would like one of the frozen scones, thaw them at room temperature or heat them directly from the freezer in a warm oven. Remove any food wrap, etc., before thawing and refreshing.
Can I freeze unbaked scone dough?
Yes, you can freeze scone dough to bake at a later date. After cutting the scones, place them on a baking sheet and freeze until solid. Then, transfer them to a freezer bag or container and freeze for two-three months.
When you're ready to bake, place them on a baking sheet and bake from frozen, adding a few extra minutes to the usual baking time.
Can I refresh scones using an oven or air-fryer?
Yes, you can certainly use an oven or air fryer to refresh scones. A warm scone is a lovely treat as it tastes deliciously fresh and the aromas are wonderful.

Here's an easy guide:

Using an Oven:
1. Preheat your oven to a low temperature, around 150°C (325°F).
2. Place the scones on a baking sheet lined with baking paper, if necessary.
3. Heat the scones in the oven for about 5 minutes, checking frequently to ensure they don't become too brown.

Using an Air Fryer:
1. Preheat your air fryer to a low temperature, around 120°C (250°F), if your model has a preheat setting. If not, you can run it empty at this temperature for a few minutes.
2. Place the scones in the air fryer basket, ensuring they are not touching to allow for even air circulation.
3. Heat the scones for about 3-5 minutes, checking frequently to prevent over-drying or burning. You can flip the scones half-way through reheating.
4. Once the scones are warmed up, serve your scones with your preferred condiment.

The aim is just to warm and refresh the scones, not to bake them further as overheating can lead to the scones becoming too dry. Also, it's not recommended to reheat scones using a microwave as this can adversely affect the scones texture.
Can I toast scones?
Yes, a toasted scone is very tasty and easy to prepare. Toasting can bring out a slightly different flavour and add crunchy golden edges. Spread with some vegan butter or margarine, or your favourite condiment, its a delicious quick snack.

To toast a scone:

1. Slice the scone in half horizontally, just as you might do with a bagel or muffin.
2. Toast the scone in a toaster if the halves are thin and stable [i.e. not too crumbly] enough, or use an oven or toaster oven. If using an oven, set it to broil or grill, and place the scone halves cut-side-up on a baking sheet. Watch them closely and remove when they start to become golden brown, likely after a few minutes. The scones can have either just the insides toasted or flipped over and the outside toasted as well.
3. A panini machine or an electric hot-plate can also be used to toast the scones.
4. After toasting, you can add butter, jam, marmalade, or other toppings as desired.

Keep in mind that fresh scones are usually soft and moist enough to be enjoyed without toasting, but a few days old scones can be refreshed by being warmed up and lightly toasted.


Is it cream first, then jam, or vice versa, for the perfect filled scone?
The order of cream and jam on a scone is a topic of much debate in the UK, with two main schools of thought typically associated with two different English regions-Cornwall and Devon.

The "Cornish" method spreads the jam onto the scone first, and then followed by a dollop of cream. Those who follow this method argue that the jam creates a base that helps the cream stay in place.

The "Devonshire" or "Devon" method spreads a layer of clotted cream onto the scone first, before applying a spoonful of jam on top. Fans of this method believe the cream acts much like butter on bread, with the jam as the topping.

In reality, both ways are authentic and whether you opt for the Cornish method or the Devon method often comes down to personal preference or regional loyalty.


What is a cream tea?
A cream tea is a traditional British custom that is especially popular in the southwest of England, particularly in the counties of Devon and Cornwall. It's often served in the afternoon and is a simple, yet fun meal.

A classic cream tea consists of:

Scones: These are light, sweet, and crumbly bread-like pastries. They can be plain or sometimes filled with currants, raisins, candied cherries, treacle, or cheese.

Jam: Typically strawberry jam is served, but any other flavours can also be used, including marmalade if preferred.

Clotted cream: This is a thick, rich, and creamy dairy product that has a consistency somewhere between whipped cream and butter. It's made by heating unpasteurized cow's milk and then leaving it in a shallow pan to cool slowly. The cream moves up to the top of the milk and forms 'clots' which is where the name comes from.

Tea: A pot of hot tea, often English breakfast tea or Earl Grey, accompanies the meal.

The scones are split open, spread with jam and topped with a dollop of clotted cream (or vice versa), and served alongside the tea.

Cream teas are traditionally served in teahouses, cafes, hotel restaurants, and are especially popular in tourist areas in the UK. They are often enjoyed as part of an afternoon tea at home, a slightly more elaborate meal that might also include finger sandwiches and a selection of cakes and pastries.


What is an afternoon tea?
Afternoon tea is a British tradition that started in the early 19th century and it typically consists of a variety of small, dainty, bite-sized foods served with a pot of tea.

The tradition is attributed to Anna, the Duchess of Bedford, who in the 1840s, started inviting friends to join her for an additional afternoon meal to fill the gap between lunch and dinner, which was served later in the evening. The trend quickly caught on among other socialites.

Afternoon tea typically includes the following:

Tea: A variety of teas can be served, such as black tea, green tea, oolong, or herbal teas. Classic British favorites include Darjeeling, Earl Grey, or English Breakfast, or just standard popular teas such as Tetley Tea, Yorkshire Tea, or Scottish Blend.
Finger Sandwiches: These are small, crust less sandwiches with a variety of fillings. Traditional choices include cucumber, egg and cress, smoked salmon, and ham. But there are many vegan sandwich options now available!
Scones: Freshly baked scones, sometimes served warm, typically with clotted cream and strawberry jam. This is often referred to as a "cream tea".
Pastries and Cakes: An assortment of sweet treats, which can include pastries, cakes, biscuits, and other desserts.
Savories: In some more modern or elaborate versions of afternoon tea, there might be a selection of savory treats, such as quiches or sausage rolls.

The presentation is also a key part of the experience as afternoon tea is often served on a tiered cake stand, with the sandwiches on the bottom tier, the scones on the middle tier, and the pastries and cakes on the top tier. Although, many display the food differently!

Over time, afternoon tea has become a beloved British custom, enjoyed at home, in hotel restaurants, tea and coffee shops, as well as ready-made afternoon tea baskets. There are also many themed or special occasion afternoon teas, such as for Christmas, Mother's Day, or birthdays.


What is a high tea?
High tea, contrary to what the name might suggest to those unfamiliar with the term, is not a fancier version of an afternoon tea.

Instead, high tea originated among the British working class, during the 19th century, and was a filling meal that was typically served when workers returned home at the end of the day, around 6 p.m.

It was essentially a dinner or main meal and was considered an early meal as it was served around 5 or 6 o'clock whereas the richer folk [being full from their afternoon tea leisure's!] would be dining later around 7.30-9pm and this could extend late into the evening.

Traditional high tea would include hearty, savory dishes such as meat pies, fish, seafood, beans, peas, cheese, potatoes, vegetables such as cabbage, salted meat, bread and butter, pickles, and if available sweet home-baking such as scones, cakes, biscuits, or pastries. It would, of course, also include cups of tea!

Over time and especially outside of the UK, the term "high tea" has often been used to describe elaborate versions of an afternoon tea, possibly due to the assumption that "high" sounds more elite or formal.

However, in its origins and traditional usage, high tea and afternoon tea referred to very different meals with a high tea being a filling meal for the working class, and the latter being a light afternoon meal for the upper classes or those who had more time during the day for a long break.

In modern times, some parts of Britain refer to the main dinner as tea-time and this may hark back to the times when it was known as a high-tea.

[I grew up in lowlands Scotland during the 80s and 90s, and we used the terms dinner-time to refer to what is regarded as 'lunch-time', served around 12-1pm, and our main meal at 5-6 o'clock was called tea-time. Also we didn't have a pudding straight after dinner as we waited until around 8pm to have supper-time which could be a pudding such as apple pie, or a bowl of breakfast cereal, or a piece and jam [fruit jam sandwich!]. Although, that information was probably superfluous as not required for the question!]
What would be included in a more modern version of a high tea?
The modern use of "high tea" to refer to an elaborate afternoon tea is more common in places like hotels or tea rooms in the United States, Canada, and Australia and is less common in the UK. This shift is largely due to the confusion between "high tea" and "afternoon tea", with many people outside the UK using "high tea" to refer to a fancier or more elaborate version of afternoon tea.

A traditional working class high tea was very different from a modern high tea, with the modern menu including foods such as:

A wider variety of teas: Alongside classic black teas, you might find a range of herbal, green, white, or flavored teas. There could also be options for coffee or even champagne.
More diverse sandwiches: The traditional cucumber, egg and cress, or smoked salmon sandwiches could be joined by more exotic options, like chicken with cranberry, brie and fig, or roasted vegetables with hummus.
Savory pastries and quiches: These might include sausage rolls, spinach and feta parcels, or mini quiches.
Scones: Still served with clotted cream or whipped cream and jam, but there could also be variations on the scones themselves, such as pumpkin scones, chocolate scones, or cheese scones.
Artisan cakes and pastries: Alongside classic British cakes and bakes, you might find French pastries, chocolate truffles, macarons, or other fine patisserie.
Gluten-free, dairy-free, or vegan options: With dietary needs and choices becoming more varied, many places now offer high tea menus that cater to different diets.
Can I use vegan cream for scones?

Yes, you can use vegan dairy-free cream for scones. There are a variety of plant-based cream substitutes available on the market made from sources like soy, almond, coconut, and oats, however not all are intended for whipping into a thicker cream so do check the packaging.

Here are a few popular vegan and plant-based creams that are available in the UK, US, and Australia:

United Kingdom:
Alpro: Their single and double plant-based creams are made from soya and are widely available.
Elmlea: They offer plant-based single and double creams.
Oatly: This Swedish brand produces a range of oat-based products, including a cream substitute.

United States:
So Delicious: Offers a variety of creamer products made from coconut milk and oat milk.
Silk: They have a variety of plant-based creamer products made from almond, soy, and oats.
Trader Joe's: Their coconut creamer is a popular choice.

Australia:
Pure Harvest: They offer a variety of organic non-dairy milks that can serve as a cream substitute.
Inside Out: This brand provides almond and oat milk products.
Nutty Bruce: Offers almond and coconut milk products that can be used as cream substitutes.

* In the photo below the cherry scone is filled with strawberry jam and whipped Elmlea double plant cream**


How do I whip vegan cream?
Not all types of vegan cream can be whipped into a thick cream but if your cream packaging states that it can be then simply follow its instructions.

Here's a simple guide:

1. Use chilled cream as this will whip better. Using a mixing bowl that has also been chilled is a good idea, and some people like to also chill the removable beaters of their electric hand whisk or stand mixer.

2. Using an electric hand whisk or a stand mixer with a whisk attachment, whisk the cream over a medium-high setting until it is the thickness you prefer. You can also use a hand mixer that doesn't require electric such as a rotary egg beater or even a balloon whisk, but whipping the cream will require much more time and effort.

3. Be careful not to overwhip the cream as depending on the cream it may split or get overly thick.

4. Check your cream packaging instructions as sometimes powdered or icing sugar or other sugars or sweeteners, or flavours such as vanilla, can be added near the end of whisking.

5. If not using right away, store the whipped cream in the refrigerator in a pre-chilled bowl, and place a cover over the bowl.

***We like to use the Elmlea Double Plant Cream Alternative which can be found in most UK supermarkets chilled section, as this cream easily whips in under a few minutes with an electric hand whisk and doesn't usually require any additional sweeteners. We have also stored it over night in the refrigerator and it has maintained its thickness, but after 2 days of storing it began to separate a little. However, we whisked it again and it was as good as new.***
How do I get my scones to rise better?
Scones are a type of quick bread, which means they rely on chemical leaveners, such as baking powder, rather than yeast to rise. Although, some scones also use eggs which helps the scone to rise but dairy-free, vegan, and plant-based scones rely on the baking powder. However, there are other factors that can affect a scones ability to rise in the oven.

The number one baking secret or tip for the perfect rise in a home-made scone is to simply cut out each scone at least ¾-1 inch high, as taller scones will rise higher in the oven!

For more tips on getting your scones to rise the best they can, follow these additional tips:

1. Use fresh baking powder as chemical leaveners like baking powder can lose their effectiveness over time so if in doubt do use a new packet of baking powder.
2. Don't overwork the dough as this can lead to the development of gluten, which can make your scones tough so handle the dough as little as possible once you've added the liquid. Instead of using a rolling pin, simply pat the dough down with your hands.
3. Use chilled ingredients such as chilled vegan butter or margarine, and cold water or milk, as this can help make your scones rise higher. The cold fat creates steam as it melts in a hot oven, which helps to lift the scones.
4. Some people like to let the dough rest for a few minutes after its mixed and before you cut out the scones. This can allow the gluten to relax, which can help the scones rise better. However, we have never consciously did this step in any of the scones that we have baked.
5. Always bake scones at a high temperature as scones do need a hot oven to get a good rise. A typical temperature is around 220 degrees Celsius (425 or 428 degrees Fahrenheit). So make sure your oven is fully preheated before you put the scones in.
6. There's no need to spread the scones out too far apart on the baking tray as some people like to place the scones close together, even touching, as when baking the scones rise upwards rather than outwards to avoid the other scones!
7. When cutting out your scones, push the cutter straight down and lift straight up. Don't twist the cutter as somehow this can prevent the scones from rising evenly!
8. Also, when applying the milk glaze to each scone be careful that none of it drips down the sides, as this is said to also affect the scones rise!

Practice is all that is required for scone making and even if your scones do not rise evenly don't despair as wonky scones are just as nice!
Why do some scones rise wonky?
During baking your scones could rise wonky or side-ways almost looking like they are attempting to flee the oven! The reasons for this could be overworking the dough, not cutting cleanly but twisting the biscuit cutter, brushing too much liquid over the top so that it runs down the sides, old baking powder, placement of the scones on the tray, faulty oven temperatures and more!

However, wonky scones are actually perfectly fine to eat as they taste exactly the same and many people prefer their scones to be rustic looking as they have a more home-baked, homely, and authentic appearance!

Also, our local bakery on the Scottish island where we live always has batches of wonky looking scones for sale, with some looking positively monstrous in shape! But these misshapen scones are still out for sale and are always popular with the tourists!
Are American scones different from British scones?
Yes, there are some differences between American and British scones, such as American scones tend to be wedge-shaped, like a slice of pie, and are usually quite large whereas British scones are generally round and smaller.

Also, American scones often have a glaze or icing drizzled over each scone whereas traditional British scones tend to have a plainer appearance with no drizzle or frosting.

American scones are often eaten for breakfast or brunch, while, British scones are usually enjoyed with tea or coffee at coffee shops or tea-rooms, break-times at home or work, afternoon teas, cream teas, or for supper in the evening.

However, these are broad generalizations and there can be a lot of variations such as my family is Scottish and sometimes we like a toasted scone for breakfast or as an accompaniment to a mug of home-made soup for lunch.
What do Australians call British scones?
In Australia, British-style scones are simply called scones as there isn't a distinct difference from British scones as there is in America, where you have biscuits (similar to British/Australian scones) and scones (a sweet pastry).

Australian scones are similar to the British version: small, round, usually plain or sometimes with added dried fruits, and they are traditionally served with jam and cream.

This is particularly popular in what's known as a "Devonshire Tea" which is similar to the British cream tea which is a light meal or snack consisting of scones, jam, cream, and tea.
How do I know my scones are baked properly?
Knowing when a scone is baked properly relies on a combination of visual cues, timing, and testing. Here are some things to look for to determine if your scones are done:
Colour: The scones should be golden brown on the top although the colour shouldn't be too dark, which could indicate that they are overcooked.
Size: Scones will increase in size as they bake, due to the action of the leavening agent so they should look plump and well-risen. If they're still flat, they may need more time.
Surface and Edges: The surface of the scones should be firm, and the edges should look set so if the scones still look wet or overly soft, they likely need more time.
Bottom Colour: If you can, gently lift a scone with a spatula and check the bottom. It should be lightly browned so if it's still rather pale, the scones may need more time.
Testing with a Toothpick: You can also test scones with a toothpick, much like you would a cake although this is not a traditional way to see if a scone is cooked. So poke a toothpick or skewer into a scone and if there's unbaked dough on the toothpick, they need more time.
Time: Always start checking your scones at the minimum baking time recommended in your recipe to avoid overbaking. Ovens can vary, so what takes 12 minutes in one oven might take 15 minutes in another oven. Also Fan ovens tend to bake quicker, so check your scones a few minutes before the stated cooking time if using a Fan oven.
Can I make cherry scones into cherry Bakewell scones?
Absolutely! To prepare cherry Bakewell scones simply replace the vanilla essence with almond essence or extract. Also after brushing the tops of each scone with a little milk, [before baking] sprinkle a few flaked almonds on top or/ and pop half a glacé cherry on each scone. Bake as normal and you will have the best batch of cherry Bakewell scones!

* This recipe for cherry scones makes 6 scones but there is usually enough scone dough left over for a 7th slightly smaller one and this can be the bakers tester! The photo below shows the 7th scone sliced open hot from the oven [and soon to be spread with a bit of Flora dairy-free margarine], and is a home bakers well deserved treat! *


More vegan traditional afternoon tea recipes
Planning a vegan afternoon tea? An afternoon tea can be an elaborate affair with different varieties of sandwiches, sweet baking, and scones, or it can be as simple as a pot of tea and a piece of whatever you've just baked today!
***please note: for US measurements click the 'US customary button' within the recipe and the measurements will switch to tablespoons, cups, and ounces.***
Recipe
Old-Fashioned Cherry Scones
Print Recipe
These Old-Fashioned Cherry Scones are prepared with every-day pantry ingredients and do not require any dairy or eggs for a beautiful rise. Cherry scones are sweet, light, moist, crumbly, and just delicious filled with fruit jam and whipped cream.
Perfect for a vegan or plant-based Cream Tea, Devonshire Tea, High Tea, Supper-Time, Tea-Time, or Afternoon Tea or just for a quick tasty snack.
*Variation: Swap out the vanilla for almond extract or essence to bake the best Cherry Bakewell Scones, see below in the recipe notes for more info, and above the recipe for photos of Cherry Bakewell Scones. So delicious!*
Equipment
sieve

Mixing bowl

biscuit or cookie cutter

about 2 ½ inch [2-3cm] diameter

Baking tray

with parchment paper

cooling rack
Ingredients
285

grams

self-raising flour

[or self-rising flour]

2

teaspoons

baking powder

2

tablespoons

granulated sugar

[or caster sugar] for sweeter scones an extra tablespoon of sugar can be added

60

grams

margarine

[or plant-based butter or your usual baking fat, such as Stork]

120

grams

glacé cherries

[candied cherries]

240

millilitres

plant-based milk

[use your preferred milk, soya or oat are good choices]

1

teaspoon

vanilla essence

[or extract, can replace with almond]
Instructions
Preheat the oven to 200 Fan, 220C, 428 Fahrenheit, Gas 7.

Sift the flour and baking powder into a mixing bowl, and stir through the sugar.

285 grams self-raising flour,

2 teaspoons baking powder,

2 tablespoons granulated sugar

Add the margarine or butter in small blobs to the mixing bowl, and using your finger tips rub the margarine into the dry mixture until it resembles bread crumbs.

Chop the glacé cherries into halves and quarters, they will be sticky but that's fine.

Stir the cherries through the dry mixture so that they are evenly distributed and coated in flour mixture.

Pour in 4 tablespoons of the milk along with the vanilla and stir well with a cutlery knife. Add 2 more tablespoons and stir again.

It usually takes about 8 tablespoons to bring the mixture together into a dough that is not sticky.

But the exact amount of milk required may vary.

240 millilitres plant-based milk,

1 teaspoon vanilla essence

The mixture will start to look scraggly and this means that it has had nearly enough liquid to bring it to a dough.

Press the bits of dough together with your hands to form a dough.

If its too dry then add more drops of milk and keep forming the scone dough ball.

If the dough is too wet, dust some flour over your hands and your work surface, and place the dough onto the floured surface and gently knead some extra flour in, until the scone dough is drier.

Pat the scone dough down with your hands until its about ¾-1 inch [2-2 ½ cm] high.

Dust the biscuit cutter with some flour and cut out a scone shape, be careful not to twist the cutter but just shuffle it up and down to remove the scone from the rest of the dough.

You may need to lift the scone up inside the cutter and gently tap it out of the cutter.

Place each scone onto a baking sheet.

You'll likely need to push back the scone dough into a ball again, and then pat down, after cutting out a few scones.

Once 6 scones are on the baking tray, you may have an extra smaller piece of dough which can be formed by hand into a rustic scone about the same height as the rest. This can be the bakers tester scone! However, you may not have any leftover dough!

Brush each of the scones surface with some of the leftover milk, taking care not to let the milk drip down the scone sides.

Bake on the middle oven shelf for 13-14 minutes.

[We used an electric oven and the scones are perfect after 14 minutes at 220C]

Check fan ovens a minute or so before as these type of ovens tend to cook faster than other types.

Leave on the baking tray for a few minutes before removing to a wire rack to cool. Or enjoy warm.
Notes
Nutritional data is for guidance only as its not an exact calculation as ingredients vary.
Scones are at their best 1-2 days after baking.
Keep scones within a covered container for 3-4 days.
Scones older that 1-2 days can be refreshed by placing in a warm oven for a few minutes until warmed through. 
Or slice the scone in half and toast each side, and then spread with your favourite condiment.
The

glacé cherries do not need to be washed before using as the sticky residue will be dried up once incorporated through the flour mixture.

We used Stork baking margarine and oat milk.
For the vegan cream in the photos, we used Elmlea Plant Double Alternative Cream which whips up very easily in minutes.
We also used Co-Op strawberry jam to fill the scones.
For lots of useful tips on how to check if your scones have finished baking, how to avoid wonky scones, how to prepare the best scones, how to whip vegan cream, etc, then have a look at our recipe notes and FAQ section above. 
Although, don't get too caught up with trying to perfect the perfect rising scone as wonky scones are just as nice if not better! Our local bakery on the Scottish island always has wonky scones for sale and the tourists and locals love them!
To prepare Cherry Bakewell Scones:
Switch the vanilla out for almond essence or extract, and if liked top the scones with a few flaked almonds and half a cherry, add the topping after you have brushed the milk over the scone tops. Bake as normal.
Nutrition
Calories:
345
kcal
|
Carbohydrates:
58
g
|
Protein:
7
g
|
Fat:
9
g
|
Saturated Fat:
2
g
|
Polyunsaturated Fat:
2
g
|
Monounsaturated Fat:
4
g
|
Sodium:
256
mg
|
Potassium:
73
mg
|
Fiber:
2
g
|
Sugar:
17
g
|
Vitamin A:
442
IU
|
Vitamin C:
0.02
mg
|
Calcium:
147
mg
|
Iron:
1
mg
Prepared our Tasty Teatime Old-Fashioned Cherry Scones? Do let us know how you get on with the recipe as we love hearing from you. Thanks so much, Jacq x