Vegan mushroom steak Diane is based on a classic retro dish and features juicy, meaty large flat or Portobello mushrooms cooked with shallots and garlic before stewing in an irresistible creamy, savoury sauce which is enriched with parsley.
The result is an exciting, creative dish bursting with plant-powered goodness and tastiness.
Perfect for brunch, lunch, dinner, or a side dish. Or add a creamy mushroom to your Buddha or power bowl for a classic touch.
Serve with your favourite accompaniments such as home-made potato wedges, fries, mashed potatoes, peas, vegetables or salad.
Origins of Steak Diane
Vegan mushroom steak Diane is a recipe inspired by the traditional retro steak Diane meal that probably originated in New York during the 40 - 50s.
I say probably as the actual location is not generally agreed. Some even argue London was responsible for steak Diane or even Belgium.
However, during the 1950s in New York steak Diane was one of the most popular meals ordered. The chef would prepare the meal at the dining table adding brandy to the sauce before spectacularly flambéing the sauce with a lighter!
Naturally this technique was very impressive and contributed to the dishes popularity.
The name Diane refers to the Roman goddess of the hunt and protector of deer and other wild animals.
Creamy and peppery Diane sauces were common during the 19th Century, prepared with venison, and were dedicated to Diane.
Mushroom Steak Diane The Perfect Fathers Or Mothers Day Meal
This year Fathers Day is held on Sunday 19th June 2022 (UK, US and Canada), and on Sunday 4th September 2022 (Australia and New Zealand).
Vegan mushroom steak Diane is perfect for celebrating Father's Day. Why not treat your kids plant-based or vegan dad to a steak Diane meal for Fathers Day?
Better still have the kids help to cook the mushroom steaks.
They may even enjoy learning about the history of the dish as they cook. I know my kids do.
Although mushroom steak Diane would be just as delicious for a Mother's Day brunch or simply for an everyday treat. In the UK Mothering Sunday is on the 27th March 2022 and on the 8th May 2022 in the US, Canada, Australia and New Zealand.
How To Easily Prepare Vegan Mushroom Steak Diane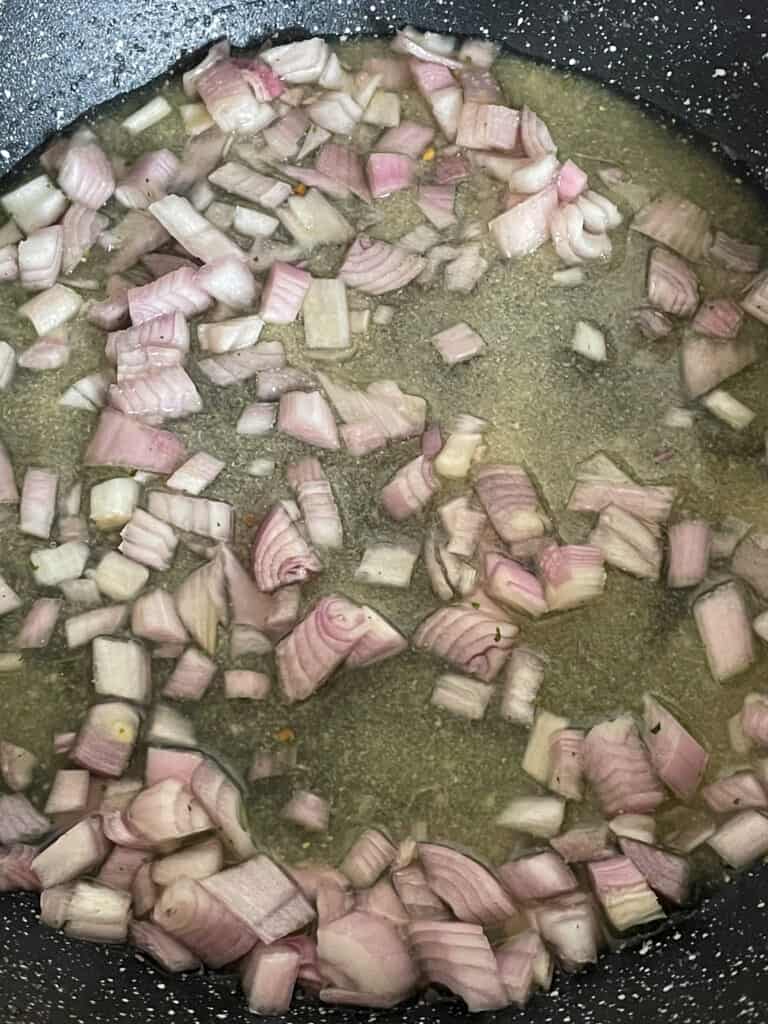 Vegan Mushroom Steak Diane Recipe Notes
How do I store leftover mushroom steak Diane?
Keep leftovers fresh

by storing in the fridge, covered, for up to 3 days.
How do I reheat leftover veggie steak Diane?
Reheat leftovers by adding to a pan and gently heating until piping hot. Add a tablespoon or two of veggie stock to loosen up the sauce if necessary.
Or reheat in a medium hot oven for around 15-20 minutes until piping hot throughout. Add a layer of kitchen foil or parchment paper to avoid the mushrooms browning or drying out.
Can I substitute the mushrooms for another ingredient?
Don't like mushrooms? Sub it out for vegan meat alternative pieces or tofu. Alternatively prepare the sauce without the mushrooms for topping cooked vegan burgers, sausages, etc.
Leave out the mushrooms and prepare the Diane sauce for a plate of veggies. Or chop up the mushrooms into very small dice for those who dislike the mushroom texture. Perhaps prepare the sauce with the mushrooms and then blend until smooth. My son dislikes mushrooms but he will eat them blended in a sauce which I try to do every now and then as mushrooms can be a great source of vitamin D.
What can I serve with mushroom steak Diane?
Serve your mushroom steak Diane with anything that a usual steak would accompany.
Such as potato fries/chips/wedges, peas, corn-on-the-cob, baked potato, mashed potatoes, selection of veggies, or a crispy mixed salad.
I served my family's steak Diane with roasted asparagus and roasted tomatoes for a lighter dinner. I cooked both the asparagus and tomatoes at 180 Fan/ 200 Celsius/ 392 Fahrenheit/ Gas 6 for 15-20 minutes. Or until the tomatoes were soft and had burst a little, and the asparagus was fork tender.
Is vegan mushroom steak Diane suitable for gluten-free diets?

Absolutely!

With a few considerations steak Diane is perfect for gluten-free diets.

Simply check that your veggie stock is gluten-free and that tamari soy sauce is selected over regular soy sauce as tamari is usually gluten-free.

Also check that your vegan Worcester sauce is gluten-free or replace it with two extra teaspoons of tamari.

Lastly do check all your ingredients packaging to be sure all ingredients are gluten-free.
More delicious, quick and easy vegan meal ideas
Vegan Traditional Corned Beef Tempeh Hash
Vegan Smoky Tofu Traditional British Kedgeree
Vegan Rice-A-Roni With Kidney Beans And Bell Peppers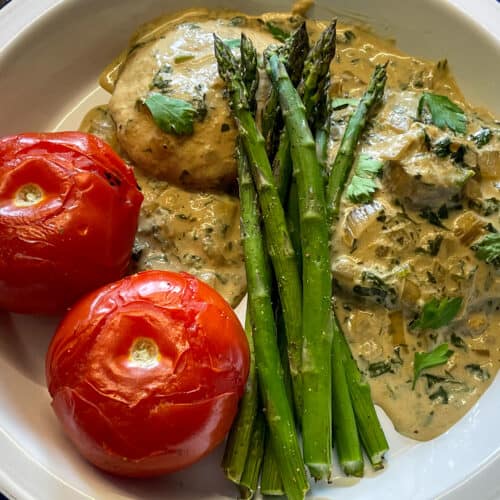 Vegan Mushroom Steak Diane (Creamy Sauce)
Print Recipe
Steak Diane is a classic retro dish that deserves to be re-created with plant-based goodness. Juicy mushrooms enrobed with a creamy savoury thick sauce.
Serve with your favourite veggies or a fresh salad.
Too Yummy!
Equipment
Non-stick sauté pan/ skillet/deep fry pan with lid.
Ingredients
4

large

flat mushrooms

The label on my mushrooms stated 'British Flat Mushrooms' which are similar to Portobello mushrooms. Alternatively use any large mushroom or the equivalent in weight of a smaller type of mushroom.

2

whole

shallots

Fine chopped. Or use a small-medium onion.

4

whole

garlic cloves

or 2 teaspoons garlic powder. Fine chopped or minced.

20

grams

parsley

½ cup fine chopped. Plus a little extra for garnish.

1

tablespoon

Vegan Worcester sauce

or replace with an extra tablespoon of soy sauce

2

teaspoon

tamari soy sauce

or regular soya sauce

1

teaspoon

English mustard

or Dijon mustard

190

millilitre

vegan cream

such as Alpro soya single cream

250

millilitre

vegetable stock

1 cup. plus extra if required
Instructions
Add the shallots and garlic to the pan.

Pour in 125ml/½ cup of veggie stock.

Bring to a simmer.

Add the mushrooms closed cap side down.

Add a lid to the pan and cook for 5 minutes.

(Begin prepping any accompaniments)

Remove the lid and flip the mushrooms over and cook for another 5 minutes.

Add an extra 65ml or ¼ cup of veggie stock if required to avoid the mushrooms sticking.

Pour in 125ml/½ cup of veggie stock, 1 tablespoon vegan Worcester sauce, 2 teaspoons tamari and 1 teaspoon mustard.

Stir.

Simmer for 5 minutes.

Spoon some of the sauce over the mushrooms.

Throw in the chopped parsley and vegan cream.

Stir and stew for 3 minutes.

Flip the mushrooms over and stew for another 3 minutes.

Spoon some of the sauce over the mushrooms.

Again turn the mushrooms over and stew for another 3 minutes. And scoop some sauce over the mushrooms.

Dish is ready when the mushrooms are soft which will depend on how large they are. And the Diane sauce is nice and thick. If too thick thin down slightly with a small splash of extra stock or cream.

Serve sprinkled with a little more parsley.

Cracked pepper is tasty addition but do taste the sauce before adding salt as it may be salty enough.
Notes
Nutritional data is provided for guidance only and is not a strict calculation as ingredients vary.
Leftover mushroom Diane can be cooled and refrigerated, within a covered container, for up to 3 days. 
I wouldn't recommend freezing as the mushroom texture may be altered during this process, but if you have to freeze I would advice to freeze for up to 1 month.
To reheat, place in an oven-proof dish and reheat in a medium oven until piping hot throughout, about 15-20 minutes. Perhaps cover the dish with kitchen foil to avoid browning and drying out. 
Leftover mushroom Diane is tasty for lunch the next day, especially served with a wedge of crusty bread and a crispy side salad.
Try sprinkling some vegan grated cheese over leftovers and grilling until heated through and cheese melted.
Nutrition
Calories:
158
kcal
|
Carbohydrates:
15
g
|
Protein:
3
g
|
Fat:
5
g
|
Saturated Fat:
1
g
|
Polyunsaturated Fat:
1
g
|
Monounsaturated Fat:
4
g
|
Sodium:
106
mg
|
Potassium:
529
mg
|
Fiber:
2
g
|
Sugar:
2.2
g
|
Vitamin A:
434
IU
|
Vitamin C:
9
mg
|
Calcium:
31
mg
|
Iron:
1
mg