Traditional vegan fruit loaf is an old-fashioned fruit cake or tea-bread style bake.
It is super easy to prepare and is just like the old-fashioned fruit loaf that our ancestors would have baked.
This fruit cake recipe will surely become a keeper as it easily produces such a lovely, tasty egg-free fruit cake that everyone will love.
Preparing a cake for Easter?
Use this fruit cake recipe as the basis for a delicious Easter Simnel Cake by baking in a circular pan.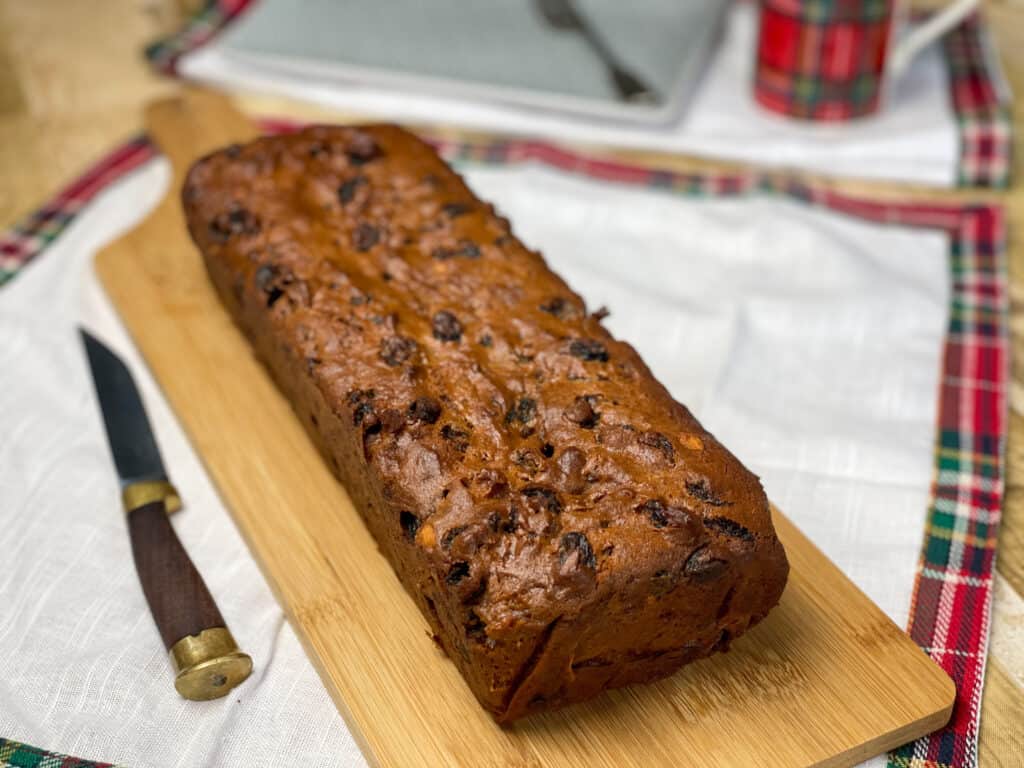 Quick Origins Of Fruit Cake
Surprisingly fruit cake has been dated back to the middle ages.
But it wasn't until the 18-19th Century that humans began baking fruit cakes to mark special occasions such as weddings and other festivities.
Nowadays, many countries around the world have their own variation of fruit cake which are often baked for celebrations.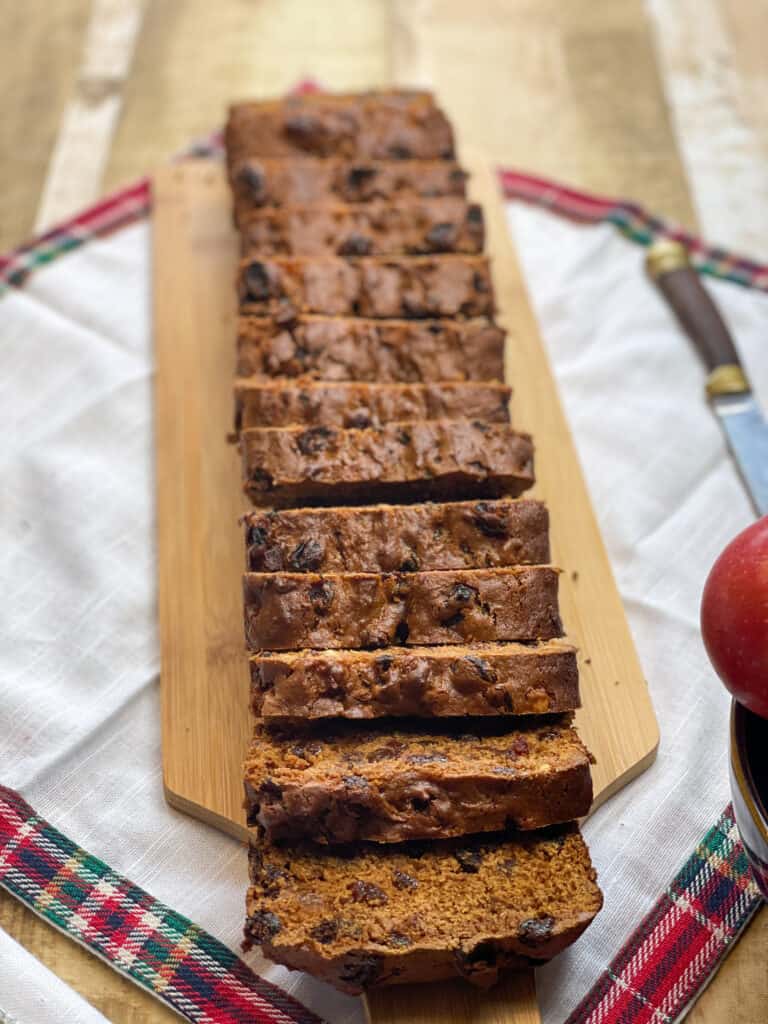 Vegan Fruit Loaf Cake
This vegan fruit cake is ideal for enjoying as part of a New Years Eve or Scottish Hogmanay buffet spread as well as enjoyed with a Scots Robert Burn's dinner.
Being Scottish, fruit cake was always part of our new years celebration along with shortbread and madeira cake. That trio always signalled the new year was approaching.
And of course this cake is ideal for a vegan Christmas cake or even for an Easter time Simnel cake. Simply bake in a round pan if preferred.
The aroma of this fruit cake baking and that first bite instantly feels and tastes like Christmas. The combination of spices in this fruit cake just make for the perfect festive bake.
This recipe for vegan fruit loaf cake is a super-moist beautifully spiced teatime treat that will easily become one of your go-to-staple recipes.
I always bake this cake whenever I have visitors as it is the most requested bake.
The dried fruit is stewed before baking which is a traditional method that achieves such a yummy, moist and deeply flavoured fruit cake. Its so worth the extra effort.
How To Prepare Vegan Fruit Loaf Cake
Recipe Notes
How do I store vegan fruit cake?
Vegan fruit loaf cake will stay fresh wrapped in parchment paper and kitchen foil, or in a cake tin, for at least 7 days.
It will l
ikely keep well for a few more days if well wrapped and kept in a cool, dry place.
Traditionally fruit cake would be the most popular cake to always have available in the cake tin ready for any spontaneous visitors who may suddenly appear.
Can I freeze vegan fruit cake?

Absolutely!

This vegan fruit cake recipe freezes beautifully.

Simply wrap well in food and freezer safe wrap and freeze for 4-5 months.

Remove the wrappings before defrosting to room temperature.

Freezing single slices makes it easy to pull out one or two slices as required.
Can I reheat fruit cake?

Of course.

Slices of fruit cake can be refreshed or warmed through by popping into a warm oven for a few minutes.

Or toast slices of fruit cake within a non-stick skillet/fry pan, under an oven grill, in a toaster or on top of a hotplate such as a flat panini machine.

A small pat of vegan margarine or butter can be melted over the warmed fruit cake or spread with a little fruit jam. Delicious for breakfast, brunch or Afternoon tea.
Can I prepare the stewed/simmered dried fruit in advance?

Yes. Preparing the dried fruit in advance is not only a brilliant time saver but it will result in deliciously plump and moist dried fruit.

Simmer the dried fruit the day before or a few hours in advance and just leave the dried fruit within the saucepan, with a lid on, until required.
Can I add a glaze or topping to the vegan fruit cake?

Yes.

For an extra special vegan fruit cake for those extra special occasions add a tasty topping.

A few ideas:

* A sticky glaze: Use 1-2 tablespoons of jam/preserve (fruit jelly in the US) and 1-2 teaspoons or  water. Whisk these two ingredients together with a fork. Using a pastry brush or spatula spread out over the loaf. Ginger preserve makes for an especially tasty glaze.

* Alternatively, prepare a water icing to pour over. Use about 4 tablespoons of sifted icing/powdered sugar and add tiny drops of water until you mix up the right consistency to drizzle over the loaf. For lemon or lime drizzle just add freshly squeezed lemon or lime juice in place of the water. If you don't have a lemon juicer you can easily use a tablespoon to dig into the fruit, turning it around until all the juice has been extracted.

* For a vegan cream cheese frosting check out the easy recipe over on our pumpkin spiced fruit cake post (check out the recipe notes below the cake recipe for cream cheese method)

Can I use a different dry spice mix?

Definitely!

If you have a favourite dry spice mix that you generally use for cakes then do use that if preferred.

This recipes uses dried ground cloves and dried ground nutmeg but these can be replaced with the same quantities of extra mixed spice powder or similar. Or replace those two spices with ginger powder.

Mixed spice powder may be difficult to obtain outwith the UK so sub this ingredient for apple pie spice mix or pumpkin spice mix.
What dried fruit can be used for a vegan fruit cake?

Any dried fruit in any combination is perfect.

For larger pieces of dried fruit do chop these up into smaller pieces.

Packets of ready prepared dried fruit mixes intended for baking are perfect and these often contain dried fruit peel as well, so add zesty pops of flavour to the finished bake.

For a tropical fruit cake add some dried mango and dried papaya.

Other dried fruits that are ideal:

* dried dates

* dried apple

* dried pear

* dried apricots

* sultanas (golden raisins)

* raisins

* currants

* goji berries

* cranberries

* dried blueberries

* prunes

* figs

* dried bananas (the soft variety not hard banana chips)

* small amounts of dried lemon, lime, grapefruit, orange peel
Can I prepare this vegan fruit cake as gluten-free?

Yes!

I have prepared this fruit cake recipe as gluten-free many times and it has been perfect each time.

To convert this recipe to gluten-free simply replace the flour with a gluten-free plain or self-raising blend (such as the Dove's Farm brand).

If using a gluten-free plain flour blend mix through 2 teaspoons of gluten-free baking powder.

Also add a ¼ teaspoon of xanthium gum as this helps hold the cake crumbs together. I have prepared this cake recipe without the xanthium gum and the cake proved too difficult to achieve clean slices as it was just too crumbly.

If your cake batter looks too dry before adding to the loaf pan, stir through a few tablespoons of plant milk to loosen it up as gluten-free flour tends to be more thirsty and soaks up liquid faster.
What type of apple sauce is good for vegan fruit cakes?

Any ready prepared apple sauce from the supermarket is fine for this fruit cake, either smooth or small cubed apple sauce, etc, as long as the ingredients are vegan friendly.

Or prepare your own apple sauce with just a few every day eating apples and a few tablespoons of water.

To easily make your own apple sauce, chop 3 medium sized eating apples into cubes and stew the apples in a few tablespoons of water until soft. The exact amount of water depends on your apples.

Mash the apples with a potato masher or fork.
More Traditional Vegan Fruit Cakes:
Easy Three Ingredient Fruit Cake
Gluten-Free Fruit Loaf Cake (is also added sugar and fat free! And can be nut free also)
Traditional Scottish Smiddy Dumpling (baked sultana cake)
📖 Recipe
Vegan Fruit Loaf Cake
Print Recipe
A slice of this fruit loaf is the perfect accompaniment to tea, coffee or a cold glass of plant-based milk.
Super rich but light, fruity, sweet and deliciously spiced with a tasty crusty top.
Even though this fruit cake is good-to-go soon after baking the flavours just get better as each day passes.
Equipment
1 kg/ 2Ib loaf pan

plus greaseproof/baking paper to line if necessary

non-stick saucepan

or similar

Mixing bowl
Ingredients
225

grams

self-raising flour

sieved, or plain/all-purpose flour with 2 teaspoons of baking powder sieved through

225

grams

soft brown sugar

or caster, granulated sugar

160

millilitres

plant-based milk

[¾ cups]

450

grams

dried fruit mix

Use any combination of dried fruit: packet of mixed dried fruit, or a mix of currants, sultanas, raisins, dates, cherries, figs, prunes, pineapple, papaya, mango, apple, apricots, etc. [3 ¾ cups]

130

grams

apple sauce

To easily make your own apple sauce chop into small pieces 3 eating apples and stew in a tablespoon or 2 of water till soft. Mash up with a potato masher or fork. [½ cup]

100

grams

vegan margarine

or vegan butter [½ cup]

1

teaspoon

cinnamon

1

teaspoon

mixed spice

or pumpkin/apple spice mix powder

¼

teaspoon

ground nutmeg

or replace with ginger powder

¼

teaspoon

ground cloves

replace with ginger powder or extra mixed spice
Instructions
Place the dried fruit, margarine, sugar, and milk in a saucepan.

Over a medium heat bring to the boil, stirring frequently.

Lower the heat and simmer gently for 10 minutes.

Turn off the heat but leave the saucepan on the cooker for another 5 minutes.

Take your saucepan of the heat and leave to cool for 20 minutes.

Mix though the apple sauce.

Preheat the oven to 150 Fan/170 Celsius/ Gas mark 3/ 300 Fahrenheit.

Prepare your loaf pan or baking tin by lightly greasing and lining with baking paper.

Sieve the flour and spices into a mixing bowl.

Scoop the dried fruit mixture into the flour.

Stir until just combined.

Spoon the cake batter into your loaf pan.

Level down the surface.

Place on the middle shelf of your oven and bake for 50-60 minutes.

[Depending on your oven the cake may take another 10 minutes or so].

Check after 45 minutes to see how its going. My cake was baked after 50 minutes using an electric oven.

Cake will be ready when it is golden brown and a skewer or knife poked through into the loaf comes out clean.

Cool the cake within the loaf tin for at least 20-30 minutes.

Gently tip the cake out and peal the baking paper off.

Leave to cool on a wire rack.
Notes
Nutritional information is provided for guidance only and is not a strict calculation as ingredients vary.
Always bake the fruit cake on the middle or lower rungs of your oven as placing too high in the oven can cause the dried fruit to burn. 
Don't open your oven door to check on the fruit cake until at least 45 minutes has passed as opening sooner could cause your cake to sink a little.
This fruit cake can be stored for up to 7 days, wrapped in kitchen foil or parchment paper and placed in an air-tight container. Possibly a few days longer.
Fruit cake freeze beautifully. Wrap each individual slice or place a piece of parchment paper between each slice and freeze for up to 3 months.
Defrost at  room temperature with the wrapping removed.
Toasted fruit cake slices are amazing for breakfast! Especially with a pat of vegan margarine or butter melted over.
Spread some peanut-butter, mashed banana, fruit jam (jelly) over a slice of fruit cake for a filling snack.
To convert this current recipe to gluten-free simply replace the flour with a gluten-free plain or self-raising blend (such as the Dove's Farm brand). If using a gluten-free plain flour blend mix through 2 teaspoons of gluten-free baking powder. Also add a ¼ teaspoon of xanthium gum as this helps hold the cake crumbs together. If your mix looks too dry before adding to the baking pan mix through a few tablespoons of plant milk to loosen it up as gluten-free flour tends to be more thirsty and soaks up liquid faster.
Nutrition
Calories:
271
kcal
|
Carbohydrates:
54
g
|
Protein:
3
g
|
Fat:
6
g
|
Saturated Fat:
1
g
|
Polyunsaturated Fat:
2
g
|
Monounsaturated Fat:
2
g
|
Trans Fat:
1
g
|
Sodium:
15
mg
|
Potassium:
294
mg
|
Fiber:
4
g
|
Sugar:
35
g
|
Vitamin A:
327
IU
|
Vitamin C:
1
mg
|
Calcium:
94
mg
|
Iron:
1
mg
Prepared one of our recipes?
Do pop a comment below and let us know how you get on.
We love hearing from you!
Sharing a photo on social media?
Do tag us @traditionalplantbasedcooking #traditionalplantbasedcooking
So we can admire your good cooking!
Thanks so much
Jacq x