Vegan Hungarian goulash is the perfect mid-week meal that the whole family will love.
This goulash is a delicious satisfying stew of potatoes, carrots, peppers and tomatoes simmered within a thick, rich tomato-paprika-caraway savoury sauce.
This one-pot meal is so quick and simple to prepare. Enjoy on its own or with slices of tasty garlic bread and satisfying pasta, noodles or rice.
Quick Origins Of Hungarian Goulash
Hungarian goulash is the national dish of Hungary. Hungarians have been enjoying goulash since the 9th Century. The dish was commonly eaten by Medieval Hungarian shepherds, and the word Goulash actually means herdsman.
Chunks of meat and onions are traditionally the main ingredients with other additions added throughout the centuries. Between the 16-18th Century, Hungarians began sprinkling Hungarian paprika into the goulash. Most recipes for goulash call for meat chunks mainly beef or pork.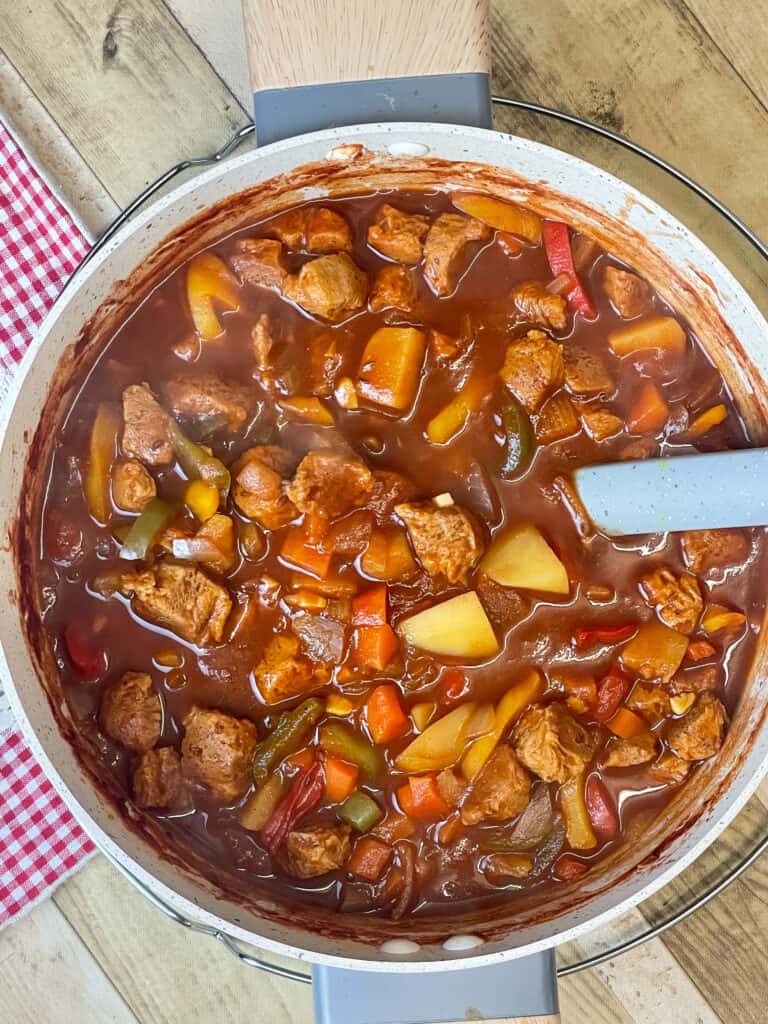 Vegan Hungarian Goulash
American goulash is an adaption of Hungarian goulash. For a vegan recipe for American goulash check out the tasty one we have on the family blog.
Vegan Hungarian Goulash is inspired by the traditional Hungarian Goulash. This plant-based recipe uses soya chunks or textured vegetable protein (TVP) as a tasty meat alternative. Find out more about soya chunks over on my Vegan Irish Stew recipe.
Soya chunks work well in this recipe as they soak up the deliciously, thick, savoury, lightly spiced tomato-paprika sauce and the texture of the TVP become pleasantly tender.
Vegan Hungarian goulash is amazing served with pasta. Any shape is fine but other satisfying sides include noodles, spaghetti, or rice. And a few slices of hot garlic bread is usually welcomed by extra hungry family members.
Hungarian goulash can be served as a soup or stew. All you have to do is adjust the thickness of the sauce. Add more liquid stock if you'd like it thinner or stew the goulash for longer to thicken up a thin stock.
This recipe for vegan Hungarian goulash turns out quite thick which is perfect for serving with pasta. However, with the leftovers I added a little vegetable stock to thin it into a soupier texture and enjoyed it as a cup-of-soup for lunch the next day. It is so delicious and incredibly budget-friendly.
How To Prepare Vegan Hungarian Goulash
Recipe Notes And FAQS
How do I store leftover Hungarian goulash?

Store leftover goulash within a covered container in the refrigerator for up to 3 days. The flavours of Hungarian goulash develop and improve as each day passes!
Can I freeze leftover goulash?

Of course. Although goulash is best frozen without the sides of pasta, rice or noodles.

Freeze within a covered container or freezer-safe food bag for up to 4 months. Defrost completely before reheating.
How do I reheat leftover Hungarian goulash?

Transfer leftover goulash into a non-stick saucepan.

Pour in a little extra veggie stock or water if necessary to loosen up the stock and bring to a boil.

Lower the heat and simmer for 2-3 minutes or until piping hot. Stir frequently.
Any ideas what I can use leftover Hungarian goulash for?

A few ideas:

* serve stuffed into a baked white or sweet potato

* use the goulash as a bell pepper, courgette, eggplant, large tomato, large mushroom, squash filling. Top with cheese and bake as usual for stuffed veggies.

* add extra veggie stock to thin the leftover goulash into a soup and serve for next days lunch or a light dinner
What can I serve with Vegan Hungarian goulash?

* your favourite crusty bread

* garlic bread

* corn bread or muffins

* vegan 3 ingredient flatbread

* vegan 3 ingredient quick dinner rolls

* any variety of rice

* any pasta shape including orzo

* thick noodles

* crispy salad

* steamed green veggies

* tasty mixed roasted veggies

* sweet potato wedges, fries or chips

* vegan sour cream or vegan mayonnaise
Can I replace the TVP chunks with anything else?

Yes of course.

A few ideas:

* any cooked bean especially borlotti, cannellini, butterbeans, etc

* any vegan meat alternative chunks

* smoked tofu or regular tofu

* tempeh

* canned jackfruit

* chunks of chopped mushrooms
More Traditional Vegan Dinner Ideas To Discover...
Sage and Onion Vegan Meatloaf (Green Lentils, Oatmeal and Chickpeas)
Slow Cooker Traditional Scottish Mince and Tatties (potatoes)
Slow Cooker Spicy Peanut, Black Bean and Potato Soup
Vegan Slow Cooker Green Lentil Spaghetti Bolognese
Vegan Hungarian Goulash
Print Recipe
A delicious satisfying stew of potatoes, carrots, peppers and tomatoes simmering within a thick, rich tomato-paprika-caraway rich sauce.
Serve with thick pasta noodles or shapes, and a few slices of tasty garlic bread.
So quick and simple to prepare. Hungarian goulash is the perfect mid-week that will please the whole family.
Equipment
Large sauté pan or non-stick saucepan.

small bowl

for soaking TVP chunks
Ingredients
To soak the textured vegetable protein chunks (TVP):
100

grams

dried soya chunks (TVP)

or dried soya curls (can replace with a 400g/14 oz can of beans such as borlotti, cannellini, kidney beans)

1

teaspoon

vegetable yeast extract

or marmite, vege-mite

500

millilitres

boiling water
Goulash:
2

medium

potatoes

chopped into medium dice

2

medium

carrots

diced

1

large

onion

diced

500

gram

tomato passata

or sieved uncooked tomatoes or 2 400g/14oz cans chopped tomatoes

1

tablespoon

tomato puree

tomato paste

4

cloves

garlic

sliced

1

tablespoon

paprika

plus an extra teaspoon if liked

1

teaspoon

mild chilli powder

or use a medium/hot chilli powder

1

teaspoon

caraway seeds

or fennel seeds

1

tablespoon

soy sauce

use Tamari soy sauce if needing gluten-free

800

millilitres

vegetable stock
Add ten minutes before end of cooking goulash:
1

whole

red bell pepper

sliced (can replace the peppers with 2 cups of frozen mixed peppers)

1

whole

yellow bell pepper

sliced

2

teaspoon

apple cider vinegar

or red wine vinegar/balsamic
Garnish
1

handful

parsley

chopped
To serve:
pasta, thick noodles or rice

cooked according to packet instructions
Instructions
Prepare the dried soya chunks:
Soak the soya chunks in 2 cups of boiling water. Add 1 teaspoon of yeast extract and mix.

Leave for 20-40 minutes. Give the chunks a stir every now and again.

Drain but reserve the liquid for the veggie stock.
Optional, toast the caraway seeds:
Add the caraway or fennel seeds to a small non-stick pan and heat over a medium-hot heat until the seeds start to pop (just a minute or so). Move the seeds around so that they do not burn and after they start to pop remove from the heat and shake the pan gently back and forth so that the seeds continue to toast within the residual heat.
Cook the goulash:
Pour the TVP soaking liquid into a measuring jug and top up with boiling water or ready-made veggie stock until you have 800 ml/ about 3 ½ cups.

If your using water add the stock cubes/powder/bouillon and mix.

Add the passata, tomato puree, carrots, potatoes, soya chunks, onion, garlic, caraway/fennel seeds, paprika, chilli powder, and tamari to your pot. Mix well.

Pour in the vegetable stock.

Bring to the boil.

Lower the heat and simmer for 25 minutes.

Meanwhile prepare any accompaniments such as pasta, thick noodles, garlic bread. Rice will depend on the packet instructions as to when you need to start preparing.

After 25 minutes add the bell peppers and apple cider vinegar.

Simmer for 10 minutes with a lid on the pot. Stir a few times to make sure the goulash is not sticking. If necessary add a splash of boiling water to loosen up the sauce.

Check that the potatoes are soft.

Taste the seasoning and add salt and pepper to taste

Serve with a sprinkling of chopped parsley if liked. A scatter of paprika flakes is also tasty.
Notes
Nutritional information is provided for guidance only and is not a strict calculation as ingredients vary.
Soya chunks can be replaced with about 300 grams of fresh or frozen vegan chunks. Or even vegan burgers or sausages chopped up into pieces.
Alternatively use a meaty precooked bean such as butter beans, kidney beans or borlotti. Its not authentic or traditional but it will still taste pretty good!
Some cubed tofu or tempeh is a nice substitution for the soya chunks.
Try subbing out the white potatoes with sweet potatoes. It will taste amazing!
If you have more time to spare try toast the fennel or caraway seeds before adding to the dish to cook. Just heat a non-stick pan and throw in the seeds and shake them around until they smell delish and get some colour. When your pan is hot enough take off the heat and shake or push the seeds around as they will continue to cook. Toasting your seeds will add another depth of flavour to your goulash!
If you don't have caraway or fennel seeds but do have a dried ground variety use a teaspoon of this instead.
Vegan Hungarian Goulash will keep fresh covered in the fridge for up to 3 days. Just reheat until piping hot before serving.
Freeze any leftover portions to enjoy a speedy meal during those extra busy days. 
Nutrition
Calories:
267
kcal
|
Carbohydrates:
49
g
|
Protein:
18
g
|
Fat:
1
g
|
Saturated Fat:
1
g
|
Polyunsaturated Fat:
1
g
|
Monounsaturated Fat:
1
g
|
Sodium:
496
mg
|
Potassium:
1326
mg
|
Fiber:
11
g
|
Sugar:
14
g
|
Vitamin A:
6136
IU
|
Vitamin C:
137
mg
|
Calcium:
149
mg
|
Iron:
7
mg