This Vegan Potato, Leek, and Corn Chowder recipe is a tasty, creamy, savoury bowl of plant-powdered goodness. Its so easy to prepare and you can have a pot ready in just under an hour which is perfect for those busy days when you need fast flavourful comfort food.
What is a chowder?
A chowder is a type of rich and creamy soup or stew that often contains seafood, potatoes, onions, and various other vegetables. While seafood chowders like clam chowder are among the most popular, chowders can be made with other ingredients, including corn, chicken, and potatoes.
Chowders have origins in the northeastern United States, especially in the New England region, but variations of it are found in other parts of the world as well. Chowders typically have a milk or cream base, although tomato-based versions (like Manhattan clam chowder) are also common. The consistency of chowder is generally thick, and it's often seasoned with herbs and spices for added flavour.
What is the difference between a chowder and a soup?
Chowders are a type of soup but there are a few differences between them. Soups can vary in how thick they are, as they can range from being like a chunky stew to thin transparent broths, while chowders are generally always thick, creamy, and chunky, with a milk or cream base. Whereas soups can have a water, stock, broth, tomato, fruit juice base, as well as a milk or cream base. Although there is a version of chowder - Manhattan clam chowder which does have a tomato base.
History of chowder
It is believed that chowder originated in England and France centuries ago, when immigrants to America brought their recipes along for the journey to the New World. Chowder quickly became a ship staple during the 17th-19th centuries and was enjoyed with hardtack biscuits.
These biscuits were used to thickened up the chowder. This type of hard baked wheat biscuit has a long-shelf life and needs to be softened up to be edible! Dunking in chowder was the perfect partnership for hungry sailors.
The word "chowder" is believed to have been derived from the French word "Chaudière," which refers to the large pot or cauldron in which the fishermen would make fish stews and soups using their catch of the day.
Over time, in some areas, chowder has become much more than just a creamy soup as it's now a big cultural event in some regions. Many coastal towns, especially in New England, host annual chowder-fests and competitions where many different chowders are featured.
Hard tack biscuits were traditionally dunked into chowder soup to soften them up!
New England Clam Chowder
Clam chowder, a well-known variety of chowder, has its roots in the New England region of the U.S. The New England chowder features a creamy base, clams, potatoes, onions, and sometimes celery, and salt pork or bacon.
Manhattan Chowder
In contrast to the creamy New England chowder, Manhattan chowder uses a tomato-based broth. The addition of tomatoes is believed to have been introduced by Portuguese immigrants in the New York area, and this version is sometimes a bit spicier and more tangy compared to a creamy chowder.
Corn Chowder
As chowder's popularity grew, variations began to emerge such as Corn chowder, which often omits the seafood entirely, and it is this chowder that our vegan chowder recipe is adapted from.
How to prepare vegan potato, leek, and corn chowder
This dairy-free chowder recipe is packed with vegetables -potatoes, leeks, celery, peas, sweetcorn, and garlic - and is enriched with tofu. Although, you can easily replace any of the veggies for whatever you like and add a can of butterbeans or cannellini beans instead of the tofu.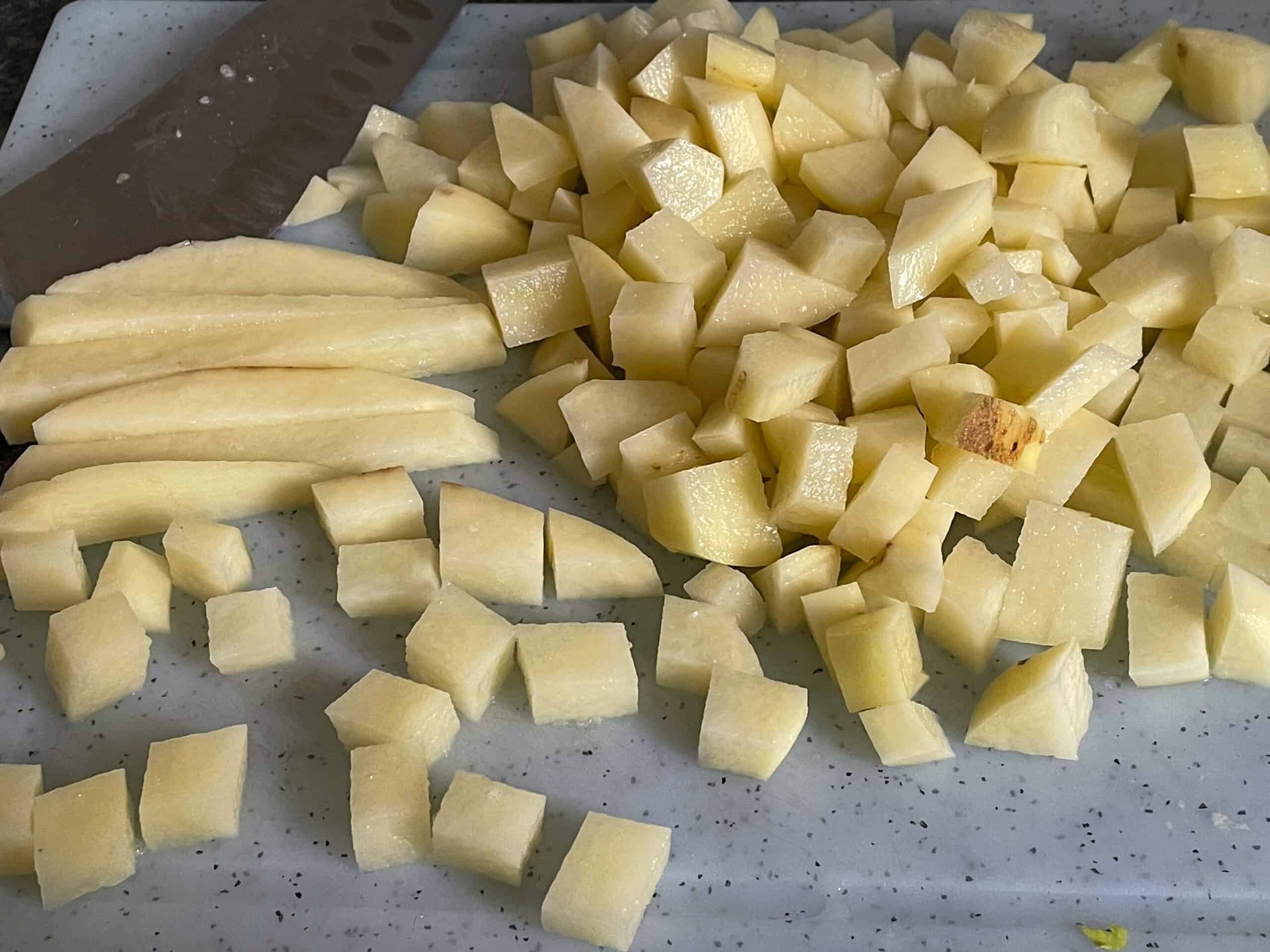 First prepare the vegetables -potatoes, leeks, celery, garlic, sweetcorn, peas, and chop the tofu into small pieces.
Sauté the leeks, celery, garlic, along with the mixed dried herbs and bay leaf, in half a cup of vegetable stock or 1-2 tablespoons of oil.
Cook for 10 minutes, stirring frequently.
Next, stir through the plain flour [all-purpose flour or replace with gluten-free flour], garlic powder, and add the potatoes, peas, corn, and tofu.
Pour in vegetable stock and bring to a gentle boil.
Cook for 20-25 minutes or until all the vegetables are nice and soft.
Pour in the plant-based milk and bring the chowder back to the boil. Remove from heat.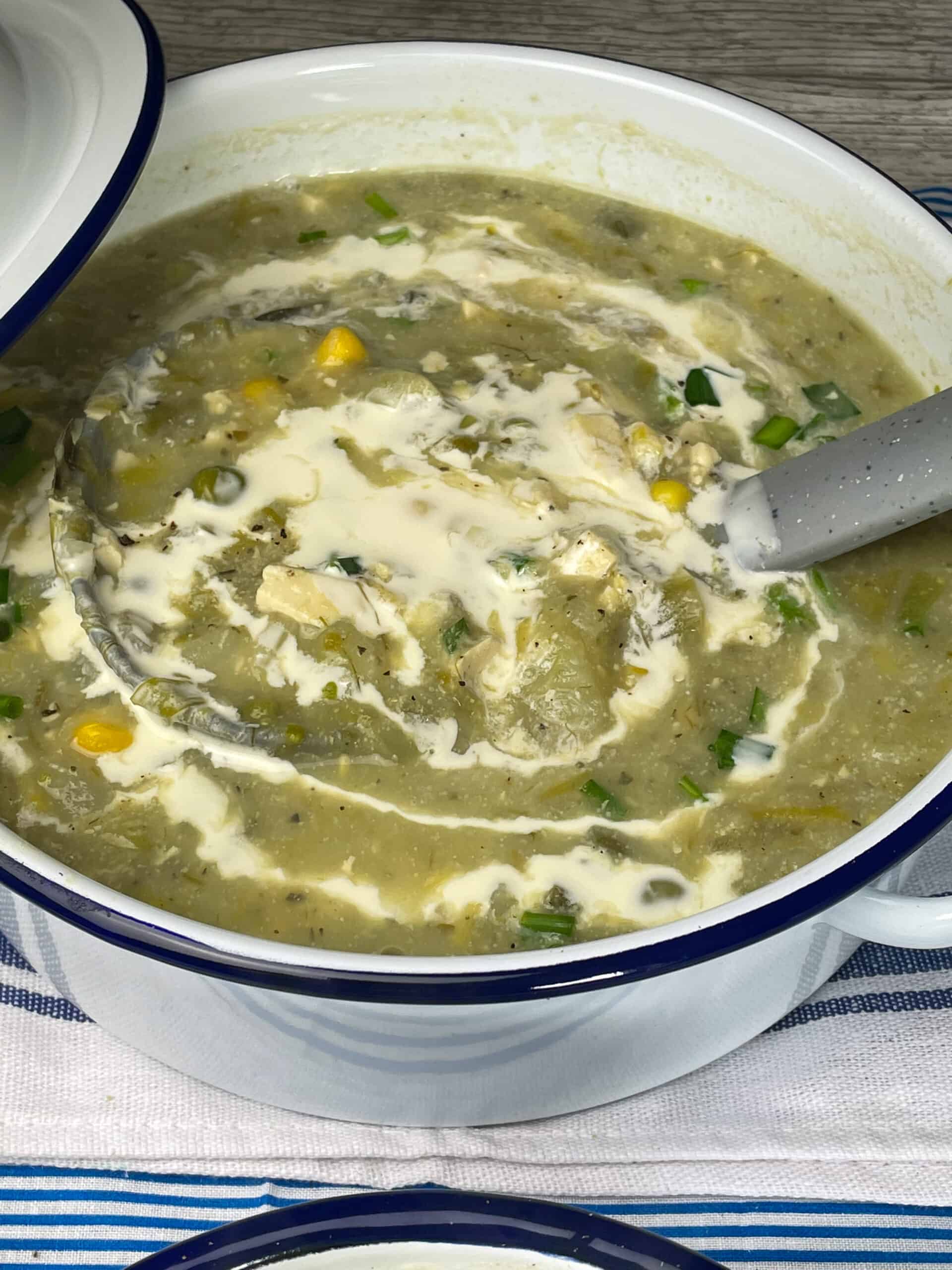 Now you have a few options - either remove a few cups of the chowder and blend, then pour back into the soup - or blend all the soup - or use a potato masher and just give the soup a wee mash - or leave all the soup unblended and un-mashed!
All options are equally delicious!
To finish the soup stir through the nutritional yeast flakes, season to taste, and drizzle plant-based cream over each serving and a sprinkle of chives or spring onions [green onions]
Recipe notes and FAQ's
Storing
Leftovers can be stored in the refrigerator for up to 3 days. Or freeze for 2-3 months.
Reheating
Pour leftovers into a non-stick pot and gently reheat until the chowder has been brought to the boil. Reheat for 1-2 minutes until piping hot but be careful not to fast boil in case the milk splits, and do stir frequently.
Is this recipe gluten-free?
Yes, it is easy to make this chowder recipe as gluten-free. First, use a gluten-free plain flour, or a gluten-free flour suitable for thickening soups, and ensure that your vegetable stock is also gluten-free. We often use Doves Farm gluten-free plain flour to thicken soups and sauces, and it works great. Although plant-based milk and cream are usually gluten-free, its always best to check the packaging for any shop-bought product just to be sure.
Is this a no-oil recipe?
Yes, the flavours of this soup are tasty enough so no oil or fat is required to saute the veggies. Instead we saute the veggies in a small amount of vegetable stock. However, if you do wish to use oil we have provided guidance for doing so within the recipe.

This recipe also uses plant-based cream and milk which may contain oil depending on the brand you choose, but further down this FAQ section, we have outlined many different types of plant-based cream and a few of those are oil-free, and as for the plant-milk you can always prepare home-made plant-milk that would be oil-free.
Can I make any substitutions?
Yes, as with all home-cooked soups the beauty in the recipe is the ability to be able to switch ingredients out for what you do have available or like best. Some suggestions:

* Switch out the tofu for a creamy white bean such as cannellini, haricot beans [navy beans], or butter beans [lima beans]

* Or replace the tofu with chopped mushrooms

* Use sweet potato instead of white potato however this will make the chowder sweeter and more colourful

* Replace all or part of the white potato with cubed celeriac or parsnips

* Replace the peas and corn for cooked barley, rice or green lentils

* Onions can replace the leeks

* Replace the nutritional yeast flakes with a tablespoon of white miso paste that has been well stirred through the cooked chowder

* Switch out the nutritional yeast flakes for a handful of grated vegan cheese or a few scoops of vegan soft cheese
What is plant-based cream?
Plant-based cream refers to a cream that is made with plant ingredients rather than dairy. It's often used as a substitute for dairy cream in cooking and baking, especially in vegan, plant-based and lactose-free diets.

Here are a few types of plant-based creams available:

1. Coconut Cream: This is extracted from the flesh of mature coconuts, and the cream is rich and has a distinct coconut flavour so if you don't want the taste of coconut in your recipe its best to use a different type.
2. Soy Cream: This is made from soybeans and is one of the most popular plant-based creams. It can be used for both sweet and savoury recipes as it tastes neutral, copes well with being heated, and is very creamy! A common one in the UK is Alpro single soya cream.
3. Almond Cream: This is made from blended almonds, and tastes nutty but is quite mild.
4. Cashew Cream: Cashews, when soaked and blended [1:1 ratio of cashews to water], produces a smooth, rich cream that's perfect for soups and stews. It is neutral in flavour and nice and creamy so is a popular choice.
5. Oat Cream: Produced from oats, this cream has a naturally sweet taste, making it suitable for both savory dishes and desserts. A popular brand in the UK is Oatley Oat cream.
6. Rice Cream: Made from rice, this is a less common cream alternative, it has a mild flavour and if you can source it, its a good choice.
7. Hemp Cream: Produced from hemp seeds, hemp cream has a unique flavour and is rich in omega-3 and omega-6 fatty acids so its worth using if you can find it in your stores or health shops.
8. Silken Tofu: This can be used as a cream substitute but it needs to be blended in a food processor or similar.
9. White Beans: This is a nice wholefoods choice as its basically white cooked beans such as cannellini beans or haricot beans [navy beans] blended in a food processor with some water until its at the consistency that you prefer.
Why is the tofu added to the chowder?
The tofu is added for additional textures as well as boosting the overall protein content.
What could I replace the tofu with?
If you would like to replace the tofu then a can of cannellini beans, or butter beans [lima beans] or haricot beans [navy beans] are all excellent replacements. Alternatively diced mushrooms can replace the tofu, or tempeh, or vegan chicken pieces, or canned brown lentils.
What is nutritional yeast flakes?
Nutritional yeast flakes are deactivated yeast. They have a cheesy, nutty flavour and are often used as a vegan cheese substitute in recipes especially for sauces, soups, stews, casseroles, and dishes such as mac and cheese.
Can the nutritional yeast flakes be replaced?
Yes, if preferred you could simply omit the nutritional yeast flakes and perhaps add a handful of vegan grated cheese instead, or mix through 1-2 tablespoons of white miso paste which will add a nice savoury flavour to the chowder.
What pairs well with vegan chowder?
As with any soup slices of bread, crackers, oatcakes, rolls, buns, baps, flatbreads, plain scones, cornbread, etc., are the ideal accompaniment. We especially love this Australian Damper Bread, and this Irish Soda Bread, and our Scottish Oatcakes for dunking in soup. And a warm Cornbread Muffin, Old-Fashioned Bran Muffin, Or Vegan Cheese Scone are always welcomed accompaniments.

If you would like a delicious sandwich along with your bowl of chowder then do try our Walnut and Celery Sandwich or our Ploughman's Baguette. A soup and a sandwich is a classic pairing and always makes for a delicious dinner or lunch.

We often like some crispy kale with our chowder and here is how we make it:

* Wash and pat dry the kale, removing any extra tough stalks
* Once dry lay the kale out on a baking sheet and bake at about 180 Fan, 200 Celsius, Gas 6, Fahrenheit 400 for around 10-25 minutes until crisp.
* You will likely need to shake the kale half way and check it carefully as it can burn really easily. Although one of my daughters seem to prefer the charred bits!
* Any seasonings can be mixed through through the kale before baking such as paprika, garlic powder, onion powder, mixed herbs, Cajun/fajita/barbecue/potato dry seasonings, etc.
* For a salt and vinegar batch of crispy kale add a few tablespoons of apple cider vinegar or balsamic and a sprinkling of sea salt.

Finally, for a fun, historical accompaniment why not prepare some hardtack which is an 18th Century, ship-biscuit. Hardtack is an authentic accompaniment for chowder and it can be stored in an airtight jar for many, many months!


More easy vegan soup recipes
We love easy vegetable packed soups as they are just so tasty, wholesome, and homely. Old-fashioned family favourites are even better as they have such interesting history and tradition as well as being so tasty.
For another corn based soup we love this Old-Fashioned Creamed Corn Soup and for another potato and leek based soup you can't get any better than our Traditional Scottish Potato and Leek Soup.
For extra quick easy soups that utilizes canned tomatoes and a few other pantry ingredients do try our Budget-friendly Tomato Soup.
And to make good use of a bag of cheap tatties or potatoes a big pot of Old-Fashioned Scottish Potato Soup is always a good idea!
For even more plant-based soup recipes do check out our ever expanding collection of Vegan Soup Recipes which are perfect for vegans, vegetarians, plant-based diets, flexitarians, allergies, everyone and anyone really!
***please note: for US measurements click the 'US customary button' within the recipe and the measurements will switch to tablespoons, cups, and ounces.***
Recipe
Vegan Potato, Leek, and Corn Chowder
Print Recipe
This Vegan Potato, Leek, and Corn Chowder recipe is a tasty, creamy, savoury bowl of plant-powdered goodness. Its so easy to prepare and you can have a pot ready in just under an hour which is perfect for those busy days when you need fast flavourful comfort food.
Equipment
Large non-stick soup pot, Dutch oven pot, or similar

Immersion stick blender or food processor, or potato masher

optional
Ingredients
To sauté veggies:
240

millilitres

vegetable stock

[or 1-2 tablespoons of oil or vegan butter]
For the chowder:
530

grams

potatoes

[diced]

430

grams

leeks

[3-4 small leeks or 2 larger, sliced.]

150

grams

sweetcorn

[fresh, tinned or frozen.]

150

grams

peas

[fresh, tinned or frozen.]

130

grams

celery

[About 2 stalks, thin sliced]

4

cloves

garlic

[minced or fine chopped]

1

tablespoon

dried mixed herbs

1

bay leaf

2

teaspoon

garlic powder

150

grams

firm tofu

[chopped into bitesize pieces, or replace with a 400g, 14oz can butterbeans or cannellini beans, drained.]

2

tablespoon

plain flour

[all-purpose flour or use gluten-free flour]

1

litre

vegetable stock

375

millilitres

plant-based milk

[or your usual milk]

4

tablespoon

nutritional yeast flakes
Optional, garnish:
180

millilitres

plant-based cream

[use more or less as preferred, drizzle cream over each serving]

6

tablespoons

chives

[or spring onions, sliced small]
Instructions
Bring the vegetable stock to a gentle boil or if using oil heat this over a medium heat.

240 millilitres vegetable stock

Add the leeks, celery, fresh garlic, dried herbs, and a bay leaf, place a lid on the saucepan and sauté for10 minutes, stirring frequently and checking the stock levels. Add a few extra tablespoons of stock if it looks like the veggies might stick to the pot.

(If using oil instead of stock, keep the lid off, stir frequently, and cook for 5-8 minutes over a low-medium heat)

430 grams leeks,

130 grams celery,

4 cloves garlic,

1 tablespoon dried mixed herbs,

1 bay leaf

Remove the lid and cook for a further 2 minutes, stirring frequently,

Next, stir through the flour and garlic powder and mix well to incorporate.

2 teaspoon garlic powder,

2 tablespoon plain flour

Add the potatoes, tofu, sweetcorn and peas and stir well.

530 grams potatoes,

150 grams sweetcorn,

150 grams peas,

150 grams firm tofu

Pour in the vegetable stock and mix well.

Over a high heat, bring to the boil.

Lower the heat and simmer for 20-25 minutes, or until the potatoes and veggies are nice and soft.

Stir occasionally to ensure the chowder doesn't stick to the bottom of your pot.

Next, stir the milk through the chowder.

375 millilitres plant-based milk

At this stage you can blend about 2-4 cups of the chowder and then mix the blended chowder back through the chowder in the pot, as this gives the chowder a creamier thicker texture.

However don't blend until completely smooth, just a few pulses of the food processer is enough or a few whizzes with an immersion stick blender.

Alternatively, give the soup a mash with a potato masher, although not too much so as to retain chunks of veggies and tofu.

***[If using a food processor or stand blender do check that it is suitable for blending hot soup as some are not. Do consult your appliance guidebook for advice and wait for the soup to cool if necessary]***

Next, stir through the nutritional yeast flakes and season with salt and pepper to taste.

4 tablespoon nutritional yeast flakes

If your chowder has cooled just bring back it back to a boil, stir frequently, and then remove from the heat.

Optional: Drizzle plant-based cream over each bowl of chowder and give it a little mix so that the chowder is nice and creamy, and sprinkle over the chives.

180 millilitres plant-based cream,

6 tablespoons chives
Notes
Nutritional data is provided for guidance and is not an exact calculation as ingredients vary. 
Nutrition data includes the plant-based cream and chives, if the cream is omitted calories are roughly 261 per bowl.
Store leftovers in the fridge, within a covered container, for up to 3 days.
Or freeze for 2-3 months.
Reheat by gently bringing to the boil and heat through for a minute or so, stirring, until piping hot.
For gluten-free chowder use a gluten-free vegetable stock and a gluten-free plain flour.
The nutritional yeast flakes can be replaced with 1-2 tablespoons of white miso paste although ensure this is stirred properly throughout the chowder. Perhaps remove a small portion of chowder and mix the miso paste through before returning it to the chowder as small clumps of unmixed miso can be very strong tasting!
Nutrition
Calories:
343
kcal
|
Carbohydrates:
59
g
|
Protein:
13
g
|
Fat:
8
g
|
Saturated Fat:
2
g
|
Polyunsaturated Fat:
4
g
|
Monounsaturated Fat:
0.4
g
|
Sodium:
1035
mg
|
Potassium:
846
mg
|
Fiber:
8
g
|
Sugar:
15
g
|
Vitamin A:
2264
IU
|
Vitamin C:
40
mg
|
Calcium:
212
mg
|
Iron:
4
mg
Prepared our Vegan Potato, Leek, and Corn Chowder? We would love to know how you got on with the recipe so do pop back and drop us a comment below, and click the star ratings. All feedback is very much appreciated. Thanks so much, Jacq x