This Old-Fashioned Scottish Potato Soup recipe is similar to the bowls of hearty, hot steaming soup that nourished many a Scots throughout the centuries. Scottish potato soup is a homely meal prepared with budget-friendly ingredients but is humbly delicious and incredibly easy to prepare. This potato soup recipe will easily and quickly become a much loved family menu staple.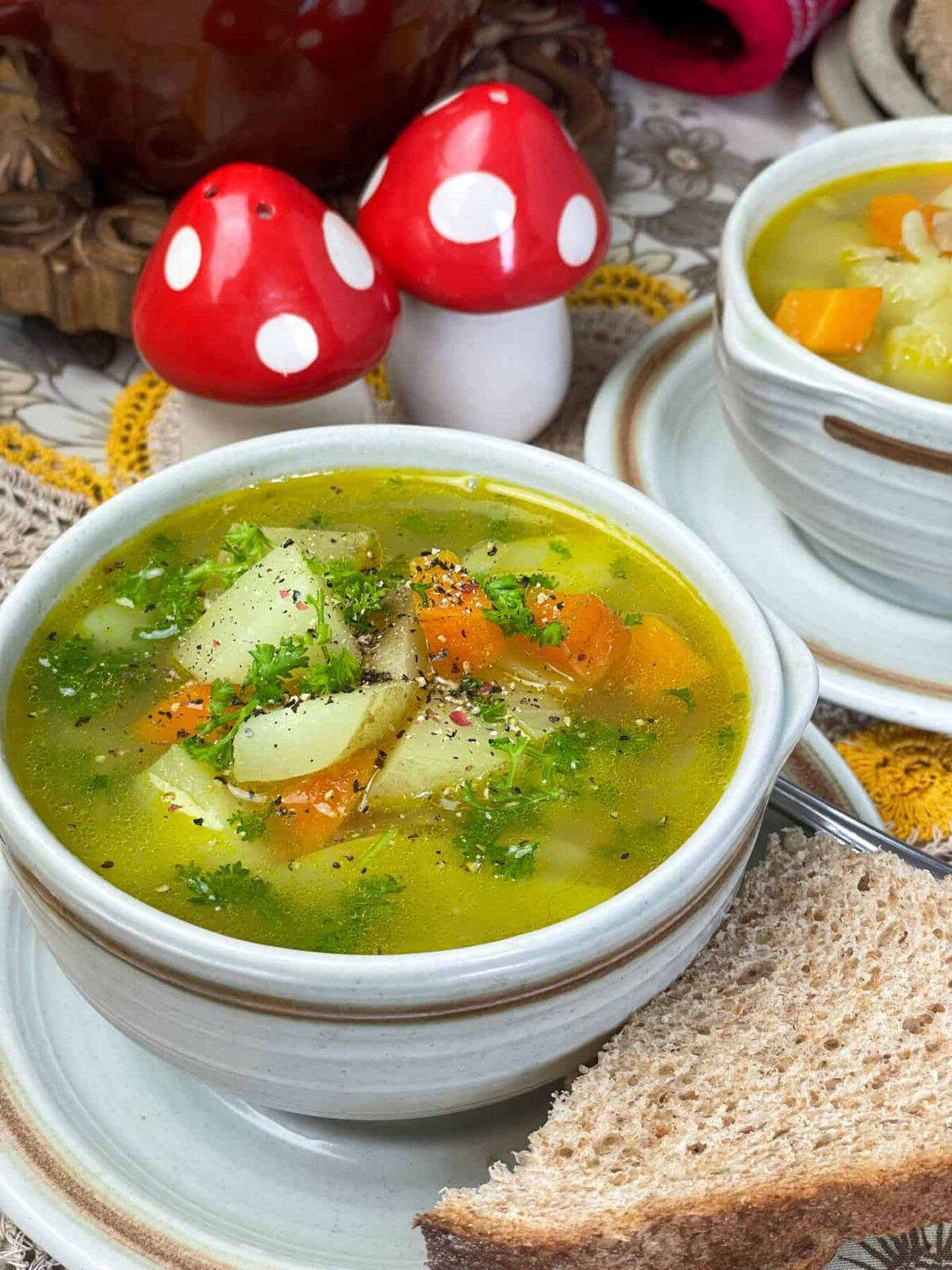 This Old-Fashioned Scottish Potato Soup is perfect for budget-friendly tasty meals as only a few inexpensive pantry staples are required. Humbly delicious.
Jump to:
📜 History of potato soup
Most countries around the world have their own tasty versions of potato soup as historically potatoes have been such a successful and economical veggie crop that have the potential to grown almost anywhere with not much effort.
Potatoes were being cultivated as an agricultural crop in Scotland by around the mid 1700s but richer Scottish folk were already enjoying potatoes since the 1600s. At first the poorer Scots were quite suspicious of the odd looking potato!
Potatoes soon became a valuable and dependable crop for poorer Scots and when the potato famine struck in 1845 Scots were adversely affected, but not to the same tragic degree of their Irish neighbours.
For more information about the Irish potato famine do have a look at our Old-fashioned Irish potato soup recipe post.
Adding potatoes to soup and stews created a cheap but sustainable meal that provided a budget-friendly that was surprisingly high in nutrients.
Contrary to many popular beliefs, white potatoes are naturally fat-free and do contain valuable nutrition. Among many other benefits, potatoes are a good source of antioxidants, provide a good doze of vitamin C, B vitamins, and are high in dietary fibre.
Nowadays, potatoes are very much ingrained into the Scots diet with many much loved national dishes incorporating potatoes.
🔪 How to prepare
Scottish potato soup is incredibly simple to prepare and it is the humbleness of this soup that results in its deliciousness.
However, if preferred do treat this recipe as a foundation for other tasty soupy concoctions. Such as add extra veggies, herbs, and perhaps some cooked or quick cooking pulses or grains, to the soup for endless variations.

Also, this soup recipe can be prepared with oil or margarine or with a small amount of vegetable stock for an oil-free potato soup. For gluten-free potato soup use a gluten-free vegetable stock or broth.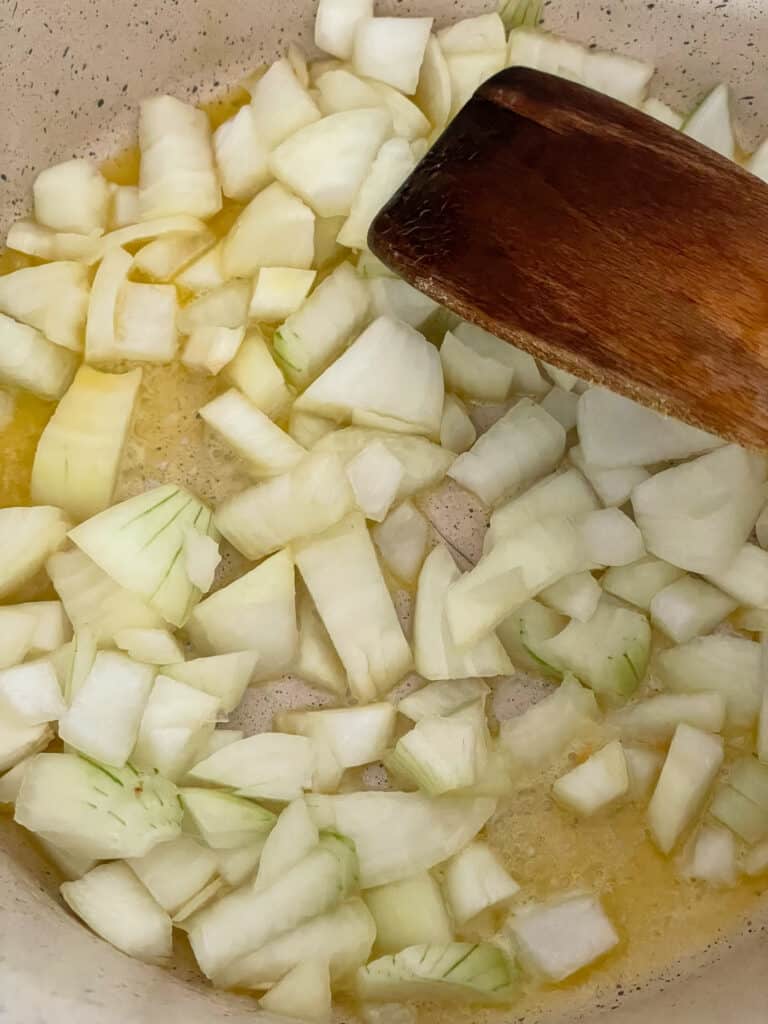 Step 1: First, melt the margarine [or alternatively heat ½ cup of veggie stock] within the soup pot.
Step 2: Add the onions and cook for about 5 minutes.
Step 3: Add the carrots and cook for a further 3 minutes.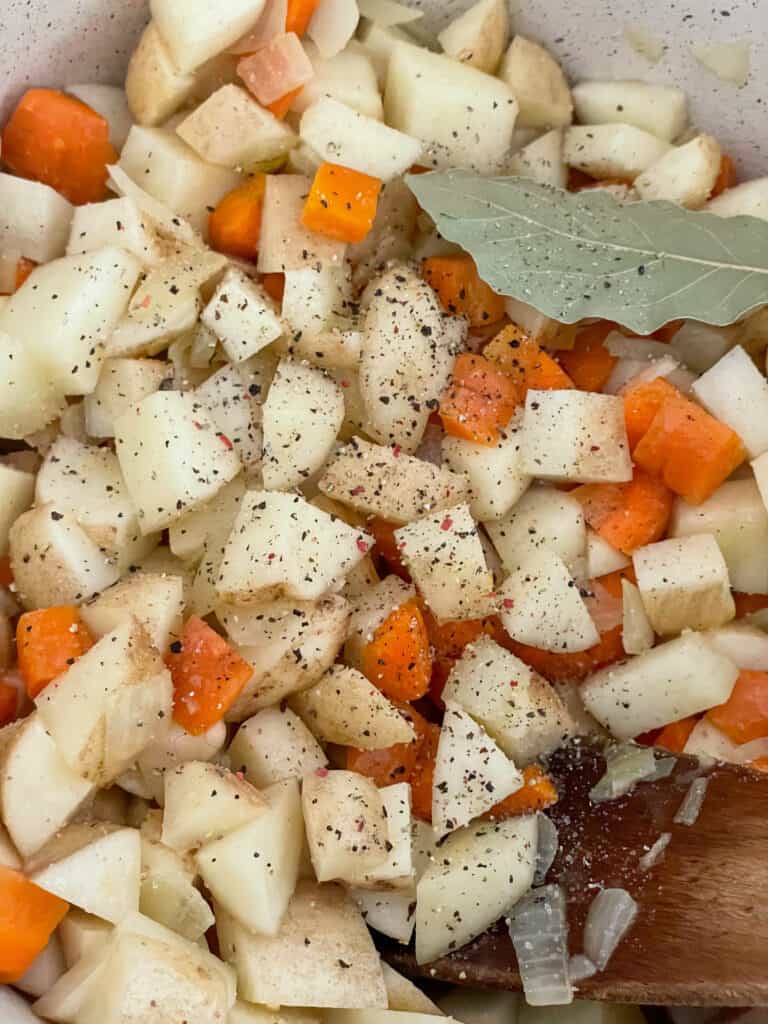 Step 4: Pop in the potatoes along with a bay leaf.
Step 5: Season with a little salt and pepper.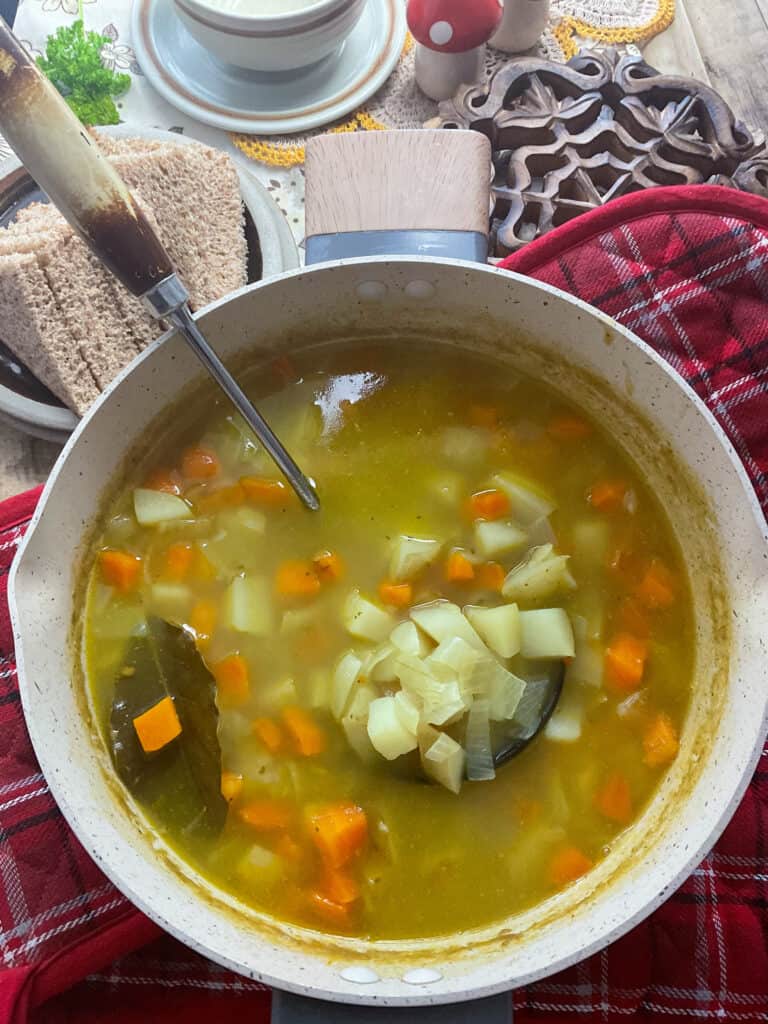 Step 6: Pour in the hot veggie stock.
Step 7: Bring to the boil and simmer for 20-25 minutes until the veggies and potatoes are soft.
Step 8: Dish up with fresh chopped parsley or your favourite herb. Extra pepper is also tasty and add extra salt if necessary.
A slice or two of wholemeal bread or a few crackers for soup dunking is a nice accompaniment.
📋 Recipe notes
⏲️ Storing
Potato soup is best stored within the refrigerator and will keep fresh for up to 3 days.
Or freeze for 2-3 months. Thaw completely before reheating.
🥘 Reheating
To reheat potato soup, pour the leftovers into a saucepan and bring to a boil. Reduce the heat and simmer for 1-3 minutes until piping hot. Give the soup a stir every now and again. If necessary a little extra water or stock can be added to the soup before reheating, especially if you wish to stretch one portion of soup into two portions.
Or reheat the potato soup within a microwave, stirring a few times between each 1-2 minutes of reheating, and continue until the soup is piping hot throughout.
📖 FAQ'S
*** As we are a vegan and plant-based food blog all our recommendations are for vegan ingredients, but of course if your diet is different feel free to use whatever ingredient you normally use or perhaps give the vegan ingredient a try and be surprised! You don't have to be vegan to make use of our family recipe blog as everyone is very welcome!
For more meat-free adaptions of popular traditional Scottish meals which feature potatoes - have a look at our vegan classic Scottish Mince and Tatties, and our Vegan Stovies [simple meal with potatoes, veggie sausages, onions and gravy], and this delicious hearty meal-in-a-bowl vegan Scotch Broth soup and this Traditional Potato and Leek Soup. And best of all, our all-time family favourite soup - Scottish Lentil Soup.***
Is potato soup suitable for a gluten-free diet?
Yes, potato soup is perfect for gluten-free diets and the main considerations is that you use a certified gluten-free stock, and if using a vegan margarine or butter also check that it is free from gluten ingredients.
Can anything else be added to this potato soup recipe?
Other ingredients are generally not necessary for this tasty potato soup recipe but of course extras can be added for variety. Or if you have the odd veggie languishing within the refrigerator that would benefit from being chucked into the soup pot, then do add it!

A few suggestions:

* add about a ½ cup of rinsed and drained red split lentils which will thicken up the soup and add extra nutrition and tastiness

* add a ¼-1/2 cup of quick cook rice along with the potatoes. Or if a wholegrain, brown, black, or red variety of rice is preferred consider the increased cooking times and perhaps pre-cook the rice before adding to the soup

* a few sticks of diced celery will add extra flavour and texture

* a cup of diced turnip, swede, or rutabaga is a tasty addition

* chuck in a diced parsnip or two

* a ½ cup of diced celeriac is also yummy

* a few diced or minced garlic cloves are perfect for fortifying the soup with plant goodness, especially beneficial during the chilly months to help keep viruses and cold bugs at bay

* any fresh or dried herbs can be added along with the potatoes, such as parsley, lovage, dill, fennel, thyme, rosemary, sage, oregano, mixed dried herbs, etc [although do consider how each herb will change the flavour of the finished soup]

* for a spicy soup add a teaspoon or two of mild or hot chilli powder at the same time the potatoes are added to the soup, or perhaps some paprika or a pinch of cayenne pepper

* fancy a curry flavoured soup? Add a few teaspoons or a tablespoon of your favourite curry powder at the same time the potatoes are added to the soup

* add a drained can of cooked beans, such as butterbeans, pinto beans, kidney beans, cannellini beans, haricot beans, etc
Can any of the ingredients for potato soup be substituted?
Any substitutions will change the overall flavour and perhaps the name of the finished soup!, but seeing as this is your homecooked soup feel free to modify any of the ingredients to your own preferences and needs.

A few suggestions:

* sweet potatoes or butternut squash can replace the white potatoes or carrots

* replace the potatoes for celeriac or parsnips

* instead of onions use leeks

* use your preferred stock cubes, powder, or paste, or broth, or a home-made stock or broth
Can I prepare this soup as oil-free?
Yes of course. As this is a humble soup prepared with a few ingredients sauteing the vegetables in a little margarine, butter, or oil, does add extra flavour, but this can be omitted if your on a no-oil diet.

Instead, use ½ cup [120 millilitres] of vegetable stock or broth to saute the vegetables, and add a few extra tablespoons whenever the pot drys out. Using small amounts of vegetable stock, as opposed to large amounts, can help release the flavours of the vegetables.

If your soup needs a flavour boost at the end of cooking, a tablespoon or two of white miso paste can be stirred through the soup in the pot, just make sure it dissolves completely in the soup as it can taste quite strong if you come across a bit of paste whilst eating the soup! Alternatively, stir through a few tablespoons of nutritional yeast flakes which can provide a nice effective flavour boost.
What can be used to garnish potato soup?
Even though potato soup is so simple and easy to prepare, a nice garnish can elevate the humble soup to something that is perfect for dinner parties, family get-togethers, and other special meals.

This recipe generally only needs a few tablespoons of fine chopped parsley as the flavour of this herb goes really well with the potatoes. Although the following ideas are also nice:

* a few teaspoons of nutritional yeast flakes

* a tablespoon or so of shredded vegan cheese

* a sprinkle of red pepper, paprika or chilli flakes

* a dusting of paprika, especially sweet or smoked

* toasted or plain sunflower or pumpkin seeds
[These can be prepared by dry frying the seeds for a few minutes, in a small pan until tinged with golden, add a pinch of salt for extra flavour. Shake the pan often to prevent burning. Sunflower seeds compared to other seeds or nuts tend to be inexpensive, so its worthwhile purchasing a bag for toasting and adding to soups for extra nutrition. Or even just eating for a filling snack]

* bread croutons
[check out our Old-Fashioned Cream of Swede [rutabaga] Soup which includes a delicious simple crouton recipe which is perfect for using up stale bread]

* fresh herbs such as parsley, dill, thyme, chives, etc

* diced or sliced spring onions [otherwise known as green onions/cybies]

* a sprinkle of vegan bacon bits or pieces

* chopped up cooked vegan sausages

* chickpea croutons [we have an easy recipe for these over on our Curried Cauliflower Soup recipe]

* a swirl of plant cream or a scoop of vegan sour cream or creme fraiche
What is the best potato to use for potato soup?
Honestly the best potato for potato soup is whatever variety of potato that you have to hand. Although some potato types may loose some texture whilst boiling particularly the types used for mashed potatoes, it really won't affect the finished flavour or wholesomeness of the potato soup.

However, if you do prefer your potatoes to retain their integrity and be soft but firm at the end of cooking, choose a potato variety such as new/baby potatoes, charlotte potatoes, Yukon Gold, Maris Piper, red potatoes, russet potatoes, ordinary white potatoes, etc.

The type of potatoes that were used for this Scottish potato soup recipe was Carlingford and were grown at my daughters Scottish allotment plot. Carlingford potatoes are meant to be a salad potato but they were firm, creamy and perfect for this soup recipe.

Whatever potatoes are used for this potato soup, do retain the skins if possible and if unblemished, as they contain valuable nutrition. Just scrub the skins gently until nice and clean.

Image below: The large potatoes are Carlingford variety whilst the couple of smaller ones are an unknown variety! Both home-grown at my daughters allotment plot.


🥔 More easy potato soup recipes
Potatoes are easy to grow, incredibly budget-friendly, wholesome, versatile, and can be prepared in so many different ways, that we have lots of potato recipes on our family recipe blog as we enjoy potatoes practically every day. But we do especially love a potato soup so we have lots of potato soup recipes on our family recipe blog![and many, many more potato recipes to be added!]
🥣 Even more soup recipes featuring potatoes
For more veggie packed recipes do check out our growing family recipe collection of Vegan Soup Recipes and enjoy a new soup each week or several new recipes each week throughout the chillier months! Although for our family in rural Scotland, living on a Scottish island, means that it's soup season every day of the year! Although our recipes are vegan you can use your usual ingredients if your dietary needs are different.
***please note: for US measurements click the 'US customary button' within the recipe and the measurements will switch to tablespoons, cups, and ounces.***
📖 Recipe
Old-Fashioned Scottish Potato Soup
Print Recipe
Warm, hearty Old-Fashioned Scottish Potato Soup is so tasty and welcoming especially on those cold weather days.
Enjoy with a chunk of your favourite crusty bread or a few crispy oatcakes for a deliciously humble meal.
Equipment
1 large soup pot, Dutch oven, or similar pot
Ingredients
For sauteing:
2

tablespoons

margarine

[or an oil such as sunflower or rapeseed oil [or replace with ½ cup of veggie stock for an addedfat-free soup]
Tasty soup:
1

large

onion

[diced, about 250 grams chopped onion]

850

grams

potatoes

[cubed into 1-2 ½ cm rough chopped pieces]

2

medium

carrots

[cubed into 1-2 cm square rough chopped pieces, about 250 grams prepped carrots]

1

bay leaf

1.5

litres

vegetable stock

[hot, or use your usual stock or broth]
Garnish: [optional]
4

tablespoons

parsley

[chopped, or replace with chives or spring onions]
Instructions
Heat the margarine or veggie stock in the soup pot.

Add the onions and cook on low-medium heat for 5 minutes. Give it a stir every now and then.

Add the carrots and cook for another 3 minutes, stirring occasionally.

If necessary add a few splashes of hot water or vegetable stock to loosen up the veggies if they begin to stick to the pot.

Next pop in the potatoes, along with the bay leaf and season with a little salt and pepper.

850 grams potatoes,

1 bay leaf

Pour in the hot vegetable stock, turn the heat up, and bring to the boil.

Lower the heat to medium and simmer for 20-25 minutes until the veggies are soft.

1.5 litres vegetable stock

Season with salt and pepper to taste.

Remove the bay leaf.

Scatter some chopped parsley over each bowl, if using.

Ladle into bowls and serve with some nice bread or oatcakes.

Wholemeal bread is especially tasty with this Scottish potato soup.
Notes
Nutritional information is provided for guidance only and is not a strict calculation as ingredients vary.
Leftover soup is best stored within the refrigerator for up to 3 days. 
Or freeze for 2-3 months.
Thaw completely before reheating.
Reheat in a saucepan, simmering for a few minutes, until piping hot throughout. Or reheat in a microwave until piping hot.
To stretch one portion of leftover soup into two, simply add extra vegetable stock. Or some milk to create a creamy potato soup.
Any potato is fine for potato soup but some potato varieties may hold up better during simmering [such as new/baby or Charlotte potatoes] and others may fall apart [such as those types of potatoes that make great mashed potatoes], but its no matter as the soup will be delicious regardless. So just use whatever potatoes you have access to.
Potato soup is even more tastier the next day, so leftovers are perfect for quick and easy lunches or light meals. A cup of hot potato soup along with a tasty sandwich or a slice or two of toasted wholemeal bread is perfect cold weather human fodder!
As we are a vegan and plant-based food blog all our suggestions will include vegan ingredients, but of course if your diet is different feel free to use whatever ingredient you normally use or perhaps give the vegan ingredient a try and be surprised! You don't have to be vegan to make use of our family recipe blog as everyone is very welcome!*
Nutrition
Calories:
169
kcal
|
Carbohydrates:
33
g
|
Protein:
3
g
|
Fat:
3
g
|
Saturated Fat:
1
g
|
Polyunsaturated Fat:
1
g
|
Monounsaturated Fat:
1
g
|
Trans Fat:
0.02
g
|
Sodium:
1048
mg
|
Potassium:
715
mg
|
Fiber:
4
g
|
Sugar:
5
g
|
Vitamin A:
4342
IU
|
Vitamin C:
35
mg
|
Calcium:
35
mg
|
Iron:
1
mg
💬 Comments
Prepared this Old-Fashioned Scottish Potato Soup recipe? It is one of our family's favourites so we would love to hear what you thought of it too! Do leave us a comment below and click the star ratings. Thanks so much! Love Jacq x