Our Vegan Traditional Welsh Cakes or Bakestone Cakes are so easy and quick to prepare. There's nothing better than a Welsh cake hot from the pan and dusted with sugar. Or split a cake in two and spread with butter for a satisfying breakfast, elevenses' or snack. Bakestone cakes are one of those traditional homely recipes that are filled with nostalgia and fond memories especially for goodly Welsh folks who can recall the images and aromas of their nain or mam-gu [grandma] or mam [mum] preparing delicious Welsh cakes for the family.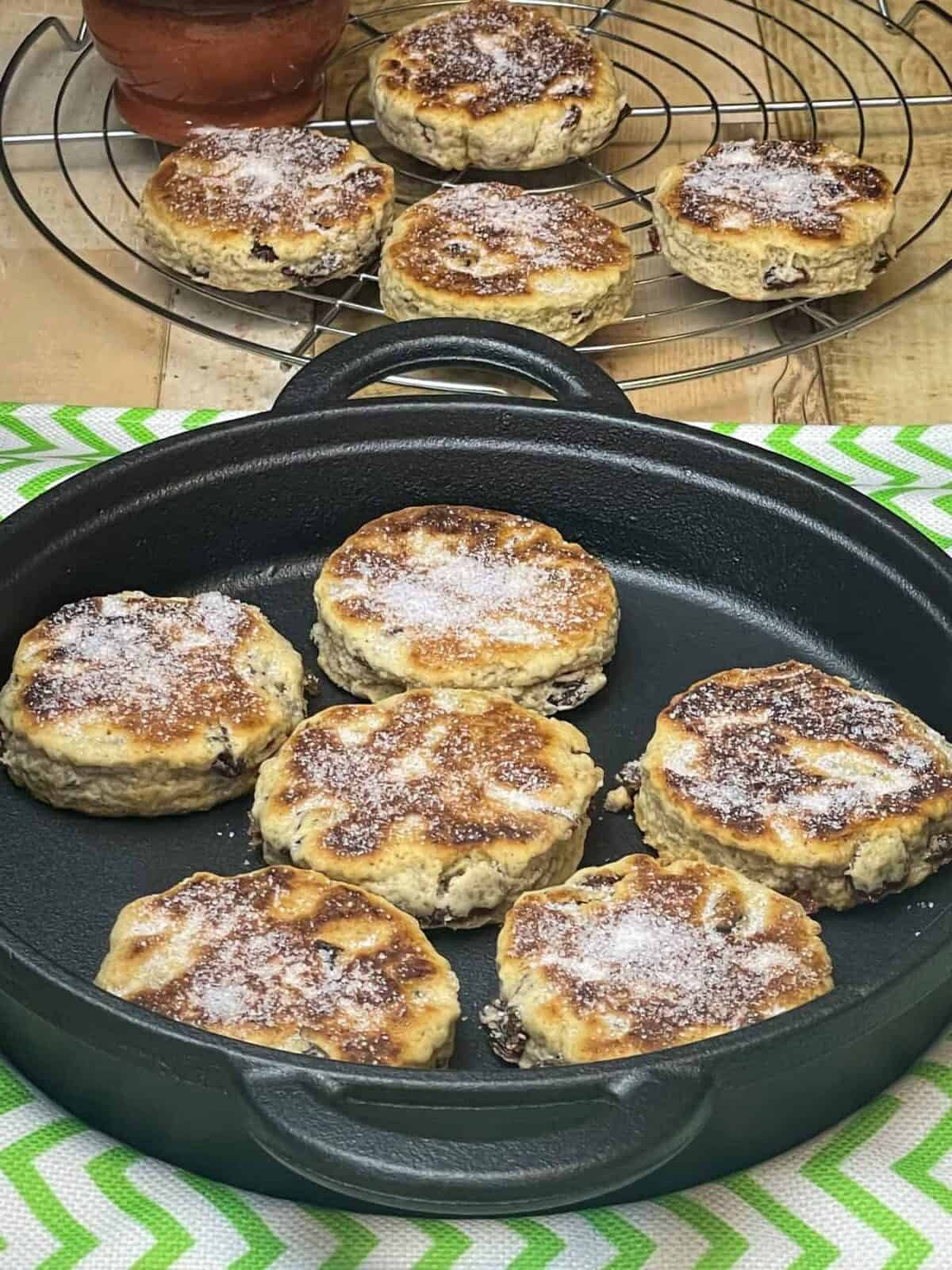 Welsh Cakes or Bakestone cakes are a type of traditional Welsh quick bread that are baked on a griddle, bakestone, skillet, or even using an electric hotplate such as a pancake maker. They are delicious enjoyed warm sprinkled with sugar and a pat of vegan butter.
Jump to:
🌍 Origin of Welsh cakes
Welsh cakes are also called bakestone cakes as they are traditionally cooked on a flat cast iron bakestone which is similar to a flat griddle pan.
Welsh cakes are described as being somewhat like a scone or British rock cake, as well as having hints of American style biscuits.
Some even claim that Welsh cakes are similar to pancakes but we would say Welsh cakes are mostly like a cross between a British scone and a rock cake, and an English muffin thrown in, although with a crisper edge.
Bakestone cakes were originally developed as a portable flat sweet bread or cake for coal miners to enjoy while they were working in the underground dusty coal mines. Welsh cakes were easy to wrap and travelled well so were the perfect sustaining, pick-me-up snacks.
🥬 Vegan Welsh cakes
Our recipe for vegan Welsh cakes is really simple and easy. Traditional Welsh cakes are usually prepared with lard and eggs. However, we find that vegan margarine works perfectly fine.
For this recipe we used Flora dairy-free margarine as we find this margarine to work well in vegan baking giving a nice flavour and texture. Although Stork baking spread works well too.
Try not to use any of the lite or reduced fat margarine spreads as we have found these not to be that great for baking as they tend to contain more liquid.
Once the Welsh cake dough is prepared the little cakes can be cooked using a non-stick skillet, fry pan, bakestone pan, pancake or crepe pan, etc., with a little bit of vegan margarine, butter or vegetable oil wiped across the pan if necessary.
We used an electric pancake [crepe] maker which is simply a heat adjustable circular hotplate that plugs into the electric socket. These pancake makers are not just for pancakes though, as they are so useful for pancakes, crepes, flatbreads, naan breads, tortilla wraps, and chapatis and oil is required.
The Welsh cakes require about 3-5 minutes cooking per side over a medium-high heat, possibly a minute or so longer, just until the insides are fully baked.
Once the Welsh cakes have risen and are nicely golden they can be dusted with granulated sugar and placed onto a cooling rack.
These cakes are especially good with a pat of vegan butter placed over the top of each Welsh cake whilst they are hot as the butter melts deliciously into the cake. Fruit jam is also a tasty accompaniment.
🥣 How To Prepare
The ingredients for these Welsh cakes are everyday staples - plain flour [all-purpose flour], baking powder, granulated sugar, margarine or baking butter, mixed spice powder, ground cinnamon, raisin's, and plant-based milk such as soya, oat, or almond. However, you can use your usual milk and baking margarine or fat.
Step 1: Sift the flour and baking powder into a bowl and stir through the sugar.

Step 2: Add the margarine in clumps and using your fingertips rub the margarine into the flour mix until it resembles breadcrumbs.
Step 3: Stir through the raisins, ground cinnamon and mixed spice powder.

Step 4: Pour in plant-based milk and stir.
Step 5: Bring the mix to a ball of dough. Place the dough onto a floury surface and knead until smooth.
Step 6: Pat the dough down a little and using a rolling pin roll out until about ¾ cm thick. Using a biscuit or cookie cutter stamp out the cakes. Repeat until the dough has been used up.
Step 7: Cook each Welsh cake side for 3-5 minutes. When ready the Welsh cakes will have risen and be golden on each side.

Step 8: Dust with sugar and place on a wire rack to cool. Welsh cakes are at their best eaten warm just after cooking.
🧾 Recipe Notes
⏲️ Storing
Welsh cakes can be stored with a food or bread bag or covered container for 3-4 days. They do not need to be refrigerated. They are at their freshest on the day of cooking but will still be delicious on subsequent days especially reheated or toasted [broiled].
🌡️ Freezing
Wrap each cake with food wrap and and place into a freezer-proof bag for up to 2-3 months. Unwrap and thaw to room temperature.
♨️ Reheating
The cakes can be reheated in a warm oven for 5-10 minutes or until warmed through.
Alternatively, place the cakes onto a hot bakestone, skillet, fry pan or hotplate for a few minutes each side until warmed through.
Once hot, a pat of vegan butter or margarine placed over the cake surface to melt is especially tasty. Or spread with a little fruit jam.
📋 FAQ'S
Can I cook these without oil?
Yes, if you have a non-stick pan or a pancake or crepe maker hot-plate then these cakes can be easily cooked with no oil. However, for some types of pan or skillet you may need to add a small amount of oil to prevent sticking and to give a golden finish to the cakes.

If using a traditional Bakestone or cast iron skillet you may need to pre-season or use a small amount of oil.

Although, instead of oil you could use a pat of vegan margarine or vegan butter. For some pans using a bit of oil or vegan margarine can improve the flavour and texture of the Welsh cakes by helping to achieve a slightly crispy surface.

If you're trying to reduce oil usage, you can certainly experiment with using less or omitting it. Just keep a close eye to ensure the cakes don't stick. So at first, do a tester Welsh cake and see how it goes with no-oil, a small amount of oil, etc.

Can I substitute the raisins?
Yes dried currants or sultanas, or even dried cranberries for a batch of Thanksgiving or festive Welsh cakes, are all good raisin alternatives. However, you can also omit the dried fruit if preferred and perhaps use some finely diced fresh apple.
Can I omit the ground spices?
If preferred the ground spices can be omitted as some Welsh cake recipes do not include spices.
Could I use a different ground spice?
Yes, you can use any ground spice or spice mix that you have available such as = ground cardamon, ginger, nutmeg, allspice, cloves, pumpkin spice powder, apple pie spice mix, etc. You could always mix and match and create your own spice blend.
Can I substitute the ground spices?
A nice change from ground spices are one of the following - a teaspoon of vanilla extract or almond extract, zest of a lemon, orange, grapefruit, or lime. You could even add a handful of chocolate chips or drops.
Are Welsh cakes similar to pancakes and crumpets?
Yes and no. Although a Welsh cake can be treated in the same fashion as a pancake or crumpet - such as enjoyed for breakfast or elevenses' with the same toppings, spreads, and sides such as sliced banana, blueberries, and yogurt - there are differences in texture between them.

Although, Welsh cakes, pancakes, and crumpets can all be cooked on a griddle or hotplate and share similar ingredients - flour, baking powder, sugar, fat [such as margarine or butter], and milk - the finished texture is different.

A Welsh cake is more dense compared to fluffier pancakes or airy holey crumpets. However, all three can be enjoyed with a pat of butter melted on the top soon after cooking.
What can I serve with Welsh cakes?
Welsh cakes and a cup of tea is the perfect morning snack. But they are also quite nice with a cold glass of plant-based milk or a hot mug of coffee.

These cakes are also great with a slice of vegan cheese.

Fresh fruit and yogurt can turn the cakes into a hearty breakfast. Fruit jam, preserves, and marmalade's are all tasty spreads for a just cooked Welsh cake or a toasted Welsh cake.

Alternatively, a Welsh cake can be enjoyed along with a cooked vegan breakfast such as a our tasty Smoked Tofu Kedgeree or a plant-based version of a full Scottish breakfast - sauteed mushrooms or creamed mushrooms, baked tomatoes, scrambled chickpeas or creamed chickpeas, potato scones, vegan bacon, veggie sausages, baked beans, etc., which is very delicious for a special festive or celebratory breakfast.

⭐ More vegan traditional Welsh recipes
***please note: for US measurements click the 'US customary button' within the recipe and the measurements will switch to tablespoons, cups, and ounces.***
📖 Recipe
Vegan Traditional Welsh Cakes
Print Recipe
Welsh cakes are one of those tasty traditional bakes that rouse fond memories amongst many folks. Vegan Welsh cakes are just as good. These cakes are portable little gems that are delicious and perfect for filling up hungry bellies!
Equipment
Mixing bowl

sieve

Rolling pin

2 ¾ inch cookie or biscuit cutter

[around 7 ½ cm diameter]

Non stick skillet or fry pan.

[or a bakestone or electric hotplate such as a pancake maker]
Ingredients
To cook the cakes:
1

tablespoon

oil

[if using a non-stick hotplate this may be omitted]
Bakestone cakes:
200

grams

plain flour

[sifted, or all-purpose flour] [plus extra for dusting work surface]

2

teaspoons

baking powder

[sifted]

60

grams

granulated sugar

[or caster sugar]

80

grams

vegan margarine

[or vegan butter]

80

grams

raisins

[or currants or sultanas]

1

teaspoon

mixed spice powder

[or apple pie spice mix or pumpkin pie spice]

¼

teaspoon

ground cinnamon

4 ½

tablespoons

plant-based milk

[or enough to form a dough]
Sprinkle over cooked cakes:
1

tablespoon

granulated sugar

[or caster, use more as required]
Instructions
Sift the flour and baking powder into a mixing bowl. Stir through the sugar.

200 grams plain flour,

2 teaspoons baking powder,

60 grams granulated sugar

Add the margarine in chunks into the bowl.

Using your fingertips rub the margarine into the flour mixture until the mix resembles breadcrumbs.

Stir through the raisins, cinnamon and mixed spice powder.

80 grams raisins,

1 teaspoon mixed spice powder,

¼ teaspoon ground cinnamon

Pour in the milk (just enough) to bring the mixture into a ball of kneadable dough. You'll likely need about 4 ½ tablespoons but possibly a little more or less.

4 ½ tablespoons plant-based milk

Knead the dough on a floured surface for a minute or so until smoothish.

Roll out the dough to about ¾ cm thick or about a ⅓ of an inch thick.

Sprinkle extra flour over the dough, and on the rolling pin if necessary to prevent sticking.

Dust the cookie cutter with a little flour and stamp out rounds.

Bring the ends of the dough back together, knead and roll out, and continue until the dough has been used up.

This recipe using a 2 ¾ inch (7 cm) cutter so will yield around 9-10 Welsh cakes.

While cutting the cakes into rounds heat your skillet or pan to a medium-high heat. Once hot the pan can be carefully brushed with a little oil or melted vegan margarine if necessary.

Or switch an electric pancake maker to the medium-high setting and the oil can be omitted.

Cook the Welsh cakes until each side is golden and the cakes have risen. Don't cook on too high a heat as then the sides will darken too quickly and the insides won't cook properly.

Brush the pan with extra oil whenever required.

About 4-5 minutes each side should be enough but if not turn the pan to a lower setting and leave the cakes for a few more minutes to continue cooking.

Once cooked and while the Welsh cakes are still warm sprinkle some granulated sugar over each cake and then place on a cooling rack.

1 tablespoon granulated sugar

Enjoy warm or at room temperature. A pat of vegan margarine or butter over a hot Welsh cake just before serving is a tasty addition, as it will melt into the cake.
Notes
Nutritional information is provided for guidance only and is not a strict calculation as ingredients vary.
Leftover Welsh cakes can be stored within a bread or food bag or container for 3-4 days. 
Welsh cakes will be at the freshest on the day of  cooking.
Welsh cakes can be reheated in a warm oven for a few minutes. 
Or heated using a panini hotplate/dry skillet/griddle/bakestone plate, etc. If you have access to a wide slot toaster then Welsh cakes can be popped in and toasted similar to crumpets, bread, etc.
A pat of vegan butter melted over warmed Welsh cakes is a tasty addition. As is a scoop of fruit jam.
Cooking Welsh cakes on an electric pancake or crepe maker reduces the need for oil or fat to be used during cooking.
Nutrition
Calories:
175
kcal
|
Carbohydrates:
29
g
|
Protein:
3
g
|
Fat:
6
g
|
Saturated Fat:
1
g
|
Polyunsaturated Fat:
2
g
|
Monounsaturated Fat:
2
g
|
Trans Fat:
1
g
|
Sodium:
142
mg
|
Potassium:
93
mg
|
Fiber:
1
g
|
Sugar:
8
g
|
Vitamin A:
320
IU
|
Vitamin C:
1
mg
|
Calcium:
64
mg
|
Iron:
1
mg
💬 Comment
Prepared our vegan version of tasty Welsh Cakes? Do let us know how you got on with the recipe by clicking the star ratings and dropping us a comment below. Thanks so much! Jacq x