This recipe for spicy, sweet and tangy vegan chickpeas or most commonly known as Chana Chaat is super simple yet utterly delicious and packed with flavour.
Chana Chaat can be served chilled for a salad, as a side-dish, starter or even enjoyed as a quick snack.
All that is required for a taste sensation is a bowl of Chana Chaat and a big spoon. Good to go!
Or use Chana Chaat as a delicious stuffing for tasty veggies such as acorn or butternut squash. An easy stuffed squash method is included below within the how to prepare section.
Origins of Chana Chaat
Chana Chaat goes all the way back to Ancient India and the word Chaat refers to 'delicacy' and translates to 'cat'. But not in the sense of eating cat! Rather it refers to the way a cat delicately licks its paws after eating tasty food!
The word Chana translates to chickpea.
Chana Chaat is a popular Indian street food with special eating establishments named chaathouses where people can go enjoy the regions own special take on Chaat.
Chana Chaat can be prepared with regular chickpeas or Kala Chana. Kala Chana are a smaller, black variety of chickpeas that are native to India. Kala Chana are extremely tasty, wholesome and liven up any curry. I purchased a few cans from Amazon, UK.
Spices and ingredients commonly used to prepare Chana Chaat include turmeric, cumin, chilli powder, mango powder, Chaat masala, fresh chilli's, tamarind, mango chutney, mint, potatoes and tomatoes.
Although there are many variations of Chana Chaat and no two recipes are ever quite the same.
Vegan Spicy, Sweet And Tangy Chickpeas
This recipe for Chana Chaat is not an authentic Indian recipe but an adaptation of a recipe that was provided when I attended cookery classes at my local college. No recipe author was provided with the recipe but most of the recipes the tutor used were taken from chef or cooking textbooks.
A few years ago I was a member of a local Bollywood dance group led by a wonderful Indian dance teacher and we had quite a few get-togethers to appreciate the Indian festival of lights Diwali. I prepared this adapted recipe for Chana Chaat many times and it always went down a treat especially with the dance teacher.
This Indian inspired spicy chickpea recipe is really easy and quick to prepare. First the onion and cumin seeds are cooked with coconut oil. Although for those on oil-free diets veggie stock is an ideal oil subsitute.
Next in the pan is some minced garlic and ginger, chilli powder, curry powder, turmeric powder, tomato paste and chopped fresh tomatoes. After a few minutes of cooking a little water is added along with two drained cans of chickpeas.
To finish off the chickpeas a sauce is prepared which is simply mint sauce, tomato ketchup, mango chutney and garam masala mixed together. This flavour packed sauce is stirred through the chickpeas and cooked for a few more minutes. Fresh chopped coriander/cilantro is stirred through the finished Chana Chaat.
Chana Chaat Stuffed Acorn Squash
Chana Chaat can be served simply with fresh salad, a dollop of extra mango chutney and a few crackers. This would be a delicious starter for a special meal or a tasty light lunch or snack.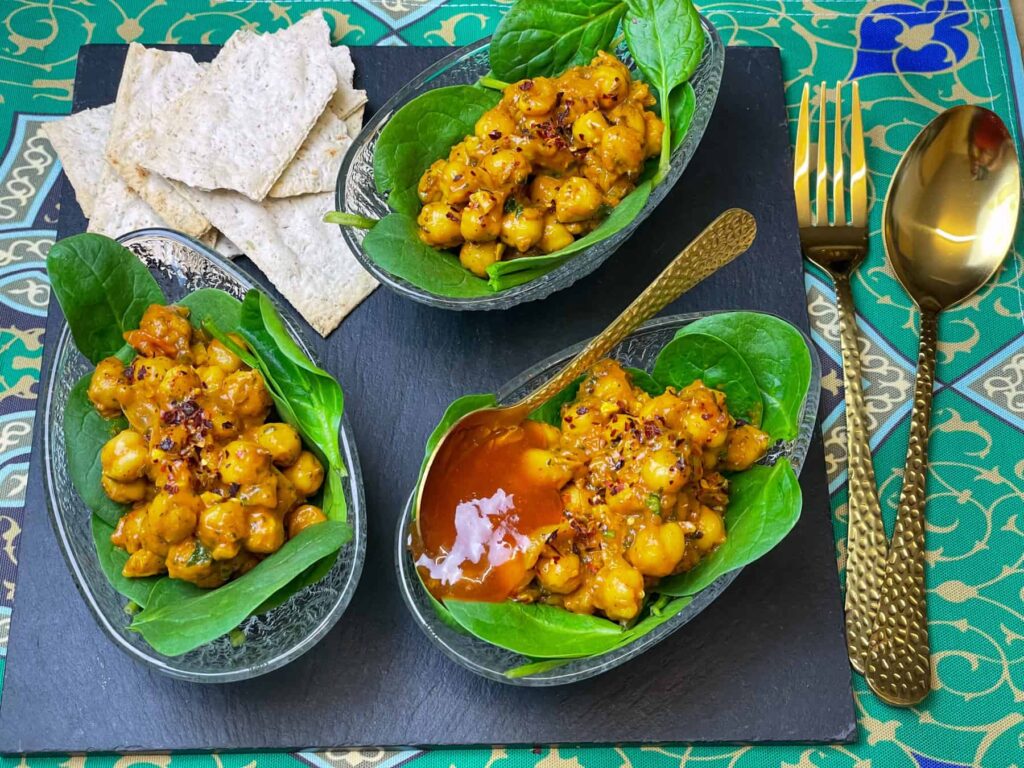 However, for a more substantial meal Chana Chaat is amazing as a veggie stuffing especially for acorn or butternut squash.
To prepare acorn squash for stuffing is really easy and just a matter of deseeding the squash and roasting the squash until fork tender. To finish the squash is packed with filling and baked until its all hot and tasty.
A sprinkle of grated vegan cheese, nutritional yeast flakes or even a few breadcrumbs or chopped nuts can be added to the top of the filled squash.
If you prepare this recipe do pop back and let us know how you got on. All comments and feedback very much appreciated.
Thanks so much.
Jacq x
How To Prepare Vegan Chana Chaat Chickpeas:
How To Prepare Stuffed Chana Chaat Stuffed Acorn Squash
Acorn squash can be replaced with butternut squash, courgette/zucchini, aubergine/eggplant, bell peppers, large tomatoes, large mushrooms and any other veggie that's suitable for filling with chickpea yumminess.
Simply adjust the veggie's initial cooking time. Some veggies may suit better to being pre-boiled for a few minutes before stuffing and roasting.
Such as parboiling cabbage leaves for a few minutes and using the Chana Chaat as a filling for a cabbage roll recipe.
Recipe Notes And FAQS
How do I store leftover Chana Chaat?

Leftovers can be stored in the refrigerator, within a covered container, for up to 3 days.
Can I freeze leftover Chana Chaat?

Yes. Freeze within a freezer and food safe container for up to 3-4 months. Defrost completely before enjoying chilled or reheated.
How do I reheat leftover Chana Chaat?

Leftovers can be placed in a non-stick pot/pan along with a little extra water to loosen up the sauce enough to be able to simmer gently until piping hot.

Or enjoy leftover Chana Chaat chilled straight from the refrigerator.
Is Chana Chaat good for meal prepping?

Absolutely!

Preparing a single or double batch of Chana Chaat is perfect for batch prepping.

Chana Chaat is great addition to meal prepped salads, salad bowls, power bowls etc.

Chana Chaat is also amazing as a tortilla wrap or sandwich filling for amazing work or school pack lunches.

Or use as a chilled accompaniment for your favourite Indian meals throughout the week.

Freeze what you don't use and defrost portions overnight ready to go for the next day.
What can I serve with Chana Chaat?

Chana Chaat can be enjoyed simply on its own as a delicious snack or light lunch.

However tasty accompaniments are:

* fresh spinach or salad leaves

* crispy salad veggies

* lentil crackers/crisps or chips (US)

* poppadum's

* chapatis/parathas/naan breads

* 3 ingredient vegan flatbreads

* roast veggies especially cauliflower roasted with garam masala spice mix

* sweet potato chips/fries

* rice

* your favourite Indian curry

* Bombay potatoes

* extra mango chutney/mint sauce/lime pickle

* plain vegan yogurt or mix a teaspoon of mint sauce or mango chutney through the yoghurt, chopped coriander is also tasty mixed through the yogurt

* fresh chopped coriander/cilantro

* toasted flaked almonds/peanuts/cashews

* toasted sunflower/pumpkin seeds
Is Chana Chaat suitable for gluten-free diets?

Yes it is easy to prepare Chana Chaat as suitable for gluten-free diets.

Do check all your spice seasonings to ensure that no flour or wheat ingredients were added to thicken the mix.

Also check the tomato ketchup, mango chutney and mint sauce just to be safe that they are also free from gluten ingredients.

If replacing the coconut oil with veggie stock do ensure that the stock is also gluten-free.
Recipe
Vegan Chana Chaat Chickpeas (With A Stuffed Acorn Squash Option)
Print Recipe
So delicious and easy to prepare.
These spicy, sweet and tangy chickpeas will liven up your lunch menu!
Serve on toasted bread, with fresh spinach or lettuce leaf cups, or stuff into delicious acorn squash for a dinner-party quality meal the whole family will love.
Equipment
non-stick pan/skillet

small mixing bowl

Baking tray

optional, for roasting squash
Ingredients
1

tablespoon

coconut oil

or your preferred oil, or replace with ½ cup of veggie stock

2

cans

chickpeas

drained, 2x 400g/15oz cans/or 480grams cooked beans

1

medium

onion

any variety, sliced and diced

2

medium

fresh tomato

diced

4

cloves

garlic

sliced or minced, use more cloves especially if the cloves are small, or use 2 teaspoons garlic powder or puree

1

inch

fresh ginger

minced or fine grated, or replace with 1 teaspoon of ginger powder or 2 teaspoons of ginger puree

1

tablespoon

tomato puree

paste

1

teaspoon

mild chilli powder

or replace with medium or hot variety if liked

1

teaspoon

curry powder

2

teaspoon

cumin seeds

½

teaspoon

turmeric powder

¼

teaspoon

salt

plus black pepper

8

tablespoon

water
Mix together and add near the end of the spicy chickpeas cooking:
2

tablespoon

mango chutney

plus extra to serve if liked

2

tablespoons

tomato ketchup

2

teaspoon

mint sauce

½

teaspoon

garam masala spice powder

15

grams

fresh coriander/cilantro

chopped, including the stalks
Stuffed Acorn or butternut squash, optional:
2

whole

acorn squash

or 2 small butternut squash, halved and seeds scooped out

½

teaspoon

garam masala spice powder

50

grams

vegan cheese

shredded, or replace with about ½-1 tablespoon of nutritional yeast flakes for each squash half

50

grams

fresh spinach

more or less depending on size of squash, extra to serve may be liked
Instructions
Prepare the Chana Chaat:
Heat the oil or veggie stock in the non-stick pan over a medium heat.

Tip in the onions and cumin seeds and cook for 8-10 minutes until soft and gaining colour.

Next add the garlic, ginger, curry powder, mild chilli powder, turmeric, tomato puree and fresh chopped tomato.

Sprinkle in ¼ teaspoon of salt and a good grinding of black pepper.

Mix well and cook for 2-3 minutes, stirring.

Pour in the 8 tablespoons of water and chickpeas. Mix well and cook for a further 5 minutes, give it a stir every now and again.
Meanwhile prepare the extra sauce:
Add the mint sauce, mango chutney, tomato ketchup and ½ teaspoon of garam masala to a little bowl, and mix well.
Finish the Chana Chaat:
Pour and scrape in the mint sauce mix into the chickpeas. Mix until everything is combined and cook for 2-3 minutes.

Remove from the heat and stir through the fresh coriander. Taste the seasoning and add salt and pepper if necessary. I don't usually need any more seasoning but its all personal preference.
Prepare acorn squash for stuffing: (optional)
Preheat the oven to 180 Fan/ 200 Celsius/ 392 Fahrenheit/Gas 6.

Half the squash and scoop the seeds out. Scrape away any stringy bits of squash to create a cavity suitable for stuffing.

Score the inside of the squash so that it looks like a grid. Sprinkle a few pinches of garam masala into each squash half.

Place the squash face down onto a baking tray, lined with greaseproof paper if required, and bake for 30-35 minutes until the squash is soft.

Larger squash may require a few extra minutes for the inside to become fork tender.
Prepare the stuffed squash:
Season the inside of the squash with salt and pepper.

Add a layer of fresh spinach to the insides of each squash.

Scoop up tablespoons of Chana Chaat and pack into each squash half.

Sprinkle with vegan grated cheese or nutritional yeast flakes.

Alternatively replace with some flaked almonds, chopped cashews, chopped peanuts, breadcrumbs, crushed poppadum crumbs, etc.

Bake for 20-30 minutes or just until everything is heated through to piping hot and the cheese or topping is crispy and toasted.

If the squash or chickpeas are chilled at the start of reheating then the time needed will be longer.
Serve, optional:
Serve with extra spinach, extra mango chutney and other sides you may be having.

A sprinkle of red pepper flakes is a tasty addition.

Some vegan yogurt with a little mint sauce mixed through is also tasty accompaniment as are a few flatbreads or naans.
Notes
Nutritional data is provided for guidance only and is not a strict calculation as ingredients vary.
Leftover Chana Chaat can be stored in the refrigerator within a covered container for up to 3 days.
Or freeze for up to 3-4 months.
Reheat leftovers by adding to a pan, along with a little water to loosen the sauce, and reheat over a medium heat until piping hot. Stir frequently. 
Leftovers can be enjoyed chilled straight from the refrigerator. All the flavours are so intense when chilled!
Use Chana Chaat as a veggie stuffing. Especially good are acorn or butternut squash. Bell peppers and courgettes/zucchini are also ideal.
Prepare cabbage rolls with the Chana Chaat filling.
For gluten-free Chana Chaat ensure that all the spices and sauces are free from gluten. And if using veggie stock instead of coconut oil choose a gluten-free stock.
Nutrition
Calories:
431
kcal
|
Carbohydrates:
72
g
|
Protein:
15
g
|
Fat:
12
g
|
Saturated Fat:
5
g
|
Polyunsaturated Fat:
2
g
|
Monounsaturated Fat:
1
g
|
Sodium:
1044
mg
|
Potassium:
1405
mg
|
Fiber:
16
g
|
Sugar:
10
g
|
Vitamin A:
2989
IU
|
Vitamin C:
40
mg
|
Calcium:
206
mg
|
Iron:
6
mg