Sausage casserole has long been a British classic family favourite and this vegan sausage casserole is even better with tasty sweet potatoes and red bell pepper, creamy butterbeans, and savoury meat-free sausages all cooked with a flavoured packed smoky paprika and sweet tomato sauce.
Serve this family favourite vegan sausage casserole with your favourite veggies, mashed potatoes or pasta, or simply with a wedge of crusty bread to soak up those lovely savoury and sweet tomato sauce juices. This is the best vegan dinner to serve to meat-eating guests to win them over!
Origins of Sausage Casserole
Sausage casserole, like many other casserole meals, has no single point of origin because it is a method of preparation rather than an individual recipe. "Casserole" is derived from the French word "casse," which means "case" and the word casserole refers to the earthenware pot that was traditionally used to slow cook food into a French cassoulet.
The concept of a casserole - a slow-cooked, one-dish meal combining a protein, vegetable, and a starchy binder - is found in many cultures around the world and has been a part of home cooking for centuries. It's a method of cooking that lends itself well to using up leftovers or making the most of inexpensive ingredients.
Many claim that France is the origins of the modern day casserole with a traditional French cassoulet usually prepared with meat, particularly sausages, white beans and a tomato sauce. Although one-pot meals also date back to British medieval times where the medieval pottage [alternative spelling: potage] was a common peasant meal. Pottage literally means cooked in a pot and as such there was many different pottages depending on whatever ingredients was available.
Sausage casserole, specifically, could have originated in any number of cultures that traditionally prepare sausages. Sausages themselves have a history that dates back at least to the ancient Greeks and Romans, and they are a staple in many cuisines around the world, including German, Polish, Italian, British, and Spanish, to name just a few.
However, a traditional British sausage casserole usually contains - sausages, vegetables especially root vegetables, bell peppers and mushrooms, sometimes beans, and either a tomato or gravy-based sauce.
Casseroles are also a popular American meal and they gained considerable popularity in the United States during the mid-20th century, in part due to the rising availability of canned and frozen vegetables, canned soups, and processed meats. These ingredients made it easy for home cooks to assemble a complete meal in one dish, which could then be baked in the oven.
The rise of the slow cooker
The invention of the slow cooker, also known as a Crock-Pot, in the 20th century also contributed to the popularity of casserole meals. The slow cooker's convenience and versatility made it an ideal tool for cooking a wide variety of meals, including casseroles.
Slow cookers allow for "set-it-and-forget-it" cooking, which was particularly appealing in the latter half of the 20th century as more households had two working parents. A meal could be prepped in the morning, left to cook on low heat throughout the day, and be ready to serve by dinnertime.
This convenience factor, coupled with the ability to cook a whole meal in one pot, boosted the popularity of casserole-style dishes. Also, as the cost of electric has sky-rocketed during the current cost-of-living crisis the slow cooker or the Crock-Pot is even more popular as it is a more budget-friendly cooking method.
Vegan Sausage Casserole in the Slow Cooker
I have not tried to prepare this vegan sausage casserole using a slow cooker yet but it is on my family's menu this week, so this post will be updated soon with slow cooker instructions.
We do love our slow cooker and add vegan slow cooker recipes regularly. Do check out our current favourites especially this Vegan 'chicken' Creamy Coriander casserole which is prepared with vegan Quorn pieces, but these can easily be substituted, and this Vegan Thai Red 'beef' Curry, and I must mention this amazing Vegan 'beef' Stew and Dumplings which is just the ultimate cozy comfort food meal.
Meat-free Sausage Casserole
This recipe for meat-free sausage casserole is relatively quick and easy to prepare. As traditional casseroles tend to be cooked mostly in the oven the energy costs would be quite high if the oven was on for several hours, so I have reduced the amount of time required to cook the casserole by precooking the vegetables and the sauce on the stove-top. The result is a tasty home-cooked vegan casserole that can be ready to go in just an hour.
Batch cooking vegan sausage casserole
This vegan sausage casserole is a great batch cooking recipe and its worth preparing two casseroles at once, one to eat now and one for a quicker future meal. Also there are so many ways to create new meals from leftover casserole, just check the recipe notes, so even if your only feeding a few people this casserole can provide several different meals.
Helpful tips for batch cooking meat-free casseroles
Batch prepping can be a great way to save time during the week and ensure you have a delicious, healthy meal ready to go. Here are a few tips for batch prepping casseroles:
Ingredient Preparation: Chop all your vegetables and measure out your spices ahead of time. This can be done a few days in advance and stored in the fridge to save you time on the day you plan to cook.
Cook in Bulk: Make a double or triple batch of the casserole in one go. Just make sure you have a large enough pot and adjust cooking times if necessary.
Storage: Divide the cooked casserole into individual or family-sized portions, and store them in airtight containers. This makes it easy to grab just what you need for each meal.
Freezing: This casserole freezes well. Allow it to cool completely before scooping into freezer-safe containers. Be sure to leave a bit of space at the top of each container to allow for expansion as the casserole freezes.
Reheating: When you're ready to eat, if you've frozen the casserole, transfer a portion to the fridge the night before to thaw. Then, you can simply reheat it in the microwave, oven, or stovetop. If reheating on the stove, you might need to add a little extra broth or water to keep it from drying out.
Mix Things Up: If you're worried about getting bored eating the same meal multiple times, consider varying the sides you serve with your casserole. One night you might have it with a green salad, another night with roasted veggies, and another night with a slice of crusty bread.
Cooking the vegan sausage casserole
This is a nice, easy meat-free casserole to prepare and requires no fuss or time-consuming methods or techniques, so is especially ideal for beginner vegans or those new to plant-based diets.
First, chunky chopped sweet potatoes, thick sliced red pepper slices, rough chopped onion and celery pieces, and diced garlic is cooked in half a cup of vegetable broth until the vegetables begin to soften, which takes about 10 minutes. Alternatively a tablespoon of oil can be used for this stage, however, its not really essential as the flavours produced from this casserole is enough and doesn't require oil, but feel free to use it.
Next, canned diced tomatoes, tomato paste, smoky paprika, onion powder, soy sauce, red wine vinegar, a small amount of sugar, and dried herbs are mixed through the veggies, along with a can of drained butterbeans. Everything is given a good stir and cooked for a few more minutes.
The vegetables, beans and home-cooked tomato sauce mixture which is similar to a tasty tomato ragu, is decanted into a casserole dish, with the meat-free sausages popped on top. I like to bake the vegan sausages on the top of the casserole as it provides a better texture allowing the veggie sausages to colour and crisp up a little. Although, the sausages can simply be stirred through the cooked vegetable mixture and allowed to cook within the sauce if you prefer this method instead.
Alternatively, if meat-free sausages are not liked they can be substituted for big juicy mushrooms or tomatoes. Slice larger mushrooms into chunks and place directly into the casserole before baking, or pop the tomatoes into the casserole so that they nicely wedge into the sauce.
After about 25 minutes the sausage casserole will be cooked to perfection. The sausages are removed and sliced into 2-3 pieces before being mixed through the casserole.
I like to scatter a few sliced spring [green] onions over the top and a sprinkle of paprika or chilli flakes for additional flavour. For those who like spicy meals add a few drops of hot sauce or even a few teaspoons of chilli powder before the casserole is baked.
My kids especially love pasta or mashed potatoes served with this veggie casserole but I have included other ideas down below in the recipe notes, so be sure and check those out.
How to prepare vegan sausage casserole
This vegan sausage casserole has two easy steps and is an oil-free recipe. This meat-free meal is ideal for serving to guests who are not vegan, vegetarian or plant-based as the rich savoury and sweet flavours of this veggie casserole will soon win them over to the tastiness of plant-based cooking!


First, add the sweet potato, red bell pepper, celery, onion and garlic to a pan along with half a cup of vegetable broth.

Pop a lid over the pan and simmer for 10 minutes over a medium heat.
Next, stir through the butterbeans, canned diced tomatoes, tomato paste, smoky paprika, dried herbs, onion powder, soy sauce, sugar, red wine vinegar and a pinch of salt and black pepper.

Pour in half a cup of veggie stock and gently boil for an extra 3 minutes.

Decant the vegetable mixture into a casserole dish and pop the uncooked meat-free sausages on top of the casserole or stir them through. The vegan sausages can be either fresh or frozen.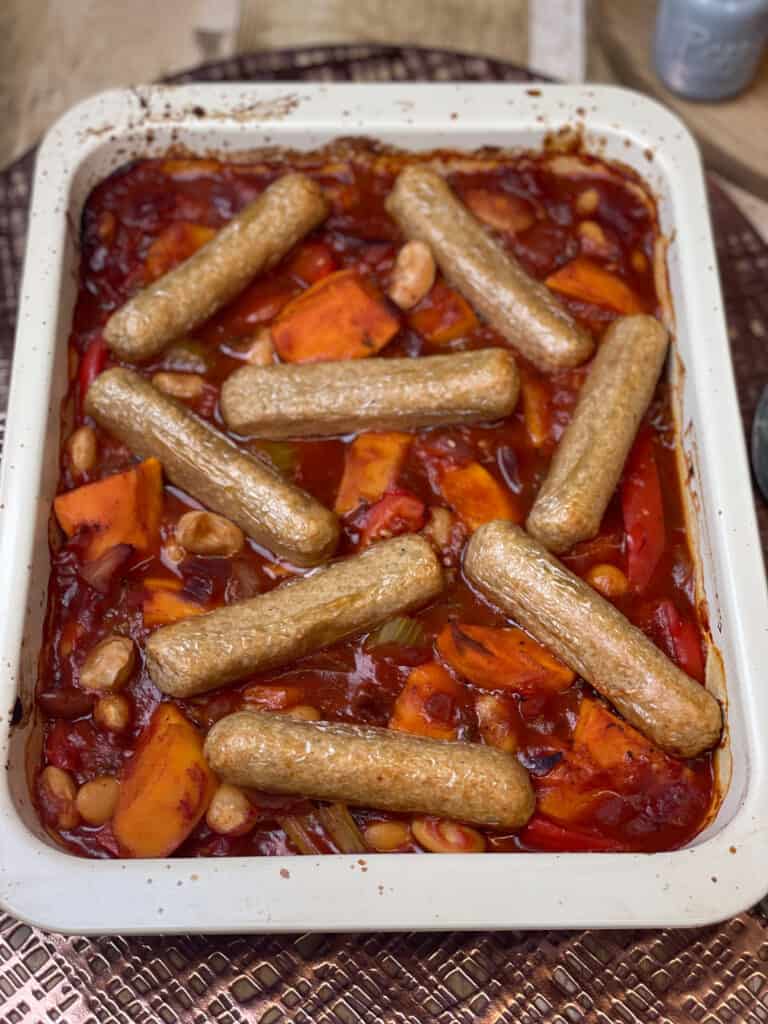 Bake for 25-30 minutes.
Slice the sausages into 2-3 pieces per sausage and mix these through the sauce.
Scatter sliced spring onions over the top and a sprinkle of red chilli or paprika flakes if liked.
Recipe notes and frequently asked questions
Storing leftover casserole advice
Cool it down: Before storing, you should allow your casserole to cool completely. Leaving it at room temperature for a couple of hours should be sufficient. It's important to cool food before refrigerating or freezing it to avoid raising the overall temperature of the refrigerator or freezer, which can cause other foods to enter the danger zone temperature where bacteria can grow.
Transfer to a container: Once cooled, transfer the casserole to an airtight container. You can use either glass or plastic containers, but make sure they are safe for the freezer if you plan to freeze your leftovers. You can also use resealable plastic bags, especially for freezing, as they can save space.
Refrigeration: If you plan to eat the leftovers in the next few days, storing them in the refrigerator is a good option. Generally, leftovers can be safely stored in the refrigerator for 3-4 days.
Freezing: If you want to store your leftovers for a longer period, you can freeze them. Frozen leftovers can last for several months, but for the best flavor and texture, it's best to consume them within 2-3 months. To reheat, it's usually best to first defrost in the refrigerator overnight and then reheat in the oven or on the stovetop.
Label your leftovers: It's a good practice to label your leftovers with the date before putting them in the fridge or freezer, as this way you won't have to play guess the leftovers!
Reheating leftover casserole
Microwave: This is the quickest method. Place your leftovers in a microwave-safe dish, cover it with a microwave-safe lid or a microwave-safe plate. To avoid drying out your casserole, you can add a few tablespoons of water or vegetable broth before reheating. Heat on high for 2-3 minutes, then stir and continue heating in one-minute increments until heated through.
Oven: Preheat your oven to around 350°F (175°C). Place the casserole in an oven-safe dish and cover with aluminum foil to prevent it from drying out. Bake for around 20-30 minutes, or until it's hot all the way through. The exact timing will depend on the quantity of the casserole and your specific oven.
Stovetop: This method is more hands-on, but it can work well if you don't have access to a microwave or oven. Place your casserole in a pot or large skillet over medium heat. You might need to add a bit of water or vegetable broth to prevent it from sticking to the pot. Stir frequently to ensure even heating.
What can I serve with vegan sausage casserole?

A few suggestions:

Crusty Bread: A loaf of warm, crusty bread can be perfect for soaking up the flavorful tomato sauce. A slice of this Irish Soda Bread is also a delicious accompaniment.
Green Salad: A fresh green salad with a light vinaigrette can provide a refreshing contrast to the hearty casserole. You could include ingredients like mixed greens, cucumber, cherry tomatoes, red onion, and perhaps some olives for a Mediterranean twist.
Steamed Vegetables: Simple steamed vegetables, such as broccoli, asparagus, or green beans, can be a light and healthy addition to the meal.
Grilled Polenta: Polenta can be cooked, cooled until firm, then sliced and grilled for a delicious and slightly different side dish.
Roasted Brussels Sprouts: These can be simply roasted in the oven with a bit of olive oil, salt, and pepper, or steamed or boiled until fork tender.
Quinoa or Brown Rice: If you want to add more whole grains to the meal, a side of quinoa or brown rice would work well.
Garlic Bread: Vegan garlic bread (made with olive oil or vegan butter and plenty of garlic) would be delicious and comforting alongside the casserole.
Couscous: A light and fluffy couscous could be a nice contrast to the textures in the casserole.
Roasted Root Vegetables: Root vegetables like carrots, parsnips, and beets can be roasted with a little olive oil, salt, and pepper for a side dish that complements the hearty flavors in the casserole.
Vegan Coleslaw: You can make a refreshing coleslaw with shredded cabbage, carrots, sliced onions, and a creamy vegan dressing or simply use vegan mayonnaise.
Sautéed Greens: A side of sautéed spinach, kale, or Swiss chard could provide a nice contrast to the casserole. You could add a bit of garlic for extra flavor.
Pickled Vegetables: Pickles or other pickled vegetables can add a tangy contrast that can balance the richness of the casserole.
Grilled or Steamed Corn on the Cob: Depending on the season, corn on the cob can be a sweet and juicy accompaniment. Frozen corncobs are perfect, but of course do cook them first!
Stuffed Mushrooms: You could prepare some stuffed mushrooms with a breadcrumb and herb filling.
Baked Sweet Potato Fries or Wedges: If you want to double down on the sweet potato theme, you could serve some crispy baked sweet potato fries or wedges on the side. Or use white potatoes.
Tabbouleh Salad: This fresh, herby salad made with bulgur wheat, parsley, mint, tomato, and lemon could provide a light, refreshing, herby contrast to the hearty casserole.
Roasted Cauliflower: Cauliflower florets tossed in olive oil and roasted until golden can be a delicious and easy side dish.
Warm Pita Bread: Soft, warm pita bread can be great for scooping up bites of the casserole. Or one of these easy 3 Ingredient Flatbreads.

What can I do to repurpose leftover vegan sausage casserole?

Lots of things! Here's a few ideas to get you started. I'm sure you will discover more along the way:

Stuffed Vegetables: Scoop out the insides of bell peppers, tomatoes, or zucchini and stuff them with your leftover casserole. Bake until the vegetables are tender.
Wrap or Burrito: Use the casserole as a filling for wraps or burritos. Add some fresh vegetables or salad for extra crunch.
Empanadas or Pasties: Use the casserole as a filling for empanadas or pasties. Make or buy some pastry dough, fill with the casserole, fold over, and bake until golden.
Shepherd's Pie: Use the casserole as the base layer for a vegan shepherd's pie. Top with mashed potatoes or sweet potatoes, or mashed celeriac, and bake until the top is crispy and browned.
Pasta Sauce: Simmer the casserole with a bit of tomato sauce or vegetable broth to thin it out, and serve over pasta.
Stir into Grains: Stir the casserole into cooked rice, quinoa, or another grain for a hearty, flavorful dish.
Savory Crepes: Use the casserole as a filling for savory crepes.
Toasted Bread: For a simple lunch serve the reheated casserole over a slice of toasted bread.
Baked Potato Filling: Another tasty simple lunch or dinner is adding a scoop of sausage casserole to a crispy baked potato.
Sloppy Joe Filling: Chop the vegan sausages into smaller pieces and stir them back through the sauce and veggies, reheat the casserole and serve the filling as a Sloppy Joe by packing it into a bread roll or bap.
Can I prepare vegan sausage casserole as gluten-free?

Yes, with a few considerations such as choose a gluten-free vegetable broth, a gluten-free soy sauce such as Tamari, and use gluten-free vegan sausages or replace the sausages with large mushrooms. That way you will have a delicious meat-free gluten-free sausage casserole.
What are the best vegan sausages for a sausage casserole?

The "best" vegan sausages for a casserole can be subjective and depend on your personal preferences for texture, flavor, and nutritional content. That said, some brands consistently receive positive reviews for their vegan sausages.

However, do bear in mind that even though I have not personally tried all of the suggestions on the list, after doing a little research these varieties have received some good reviews. Also many supermarkets or stores own brand of vegan sausages are just as nice.

A useful idea is to pick up packets of reduced price meat-free sausages whenever you spot them in your local store or supermarket and then stash them in the freezer for future meals.

Here are a few vegan sausage suggestions:

Beyond Meat: Their plant-based sausages have been praised for their meaty texture and flavor.
Field Roast: This brand offers a variety of vegan sausages with different flavors. Their Italian and Smoked Apple Sage varieties could be particularly good in a casserole.
Tofurky: Known for their holiday roasts, Tofurky also makes vegan sausages in several flavors. Their Italian variety often gets high marks.
Lightlife: The company offers plant-based sausages that are high in protein and have a texture similar to traditional sausages.
Trader Joe's: If you have a Trader Joe's near you, their own brand of Italian Sausage-less Sausages is well-liked and could work well in a casserole.
Linda McCartney's Vegetarian Sausages: These are a popular choice in the UK, and while not every product in her line is vegan, many are, so just be sure to check the packaging.

The type of vegan sausages used for this vegan sausage casserole are Richmond meat-free sausages which can be found in most UK supermarkets. However, just go with the sausages that you like best.
What can I use as a vegan sausage replacement?

Beans and Lentils: If you want to keep your casserole hearty and high in protein, beans and lentils are a great choice. Chickpeas, black beans, kidney beans, or a can of lentils could all work well.

Tempeh: Made from fermented soybeans, tempeh has a firm texture and a nutty flavor. It can be crumbled or cut into cubes and used in place of sausage.

Tofu: Firm or extra firm tofu can be a good replacement. It can be marinated and then baked, pan-fried, or even crumbled to mimic the texture of ground sausage.

Mushrooms: Mushrooms, especially more substantial varieties like Portobello or shiitake, can give a nice, meaty texture. Or just go with ordinary white or chestnut mushrooms as they are often less expensive. They can be chopped and sautéed before adding to the casserole, or simply added to the casserole so that they cook in the sauce.

Seitan: Also known as wheat meat, seitan has a chewy, meat-like texture. It's high in protein and can be a good replacement for sausage, but it's not suitable for anyone with a gluten sensitivity or intolerance.

Vegetable "Sausages": You can make your own veggie-based sausages using ingredients like cooked grains, lentils, mushrooms, and a variety of seasonings. These can be formed into sausage-like shapes and baked or fried before adding to the casserole.

Jackfruit: This is another option that can mimic the texture of meat quite well, especially when cooked and shredded. It has a relatively neutral taste, so it can take on the flavors of your casserole well.

Large Tomatoes: Simply add these to the casserole before it is placed in the oven, nestle the tomatoes into the sauce.

Can I substitute any of the casserole ingredients?

Sweet Potatoes: If you're not a fan of sweet potatoes or just want a change, regular potatoes or butternut squash could be good alternatives.

Bell Peppers: You can replace bell peppers with other vegetables like zucchini, eggplant, or carrots.

Butterbeans: Any type of bean can work in place of butterbeans. You might try cannellini beans, chickpeas, or kidney beans.

Tomato Sauce: If you want to change up the flavor profile of your casserole, you could try a different type of sauce. For example, a vegan cream sauce or a curry sauce could offer a different taste.

Red Wine Vinegar: You can replace this with another type of vinegar like apple cider vinegar or balsamic vinegar.

Soy Sauce: For a soy-free version, you could use coconut aminos.

Spices: The paprika, mixed herbs, garlic powder, and onion powder can be swapped out for other spices or blends to change the flavor profile of your casserole. Consider options like curry powder, cumin, coriander, or chili powder for some variety.

Sugar: If you want to reduce the sugar content or use a different sweetener, consider alternatives like maple syrup, agave nectar, or a sugar substitute that suits your needs.
What about celery? What are some good celery alternatives?

Some people can be allergic to celery or simply don't like it so there are a few substitutions you can try and experiment with and perhaps you will discover the perfect celery alternative for you!

Fennel: Fennel stalks can add a similar crunch and have a unique flavor that can complement the other ingredients in the casserole. The flavor is a bit sweeter and has a slight anise or licorice-like undertone.

Carrots: Carrots could be a good substitute. They have a sweeter flavor, which can add a nice counterpoint to the savory elements of your casserole.

Bell Peppers: These could provide a similar crunch to celery. Green bell peppers would be a good choice if you want a flavor that's closer to celery, while red, orange, or yellow bell peppers will be a bit sweeter.

Leeks: While not as crunchy, leeks could be a good substitute in terms of flavor. They have a sweet, mild onion flavor that can work well in a casserole.

Parsnips: These have a slightly sweet, earthy flavor and a texture that holds up well during cooking, making them a potential substitute for celery in a casserole.
More tasty vegan casserole and savoury baked recipes
***please note: for US measurements click the 'US customary button' within the recipe and the measurements will switch to tablespoons, cups, and ounces.***
Recipe
Vegan Sausage Casserole (With Sweet Potato And Red Pepper)
Print Recipe
Perfect for easy, fast, wholesome deliciously hearty mid-week meals, Whip this casserole up whenever you have meat-eating guests that you want to impress with an amazing veggie meal!
Equipment
Non-stick pan or skillet or similar

with a lid

Casserole dish

at least 3 litres/3 quart [or use a dutch oven or similar pan that's suitable for both stove top and oven]
Ingredients
For Sautéing Veggies
125

millilitre

vegetable broth

plus a little extra if necessary. Alternatively use 1 tablespoon of vegetable oil
Casserole:
1

pack

vegan sausages

about 8 sausages. I used meat-free Richmond sausages.

140

grams

onion

1 medium, diced [or two teaspoons onion powder]

100

grams

celery

2 ribs, chopped

4

cloves

garlic

minced or diced or replace with 1-2 teaspoons of garlic powder

110

grams

red bell pepper

1 medium, sliced into thick pieces

350

grams

sweet potatoes

2 medium, chopped into chunky bitesize pieces

1

tablespoon

tomato puree

paste

1

can

diced tomatoes

400 grams/ 14 oz can

1

can

butter beans

400g/ 14 oz can, drained, or about 1 ½ cups cooked beans

2

teaspoons

red wine vinegar

or balsamic vinegar

1

tablespoon

soy sauce

1

teaspoon

onion powder

[adds extra flavour dimensions but can omit if preferred]

2

teaspoon

smoky paprika

or regular paprika

½

teaspoon

granulated sugar

or use your usual sugar or syrup

1

teaspoon

dried mixed herbs

125

millilitre

vegetable broth
Optional garnish:
4

spring or green onions

thin sliced
Instructions
Preheat the oven to 180 Fan/ 200 Celsius/ 392 Fahrenheit/ Gas 6.
Sauté with veggie stock:
Add onions, garlic, sweet potatoes, celery, red pepper and ½ cup/125ml of vegetable stock to a pan.

Bring to a simmer.

Lower heat and place a lid on the pan.

Cook for 10 minutes.

Add a small splash of extra stock or water if necessary to avoid sticking.

125 millilitre vegetable broth,

140 grams onion,

100 grams celery,

4 cloves garlic,

110 grams red bell pepper,

350 grams sweet potatoes
To sauté with vegetable oil:
If using oil gently sauté the vegetables for about 10 minutes, over a low-medium heat, or until the sweet potato begins to soften. Stir frequently, but do not add a lid to the pan. If veggies begin to stick just loosen them up with a splash of water or stock.
Continue preparing the casserole:
To the veggies add tomato paste, can of diced tomatoes, butter beans, smoky paprika, mixed herbs, onion powder, red wine vinegar, soya sauce, sugar, and ½ cup/125 ml of stock.

Add a few pinches of salt and black pepper and give everything a good mix.

Simmer for 3 minutes.

1 tablespoon tomato puree,

1 can diced tomatoes,

1 can butter beans,

2 teaspoons red wine vinegar,

1 tablespoon soy sauce,

1 teaspoon onion powder,

2 teaspoon smoky paprika,

½ teaspoon granulated sugar,

1 teaspoon dried mixed herbs,

125 millilitre vegetable broth

Scoop the vegetable mixture into your casserole dish.

Pop the vegan sausages on to the top of the casserole so that they can get some colour as they cook. Alternatively push the sausages down into the sauce. You can use either fresh or frozen sausages.

Bake for 25-30 minutes until the sausages have cooked and gained some colour, and the casserole sauce is bubbling and thick.

Remove the sausages and chop into 2-3 pieces per sausage, before stirring the pieces of sausages through the casserole.
Optional:
Sprinkle sliced green onions over the finished casserole before serving. Also a few pinches of paprika or chilli flakes is a nice addition.
Notes
Nutritional information is provided for guidance only and is not a strict calculation as ingredients vary. 
Leftovers can be cooled and stored in the fridge, in a covered container, for up to 3-4 days.
Or freeze for a few months.
Defrost before reheating. 
Sausage casserole is perfect for batch cooking.
Reheat at the cooking temperature for around 20-30 minutes or until the casserole is piping hot throughout. A little splash of water or broth may be needed if the casserole sauce has become very thick. Or reheat using a microwave, stirring a few times during heating, until the casserole is piping hot. 
Small amounts of leftovers can be reheated on the stove-top within a pan. Add a small amount of broth or water to loosen up the sauce to prevent sticking to the pan. 
Check out the recipe notes and FAQ section above the recipe for helpful ideas for repurposing leftover casserole, substitutions ideas for the ingredients, and serving suggestions.
The vegan sausages used for this recipe was Richmond meat-free sausages, and both the fresh or frozen variety work fine.
Any vegan sausage can be used or replace with mushrooms or have a look at the FAQ section for more replacement ideas.
Nutrition
Calories:
314
kcal
|
Carbohydrates:
53
g
|
Protein:
23
g
|
Fat:
2
g
|
Saturated Fat:
1
g
|
Polyunsaturated Fat:
1
g
|
Monounsaturated Fat:
1
g
|
Sodium:
1585
mg
|
Potassium:
1081
mg
|
Fiber:
13
g
|
Sugar:
17
g
|
Vitamin A:
14276
IU
|
Vitamin C:
54
mg
|
Calcium:
109
mg
|
Iron:
8
mg
Thank you for trying out our Vegan Sausage Casserole! We hope you enjoyed making and savoring it as much as we do.
If you tried this recipe, please let us know in the comments below how it turned out for you, or if you made any modifications.
If you share your creations on social media, don't forget to tag us (@traditionalplantbasedcooking) and use the hashtag #traditionalplantbasedcooking, so we can see your scrumptious dishes!
Lastly, if you found this recipe helpful, please share it with your friends and family, so they can enjoy it too.
Thank you, and happy cooking!
Love, Jacq x