Vegan Hamburger Casserole is an adaptation of the Traditional American Hamburger or Cheeseburger Casserole.
This delicious fun casserole features veggie mince, potatoes, cheese sauce and a crispy breadcrumb topping, finished off with all your favourite burger toppings.
Perfect for midweek meals and batch prepping. But also ideal for a creative Christmas or Thanksgiving main meal served with your favourite veggies and tasty gravy.
Quick Origins of Hamburger or Cheeseburger Casserole
Cheeseburger casserole originates somewhere in the United States where it is a popular family meal. The exact origins of this casserole is not known but it was likely first prepared within one of the Southern US states.
Traditional cheeseburger casserole recipes generally use either potatoes or pasta cooked with minced or ground meat, with lots of cheese added and baked until melted.
Vegan Hamburger Casserole
Cheeseburger casserole is not a well known meal in the UK but I was intrigued and inspired to create a veggie version as I knew my kids would enjoy it. They certainly did and I'm sure many more families will add this meal to their weekly menu.
To prepare this adapted vegan hamburger casserole recipe I choose to use TVP (textured vegetable protein) which comes as a dried mince that needs to be rehydrated. I like using TVP as its inexpensive, full of protein, high in fibre, no cholesterol and low in calories and fat. And best of all so versatile and soaks up whatever flavours you add.
Although any vegan mince can be used. I have prepared this casserole with fresh and frozen veggie mince and all have been great.
The mince is initially cooked with veggie stock, onion, carrot, celery, and garlic, and flavoured with soya sauce, vegan Worcester sauce and dried herbs. Chopped potatoes are added along with a little more stock and cooked until soft, before everything is scooped into a casserole dish.
The potato-mince mix is covered with a layer of easy vegan cheese sauce which is made up simply with a small amount of vegan margarine, veggie stock, plain flour and plant milk. Nutritional yeast flakes are mixed through at the end to provide the cheesiness.
A mix of whole-grain breadcrumbs and vegan shredded cheese are sprinkled over the cheese sauce. Lastly the breadcrumbs can be topped with any of your favourite veggie burger garnishes. I added sliced tomatoes and diced gherkins but canned or jarred jalapenos or sliced fresh chilli's would also be tasty.
The breadcrumb topping is optional and can be simply omitted with just some vegan grated cheese added to the top or extra nutritional yeast flakes. If you are in a hurry use an already prepared vegan white or cheese sauce.
Finally this casserole can be easily prepared as gluten-free. There is more info in the recipe notes below.
How To Prepare Vegan Hamburger Casserole
Recipe Notes And FAQS
How do I store leftover vegan hamburger casserole?

Leftovers can be stored in the fridge, covered, for 3 days. The casserole can be frozen but the texture of the breadcrumb topping may be affected.

For meal prep the casserole can be prepared up to the breadcrumb-cheese topping stage, and frozen minus the topping. Defrost, bring to room temperature and add the topping before baking.
How do I reheat leftover hamburger casserole?

Bring chilled or defrosted casserole to room temperate and bake on the middle oven shelf at the cooking temperature, until piping hot throughout.

Pop a cover over the casserole to avoid over browning, and add a few tablespoons of water to the casserole dish to help with reheating.
What can I serve with veggie hamburger casserole?

Anything you would normally have with your vegan burgers.

* crispy lettuce

* sliced red onion rings/ green or spring onions

* cucumber, any of your favourite salad veggies

* peas and sweetcorn

* corn-on-the-cobs

* green beans/ mangetout/ field beans/ asparagus

* sweet potato fries

* any roast veggies

* any steamed veggies, especially tasty green leaves

* baked beans/ spaghetti hoops (vegan-friendly)

* vegan gravy

* tomato ketchup/ brown sauce/ BBQ sauce

* vegan sour cream/ mayonnaise

* guacamole

* salsa

* mustard

* hot sauce/ siracha
Can I substitute any of the ingredients?

A few suggestions:

* instead of potatoes use pasta or thick noodles

* not a fan of gherkins? replace with canned or jarred jalapenos, or use both gherkins and jalapenos

* replace the white potatoes for sweet potatoes

* use cracker crumbs instead of breadcrumbs

* replace the vegan mince for chopped up vegan burgers or diced mushrooms

* sub out the celery for green bell pepper or courgette/zucchini

* omit the vegan grated cheese for the topping and use nutritional yeast flakes, about 4-6 tablespoons
Is this hamburger casserole suitable for gluten-free?

It is easy to prepare this casserole with gluten-free ingredients. Use gluten-free breadcrumbs and gluten-free stock. Tamari soya sauce is usually gluten-free but check the vegan Worcester sauce ingredients. The Worcester sauce can be replaced with another tablespoon of tamari if necessary.

Other considerations are the type of vegan mince used just check the ingredients and package labels. Textured vegetable protein is usually just a one ingredient product (soya) but sometimes the packaging states that it is prepared along with other gluten products. Also TVP could potentially contain wheat ingredients so its best to have a good look at the packaging.

For the cheese sauce use a gluten-free plain flour blend such as the Doves Farm brand, and also check that the ingredients for vegan margarine are also gluten-free.
Are there are shortcuts to preparing this vegan hamburger casserole?

Of course. A few ideas:

* use an already prepared vegan white sauce, such as a jar of vegan lasagna sauce and mix through the nutritional yeast flakes before covering the mince and potatoes. Or use a vegan cheese sauce packet and make up the sauce according to packet instructions.

* prepare the mince and potato mix in advance and store in the fridge for a day or two before proceeding with the recipe. The mix can also be frozen for 4-6 months.

* if you are in a rush the breadcrumb topping can be omitted or simply use extra vegan shredded cheese for the top
Is vegan hamburger casserole good for batch prep?

Yes this casserole is perfect for batch prepping. Prepare the casserole and freeze for 4-6 months, well wrapped in the casserole dish. But don't add the breadcrumb topping until you are going to bake.

It is easy and saves time to batch prep an extra casserole along with the one your preparing for dinner. You'll definitely thank yourself later!
Any interesting ideas to repurpose leftover hamburger casserole?

* reheat and serve on a slice of toasted bread for next day's lunch

* mash the potatoes a little and use as a sloppy-joe filling for a crusty roll

* or as a toasted cheese/grilled sandwich filling

* mix the leftovers with a can of baked beans and reheat, serve with veggie sides
More Tasty Vegan Meal Ideas:
Quick Tempeh Spaghetti Bolognese
Slow Cooker 'Beef' Stew And Dumplings
Green Lentil And Bean Mashed Potato Pie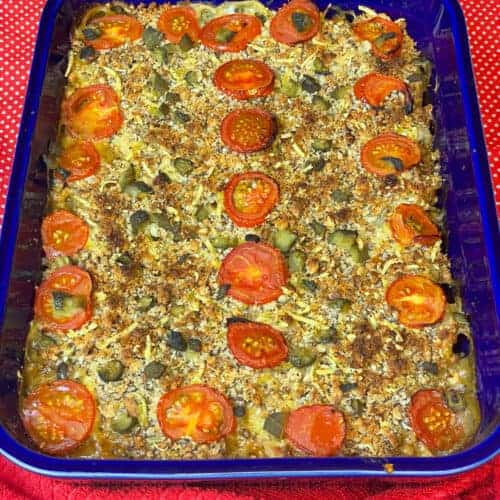 Vegan Hamburger Casserole
Print Recipe
This casserole is an adaptation of the Southern American family favourite Hamburger casserole.
Vegan Hamburger Casserole is a fun, deliciously wholesome family meal perfect for easy midweek meals. Serve with all your favourite veggie hamburger toppings.
Perfect for veggie Thanksgiving or special meals with sides of green beans, Brussel sprouts, or peas and a tasty vegan gravy.
Equipment
Sauté pan/skillet

Small saucepan

Casserole dish

at least 3-4 litres (3-4 ½ quarts) capacity
Ingredients
Instructions
Optional: If using dried vegan mince (TVP):
Soak 80 grams of textured vegan protein in 500 ml (2 cups) boiling vegan stock. Mix through 1 teaspoon of marmite, optional. Soak for at least 30 minutes, drain but reserve the liquid.
Sauté veggies:
Heat 250ml/1 cup of vegan stock to a simmer. Add the onion, carrot, celery and garlic. Pop a lid on and cook for 5 minutes. Remove the lid and cook for another 5 minutes. Stir frequently.

Alternatively cook the veggies in one tablespoon of oil over a medium heat, stir frequently.
Continue preparing the filling:
Scoop in the vegan mince and give everything a good mix.

Mix through the soya sauce, vegan Worcester sauce, mixed herbs and 125ml/ ½ a cup of stock.

Cook for 2-3 minutes.

Preheat oven to 200 fan/ 210 Celsius/ Fahrenheit 410/ Gas 6.

Add potatoes and mix to combine.

Pour in 250ml/1 cup of veggie stock, if using rehydrated TVP mince also add in the drained soaking liquid.

If using fresh or frozen mince simply add an extra 200 ml (¾ cup) veggie stock.

Pop a lid on the pan and cook for 15 minutes.

Leave to cook while you prepare the sauce. Just give it a stir every now and then and add extra stock or water if needed.

Remove the lid and cook for an extra 5-10 minutes.
While the potato-mince filling is cooking prepare the sauce:
Melt the margarine in a saucepan. Once melted add 6 tablespoons of veggie stock and stir.

Slowly add the plant milk stirring to avoid lumps.

Bring to the boil, then lower the heat, simmer for 3-5 minutes.

Stir frequently and extra plant milk just to thin a little if the sauce is too thick. Although the sauce should be quite thick.

Don't worry if lumps appear it doesn't affect the casserole, but the sauce can be sieved or blended if preferred.

Take off the heat and stir through the nutritional yeast flakes.

Season with salt and pepper to taste.
Assemble the casserole:
Tip the potato-mince mix into a casserole dish.

Pour over the cheese sauce and spread to cover.

Mix the breadcrumbs and grated vegan cheese together. Sprinkle over the sauce.

Scatter over the chopped gherkins and slices of tomato.
Bake:
Bake for 25-35 minutes or until the topping is golden and crispy.

Serve with your favourite veggie burger sides and sauces. Such as hot sauce, tomato ketchup, brown sauce, BBQ sauce, vegan sour cream or mayonnaise, guacamole, salsa, mustard, etc.
Notes
Nutritional information is provided for guidance only and is not a strict calculation as ingredients vary. 
Fresh, frozen or dried vegan mince or crumbles can be used. If using fresh or frozen mince mixing through a teaspoon of marmite to your vegan stock provides a meaty flavour boost.
For dried mince pieces such as textured vegetable protein(TVP) or dried crumbles soak about 80 grams in 500ml (2 cups) of boiling vegan stock (beef flavour if available) and 1 teaspoon of marmite for 30 minutes. Drain but reserve the liquid for the recipe. This should result in about 380 grams of mince.
Instead of vegan mince use 300 grams of mushrooms chopped really small into mince size pieces. I love replacing mince with mushrooms its so tasty. And my son who hates mushrooms never knows the difference. A small food processer is great for crumbling the mushrooms into tiny pieces.
For a change replace the potatoes with pasta or thick noodles.
The breadcrumb topping is optional, if you are in a hurry simply omit and just add grated vegan cheese.
The cooked potatoes and mince can be enjoyed without baking as a casserole, simply add extra water to create a gravy and serve in a bowl. A slice of thick crusty bread to mop up the savoury gravy is tasty.
Leftovers can be stored, covered, for 3 days.
Or frozen for 4-6 months.
Defrost before reheating. 
Bring chilled or frozen hamburger casserole to room temperature before reheating.
Reheat at the cooking temperature, but pop a cover over to prevent overcooking and browning too much. Reheat for 20-25 minutes until piping hot.
Leftovers are tasty served over a slice of toasted/grilled bread or bap. Or use the casserole to prepare a grilled cheese toastie/grilled sandwich. Give the leftovers a mash and use as a sloppy joe filling.
Want to stretch leftovers out to create another meal? Add a can of baked beans, mix, and bake until piping hot. Perhaps sprinkle more vegan shredded cheese over, and serve with a crispy side salad.
Nutrition
Calories:
347
kcal
|
Carbohydrates:
56
g
|
Protein:
20
g
|
Fat:
7
g
|
Saturated Fat:
2
g
|
Polyunsaturated Fat:
1
g
|
Monounsaturated Fat:
1
g
|
Trans Fat:
1
g
|
Sodium:
1529
mg
|
Potassium:
1006
mg
|
Fiber:
11
g
|
Sugar:
13
g
|
Vitamin A:
5100
IU
|
Vitamin C:
37
mg
|
Calcium:
194
mg
|
Iron:
4
mg