These wee old-fashioned coconut buns are similar to coconut cupcakes, and are simply decorated with a dark chocolate topping and a sprinkle of desiccated coconut.
These vegan cupcakes are sticky on the outside, moist, soft and spongy on the inside, crispy on the surface and packed with delicious sweet coconut flavours.
If you love the combination of coconut and chocolate or miss the taste and textures of the British confectionary called Bounty bars you'll absolutely love these tasty coconut buns!
How to prepare old-fashioned coconut buns
Preparing these old-fashioned coconut cakes is really easy.
It's just a case of mixing the ingredients together in one-bowl, scooping into the muffin cases and baking for 20-25 minutes.
Once cooled the cakes can be iced with melted chocolate and a dusting of extra desiccated coconut.
So simple yet so delicious!
First sieve the flour and baking powder into a mixing bowl.
Stir through the salt, sugar, and desiccated coconut.
Next pour in the vegetable oil and plant milk.
Give it all a good mix.
Divide the cake mixture between 12 cupcake or small muffin cases.
Bake for 20-25 minutes.
Once baked the buns will have risen, and have a firm lightly golden top.
A few of the buns may have dipped a little but this is fine and the cakes are perfectly baked. The dips are simply a result of the high content of coconut and sugar compared to flour, baking in the hot oven.
Cool on a wire rack.
To decorate:
Melt the chocolate using either a microwave or stove top.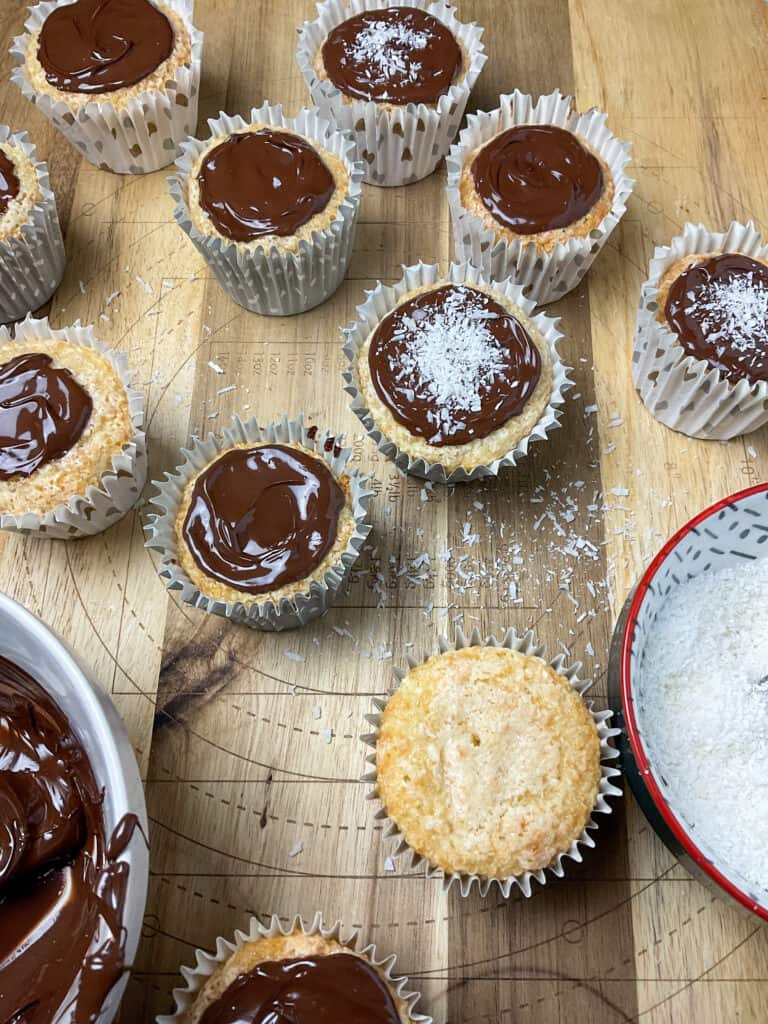 Spread the melted chocolate over the coconut buns and finish off with a sprinkle of desiccated coconut.
Allow the chocolate to set hard before enjoying.
To speed up the chocolate setting process, pop the buns into a refrigerator.
Recipe notes
Storage
Coconut buns can be stored either at room temperature or within the refrigerator. Store within a cake or food container for 3-4 days. Possibly a few days longer, especially if kept within a cool, dry area.
Coconut buns can be frozen, either decorated or undecorated, for up to 2-3 months. The buns will defrost really quickly if left out at room temperature.
What is desiccated coconut?

Desiccated coconut is simply fresh coconut that is dried and shredded or grated into smaller pieces. Desiccated coconut generally does not contain any added sugar or other ingredients.

Desiccated coconut may also be known as coconut shreds, coconut flakes, or coconut chips and can come in various thicknesses and textures.
What's the best type of dried coconut for coconut buns/cakes?

Desiccated coconut that is finely shredded is best for baking, especially for the current coconut bun recipe. Fine shredded desiccated coconut is usually the main one available within the UK baking product aisle of supermarkets.

Coconut chips are generally much larger and so are great for snacking on, or adding as a decoration for cakes and buns after the frosting has been added.
Is desiccated coconut a source of good nutrition?

Even though desiccated coconut is a high fat and calorie food, it does have useful nutritional benefits. Dried coconut is high in fibre, and essential minerals such as selenium, copper and manganese.

Research has highlighted other potential benefits of coconut which include being high in antioxidants and possibly helping blood sugar regulation.
These little coconut buns rise well in the oven, are sticky on the outside, moist and spongy on the inside, and have an irresistible sweet crisp coconut surface. The hard chocolate frosting and extra sprinkle of coconut finish these tasty vegan buns off beautifully.
Coconut buns are delicious for afterschool snacks, or perfect for lunch boxes, picnics, parties, afternoon tea or coffee, or just whether you fancy. Also a batch of these vegan buns would be ideal for cake sales, church fetes, fundraisers, etc.
More tasty vegan recipes featuring desiccated coconut
Old-school dinners jam and coconut sponge traybake
Classic fifteens refrigerator cake
Vintage American Ting-A-Lings [home-made sweet treat popular during the festive season]
Crunchy cornflake, coconut and chocolate traybake
📖 Recipe
Old-Fashioned Coconut Buns [cupcakes]
Print Recipe
These vegan coconut buns are sticky, spongy and soft, with a crisp surface, and are packed with sweet coconut flavours.
With a hard chocolate topping and a dusting of desiccated coconut the result is the flavours and textures of a chocolate Bounty bar. But 100% deliciously vegan!
Equipment
12 fairy cake/cupcake/small muffin paper baking cases

Mixing bowls

sieve

mixing spoons

teaspoon

[or small spatula]
Ingredients
Buns:
100

grams

plain flour

[all-purpose flour]

1

teaspoon

baking powder

1

pinch

salt

100

grams

desiccated coconut

225

grams

caster sugar

[or granulated sugar]

125

millilitres

soya milk

[or oat milk or your usual milk]

50

mililitres

vegetable oil

[such as rapeseed or sunflower]
Decorate:
100

grams

dark chocolate

[vegan-friendly chocolate]

1

tablespoon

desiccated coconut

[use more as necessary]
Instructions
Preheat the oven to 160 Fan/180C/ 356 Fahrenheit/ Gas 4.

Pop a paper case into each cup within the cupcake baking tray.

Sieve the flour and baking powder into a mixing bowl. Stir through the salt, sugar and desiccated coconut.

100 grams plain flour,

1 teaspoon baking powder,

1 pinch salt,

225 grams caster sugar,

100 grams desiccated coconut

Pour in the milk and oil, and mix everything together.

125 millilitres soya milk,

50 mililitres vegetable oil

Divide the cake batter between the 12 cupcake cases.

Bake on the middle oven shelf for 20-25 minutes until risen, golden and firm. A skewer popped into the middle will be clean once the cakes are baked.

[Check fan ovens after 20 minutes to see how the buns are baking as fan ovens tend to bake a few minutes quicker. My coconut buns were ready after 25 minutes using an electric oven at 180C].

Some of the cakes may have a bumpy surface and some may look slightly sunk but they have not sunk!

It is just the high coconut and sugar content reacting to the heat and so the surface will develop a crispy top which is what we are going for.

After 5 minutes of cooling in the baking pan remove each cake and transfer to a wire rack or similar, to cool completely.
Decorate:
Once the cakes are cool they can be decorated.

Melt the chocolate either in the microwave or on the stove top.
Stove-top:
Pour about an inch [2-3 cm] of water into a small saucepan. Place a heat-proof bowl into the saucepan. Add the evenly broken up chocolate to the bowl.

Switch the heat to medium-high and once the water has begun to boil, remove the pan from the heat and stir the chocolate until melted.

[be careful not to get any steam or water droplets into the melting chocolate as the added liquid could cause the chocolate to seize up and not melt smoothly]
Microwave:
Add the evenly broken up pieces of chocolate to a microwave-safe bowl and in short bursts of 20-30 seconds melt the chocolate.

This should take about 2-3 bursts and once the chocolate has started to melt give it a stir to help it along.

Once the chocolate has nearly melted, stir the chocolate quickly and it will melt completely.
Finish decorating:
Using a teaspoon or small spatula scoop the melted chocolate onto the centre of each bun and spread it around to coat.

Sprinkle the chocolate with desiccated coconut.

1 tablespoon desiccated coconut

Leave the chocolate to harden before enjoying.

To speed this up the coconut buns can be placed into a refrigerator.
Notes
Nutritional information is provided for guidance only and is not a strict calculation as ingredients vary, and the data is gained through computerized apps.
Coconut buns can be stored at room temperature or within the refrigerator for 3-4 days. Possibly a few days longer especially if stored within the fridge or kept somewhere cool and dry.
Store within a cake tin or food container.
Coconut buns can be frozen, decorated or undecorated, for 2-3 months.
If preferred the coconut buns can be enjoyed without the chocolate topping.
Nutrition
Calories:
251
kcal
|
Carbohydrates:
31
g
|
Protein:
2
g
|
Fat:
14
g
|
Saturated Fat:
8
g
|
Polyunsaturated Fat:
3
g
|
Monounsaturated Fat:
2
g
|
Trans Fat:
0.03
g
|
Cholesterol:
0.3
mg
|
Sodium:
48
mg
|
Potassium:
129
mg
|
Fiber:
3
g
|
Sugar:
21
g
|
Vitamin A:
25
IU
|
Vitamin C:
0.1
mg
|
Calcium:
43
mg
|
Iron:
2
mg
Prepared these tasty vegan old-fashioned coconut buns?
We would love any comments or feedback, and a star rating [can be found within the recipe card, as well as the comment section] would be amazing.
Thanks so much, Jacq x