This vegan cheese, onion and potato pie is a plant-based adaptation of the old school dinners British cheese, onion and potato pie. Many people have fond memories of enjoying cheese, onion and potato pie for school dinners or served up by their parents or grandparents. This pie is packed with classic cheese and onion flavours and complimented with the cheesy sensations that only nutritional yeast flakes can provide! If you are not familiar with nutritional yeast you are in for a surprising treat. Or if your not too keen on nutritional yeast then do try this recipe as it may just change your mind!

Many traditional recipes for cheese, onion and potato pie do not have a pastry crust so this can be omitted if you prefer. But the wholemeal pastry is such a crisp, nutty and melt-in-the-mouth wholesome experience that it is so worth the extra effort. The pastry is also quite handy as once chilled it allows the pie to be easily picked up so perfect for pack lunches, picnics, and buffets.
Jump to:
❓ What is an old School British Cheese, Onion and Potato Pie?
Basically this old school pie was served up for school dinners during the 60s, 70s and 80s and was baked with or without a pastry crust. More typically the pie was simply potatoes and onion boiled together, mashed and cheese added. This mix was scooped into a casserole dish with extra cheese added to the top, and baked until golden. Often sliced tomatoes where placed across the pie for a classic touch. Some people refer to this pie as a Cheese and Onion pie whilst still containing potato. Potato pies were also quite common during the 1940s British war years of food shortages and rationing, as potatoes and onions were frugal ingredients and easily available compared to other ingredients.
❓ What is a vegan cheese, onion and potato pie?
Our vegan Cheese, Onion and Potato Pie is a vegan version of the old school dinners favourite. It features a wholemeal crust that is short, buttery, crisp and nutty. The cheesy potato and onion filling is seasoned with garlic and onion powder, with nutritional yeast flakes providing the cheesy flavours. The pie is topped off with even more cheesy flavours in the form of a wholemeal vegan cheese sauce that is enriched with white miso paste.
If nutritional yeast and white miso paste are new ingredients to you, don't stress, as these ingredients are now commonly available from UK and US supermarkets and grocery stores. Once purchased you'll get more than one meal out of each product. We frequently source our white miso paste from Tesco supermarket or Asda supermarket [UK].
Also you may be sceptical about using wholemeal flour for the pastry and the cheese sauce. But it really does add extra flavour and nuttiness. And the extra fibre is so satiating in a good way as it doesn't give you that heavy feeling of fullness.
However, the wholemeal flour can simply be subbed out for plain or all-purpose flour if that's what you prefer. We have tried both types of flour and are happy with the results for both.
This old school pie has the most amazing rustic crust. Bake this pie a day or so in advance for a tasty picnic pie. Once chilled the self-saucing cheese sauce sets and makes it so easy to slice into smaller pieces and you can easily enjoy this as a hand pie with no cutlery.
🔪 How To Prepare
The ingredients you'll need for the pastry are: wholemeal flour, plant-based margarine, dried mixed herbs, and water.
The ingredients for the pie filling are: potatoes, onions, nutritional yeast flakes, onion powder, garlic powder, and plant-based milk.
The ingredients for the vegan cheese sauce are: plant-based margarine, wholemeal flour, plant-based flour, nutritional yeast flakes, and white miso paste.
And for the topping - a little bit of vegan cheese, although this is optional.
First prepare and pre-bake the pasty:
Step 1: Add the flour and margarine to a mixing bowl. Rub the margarine into the flour until it resembles breadcrumbs. Stir through the dried herbs and enough water to bring to a ball of dough. Chill the dough in the refrigerator for 15 minutes.
Step 2: Line your baking dish with the pastry and cover with a piece of parchment paper. Bake for 25 minutes then set aside while the filling is prepared.
Prepare the filling:
Step 1: Cook the potato and onion in water until soft. Drain the water but keep it to use for the sauce. Mash the potato and onion with the milk, nutritional yeast flakes, onion powder, and garlic powder. Season with salt and pepper.
Prepare the sauce:
Step 1: Melt the margarine in a saucepan, stir through some of the potato water, and stir through the flour to create a roux - thick paste. Cook and stir for a few minutes.
Step 2: Slowly stir through the milk and cook for 5 minutes. To finish stir through the nutritional yeast flakes and white miso paste. Season with salt and pepper.
Assemble the pie:
Step 1: Add the potato filling to the pie crust and smooth out evenly.
Step 2: Pour over the cheese sauce and spread out. Sprinkle the vegan cheese over the top.
Bake the pie:
Step 1: Bake for 25-35 minutes or just until the topping is lightly golden.
The cheese, onion and potato pie is now ready to serve. When hot the cheese sauce provides a nice self-saucing topping but once chilled the sauce sets and the pie is very delicious enjoyed chilled as a picnic pie or for lunch with a nice salad.
📖 Recipe Notes
⏲️ Storing
Leftovers can be stored in the fridge, in a covered container/ the actual baking dish/ or on a plate with food wrap, for up to 3 days. Chilled leftover pie is delicious served straight from the fridge especially for lunch the next day, or enjoyed as food-on-the-go such as work/school/college pack lunch, picnic or travelling.
🌡️ Freezing
Yes. Cool and wrap well with freezer wrap. Freeze for 3-4 months, Defrost to room temperature before reheating. This potato pie is perfect for batch prep.
♨️ Reheating
To reheat set your oven to 180 Fan/200 Celsius/390 Fahrenheit/gas 6 and heat through for about 25 minutes until piping hot. To avoid browning too much, place your pie near the bottom of your oven or cover with some loose kitchen foil over the pie. I reheated my leftover pie in already cut slices on a baking tray and not in the original casserole dish but either way is fine.
📋 FAQ'S
Do you have any time saving hacks?
Yes we have a few time savers that helps make this pie even easier and quicker:

1. Save time by preparing your pastry or mashed potatoes the day before. Leftover mashed potatoes are great time saver and they can also be frozen. Just cool quickly and place in a freezer container. When you have enough mashed potatoes frozen this pie is an ideal way to make another meal from leftovers. Simply cook the onions as per the instructions and add these to the already prepared potatoes along with the garlic powder, onion powder and nutritional yeast.

2. Wholemeal pastry can also be frozen before it is baked. It's always worthwhile to prepare double batches of pastry and freeze the second ball of pastry. We find that it just saves so much time. Simply wrap up your pastry dough to prevent freezer burning and the pastry will keep well for a few months in the freezer.

3. You can use ready rolled or ready prepared shop-bought vegan-friendly pastry for this pie.

4. Ready-made vegan cheese sauce can be used instead of homemade, often wholefood stores sell packet sauce or instant dried cheese sauce that is vegan-friendly. If you only have jarred vegan-friendly white sauce or béchamel sauce then simply add the nutritional yeast flakes and white miso paste to the cheese sauce to flavour it.

5. The pie can be prepared a day or two in advance and stored within the refrigerator ready to enjoy for a quick meal. This recipe is perfect for batch prepping as the entire pie can be frozen in the baking dish. Maybe prepare two pies at once, one for now and another for a lazy or busy day. If less portions are required you could divide the pie up between two smaller baking dishes.
Can I substitute the white miso paste?
A teaspoon of Dijon or English mustard is a good replacement or perhaps add a teaspoon of garlic powder or granules. Alternatively, simply omit this ingredient.
Can I substitute the nutritional yeast flakes?
Yes, you can replace the nutritional yeast flakes for vegan cheese. Any plant-based cheese that can be grated and melted will work fine. A stronger flavour cheese will add more flavour. Also, if you add a half teaspoon of ground turmeric to the cheese sauce this can highlight the cheesy tones.
Can I use plain flour or all-purpose flour?
Yes, if preferred you can use plain flour or all-purpose flour instead of wholemeal flour.
Do I have to add the pastry crust?
No, if preferred omit the pastry crust and just prepare the potato pie with the filling and sauce. Traditionally, potato pies have been baked without a crust so your pie will still be delicious.
Can I add sliced tomatoes over the top?
Yes, that would be extra delicious to add thinly sliced tomatoes over the topping.
Can I add anything else?
Yes, a good idea is to add a few handfuls of green veggies to the potatoes and onions as they cook for the filling - such as peas, chopped kale, collards, chard, cabbage, or spring greens.

This will add a nice speckled green appearance to the filling as well as increase the wholesomeness.

Alternatively, once the mashed potato filling has been prepared stir through a handful of chopped chives, sliced spring onions [green onions], or finely chopped fresh parsley.
Why is the potato cooking liquid used in the recipe?
The starchy potato water helps to give the filling a creamy texture and it also carries some of the flavours that may have leached out during boiling. Also, the liquid helps thicken up the sauce nicely. And besides using the potato water is better than using tap water or extra milk!
What pairs well with this pie?
For a traditional side, you can't go wrong with good old Baked Beans, or Mushy Peas, or go with some Boston Baked Beans for a tasty change. For something fresh serve with a mixed salad or some fresh spinach, rocket [arugula] or watercress.

Other good pairings are steamed green vegetables like kale, chard, collard greens, and cabbage. As are sweetcorn, peas, and carrots which are a classic combination and go well with a tasty pie.

Other ideas include Corn-on-the-cobs or for a tangy contrast, pickled onions, pickled beetroot, and pickled red cabbage are excellent choices. Coleslaw offers a creamy refreshing crunch.

And for something a little different but still classic and nostalgic, you can't go wrong with good old spaghetti hoops on the side.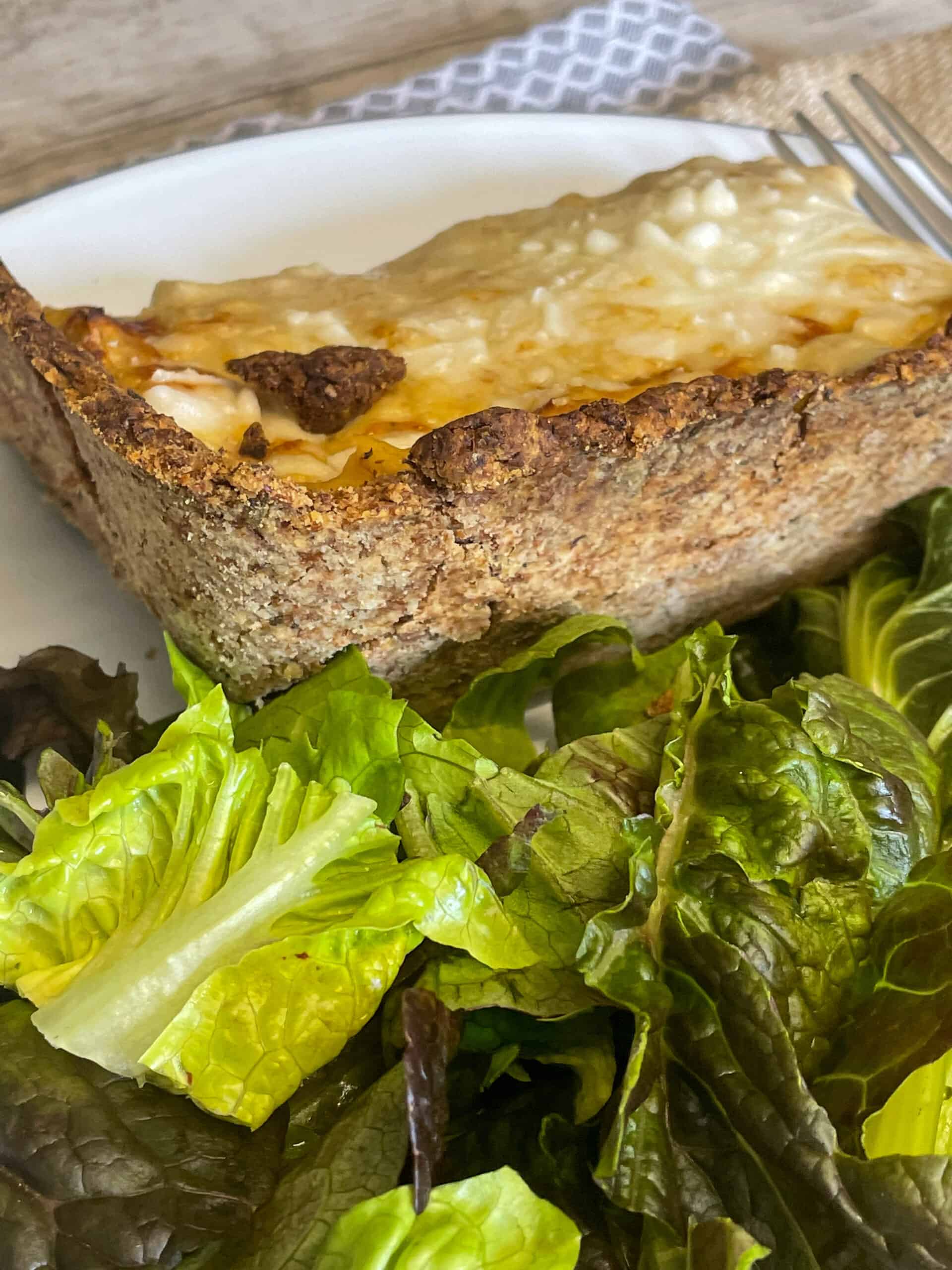 We love this deliciously rustic wholemeal crust as its so crisp, buttery, herby and nutty in flavour. Its pastry with character!
👪 More vegan old-school dinner recipes
We have a few more tasty old-school dinner meals to share - our vegan version of a Cheese Flan and this Teviotdale Pie which features a suet crust and a savoury mince filling, and our take on a Scottish Mince Pie and our meat-free Hungarian Goulash. What meals can you remember from old-school dinners? Let us know in the comments below and we will try and create a plant-based version.
***please note: for US measurements click the 'US customary button' within the recipe and the measurements will switch to tablespoons, cups, and ounces.***
📖 Recipe
Vegan Cheese, Onion and Potato Pie
Print Recipe
A traditional British old school dinners classic recreated with all plant ingredients.
The flavours of this cheese, onion and potato pie are reminiscent of a Greggs cheese and onion pastry but with a tastier wholemeal pastry crust and much kinder ingredients.
Delicious served hot with the pies cheesy self-saucing topping. Once chilled this pie's topping deliciously sets and makes it so easy to pick up and eat with no cutlery!
Equipment
Deep pie dish, casserole dish, lasagna dish or similar

roughly about 27cm [11 inch] length and 18 cm [7 inch] wide, 6 cm [2 ½ inches] deep.

greaseproof or baking paper

to line dish

saucepans

Rolling pin
Ingredients
Pastry:
225

grams

wholemeal plain flour

Plus extra for dusting and rolling out pastry. Alternatively use plain or all-purpose flour.

110

grams

plant-based margarine

Or vegan butter. Plus a little extra to grease baking dish.

1

tablespoon

dried mixed herbs

3

tablespoons

water

perhaps 1-2 tablespoons extra
For the pie filling:
700

grams

potatoes

If the potato skins are unblemished they can be left on for extra wholesomeness It doesn't affect the filling texture

185

grams

onion

1 large, rough diced

50

grams

nutritional yeast flakes

1

teaspoon

garlic powder

2

teaspoon

onion powder

3

tablespoon

plant-based milk

plus enough of the potato cooking liquid to make the potato mash
For the cheese sauce:
1

tablespoon

plant-based margarine

or vegan butter

2

tablespoon

plain wholemeal flour

or plain or all-purpose flour

375

millilitres

plant-based milk

25

grams

nutritional yeast flakes

1

teaspoon

white miso paste
Topping:
45

grams

vegan cheese

grated/shreds
Instructions
Prepare the pastry:
Add the wholemeal flour and plant-based margarine to a mixing bowl.

With your finger tips rub in the margarine until the mix looks like crumbs.

225 grams wholemeal plain flour,

110 grams plant-based margarine

Mix in the herbs.

Slowly add a tablespoon of water at a time until the dough begins to come together into a ball.

If your pastry ball is too sticky just sprinkle in some more flour and if its too dry and crumby incorporate a little bit more water.

1 tablespoon dried mixed herbs,

3 tablespoons water

Lightly knead until you have a smoothish ball of dough.

Set aside in the refrigerator for at least 15 minutes. If the pastry is going into the fridge for longer then wrap in a clean tea towel or piece of greaseproof paper.
Prepare the filling: [prepare while the pastry chills]
Add the potatoes and onions to a saucepan and cover with water. Bring to the boil and cook until fork tender.

700 grams potatoes,

185 grams onion

Drain the potatoes and onions but reserve the cooking liquid and add the potatoes and onions back into the saucepan.

Add the milk, onion powder, garlic powder, and nutritional yeast to the saucepan.

Using a potato masher mash the potatoes and add a few tablespoons of the potato cooking liquid if it looks too dry.

Season with salt and pepper to taste.

Set aside until ready to add to the pie crust.

50 grams nutritional yeast flakes,

1 teaspoon garlic powder,

2 teaspoon onion powder,

3 tablespoon plant-based milk
Bake the pastry case:
Preheat oven to 180 Fan, 200 Celsius, 390 Fahrenheit, Gas 6.

Prepare your oven dish by greasing with some margarine and then lining with some greaseproof paper if necessary. We used a ceramic casserole dish so it only needed greasing and not the paper.

Roll out your pastry until thin (roughly about ½ cm) and line your dish.

Use the rolling pin to wrap the pastry around and drape the pastry over the dish.

Carefully drop the pastry into the dish. Don't worry if it breaks as you can just press it back together in the dish. This is a crumbly pastry.

Using a fork poke the pastry base all over the bottom.

Trim the sides with a knife.

Add a piece of scrunched up greaseproof paper or sheet of kitchen foil to cover the pastry.

Pre-bake the pastry case for 15 minutes.

Turn the oven down to 160 Fan,180 Celsius, 356 Fahrenheit, or Gas 4.

Remove the kitchen foil and bake for another 10 minutes.

Remove the pastry case from the oven and scoop in your potato filling, smoothing the top down. Set aside while preparing the cheese sauce topping.
Prepare the cheese sauce:
Melt the margarine in a small saucepan.

Once melted add 4 tablespoons of potato cooking liquid and mix with a fork.

1 tablespoon plant-based margarine

Add the wholemeal flour and mix continuously for a few minutes to cook the flour.

2 tablespoon plain wholemeal flour

If your flour mix is too thick add a few more tablespoons of potato water to thin it down a little.

Slowly add the milk whisking all the time.

375 millilitres plant-based milk

Bring to the boil, lower the heat, and simmer gently for about 5 minutes.

The sauce will become thicker, so stir frequently to prevent sticking and if necessary turn the heat to low.

Remove the saucepan from the heat and mix through the nutritional yeast flakes and the white miso paste.

Check the seasoning and add salt and pepper to taste.

25 grams nutritional yeast flakes,

1 teaspoon white miso paste
Assemble and finish baking the pie:
Preheat the oven to 190 Fan, 210 Celsius, Fahrenheit 410, or Gas 6.

Pour the cheese sauce over the potato filling that was added earlier to the pie crust.

Sprinkle the grated cheese over the sauce.

Bake on the middle oven shelf for 25 minutes or until nice and lightly golden.
Notes
Nutritional data is for guidance only and is not a strict analysis as ingredients vary.
Leftover pie will stay fresh in the fridge, in a covered container or covered with food wrap on a plate, for 3 days.
Reheat leftovers at 180 Fan, 200 Celsius, 390 Fahrenheit,gas 6 with perhaps some kitchen foil to cover the dish to prevent the pie going to brown Heat for 20-30 minutes or until piping hot throughout. Don't place the pie on the top shelf, rather place towards the middle-bottom as you just want to warm through not over cook.
Leftover pie is amazing served chilled for picnics, parties, buffets, pack-lunch, or just for an everyday lunch at home with a side salad. Chilled pie is very easy to cut into smaller slices.
Leftover pie can be frozen for up to 3 months. Wrap well and remove wrappings while thawing to room temperature. 
Old British school dinner recipes often did not include the pastry base so for a quicker recipe omit the pastry, grease your baking dish, and proceed with the pie recipe. A traditional touch is to add sliced tomatoes across the top.
Nutrition
Calories:
475
kcal
|
Carbohydrates:
68
g
|
Protein:
16
g
|
Fat:
17
g
|
Saturated Fat:
4
g
|
Polyunsaturated Fat:
4
g
|
Monounsaturated Fat:
6
g
|
Trans Fat:
1
g
|
Sodium:
290
mg
|
Potassium:
992
mg
|
Fiber:
12
g
|
Sugar:
8
g
|
Vitamin A:
967
IU
|
Vitamin C:
26
mg
|
Calcium:
158
mg
|
Iron:
5
mg
Prepared our Vegan Cheese, Onion and Potato Pie? We would love to know how you got on with the recipe so do drop us a comment below and click the star ratings. Thanks so much! Jacq x