Vegan Cowboy or Cowgirl Pie is just as tasty but probably more so than traditional cowboy pie!
Cowboy Pie is an absolute classic that has made people happy for many years!
It is a pie-like dish that was inspired by the American cowboy era, but the origins of the dish are unclear.
Kids, young and old, can imagine their enjoying cowboy pie on the prairies over a campfire.
Cowboy pie is so easy and quick to prepare especially if the potatoes are already cooked and mashed in advance.
This recipe is perfect for kids to prepare themselves with supervision.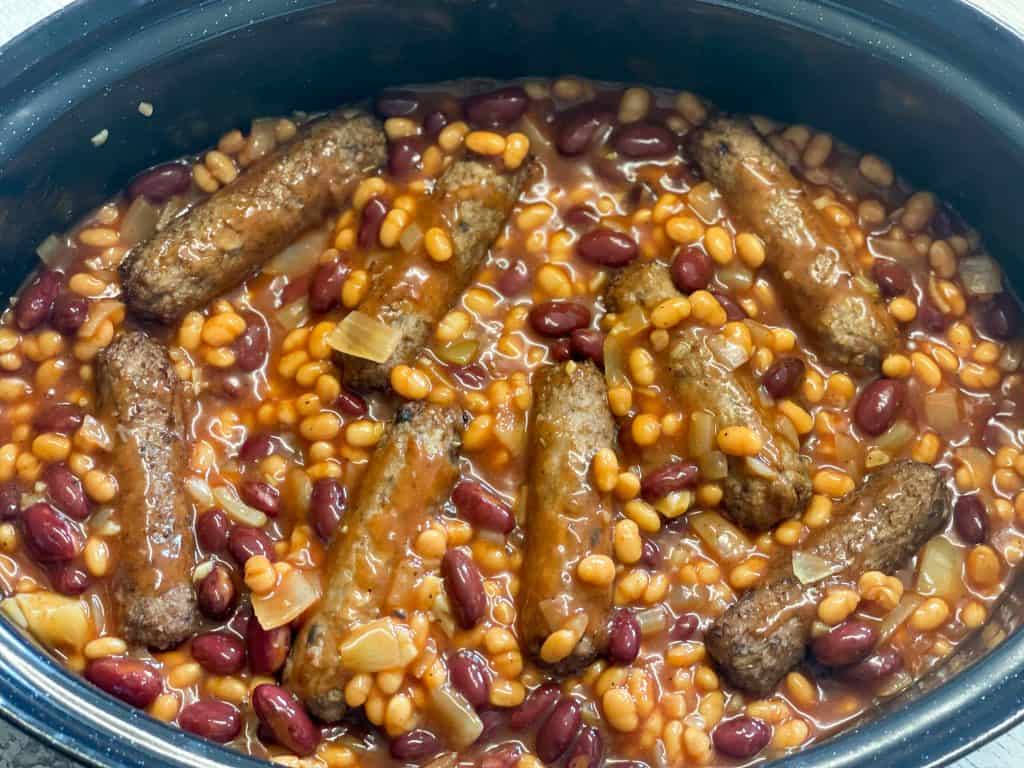 Vegan Cowboy Pie
Serves 4
Easily adjust the quantities to make more portions!
Cowboy pie is a fun, family meal that is super quick and easy to stick together for a yummy fuss-free midweek meal.
Better still cowboy pie is an ideal batch prep dish so prepare it one or two days in advance for an extra convenient dinner.
Don't like plant-based sausages? Easily sub them out and use mushrooms instead. Check the recipe notes for guidance.
Equipment
baking dish/casserole pan/roasting dish

Saucepan
Ingredients
For filling
1

pack

meat-free sausages, or even burgers chopped up, or vegan mince or chunks

I generally use about 2 sausages per person, but sometimes make 3 each for my kids if they are particularly hungry. My family love the Vegan meat-free Richmond Sausages.

2

can

baked beans

14/15 oz cans.

1

can

kidney beans

1 1/2 cups/14oz. Drained.

2

medium

onions

chopped

3

cloves

garlic

chopped.

4

tbsp

barbecue sauce or 2 tbsp of dried BBQ seasoning,

add a a little at a time and check the flavour so that you end up with how you like it. Alternatively use either tomato or brown sauce and mix through a tsp or 2 of Southern fried seasoning mix or a tsp of mild chilli powder and tbsp of smoked paprika or normal paprika. Just add a little seasoning at a time until its perfect!
For the mashed potatoes
600

grams

potatoes, cooked and mashed

For 4 people I would use about 600 grams, use more if you would like leftovers or feeding more people. I tend to leave the skins on my potatoes for a rustic mash

1

tbsp

plant-based margarine

alternatively use 1 tbsp of hummus or 2 tsp white miso paste if your diet omits margarine.

4

tbsp

plant-based milk

I use soya milk. Plus a few extra tbsp of potato cooking liquid. Alternatively just use potato water.

salt and pepper to taste
For sautéing;
125

ml

vegetable stock

1/2 cup. . I usually reserve any vegetable cooking water whenever I have any, and save it in a jug in the fridge. Then I can use it for sautéing or adding to sauces, soups and stews. Alternatively use 1 tbsp vegetable oil.
For garnish
50

grams

grated vegan cheese

Or half-3/4 cup. Use whatever amount is perfect for your dish, or just leave it out if you prefer. Alternatively use nutritional yeast flakes.
Instructions
Preheat oven to 190 Fan/210 Celsius/410 Fahrenheit/ Gas 5

Prepare your mashed potatoes.Boil until soft, about 10-12 minutes depending on size.Drain but reserve cooking liquid.Mash the potatoes with plant-based margarine, hummus or white miso paste. Add a few tbsp of plant milk and a few tbsp of cooking liquid. Season to taste.

While the potatoes are cooking prepare your meat-free sausages according to the packet directions.

Over a medium heat, sauté your onions and garlic in the vegetable stock for about 5 minutes.

Tip your baked beans and kidney beans into your casserole dish.

Add the BBQ sauce or seasoning to the beans and mix well.

Mix the onions and garlic into the baked bean mix.

Add the cooked sausages.Depending on preference chop your sausages in half. Stir to coat your sausages with the beany sauce. 

Top with the mashed potatoes. 

Place on middle shelf in oven until your potatoes are golden and crispy. This can be between 20-45 minutes depending on your oven. Half way through baking, remove from the oven and sprinkle plant-based cheese or nutritional yeast over.Pop back in the oven until crisp, golden and melted.

Serve!
Notes
Prepared one of my recipes?
Snapped a photo to share on social media?
Tag us! @tradtitionalplantbasedcooking #traditionalplantbasedcooking
Thanks!
Nutrition
Vegan Cowboy Pie Recipe Notes
Vegan cowboy pie will stay fresh in the fridge for up to 3 days.
Reheat leftovers at the cooking temperature stated in the recipe until piping hot. Add a cover if your concerned the topping will brown too much. But a very crispy topping is extra tasty!
Save extra time by subbing out the fresh garlic and onion for a few tsps of onion powder and garlic powder. No sautéing required!
Use mushrooms in place of the meat-free sausages. Small mushrooms can be left whole and bigger mushrooms sliced into chunks. Add the mushrooms to the sautéing onion and garlic.
The mash topping can be made with a mix of sweet potato and white potato. Or add some carrot, turnip, celeriac, cauliflower, etc for an extra interesting topping!
Mix through a few tbsp of nutritional yeast through the mash for extra tastiness.
Add slices of tomatoes across the top before baking, or some whole cherry tomatoes.
Serve with steamed or stir-fried green vegetables. Such as Brussel sprouts, kale, cabbage, garden peas, sugar-snap peas, etc.
Corn-on-the-cobs on the side is a yummy addition.
My kids like a mix of peas and corn as an accompaniment.
Serve with slices of crusty or wholemeal bread.
Serve with a scoop of cowboy salad! For the cowboy salad recipe my kids prefer it without the dressing, so I just leave it off and chill the salad before serving as a side. Also I don't bother with trying to include different coloured apples and peppers instead I just use what I have in.
My son loves a big dollop of tomato ketchup on the side of Vegan Cowboy Pie.
Vegan pudding ideas to enjoy after your cowboy pie: