Vegan Campfire Stew is a delicious meat free meal that can be easily prepared within the slow cooker or crock-pot. Chuck all the ingredients in the slow cooker and it will happily bubble away concocting a sweet, savoury and smoky delicious stew. Alternatively this Campfire Stew can be easily prepared on the stove-top if preferred.
Planning a camping trip or cook-out? This recipe can easily be added to an outside stew pot and cooked over an open fire.
This campfire stew recipe can be adapted for gluten-free diets with just a few ingredient swops.
Vegan Campfire Stew can be prepared either in a slow cooker, on the stove-top or even over a campfire. This veggie recipe is stupidly easy as all the ingredients are added to one pot and cooked to perfection. Simple, no-fuss tasty vegan recipes are the best!
Origin of Campfire Stew
Our modern day Campfire Stew likely originated from the stews that have been cooked over an open fire or hearths for thousands of years.
Cooking over an open fire was the primary method of preparing food during the medieval period (roughly 5th to 15th century AD). Most of the cooking during this era was done on hearths, which were open fireplaces used for both heating homes and cooking food, and the smoke escaped through a hole in the roof.
Also throughout the centuries soldiers have also made use of campfires to cook their food in the open field, one such example is 14th Scottish soldiers carrying a bag of oatmeal, a flat piece of metal called a griddle, and some water. The water was mixed through the oatmeal and fashioned into a dough, that could be flattened into oatcakes and cooked over the fire. Travellers, and those without a hearth, would also have created a make-shift fire to cook a stew or soup with whatever ingredients were available.
Also many indigenous groups including Native American tribes used a variety of cooking methods, many of which involved fire. For instance, some tribes would roast meat directly on the coals of a fire while others would boil food in water-tight baskets or clay pots. Also, some tribes in the Plains region were known to cook food in a pit, which would be lined with hot stones to create an oven-like effect.
Modern campfire stews
Most campfire stews are made with a variety of meats, vegetables, beans, herbs, and spices. In the US, it is often referred to as "camp stew" or "campfire chowder." In Australia, it is often called "bush tucker stew" or "billy tea stew."
Vegan Campfire Stew
Camping, hiking, Cub scouts, and other such outdoor pursuits have sparked an increased interest in cooking over campfires for fun and leisure rather that out of necessity, and a specific stew that can be prepared at home has become popular over social media and recipe sites especially Slimming World.
The Slimming World campfire stew recipe includes canned baked beans in a tomato sauce, bell peppers, gammon [which is cooked in the stew then pulled apart with two forks at the end of cooking], and is flavoured with paprika powder, garlic and tomato paste.
This modern campfire stew is similar in flavours to the Mulligan stew that was popular during the Great Depression [1929-1939]. Homeless people and people who had to continuously move to find work, lived in hobo camps otherwise known as hobo jungles and prepared communal stews that were cooked outside over an open fire.
The ingredients included anything that was available, most likely from begging and foraging, including meat, vegetables, beans, edible weeds and wild plants, and if tomatoes were available they were used to create a tomato based broth.
As everybody contributed to the Mulligan stew it also became known as a stone soup. The Stone soup folktale was about a starving stranger who talked the people of a a village into contributing an ingredient to a soup pot and the end result was everyone in the village was fed and so was the hungry stranger!
Vegan campfire stew
This vegan campfire stew sits in front of a huge legacy of humans eating sustaining stews for centuries! It also mirrors the Mulligan stew as its easily adapted to what ingredients you have at home. We are not going through a Great Depression but we are going through a cost of living crisis and increasing food and energy costs so recipes that can be adapted and that use lower cost energy means are essential for many people, including my family!
Vegan campfire stew fits that bill as its made in a slow cooker or crock-pot, and you can switch any of the vegetables for ones that you prefer. Although, I would try keeping to the herbs and spices that are in the recipe if you want that overall flavour of the campfire stew recipe provided.
This meat-free campfire stew recipe uses canned Jackfruit instead of the traditional gammon. A Jackfruit is a huge bulbous fruit of the Jack tree and is a common fresh ingredient popular in Asian markets. However, it is widely available as a canned product in western supermarkets or wholefood stores.
Jackfruit is an amazingly versatile ingredient for vegan cooking. Once cooked in a sauce the fibrous pieces of jackfruit can be pulled apart with two forks similar to pulled pork or chicken.
On its own Jackfruit does not have lots of taste but combined with a delicious thick smoky, savoury and sweet sauce it is delicious. If your new to Jackfruit we do not advice tasting a piece of jackfruit straight from the tin as it will likely not be that nice, and we don't want to put you off using it!
Jackfruit is so worth adding to your diet as it is a wholefood and packed with nutritional benefits including being high in protein, antioxidants and minerals.
Also, this veggie campfire stew recipe is ideal for those looking for low fat and low calorie recipes. A portion of vegan campfire stew is roughly about 320 calories, 4grams of fat, and provides around 6grams of Iron, 198mg Calcium, 76g Vitamin C and 17g of Fiber, which is a good whack of plant-based goodness.
And finally, if you would like to prepare this campfire stew on an actual campfire then have a look at the recipe notes and FAQ section for a few tips.
How to prepare vegan campfire stew in the slow cooker
It literally couldn't be easier to prepare this campfire stew in the slow cooker, simply add the ingredients, stir well, and leave to cook on high for 4 hours.
First add the Jackfruit, canned baked beans, bell pepper, carrot, celery, onion, garlic, tomato paste, paprika powder, cumin powder, onion powder, soy sauce, vegan Worcester sauce [or extra soy sauce], and maple syrup or sugar, to the slow cooker.
Give the ingredients a good mix and leave to cook on the high setting for 4 hours.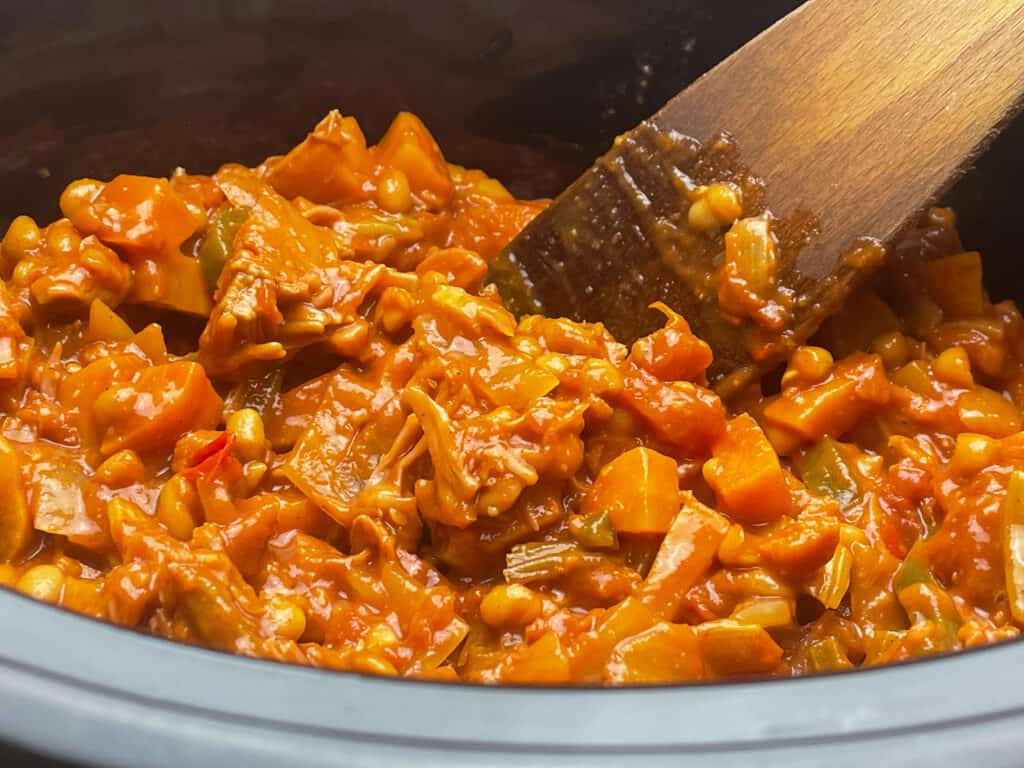 The campfire stew is ready when the vegetables are soft and the sauce is thick and tasty.
To finish, remove the large pieces of Jackfruit and using two forks shred them into smaller pieces.
Pop the Jackfruit back into the slow cooker and stir through the sauce.
Season with salt and pepper to taste, and add a few tablespoons and a few teaspoons of liquid smoke if like.
Enjoy the campfire stew with pasta, thick noodles, rice, baked potatoes or even just a wedge of crusty bread.
Recipe notes and FAQ's
Storing leftover campfire stew
Leftovers can be stored within a covered container and placed into the refrigerator for 3 days or the freezer for 2-3 months.
Reheating
Reheat leftovers in a skillet, deep frying pan or non-stick pan until piping hot. A little bit of water or vegetable broth may be required to loosen up the sauce and reheat the stew without it sticking to the pan. Stir frequently and the stew should be reheated within 4-5 minutes of gently simmering.
Or add the stew to a microwave safe dish, cover loosely with a lid or a piece of microwave safe food wrap, and reheat for 1-2 minutes before stirring and continuing this method until the stew is piping hot.
Is campfire stew gluten-free?

Yes, with a few changes this recipe is very easily prepared as safe for gluten-free diets. First use a gluten-free soy sauce such as Tamari, and check that your vegan Worcester Sauce is gluten-free and if not just replace it with more Tamari. Lastly, check that your canned baked beans in tomato sauce are free from gluten ingredients.
What are canned baked beans?

In the UK, canned baked beans refers to beans mainly haricot beans that are cooked in a tomato sauce and canned. Haricot beans are also known as Navy beans. Mixed beans in a tomato sauce are also available and these can be used instead of ordinary baked beans. Popular choices of baked beans in the UK include Branston beans and Heinz beans both of which are vegan-friendly.

However, branded cans of beans are now quite expensive as food costs have risen, so supermarket own brand of baked beans are perfect budget-friendly substitutes as long as they are vegan which they usually are.

Alternatively, you can easily prepare a batch of your own home-made Baked Beans in a Tomato Sauce or even substitute the baked beans for a home-made batch of Boston Baked Beans.
How do I prepare campfire stew on the stove-top?

Its easy and quick to prepare campfire stew on the stove-top. Simply add all the ingredients to a non-stick pan, skillet or similar, and add 2 cups [500ml] of vegetable broth. Bring to a gentle boil and simmer until the veggies are soft, this usually takes around 45 minutes and if the stew becomes too thick simply add a little extra water or broth.

Also, to add more flavour the celery, carrots, onions, and bell pepper can be pre-cooked in 1-2 tablespoons of oil until nearly soft, and then the rest of the ingredients added. This additional step can reduce the amount of time that the stew requires to cook as it softens the veggies up.


How do I prepare campfire stew on a campfire?

The same method for cooking the stew on the stove-top can be used to cook the campfire stew over a campfire.

Although do use a strong stew pot or campfire pot, one made from cast iron or enamel cast iron or a pot that is specifically manufactured for use with camp fires such as a billycan, are all good choices.

Using a lid with your pot will help conserve the heat as the stew cooks and will help the stew cook faster, and do stir the stew from time to time to ensure it is not sticking to the pot. Its important to note that the campfire stew cooked over a campfire may take longer to cook compared with the stove-top.

To transport the stew to your campsite simply add all the prepped ingredients to a strong food bag or food container, and transport within a cool-bag, thermal box or cool box. Then when your ready to cook, simply dump all the ingredients out of the bag or container directly into your stew pot and your ready to cook!
What are some good accompaniments for a campfire stew?

If your cooking your campfire stew for a cook-out, BBQ, or over a campfire then baked potatoes roasted on the camp fire hot coals are a great accompaniment. Prick the potatoes all over the skin and then wrap them up in a double layer of foil, place somewhere safe on the hot coals and they will likely take about an hour to soften depending on the potato size.

Alternatively bake your potatoes in an oven or microwave. I like to soften the potatoes using a microwave and then crisp them up by rubbing a little oil over the skin and popping them in an air-fryer until the skins are crispy and brown.

A few more ideas:

* Home-made Cornbread Muffins [gluten-free recipe included within the post recipe notes] or a slice of this Slow Cooker Cornbread

* A slice of home-made Slow Cooker Boston Brown Bread.

* A delicious wedge of this Irish Soda Bread [wheaten bread]

* US biscuits or one of these Buttermilk Scones

* Crackers

* Carrot hotdogs in a hot-dog bread bun and topped with the camp fire stew is a delicious meal that my kids especially love.

* The campfire stew filling can be used as a vegan sloppy Joes filling, if you would like a different recipe for Vegan Sloppy Joes then do have a look at our favourite one.

* A colourful salad, such as this Italian Panzanella Bread Salad or this Traditional Waldorf Salad

* A grain such as Quinoa, couscous, rice, or barley

* Vegan coleslaw, either shop-bought or home-made. I like to prepare an easy home-made coleslaw by simply mixing vegan mayonnaise with shredded red cabbage, grated carrot and fine sliced red onion.

* Baked sweet potatoes, follow the same method as above for white potatoes

* Potato wedges, fries, chips

*Corn-on-the-cob, or a mix of cooked frozen peas and sweetcorn

* Pasta, spaghetti pasta or thick noodles

* Tortilla wraps, use the stew as a filling along with crisp lettuce leaves

* Oven roasted large tomatoes are also delicious served with campfire stew as they provide a juicy burst of flavour. Our tomatoes were just plain-roasted in the oven with no additions for about 15-20 minutes at 180 Fan/200 Celsius/ 392 Fahrenheit /Gas 6. Roasting tomatoes are a great way to use up fresh tomatoes that have gone a bit soft or wrinkly but still perfectly fine.

* I often serve my family's campfire stew with mashed potatoes and steamed cabbage. My kids enjoy nutritional yeast flakes mixed through the cabbage once its cooked. Even our 2 dogs love cabbage with nutritional yeast!

* As well as mashed potatoes, any mash is delicious with campfire stew such as mashed turnips [rutabaga], mashed celeriac, mashed carrots and parsnips, or try this Old Fashioned British Champ which is a tasty mix of mashed potatoes, mashed carrots, and cabbage.

What can I use as a campfire stew garnish?

* Herbs such as parsley, coriander [cilantro], chives, dill, are all tasty choices

* Sliced spring onions [green onions or scallions]

* Nutritional yeast flakes or grated vegan cheese

* A dollop of vegan sour cream, vegan plain yogurt or vegan mayonnaise

* Red pepper or chilli flakes

* Hot sauce

* Gherkins

* Jalapenos

* Fried onions

* Toasted bread crumbs

* Crumbled or small pieces of cooked vegan sausage, vegan burger or vegan bacon
Can I make any substitutions?

Of course, here are a few suggestions:

Tomatoes: Instead of canned chopped or diced tomatoes, you could use fresh tomatoes or tomato sauce or tomato passata. Although fresh tomatoes would give a different texture to the finished stew.

Baked beans: These can be replaced with canned mixed beans in a tomato sauce, or canned Kidney beans in a tomato or chilli sauce, or prepare your own home-made Vegan Baked Beans.

Jackfruit: If Jackfruit isn't available or your not keen then substitute with chopped firm tofu or tempeh, or perhaps mushrooms. Alternatively add a can of chickpeas or lentils instead of the Jackfruit.

Vegetables: Replace any of the vegetables with courgette, eggplant, butternut squash, acorn squash, pumpkin, sweet potato, etc.

Maple syrup: this can be replaced with regular granulated sugar, brown sugar or your preferred syrup such as agave, date or rice syrup.

Vegan Worcester Sauce: This can be replaced by adding additional soy sauce or the same amount of balsamic vinegar

Smoked paprika: This does provide the smoky flavours but it could be replaced with regular paprika or sweet paprika. Alternatively try chipotle powder or paste.

The nutritional yeast flakes and the liquid smoke are optional ingredients but do add lots of delicious flavours so are recommended if you have them.

***Do keep in mind that any adaptations or substitutions that you make may change the overall flavour profile of the finished campfire stew but of course the ingredients are all tasty so your finished dish will still be perfectly delicious.***

What is canned Jackfruit?

Jackfruit is a tropical fruit that is indigenous to South India. It's the largest fruit in the world that grows on a tree and can weigh up to 80 pounds (36 kg)! When it's ripe, jackfruit has a sweet taste that's been compared to a combination of fruits including bananas, pineapples, and mangoes.

However, for cooking purposes, unripe or young jackfruit is often used due to its neutral flavor and unique texture. When cooked, unripe jackfruit has a texture that's similar to shredded meat, which makes it a popular substitute in vegetarian, plant-based and vegan dishes. It's commonly used in recipes like pulled "pork" sandwiches, curries, tacos, and stews.

Canned jackfruit is simply young, unripe jackfruit that's been preserved in a can. It can be packed in water, brine, or a syrup, although for savoury recipes don't use the jackfruit in syrup!

You can usually usually find canned jackfruit in most UK supermarkets or perhaps the international foods section of grocery stores, or in health food shops. Its become quite a common canned food so you shouldn't have any trouble finding it. I can even buy it in my local supermarket and my family lives on a small Scottish island!
How do I prepare canned Jackfruit for using in a recipe?

Its easy to prepare canned jackfruit as its just a case of draining the liquid and then giving the jackfruit a quick rinse under a running cold tap.

For some recipes the jackfruit may need to be pulled [shredded using a couple of forks] before using or for this campfire stew recipe simply add all the pieces of jackfruit straight into the cooking pot as they will be pulled at the end of cooking.

You may notice pieces of the jackfruit core or tougher parts amongst the fibrous bits, but there is no need to remove these as they can be safely eaten and will soften up once cooked.
How do I pull pieces of canned Jackfruit so that it resembles pulled pork or chicken?

Its really easy to pull jackfruit pieces so that it resembles pulled pork or chicken.

Simply add the cooked pieces of jackfruit to a cutting or chopping board and use two cutlery forks to pull or scrape apart the fibrous pieces of jackfruit.

Its the same method that is used for pulling pork, and it is not difficult as the cooked jackfruit is quite loose and easy to shred apart.

What meals could I make with leftover campfire stew?

There are lots of different meal ideas that could be prepared with leftover campfire stew. Here are a few suggestions:

* Add the leftover stew to a vegetable soup for a flavour boost or add vegetable broth to the leftovers and create a campfire soup.

* Use the campfire stew as an acorn squash filling. Have a look at our Chana Chaat recipe for an easy guide to prepping acorn squash before filling it and cooking.

* Quesadillas: Use the campfire stew as a filling by spreading it over a tortilla wrap, top it with vegan cheese and then either fold the tortilla in half, or add another tortilla over the top, and grill or pan fry each side until crispy, hot and the cheese melted.

* Campfire stew nachos: Use the filling to top tortilla chips or cooked potato wedges, sprinkle vegan cheese over, and bake until everything is hot and melted.

* Campfire stew pizza: Add dollops of the stew over a home-made or shop-bought vegan pizza and bake the pizza as usual.

* Campfire stew pot-pie: Add a puff pastry top to either a larger dish that has the campfire stew at the bottom, or use individual mini dishes, and bake until the pastry has risen and is golden, and the filling nice and hot.

* Campfire stew shepherds or cottage pie: Add the campfire stew to a larger pie dish or smaller mini dishes, top with mashed potatoes and a sprinkle of nutritional yeast flakes or vegan cheese, and bake until golden, crisp and bubbling. Thin slices of tomatoes strewn over the top are nice additions.

* Campfire stew burritos or tacos: Use the stew as fillings and add your usual condiments such as salsa, guacamole, crispy lettuce, vegan cheese, vegan sour cream, etc.

* Pasta Sauce: The campfire stew makes a wonderful pasta sauce. Heat it up, thinning the stew with a little broth if necessary, and stir through your favourite pasta or spaghetti.
Campfire Stew makes for a delicious fun Carrot Hotdog topping. Perfect for parties, picnics, BBQs, cookouts and summer time meals, although my family does love this meal at any time of the year. Both the campfire stew and carrot hot-dogs can be prepped in advance and enjoyed chilled or easily reheated.
More tasty fun vegan meal ideas
Whenever my family feels like something fun to eat, but I want an easy meal as well, we all love a tray or two of Loaded Black Bean Potato Wedges. Or a bowl of simple Stir-Fry Soup where if the Chinese 5 spice powder is replaced with curry powder and some mango chutney stirred through the thick soup before serving, it becomes a sort of Home Made Pot Noodle, so tasty!
And my kids particularly love this quick Sweet and Sticky Tofu Satay so I usually have to prepare a double batch, and for summer dinner fun these Vegan Carrot Hotdogs are amazingly similar in texture and taste to traditional hotdogs! Perfect for BBQs and cookouts, as you can take the cooked carrot hotdogs and grill them on a BBQ so that they get those nice-looking grill lines! Links are below to all the tasty recipes.
For more delicious vegan dinner ideas do check out our growing collection of Vegan Dinner Recipes.
***please note: for US measurements click the 'US customary button' within the recipe and the measurements will switch to tablespoons, cups, and ounces.***
Recipe
Vegan Campfire Stew [Slow Cooker Recipe]
Print Recipe
Vegan Campfire Stew is a delicious meat free meal that can be easily prepared within the slow cooker or crock-pot. Chuck all the ingredients in the slow cooker and it will happily bubble away concocting a sweet, savoury and smoky delicious stew.
This campfire stew is easy to prepare as gluten-free by simply using gluten-free Tamari instead of regular soy sauce.
Check out the recipe notes and FAQ section above for an easy guide to preparing campfire stew on the stove-top and of course for a campfire meal!
Equipment
slow cooker or crockpot

3.5 litre (3 quart +) or larger
Ingredients
1

can

chopped [diced] tomatoes

400 grams [14oz] can

1

can

baked beans

400 grams [14oz can], or use a can of mixed beans in tomato sauce

1

can

Jackfruit

400 grams [14oz can] drained

1

medium

onion

diced

2

medium

carrots

sliced into small pieces or diced

3

sticks

celery

sliced into small pieces or diced

175

grams

bell pepper

any colour, sliced into thin pieces

4

cloves

garlic

fine diced

1

tablespoon

tomato puree

[paste]

1

tablespoon

soy sauce

[use tamari soy sauce for a gluten-free stew if necessary]

1

tablespoon

vegan Worcester sauce

[or an extra tablespoon of soy sauce or Tamari if gluten-free required]

1

tablespoon

smoked paprika

[or ordinary paprika]

1

teaspoon

ground cumin

1

tablespoon

maple syrup

[or granulated sugar, brown sugar or your regular syrup such as date, rice syrup, etc]

2

teaspoon

onion powder
Optional:
2

tablespoon

nutritional yeast flakes

2

teaspoon

liquid smoke
Instructions
Add all the ingredients to a slow cooker, except the optional ingredients.

Season with salt and pepper, if liked.

Mix well.

1 can chopped [diced] tomatoes,

1 can baked beans,

1 can Jackfruit,

1 medium onion,

2 medium carrots,

3 sticks celery,

175 grams bell pepper,

4 cloves garlic,

1 tablespoon tomato puree,

1 tablespoon vegan Worcester sauce,

1 tablespoon soy sauce,

1 tablespoon smoked paprika,

1 teaspoon ground cumin,

1 tablespoon maple syrup,

2 teaspoon onion powder

Turn the slow cooker to the high setting.

Cook for 4 hours although exact times will depend on your slow cooker and the size of your chopped vegetables.

Remove the slow cooker lid and mix the stew.

Remove the bigger pieces of Jackfruit that have not broken down during cooking.

Add the lid back onto the slow cooker.

Place the Jackfruit onto a chopping board and using 2 forks to pull the strands apart or press with one fork and gently squash the strands apart.

Place the pulled Jackfruit back into the slow cooker and stir it through the stew.

Check the seasoning and add salt and pepper to taste if necessary.

Stir through the optional nutritional yeast flakes and liquid smoke if liked.

2 tablespoon nutritional yeast flakes,

2 teaspoon liquid smoke
Notes
Nutritional data is provided for guidance only and is not an exact calculation as ingredients vary. 
For an even longer slow cooker time cook the vegan campfire stew on low for 7-8 hours or medium for 5-6 hours, although exact times will depend on your slow cooker, your vegetables and the size they are chopped into.
Leftovers will keep fresh for 3 days, covered, in the fridge.
Or freeze for 2-3 months.
Campfire stew will taste even better the next day.
Reheat leftovers on the stove-top or in a microwave until piping hot, add a little veggie broth if the stew has become very thick.
If you have a small amount of leftovers, enjoy it on toast or a baked potato for lunch the next day.
Check out the recipe notes for useful ideas on what to enjoy campfire stew with, repurposing ideas, how to cook the stew on a stove-top and a campfire, and lots more.
Nutrition
Calories:
320
kcal
|
Carbohydrates:
62
g
|
Protein:
15
g
|
Fat:
4
g
|
Saturated Fat:
1
g
|
Polyunsaturated Fat:
1
g
|
Monounsaturated Fat:
1
g
|
Cholesterol:
14
mg
|
Sodium:
593
mg
|
Potassium:
1334
mg
|
Fiber:
17
g
|
Sugar:
12
g
|
Vitamin A:
7613
IU
|
Vitamin C:
76
mg
|
Calcium:
198
mg
|
Iron:
6
mg
Thank you for trying out our Slow Cooker Vegan Campfire Stew! We hope you enjoyed making and eating it as much as we do.
If you tried this recipe, please let us know in the comments below how it turned out for you, or if you made any modifications.
If you share your creations on social media, don't forget to tag us (@traditionalplantbasedcooking) and use the hashtag #traditionalplantbasedcooking, so we can see your delicious dishes!
Lastly, if you found this recipe helpful, please share it with your friends and family, so they can enjoy it too.
As always, Thank you, and happy cooking!
Love, Jacq x