Slow cooker vegan sweet and smoky campfire stew is the perfect midweek family meal.
It is quick and simple to prepare as the ingredients just need chucking in the slow cooker where it will happily bubble away concocting sweet and smoky flavour sensations.
My family love this fun tasty stew especially the little pieces of delicious BBQ sweet smoky flavoured jackfruit that replaces the shredded pork in traditional campfire stews.
Pulled Jackfruit Is An Amazing Vegan Cooking Ingredient.
This vegan campfire stew recipe uses jackfruit instead of the traditional pork. A jackfruit is a huge bulbous fruit from the Jack tree and is a common fresh ingredient popular in Asian markets. But is widely available as a canned product in western supermarkets or wholefood stores.
Jackfruit is an amazing versatile ingredient for vegan cooking. Once cooked in a sauce the fibrous pieces of jackfruit can be pulled apart similar to pulled pork or chicken.
On its own jackfruit does not have lots of taste but combined with a delicious thick smoky and sweet sauce it is delicious. So I do not advice tasting a piece of jackfruit straight from the tin as it will likely be unpleasant.
Jackfruit is so worth adding to your diet as it is full of nutritional benefits including being high in protein, antioxidants and minerals.
Where does Campfire Stew originate?
I tried to discover the origins of campfire stew but couldn't find any information other than that it is a Slimming World classic. Nonetheless it is such a popular dish and the vegan version takes the meals flavour and creativity to new levels.
Coincidently this veggie campfire stew recipe is ideal for those looking to reduce calories. A portion of vegan campfire stew is just 320 calories which is why I usually serve a baked potato or portion of pasta as an accompaniment. And for my kids a slice or two of garlic bread is always welcomed.
How To Prepare Slow Cooker Vegan Campfire Stew: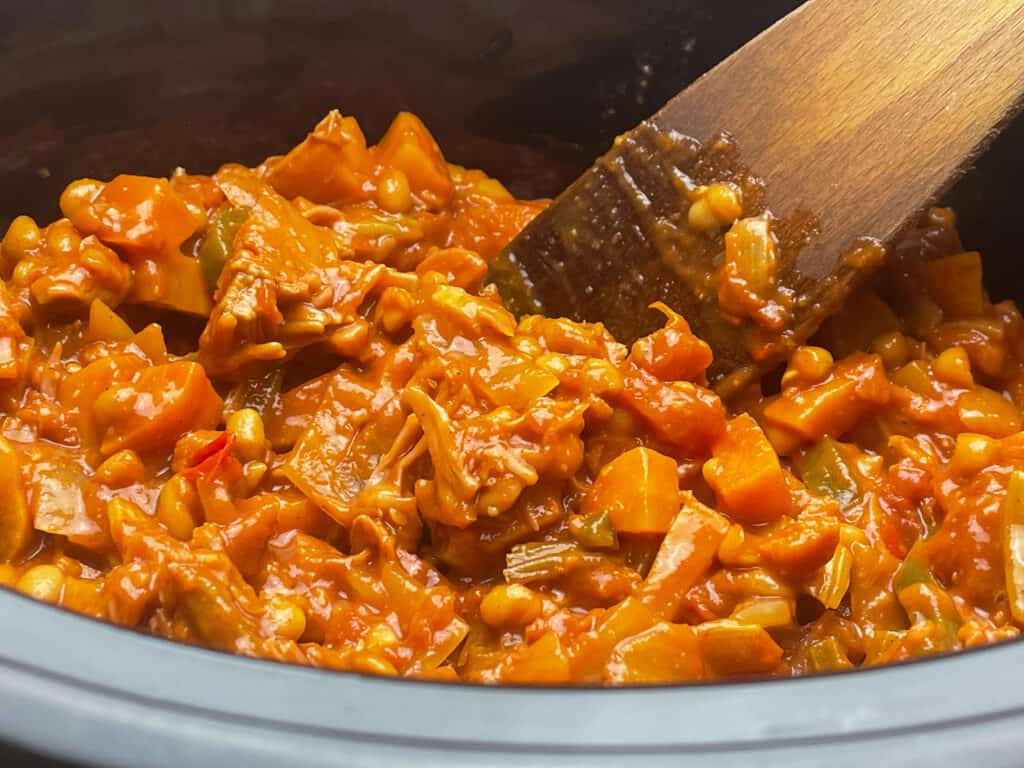 Slow Cooker Campfire Stew Recipe FAQs And Tips:
How do I store leftover stew?
Leftover campfire stew will keep fresh in a food container placed in the fridge for up to 3 days. Or cool and place in a freezer-proof tub and freeze for up to 4-6 months. Defrost at room temperature before reheating.
Reheat leftovers in a skillet/deep frying pan until piping hot. A little bit of water may be required to loosen up the sauce and cook the stew more effectively, as the sauce will likely be very thick.
Leftovers can be frozen for up to 4-6 months within a freezer-proof container. Defrost before reheating.
What can I serve with campfire stew?
Pasta, spaghetti or noodles.
Serve with tortilla wraps and use the stew as a filling along with crispy lettuce, etc.
Oven roasted large tomatoes were also delicious served with the campfire stew as they provided a juicy burst of flavour! Our tomatoes were just plain-roasted in the oven with no additions for about 15-20 minutes at 180 Fan/200 Celsius/ 392 Fahrenheit /Gas 6. Roasting tomatoes are a great way to use up fresh tomatoes that have gone a bit soft or wrinkly but still perfectly fresh and fine!
I sometimes serve my family's campfire stew with mashed potatoes and steamed cabbage. My kids love it when I mix nutritional yeast through the cabbage after cooking. Even our 2 dogs love cabbage with nutritional yeast!
Mashed potatoes, mashed turnip, mashed celeriac or mashed cauliflower. Or a mix.
Baked potato or baked sweet potato.
Potato/sweet potato wedges/chips/fries.
Fresh herbs scattered over the top. Such as parsley or chives.
Can I make campfire stew gluten-free?
Yes campfire stew is easy to make gluten-free. Simply ensure all ingredients are gluten-free especially any flavourings added including the soya sauce and vegan Worcester sauce.
I don't have a slow cooker can I just cook this stew on the stove-top?
Yes. I have a recipe for stove-top campfire stew.
More Tasty Slow Cooker Family Vegan Recipes
Spicy Peanut, Black Bean And Potato Soup
Slow Cooker Smoky and Sweet Vegan Campfire Stew
Print Recipe
Slow cooked smoky paprika and sweet BBQ sauce with pulled Jackfruit, beans and vegetables! What more could you ask for? Delicious and nutritious!
Equipment
slow cooker or crockpot

3.5 litre (3 quart +) or larger
Ingredients
1

can

chopped tomatoes

400 grams/ or a 14 can.

1

can

baked beans

400 grams/ 14oz can. Or use a can of mixed beans in tomato sauce.

1

can

Jackfruit

400 g/ 14oz can, drained.

1

medium

onion

diced.

2

medium

carrots

sliced thin or diced small.

3

sticks

celery

sliced.

175

grams

bell pepper

Sliced. If possible use a red pepper alternatively use a yellow or orange pepper. A green pepper is fine if that's all you have to hand.

4

cloves

garlic

Diced or minced.

1

tablespoon

tomato puree

paste

1

tablespoon

vegan Worcester sauce

or an extra tablespoon of soy sauce

1

tablespoon

tamari soy sauce

or regular soy sauce (tamari is usually gluten-free)

1

tablespoon

smoked paprika

or ordinary paprika

1

teaspoon

ground cumin

3

teaspoon

maple syrup

or ordinary/brown sugar (use less if preferred)

2

teaspoon

onion powder

2

tablespoon

nutritional yeast

optional.

2

teaspoon

liquid smoke

optional
Instructions
Add all ingredients to a slow cooker.

Season with salt and pepper, if liked.

Mix well.

Turn to high.

Cook for 4 hours.

Open the lid and mix.

Remove the big pieces of jackfruit that have not broken down during cooking.

Place onto a chopping board and using 2 forks pull the strands apart or press with one fork and smoosh the pieces apart.

Place the pulled jackfruit back in the slow cooker and mix.

Check the seasoning and add salt and pepper to taste if necessary.

Extra nutritional yeast flakes and liquid smoke can be added to taste if liked.
Notes
Nutritional data is provided for guidance only and is not an exact calculation as ingredients vary. 
For an even longer slow cooker time cook the vegan campfire stew on low for 7-8 hours or medium for 5-6 hours. 
Leftovers will keep fresh for 3 days, covered, in the fridge. Campfire stew will taste even better the next day.
If you have a small amount of leftovers, enjoy it on toast or a baked potato for lunch the next day.
Or use the stew to top a carrot hot-dog.
Campfire stew can be frozen for up to 4-6 months. Place in a freezer-proof container and defrost before reheating.
Reheat leftovers in a saucepan, with a little veggie stock or water if the stew is too thick, until piping hot throughout.
Nutrition
Calories:
320
kcal
|
Carbohydrates:
62
g
|
Protein:
15
g
|
Fat:
4
g
|
Saturated Fat:
1
g
|
Polyunsaturated Fat:
1
g
|
Monounsaturated Fat:
1
g
|
Cholesterol:
14
mg
|
Sodium:
593
mg
|
Potassium:
1334
mg
|
Fiber:
17
g
|
Sugar:
12
g
|
Vitamin A:
7613
IU
|
Vitamin C:
76
mg
|
Calcium:
198
mg
|
Iron:
6
mg