This vegan Scottish haggis is really the best recipe as its so easy to prepare, quick to cook in the microwave, and best of all is packed with wholesome delicious veggies, lentils, beans, oatmeal, seeds and tasty traditional haggis spices.
This is a no-suet and no-flour recipe but as it does contain oatmeal, for a yummy gluten-free vegan haggis, a gluten-free certified oatmeal needs to be used.
This vegan haggis recipe is not just for vegan or plant-based diets, its also perfect for those wishing to add more kinder, wholesome, and tasty meat-free meals to their diets.
Enjoy this vegan haggis as part of a Robert Burns Supper held this year on the 25th January [2023] or as part of a Scottish themed meal. Or simply as an everyday delicious, wholesome dinner.
Robert Burns Night is held on the 25th of January, which is Burn's birthday. Celebrate the brilliant Scottish poet by enjoying a traditional Burns supper of haggis, neeps and tatties. Neeps are the Scottish word for mashed turnips [which is what we call swedes in Scotland!] and tatties are the tasty mashed potatoes.
What is a haggis?
Haggis is a savoury pudding and is Scotland's National Dish. Haggis is typically eaten as part of a Robert Burns night supper [January 25th]. Although haggis is usually available all year round in Scottish supermarkets.
Contrary to some beliefs a haggis or Haggis Scoticus [its fictitious taxonomic name!] is not an actual wee long-haired animal rolling around in the Scottish wild or running around hills! According to a 2019 survey, 1 in 10 Millennials believed that the haggis was a real animal. In Glasgow, the Kelvingrove art gallery and museum even have a model haggis depicted as an animal on display.
Instead a haggis is a type of Scottish pudding that is usually prepared with sheep or lambs offal [such as heart, liver, lungs] which is processed along with oatmeal, spices, onion, meat stock, and sometimes beef suet, before being cooked in a casing. Very old haggis recipes sometimes included breadcrumbs and eggs. Originally the haggis filling was cooked within a sheep or other animal stomach, but nowadays this has been replaced with an artificial casing.
Recipes for haggis date back to the medieval times, and it is claimed haggis originated as a way for hunters to prepare a quick outdoors meal that would use up the animal offal that would have gone to waste. The offal was stuffed into a bag prepared with the animal stomach, and then steamed over an open fire.
In 1786 Robert Burns described the haggis as the 'great chieftain of the pudding race' and wrote a poem dedicated to what is now known as Scotland's National Dish. Which is why the haggis is the main meal eaten for a Burns supper held on Burns birthday; 25th January. The first Scottish puddings were actually savoury meals and not sweet dishes.
This vegan haggis is incredibly moist but is easy to crumble into a traditional haggis texture, so can be easily sliced and then crumbled with a couple of cutlery forks. The flavours of this veggie haggis is perfectly and pleasantly spiced resembling the flavours of tasty traditional haggis spices.
Vegan, Vegetarian, and Plant-based haggis
Nowadays, in the UK, there are a few vegan and vegetarian haggis on offer within most supermarkets. Although most of the vegetarian haggis is also suitable for vegan and plant-based diets.
Macsween offer their award-wining 'Vegetarian Haggis' that although is not labelled vegan it doesn't actually contain any animal ingredients. Macsween also offer a packet of what looks like two haggis burgers or patties.
Another vegan option is the Simon Howie 'wee veggie haggis' which is much thinner than the usual supermarket vegetarian haggis but is the perfect size for one or two portions.
McIntosh of Strathmore offer a ready meal of 'vegetarian haggis, neeps and tatties', and this product is also suitable for vegans and is stocked in many UK supermarkets.
Although, as nice as these vegan shop-bought haggis are nothing can beat a good impressive home-cooked vegan haggis!
Microwave home-cooked vegan haggis served with mashed neeps [turnips] and mashed tatties [potatoes] and green peas, with lots of tasty gravy. So delicious.
Home-cooked vegan haggis
This recipe for home-cooked vegan haggis is prepared with green lentils, black beans, oatmeal, sunflower seeds [or mixed seeds], carrots, swede [turnip/rutabaga], onions, mushrooms, and the traditional haggis ground spice flavours of ground nutmeg, allspice, black pepper and coriander.
Garlic powder and soya sauce are also added, for the extra savoury complimentary flavours. Canned lentils and black beans are used for convenience, as well as the extra moistness the can juices bring.
Also the canned versions of lentils and beans tend to be softer in texture compared to home-cooked, and the extra tenderness is perfect for moulding into a haggis shape.
How to prepare the best vegan Scottish haggis in the microwave
This recipe for vegan haggis produces a huge haggis that weighs in at over 900 grams!
Plenty to feed 6-9 people depending on portion sizes and appetites of course!
Leftover haggis won't go to waste as it can be added to so many other dishes, see recipe notes for a few ideas.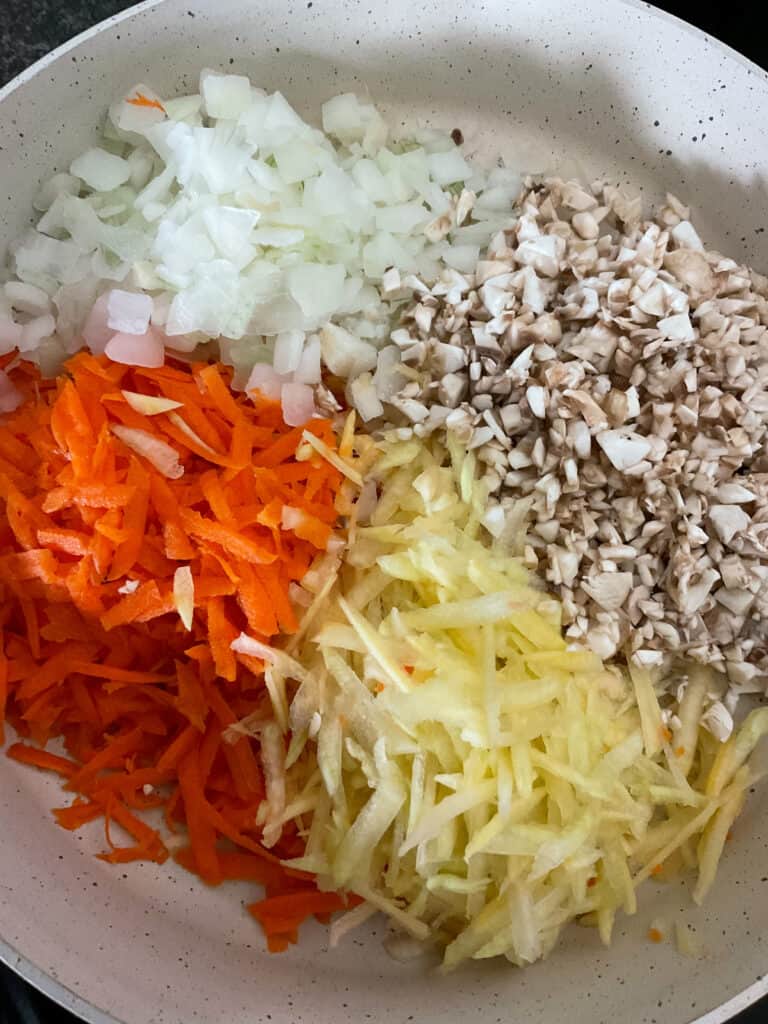 First add the grated carrot, swede [turnip/rutabaga], fine diced mushrooms and diced onions to a fry pan or skillet.
Cook for 10 minutes in either one tablespoon of oil or replace with a little veggie broth.
Once ready, set aside to cool off.
Next add the oatmeal, black beans, green lentils, mixed seeds [or just sunflower seeds] to a mixing bowl.
Add the ground nutmeg, allspice, coriander, garlic powder, salt, black pepper and soya sauce.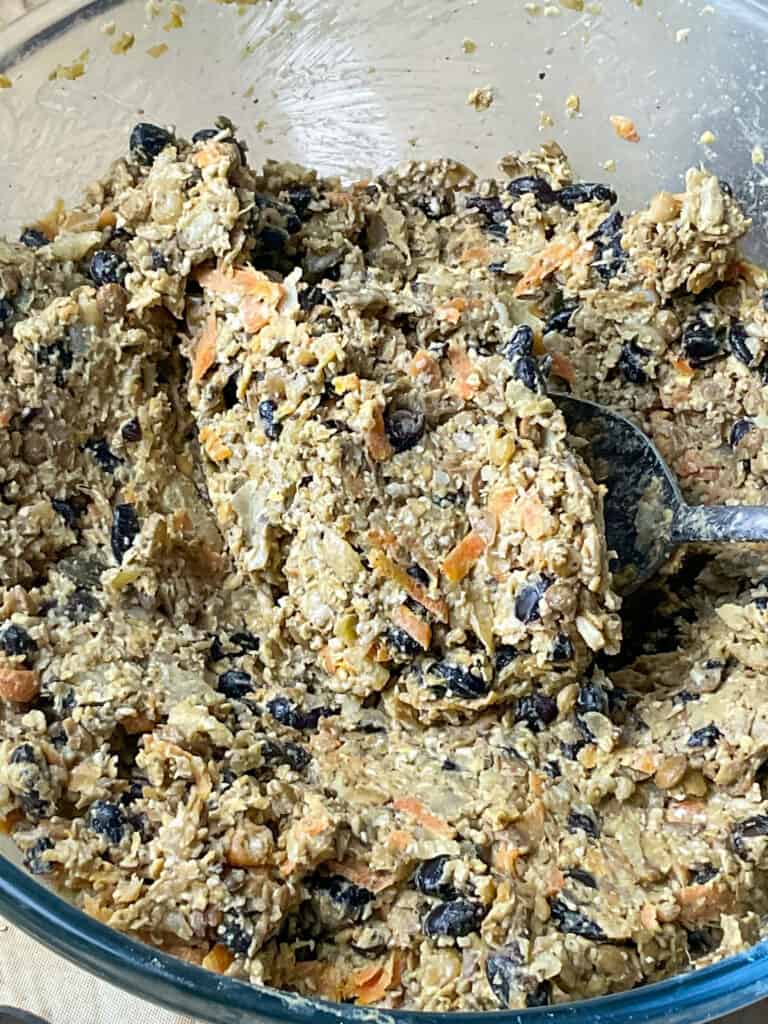 Tip in the salt, ground black pepper, nutmeg, allspice, coriander, garlic powder, and soy sauce.
Mix well and mash some of the beans against the bowl.
Scoop in the cooked veggies and mix well for a few minutes.
Press the mixture firmly into a chunky oval haggis shape.
Grease a microwave safe dish with vegan margarine.
Carefully, place the haggis into the dish.
Cover with a piece of greased microwave safe parchment paper, for a lid.
Microwave for 10 minutes, then remove the paper lid and microwave for an extra 7 minutes.
[This haggis was cooked within a 700 watt microwave, so higher watt [800-1000 watt microwaves will cook the haggis quicker.]
Cut the haggis into slices and either enjoy as a slice, or use a couple of forks to break the haggis up into small crumbly pieces.
The haggis is nice and moist but also crumbles easily into a tasty haggis consistency.
Recipe notes
Storage and reheating
Vegan haggis will store, covered, within the refrigerator for 3-4 days. Wrap the haggis in parchment/baking paper or kitchen foil, or place into a covered container. Haggis can be frozen for up to 3-4 months.
Reheat haggis in microwave
To reheat, add to a microwave safe plate or dish such as a PYREX glass casserole dish lid, and cover with a piece of microwave safe parchment paper.
Microwave on the high setting for 1-3 minutes depending on your microwave wattage. Flip the haggis slices over, half-way through reheating.
Allow the haggis to sit for a minute or two before eating as food continues to cook for a short while after removing from the microwave.
Reheat haggis in the oven
Vegan haggis can also be reheated within a hot oven, covered with baking paper, until piping hot throughout.
Reheat haggis on the stove-top
Haggis can be reheated with a skillet or fry pan. Add a little oil and cook each side of the haggis until piping hot, browned, and with crisp edges.
Reheat haggis in an air-fryer
Add haggis slices to an air-fryer and reheat at 180C / 356 Fahrenheit for around 3-5 minutes, or until the haggis is piping hot throughout. Depending on your air-fryer you may need to preheat for a few minutes, and flip the haggis slices over half-way through reheating.
What can I use leftover vegan haggis for?

* sandwiches, thin slices of chilled haggis is delicious with slices of tomato, cucumber, lettuce and a dollop of vegan mayo

* slice the haggis into small cubes and add to a tasty salad or vegetable bowl

* add small pieces of haggis to a pizza before cooking, either a home-made or shop-bought pizza

* slice the haggis, and fry each side, and enjoy the haggis slices as a veggie burger replacement

* vegan cheese toasties/grilled cheese sandwiches [add crumbled or sliced haggis to a cheese toastie before cooking]

* add pieces of haggis to home-made nachos [this is easy to prepare in an air-fryer; simply add layers of tortilla crisps, vegan grated cheese, and dollops of salsa [if liked], to the air-fryer basket, along with bits of haggis here and there, and air-fryer at 180C until the cheese is melted, keep your eye on the nachos to make sure they do not go too brown]

* snack on chilled slices of haggis, perhaps topped with some of your favourite chutneys, or dips such as hummus or salsa

* use the haggis as a stuffing for bell peppers, courgettes/zucchini, aubergine/eggplant, acorn squash, butternut squash, large mushrooms and giant tomatoes

* include a sliced of fried haggis along with a vegan cooked breakfast

* add some crumbled haggis to bubble and squeak, or stir through mashed potatoes or other mashed veggies

* fry sliced cabbage, onions, and crumbled haggis for a tasty side dish or lunch

* crumbled haggis can be stirred through cooked rice and pasta dishes for a flavour boost

* mix the haggis with a little vegan gravy and use it as a filling for vegan sausage rolls, encase the haggis within puff pastry, and bake until golden

* crumble haggis over your favourite Scottish soup or stew!
What oatmeal is used for haggis?

Medium oatmeal, Irish oatmeal, steel-cut oatmeal and pinhead oatmeal are all perfect for haggis. Rolled oats or porridge oats do not provide the traditional texture as they are much larger, flatter pieces of oats.

Planning a vegan Burns supper or a Scottish themed meal?
Here a few tasty ideas to get you started:
Starters
Old-fashioned Scottish potato soup
Mains / Entrees
The best vegan haggis [current recipe!] served with neeps and tatties
Slow cooker Scottish mince and tatties
Scottish mince round [tasty savoury mince pie]
Sides
Scottish skirlie is a tasty traditional side dish accompaniment to any Scottish meal
Puddings
All these tasty vegan puds can be served along with hot vegan custard, or whipped or pouring cream, or a scoop of ice cream.
Scottish smiddy dumpling [baked]
Microwave Scottish clootie dumpling
Scottish fruit slice [fly pie!]
Second after dinner nibbles!
Serve these Scottish crackers or savoury crisp biscuits with a variety of vegan cheese, olives, chutneys, humus, pickles, sliced tomatoes, cucumber, etc...
Oil-free cheesy Scottish oatcakes
Vegan sweet treat for the kids little and big!
Address to the [vegan] haggis!
During a Burns night supper it is traditional for an appointed person to recite the Robert Burns poem ''Address to a haggis'' after the haggis is brought to the dinner table on a silver platter.
No where does it state that the haggis can not be a vegan adaptation!
A Scottish piper or bagpipe music is also played to pipe in the haggis whilst the haggis is delivered to the table.
Robert Burns [1786]

Fair fa' your honest, sonsie face,
Great chieftain o the puddin'-race!
Aboon them a' ye tak your place,
Painch, tripe, or thairm:
Weel are ye wordy o' a grace
As lang's my arm.
For the full poem and translation check out Robertburns.org.uk.
📖 Recipe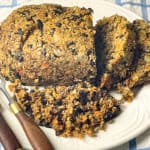 The Best Vegan Scottish Haggis [Microwave]
Print Recipe
Cook the best Scottish vegan haggis within a microwave for less fuss and quick cooking.
Serve with lots of tasty veggie gravy, mashed tatties [potatoes] and mashed neeps (turnip/swede/rutabaga).
Perfect for a Robert Burns supper [25th January], St Andrew Days dinner [30th November], Scottish Hogmanay [31st December], or a New Years Day meal [1st January] or just an any-time meal!
Equipment
microwave

Mixing bowl

skillet or fry pan

[with a lid or a heat-proof plate that will cover the pan, optional]

3 litre casserole dish

[use one suitable for the microwave, such as a PYREX glass casserole dish]

parchment paper

[use one suitable for the microwave]

potato masher

[or a cutlery fork or similar]
Ingredients
40

grams

vegan butter

[or vegan margarine]

110

grams

onion

[1 medium diced]

100

grams

carrot

[1 medium grated/shredded]

80

grams

swede

[rutabaga/turnip, grated]

70

grams

mushrooms

[very fine diced]

50

grams

sunflower seeds

[or a mixed seed mix]

150

grams

medium oatmeal

[or steel-cut/Irish oatmeal/pinhead oatmeal]

285

grams

cooked green lentils

[1 400gram [15oz] can, drained]

260

grams

cooked black beans

[1 400 gram [15oz] can, drained]

1

tablespoon

soya sauce

½

teaspoon

ground nutmeg

½

teaspoon

ground allspice

1

teaspoon

ground coriander

1

teaspoon

garlic powder

½

teaspoon

ground black pepper

1 ¼

teaspoon

salt
Instructions
Heat the butter in a skillet or fry pan.

Cook the onions, carrot, swede and mushrooms for 10 minutes over a medium heat. Place a lid over the pan but don't cover the pan completely and stir frequently.

[if you don't have a lid for the pan or none of your other pan lids fit this particular pan then simply leave the lid off. The lid just helps intensify the heat cooking the veggies quicker].

40 grams vegan butter,

110 grams onion,

100 grams carrot,

80 grams swede,

70 grams mushrooms

Once the veggies are ready remove from the heat and set aside.

***Note: when draining the cans of black beans and green lentils just strain the can liquid with a sieve, squeezing the bottom of the sieve to remove excess juices but its not necessary to remove all off the can juices as they will add moisture to the haggis. Reserve some of the can juices in case they are required further down the recipe. If once strained your beans or lentils are not the same as the required measurement stated above in the ingredient list, just top them up with a little of the can juice so that they are the exact measurements required***

Next add the black beans, green lentils, oatmeal, and sunflower seeds [or mixed seeds], to a mixing bowl and stir well. With a potato masher or cutlery fork mash some of the black beans.

[although there is no need to mash all of them, just give the mix a few mashes]

150 grams medium oatmeal,

285 grams cooked green lentils,

260 grams cooked black beans,

50 grams sunflower seeds

Add the soya sauce, coriander powder, garlic powder, allspice powder, nutmeg powder, ground black pepper and salt to the bean mixture.

Give it all a good stir for a few minutes until all the flavours are thoroughly combined. The mixing will help blend the ingredients together so that it can be moulded into a haggis shape, so don't skimp on the mixing!

1 tablespoon soya sauce,

½ teaspoon ground nutmeg,

½ teaspoon ground allspice,

1 teaspoon ground coriander,

1 teaspoon garlic powder,

½ teaspoon ground black pepper,

1 ¼ teaspoon salt

Next, add the cooked veggies and stir for a few more minutes.

Grease the casserole dish with vegan butter or margarine, and cut a piece of parchment paper the same size as the casserole dish circumference. Grease the paper also.

Now use the mixing spoon to press the mixture into an oval shape, and then use your hands to firmly pat the haggis together.

[If your haggis is not easy to squash together into a firm shape then stir through a few tablespoons of bean or lentil liquid to add more moisture, and stir well, squashing some of the beans as you do so].

With a spatula to help lift the haggis, transfer the haggis into the casserole dish. Pat the edges to make sure that it is firmly secure in its oval shape.

Place the baking paper, buttered side down towards the haggis, over the casserole dish.

Place into the microwave and cook for 10 minutes.

Remove the paper and cook for another 7-8 minutes.

Remove from the microwave, add the paper lid back over the haggis, and let sit for 10 minutes as it will continue to cook out of the microwave.

The haggis is now ready to carve and enjoy. If a crumbly haggis is preferred once the haggis is sliced then simply use two forks to break up each slice of haggis into a crumbly texture. This will be easy to do, although the haggis will still be nice and moist.

Please note: a 700 Watt microwave was used for this recipe so the cooking times are tailored for that strength of microwave.

If you have a stronger wattage such as 800, 900 or 1000 Watts then your haggis will be cooked quicker.

Give it the first 10 minutes if you have a 800-900 watt microwave, then another 2-3 with the paper removed and then allow it to sit for 5-10 minutes.

Slice into the haggis to check if it has cooked enough, and if not give it a few more minutes in the microwave.

1000 Watt microwaves may only need 10 minutes to cook the haggis, and 5-10 minutes of resting.
Notes
Nutritional information is provided for guidance only and is not intended as an exact calculation as ingredients vary.
Store leftover haggis for up to 3-4 days within the refrigerator. Wrap the haggis in parchment paper or kitchen foil or store within a covered container.
Or freeze for up to 3-4 months.
Leftover haggis can be reheated within a microwave. Place slices of haggis onto a microwave safe plate or dish, cover with a piece of microwave safe baking paper, and cook for 1-3 minutes or until piping hot. Flip the haggis slices over half-way through reheating.
Slices of haggis can be fried on the stove-top and enjoyed as haggis burgers or slices.
Leftover haggis can be added to vegan cheese toasties, sandwiches, salads, crumbled over soups and stews, and stirred through pasta and rice dishes for a flavour boost, added to nachos, used as a pizza topping, and as a filling for stuffed acorn pumpkins, bell peppers, courgettes/zucchini, aubergines/eggplant, large mushrooms and tomatoes.
The haggis can be also be crumbled, mixed with a little vegan gravy, and used as a veggie sausage roll filling along with some puff pastry.
The best type of oatmeal for haggis is medium oatmeal, steel-cut oatmeal, Irish oatmeal or pinhead oatmeal.
For this vegan haggis recipe its best to use canned black beans and canned green or brown lentils as they are much moister and softer in texture compared to the home-cooked versions, and this helps bind the haggis ingredients together.
However, if home-cooked versions are all that is available then do retain some of the cooking liquid in case the haggis is too dry to mould. Simply add a little of the liquid, and mash the mixture a little, until the haggis can be firmly moulded.
Nutrition
Calories:
243
kcal
|
Carbohydrates:
33
g
|
Protein:
11
g
|
Fat:
8
g
|
Saturated Fat:
1
g
|
Polyunsaturated Fat:
3
g
|
Monounsaturated Fat:
3
g
|
Trans Fat:
0.02
g
|
Sodium:
534
mg
|
Potassium:
421
mg
|
Fiber:
9
g
|
Sugar:
3
g
|
Vitamin A:
2289
IU
|
Vitamin C:
5
mg
|
Calcium:
46
mg
|
Iron:
3
mg
Prepared this tasty best vegan Scottish haggis in the microwave?
We would really love to know how you got on with our family recipe, especially if you had a Scottish themed supper.
Do drop us a comment below and click the star ratings.
Thanks so much! Jacq x