Old-fashioned pea soup is such an easy, humble, wholesome and deliciously hearty meal packed with the protein and filling nutrition of marrowfat peas. Serve along with a chunk of freshly baked bread for the perfect vegan meal.
Old-fashioned vegan pea soup can be easily prepared as gluten-free.
The best meals are those that have stood the test of time, the traditional old-fashioned staples that have nourished us for thousands of years and will continue to do so for many more!
Old-Fashioned pea soup can be blended or left chunky. Kids and those with food texture sensitivities [having 2 kids on the Autism spectrum I know all about this!] may appreciate the pea soup being smooth and velvety.
In Victorian times the pea soup would have been pushed through a fine sieve! However, I would really dislike having to clean that sieve afterwards!
What is the Origin of pea soup?
Peas are part of the legume family as they develop within a pod the same as beans, lentils and other pulses.
Peas have been grown for thousands of years since 6000-7000 BCE [before common/current era] where remnants have been dug up in the Middle East, that suggest peas were agriculturally grown alongside wheat and barley. The early peas were dried and not eaten fresh.
Pea soup may be one of the oldest soups and has been around in some shape or form for over a thousand years.
Many countries have their own traditional pea soup from the Dutch pea soup called snert, the English pea and ham soup, Canadian yellow split pea soup, German pea soup, Scandinavian pea soup, Norwegian pea soup, Danish pea soup, Indonesian pea soup, Polish pea soup, US split pea soup, Finish green pea soup, and the list goes on and on!
Throughout the ages beef, ham, bacon, and pork are the most common accompaniments to pea soup and they provide a meaty, salty hit. However, for the poorer members of society's meat would have been less likely to be available so a few cheap vegetables and a crust of bread would be served either in the pea soup or along side it.
Pea soup is so popular because peas are an inexpensive easy crop to grow and to purchase, are packed with protein and nutrition, are simple to cook, and are delicious to boot.
In Poland pea soup is a common military meal as its wholesome and easy to prepare for a huge crowd, while historically in Britain pea soup was a staple meal for the poorer folks, served up in soup kitchens and workhouses, and prevented starvation. If the pea soup did not contain meat such as bacon, it was termed meagre soup.
British Pea soup originated from the medieval Pease porridge or Pease pottage which was a thick soup-stew dish that may have had meat, barley, oats and vegetables added along with the peas.
This simple traditional pea soup recipe is adapted from an old recipe dating back to the 1700-1800s British soup kitchens. As it does not contain bacon it is technically called meagre pea soup! But its flavour is anything but meagre as it is a well-seasoned delicious vegan soup.
What types of peas are there?
There are many different types of peas such as fresh sweet peas that are usually frozen minutes after harvest, fresh peas which are popped out of pea pods, mange tout/sugar pea/snow pea which are peas with underdeveloped pods so are eaten whole, tinned/canned peas such as garden peas, marrowfat peas, mushy peas, and processed peas, and dried peas such as yellow-split peas, green split peas and marrowfat peas.
What are marrowfat peas?
Marrowfat peas are old peas that have not been harvested along with fresh peas but rather left on the pea plant to dry out within the peapods. Marrowfat peas are dried so can be stored for many years.
This old-fashioned pea soup recipe uses dried marrowfat peas which can usually be found within the same supermarket aisle where dried soup mixes/scotch soup mix, barley, lentils, dried yellow and green split peas are generally found.
Another tasty traditional recipe that you can use your marrowfat peas for is this delicious British mushy peas recipe.
How to prepare vegan old-fashioned pea soup
This recipe is adapted from an old English recipe dating back to the 1800s for meagre pea soup. It is termed meagre because there is no bacon included!
Dried peas are relatively inexpensive but provide amazing plant-based protein and are packed with valuable nutrition being high in vitamins, minerals and antioxidants, so this soup is far from being meagre!
The night before cooking the pea soup, soak the marrowfat peas in cold water.
Melt the vegan butter in the soup pot and then add the onions. Saute for 7 minutes, stirring a few times.
Next add the dried or fresh mint, flour, salt, black pepper and sugar.
Drain the water from the soaking peas and tip the peas into the soup pot. Stir and cook for 1-2 minutes.
Pour in the hot vegetable stock [broth] and bring to a boil.
Lower the heat and simmer for 45-50 minutes or until the peas are soft and cooked.
Once the peas are soft pour in 250ml or 1 cup of plant milk such as oat, soya or your usual milk. Add salt and pepper if necessary.
Bring back to the boil and the soup is ready to enjoy.
The soup can either be left chunky or blended until smooth with an immersion/hand blender.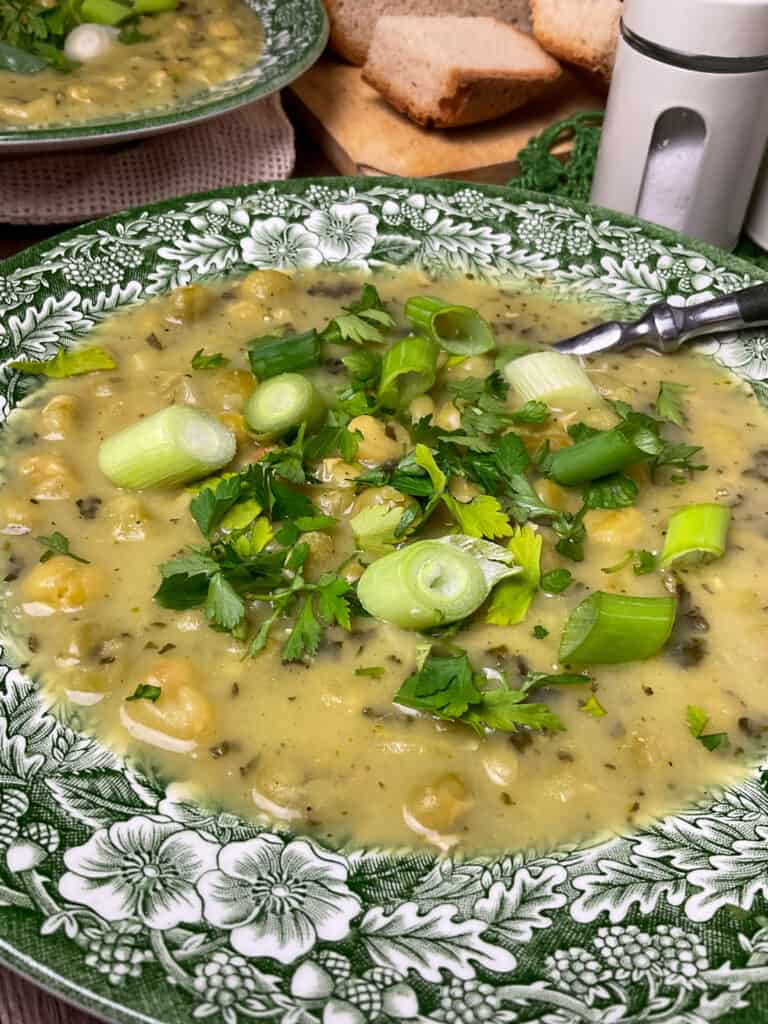 Load the soup up with tasty green toppings such as sliced spring/green onions and chopped fresh parsley.
Old-fashioned pea soup is a wonderful soup to enjoy on St Patrick's Day along with a slice or two of Irish wheaten or soda bread.
Recipe notes
Storage
Pea soup can be stored within the refrigerator for up to 3 days, within a covered container.
Or frozen for 3-4 months.
Reheat on the stove-top until piping hot, or microwave until hot throughout. A little extra milk can be added to the soup to thin it down if necessary.
Where can I buy dried marrowfat peas?

Marrowfat peas can be found within most UK supermarkets and grocery shops within the same aisle where the dried red split lentils, green lentils, dried soup mixes, dried barley, green and yellow split peas usually are.

If your outwith the UK check any similar aisles within your local stores, wholefood stores and International food stores especially Scottish or Irish themed ones. Or you may have to source the peas online.

In the US, Amazon.com has packets of Batchelors Bigga Dried Peas 'selected marrowfats' for sale which are perfect for pea soup.

In Australia, the website britishsweets.com.au sell Batchelors Traditional Dried Marrowfat Peas which they state are an Irish classic since 1935!


What can I use as a garnish for pea soup?

A pretty tasty garnish can elevate a pea soup into a special dinner party soup that would be especially delicious for Thanksgiving, Harvest festival or a festive meal starter. Or just simply for everyday enjoyment and nourishment.

A few ideas:

* toasted sunflower or pumpkin seeds

* a drizzle of vegan cream

* a sprinkle of vegan shredded/grated cheese

* a sprinkle of nutritional yeast flakes

* fresh herbs such as parsley, mint, chives

* sliced spring onions/green onions/cybies

* a dollop of mint sauce

* a scoop of vegan cream cheese, sour cream, creme fraise, plain yogurt

* a handful of cooked fresh or frozen green peas [for the colour and texture contrast, and the extra sweetness that these types of peas bring]

* fried cabbage

* crispy kale

* sprinkle of red pepper/paprika or chilli flakes

* home-made croutons [easy recipe over on the cream of swede/rutabaga soup post]

* roast chickpeas croutons [Easy method over on curried cauliflower soup recipe. Can replace the seasonings with dried mint or mixed herbs etc.

* vegan grilled cheese toast [sliced into small pieces]

* cooked diced vegan bacon

* cooked sliced vegan sausage

* a traditional garnish for old-fashioned pea soup was small pieces of diced fried bread
What can I add to pea soup?

A bread accompaniment and a nice garnish is sufficient but of course for extra hungry people try one of the following:

* a scoop of mashed potatoes in the soup bowl before ladling over the soup

* or mashed sweet potato

* or mashed turnip/swede/rutabaga

* or thick noodles

* or pasta shapes

* or cooked rice

* or cooked green lentils

* chopped vegan sausages [use more than you would for a garnish]

* chopped vegan bacon [use more than for a simple garnish]

* crispy tofu bites

Do I have to add mint to pea soup?

Mint was originally added to traditional pea soups as it pairs so well with the peas. Even if you do not like the flavour of mint do try it in pea soup as it could well change your mind. The mint flavour is not too prominent but simply compliments the overall soup. If preferred reduce the amount of mint to 1-2 teaspoons.

Fresh mint can be frozen so if you find any within the reduced section of supermarkets or grocery stores then pick it up if possible and freeze it for soup and other recipes.

Or use dried mint which can be easily found in most supermarkets and grocery stores.

Mint plants are one of the easiest plants to grow in your garden or in a large pot either inside or outside, and one small plant can quickly become a huge plant that self-seeds all over the garden!

I have lots of mint in the garden happily growing in car tyres, and have also found some mint growing wild near a ditch which I suspect seeded itself from a local garden.

Drying the fresh mint is easy in a small food dehydrator, or even within a microwave, or by simply hanging it up somewhere in the kitchen or in a dry warm closet.
Is pea soup gluten-free?

A hearty yes!

Pea soup is really easy to prepare as gluten-free.

Simply use a gluten-free vegetable stock [I have included an Amazon link to the one I use within the recipe card below] and a gluten-free plain flour alternative [such as the Doves Farm Freee plain white flour].
Do I need to saute the onions in vegan butter or oil?

Of course not.

The vegan butter or oil provides extra flavour and does not add too much to the overall calorie and fat content of the soup, as the rest of the ingredients are low in calories.

However, if preferred replace the butter, margarine or oil with a half cup/125ml of veggie stock and add small extra amounts as required during sauteing the onions.
More tasty, budget-friendly humbly simple and wholesome vegan soups. One for each day of the week!
Old-Fashioned Scottish Potato Soup
Old-Fashioned Irish potato Soup
Pea Soup In The Wizarding World of Harry Potter!
In the words of Dre Head the shrunken head ornament on the knight bus from the Harry Potter movie Harry Potter and the Prisoner of Azkaban:
''Don't forget to eat the pea soup before it eats you!''
The pea soup referred to in the Harry Potter film is served at the Leaky Cauldron and when Harry is offered some pea soup he refuses!
Any Harry Potter fans at home will love the idea of this old-fashioned pea soup especially at Halloween, during a Harry Potter theme party/night, International Harry Potter Day 2nd May [2023], Back To Hogwarts Day September the 1st, or any day!
📖 Recipe
Old-Fashioned Pea Soup
Print Recipe
Old-fashioned pea soup is such an easy, humble, wholesome and deliciously hearty meal packed with the protein, fiber, and the magical goodness of nutritious and tummy filling properties of marrowfat peas.
Equipment
immersion/stick blender

optional, only required if blending the soup
Ingredients
250

gram

dried marrowfat peas

[soaked overnight in about 700ml of water]

45

gram

vegan butter

[vegan margarine/rapeseed or olive oil]

190

gram

onions

[1 large chopped]

1

tablespoon

plain flour

[all-purpose flour]

1

tablespoon

dried mint

[or small handful of chopped fresh mint]

½

teaspoon

ground black pepper

¾

teaspoon

salt

[use ¼-½ teaspoon if preferred a less seasoned soup or if your stock is quite salty already]

1

teaspoon

granulated sugar

1.5

litres

vegetable stock

[broth] [hot]
Add at end of cooking:
250

mililitres

plant milk

[soya or oat or your usual milk]
Garnish:
2

tablespoon

parsley

chopped

3

spring onions

[green onions/cybies] sliced
Instructions
The evening before soak the peas:
Soak the dried peas in about 700 millilitres [3 cups] of cold water overnight.

[If your peas are older or have been sitting in your pantry for awhile add ¼ teaspoon of bicarbonate of soda [baking soda] to the soaking water as this will help soften up the peas]

250 gram dried marrowfat peas
Prepare the soup:
Melt the vegan butter in the soup pan. Add the onions and saute for 7 minutes over a medium heat. Stir frequently.

45 gram vegan butter,

190 gram onions

Drain the water off the soaked peas. [if bicarbonate of soda was added give the peas a rinse]

Add the sugar, salt, pepper, flour and dried mint. Stir well.

1 tablespoon plain flour,

½ teaspoon ground black pepper,

¾ teaspoon salt,

1 teaspoon granulated sugar,

1 tablespoon dried mint

Tip in the soaked peas and cook for a further 2 minutes. Stir a few times.

Pour in the hot vegetable stock. Bring to the boil, and simmer over a medium heat for 45-50 minutes or until the peas are soft.

1.5 litres vegetable stock

Once ready pour in the plant milk and bring back to the boil. Add a little extra milk if preferred.

Taste the seasoning and adjust if necessary but this soup tends to not require any more seasoning.

250 mililitres plant milk

Puree the soup with a stick/immersion hand blender or keep it chunky. The soup can also be mashed a few times with a potato masher but not too many times as the skins can pop off the peas.

Serve the soup with a garnish of fresh chopped parsley and sliced spring/green onions. And one or two slices of your favourite bread.

A swirl of vegan pouring cream is also a nice addition.

2 tablespoon parsley,

3 spring onions
Notes
Nutritional information is provided for guidance only and is not an exact calculation as ingredients vary. 
Leftover pea soup will keep fresh for up to 3 days within the refrigerator.
Or freeze for 3-4 months.
Replace dried mint with a small handful of chopped fresh mint.
Leftover pea soup is delicious served over mashed potatoes.
Kids may prefer the soup blended smooth, which is what my kids prefer.
Don't forget to mention to any Harry Potter fans, within the family, of the pea soup that is served in the Leaky Cauldron!
Nutrition
Calories:
281
kcal
|
Carbohydrates:
42
g
|
Protein:
11
g
|
Fat:
8
g
|
Saturated Fat:
2
g
|
Polyunsaturated Fat:
2
g
|
Monounsaturated Fat:
3
g
|
Trans Fat:
0.05
g
|
Sodium:
2040
mg
|
Potassium:
521
mg
|
Fiber:
11
g
|
Sugar:
14
g
|
Vitamin A:
1712
IU
|
Vitamin C:
9
mg
|
Calcium:
140
mg
|
Iron:
3
mg
Prepared this delicious old-fashioned pea soup recipe?
Do leave us a comment below and let us know how you got on.
We love receiving feedback as well as a star rating! [find the stars above beside the recipe name].
Sharing a photo on social media of your tasty soup?
Do tag us in using #traditionalplantbasedcooking or @traditionalplantbasedcooking
So we can admire your great cooking.
Take Care Jacq x